We use affiliate links. If you buy something through the links on this page, we may earn a commission at no cost to you. Learn more.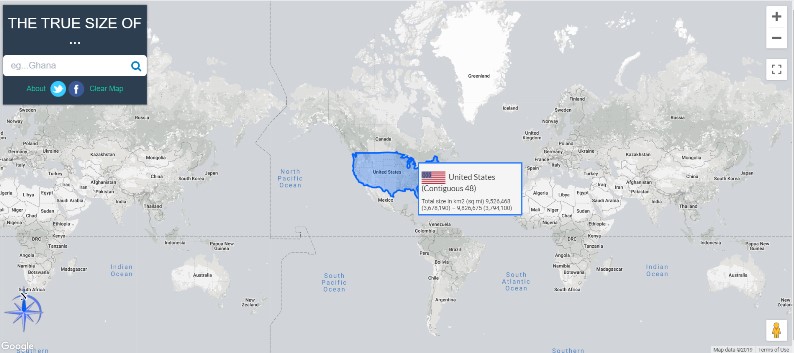 ARTICLE – A while ago I was watching an episode of "The West Wing" (season 2 episode 16, "Somebody's Going to Emergency, Somebody's Going to Jail"). In the "Cartographers for Social Equality" portion of the show, it really hit me (just like CJ) that the Mercator projection map that I have been using since I was a child is misleading when it comes to the relative sizes of the Earth's landmasses. I knew that by flattening the globe the map distorted the sizes, but I didn't really realize just how much.
I also read an article about this on Curiosity.com ("Sorry, But Every Map Is Lying to You"). They provided a link to a website called thetruesize.com that allows you to view the actual size of a country (or a state in the U.S.) and compare it to others' sizes. After using the website tool, I found out just how distorted the Mercator projection map is.
When you use thetruesize.com website, you'll need to type the name of the country in the search box, then click on it and drag it over other areas of the map to compare the sizes. Right-clicking on the country will delete it allowing you to search on and compare other countries. You can even stack searched countries on top of each other and lining them up along the equator eliminates much of the distortion. Give it a try starting with Greenland. It's eye-opening and fun seeing the true size of Earth's landmasses!