We use affiliate links. If you buy something through the links on this page, we may earn a commission at no cost to you. Learn more.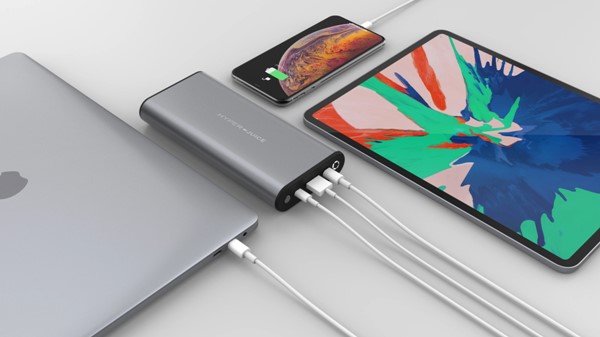 NEWS – I have been looking for a portable battery that would charge my Lenovo Yoga laptop for a while now. This USB-C laptop requires a battery output of at least 45 W in order to charge it. There are only a handful of portable batteries out there that will provide that much output, but most do not – which has been incredibly frustrating!
Then, I recently stumbled upon my dream battery: the HyperJuice 130W USB-C portable battery which has three ports to charge three devices. *Choir singing "Hallelujah!"* It has two USB-C ports that deliver 100 W and 60 W respectively and it has an 18 W USB-A Quick Charge 3.0 port for other mobile devices (130 W total maximum output). It is 100 Wh/27000 mAh, which is the maximum allowable size that is allowed on an airline (it is TSA/EASA compliant).
It will charge a large laptop like the 15″ MacBook Pro, a midsized laptop or tablet like a 13" MacBook Pro or iPad Pro, and a mobile device like your iPhone all simultaneously. It also includes pass-through charging which means that you can recharge the battery and all the devices connected to it all at once. It is encased in aircraft-grade aluminum and provides over-current, over-voltage, over-temperature, and short circuit protection. And best of all? It has a 100 W input and if you buy the 112 W charger for the battery, you can completely charge the battery from empty to full in one hour. Take my money!
They will indeed take your money, for the HyperJuice 130W USB-C Battery + 112W Charger Bundle is not cheap. It is available from Hyper (by Sanho Corporation) for $249.99. I just received this battery to review over the next few weeks and will report to you how it worked for me, so stay tuned!