We use affiliate links. If you buy something through the links on this page, we may earn a commission at no cost to you. Learn more.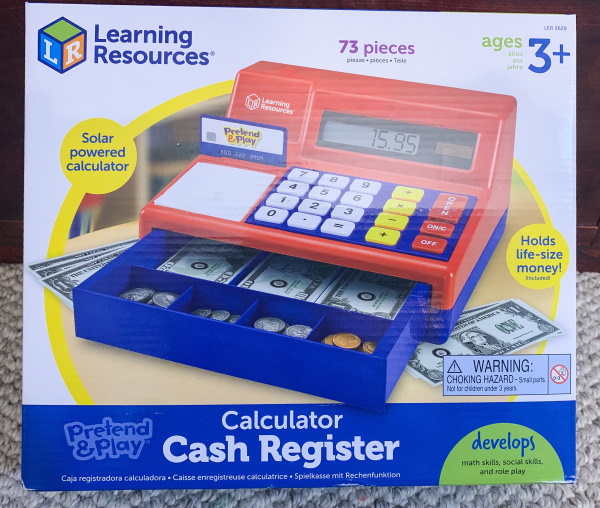 REVIW – Like most young children, my kids love to play and really enjoy real life pretend fun. They usually pretend to cook and to make various dishes that my wife and I have to pretend to eat. When I got the opportunity to test and review the Learning Resources Pretend & Play Calculator Cash Register, I already knew that if it performed well, it would be a hit with my kids.
What is it?
The Learning Resources Pretend & Play Calculator Cash Register is a toy that allows kids to pretend to be cashiers and to have fun taking pretend money and giving pretend change back to the customer. This process serves as a learning tool to teach them to calculate and count in a responsible way. It features a solar panel to recharge the battery whenever a light source is present.
What's in the box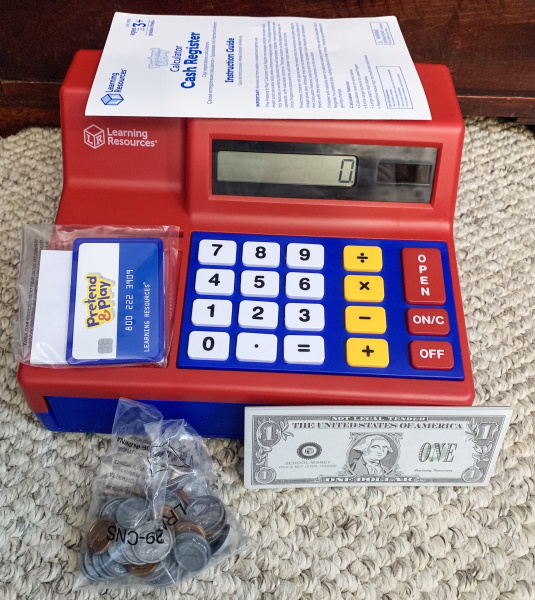 1 x Solar Powered Cash Register
30 x Actual-size Pretend Paper Currency
40 x Plastic Coins
1 x Pretend Credit Card
1 x Activity Guide
Design and features
Features:
Calculator runs on solar power
Extra-large buttons for small fingers
Large eight-digit display
Repetitive equal sign for multi-item purchases
The calculator cash register is mostly plastic with plastic buttons, a pretend credit card slot, an LCD screen, a solar panel next to the LCD screen, and the money drawer the opens via the "Open" button.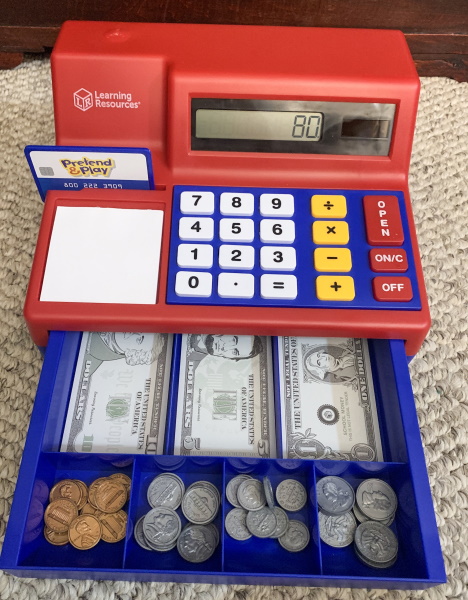 At the bottom of the Register, there is a pre-installed battery with the paper tab that you pull out to begin using the device.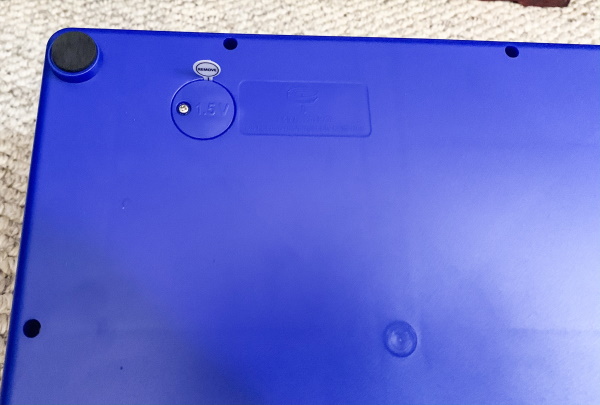 The pretend credit card is designed to mimic a real credit card on both sides.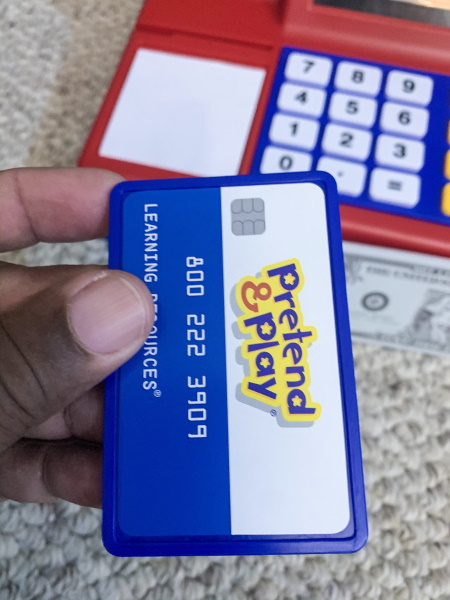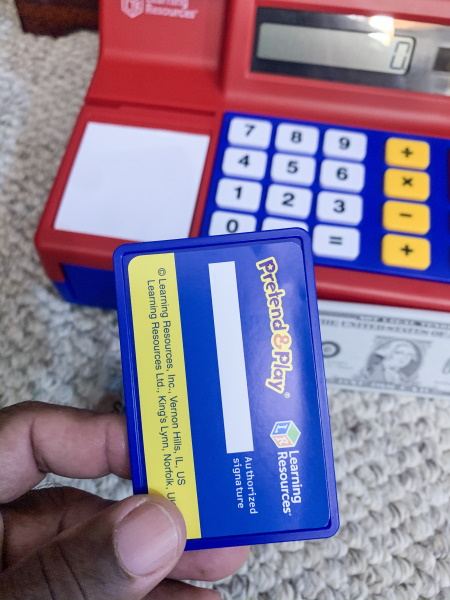 Performance
This calculator cash register worked right out of the box. It was hard for me to unbox with my kids around because they were overly excited to play with it. The paper money comes in denominations of 1s, 5s, 10, and 20s, and the plastic money currency is in pennies, nickels, dimes and quarters. The plastic coins are relatively close to the sizes of real US coins.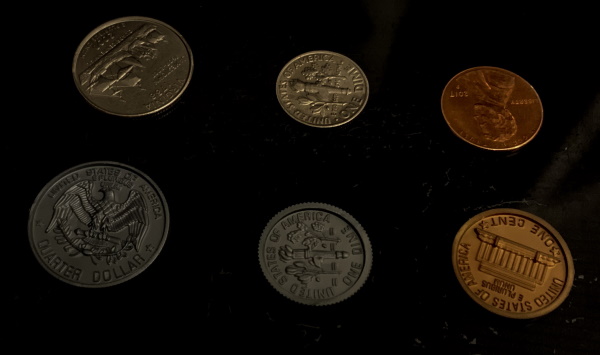 The keypad works much like a large calculator and the kids get to hit the "Open" button to open the tray and gain access to the money.
One issue that occurs when operating the register, is that the money drawer flies out so fast when you press the "Open" button, that some of the pretend coins are thrown out of the drawer.
The following warning is an important note:


What I like
The decent build quality
The realistically sized money
The calculator functionality
The realistic cash register functionality
The solar panel recharging
What I'd change
Make the drawer soft release. When you press the "Open" button, the drawer literally flies out and so do some of the pretend plastic coins.
Final thoughts
This cash register has been nothing but loads of fun for my kids. And while they continue to have fun with it, I am able to teach them to identify bills and coins, and to add, subtract and multiply. They literally play shop with it every weekend. I have reviewed lots of nice educational toys that my kids enjoy, but this one is relatively inexpensive, easy for them to use without supervision, a great learning experience, and durable enough for their carefree use. I give it a well done and two thumbs up!!!
Price: $39.99
Where to buy: The Learning Resources website
Source: The sample for this review was provided by Learning Resources.