The Gadgeteer is supported by readers like you! If you buy something through links on our site, we may earn an affiliate commission at no cost to you. Thank you! Learn more.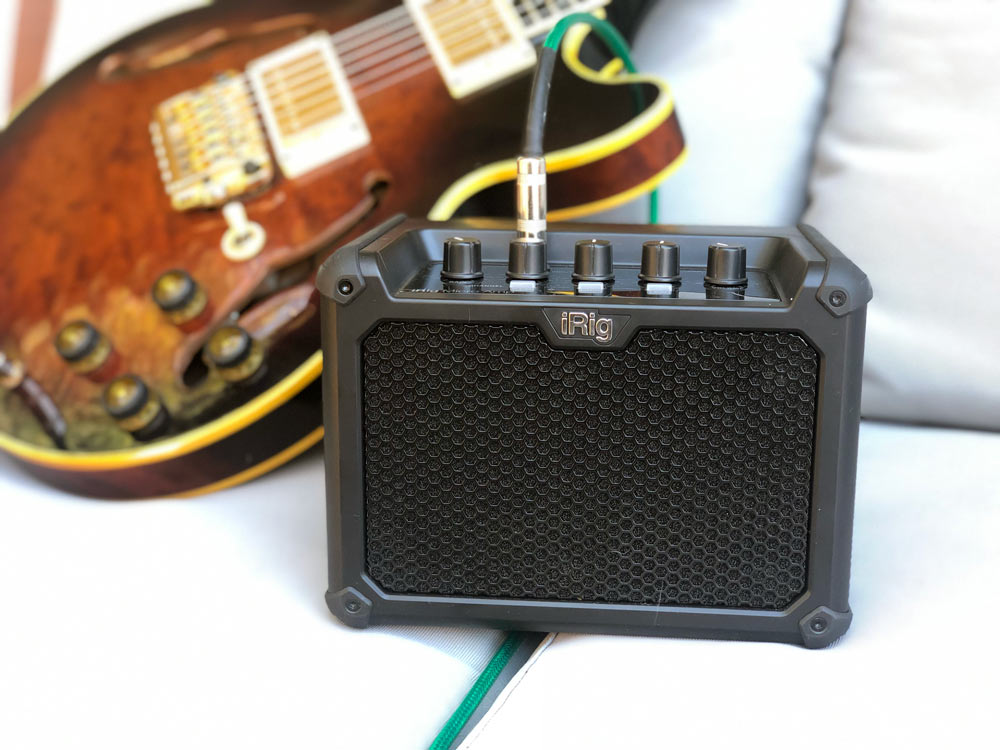 REVIEW – iRig's new Micro Amp looks to pack a lot of power into a small package without many sacrifices. Guitar amps can be very subjective. Can this one fit your sound and portability needs all in one small package? Read on…
What is it?
iRig's Micro Amp is a 7.5-15w battery-powered guitar amplifier with and iOS/USB interface.
What's in the box?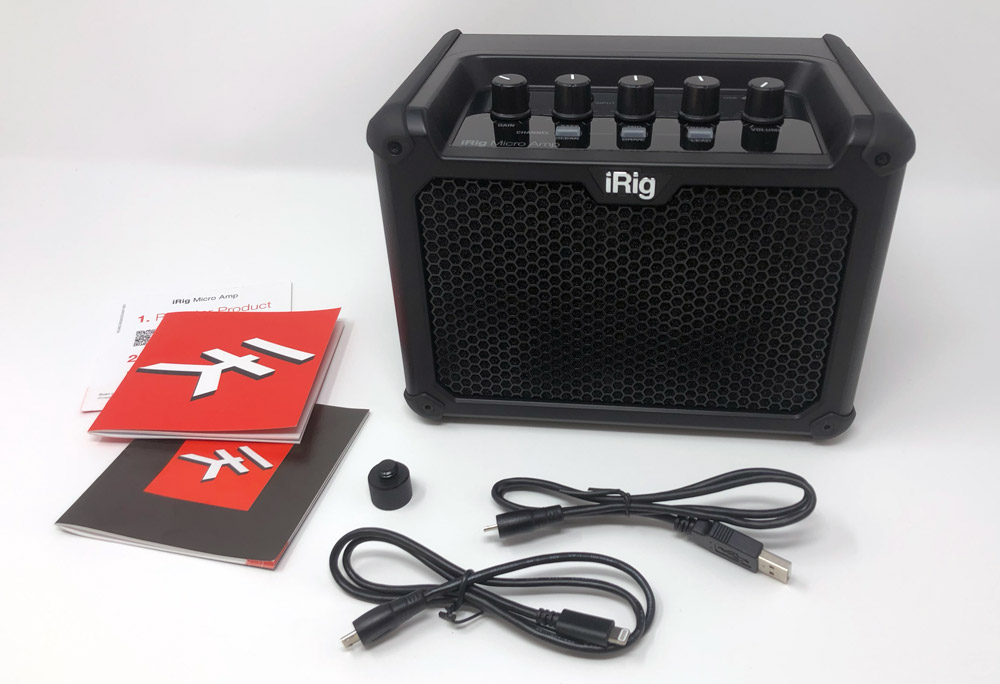 iRig Micro Amp
Lightning to Micro-USB cable
USB-A to Micro-USB cable
6 AA batteries (not shown)
3/8″-16 male to 5/8″-27 female mic stand thread adapter
Instruction and catalog pamphlets and a registration card
Hardware specs
Conversion: 24-bit A/D and D/A
Sampling Rate: 44.1, 48kHz, 88.2 and 96kHz rates
Operating Power: Battery-powered (6AA for ~ 15 hours use) or DC in 9V-15V (-)+
Device Connection: Micro-USB
Inputs: 1/4″ instrument and 1/8″ auxiliary
Outputs: 1/8″ headphone and 1/4″ speaker output (4-16 Ohm cabinet out connects to larger speakers)
Output Power: 15w (7.5w when powered by batteries)
Dimension/Weight: 210 x 155 x 125mm / 1.26kg
Speaker Size: 1×4″ full range
Channels: Clean, Drive and Lead with low, mid and high EQ and gain controls
Connectivity: Connects to iPhone, iPad and Mac/PC with all cables included, no adapters needed
Included Software: Amplitube for powerful tone and features
Design and features
Out of the gate, the Micro Amp looks like a miniature amp which feels familiar and makes it super easy to jump in and use immediately. The entire thing is only slightly thicker than an old school lunchbox and is just over 3lbs with batteries installed, so really easy to throw in a backpack to take with you. The construction is rugged plastic with heavy-duty bumpers to protect against drops. All of the controls are recessed so they won't get knocked in a tumble either.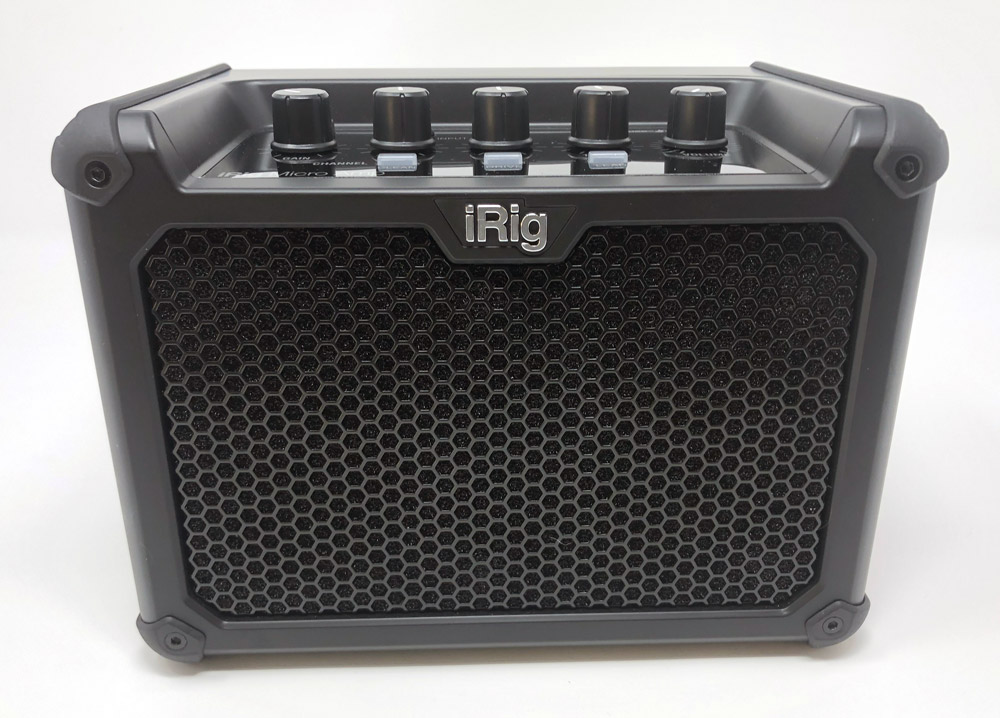 The back of the unit is where you'll find the battery compartment (iRig has included the 6AAs for you) as well as a DC in port and a 1/4″ output for connecting another cabinet… wait… What?! You read that correctly, you can connect this little guy to a larger speaker cabinet. Crazy cool.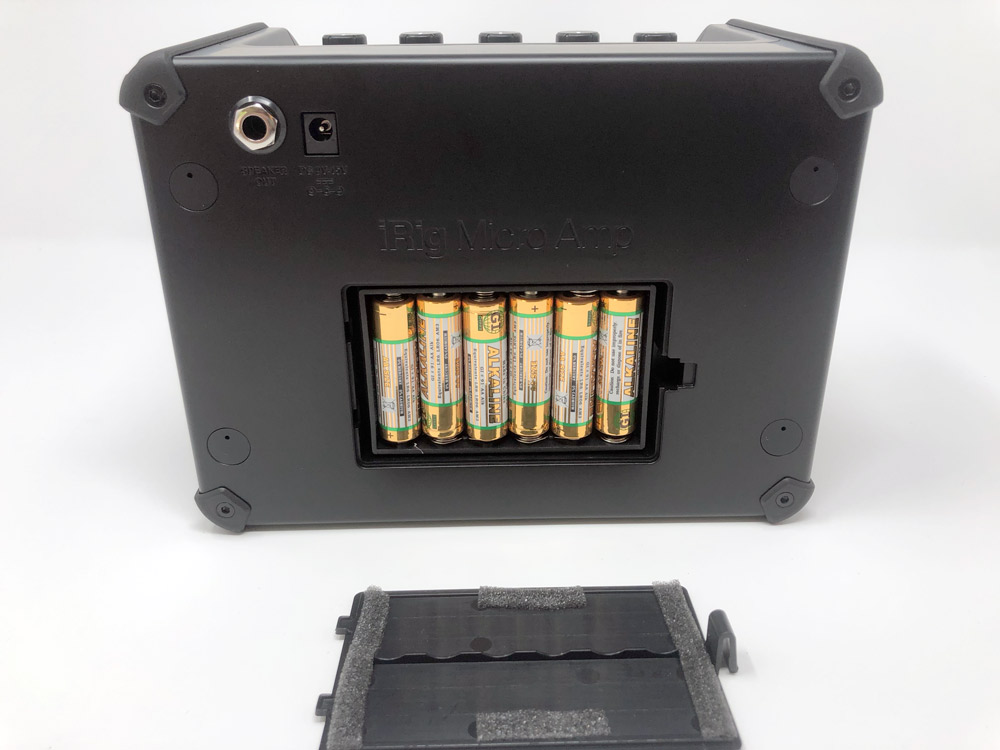 On the bottom is serial and certification info as well as a threaded receiver for attaching the amp to a stand.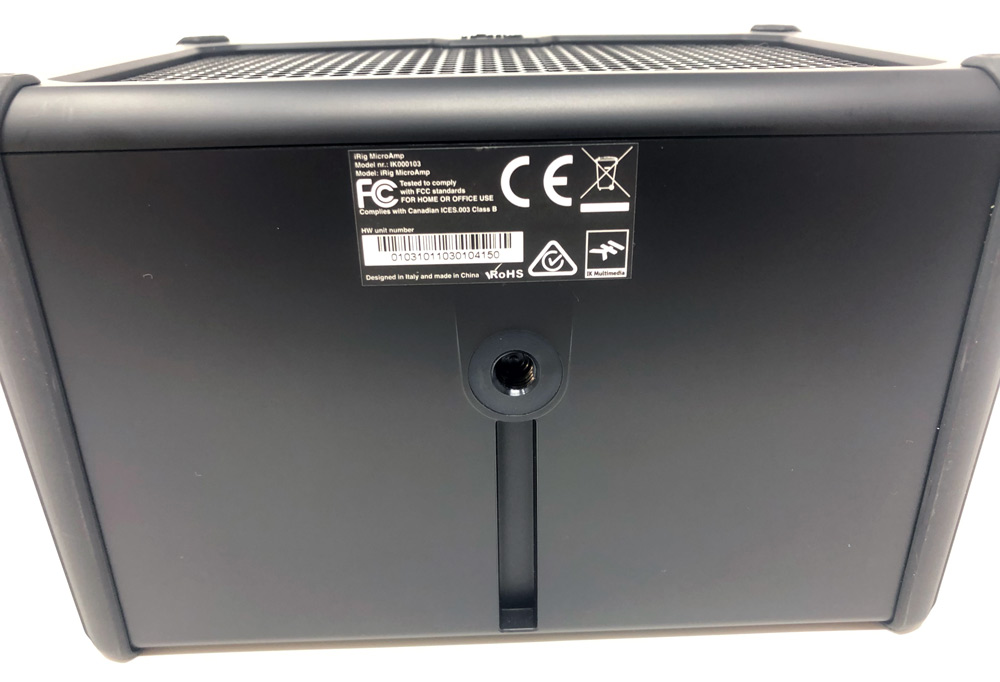 They also included an adapter for use with the larger mic stand threads.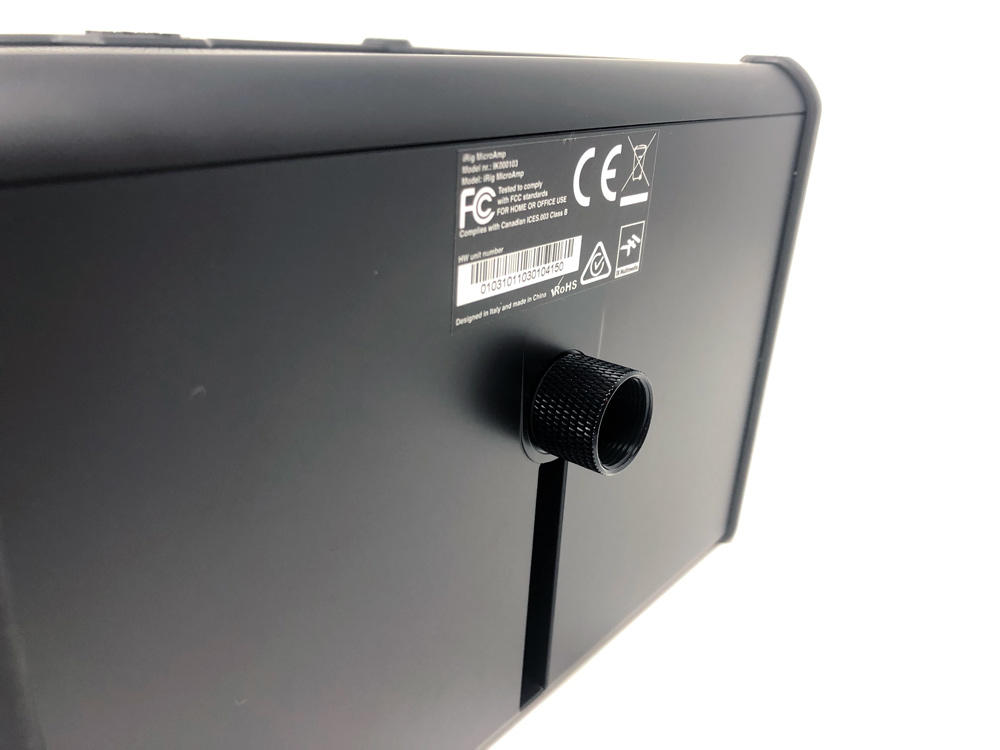 On the top panel are your main controls. Power button, 1/4″ instrument input, 1/8″ aux input, 1/8″ headphone out and Micro USB port for connecting your phone or Mac/PC. The Bass, Mid, Treble knobs are flanked by Gain on the left and Volume on the right. Your channel controls are front and center; Clean, Drive and Lead, each light with their own color when active for clear communication to the player in darker environments.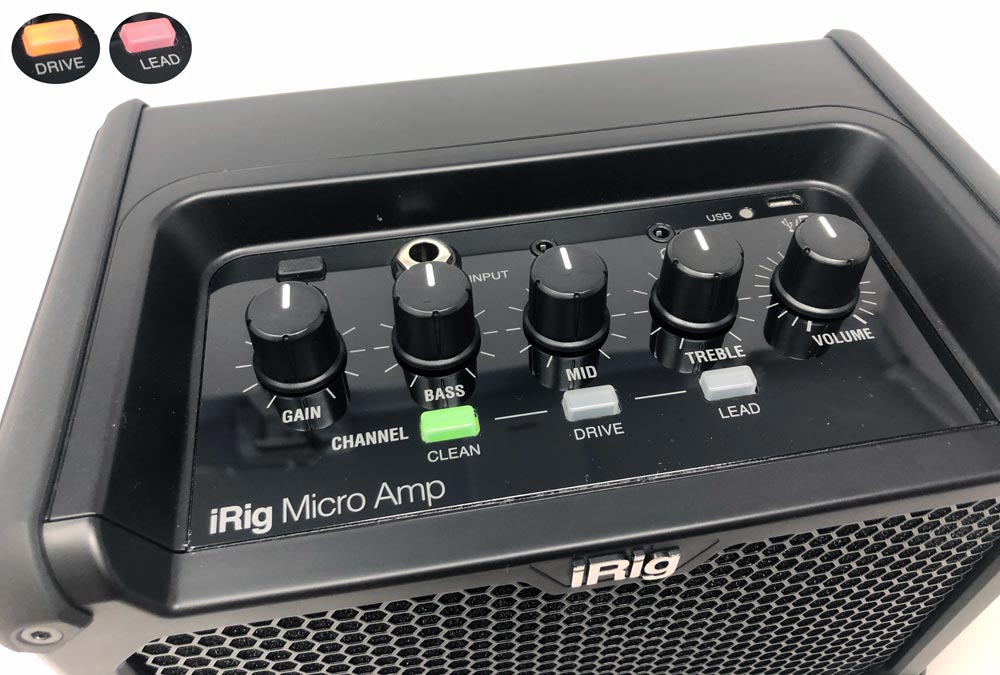 Setup
If you've used any kind of battery powered guitar amp before then you'll have no issues here. Pop open the back and install the 6AAs iRig included (maybe switch to some rechargeable AAs after that), plug in your guitar, turn it on and start exploring.
If you want to connect it to a bigger cabinet, you'll need a 1/4″ cable to connect the two and a power supply for the Micro Amp. iRig doesn't include one in the box, but almost any standard stomp-box power adapter will work (just make sure it's negative center on the barrel).
You'll want to use one of the two included cables to connect the amp to your iOS device or a Mac/PC to use IK's apps.
Performance
The Micro Amp is super convenient, really easy and fun to use. On battery power alone, the volume gets loud enough that halfway up is more than good for bedroom practice. On the clean channel, the sound is indeed clean and smooth. Drive and Lead increase the fuzz and the presence respectively. On first listen, this does not sound like a microamp. It's got presence, there's no hum in the background and lets you focus on your guitar. Easily bests the Yamaha THR5 at half the cost if you like clean sounds without a lot of overdrive.
Both my son and are able to pick up and carry the amp with a single hand, but it does feel like it's missing a dedicated handle. Anyone with smaller hands or just carrying multiple things might have trouble. Similarly, the mic adapter should have a home in the battery compartment or somewhere so it doesn't get lost.
So what if you're not into clean guitar and want crunch, or blistering metal or want to find a sound all your own? Any sounds that you may feel are missing are likely available by connecting your phone or computer and downloading the Amplitube app. It's funny, but downloading the app I realized that it's been around a while. I actually originally installed it on an iPad back in November of 2012 and it's improved a lot since then.
26 of 32 of their own effects pedals are included with the app as you fill out a virtual pedal board. You can choose from pedals like delays, Chorus, Wah, Flangers, Overdrive and more as well as different head units that are sure to have what you're looking for.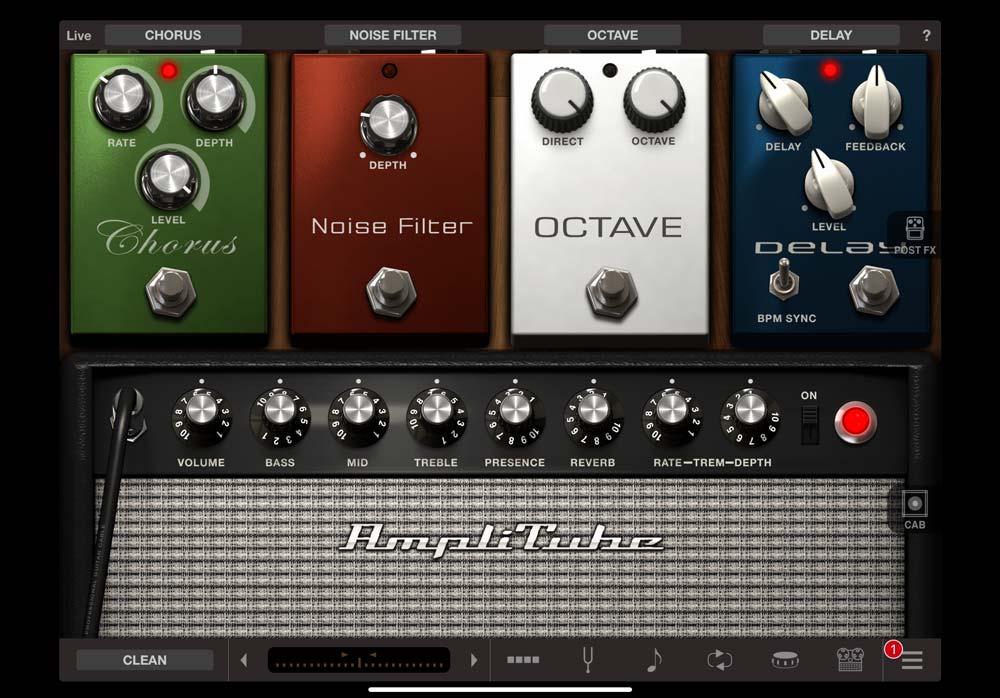 Connecting to Amplitube does override your channel settings so everything other than the physical knobs is now controlled by the app.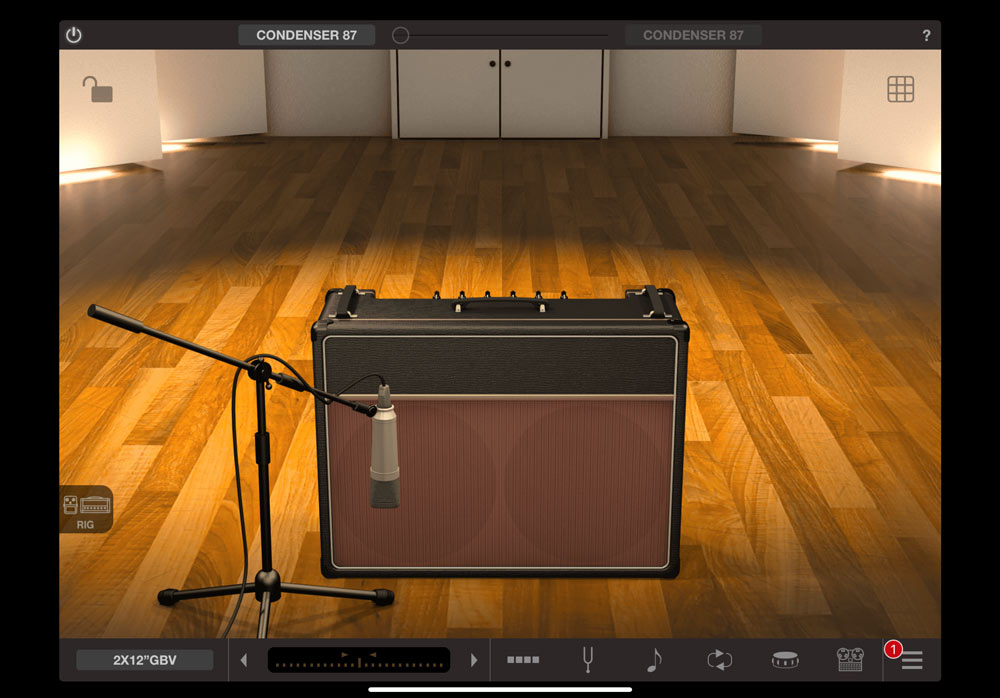 An additional 6 of their premium pedals and lots of effects pedals from brands like Fender, Orange and others are available to purchase as are amps and mics. The in-app purchasing feels a little bit like death by 1,000 paper cuts, but it is significantly cheaper than buying physical pedals outright by a long shot. Tip: look at the different bundles as they may save you some money over individual purchases.
Considering that Amplitube lets you add drum tracks, vocals, amps and then record your session, there's a lot to like. For a new guitarist, there's a lot of value and just as much for someone wanting to experiment with different pedals before buying real ones.
As I'm typing, Satchel is lost in a riff playing with the Octave pedal bouncing between something he's laying down on the spot and the Mario underground theme song. Pretty sure he'd sit there for the full estimated 16 hour battery life if we left him alone.
Here's a quick vid of the riff he shot with my iPhone.
Maybe the coolest feature for me is that you can connect an external cabinet with its 1/4″ output connection. We have a 4×12 Marshall cabinet without a head unit that's been collecting dust for a while. The Micro Amp plugged right in and was able to drive this 16 Ohm cabinet well enough that we were both smiling and nodding our heads. It's worth noting that the output doubles from 7.5w to 15w when you use the DC port on the back of the Micro Amp instead of batteries. It's not going to out-power a real system, but our cabinet will now see some use.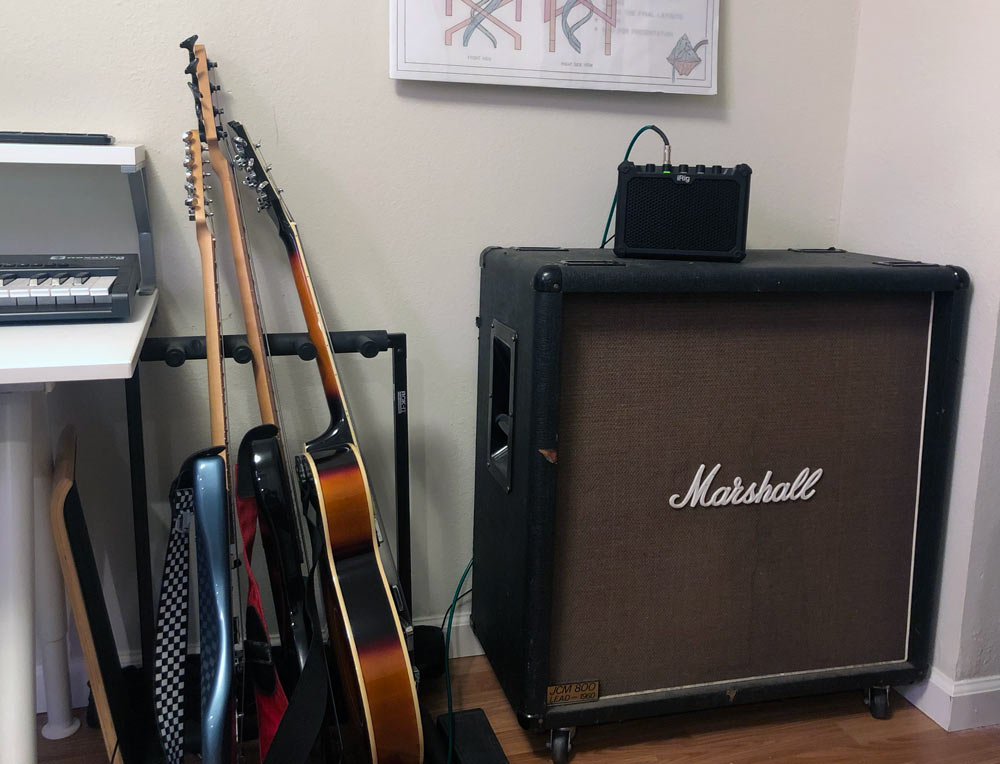 What I like
Size and weight is awesome
Sound is great with good controls
Amplitube app is fantastic sound exploration, and practice sessions in a box
Able to output and drive an external cabinet
What needs to be improved
It could use a handle or strap
Storage spot for mic adapter
Final thoughts
There's not much to complain about here and the value outshines all of it. Satch is heading off to college this fall and this is the perfect size for the dorm room without sacrificing sound. It's got me itching to pick up the guitar again myself.
Price: $149.00
Where to buy: IK Multimedia and Amazon
Source: The sample of this product was provided by IK Multimedia.