We use affiliate links. If you buy something through the links on this page, we may earn a commission at no cost to you. Learn more.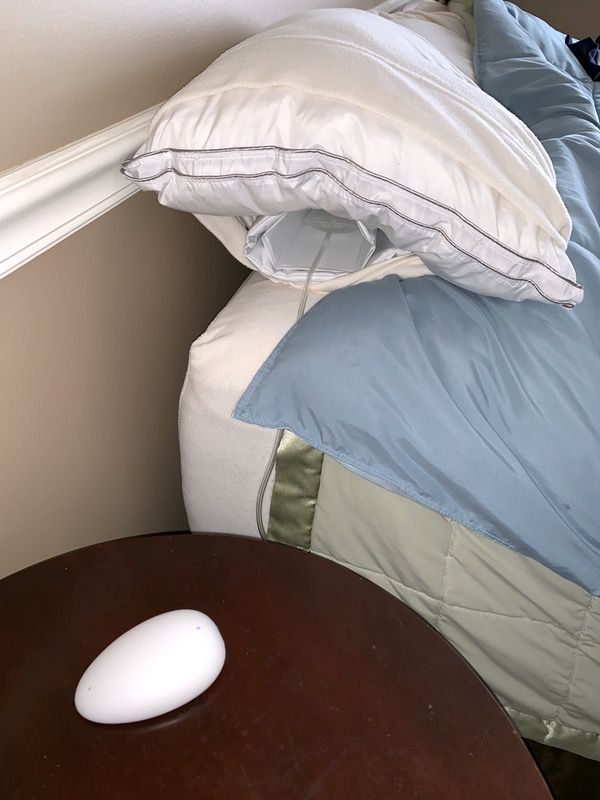 REVIEW – If you or your partner snores, you know the struggle. I've snored for years and tried all kinds of solutions, so I jumped at the chance to review the Smart Nora snoring solution. Has Bob finally secured peace in the bedroom after all these years? To the review!
What is it?
It's a system that uses a sensor to detect snoring, activating an inflatable insert under your pillow to stimulate your throat muscles and resume normal breathing.
What's in the box?
The Smart Nora kit includes everything you see in the picture below, including:
The base unit.
The Bluetooth sensor "egg" with a USB charging cable.
An egg cradle for wall mounting.
The pillow insert.
A soft sleeve for the pillow insert.
A standard power chord, with adaptors for international markets.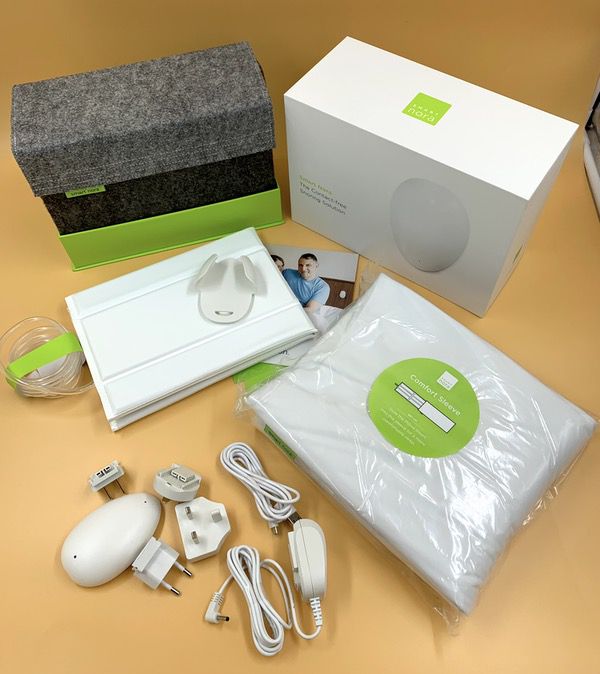 Design and features
The Smart Nora is a non-invasive solution to reduce snoring. The unit consists of three primary components. The first is a 20″ by 8″ pillow insert connected to an air hose: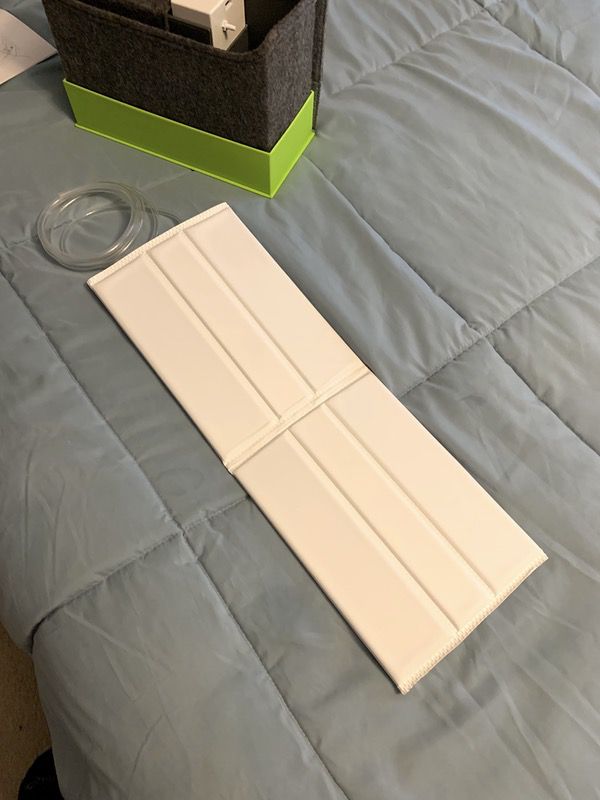 The second is the sensor egg, a palm-sized Bluetooth unit (4″ by 2-1/2″ by 1-1/4″) that detects your snoring: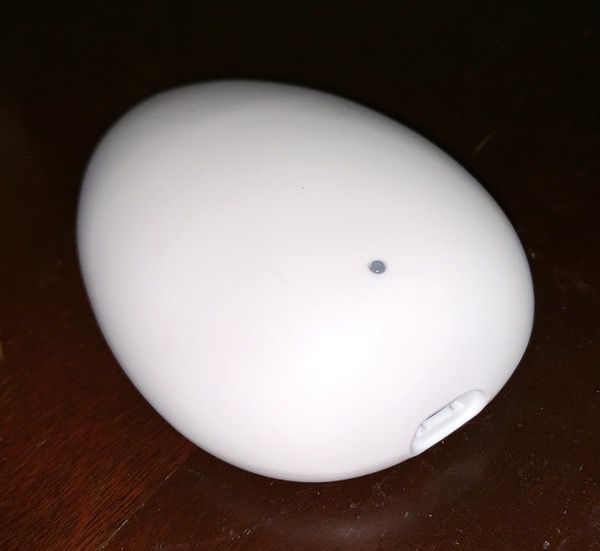 And the third component is the base unit, a 10″ by 4″ by 7″ box that manages all the functionality.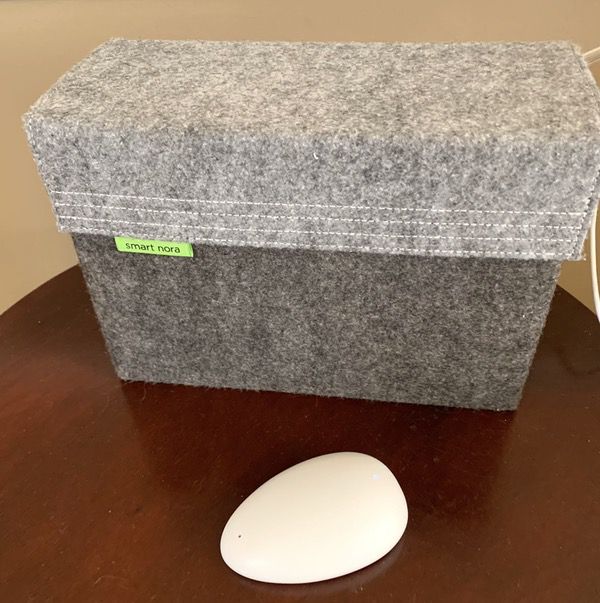 Here's what it looks like when everything is in place: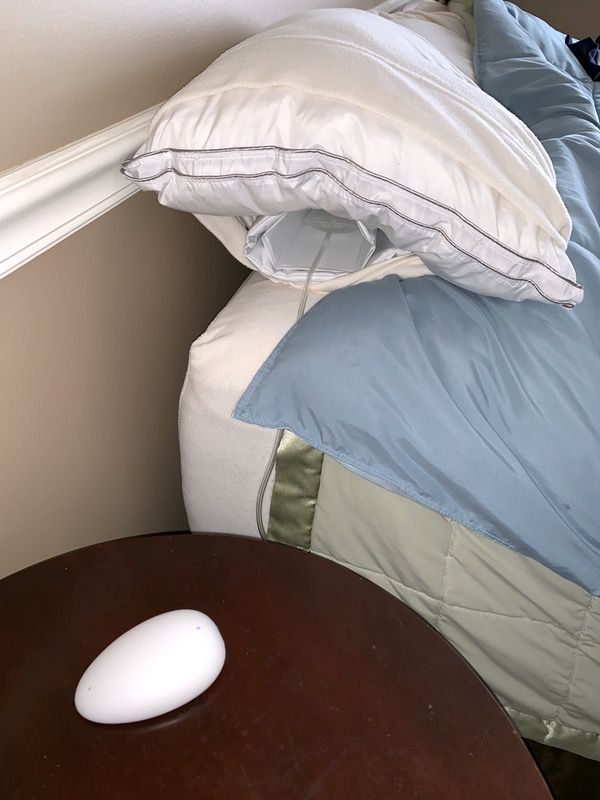 And believe it or not, this thing really does seem to work in my case. Let's walk through the setup, then we'll talk about operation and performance.
Setup
You'll have the Smart Nora setup in just a few minutes. You start by connecting the air hose from the pillow insert to the base unit.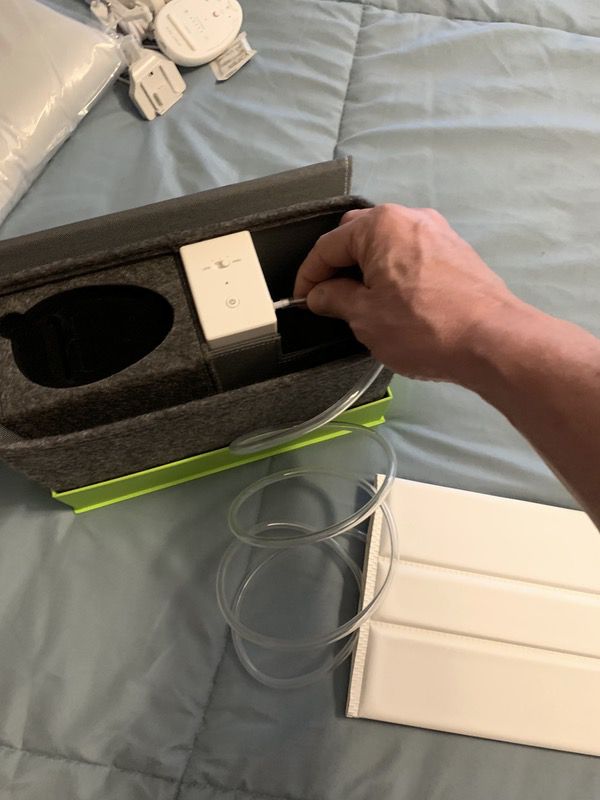 The power plug also connects to the base unit. The Smart Nora includes multiple adaptors for international markets, which is a nice bonus if you plan on taking it on trips.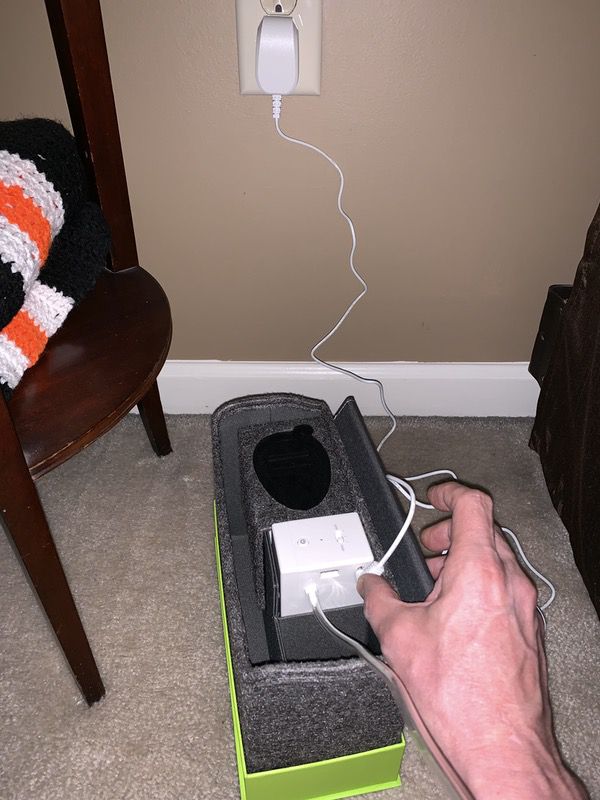 The sensor egg is charged by plugging it into the base unit with the USB cable that's included with the package. Once charged, the egg can be disconnected and operates via a Bluetooth connection.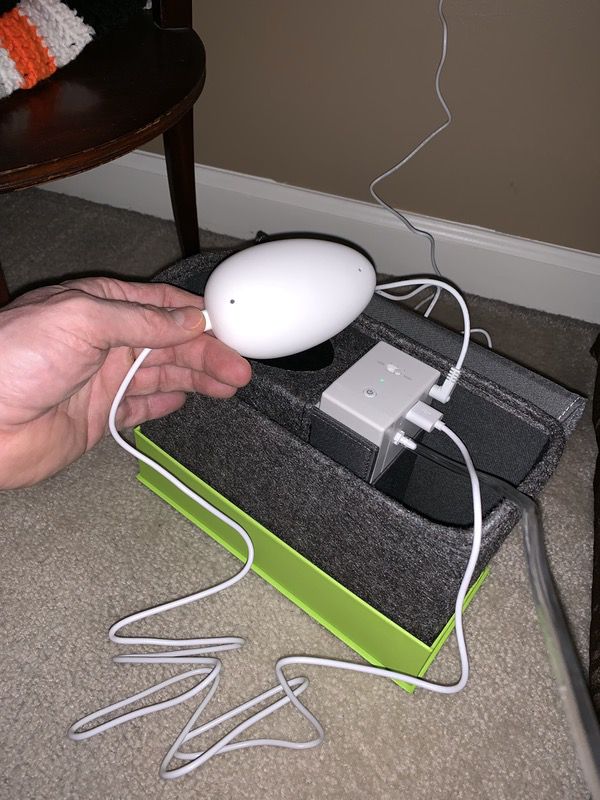 The pillow insert also includes a foam padded sleeve that can be used if desired.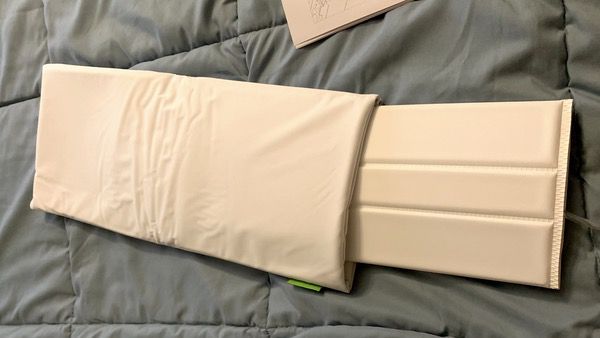 Slide the pillow insert into your pillowcase under your pillow, and you're good to go!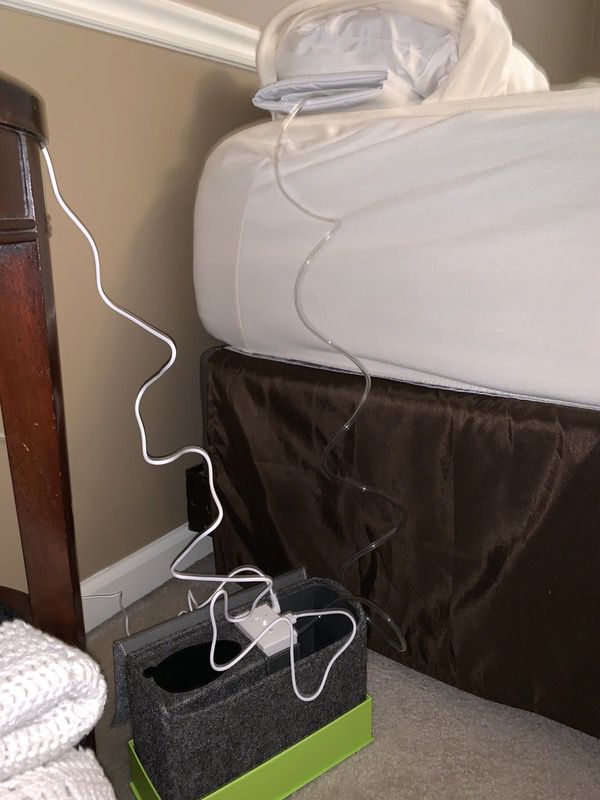 The sensor egg is designed to be in close proximity to the user when sleeping and includes an adhesive-backed mount so that you can position it on the wall or headboard above the sleeper's head. I have a nightstand next to my bed right next to my pillow, so I've been keeping mine there.
Operation
The pillow insert is where all the action is. When snoring is detected, an air compressor in the base unit gently inflates air bladders in the insert to get things moving. Here's what it looks like when the insert inflates: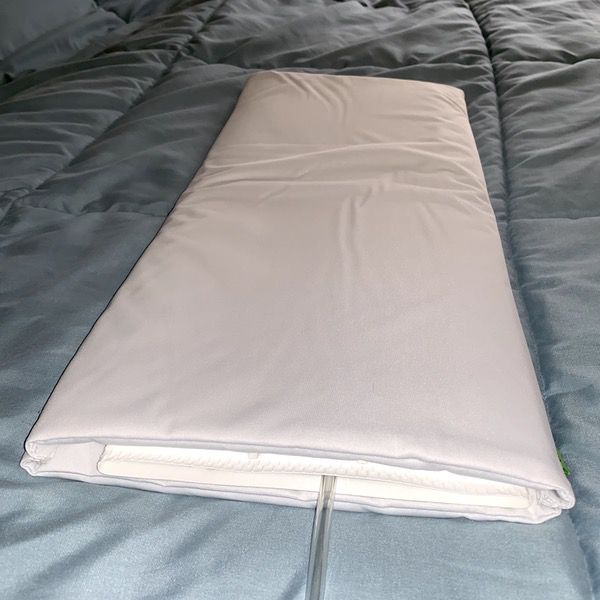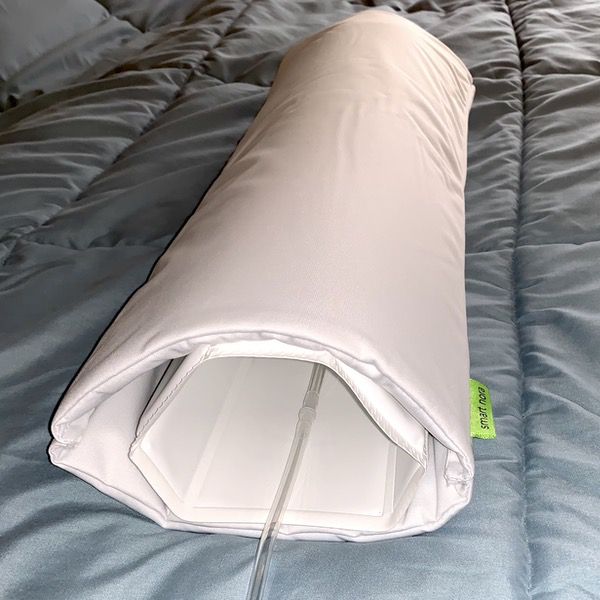 And here's an inside shot of the air bladders. Once they come to full inflation, the weight of your head will gradually deflate them back to the flat position.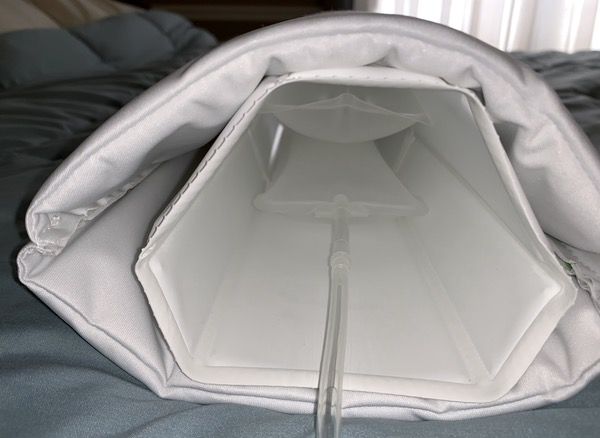 You can also select the height to which the insert will be inflated. I started in the "high" position, but found it to be a bit uncomfortable for me. I'm using the middle position right now.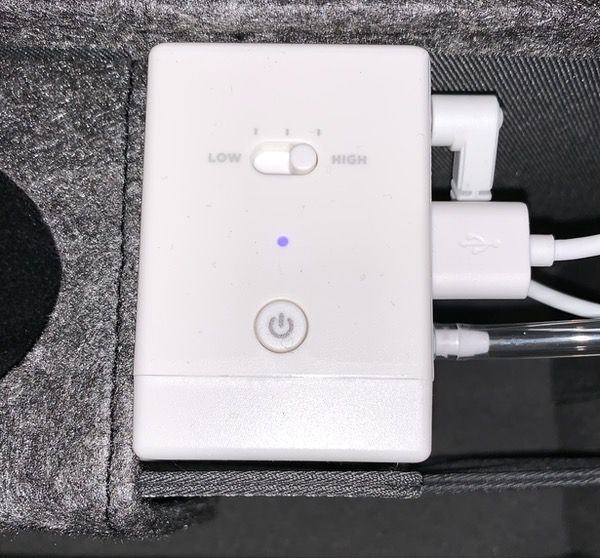 The controls for the sensor egg are all on the underside. You can adjust the sensitivity of the device to account for noisier bedrooms. The Bluetooth connection reset is there as well as the power on/off pad.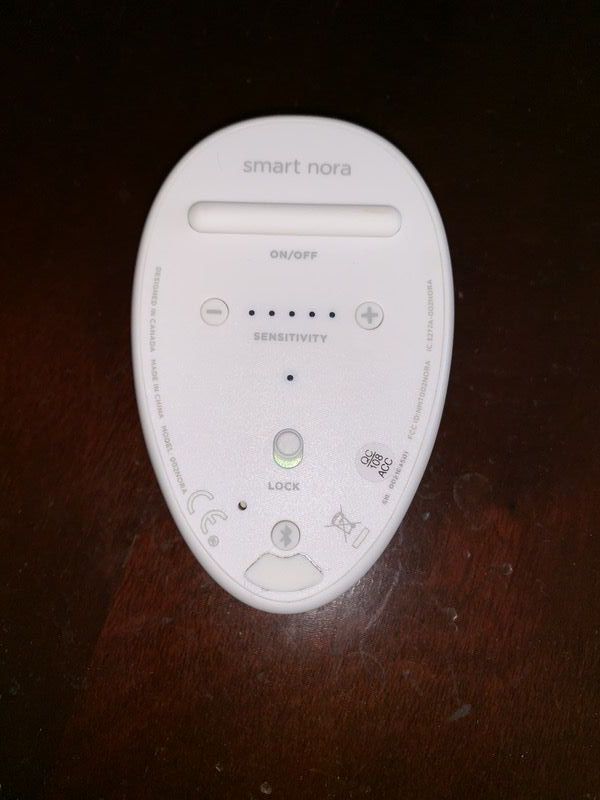 When fully set up, you just push on the egg to turn it on or off. A blue light indicates that the unit is on.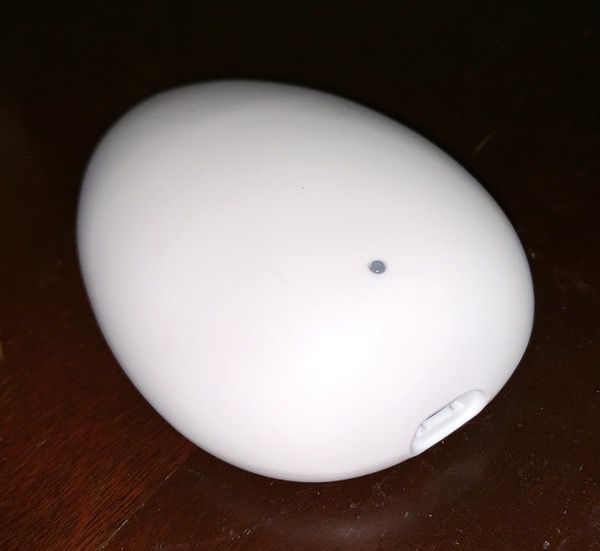 Throughout the course of the night the insert will slowly inflate when snoring is detected, then slowly deflate in a cycle that runs about 30 seconds. The gentle motion is intended to stimulate your throat muscles to resume normal breathing.
Performance
I really like the usability of the Smart Nora solution. A lot of snoring devices can be pretty invasive, involving mouthpieces or other equipment that takes a lot of getting used to. There's none of that here. Setup takes minutes. No changes are required to your bed arrangement. When you're ready to go to sleep, you just press the egg and go to sleep in whatever position you are comfortable with using your regular pillow.  You will hear the air compressor and some squeaking as the pillow inflates/deflates, but the noise is subdued and the movement is slow and gentle. It does take about a week to get used to, but I don't even notice it now.
After a week of adjusting to it, my wife and I have both noticed significant improvements in my snoring. There are nights when I snore like a rusty chainsaw cutting through cinderblocks. While the Smart Nora hasn't completely eliminated my snoring (I have some pretty bad allergy issues), it's certainly much better. My wife isn't getting woken up in the middle of the night by my commotion like she used to, and if I do snore she says it's significantly less disruptive than it was before. Four weeks in and I feel like I am getting better rest as well.
The Smart Nora is clinically tested to be effective. I had an opportunity to chat with one of the researchers at Sleepscore Labs that ran the clinical trials on the Smart Nora. 29 couples were monitored in their homes for two weeks without the Smart Nora, and then two weeks with the device. Electronic monitoring demonstrated measurable improvements in sleep quality for both partners, and daily surveys indicated that 78% of the participants (both the snorer and partner) believed that their sleep was improved after using the Smart Nora. I'd say that pretty much aligned with my personal experience.
It's important to note that there are lots of causes for snoring, and the Smart Nora isn't a guaranteed fix. It won't work for you if have sleep apnea, for example. I'd suggest you check out the Smart Nora web site and have a chat with your doctor to see if it might work for you.
What I like
Non-invasive snoring solution that's easy to adjust to.
Simple setup and operation.
Excellent usability.
Subtle looks don't stand out like a medical device in your bedroom
What needs to be improved
May not work for all snoring conditions.
Final thoughts
There can be lots of underlying causes for snoring, and the Smart Nora presents a unique solution that's backed by clinical studies. I can't say that it will work for everyone, but I can tell you that it's worked for me and (more importantly) my wife. We're both sleeping better on a nightly basis and I haven't been banished to the spare room for month. Everyone wins. The excellent usability also makes for a solution that's easy to use daily. I'll keep you posted as I continue to use it.
Price: $329.00
Where to buy: Buy it at the Smart Nora web site.
Source: The sample of this product was provided by Smart Nora.