We use affiliate links. If you buy something through the links on this page, we may earn a commission at no cost to you. Learn more.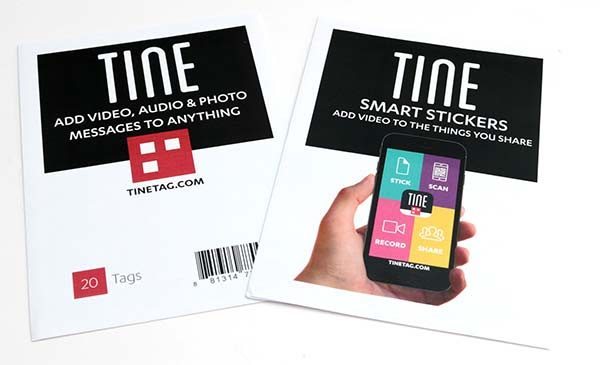 TINE tags (pronounced as "tiny") are peel and stick scannable smart stickers that let you add video, audio or a photo to an object. Examples of usage would be to put a sticker in a book that will play an audio file of you reading the book, or a sticker on a birthday card that links to a video of you singing happy birthday, etc.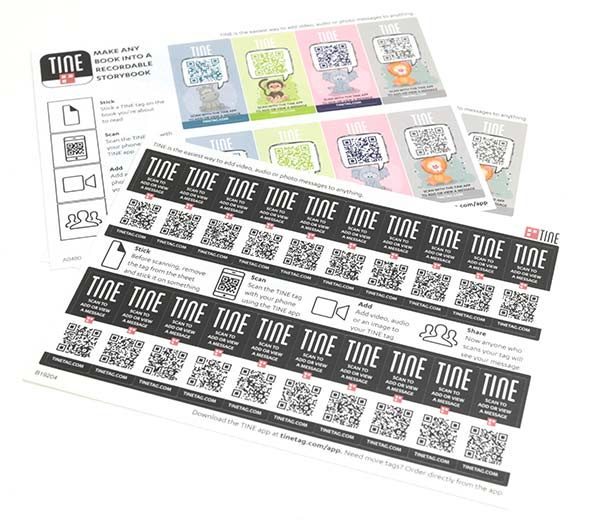 TINE tag stickers are available in the basic black and white style that you can see in the image above, as well as several other styles are also shown above.
Creating a TINE tag
The first thing you need to do is install the iOS or Android app. When you launch the app for the first time, you'll be instructed to enter your phone number. You'll then receive an SMS with a code that you type in to create your TINE account.
Adding content to a tag is easy. You just tap the scan button, hover your phone over a tag and then you can record up to 90 seconds of video, 15 minutes audio or an image.
That's all there is to it. Then when someone finds your tag, they will try to scan it with a scanning app which will take them to the TINE site and instruct them to install the TINE app. Once they do that, the image will display, video will play or audio will play.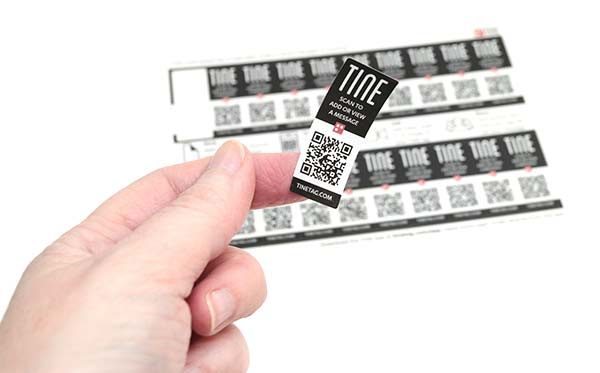 At this point, you're probably wondering what the difference is between a TINE tag and a QR code. TINE tags are QR codes, QR codes only allow you to have a link to a website. TINE tags allow you show an image, video or play an audio file. More info directly from the TINE tags FAQ:
TINE uses QR codes differently. TINE tags are designed to work with the TINE app.  Instead of embedding a website, our QR codes are more like bar codes with encoded locations to storage in the TINE cloud. When you record your video, we upload that video to that location in the cloud. Now when someone scans your tag, we go back to that location in the cloud, and stream across your video. This gives you the ability to easily change your video when you want, reset the tag, and even let people comment on your video all from within the TINE app.
The weird thing is that TINE tags don't allow you to link to a website, which is a feature that I wish they offered.
No two TINE tags are alike and you can re-record over tags as many times as you like.
Final thoughts
Although I wish that you could add a link to a website or show a text file instead of just audio, video and an image, TINE tags are an easy and fun way to add media to an object.
Source: The sample for this review was provided by TINE. Please visit their site for more info.
Product Information
Price:
$9.99 and up
Manufacturer:
TINE
Pros:

Easy to do
Fun way to add media to an object
Can reprogram tags

Cons:

Can't add text or a weblink