We use affiliate links. If you buy something through the links on this page, we may earn a commission at no cost to you. Learn more.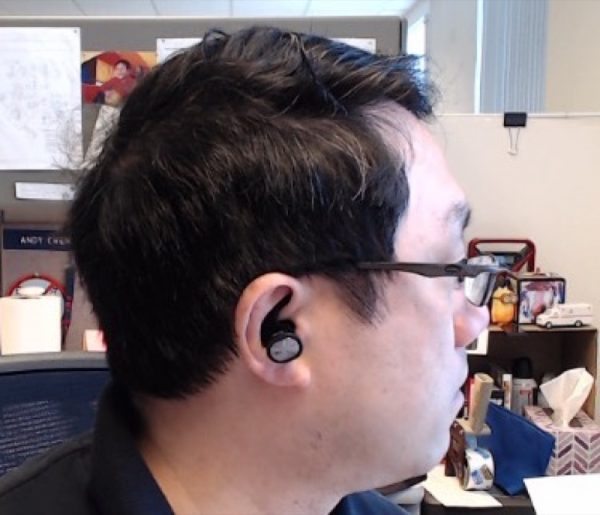 Let's get this out of the way:  I cannot wear earbuds.  Well, I can, but I simply choose not to.  I'm an over-the-ear kind of headphone fan.  But, tiny earbuds that don't even have a cord?  Let's see what this is about.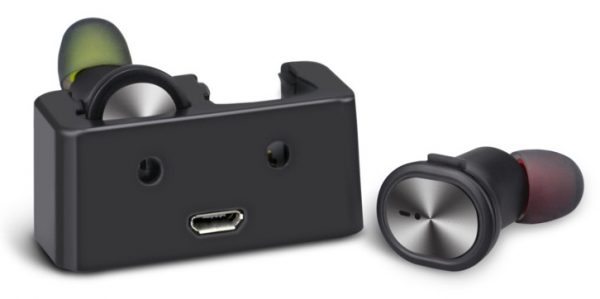 The SmartOMI BOOTS is a set of Bluetooth ear buds that don't require a cord between the two halves.  Each is fitted with a tiny battery.
Talk/Listening time: Up to 5 hours talk and music
Standby time: 200 hours/8 days
Charge time: 2 hours
Auto Power-Off technology: Power off when no connectivity for 5 minutes.
Operating distance(range): Up to 10m/33 feet
Headphones weight: 0.155 oz per earbud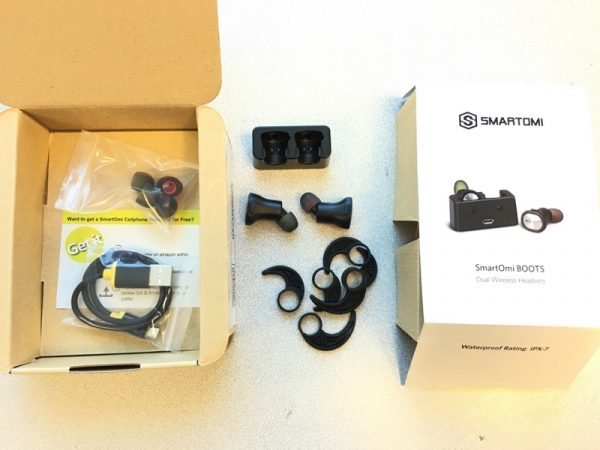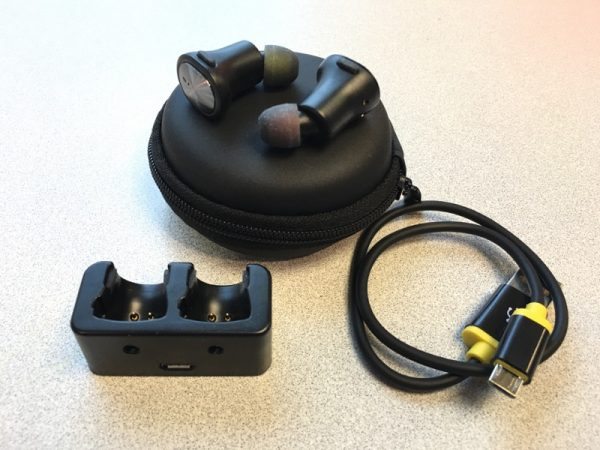 I was pleasantly surprised to find a nice, semi-hard zippered case that fit the earbuds, charger and microUSB cable quite nicely.  Otherwise, this would be quite a few loose pieces to misplace at the bottom of a gym bag or purse.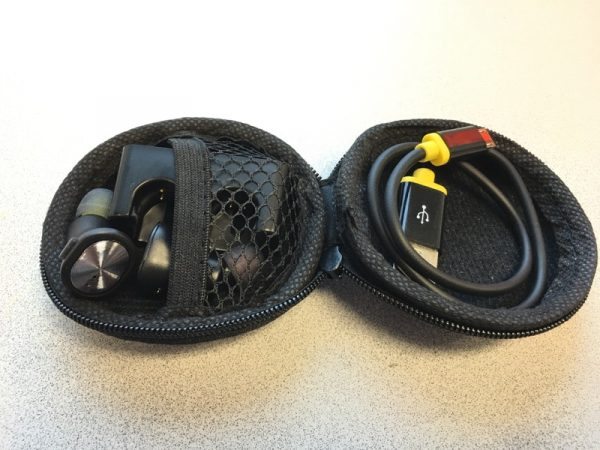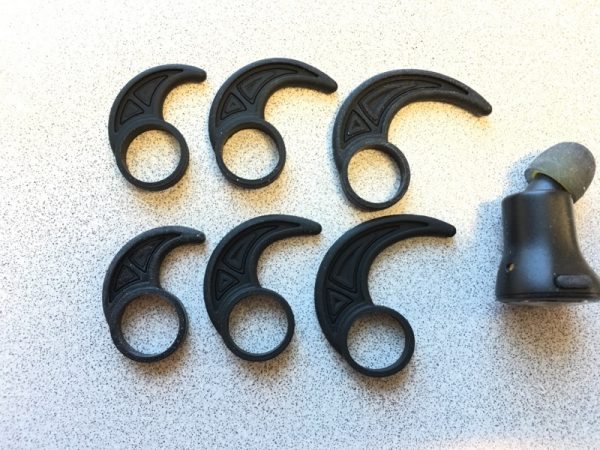 There are three different sized ear "hooks".  That's a good thing:  I can never get ear buds to simply rest in my ear.  At least I had a choice.  The "middle" one seemed to work best for my ear.
The included cradle can charge both ear buds at the same time.  Note the tiny charging contacts.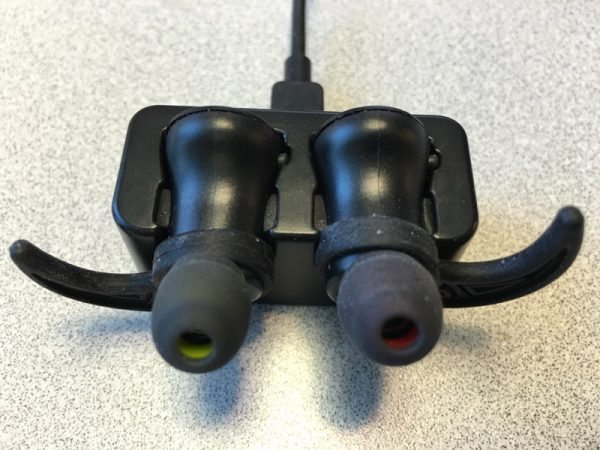 One minor design gotcha:  you may have to move the ear hooks around a bit during charging.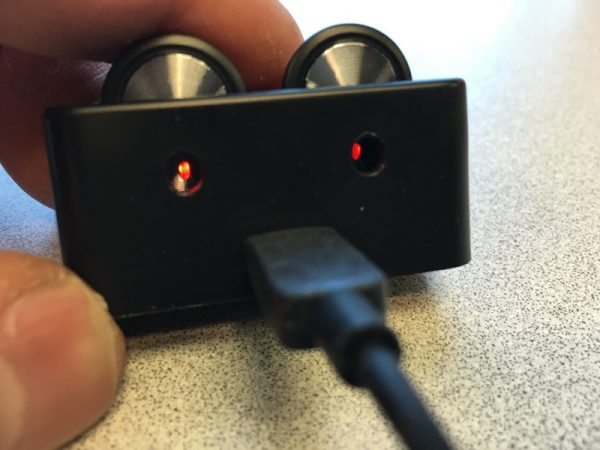 Round cutouts in the back of the charger show the charge status of the headset.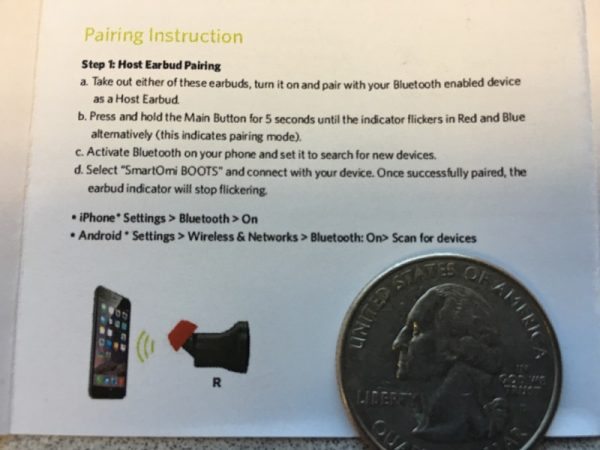 Here's a closeup of the printed instructions.  I found the instructions to be barely legible.  I've included a quarter for a relative size comparison.  The print was just too small for my eyes.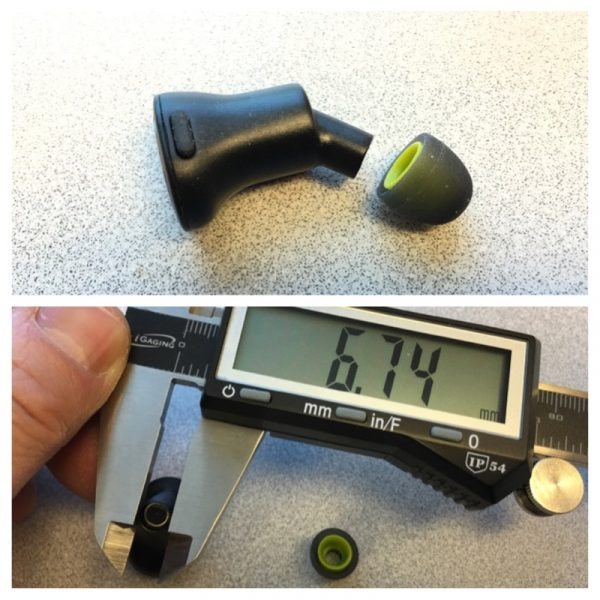 Without the ear hooks, the ear buds would just not stay in my ear.  I tried the different size ear inserts, but none of them made much of a difference.  The flexible eartip material didn't provide a lot of grip, for one thing.  For those of you who like to use custom eartips, the shaft measures 6.74mm across.
The actual sound wasn't bad.  I suspect that the sealed nature of the earbuds helped boost the low end.  On the other hand, it was hard to hear my surroundings.  Some like that, but I do not.
I walked around my office, which is mostly made of cubicles.  I got about 50 feet before I heard any dropouts.
However, since the earbud contains its own battery and electronics, I found the body to be slightly lopsided, and the center of gravity worked against me.  Maybe it was my unhappy ear shape, but I had this uneasy feeling the earbuds were always going to fall out.  I caught myself constantly reaching up to adjust the fit, or reassure myself that nothing was about to fall out.
The SmartOMI BOOTS wireless earbuds are clever.  No more cords!  In the end, they're not for me because I simply prefer over-the-ear headphones.  But if you don't mind in-ear headphones, it might be worth a look.
Source: The sample for this review was provided by SmartOMI. Please visit this Amazon link for more info and use the discount code AZI7DOR8 (no expiration date) to bring the price down to $59.49
Product Information
Price:
$69.99
Manufacturer:
SmartOMI
Retailer:
Amazon
Requirements:
Pros:

Totally wireless, no cords.
Comes with an assortment of ear tips and hooks for a custom fit.
Waterproof (listed as IPx7).
Works with Siri.

Cons:

Printed instructions may be hard to read.
Not for those who dislike earbuds.