We use affiliate links. If you buy something through the links on this page, we may earn a commission at no cost to you. Learn more.
Product Requirements:
Device:
Any touch screen device
Ok folks, I'd like a show of hands…. How many of you out there are obsessed
with finding the perfect writing instrument and / or stylus? Come on, don't be
shy! I know I'm not the only one. Do you ever find yourself in the writing
supplies aisle of your local Office Max or Staples with no knowledge of actually
walking there? Do you read every stylus review posted on the net in hopes of
finding that one perfect scribing tool? Do you camp out at your mailbox waiting
for the next issue of Fountain Pen
Hospital catalog to arrive? Ummmmm…ok, maybe I'm the only one that does
that <blush>
The latest stylus to pass thru my hands is the Itoya O'Grip 3 Function Pen
SH-900. The O'Grip which is available with a black or brushed silver body,
houses a black ballpoint tip, a 0.5mm mechanical pencil tip and a yellow stylus
tip. This writing instrument is small for a multi-pen. It is 5.3 x .33in (135 x
8.3mm) in size when no tips are extended. I really like the small size. 

The barrel of the pen is constructed of brass which gives it strength, and
balance. Even though this pen is small, it has a good weight to it that makes it
feel comfortable in your hand.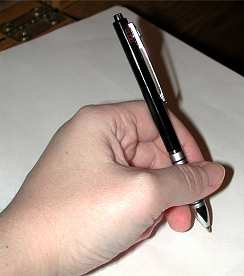 Writing with it is nice because of the rubber O rings in the grip portion of
the barrel. 10 very thin rubber rings (which can't be removed), run the length
of the frosted silver finger grip. They really allow you to keep a firm hold on
the pen while you're writing on paper or tapping on your PDA.

Tips on the Itoya are extended by the popular gravity method. Basically, you
rotate the barrel of the pen till the label for the desired tip is displayed on
top. At this point, you press the plunger and that tip is desired extended. To
retract the tip, you press the black serrated button on the chrome pocket clip.
In practice, extending tips is simple. I rarely if ever extended the wrong
tip by accident. I did find that the retract button was smaller and more stiff
than similar buttons on other styli. This is really the only bad thing I can
find to complain about regarding this multi-pen… And it's more of a niggle
than a true complaint. 

When there are no tips extended the Itoya has a rattle to it when you shake
it. It's not horribly annoying, but there is a noticeable rattle. However, when
a tip is extended, there is minimal rattling.
As for the stylus tip, the yellow stylus tips that Stylus Central uses has
swiftly become my stylus tip of choice. I like their pointy tips and easy to see
color. I found that this stylus worked well with every PDA that I tried it on.
The ballpoint pen tip wrote as well as any typical ballpoint pen. I didn't
notice any skipping or blobbing of ink while using it.
The mechanical pencil cylinder can comfortably hold 4 pieces of lead at once.
A small eraser is housed under the plunger cap.
All in all, the Itoya is a nice small sized multi-pen. I wouldn't say that it
has cured my obsession for finding that perfect stylus, but it has earned a spot
as my day job stylus. Well, at least for the time being :o) 
Available at Stylus Central, and
other fine retailers. 
Price: $29.95
Pros:

Small size
Good grip
Cons:
Retract button stiff
Rattles

Product Information
Price:
29.95
Manufacturer:
Stylus Central
Pros:
Cons:

Retract button stiff
Rattles