We use affiliate links. If you buy something through the links on this page, we may earn a commission at no cost to you. Learn more.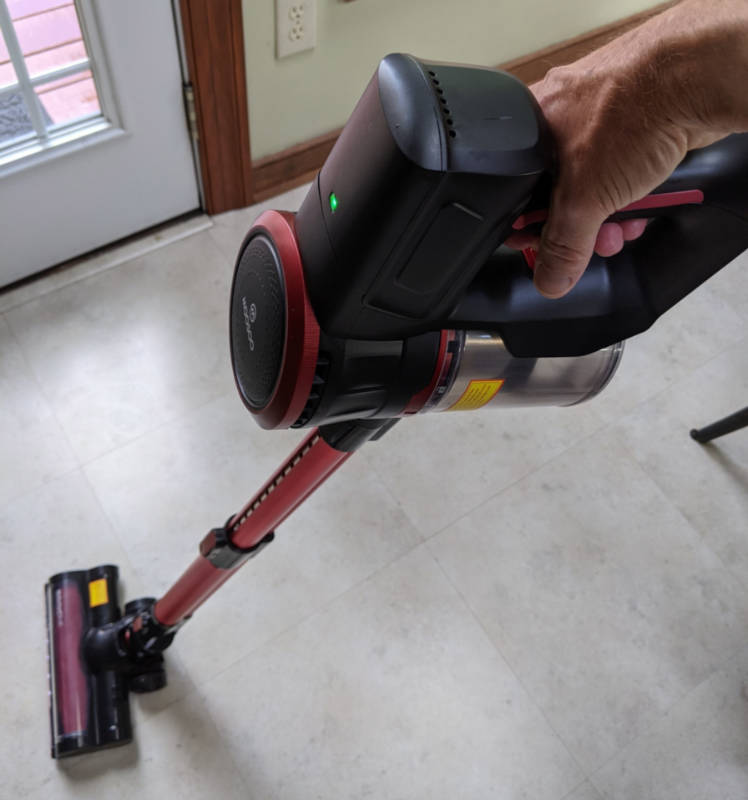 REVIEW – Could this 'stick vacuum' replace your bag or bagless upright vacuum? Could the Moosoo K17 suck the diamond right out of your brooch? I put this rechargeable to work for a month and set aside my Dustbuster handheld and Eureka upright for the sake of science. After testing I'm not getting rid of anything, but the K17 won floorspace at Strickland Acre. 
What is it
The Moosoo K17 is a rechargeable 'stick' style vacuum.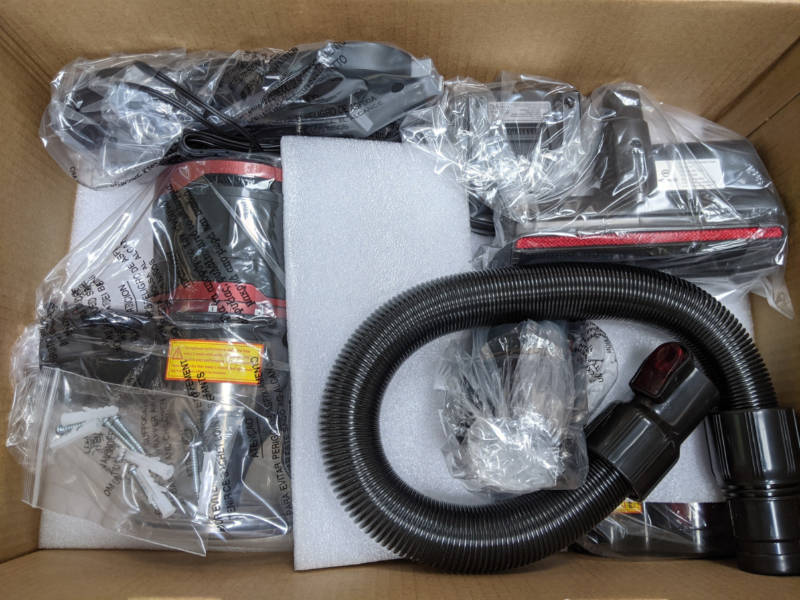 What's in the box
Lithium ion battery

Main motor/handle/dirt receptacle unit

LED powered motorized head

Aluminum extension tube

Crevice nozzle

Oval brush head

Flexible hose

Mini motorized head

Charger / storage bracket with mounting screws and anchors.

User manual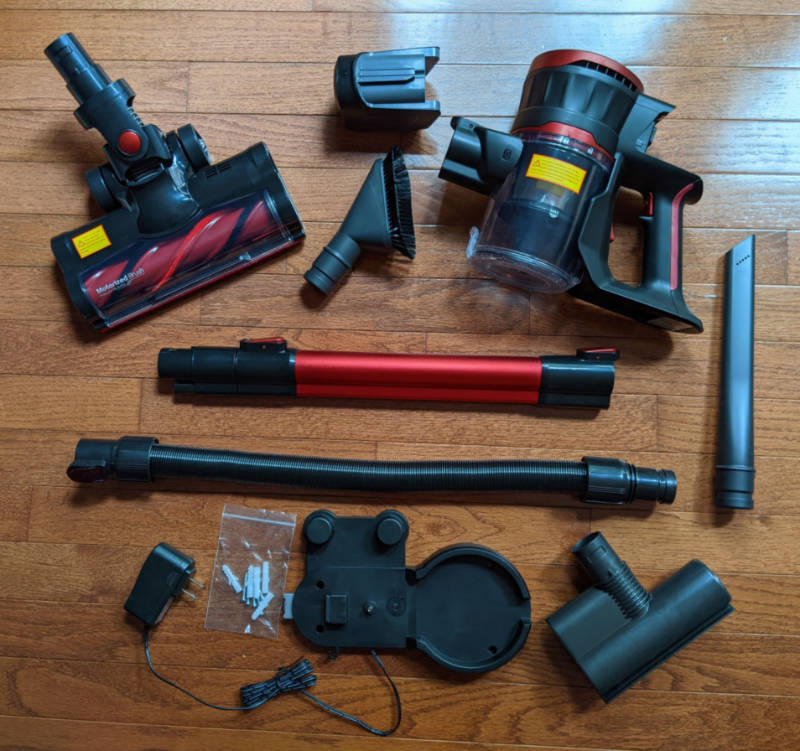 Hardware specs
Construction: Plastic and aluminum

Power modes: 11 kPa and 23 kPa suction

Motor: Brushless DC

Main unit weight: 2 lb. 12 oz w/ battery installed

Filter and dust cup: Sealed design with high-density HEPA filter

Battery: 2200mAh, removable 

Charge time for depleted battery: 4 hours maximum

LED headlight: On main motorized head attachment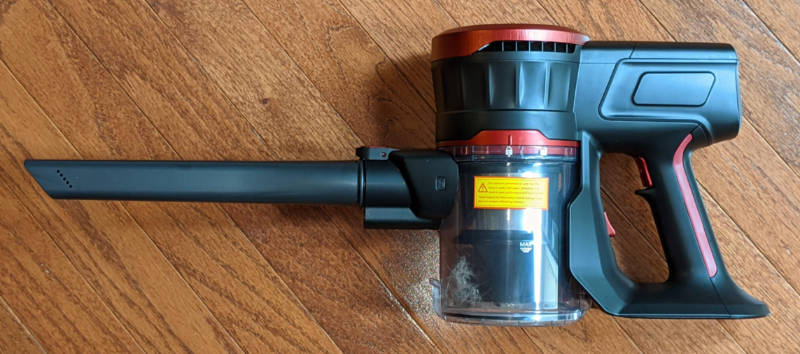 Design and features
The rechargeable Moosoo K17 cordless vacuum comes with a lot of attachments. I used them all but developed 3 favorites. They were the Mini Motorized Head, the LED Motorized Brush and the Crevice Nozzle. All of the heads can be attached to the handle/motor unit or affixed to either the extendable tube or flexible hose. The unit felt lightweight in all configurations and was not any more fatiguing to use than our other vacuums.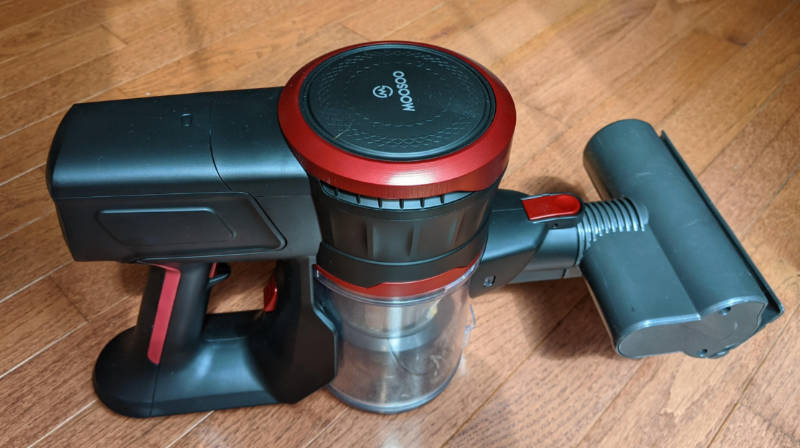 The vacuum is made of durable plastic and aluminum, except for one head. More later on the Mini Motorized Head.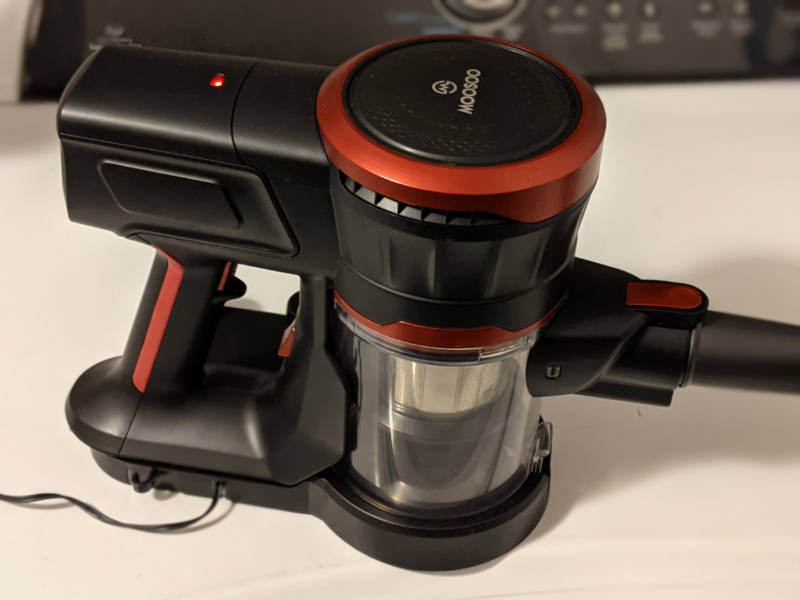 Setup
Insert the battery into the main vacuum handle/motor unit, plug in the charger base, place the main vacuum handle/motor unit into the charger base and wait for the LED on top to turn green. Plan on 3-4 hours charge time.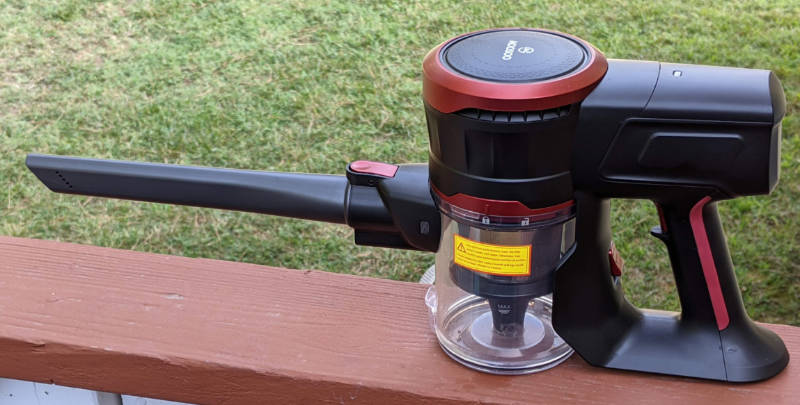 Testing and observations
I mainly replaced our Dustbuster rechargeable with the Moosoo K17 for the past 4 weeks. I mostly appreciated the quietness of the K17. Our Dustbuster is deafening. I literally use earplugs if I have to use it for more than 30 seconds.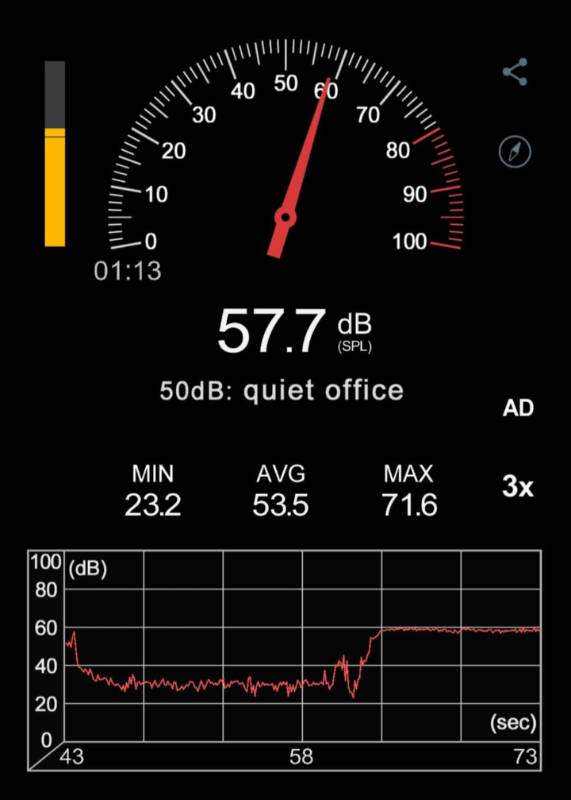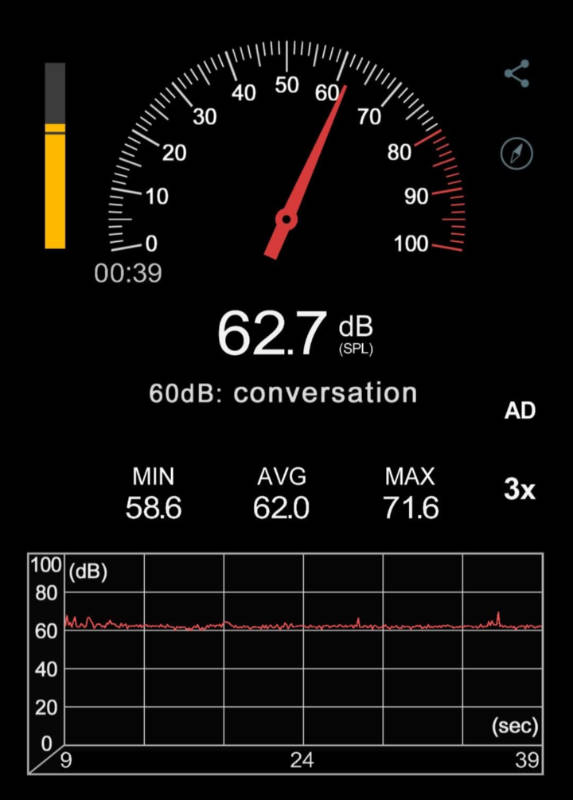 Here are Sound Meter app readings of the Moosoo K17 at regular and high power modes. I took readings about a foot away from the handle / motor unit with it running.  These readings are similar to the sound level of a room with people talking quietly.  
My Dustbuster clocks in at 76 dB. That's like a busy street intersection.  
For comparison, as I'm typing, this room reads 28 dB average with the only sounds being a clock ticking and distant fridge motor noise.  
I didn't feel like leaving a vacuum running to check the total time it ran before needing a recharge. But I only recharged about once every 5-6 days and I used the K17 daily as needed.  If I did longer jobs like vacuuming a car and/or a large area carpet I expected to charge sooner.  I really only used the higher power setting when vacuuming our oriental carpets.  Low power did great on hard floors and was a touch quieter.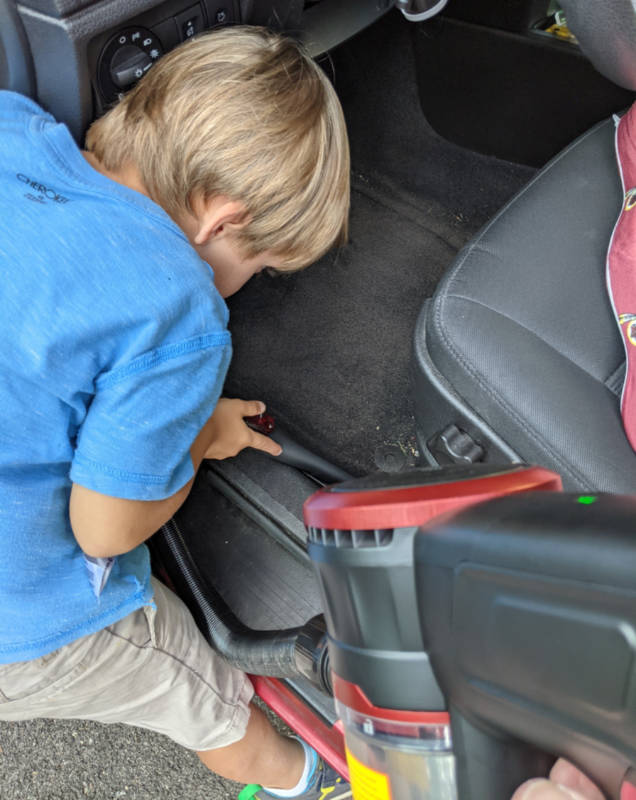 Here I'm employing child labor to assist in my testing. I held the heavy part and A.W. did the dirty work. 
I'd only use the flexible hose for car cleaning, but it seems critically important in that application. It's easier to manipulate the crevice tool on the end of the flex hose on car floors and seats than it would be to use the same crevice tool attached directly to the main handle unit.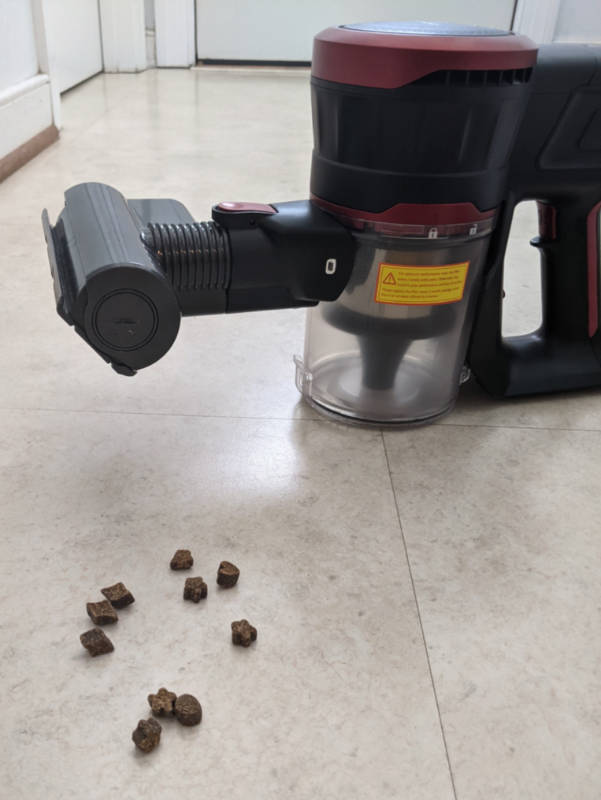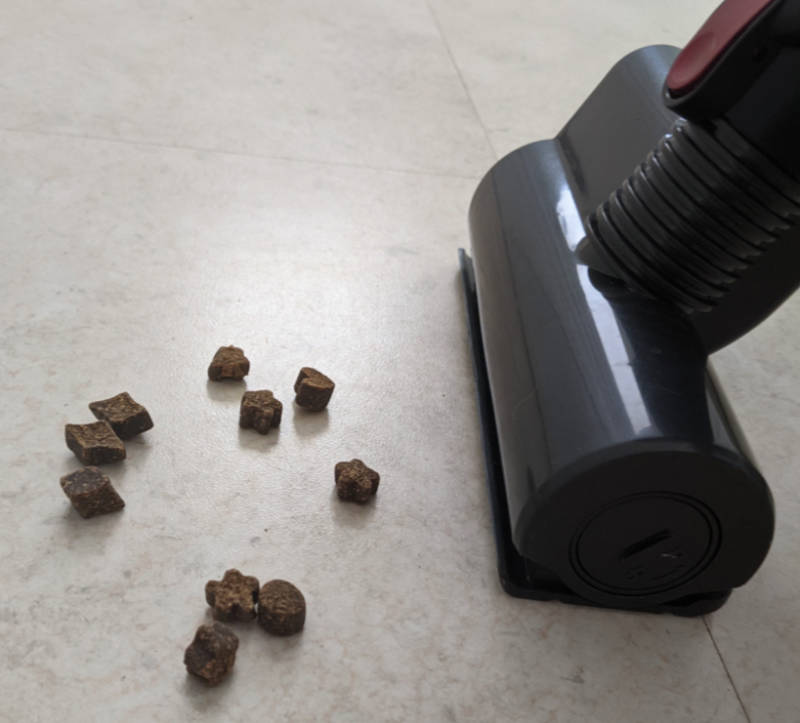 Since I pitted the K17 against the old Dusbuster I yearned for a Dustbuster-esque head attachment. Alas, none was present. So among the available attachment heads I usually kept the 'Mini Motorized Head' on the device. It enabled the device to remain short and hand-held, and did most hard floor vacuuming jobs well. But this head is designed to vacuum tightly against the floor or other surface. Great if your dirt is flat, like dust or hair. Bad if it's much bigger. I had to tilt the vacuum awkwardly backwards or forwards to pick up larger items.  
There was no great attachment for pet food kibble sized items. The Crevice Nozzle will do it but it has a small focus of suction. It's for crevices, after all. The Oval Brush has brushes that seem to block the entry of larger items so it tends to push them around, or you have to place the head down on the items vs. sweeping towards and over them. I want to be able to vacuum up small marbles if I choose but I'd have to tilt several of the heads to accommodate their design instead of having them work for me.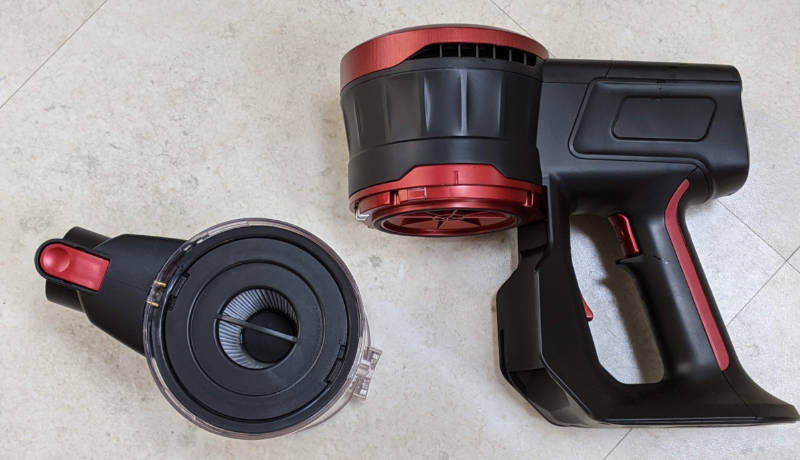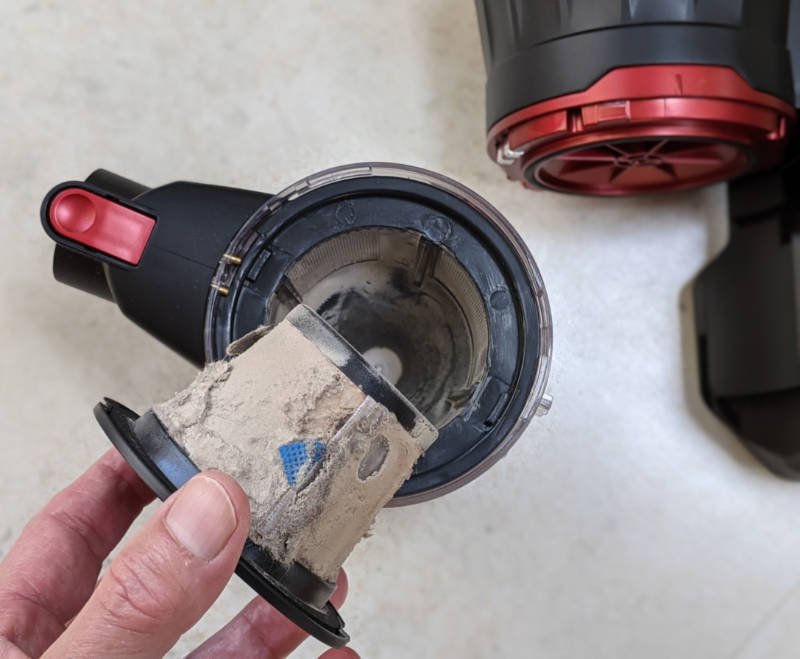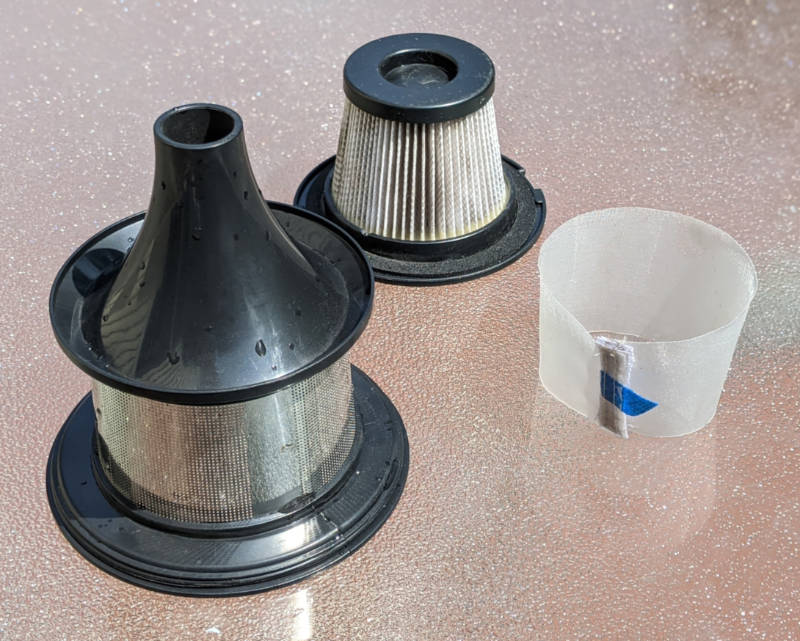 I don't have the expertise to verify the claims that the K17 truly has HEPA filtration. It does seem to filter well and no perceivable dust came out of the unit when it was in operation. My Dustbuster and our Eureka upright stay dusty due to dust coming out of them. The K17 remained clean on the outside throughout a month of daily use.

The large LED Motorized Brush is the most logical attachment for carpeted floors but works well on hard floors too. It has motorized spinning brushes which should clean carpets and rugs better than suction alone. I doubt the K17 has the power to replace an upright vacuum, but it seemed to remove surface dust, crumbs, etc. from our carpeted floors. The LEDs are OK, but are sort of dim. When they help reveal something it's nice, but they aren't lumen blasters for sure.
I vacuumed our kitchen with the K17's large Motorized Brush head prior to flat-pad mopping and it did a great job. Poor sweeping is soon apparent when mopping laminate floors and there was no rolled-up dust or debris left around the floor or on the mop head after mopping.
I dropped the K17 motor/handle assembly from 3 feet when trying to carry too many things with two hands from one room to the other. There was no damage. The plastic used in the construction of most of the parts seems durable and is not brittle. The Mini Powered Head seems to be made of cheaper plastic and I doubt it would sustain multiple drops from any significant height.
Poquito (our dog) knocked the whole device on its side when his owner had left the motor handle attached to the Motorized Brush with its extension tube fully extended and upright. (It balances, but the dog demonstrated the hazard.)  There was no damage to accompany the unnerving crash sound.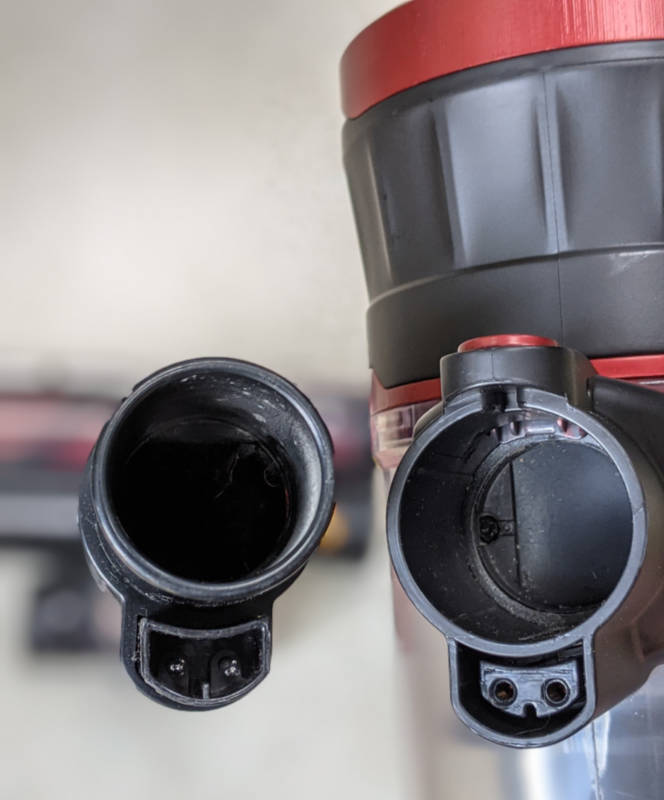 This shows the power connection between the main handle/motor unit and the extension tube. There is an identical connector at the LED Motorized Brush and the Mini Motorized Head.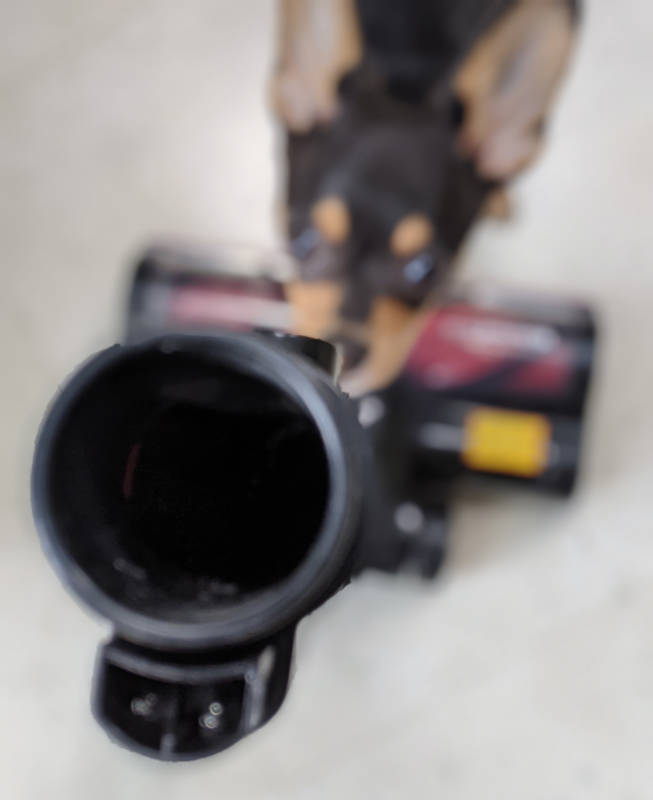 Something intruded and messed up my focus!
It's almost relaxing to watch the frass swirl around.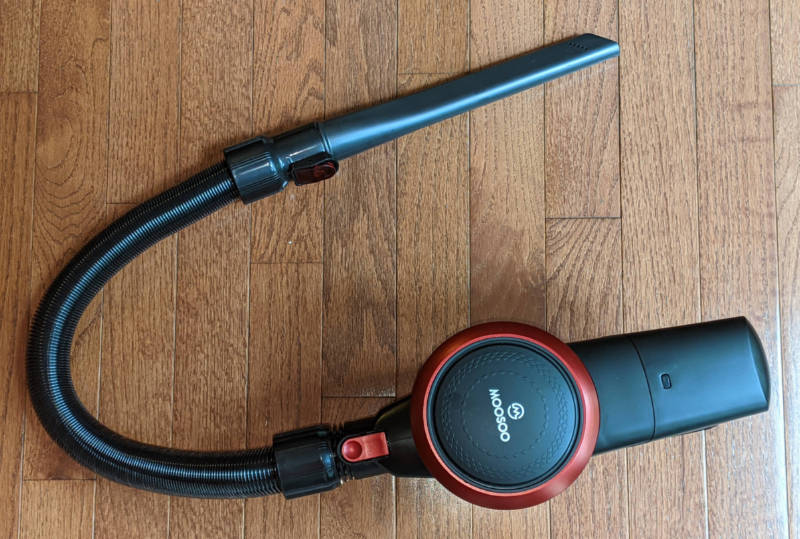 What I like
The K17 is effective on hard surfaces and for picking up surface dirt on carpets and rugs.

The beater brushes of two attachment heads are electrically powered vs. spinning by air suction.

Pretty good attachment selection.

Good battery life.

Easy dump action to remove dirt from the collection compartment.

Easy filter cleanup.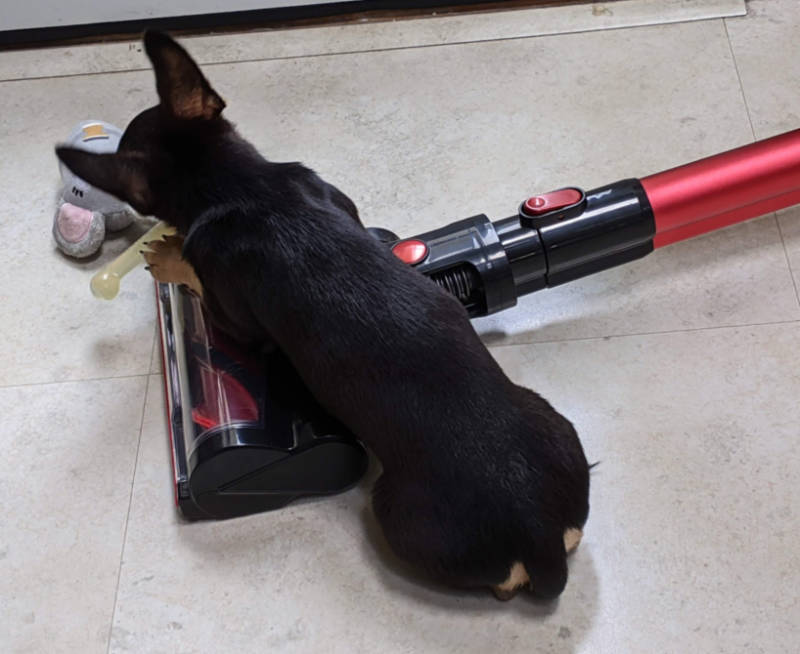 Poquito found the Motorized Head to be a comfortable surface for bone-chewing when it was turned off and on the floor. He barked at it during use. Go figure.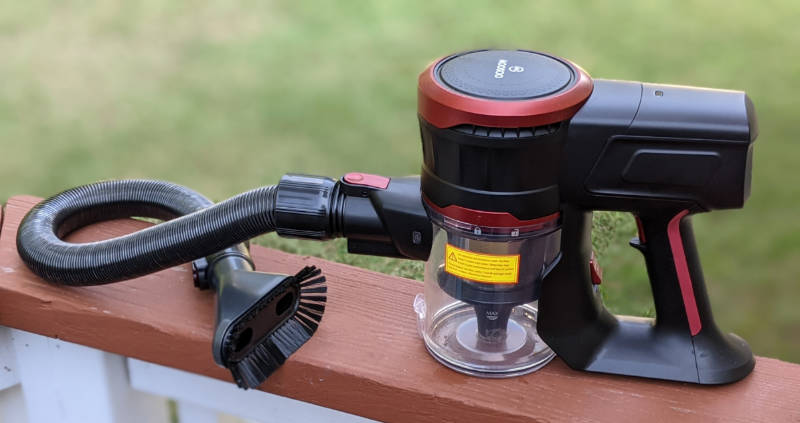 What I'd change
The English manual needs to be edited for spelling and grammatical correctness.

Add a head that can easily pick up cereal, dog food, BBs, etc.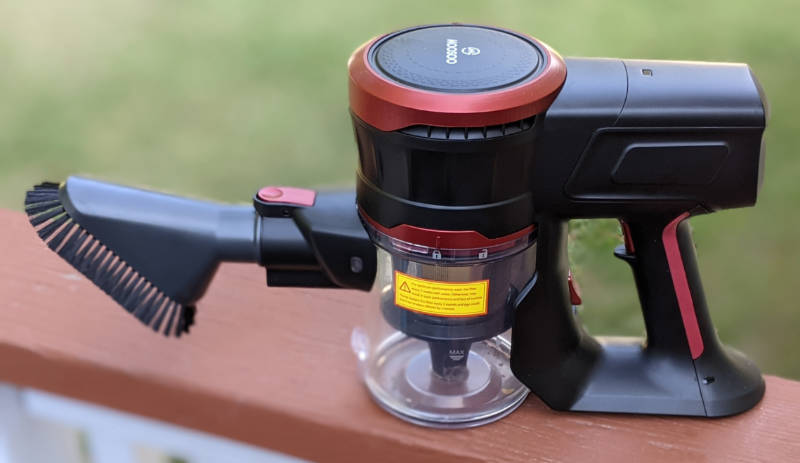 Final thoughts
During the course of my testing, this device decreased in price making it an even better value. The Moosoo K17 is more of a spot vacuum than a whole-house vacuum if you have a lot of carpeted area, so don't give up your high powered bag or bagless upright vac. But I think we'll move our other handheld vac upstairs and keep the Moosoo K17 in place in the first floor kitchen where it'll be our primary hard surface daily dirt sucker.
Update 6/14/22
The MOOSOO K17 continues to be the tool we grab first for quick, quiet light-duty household vacuuming. Our well known brand name small hand vacuum is more powerful but is so loud it sees little use since the MOOSOO K17 got here.
Price: $109.99
Where to buy: Walmart.com
Source: The sample for this review was provided by Moosoo.