We use affiliate links. If you buy something through the links on this page, we may earn a commission at no cost to you. Learn more.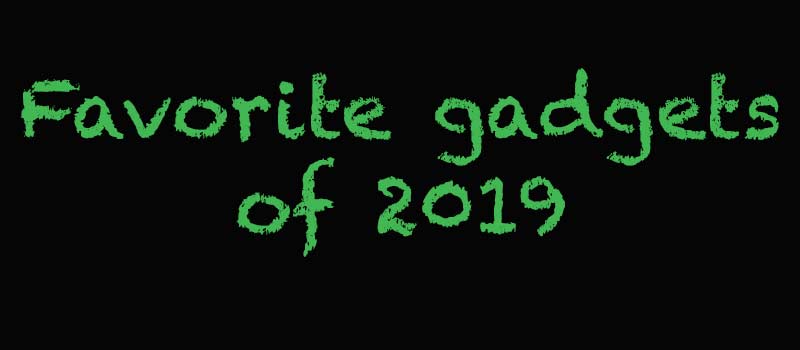 ARTICLE – A few days ago we posted part one of the Gadgeteer's favorite gadgets of 2019 and today we're back with the rest of the team's favorite gear and gadgets (including mine) from the past year. Enjoy!
Julie Strietelmeier
I have to say that this has been my all-time favorite phone. The battery life is fantastic, and the camera is so good that it's my only shooter. I use it for everything including 99.9% of the product images that I use in my reviews. The only feature missing with this phone is a microSD card slot and honestly, I don't miss not having one.
I use these earbuds almost every day. In addition to sounding great, the battery life is outstanding and the fit and comfort make them perfect for my ears. Add in the fact that they are crazy affordable and they easily made my 2019 favorites lists.
I love this bag because it's not too big and not too small, it's just right. It holds all my EDC items and my lunch, so it ticks all my boxes when I am searching for the perfect gear bag.
I connect my tiny 12in MacBook to a monitor when I'm working in my office (Gadgeteer HQ) at home and when I do that, I like to use a full-sized keyboard and mouse. The Logitech Craft Keyboard and MX Master 2 mouse that I'd been using were replaced this year with the new MX Keys and MX Master 3 mouse.  Both are comfortable to use, have long battery life and can be customized to match your workflow. I highly recommend them.
I've been on a meal replacement shake binge this year and will be trying even more brands in the coming months. But as it stands right now. Huel is my current favorite meal replacement shakes due to their taste and convenience.
Julian Perry
Earlier in 2019, I bought my first 3d printer. It was an FDM printer and I have had nothing but excitement about what I have been able to design/create and print. A month or 2 ago, I got the opportunity to test and review this Elegoo mars resin printer which is quite different in terms of its creation process and materials used, but the end results are amazing with very few hiccups, and at a level of quality, detail and finish that surpasses that of my FDM printer.
This JBL speaker works really well for entertainment and has enough power for a large room and even for outdoors. Its Bluetooth connection is solid and it offers enough connectivity options that you can even play instruments through it. It is attractive, heavy so it won't tip over, and while not an audiophile-grade speaker, it still sounds great with every genre of music that I listen to.
The BenQ SW271 monitor is a dream for a photographer when editing photos and working to achieve color accuracy. It is a great performer, with the connectivity that you need and the accessories like the hood to add to the ability to edit. It is no secret that I am a fan of BenQ monitors, and this one is another winner.
I have had the honor of reviewing a few MouseTrapper products, and I love them all. I recently reviewed the MouseTrapper Flexible, and it has now become a permanent part of my EDC and I use it for almost 8 hours every weekday when I am using my laptop. Not only has it eliminated all stress on my wrist, but I personally enjoy how it functions.
After more than close to 40 years have passed since I rode a scooter, I got the chance to relive my youth and to test this scooter. Since my first ride on it, I have become completely hooked. Not only is it a smooth and enjoyable ride, but the built quality is great and the feature and reliability as also stellar. The standing base is wide enough to allow my feet to be comfortable, and the size is perfect for an adult. My only continuous challenge is trying to keep my wife from taking permanent possession of it.
Raul Sanchez
It's been a few years that I first received the Plantronics BackBeat Fit headphones and I can't say enough about them. They are my most favorite pair of headphones. Not only do they sound amazing but they are one of the few headphones that I can have full control of my phone right from the headphones. I can control Play and Pause, Skip Forward and Previous, I can control the Volume and get Battery Status all with a touch of the very responsive buttons on the earpieces.
Don't get me wrong, there are headphones that may do the same, except they require you to hold down their buttons for a few seconds. With the BackBeat, I literally just double tap it's button and can Skip a song in an instance.
I can skip through several songs in the time it takes me to skip just one song from those other headphones or earbuds. This is because with other headphones, it can take three seconds to Skip a song. This is a big deal if you have ever been running and don't want to break your focus and stride. Plus, it is quite cumbersome to run when you are holding your finger to your headphone buttons trying to Skip songs.
My next favorite post is for a unique action camera because it doesn't look like your typical matchbox GoPro style body. It is the OCLU action camera.
First of all, I love that the camera already has a water-resistant body so you can use the camera in and around water without a need for a waterproof case. However, there is a waterproof case for it to be used for those deeper water activities like scuba diving. I love the shape of this camera because it has the LCD screen on top of the camera which gives it a different perspective when mounting the camera in different and hard to reach places. Plus, the camera offers OCLU's proprietary Live Cut feature which allows you to delete unwanted clips while recording. This way you can discard the bad footage that you know you don't want as you record and it helps minimize that extra time going through bad and unwanted footage during editing.
The video and photo quality is amazing. I am really impressed with this 4K camera and is one of my favorite cameras to use in and out of water activities.
David Rees
We use the Anova sous vide cooker several times a week. Its ability to perfectly cook steak, chicken, fish, etc every time makes dinner preparation much easier after a long day. You never have to worry about over (or even under) cooking meat again…truly a slam dunk every time. Over the past year, we have given several Anova sous vide cookers as birthday gifts and plan to give a few more this holiday season.
The totallee screen protector is the best screen protection I have used to date. Having tried so many of these over the years, the nuances and details matter to me. It is well made with an even better design. It covers the whole face of the iPhone including the notch. Its black edging disappears into the sides of my smartphone making it appear as if there is nothing there.
I carry the James Brand "gentleman's" pocketknife around with me most days. Though instead of transporting the Duval in my EDC bag, I prefer to have it with me everywhere I go and usually carry it in my watch/coin pocket of my jeans or Carthartts. The Duval's quality, size, function make it an ideal companion as you travel through your world.
Matt Sailors
The Free P2 is an excellent addition to the Leatherman's family of multitools. It combines the best features of previous generations with improved ease of use–one handed opening and glove-friendly tool deployment. I am very happy with the upgraded blade and tool locking system. I have been very wary of the liner-lock blades on previous Leatherman multi-tools and feel that that the upgraded locks on the Free series multi-tools is a long-overdue upgrade. I was originally concerned that the magnetic closure system would cause problems with other EDC items, but that has not been the case.
Bionik TV LYNX Nintendo Switch portable connect and charge kit review
The TV LYNX kit has been a godsend. My kids can now easily take their Switch with them to friends' houses and on family trips and still enjoy playing on a big screen with their friends. The TV LYNX is much easier to carry and set up than the official docking station and perform just as well when on the go.
Dave Moore
Brillant's Home Control Smart Switches make my "favorites of the year" list with solid performance, ease of use and compatibility with my other home automation equipment. Not a day goes by that I don't use multiple functions packed into the sexy touchscreen control, especially camera access to see of my pizza delivery has arrived, asking Alexa for the weather, and turning the lights on and off.
As an engineer and designated family repair guy, I am almost never without my trusty Leatherman multitool. This year, Leatherman introduced "Free" series with easier to deploy tools, magnetic latches and smooth operation, which has become a new favorite. I've used my P4 tool virtually every day, for everything from opening cans, removing a fish hook, extracting a nasty splinter and tightening loose door knobs in my mom's house. On the rare occasion, I'm unable to carry my Leatherman, I feel woefully unprepared.
David Ferreira
OK, so these are not 2019 products, but I came to them early this year. Our own inestimable Dave Rees reviewed them in April 2018. Because I travel a lot (I may have mentioned this 1 or 1m times) I need light earbuds that sound great with both music and calls, they need to have exceptional battery life, and they need to seamlessly connect to multiple devices. So far, these are the only earbuds that tick off all three boxes. I get almost 5 hours continuous use (plus 2 more full charges from the case), the fit and therefore the sound is simply the best I have found, and I can connect to both my phone and tablet – and switch between devices easily. Plus they are comfortable for prolonged use.
When I am not traveling (sense a theme here?) I can be found in Houston – specifically, most of the year, in the pool. I had a chance to review the Soundcore Flare Mini during prime pool season this year. It was an immediate hit in every respect. The sound compares to speakers costing 2-3 times as much, it "pairs" with another Flare Mini to create stereo sound, and it is waterproof (IPX7 no less), making it my perfect pool tech. I can float, cocktail in hand, while catching up on my tech podcasts. Then into the house for a Latin dance party in the kitchen while preparing meals for the week with my wife. No matter where I place it, the 360 degree sound means I can hear it well – one at either end of our kitchen island and it feels like you are in the middle of a concert you created. Since I reviewed this, hardly a day goes by without me using this speaker. That should tell you how good this is.
Joseph Porletto
This literal tank of a charger has saved my butt so many times. I carry it in my EDC bag and sometimes complain about how heavy it is, but all of those complaints are quickly forgotten when it's 2am and I'm stuck somewhere with no access to power and have a laptop, phone, and kindle all on zero. The Zendure always saves the day with power to spare.
The Trackimo is a favorite gadget of mine for the odd reason of never having to use it. I installed the Trackimo behind the dashboard of my FJ Cruiser as a way to track my car in case it ever gets stolen. I check it on the app every week or so to make sure it's functioning and it recently came in handy when I loaned my beloved FJ to my brother for a week. Trackimo helped me make sure he was being responsible with my baby. The Trackimo has always delivered and if my FJ is ever stolen, Trackimo will lead the authorities right to her.
Ryan Chapman
This year has flown by, and while I have one item that I've used since 2018, I've added two new ones to my top items of 2019 and kept one from 2018. Here's my top three for 2019!
This has been my school backpack since I received this, and I have never looked back. Not only does this work perfectly for school, but when I've taken trips I have used it for under seat storage. The width is perfect for under seat storage and I have used the expandable 'suitcase' section more than once when I needed a little extra space.
I was a little hesitant at first when using this keyboard, but it really grew on me. I absolutely love being able to customize the lightning, and it is compact compared to my previous keyboard. One thing that I found using more and more was the volume dial; I didn't realize how useful it was until I had one.
Speck Presidio magnetic mount case and Scosche MagicMount Pro Charge review
I've used this case longer than any other case in my life, simply because I love how useful and protective it is. Since using this combo, I rarely run out of battery at the end of the day. I spend 20 minutes in the morning and 20 minutes in the evening with it charging, and if I ever need to use GPS, it can charge and go at the same time. I'm almost at the point where I need a new charging case, and I know I'll get the same one just because I know how reliable it is.
Howard Sneider
Even though this is a recently reviewed product, I have been using them twice a day since receiving it and I just love the way that my mouth feels after each use. I find that knowing that the toothbrush will provide feedback after each use provides extra incentive to ensure that a good brushing technique is followed and that routine use is logged in the use chart. This item is still being crowdfunded; as of December 11, 2019, it has raised almost 13 times the funding goal and there are still 8 days left! You can buy one for $79.99 on Indiegogo.
It is no wonder the ZOMOI 9-in-1 USB C Digital Multiport Adapter is one of my favorite and most used gadgets of 2019 since this Swiss-Army knife of an adapter can connect almost anything to a type-C USB except the kitchen sink (see my USB kitchen sink review coming out April 1, 2020). The port adapter has come in handy to connect my LG G7 phone to my work HDMI display and USB mouse and keyboard. I have also used the detachable USB Type-C cable to transfer data from my phone to my computer at the highest rate possible. The latest version includes greater compatibility with MacBooks and the 2018 iPad Pro. You can buy one for $49.99 from Amazon.
Although they may proclaim that "Winter is coming" at King's Landing in GOT, it is in full swing in New England. The AceBeam H40 headlamp is an invaluable gadget for assisting in early morning shoveling and plowing chores. When I dropped my keys in the snow a couple of weeks ago the AceBeam was useful in helping to search for them. It is very bright for such a small and lightweight lamp. You can buy one for $29.95 at Amazon.