We use affiliate links. If you buy something through the links on this page, we may earn a commission at no cost to you. Learn more.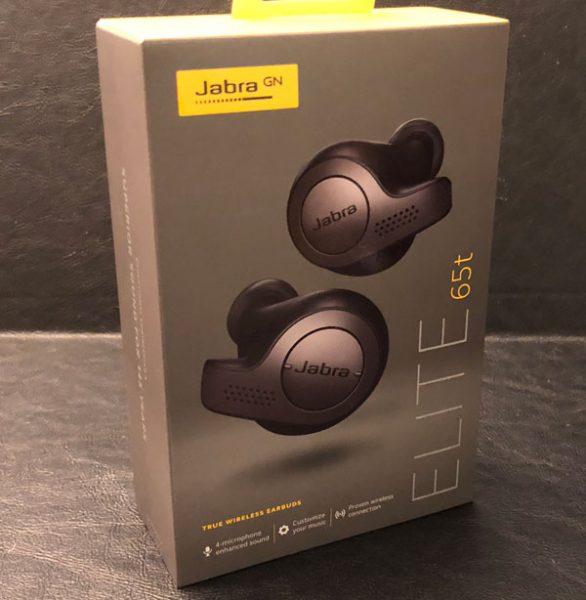 Jabra's Elite Sports truly wireless earbuds were my favorite earbuds of 2017, perhaps ever… Their secure fit, comfort, quality, rugged build, and sound experience was second to none in the cord-less, fitness world of music listening. Though recently Jabra has introduced several additions to their Elite line of wireless earbuds: Elite 45e, Elite 65t, and Elite Active 65t. For this review, Jabra has sent me the Elite 65t's to give them a try and see if they live up to the originals I've come to know and love.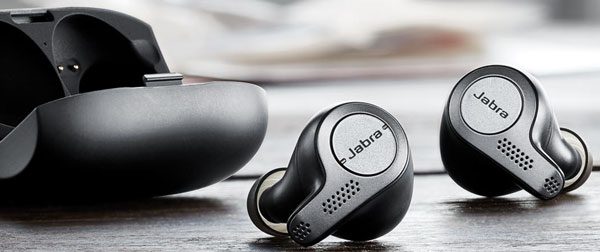 What are they?
The Elite 65t's are Jabra's second generation of truly wireless earbuds with improved sound quality, a better, more secure fit, and Bluetooth 5.0 connectivity. These lightweight earbuds are not only comfortable with a secure fit but engineered/optimized for listening to music, videos, and participating in calls.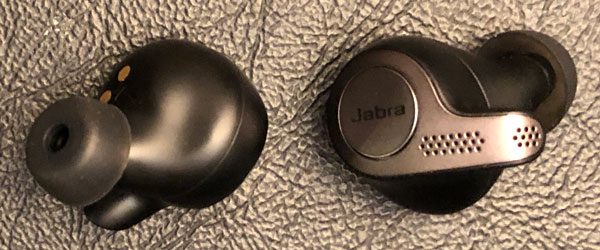 Design and features
The Elite 65t's design is a departure from Jabra's classic fin-stabilized form factor. Unlike its predecessor, the 65t's molded shape is all that is needed to securely hold the earbuds in your ears. Inserting them into your ears is a simple quarter turn process…as easy as turning a 90-degree valve.
The exterior of the earbuds is made of a gray metallic plastic with Jabra stamped in the center of both multifunction buttons. Each earbud has two microphones for better ambient noise and wind reduction, making for crisp clear calls on both sides of the conversation. The rest/majority of the Elite 65t earbuds are a hardened black plastic, each with a pair of metal connectors for charging in their case.
Build quality and style:
The Elite 65t earbuds' material and build quality are both very good, as you would expect from a high-end and relatively expensive set of headphones. The Elite 65t's have a very tight build and an IP55 rating against dust and water, meaning they can survive moderately sweaty, rainy workouts. Jabra offers a one year warranty on parts and workmanship and two years against failure due to dust, sweat, and weather.
The Elite earbuds are direct competitors of Apple's AirBuds and crush them in nearly every category including: secure fit, features, controls, and overall looks. I admit style is subjective, but Apple's earbuds look like white dangly earrings from the 1980's that could come falling out @anytime. The Elite's secure fit, compact design, and subdued looks are much more me.
Package Contents: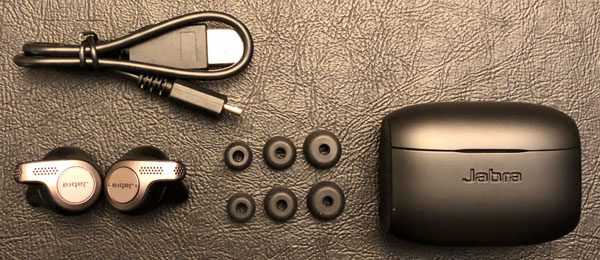 Jabra Elite 65t
Charging case
Micro USB cable
3 sets of silicon EarGels
Quick Start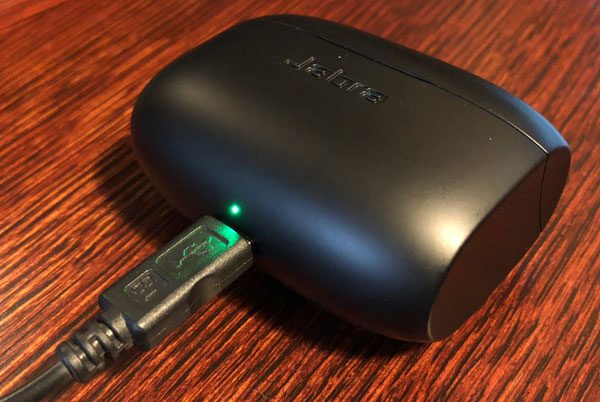 Charging & Storage:
The charging case is small, black, and well made. It is meant to not only charge the Elite earbuds but store, transport, and protect them as well. The case is powered by a micro USB charging port on the base. There is an associated status LED meant to let you know when it needs to be recharged, is charging, or fully powered up.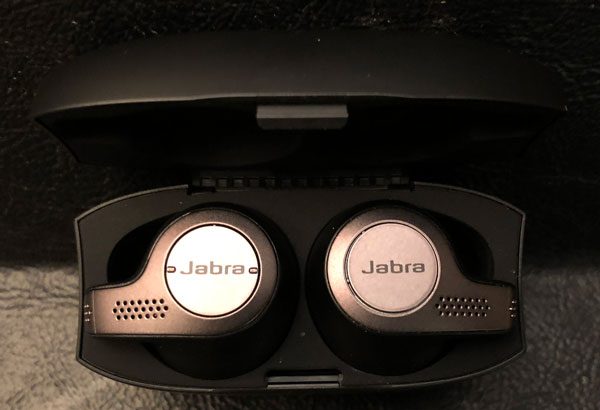 The top third of the case opens to reveal two form-fitting spaces for the earbuds, with a LED in between that lets you know if the headphones are fully charged and ready to go. The lid has a tight and very firm seal that can be tricky or an effort to open. But with a bit of practice and use, opening the lid becomes easier as the case/mechanism wears in. When the earbuds are in the case, LEDs on their exterior momentarily pulse, depending on how charged they are (green) or that they've made contact with the charging points as you store/charge them (red).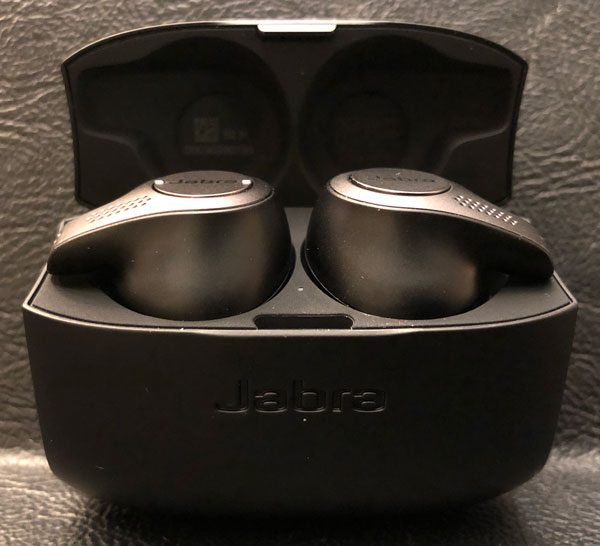 Jabra promises 5 hours of use before needing to recharge. The storage case has an internal battery with two additional charges before the 65t + case needs to be plugged back in. If your earbuds run out of power and you want to use them on the fly, a quick 10-15 minute charge gives an hour plus of listening, long enough for most runs, commutes, phone calls, even most shows and videos.
The earbuds themselves are relatively lightweight (the right-ear at 6.5g, the left, 5.8g) and so comfortable, you barely know they're there. The right bud has a single multipurpose button for call answering, pausing/playing music, and pinging your smart-devices' digital assistance (longer press) and the left is a rocker button with two small tabs for managing volume and track skip/repeat (longer press).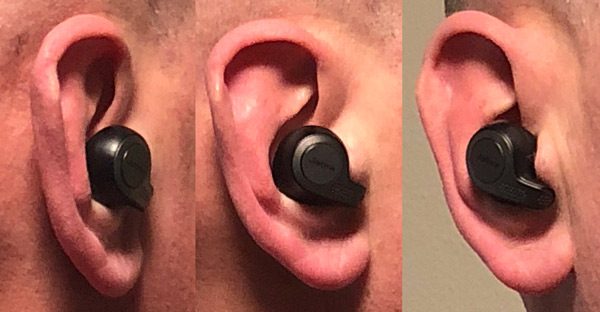 Fit and Comfort:
Jabra includes three sets/sizes of silicon EarGels meant to help find an ideal, custom fit. With the right fit, the Elite 65t earbuds are very comfortable to wear producing excellent sound. Jabra's new wingless design works extremely well, providing a secure fit second to none. Once inserted into my ears, I rarely had to adjust them for comfort or better sound. Even when pressing either multifunction buttons (aka adjusting volume or answering a call), the Elite 65t's remain securely in place.
The easiest way to get them properly situated/inserted is to position each earbud with the arm facing straight down, and then twisting backward. The arms should point toward your face with a slight downward angle, as pictured above.
Sound Quality:
As with most/all earbuds, the better the earplug-type of fit you can get, the better the sound quality and passive sound isolation. Overall the sound experience was excellent on all fronts: music, video, calls, and video chat. Bottom line: the Elite 65t's are the best sounding earbuds I have ever used or tried.
Companion App: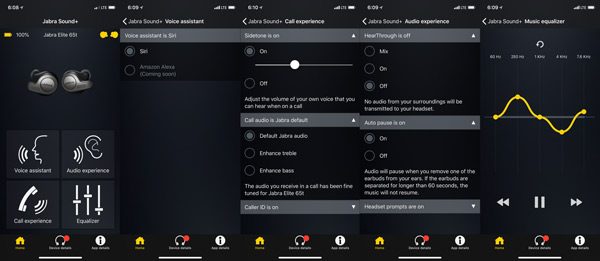 The Elite 65t earbuds work and sound great straight out of the box. That said, the Jabra Sound+  is a companion app that enables you to tweak your experience as you see fit. The app is available for Android and iOS and has a handful of useful features including: Voice Assistant, Audio Experience, Call Experience and Equalizer. The software also allows you to see how much battery life each earpiece has left and whether or not it is time to update the Elite's firmware.
Voice Assistant allows you to toggle between your smartphone's default assistant, Siri, Google, or Amazon Alexa (coming soon). I tried this feature with Siri and it worked just fine.
Call Experience allows you to adjust the volume of your voice you hear on the call, enhance the treble or bass on the call, and hear the name of the incoming caller (aka caller ID).
Audio Experience allows you to toggle on/off the HearThrough function, Auto Pause, and Headset Prompts.
The Music Equalizer enables you to manually adjust a five-band equalizer, which ranges from 60 hertz to 14 kilohertz. This feature works well though I was more than satisfied with Jabra's default sound.
As with its predecessor, when it is time to update the earbud's firmware the app will let you know. As you proceed, the app prompts you to place the earbuds in the charging case then the LED status light flashes purple to signify the update is in progress. The light flashes green when the process is complete.
Connectivity:
The Elite 65t's can be paired with eight different devices but unlike its earlier siblings, they can be connected to two devices at a time (multi-connect). When removed from their case, they automatically connect to the last paired device it was streaming to. When you remove one bud from either ear (as in, to have a conversation with someone) they automatically pause whatever you are listening to and start again when reinserted. They disconnect when placed in the charging/storage case. The Elite 65t's worked very well with all the devices I paired them with from my Apple Watch to my laptop.
What I like
Solid, secure, comfortable fit
Excellent sound quality
Great call quality
Solid passive noise isolation
5 hr battery life (15 w/case)
Zero video lag
What needs to be improved
Not fully water-resistant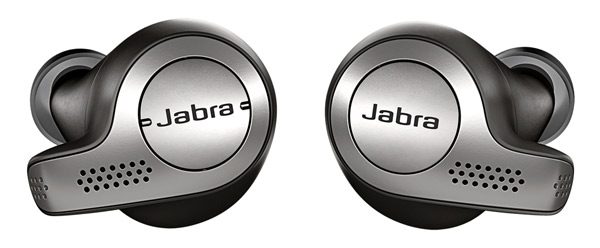 Final thoughts
As I stated above, the Jabra's Elite Sports continue to be one of my favorite earbuds, especially for epic, sweat-soaked workouts. That said, the Elite 65t's have become my new goto headphones the rest of the time. Their comfort, secure fit, sound quality, and overall design are excellent and really the truly wireless earbuds to beat. I worry a bit about damaging/destroying them during an extra sweaty workout thus the reason I continue to use the Sports during long runs. But overall, I carry the Jabra Elite 65t earbuds with me throughout my day for listening to music on the bus ride into work, video on the elliptical machine, running stairs @lunch, or just walking around town.
Price: $169.99
Where to buy: The Elite 65t's are available from Jabra or Amazon.
Source: The sample of this product was provided by Jabra.