We use affiliate links. If you buy something through the links on this page, we may earn a commission at no cost to you. Learn more.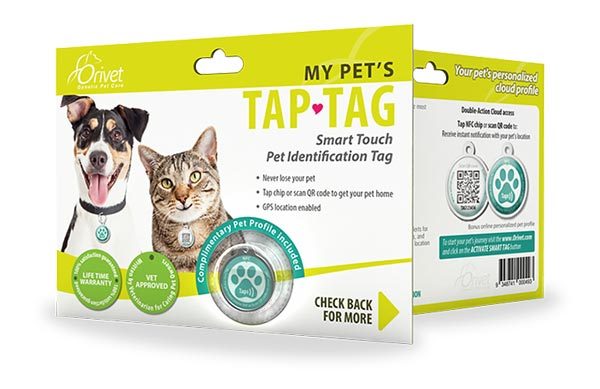 The Orivet Tap Tag collar ID tag is not like other pet tags.  None of your personal information is engraved on the tag.  Instead of reading a phone number off the tag, the finder will read the Near-Field Communication (NFC) chip or QR code identification code on the tag with their smartphone.  The device scanning the pet's Tap Tag can contact you with a call, text, or email to share the GPS location of your pet, as well as the finder's contact details.  The finder can even see your pet's medical information, if desired.
With the purchase of a Tap Tag, you'll be able to create an online profile for your pet.  Orivet says the profile "allows pet owners to receive alerts, plan medication reminders, and interface with pet care providers all in one easy location. A special "lost" pet function will help owners spread the word through social media, personalized printed posters, and step by step guide to help reunite them with their pet."  There are no activation fees and no monthly or yearly subscription fees with the Tap Tag.
The Tap Tag is available for $19.95 from Orivet.