We use affiliate links. If you buy something through the links on this page, we may earn a commission at no cost to you. Learn more.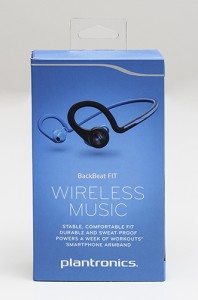 With so many headphones nowadays, I'm really surprised that wireless Bluetooth doesn't come standard in every pair of headphones. When I moved away from the typical corded headphones I never looked back. If I had it my way, it would be wireless or nothing. 
When I got the opportunity to review the BackBeat FIT headphones from Plantronics I jumped at the chance. If you work out like me and find yourself going from one exercise to another, you tend to ignore having headphones on so having wireless headphones is ideal. I can't tell you how many times I have snagged headphones cords on some kind of apparatus at the gym. It's very startling when your headphones or earbuds come ripping out of your ears as you stand up after being hooked. Not only is it an eye-opener but a humbling experience as well.
The BackBeat FIT from Plantronics are a colorful modified Bluetooth 3.0 A2DP version of the BackBeat 903/906 but geared more towards the active individual since they are made with a flexible P2i rubber coating to help protect it from heavy moisture like sweat or rain. With these headphones being water resistant they help your level of exercise and activity go further.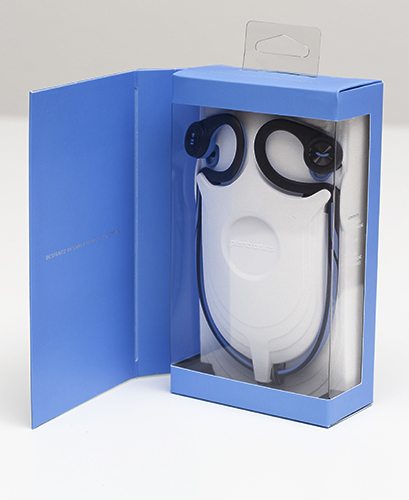 In comparison to the BackBeat 903/906, the FIT appear to be an updated and more streamlined version of the 903/906. It is a behind the neck style headphone and has less bulk to it than its predecessor . Because of the FIT's low profile and minimized bulk, they sit very close to the wearer's head and gives the wearer a modest outline around the ears. The hooks are thin and didn't feel like they were cutting into the top of my ears after wearing them for literally hours at a time.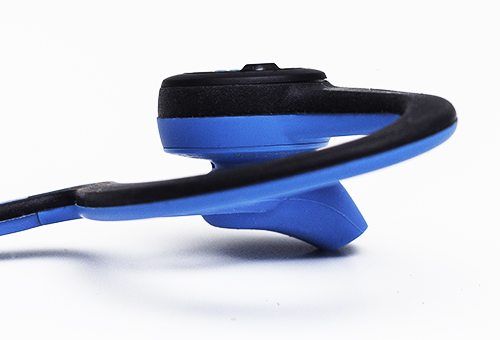 The design of the BackBeat FIT is very minimal with virtually no protruding buttons except for a small raised "bump" located on each earpiece. These raised bumps are tiny yet big enough and easy to operate and are very responsive to touch. The raised right ear  button is for the Power. On the same right earpiece, just below the Power button, is the Answer/End button. On the left side earpiece the small raised button is for the Volume Up/Down. And since these headphones are AVRCP compliant,  just below the Volume button is the button for the Play/Pause/Skip/and Previous to control your media device. So basically there are no other buttons except for the ones mentioned and the great thing about them is that these buttons have multiple functions which keeps the FIT to a minimalist form.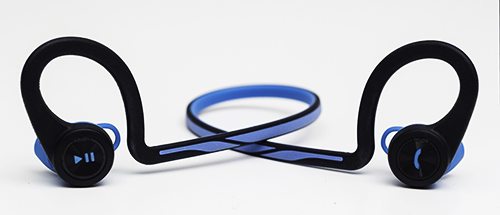 The BackBeat FIT buttons have just the right amount of response and pressure to operate. I never found myself  having to push down hard on any button to work. I like the fact that when I press the Power button, or any of the other control buttons for that matter, the button works right away. Some other Bluetooth headphones I have don't respond so quickly so you have to actually press so hard on the buttons to function that you are pressing the headset straight into your ear which becomes uncomfortable and can cause discomfort in your ear when you do it often in your workout.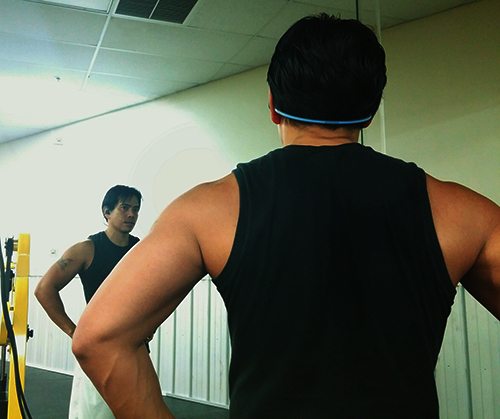 With the BackBeat FIT, the buttons are so responsive, yet not too touchy, that you won't accidentally brush against it and activate a feature you didn't mean to. To turn on these headphones, you just need to press the right ear Power button for what seems literally like less than 2 seconds and to turn them off you just press the Power button again for about 1 second. I was quite pleased on how quickly and responsive the Power button was to turn on and off.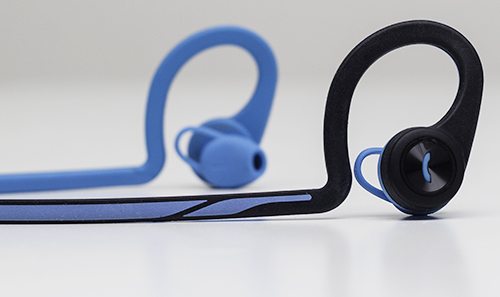 Now as far as sound for music goes, I found the BackBeat FIT to have great sound quality. The highs are crisp and clear without distortion and the lows and mids were apparent without any muffled tones thanks to their 13mm dynamic drivers. I was actually impressed at the evidence of resonating bass in the earbuds when I place them deeper into my ear. You can really  feel the deep bass with these earbuds which is something you don't get with a lot of high end earbuds. So if you like house music, EDM, hip-hop or any music that has accentuated bass then you will be completely satisfied using these headphones.
Aside from the music audio, the phone call quality was just as good. I could hear callers with no problem and they could hear me just as well. No conversations dropped or calls with static. Just keep in mind that as with many other  Bluetooth headset the range on these headphones are around 33 feet  or 10 meters. Anything past that and you start to loose the connection. To answer an incoming call you press the Call button, the Phone icon, on the right earbud. To decline the call you can just press and hold the same button for 2 seconds.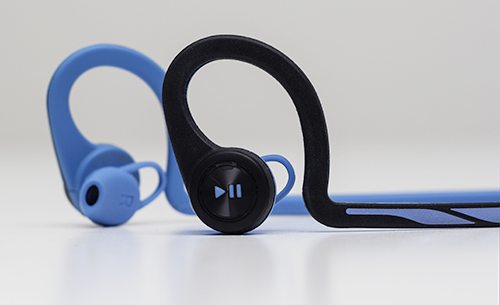 As great as the sound that these headphones produce, one key benefit is that they still allow the user to hear your surroundings around you. I don't know if it is the way the earbuds are designed or what it is, but they do allow for ambient noise to be heard. However, keep in mind this is when the volume is at a moderate level and not blaring so loud you can't hear yourself think. As I wore them, while mowing the lawn, exercising and running, and having the volume at a modest level but not too low I could definitely hear my surroundings in different environments. This is a big plus when you are out running on the road so you can still hear traffic for added safety. You can have your music up at a level that you can jam to your music and noticeably hear your surroundings around you. If you have ever tried running and having your music low so that you can hear around you, trust me, it's not very motivating.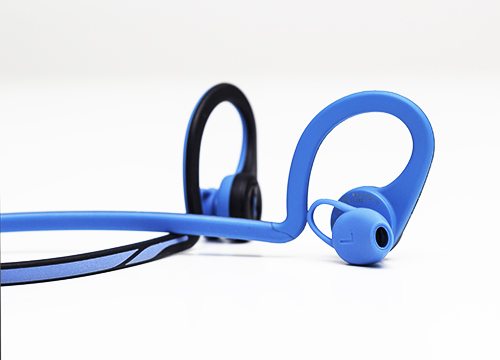 The earbuds have a small silicon loop allowing for a better fit in your ear. This certainly helps in preventing the earbud to wiggle loose when running vigorously. I have found that running with these headphones to be lightweight and comfortable since they are only 24 grams or about 1 ounce. I have read some forums where people complained about the cord behind the neck would bounce and flop as they were running. I didn't find this to happen to me. Maybe it was because they were pounding the pavement too hard while they were running. I don't know. But I had no problems with the cord flopping around on me. In fact, I could barely even tell it was there.
Pairing these headphones is just as easy as holding down the Power button until you hear a "Pairing" voice prompt. My LG G2 and Samsung Note 2 phones paired effortlessly to the headphones without any problems. Keep in mind that the first time you power on the headphones it will start the pairing process automatically.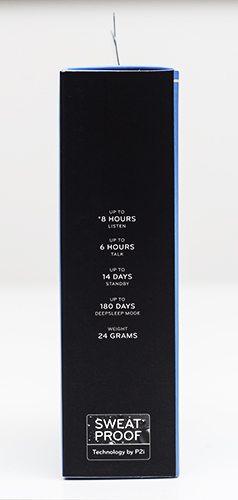 If the BackBeat FIT is out of range from your paired device after 10 minutes, the headphones go into a DeepSleep Mode to conserve battery power. You can just tap the Power button to wake up the headphones.
The BackBeat FIT  have a listening time of  up to 8 hours and a talk time of up to 6 hours. It also has a DeepSleep of up to 180 days.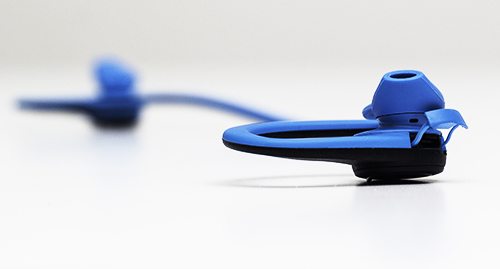 There is a small MicroUSB door, on the right earbud where you plug the included MicroUSB  charging cable. It is just the USB cable that can plug into a USB port and not a wall outlet. And it should only take about 2 and a half hours to fully charge the headphones. When the Red charging light on the headphones turns Blue then you have a full battery.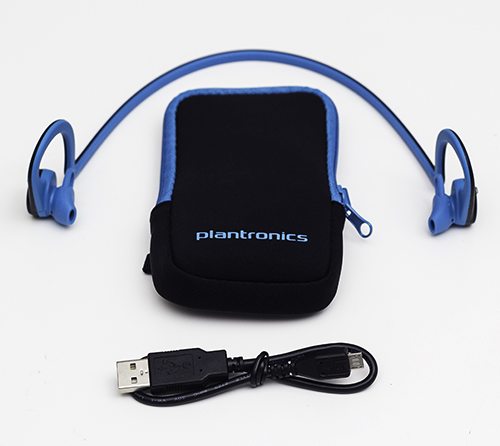 As an extra accessory, Plantronics included a neoprene case that doubles as armband when you turn it inside out. I thought this was a nice token on the company's part. However, you can only fit smaller phones such as an iPhone or something similar in size. I tried fitting my LG G2 but it didn't fit at all. So in turn I will just use it as a case when needed.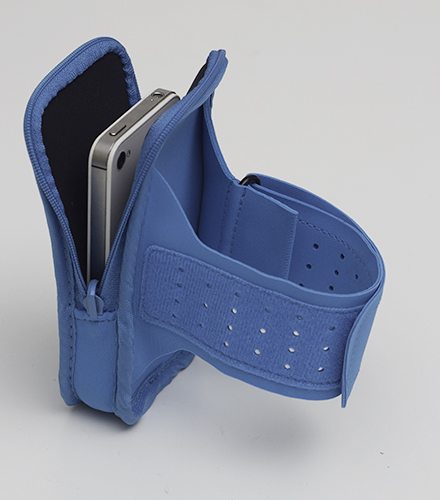 I have had nothing but good luck with the BackBeat FIT from Plantronics since I received them. These are by far my favorite headphones to date and are now my "go to" headphones. They are light in weight, sweat-proof and stylish but more importantly they have great sound coming from these little earbuds.
They also come in a stylish greenish-yellow model.
Updates 08/13/15
I literally wear these headphones every day, five days a week, when I am Photoshopping images and doing product shots at Manhattan Products. They are super comfortable and the buttons for the ON/OFF, Volume and FF/REW and so convenient and work flawlessly. I also wear these Bluetooth headphones when I am working out, running, and when I can get a chance, mow the lawn. But thanks to this consistent rain in Florida my lawn and I have not been in each others company in quite some time. Since I received these headphone in September of 2014 they have been my go to headphones and have been a workhorse for me.
However, I have noticed that some of the rubber coating around the earbuds have been becoming loose and have started to stretch out. This hasn't affect the performance of the headphones at all but it does make the appearance look rather cheap since it is starting to flap about. My only concern is if this coating is part of the FIT's sweatproof protection and will it cause some sort of corrosion or malfunction if sweat, rain or moisture gets under the coating. Only time will tell. Other than that, they have been my favorite Bluetooth headphones so far.
Source: The sample for this review was provided by Plantronics. Please visit their site for more info.

Product Information
Price:
$129.99
Manufacturer:
Plantronics
Pros:

Sweat-proof
Lightweight
Easy one touch buttons
Long battery life
Good audio/call quality
Durable and flexible coating
Minimal bulk

Cons:

Only 2 color combinations
Charger for USB only, no wall plug