We use affiliate links. If you buy something through the links on this page, we may earn a commission at no cost to you. Learn more.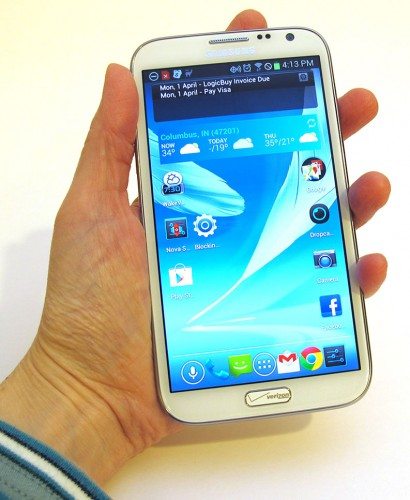 How big is too big when it comes to the size of a smartphone? That's the question I've been trying to answer for myself lately. I've been using a Samsung Galaxy S III for the past 6 months, but only recently I decided to try a Verizon Wireless Samsung Galaxy Note II. The Note II is a phablet, which is the nick name given to the category of smartphones which are so large that they more like a mini tablet than a phone. Bigger is better right? Let's see.
Note: Images can be clicked to view a larger size.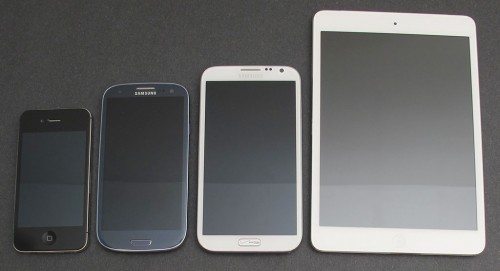 Which size is just right for you? Left to right: Apple iPhone 4S, Samsung Galaxy S III, Samsung Galaxy Note II, Apple iPad mini.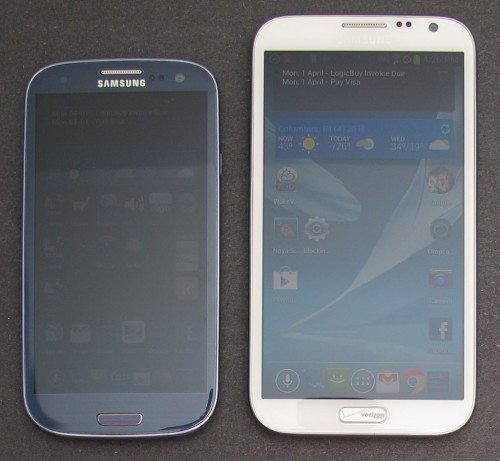 When you place the Samsung Galaxy S III next to a Samsung Galaxy Note II (from here on out, I'll call them the S3 and Note 2), the difference in size is noticeable, but it's not apparent what that difference in size means until you get a chance to actually use the device for an extended period of time.
Right after the Note 2 came out, I remember people saying that using this device as a phone made a person look like they were holding an iPad up to their ear. So I was wondering what I'd feel like using the Note 2 to make calls. Maybe it's because I have big hands and/or a big head, but I have to say that it really doesn't feel that much bigger than the S3 in my hand. I don't have a problem holding it in one hand or holding it up to my ear to take a call. On a scale of 1-10, with 0 not being self-conscience at all and 10 being totally embarrassed to use the the Note 2 to make calls in public, I would say that I rate a 2 or 3 at the most. Since I typically only make 1-2 calls a day, it's really not a big deal for me. If I made more calls, I'd probably use a Bluetooth headset or speakerphone in my car just because the Note 2 is heavier.
It's obvious that the size of the display is probably the number one reason why a person would buy the Note 2. The lovely 5.5 inch AMOLED screen, is the perfect size for reading books, emails, playing games and surfing your favorite sites. But besides the screen, there are a couple other reasons why I love using the Note 2.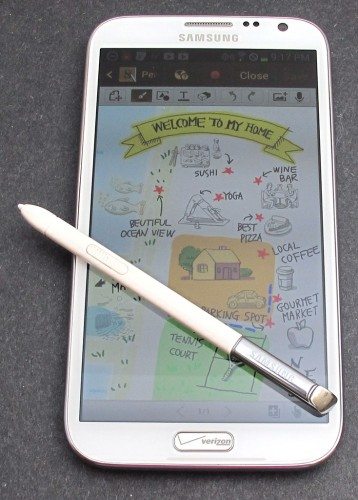 One reason is the S-Pen stylus. I wish all my touch screen devices had an S-Pen because it elevates stylus usage to another level. First of all it has a tiny tip unlike the big squishy rubber tips that most normal styli have. The small tip allows you to write legibly on the screen and it makes doodling/drawing very easy. Also, the S-Pen apps preloaded on the phone are full featured and fun to use.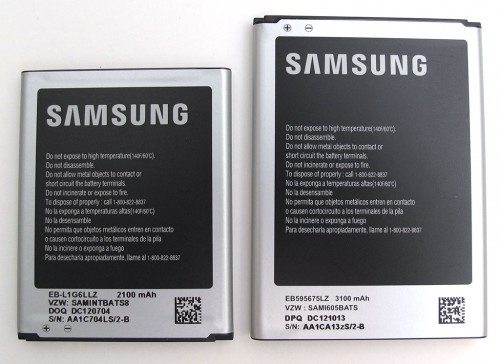 Even better than the S-Pen is the battery life on this phone. It can go days on one charge unlike my S3 which is lucky to last for 12hrs per charge. The Note 2's replaceable battery is 1000 mAh's larger than the S3's battery. There is a lot to be said for not needing to worry about having to recharge so frequently.
In the time that I've been using the Note 2, I've only noticed one problem with it…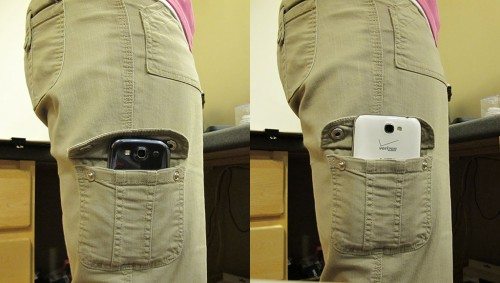 Because of its size, you have to be careful how you carry it around. I don't wear a belt and as a result, I do not wear a belt case for my phones. I usually try to wear some type of cargo pants to work every day and carry the phone in my side pocket when I need to be away from my desk. As you can see from the image above, the S3 peeks out of my pocket, which isn't a big deal. But the same pocket is dangerously small for the Note 2. I learned this first hand one morning when I put the Note 2 in my side pocket (of the pants shown above) and drove to work. I parked the car and walked into the building. When I got up to my desk on the 2nd floor, I realized the Note 2 was no longer in my pocket. I will be honest and admit that my heart started beating pretty quickly because I was afraid it had fallen out of my pocket in the parking lot. So I retraced my steps and luckily found it safe and sound in the seat of my car.
I had been using the Note 2 for a few weeks and got accustomed to the size. Then I switched back to the S3 to do an accessory review last week and now going back to the Note 2 is feeling a little awkward for me mainly due to the issue of carrying it.
Is it crazy that I want to go shopping for new pants with deeper pockets, just so I can safely carry the Note 2 around with me? 😉
There's no doubt for me that the Samsung Galaxy Note 2 is a great device with an excellent display, long battery life and S-Pen. So I think that bigger can be better, as long as you have a good (safe) way to carry it.
What do you think? Are phablets too big or just right?
Updates 08/24/17
I used the Note 2 for a long time before I handed it down to Jeanne and switched to a newer Android smartphone. She's been using it now for 2-3 years. I've replaced the battery once, and it is still running, but she has recently started complaining that it freezes or locks up. It also hasn't had an OS update in years, so it isn't compatible with some Bluetooth gadgets like the Kwikset Kevo Smart Lock. This phone is going to get a new home in my "old phone drawer" as soon as the iPhone 8 comes out and I can give Jeanne my iPhone 7 Plus. The Note 2 has been a good phone, but it's time to retire it.