We use affiliate links. If you buy something through the links on this page, we may earn a commission at no cost to you. Learn more.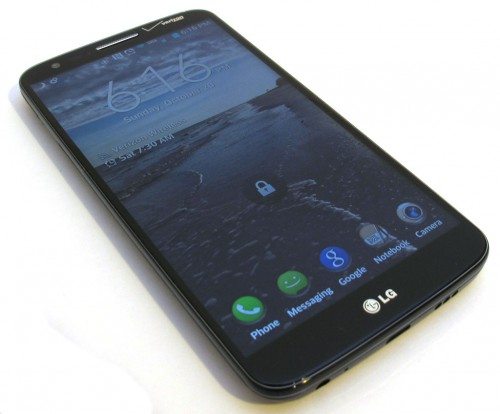 Most Android smartphones these days have similarly sized displays, memory capacities and processor speeds. It makes it really difficult to get noticed when you're drowning in a sea of shiny black plastic phones that all look alike. Standing out requires unique features that make your phone different enough so potential buyers will take a second look. LG hopes they've done enough with their new G2 to make you consider buying one. Have they? Let's check out the features that make the LG G2 from Verizon Wireless stand out from the crowd.
Note: Images can be clicked to view a larger size.
Package Contents
LG G2
Non–removable 3000 mAh SiO+ battery
Pre–installed SIM Card
Wall/USB Charger
Quick Reference Guide and other documents
Hardware Specs
Processor: 2.26 GHz Quad–Core Qualcomm Snapdragon 800
Operating System: Android 4.2.2
Memory: 32GB on board memory + 2GB RAM
Network: CDMA 1.9 GHz/800 MHz, GSM 850/900/1800/1900 MHz, HSPA/UMTS (850/900/1900/2100), LTE
Display: 5.2" Full HD IPS Display: 1920 x 1080 resolution, 16:9 aspect ratio, and 423 ppi
Camera (rear): 13MP with LED Flash with Optical Image Stabilization (OIS) and Multipoint Autofocus
Camera (front): 2.0MP
Wi-FI: 802.11 a/b/g/n/ac; 802.11 n – 2.4 and 5GHz only
Bluetooth 4.0
NFC – Tap and Share with other NFC-enabled devices
Headset: 3.5mm Audio Jack
Battery: 3000mAh Standard Li–Ion; non–removable, usage time up to 18.2hrs, standby time up to 11.4 days
Dimensions: 5.45" (H) x 2.79" (W) x 0.35" (D) inches
Weight: 5.04 oz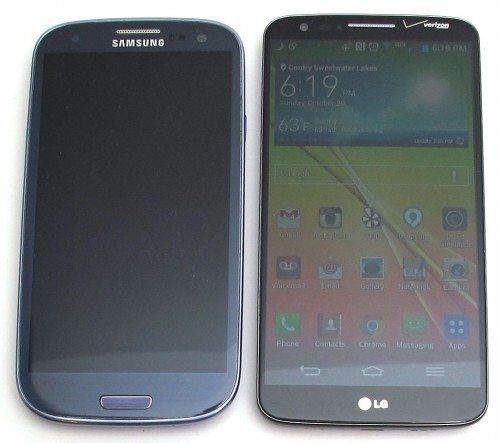 At first glance, the LG G2 looks like many other Android smartphones currently on the market including the Samsung Galaxy S3 pictured above on the left.
It has a shiny black plastic shell that's a bit slippery and shows fingerprints and smudges. I often wonder why almost every phone is made of shiny, slick plastic instead of plastic with a pattern that provides better grip.
The G2 may not look fresh and new, but it is solid and doesn't creak, flex or crack when subjected to my patented Gadgeteer squeeze test.
Big display in a compact package
The 5.2″ touchscreen display takes up almost the entire front surface of the phone. The side and top bezels are very narrow, giving it a wonderful edge-to-edge look and feel while keeping the phone compact and pocket friendly.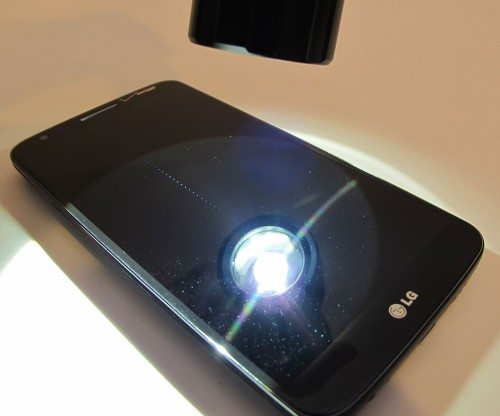 The display is very nice. It's bright, crisp and vivid. But, I did notice something a little weird about it. When used in direct sunlight, I sometimes see a grid of dots reflecting on or out of the screen. The only way I could duplicate the effect so I could photograph it for the review was to use a flashlight. I was finally able to capture this one image that shows one line of the dots. When you're out in the sun, a whole grid of dots is visible. I'm not sure what the grid is for, but it does make outdoor viewing a little distracting.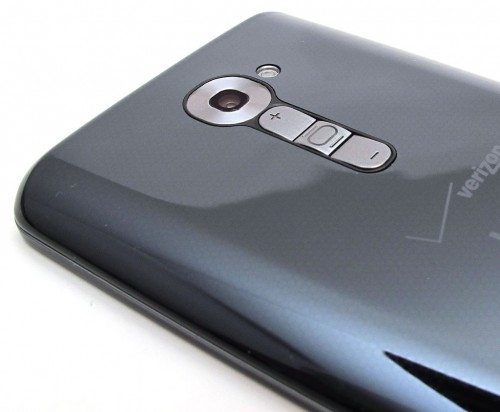 Dude, where's my buttons?
There are no buttons on the front or sides of this phone. The LG G2's stand out feature was to locate the volume and power buttons to the back of the device. After using the phone for 2 weeks, I've found that I both like and dislike the button location. I like it because the volume buttons are located in the perfect spot for adjusting sound while you're on a call. The up / down volume buttons double as shutter buttons for the camera app, which makes it easier to take selfies using one hand. What I don't like is that you have to turn the phone over to make sure you're pressing the center button if you want to wake up the phone. Otherwise you will probably end up pressing the up or down volume button, which does not wake up the phone. Apparently the AT&T version of the G2 has a power button that sticks up far enough to make it easily distinguishable from the volume buttons. This really annoyed me until I remembered that the LG G2 has a feature called Knock On. With Knock On, you just tap the center of the display twice with your finger to wake it up. You can put the phone back to sleep using the same double tap on the status bar or an empty area on the home screen.
Gestures
The phone will also answer calls just by picking it up and putting it to your ear. This feature is called Answer Me, and is not active by default. Two other gestures let you multi-task.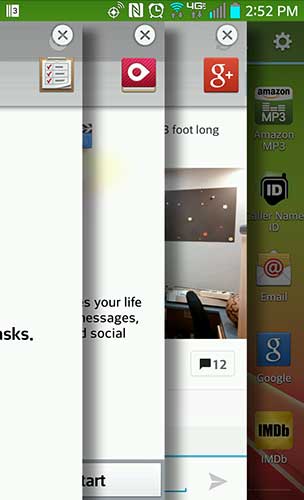 Slide Aside allows you to "save" up to 3 applications to the side by sliding three fingers horizontally across the screen to the left. When you want to access one of the 3 apps, you slide three fingers to the right across the screen. Performing the gesture felt awkward to me and I don't see how this feature is any better than just holding down the home button to see the list of open tasks and then clicking one.
QSlide is another feature that will let you overlay certain apps on top of other apps so you can see and use two to three things at once. The app's transparency can be adjusted and it can be resized. This is an interesting feature, but even a 5.2″ display doesn't feel large enough to really take advantage of multiple windows. Both the Slide Aside and QSlide are features I tried once and then forgot about them.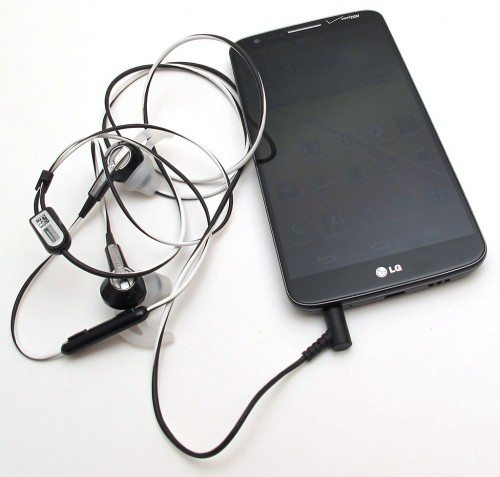 Lights, camera, action
The G2's 13MP camera with optical stabilization means that you can leave your old point and shoot camera at home for good. At least that's what LG wants you to do. I took the G2 with me on vacation to Florida and used it as my only camera. Here are a few sample pix
I was happy with most of the images I captured. I did notice that the camera isn't the best in low light. But that seems to be the norm when it comes to smartphone cameras.
The camera app is easy to use either set to full auto or manually if you like to tinker with settings such as ISO, white balance and brightness. There's even an option to focus manually.
Even though I'm not a big fan of the buttons on the back of the phone, long pressing the volume down button launches the camera app even when the phone is sleeping. No unlocking needed. This is great for quick shots as start up time is quick.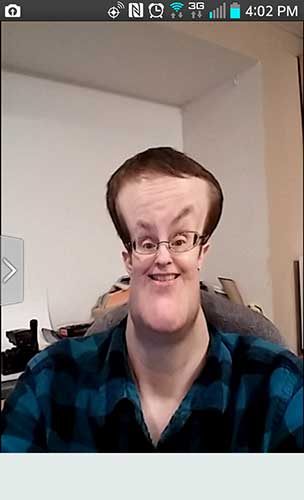 We had a a lot of fun with the live effects in video mode which transforms your subject in several ways like big eyes, big mouth, small mouth, etc, all in real time. We laughed till we cried.
Software and LG's user interface
I've been a Samsung Galaxy user for the past year and noticed that the LG's UI looks very familiar. Samsung's TouchWiz interface must have impressed LG enough to borrow some of its look and feel. I'm not saying that's a bad thing. I don't mind TouchWiz, but I know some people who hate the cartoonish look.
If you enjoy customizing your phone, you'll be in heaven with the G2. There are so many customization options, that you'll be busy for days. You can even customize the soft touch buttons, which is something I've not seen before.
The LG G2, comes pre-loaded with quite a few Verizon and 3rd party apps that are not  part of stock Android. They include Google Chrome, Google+, Amazon™, Amazon Kindle™, Amazon MP3, Appstore, Audible™, IMDb, QuickTranslator, Voice Mate, QuickRemote, Life Square, Notebook, Video Editor, Caller Name ID, My Verizon Mobile, NFL Mobile, Verizon Tones, Viewdini, VZ Navigator®, VZ Security, Polaris® Office 5 and Slacker Radio.
You're probably familiar with most of those apps, but I'll mention the Quick Remote app because it allows you to use the G2 to operate compatible TVs, sound systems and more using the IR port on the top edge of the phone.
Making calls, GPS, battery life, overall performance and final thoughts
During the 2 weeks that I've been using the Verizon version of the LG G2, I've had no issues with phone calls. I've found call quality to be clear and volume levels to be just fine. Whether I initiated calls or received calls, I have no complaints about the G2 when it comes to its telephony features.
I used the GPS quite a bit while on vacation in Florida and it worked like a champ to help find restaurants, stores, the airport and more. No complaints there either.
Battery performance isn't something I'm normally impressed with, but the G2 managed to delight me. It has a 3000mAh battery, which I didn't think was all that great considering the G2 has a crazy fast processor and that huge display. But I was very happy with how long the battery lasted between charges. With my normal usage patterns, I was getting a full day and a half of use before needing to recharge.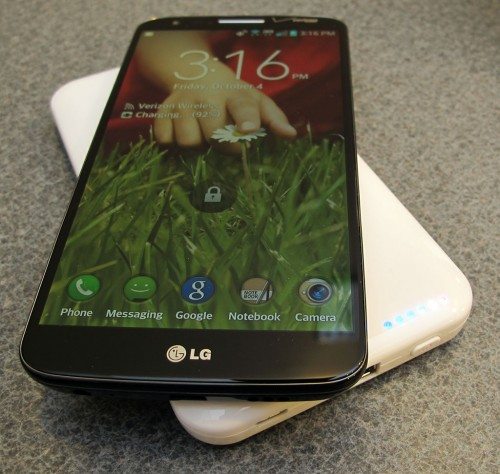 I was also very happy to learn that the Verizon version of the G2 features wireless charging without requiring a special case. It's compatible with Qi charging pads and docks like the Brando Wireless Power Bank and the Nokia DT-910 Charging Dock. I love wireless charging and really hope that more phone manufacturers start including it in their smartphones.
When it comes to overall performance, the G2 is snappy. Really snappy. It doesn't know the meaning of lag. Apps open quickly, lists scroll smoothly, everything about this phone feels fine tuned and ready for action. I've been really impressed with the G2 and will miss it after I send it back to Verizon. If I were ready to upgrade right now, the LG G2 would definitely be on my short list of potential new phones.
Product Information
Price:
$149.99 w/2yr contract, $549.99 w/o contract
Manufacturer:
LG
Retailer:
Verizon Wireless
Pros:

Great performance and battery life
Knock On and other gestures
Wireless charging
13MP camera

Cons:

Odd location of buttons might turn off some people
Strange grid dots that reflect off the screen in the sun