We use affiliate links. If you buy something through the links on this page, we may earn a commission at no cost to you. Learn more.

REVIEW – Like many of you reading this…my bag transports a lot of essential EDC gear with me throughout my daily travels. This includes my tablet, earbuds, pen, paperwork, cables, etc. And unless I'm going thru an airport, my EDC gear also includes a pocketknife. I hate to say it but I do love nice EDC gear and upgrade when I can, always searching for tech-Zen. So, when James Brand recently announced their "Gentleman's" knife I jumped at the chance to checkout the Duval to see if will make it into EDC world.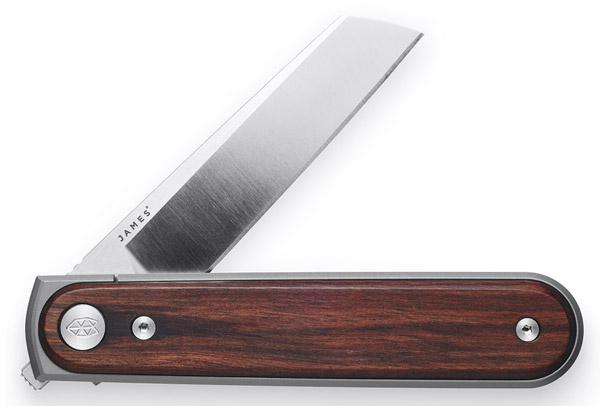 What is it?
The James Brand Duval is a well made folding "Gentleman's" pocketknife constructed from high grade stainless steel, titanium, and rosewood. The modified sheepsfoot blade is forged from crucible S35vn stainless steel. The frame is made from 6AL 4V titanium with rosewood scaling. The Duval is a nicely sized front-flipper with an ambidextrous carry orientation.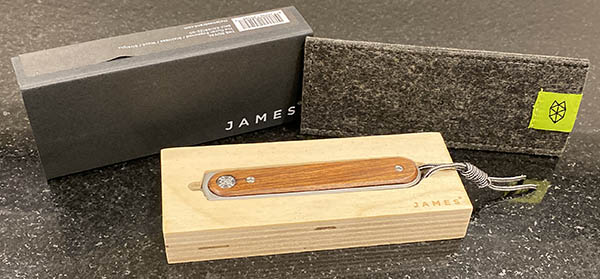 James Brand has always done an excellent job of delivery presentation. Everything I have received from the Portland based company has arrived impressively well done. In this case, the form fitted wood box and wool padding/slipper case not only protects the Duval during travel/delivery but adds excellent attention to detail and a bit of class to the box opening experience.
What's in the box?
The Duval pocketknife
Wool slipper case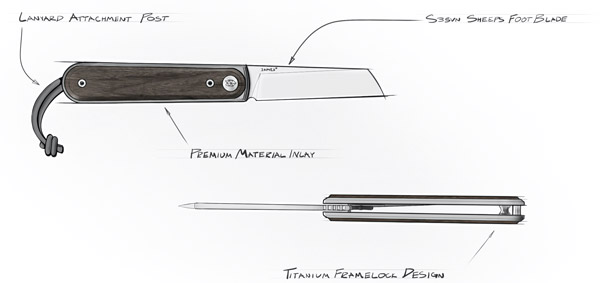 Hardware specs
BLADE STEEL: Crucible S35vn Stainless Steel
BLADE LENGTH:

 2.6″ (6.7 cm)

OVERALL LENGTH:

 6.4″ (16.3 cm)

WEIGHT:

 2.0 ounces (56.7 grams)

FRAME MATERIAL:

 6al4v Titanium

OPENING STYLE:

 Front-Flipper

BLADE SHAPE:

 Modified Sheepsfoot

CARRY ORIENTATION:

 Ambidextrous

HARDWARE:

 416 Stainless Steel

LOCK TYPE:

 Frame Lock

SCALE MATERIAL:

 Rosewood

BEARINGS:

 Ceramic Ball

DESIGNED IN:

 Portland, Oregon
Design and features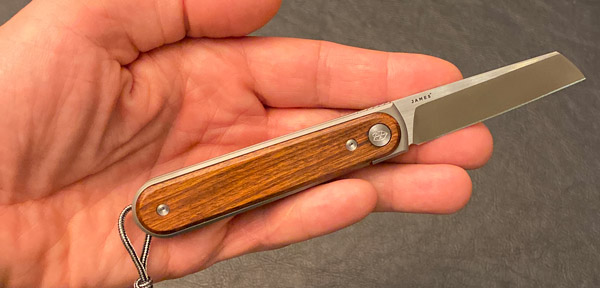 James Brand has done an excellent job creating a classic looking, high quality pocketknife meant to upgrade your EDC. The Duval is finely machined and finished giving it an impressive polished look and feel in the hand. James Brand calls the Duval the "Modern Gentlemen's Knife" and I have to agree.

With the blade extended, the Duval's total length is 6.4 inches. This modern gentleman's pocketknife is thin and nearly symmetric with classic lines and design queues from decades gone by.

The Duval's modified sheepsfoot blade is made from crucible S35vn stainless steel and measures 2.6 inches in length. The sheepsfoot blade has a distinctive shape, the first one I have owned. As one would expect, the edge on the Duval's blade is wickedly sharp.

The knife handle measures 3.8 inches long and weighs just 2.0 ounces (56.7 grams). The rosewood scaling is perfectly fitted into the titanium frame and is held in place with several hex bolts.

The inlayed rosewood that sandwiches the Duval is nicely finished and stained, giving it a wonderful old world feel in the hand.

The titanium frame-lock is simple and easy to operate one-handed. With minimal moving parts and maintenance needed, it should last a very long time.

The frame-lock firmly secures the blade into the open position with zero blade wiggle and little chance of the blade accidentally closing. To close the blade, simply press the frame lock aside and the blade smoothly rotates back into the closed position. The Duval does not have a closed lock that keeps the blade from accidentally opening. Though this is unlikely under normal circumstance, the blade seats firmly within the handle and doesn't deploy without a good amount of force.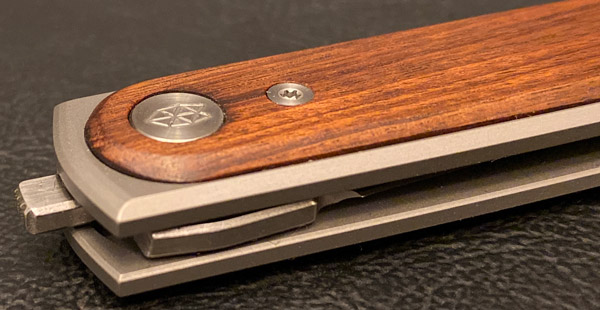 The Duval has a "front-flipper" opening mechanism that extends the blade in a blink of an eye. The pivot point uses ceramic ball bearings within the mechanism.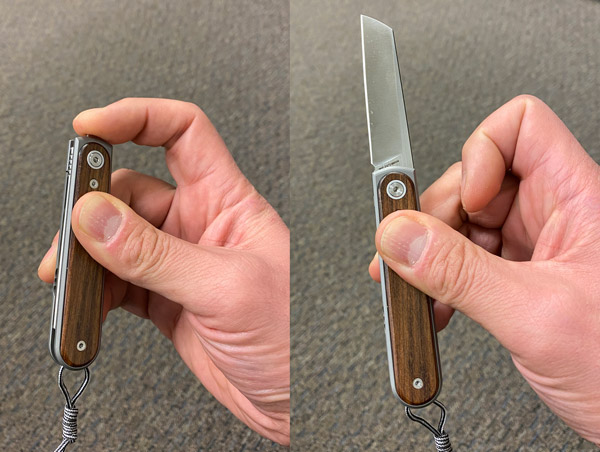 The Duval's front-flipper design did take a while to get use to. Unlike other flipper mechanisms that typically are located on the side edge, the knurled actuator on the top definitely took a bit of practice. I found I had to choke up on the handle to get the blade to flip open. Even though it took some time and did feel odd initially, I do have the hang of it now.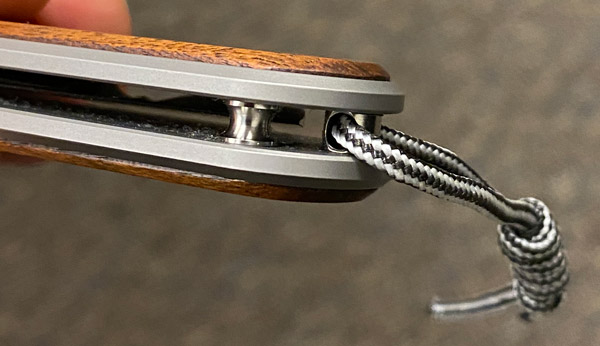 The Duval's rear-most frame spacer has a hole drilled through it for a lanyard.
What I like
Extremely well made from high quality materials
Classic old world design for modern times
Very sharp
Lightening fast blade deployment
Wiggle-free frame-lock design
Titanium and rosewood handle feel great in the hand
What I'd change
Lower the price
Front-flipper mechanism took practice to get the hang of opening the blade one-handed

In addition to rosewood and stainless steel, the Duval is available in OD green micarta/stainless or  titanium/damasteel.
Final thoughts
I really like the Duval and it will definitely stay in my EDC gear. So much so, I actually keep it in my pants pocket with me all the time during the day versus just in my EDC bag which isn't by my side 24/7. James Brand has done an excellent job combining old world style and design with modern engineering and high end materials. James Brand nicknaming the Duval "The Modern Gentlemen's Knife" is spot on. It has a wonderful old school look and feel to it, well worth considering if you're looking to upgrade or add to your EDC gear.
Price: $275/$375 (titanium/damasteel)
Where to buy: The Duval is available directly from James Brand.
Source: The sample of this product was provided by James Brand.