We use affiliate links. If you buy something through the links on this page, we may earn a commission at no cost to you. Learn more.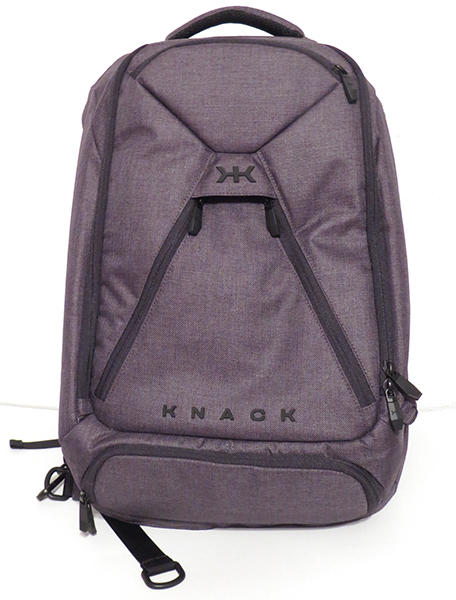 REVIEW – I have always had the drive to find the perfect backpack. Between travel and daily use at school, I've tried countless backpacks only to find them too small, too big, or without the right features. The Knack Pack intrigued me the moment I set eyes on it. Not only did it look the right size for school use, but it also could expand to supposedly work for travel as well. I had to take a look and see for myself.
What is it?
The Knack Pack is a backpack that can be used as an everyday bag on one day and small suitcase for travel on the next.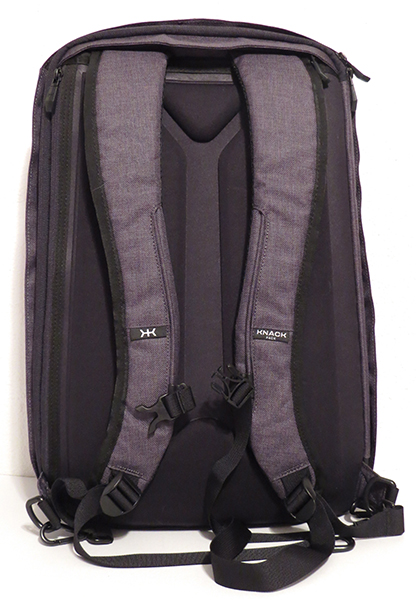 Features & Specs
Separate padded side-zip pocket for laptops up to 15″
Fits carry-on requirements when expanded, even under most seats
Separate packing compartment for suitcase use
Water Resistant
Dimensions: Expanded: 19″ x 12″ x 9.5″ – Unexpanded: 19″ x 12″ x 4.5

What's in the box?
Nicely packaged in the box you'll find the Knack Pack and instructions on what it can all do.
Design and features
A few years ago I reviewed a backpack that was the size of a carry-on suitcase. While it seemed nifty, the bulk of it made it so I never used it as a backpack after my testing trip. I was really hoping the Knack Pack would be different and thankfully, it was.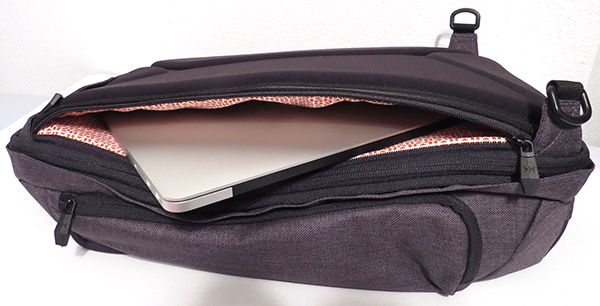 Let's start with the different pockets. Having a dedicated side pocket for laptops is a great idea. Not only does it allow for easy access, but I feel it keeps it safer than when it is strapped inside of the main pocket. It fit my MacBook Pro with ease.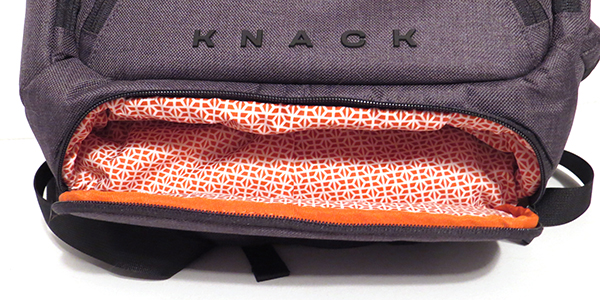 The bottom pocket can be used for charging cables, adapters, and more. I placed my small purse inside so that I could easily access it without digging through the clutter of the main compartment.

The water bottle pocket fits a 24 oz Hydro Flask water bottle in height, and could potentially fit something a little wider, though it will not zip closed if you do. My water bottle just barely fits with the zipper closed. As you can see above, a standard plastic water bottle fits without issue.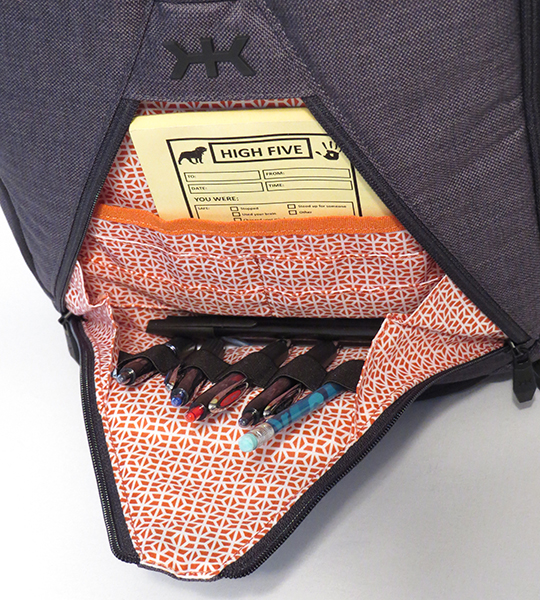 I used the triangle shaped pocket on the front of the bag to store extra pens and pencils for the kids, as well as items I need to pull out quickly. I didn't use it at first, since I had a plastic pencil case and went with that, but once I switched over I was very happy.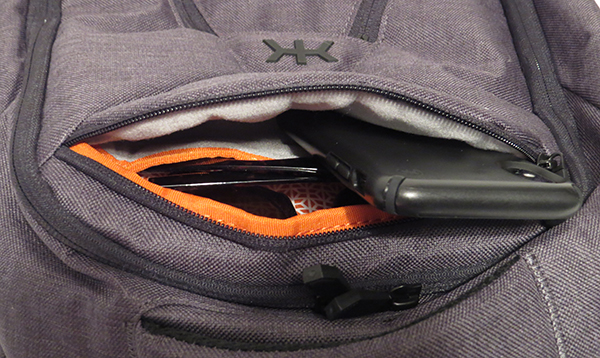 On the top of the bag, there is a pocket for your phone and any other small items. One section has soft fabric within to protect your screen while the other is there for perhaps a backup battery, keys, sunglasses, or in my case, my lanyard with my work badge.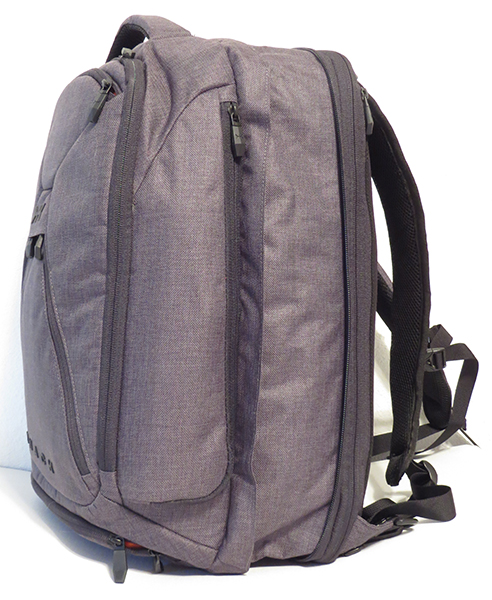 The main compartment of the backpack portion is well protected with padding on the sides and front. I was fine with tossing my Nintendo Switch and accessories in there to take along. During the school day, I kept my lunch box and coat in this compartment. It will fit these two things just fine but there is not room for much else. That's fine with me since the laptop is in a separate compartment.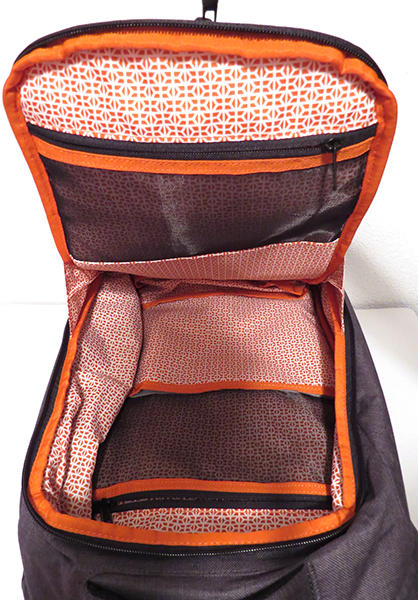 Inside of the main compartment houses two smaller zippered mesh pouches, key leash, and tablet sleeve. I use the tablet sleeve for my notebooks at work, but it fits my iPad Air just fine. I put extra odds and ends that I rarely use, such as deodorant, gum, and a few dollars in the mesh area while at work.
Now let's talk about the suitcase compartment of the Knack Pack. On a normal school day, I don't really use this section, but it is so hidden away that I never notice it when opening zippers. When I stayed for a weekend at my sister's, I used this bag solely for my suitcase. I had enough room for two pairs of clothes, my Switch and accessories, cords, laptop, toiletry bag, and a twin fleece blanket. This made it packed to the brim, but I was very pleased that it fit everything, zipped up easily, and felt comfortable wearing back and forth to the car.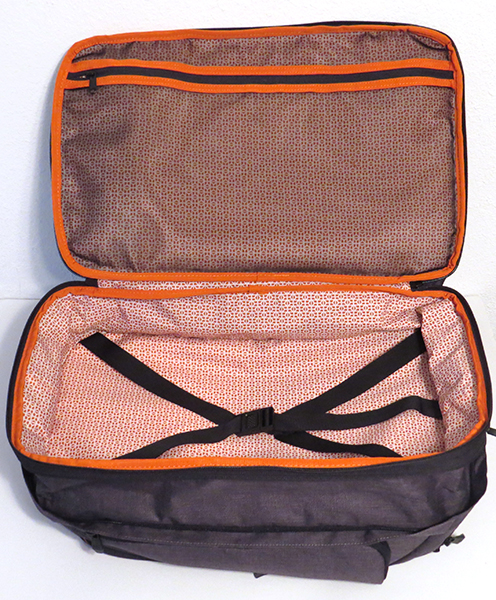 There is a single large mesh zippered pouch in the suitcase compartment just like you find in most carry-on bags, along with a strap to hold your clothing down. I really like that this strap is easily adjustable and still was able to be clasped together with the bulky blanket within.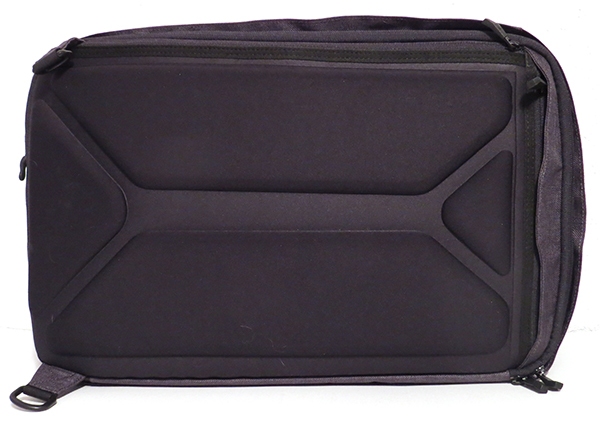 The back side of the backpack is well padded and comfortable to wear. My back did not sweat at all while wearing this around school. The straps are comfortable, and I always like having the chest strap just in case I need to walk for a while (such as in an airport) or if I am carrying anything heavy. If you prefer, you can also detach the straps and tuck them into a zippered compartment just behind the padding. This would make storing it easy, but the only way to carry it is to use the top handle, which while sturdy, would get awkward since it would be held in a vertical position.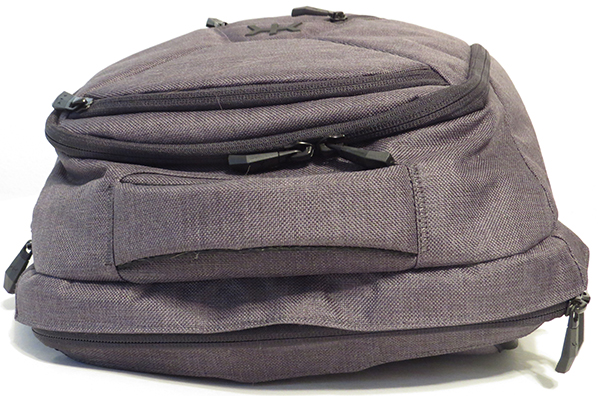 The fabric that makes up the Knack Pack is tough and water resistant. Living in the Pacific Northwest, we get lots of rain during these winter months. Everything has been safe and dry within the backpack. All of the zippers work well and seem to be durable. I was sent the medium model that fits a 15″ laptop, and it is a perfect size. Will it fit under the seat on a plane when jammed to the brim with blankets and clothes? Probably not, but if I took the blanket out it would.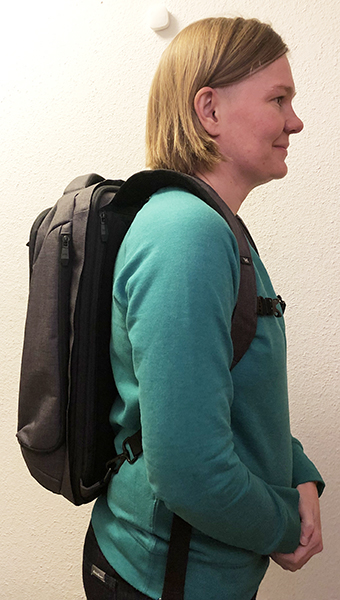 What I like
Very comfortable to wear
Versatile
Lots of space
What needs to be improved
Maybe a little pricey for some
Final thoughts
Overall, I will be keeping the Knack Pack as my everyday school bag and taking it with me on my next flight. With the ability to expand and pack more inside, I will have no need for a checked bag. The front pocket works great for easily accessing small items and the cell phone pocket at the top keeps my phone secure and easy to grab on the go. Lastly, the water-resistant fabric has kept my things dry in the rainy months here in Seattle. While the price may be a little steep for some, The Knack Pack is definitely a backpack worth looking at.
Price: $165
Where to buy: Knack Bags Website
Source: Knack Bags