We use affiliate links. If you buy something through the links on this page, we may earn a commission at no cost to you. Learn more.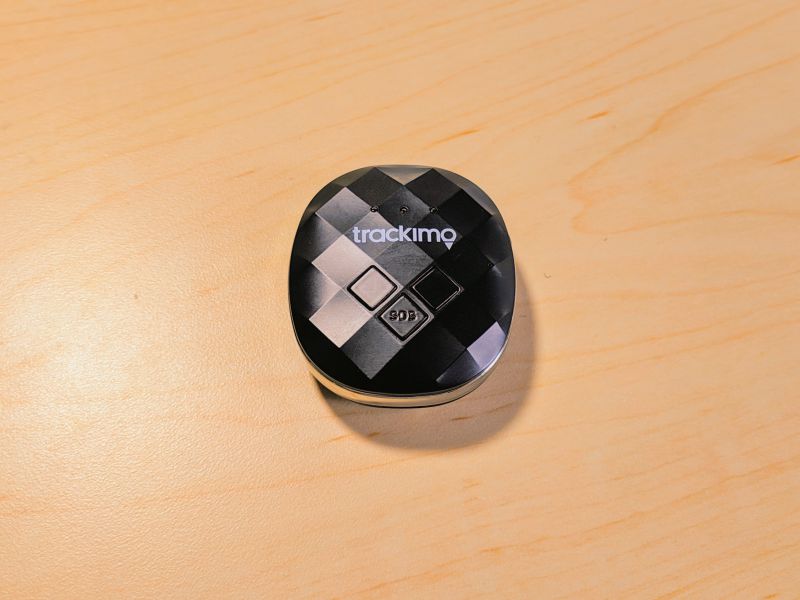 REVIEW – As GPS technology advances, the devices utilizing this technology continue to shrink in size and as that happens their functionality and usefulness increases. These newer devices are incredibly versatile and adept at keeping track of our loved ones and loved objects. Small GPS units can show you the real-time location of your pets, elderly family members, kids, vehicles, luggage, drones, and pretty much any item big enough to carry the weight of the device. The Trackimo 3G Guardian GPS Tracker is one of the smallest GPS trackers on the market that also utilizes 3G cellular technology. At $198.90, the Trackimo is competitively priced and includes a free year of its cellular tracking service.
What is it?
The Trackimo 3G Guardian GPS Tracker is a personal GPS unit that provides precise location tracking via the Trackimo app or website. The Trackimo is particularly useful because it utilizes WiFi, GPS, and 3G GSM Cellular technology to acquire very accurate and consistent positioning data. The downside to this increased functionality is that after the one year complimentary cellular location service subscription expires, Trackimo charges for access. But, at only $60 for a full year ($5 per month), the service is quite a bargain for everything the Trackimo provides.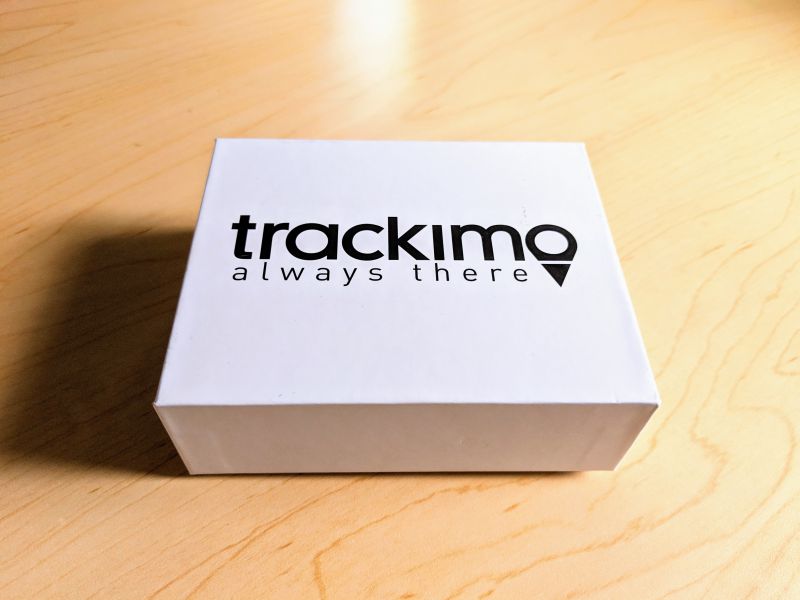 The Trackimo arrives in a plain branded white box with everything you'll need to get up and running, except, oddly enough, a USB power block.
What's in the box?
1 Trackimo 3G Guardian GPS Tracker
1 Lanyard
1 Carrying pouch
1 Micro USB to USB A charging cable
1 Trackimo Quick Start Guide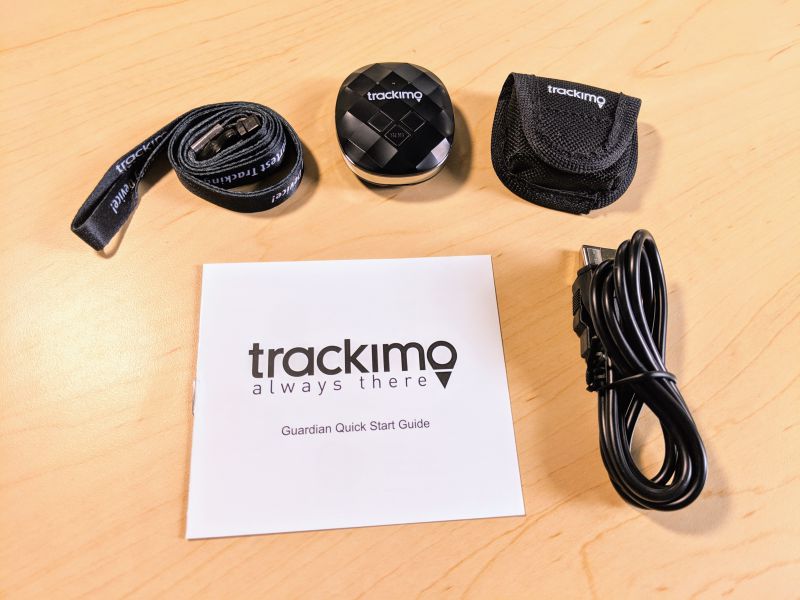 Hardware specs
GSM Platform: MTK6276
GPS Platform: MTK3337
Bands: GSM GSM 850/ GSM900/ DCS1800/ PCS1900 WCDMA850/900/1900/2100
Sim Card: Included in unit
App Interface: iOS and Android
Dimensions: 47 mm (1.85 in) x 41 mm (1.61 in) x 17 mm (.67 in)
Weight: 30 grams (1.06 ounces)
Active battery life: 48-72 hours
Stand-by time: > 144 hours
Battery Type: Rechargeable Li-ion 520mAh
Functioning temperatures: -20°C (-4°F) / 60°C (140°F)
Attachment Options: Included lanyard and soft case
Power Consumption: Acquisition 24 mv /  Track 17mv
GPS Antenna: Ids-passive antenna
Channels: 22 tracking / 66 acquisition
Accuracy: < 5 meters open sky
Acquisition mode: Hot start < 2 seconds / Cold start < 24 seconds
Hosted Storage: On board capacity for 1000 tracking points

Design and features
The Trackimo 3G Guardian is very well-designed, featuring a black plastic housing with a diamond shaped pattern. The unit's three diamond buttons sit unobtrusively on the face just below three green, red, and blue status indicator LEDs.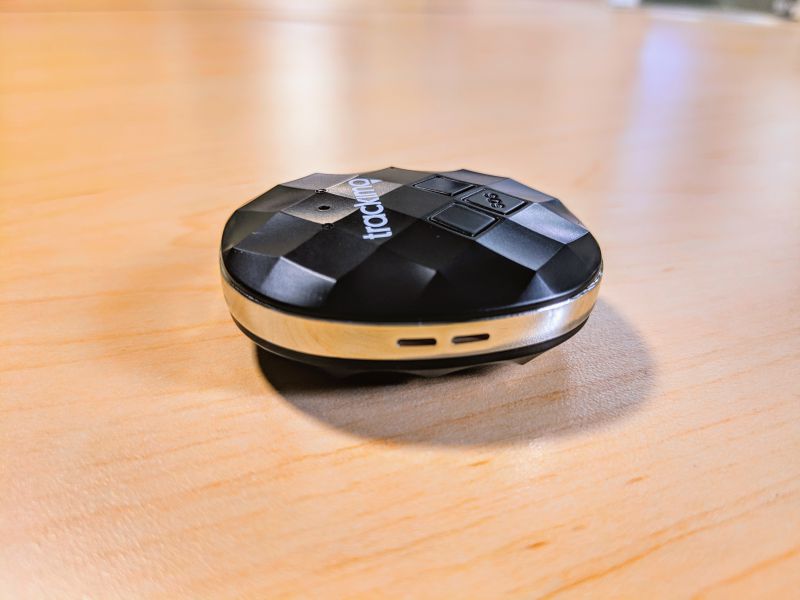 One side of the Trackimo features two small slots for the speaker, the other side has a hard reset port, a Micro USB charging port, and the main power button.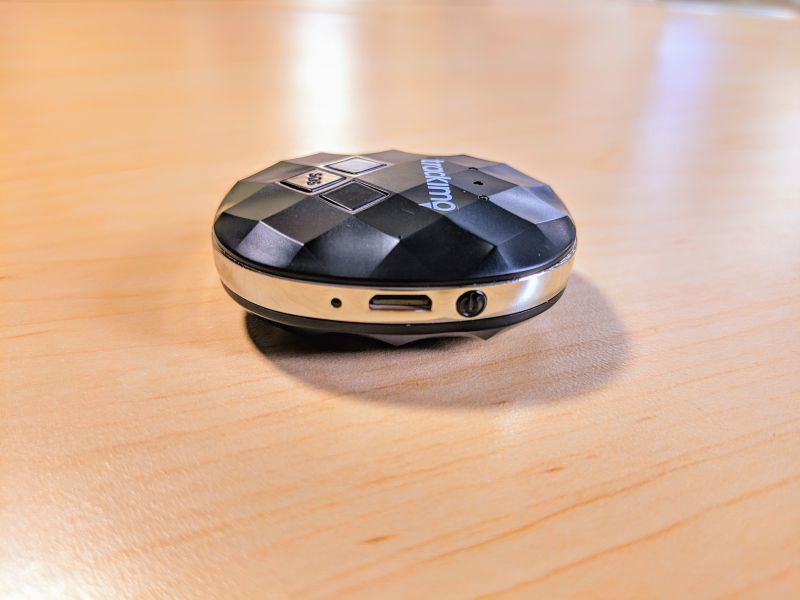 The left and right buttons on the face of the Trackimo are assignable to send custom alerts to contacts you've chosen beforehand.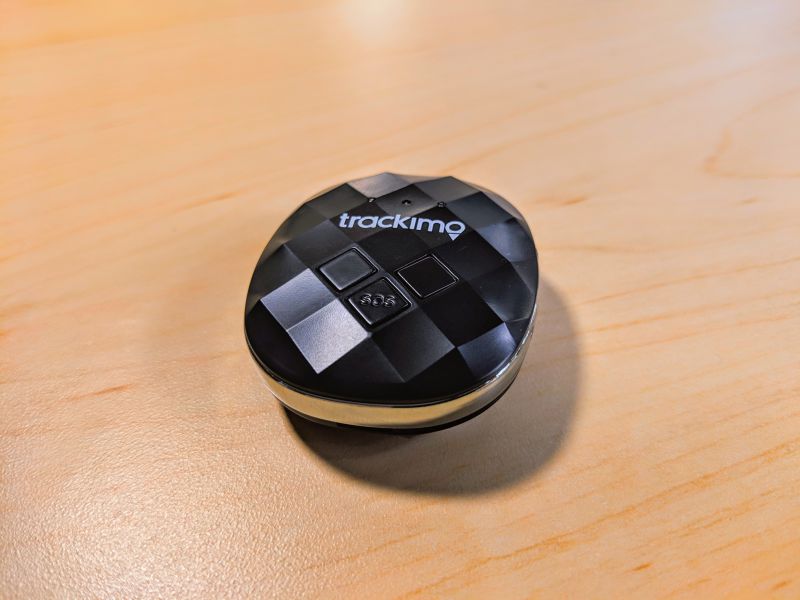 The SOS button is used to send an alert and your precise location to other contacts you predetermine in the case of an emergency.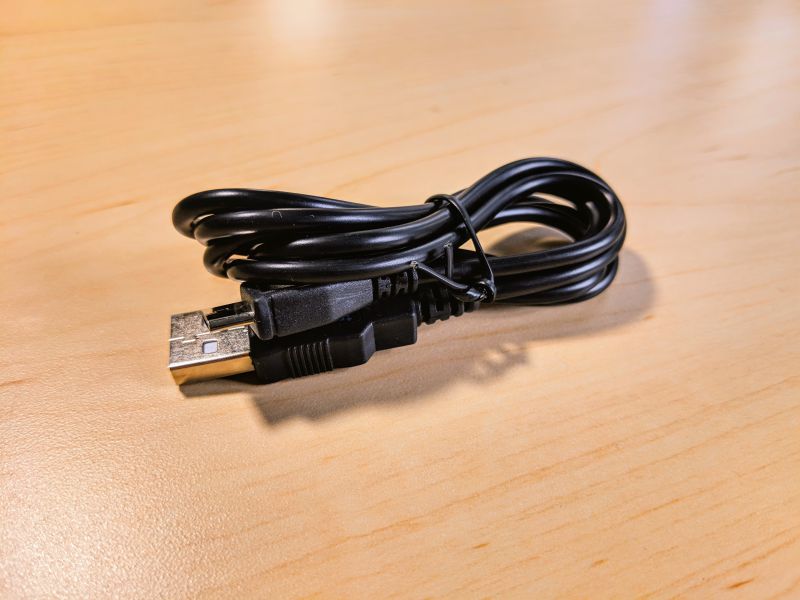 The Trackimo needs to be charged before its first use and this is done via an included Micro USB to USB A cable. I was a bit disappointed to find that the Trackimo doesn't ship with a USB power block. For a price close to $200, a power block should definitely be included.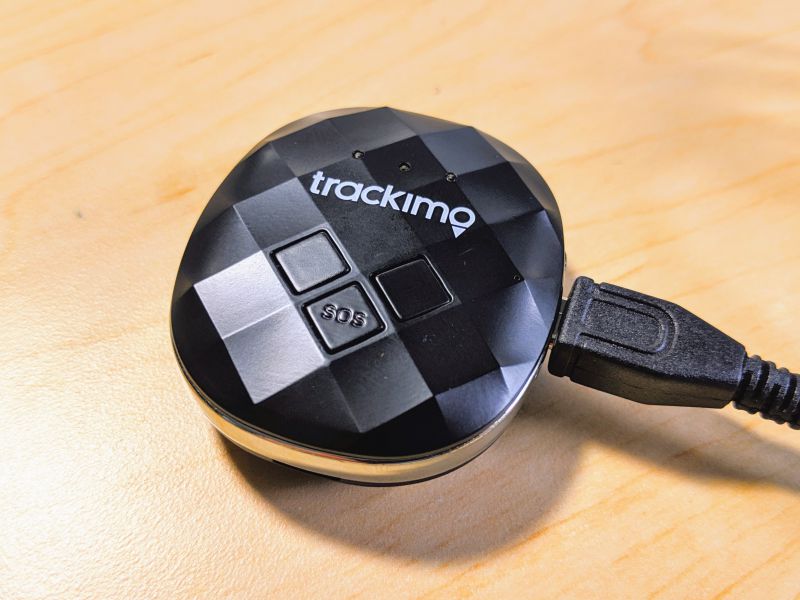 Once connected to a power source, the device needs to be charged for 12 hours before using. When charging, the red light blinks and when full, the red light will remain on while it is connected to power. One great bonus of the Trackimo is that it works while being charged, so it's easy to set it up in a configuration, like in a vehicle, where it has constant power.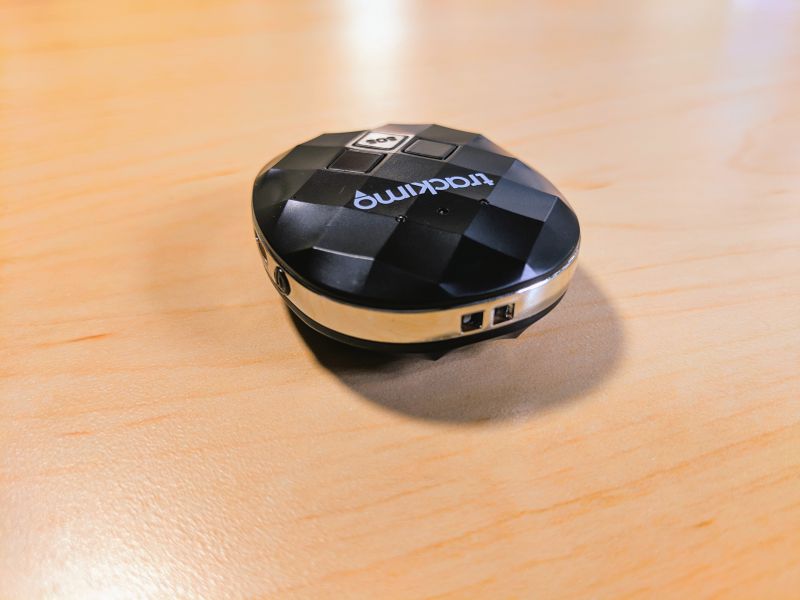 Two small holes located at the top of the Trackimo unit are for attaching an included lanyard.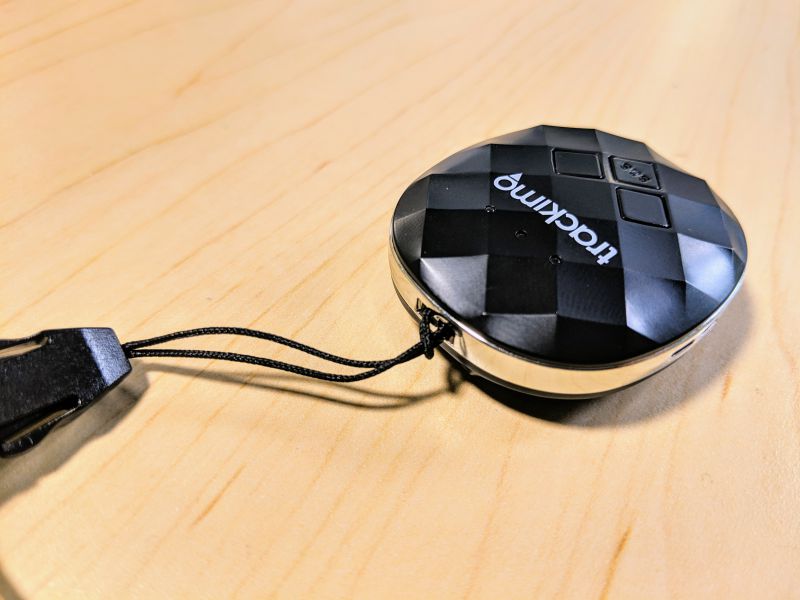 The thin end of the lanyard loops around itself and secures to the unit.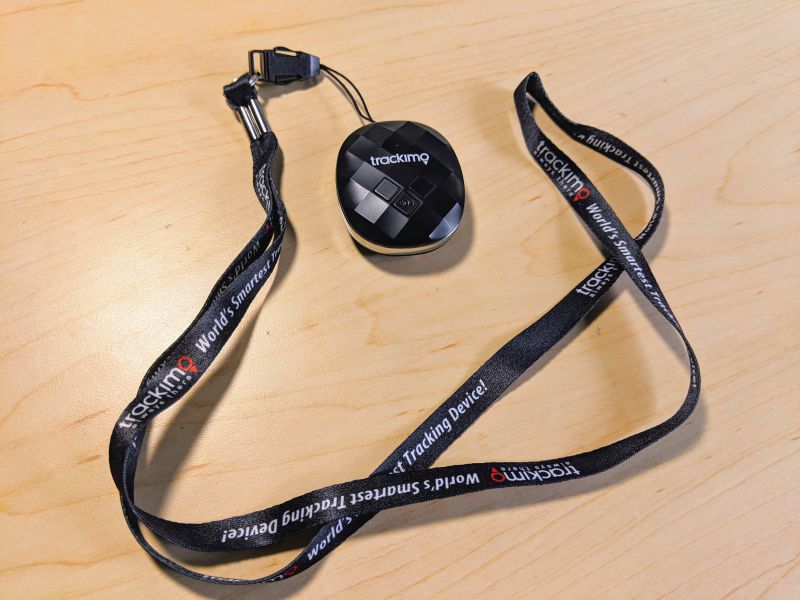 With the lanyard, the Trackimo can be worn around the neck by someone you need to keep track of like a child or elderly person.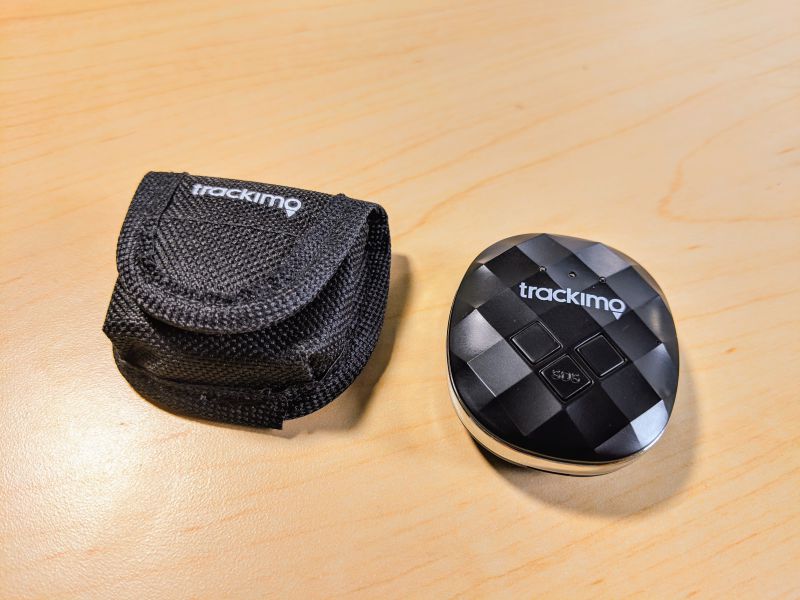 For another carrying option, the Trackimo also ships with a small soft case.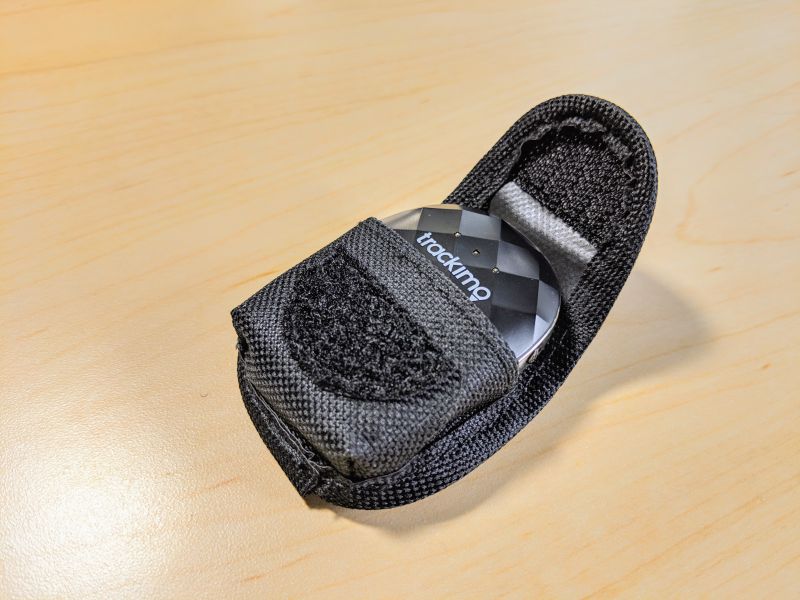 The Trackimo fits snugly into the small case and it secures with a velcro flap.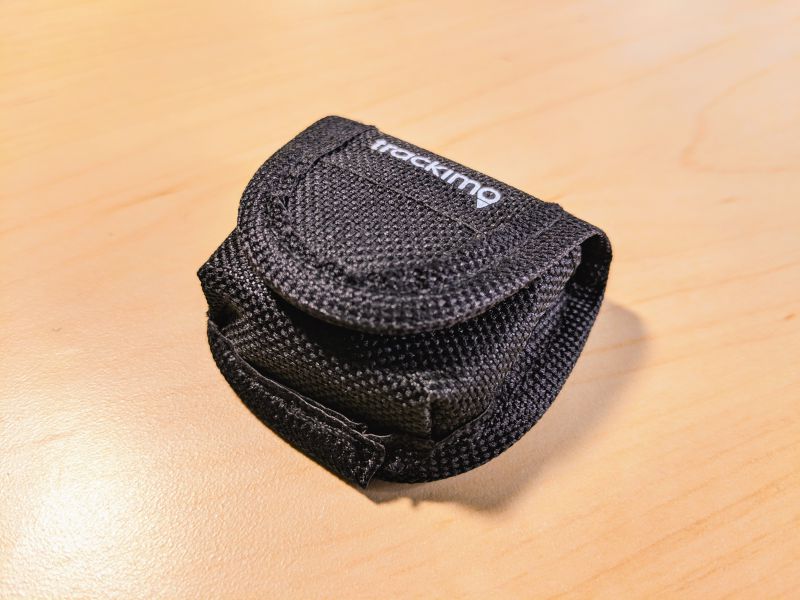 There's both a small metal loop and an elastic belt loop on the back of the soft case for attaching the Trackimo to a person, item, or pet.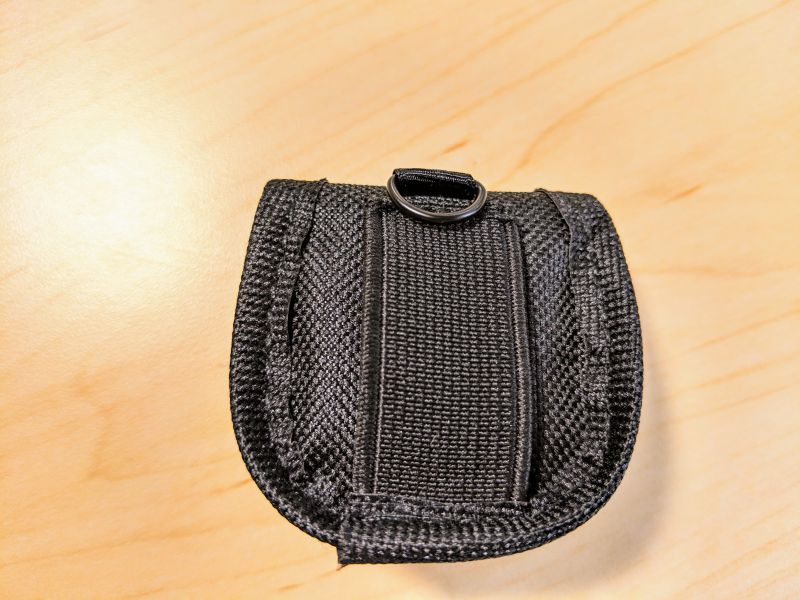 Setup
After unpacking and charging the Trackimo, you're required to set up a Trackimo account and link it to your device. Registration of the unit is done via the Trackimo website or the Trackimo app, which is available for both IoS and Android devices.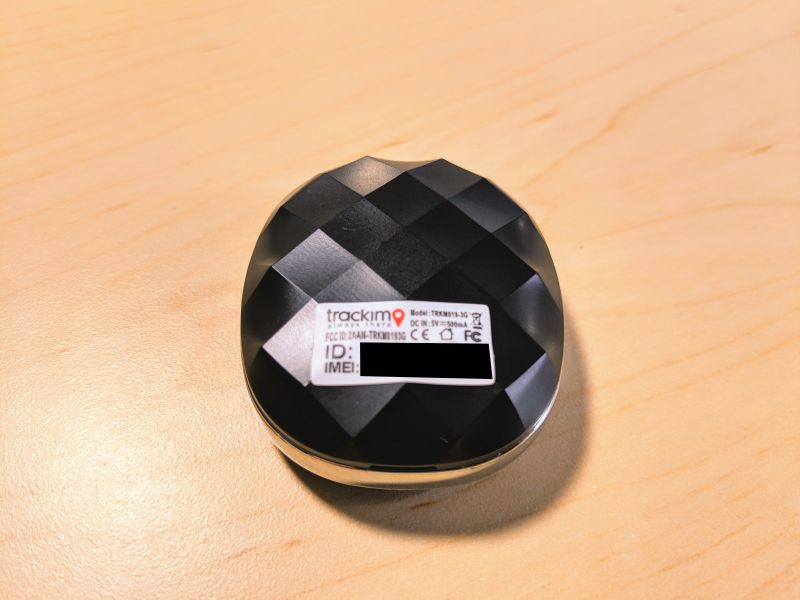 Once you set up a Trackimo account, you can link it to your device using the device's unique ID number, found on the back on the unit.
Performance
After your Trackimo account is activated and linked to your device, the fun begins. The Trackimo app gives you a ton of options, from naming your device (mine is named "Tracky") to setting up a Geofence which alerts you whenever your device moves out of an area you designate.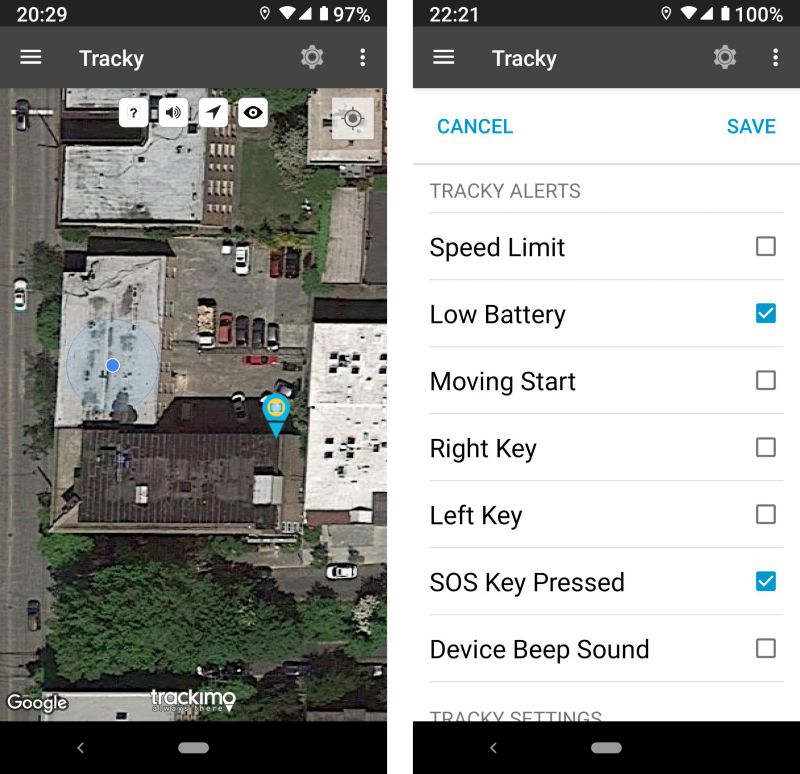 The app is very well thought out, the features are clearly labelled and easily accessible. Along with setting up options and alerts, you can also see the location of your device at any time via Google Maps right in the app.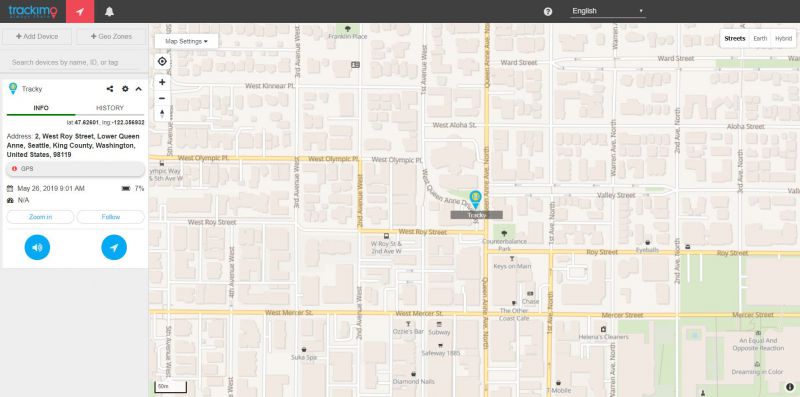 The functionality of the app is mirrored on the Trackimo website. All of the options of the app are available via the website and there are some expanded options as well.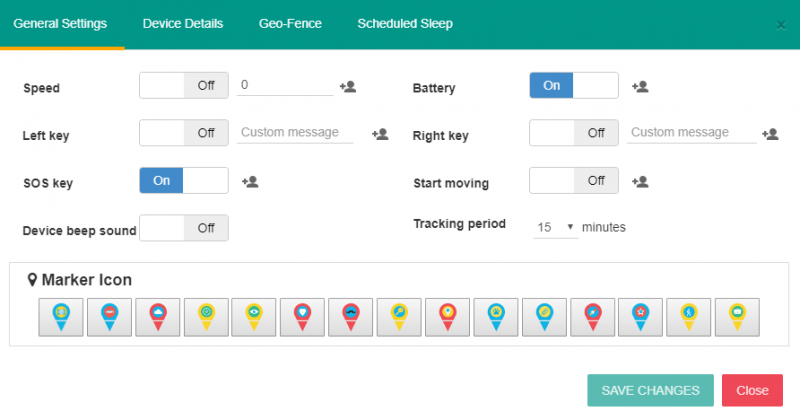 I've been using the Trackimo for a few weeks now to keep tabs on my beloved FJ Cruiser as sort of a low cost Lo-Jack system. Every time I've signed into the Trackimo app or website I've been given an accurate location of my truck. I keep my Trackimo charged constantly while I'm driving and the battery life has been impressive, but I did have to experiment a bit with the update intervals. The shorter the update interval, the shorter the battery life. The Trackimo saves battery alerts along with location data and other alert histories.
The Trackimo has worked consistently and without fail since I've registered the unit. I like this device so much, I plan on paying for the location service after my complimentary year is up.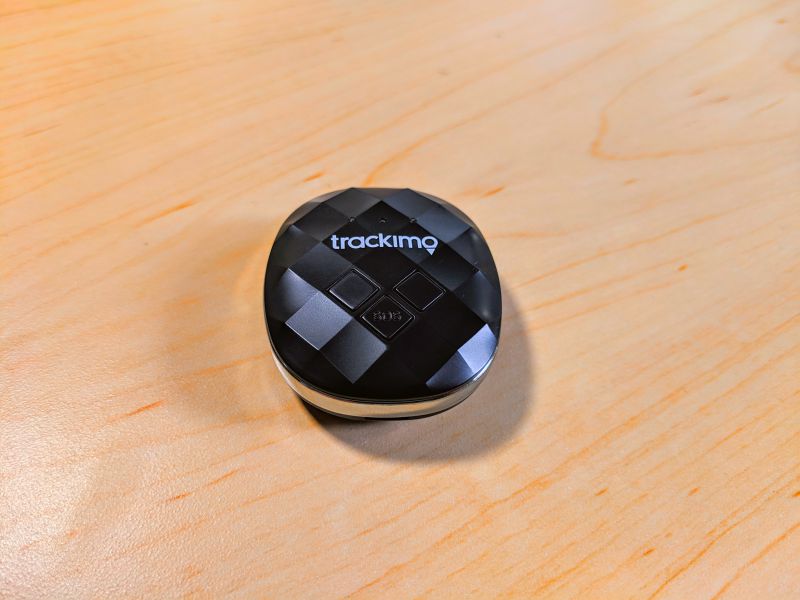 What I like
Very easy setup
Consistently acquires accurate location
Full-featured well-designed companion app and website
What needs to be improved
Requires paid subscription after one year complimentary access
Battery life dependent on update interval
Doesn't include a USB power block
Final thoughts
The Trackimo 3G Guardian GPS Tracker is an effective, well-built, and reasonably priced GPS tracker with a ton of different uses. The only real drawback of the unit is that the cellular location service is only free for one year. But, without that service, which is quite affordable, the unit loses its main advantages over other GPS trackers in its class. In my opinion, the Trackimo is a great option to use for keeping track of anything and everything you're concerned about losing.
Price: $198.90
Where to buy: Trackimo or Amazon
Source: The sample of this product was provided by Trackimo.