We use affiliate links. If you buy something through the links on this page, we may earn a commission at no cost to you. Learn more.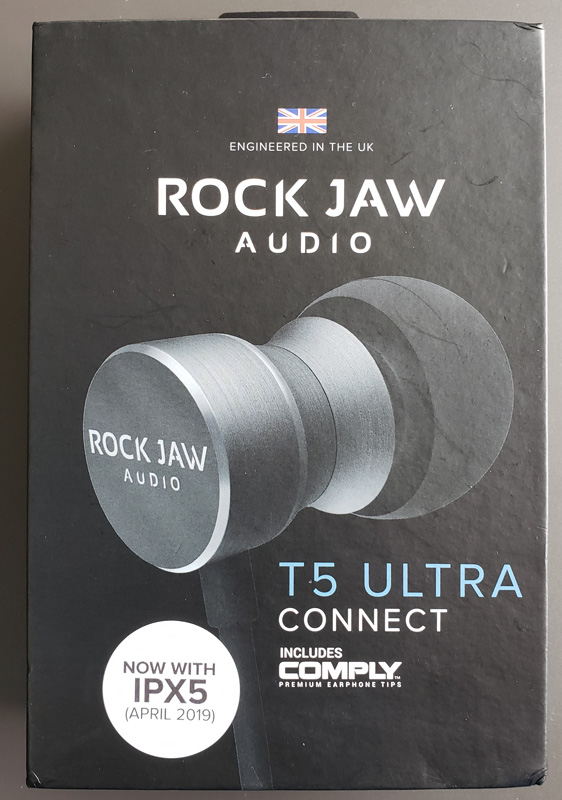 REVIEW – With apologies to William Shakespeare…
To ear, or not to ear, that is the question:
Whether 'tis nobler in the mind to suffer
The pains and aches of outrageous ear tips,
Or to take arms with compliant materials
And by opposing listen to them all day.
Rock Jaw Audio introduced an updated version of their T5 Ultra Connect wireless earbuds. Let's see if they're worth a listen.
What is it?
The T5 Ultra Connect wireless earbuds (T5) are the latest iteration of Rock Jaw Audio's wireless earbud line.  They have been updated with Bluetooth 5 and IPX5 water resistance.
What's in the box?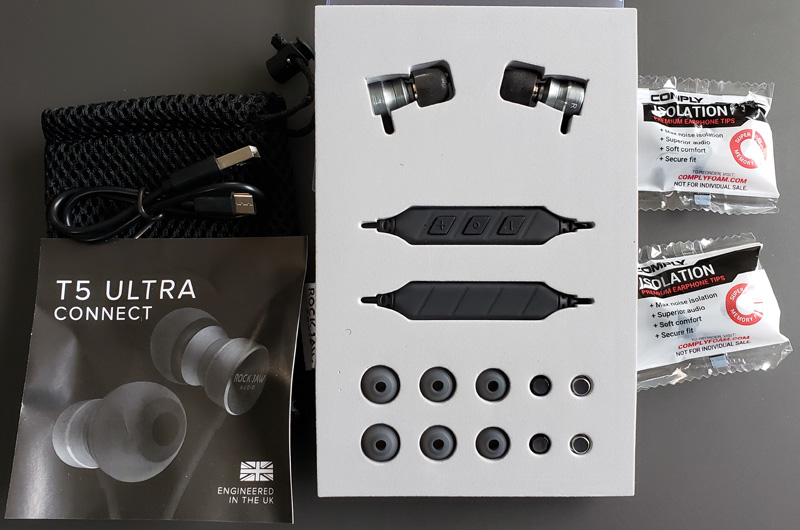 T5 Ultra Connect earbuds
Large, medium, and small silicone ear tips
Large, medium (attached), and small Comply isolation ear tips
Neutral (attached), extra base, and extra treble tuning filters
USB-A to USC-C charging cable
Mesh carrying bag
Instructions
Hardware specs
Drivers: Titanium-coated diaphragm, CCAW voice coil
Frequency response: 15 – 25,000Hz
Impedance: 24 ohms (+/-15%) @1KHz
Bluetooth range (unobstructed): 12M
Chipset: aptX & AAC
Microphone: MEMS professional
Water resistance: (IPX) Water Resistance: IPX5 – Sweatproof & water resistant, in the gym or outside
Battery life: 11 hours
Design and features
The T5s are pretty typical for wireless earbuds.  They have a thin wire connecting the two buds.  Along the wire are a battery and a control pad. The buds themselves are nicely finished in aircraft-grade aluminum. The buds have a small "L: and "R" on them to identify the left and right bud.  They also have a magnet in them so they snap together when not in use.  This is handy if you need to take them out for a few minutes as it prevents the earbuds from falling off your neck.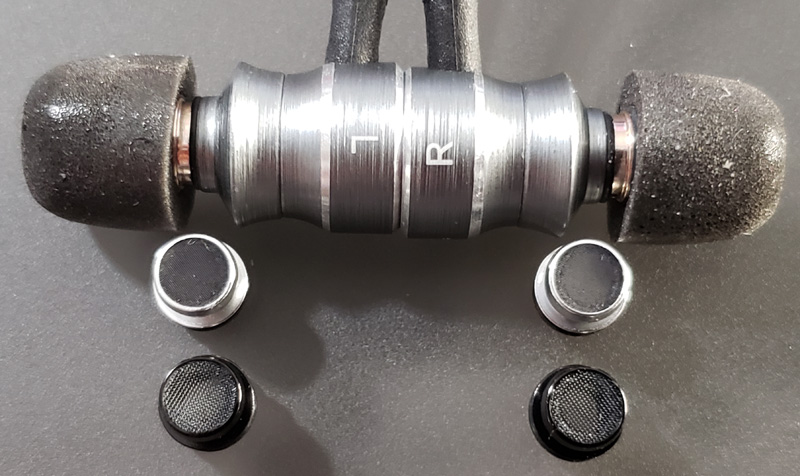 Setup
Setup is pretty simple.  First, use the included USB cable and your power supply to charge the earbuds.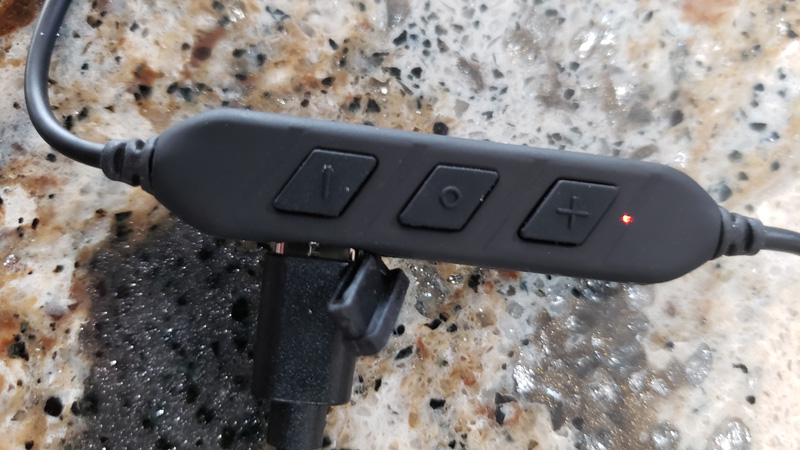 There is a small LED indicator that lights red during charging.  It turns blue when charged.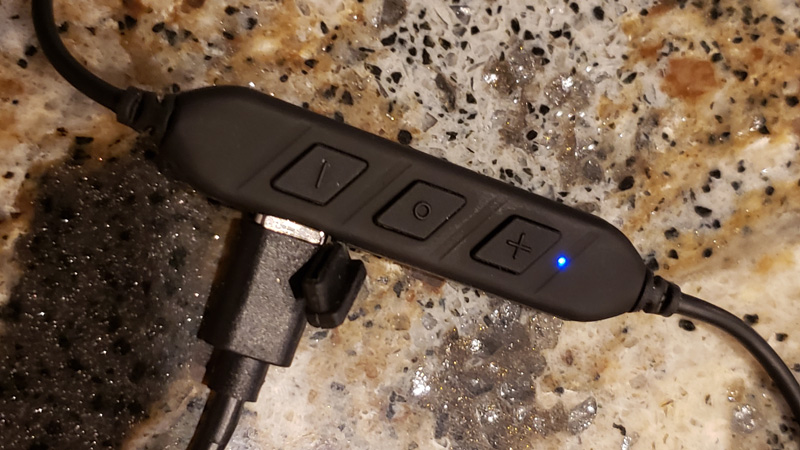 The LED doubles as the Bluetooth pairing indicator, flashing blue/red during pairing. Press the power button for 5-6 seconds and the T5 enters pairing mode.  Run a scan from your audio device and choose T5 Connect to pair.
After pairing, you need to decide two things: what type and size of ear tip to use, and what tuning filter to use for your music.
There are three included pair of silicone ear tips in small, medium and large sizes. Since these are standard items, I didn't test these tips.  I was more interested in the Comply isolation ear tips.  These also came in three sizes.  The tips are made of a soft, pliable, memory foam material. For my mismatched ears, I chose the medium tip for my left ear and large for my right.
After attaching to your chosen tuning filter (more on that later), pinch/roll the material between your fingers to form the tip into a pointed shape.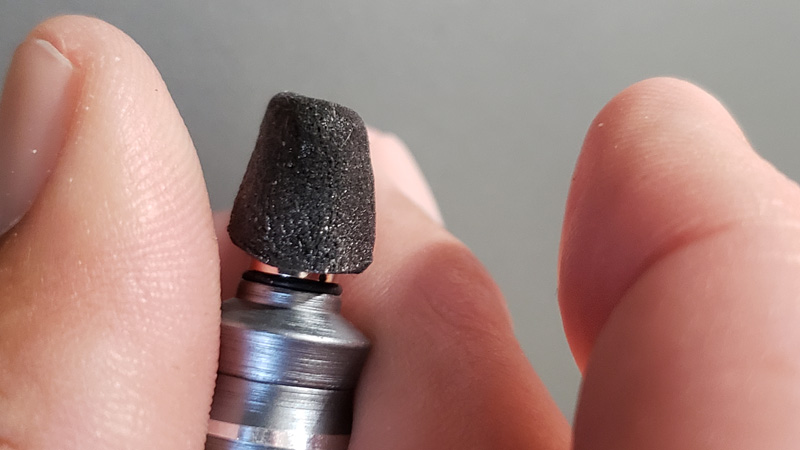 Place the bud into your ear, holding it as the Comply material molds to the shape of your ear canal.  Once in place, the material does a very good job providing isolation from outside sounds and holds in place very firmly, while still being comfortable.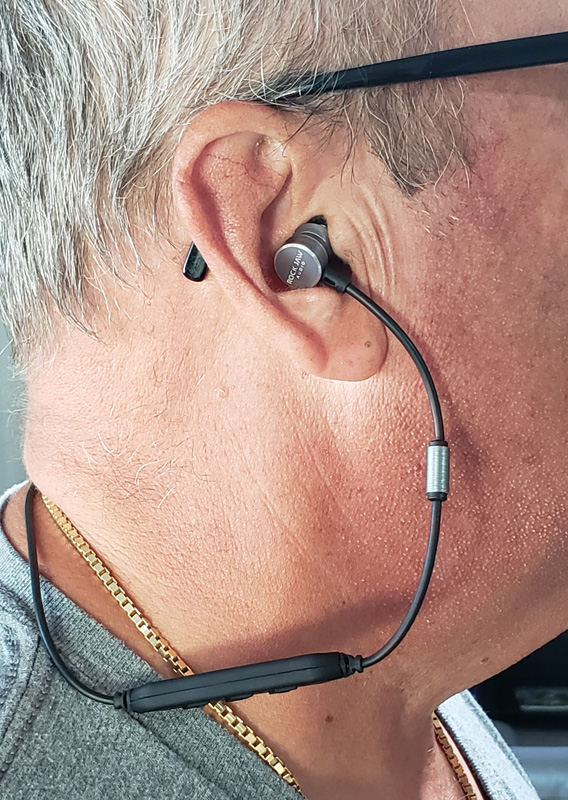 Performance
After pairing I took a listen and found the music sounded pretty darn good.  I wandered around my metal-stud built home and found the Bluetooth connectivity to be impressive. It was only after I was perhaps 50 feet away and behind walls that the sound faltered.
The next step was to try the tuning filters.  To me, it sounded like marketing fluff.  Could these little screw-in filters really make a difference in the sound?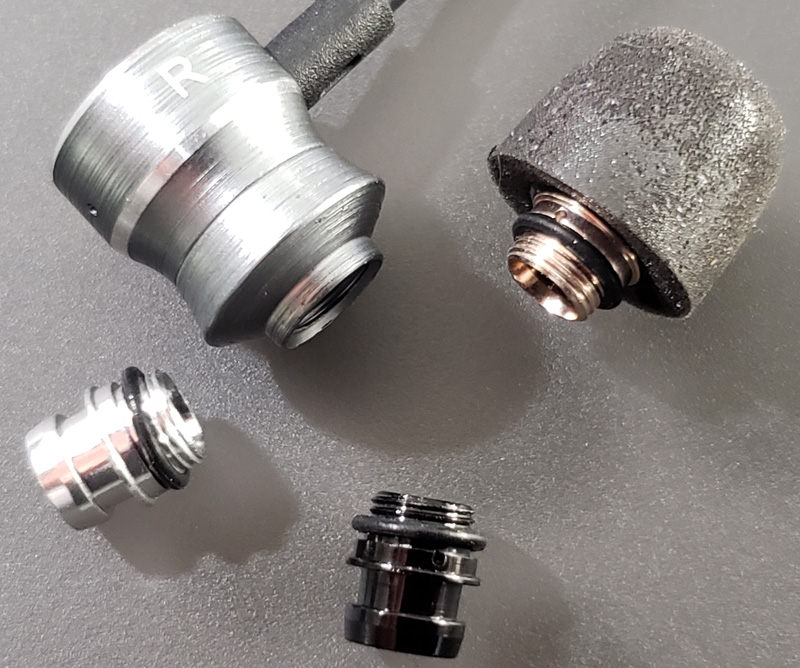 Here's what the tips are supposed to do:
Silver: This is mainly for genres such as rock, Hip-pop, R&B, and electronic music.
Gold: The natural tuning filters are engineered to offer a well-balanced, natural sound signature, suitable for all music genres.
Black: Emphasise the higher audible frequencies for enhanced audio in genres including classical, acoustic and jazz.
The gold tips come installed, and they sounded good.  I put the silver tips in place, snapped the ear tips on and took a listen.  Much to my surprise, there was a noticeable increase in bass response.  Wow!  I then replaced them with the black tips and sure enough, the bass was reduced and the treble range was noticeably sharper.  I was suitably impressed.
The T5's controls are simple.  Press the center "0" button to turn on/off.  You get a British-accented "Power on"/"Power off" audible prompt in the buds. and a "Paired" prompt when connected to your audio source. The "0" button also doubles and the call answer and call hang-up button.
Pressing the "+" and "-" buttons raise and lower the volume.  Holding them briefly skips forward or back one track.  Per the instructions, holding the "0" power button for one second should summon Siri or Android Assistant. This never worked with connected to my Samsung Galaxy S9+ with Android Assistant installed.
What I like
Comply tips are extremely comfortable, isolate you from outside sounds, and hold firm
Variety of ear tips to provide a comfortable fit
The listening experience can be tuned to fit your liking and music style
Great sound
Great battery life
What needs to be improved
The claimed Android Assistant functionality should work, but didn't
Final thoughts
To come back full circle to the beginning of this review, there is nothing either good or bad, but thinking makes it so.  According to my thinking, these T5 earbuds are indeed good and are worth a look.
Price: £67.45 direct; $73.99 on Amazon
Where to buy: Rock Jaw Audio and Amazon
Source: The sample of this product was provided by Rock Jaw Audio.