We use affiliate links. If you buy something through the links on this page, we may earn a commission at no cost to you. Learn more.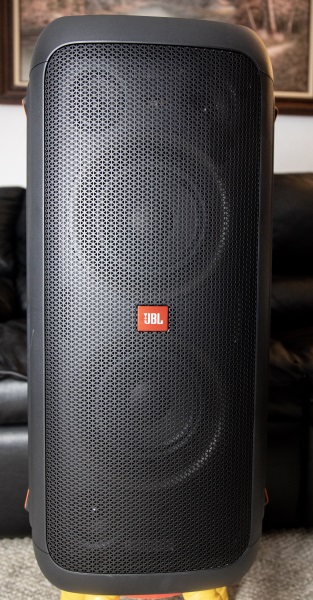 REVIEW – I am an Audiophile! And while I love to sit in my listening environment and enjoy my main stereo, I love to listen to music even if it is not exquisitely reproduced via class A equipment. One way to always have access to music is via portable Bluetooth speakers. In most cases, I use one in a room without a music system, and while I do enjoy most of the Bluetooth speakers I own, I have always felt that they are small and lack the kind of presence in sound that I am looking for. I also find that when I want to use them beyond listening to music via my smartphone or tablet, they lack any really useful connectivity options. Enter the JBL PartyBox 300 Bluetooth speaker!!
What is it?
The JBL PartyBox 300 Bluetooth speaker is a music streaming speaker with reactive party lighting included. It features Bluetooth connectivity that also allows you to pair two compatible speakers together, or you can daisy-chain multiple speakers and systems with the RCA audio output. It provides connectivity that includes RCA and 1/8″ audio inputs, a USB input for playback from compatible drives, and dedicated 1/4″ microphone and 1/4″ guitar jacks. The speaker driver design includes two 6.5″ woofers and three 2.25″ tweeters that deliver up to 120W of RMS power. It has built-in handles, an included 12V car adapter and a built-in 18-hour 10,400 mAh battery.
What's in the box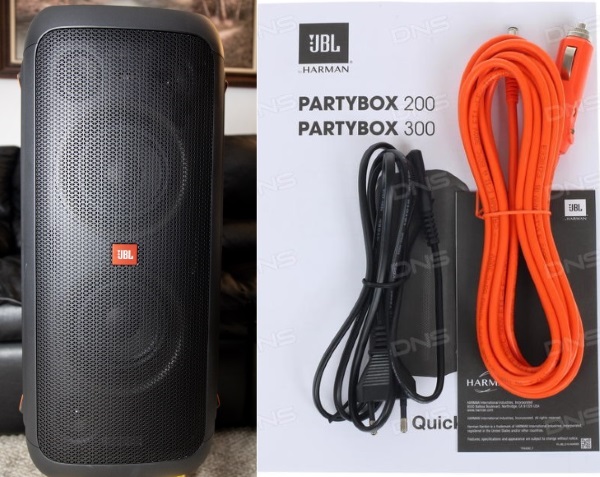 1 x JBL PartyBox 300 Bluetooth Speaker
1 x Quick User Guide
1 x AC Power Cord
1 x DC Cable
Design and features
Specifications
Power Output: 120 W
Drivers: 2 x 6.5″ Woofers; 3 x 2.25″ Tweeters
Frequency Response: 45 Hz to 18 kHz
Signal to Noise Ratio: 65 dB
Impedance: 4 Ohms
Bluetooth Version: 4.2
Supported Bluetooth Profiles: A2DP, AVRCP
Bluetooth Transmitter Power: 8 dBm
Bluetooth Transmitter Modulation: π/4 DQPSK, 8DPSK, GFSK
Wireless Range: 33′ / 10.1 m
Inputs: 1 x Stereo 2RCA (Audio); 1 x 1/8″ (3.5 mm) Stereo (Audio); 2 x 1/4″ TS (Audio); 1 x USB Type-A (Audio)
Outputs: 1 x 2RCA Stereo (Audio)
USB Power Output: 5 VDC at 2.1 A
Battery Capacity: 10,400 mAh
Battery Chemistry: Lithium-Ion
Battery Voltage: 7.2 V
Expected Battery Life: 18 Hours
AC Input Power: 100 to 240 VAC, 50 / 60 Hz
DC Input Power: 12 VDC at 8 A
Power Consumption: <2 W
Dimensions (W x H x D): 12.2 x 27.2 x 12.6″
Weight: 34.8 lb
Features
Powerbank
Lightshow
Bluetooth
3.5 mm audio cable Input
Auto-power off
Karaoke function
Through the front grille of the speaker, you can see the drivers, and there is a JBL logo badge in the middle of the grille.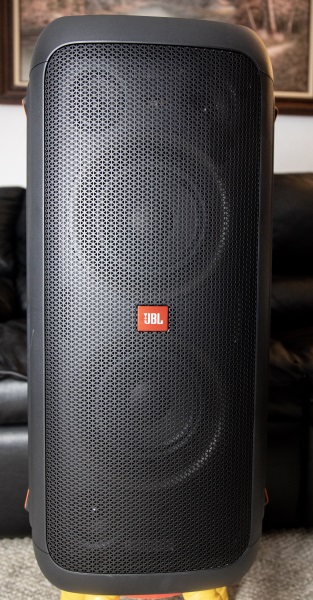 On both the top and bottom of the speaker, there is a handle that makes it easy to lift and carry the speaker. On the top back of the speaker, there is a cluster of ports that represent all of the physical connectivity that is available on the speaker.
Top row (left to right): DC port, USB input port, Auxillary port, L/R Channel Selector, L&R Volume Controls
Second row (left to right): AC power jack, RCA input jacks, RCA output jacks, MIC input, Guitar input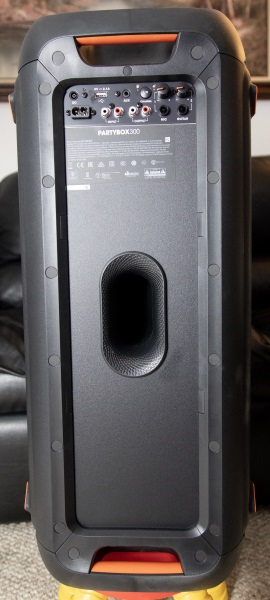 Both sides of the speaker are the same, with a carbon fiber look and rubberized feet that allow you to safely place the speaker on either side.
Performance
This speaker is impressive to look at right out of the box. Removing it from the box was my first surprise since while it is not very heavy, it does have quite a bit of weight to it. It is solidly built. Using the included AC cord, I plugged it in and it started to charge. Since it has an AC cable, you can play the speaker while it is charging. On top of the speaker, as shown below, there are touch buttons that represent the main controls. The pictures and charts below show the layout of the buttons, their functions, and the LED status indicators and values.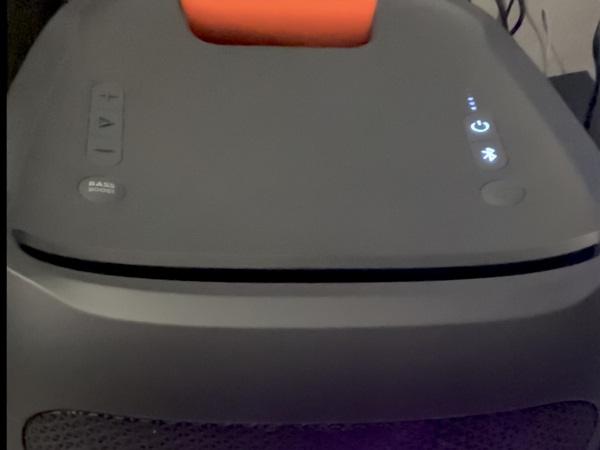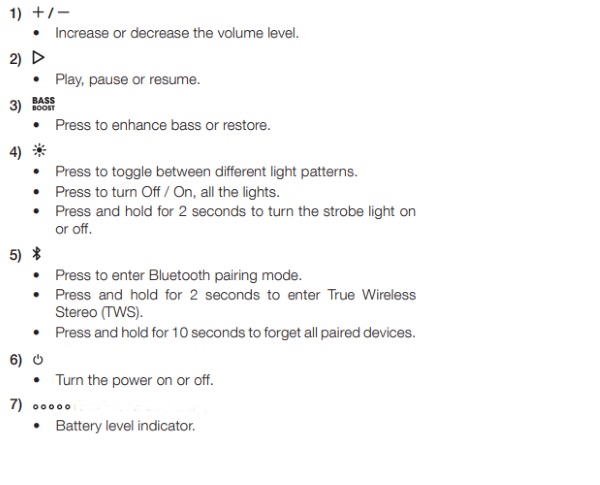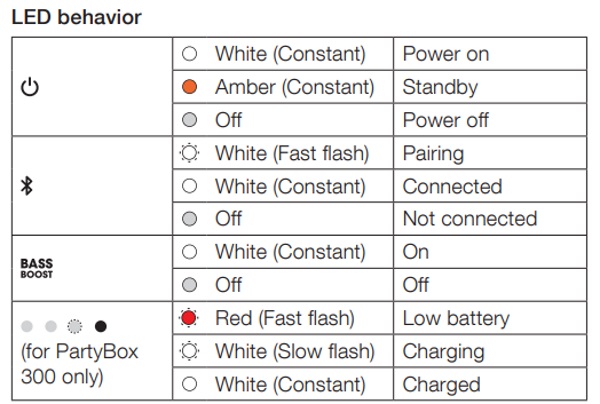 On top of the back of the speaker, the connection options are clustered into one panel. They offer more connectivity than I have ever seen on any Bluetooth speaker, and they make this speaker versatile enough to be the go-to device that would fit many needs.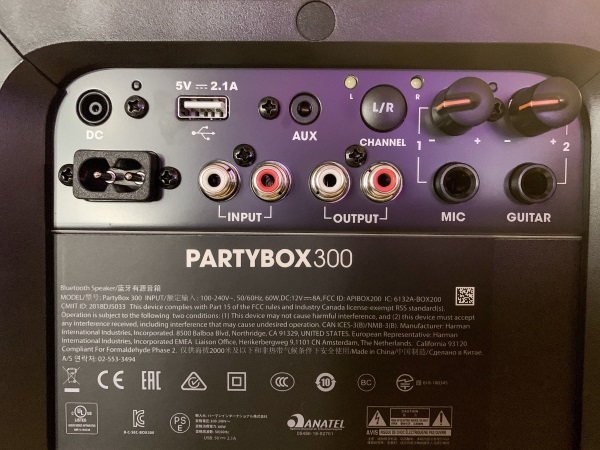 You can also plug in a USB drive to this speaker to play music. The following chart shows the compatible music formats: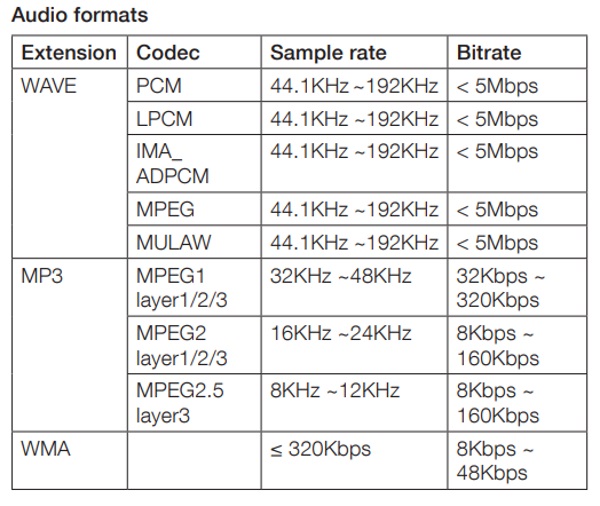 Important Note:


The video below shows the speaker's display lights in action:
I have been using this speaker almost every day and listening to various genres such as easy listening, reggae, etc and of course my primary favorite – smooth contemporary jazz. This speaker handles any genre pretty well, and I love connectivity options that even have me hooking it up to my projector at times.
I plan to take it to some of the BBQs that I will attend this summer so that we can finally enjoy music without worrying about power sources or running out of power. And, even though playing the speaker for a long time at a high volume may reduce the amount of time the battery lasts, I am very sure that it will still have power way after the BBQ is over. Its size and power allow it to provide adequate sound for a noisy large gathering, and it is not so heavy that I can't grab it and run if the skies open up and "rain on our parade".
Since it has so many connectivity options, I think some Karaoke is in order for this year's events.
What I like
The build quality
The sound
The built-in battery for complete portability
The included DC cable
The light display options
The rock solid Bluetooth connectivity
The built-in handles
The connectivity options
What can be improved
For me, absolutely nothing – Maybe some waterproofing for my mischievous kids 🙂
Final thoughts
When I first saw the JBL PartyBox 300 Bluetooth speaker, I was very eager to try it. From the first time I saw the pictures, I kept looking at them over and over again. I did see it in my mind as a bit smaller than it is. I preferred a larger speaker, so I was pleasantly surprised that it is a great size. The speaker is built like a tank and the sound is great. I especially like how it handles my favorite music genre – smooth jazz. The battery seems to last forever and the option to choose between various light displays or to turn it off completely is a plus. Then there is the connectivity that allows you to use this speaker for so many different scenarios. While I have not yet hooked it up to my electric guitar, I am expecting it to shine just as it has in every other way. And to think that I can add a MIC and complete my performance, or host a Karaoke session, is something I am really looking forward to. I absolutely love this speaker, and I highly recommend it and give it two thumbs way up!!
Price: $449.95
Where to buy: JBL Website and Amazon
Sample: The sample for this review was provided by JBL.