We use affiliate links. If you buy something through the links on this page, we may earn a commission at no cost to you. Learn more.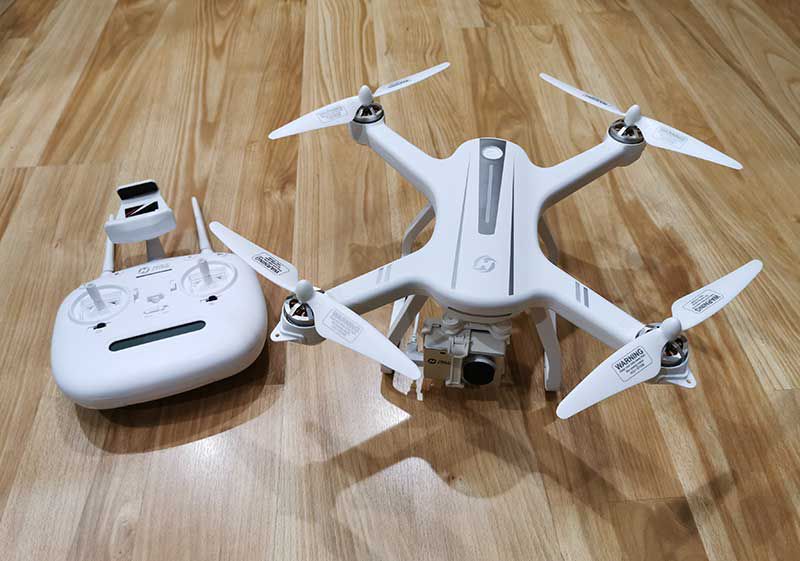 REVIEW – Lately I've been having fun reviewing drones and that fun isn't over because I have another drone review for you today. This is my third one from Holy Stone. It's the HS700 FPV Drone and it's currently their most premium model. Let's take it for a spin (and hopefully not a crash!).
What is it?
The Holy Stone HS700 FPV is a first-person view drone which you control with the included handheld remote controller and an Android or iPhone.
Hardware specs
Drone
Motor: Brushless Motor 2204 1500kV
Max Flight Height: 120 m
Max Flight Distance: 800-1000 m
Max Flight Speed: 25 km/h
Max Flight Time: 20 min
Battery Capacity: 2800 mAh
Charging Time: 7 h
Weight: 370 g
Size: 220 x 220 x 155 mm
Camera
Effective Pixels: 2 MP 1080p
Lens: 120° Wide-angle
Gimbal: 90° Manually Adjustable
Photo Size: 1920 x 1080
Video Resolution: 1080P@25fps
Remote Controller
Remote Control Range: 1 km
Transmission Frequency: 2.4 GHz
Battery: 1.5 V AA x 4
WiFi Mode
WiFi Live Stream Range: 400 m
WiFi Live Stream Frequency: 5 GHz
What's in the box?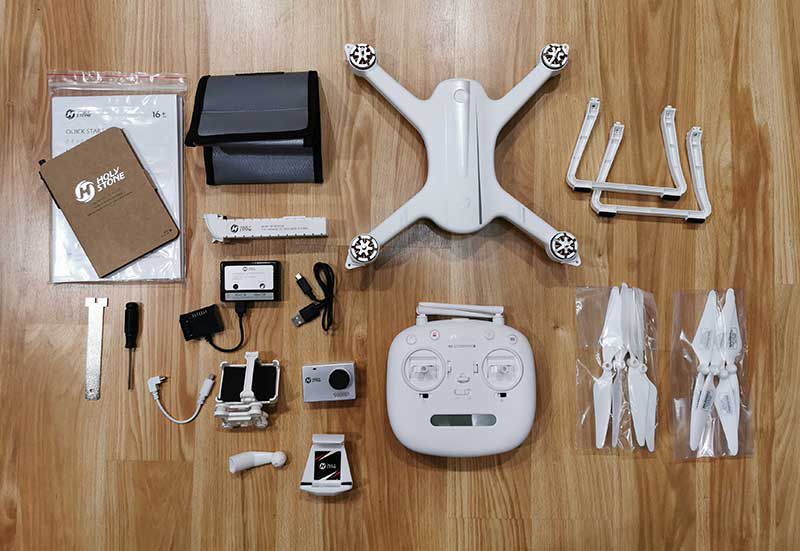 HS700 Drone
Remote Controller
Drone Battery
Propeller x 8
Landing Gear x 2
Camera
Camera Holder
Phone Holder
Balance Charger
Charge Transfer Box
USB Cable
Screwdriver
Propeller Spanner
Pouch
Logbook
Manual
Design and features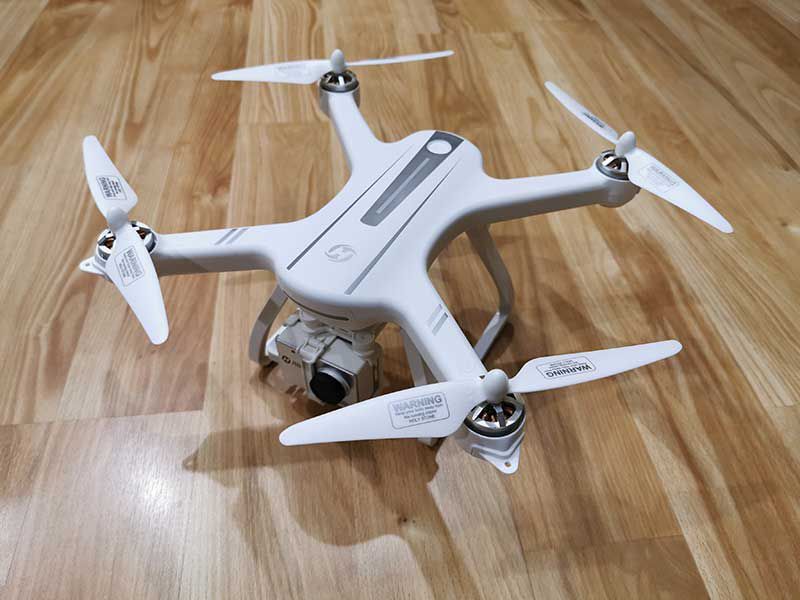 The HS700 FPV drone isn't large and isn't small, it's jussssssst right. Seriously though, the plastic white (also available in black) body isn't small enough that you will take it with you everywhere you go and isn't so large that you'll never want to take it with you.
It has a power button on the top along with the Holy Stone branding and quad propellers which you have to put on yourself. Don't worry, it's not hard as long as you pay attention that you put them in the right spot as there are 2 types of propellers.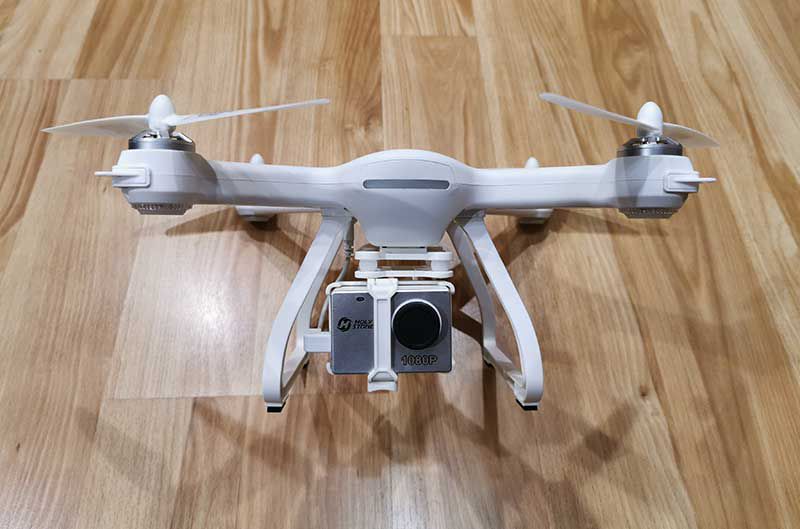 Unlike the Holy Stone HS120D drone that I reviewed earlier this spring, the HS700 doesn't have a built-in camera that you can pivot with the handheld controller while the drone is in flight. Instead, the HS700 comes with an action camera and a shock absorbing holder that you attach to the bottom of the drone. According to Holy Stone, the holder should hold most action cameras (it's GoPro Hero 2/3/4 compatible). I wasn't able to test that claim and just tested the drone with the 1080P camera that comes with the drone.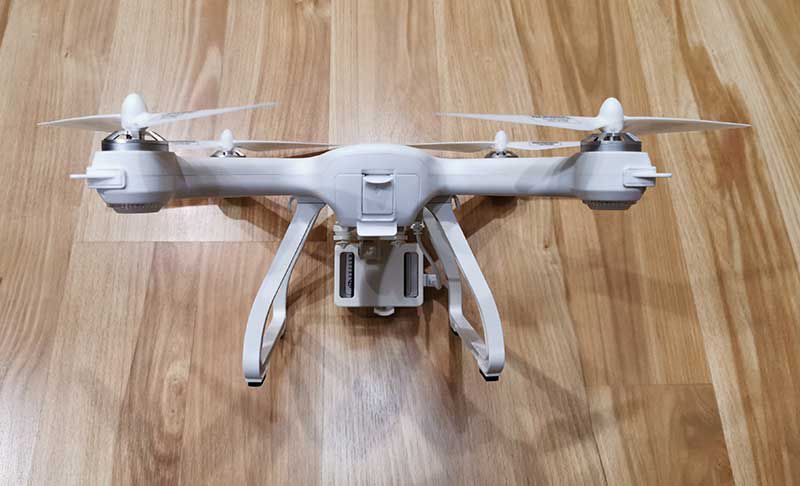 The back end of the drone is where the battery is housed. From what I understand, older versions of the HS700 required you to snap in the battery to power on the drone and remove it to turn off the drone. This isn't true of the version of the HS700 which was sent to me as the drone has a dedicated power button on top.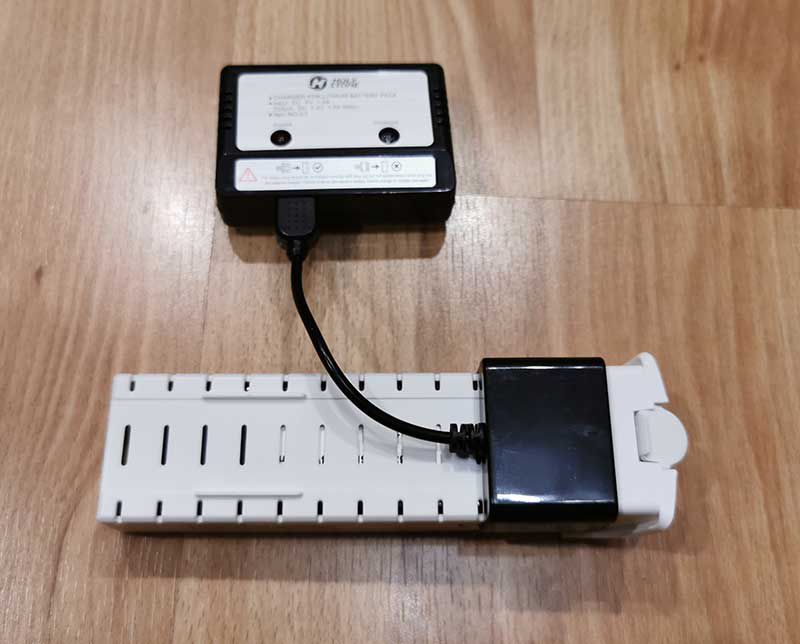 The battery is larger than other drone batteries that I've tested so far and it charges with an odd looking two-piece charger that has 2 bright LEDs that let you know that the battery is connected to power and the status of the charging activity.
The first gotcha that I ran into was charging the battery because it can take 5-7hrs. No, that wasn't a typo. It takes FOREVER to charge the HS700's battery using the included charger and what's worse is that for that 5-7 hour wait, you'll only be rewarded with a 15-20 minute flight time. Ouch. For that long of a wait, I would have liked to see Holy Stone include 2 batteries with this drone instead of only 1.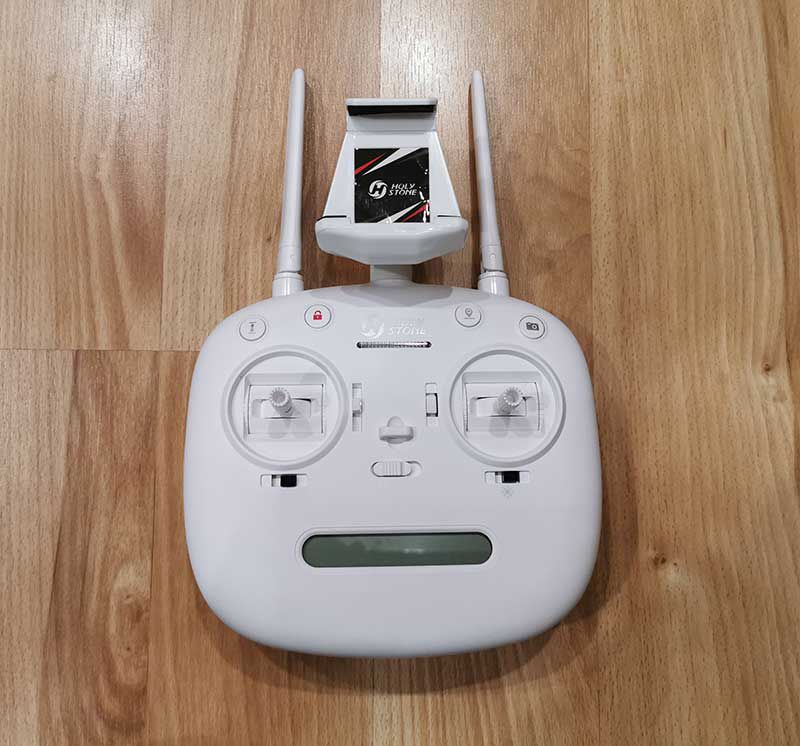 A handheld remote control is included with the HS700 and is it just me, or is this remote smiling at me?
The remote controller has all the features you would guess should be available including one button take off / landing, video / image capture, etc. There's also a small display that shows the status of the battery charge for both the drone and the remote controller, along with info on altitude, and GPS connection info.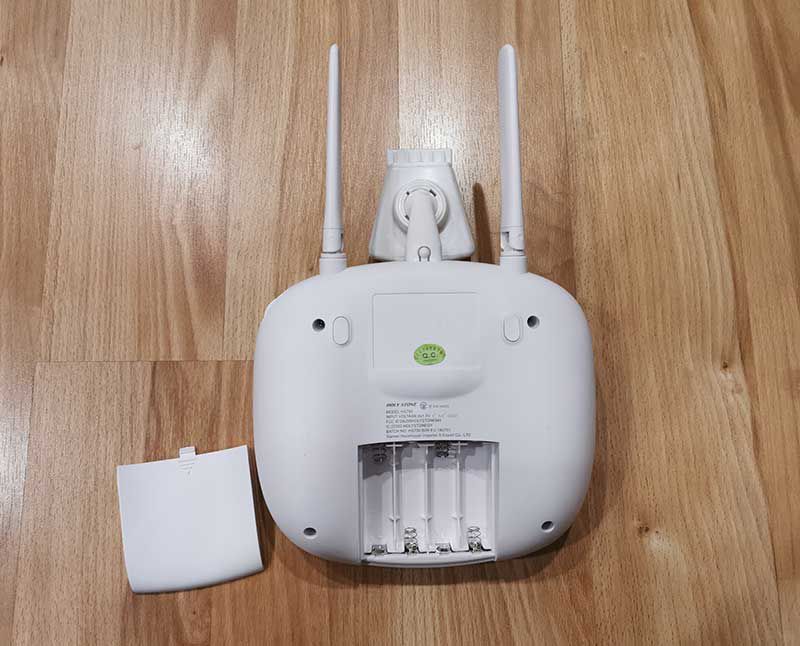 The remote control is powered by 4 AA batteries and unfortunately, batteries are included so you will have to take a trip to the store to buy some before you can take your first flight. But that's ok because you'll probably need to kill several hours waiting for the drone battery to fully charge!
Let's fly!
If you watched the video, you can see that as long as you're not moving, the video is pretty good and relatively stable for a drone that does not have image stabilization. But once you start moving in any direction, you will notice that the video becomes shaky.
Flying the drone is pretty easy and I managed to only crash it one time over the many flights that I took with it 😉 That crash was due to flying it into a tree branch because I miss judged just how fast this little drone can fly and that's something that you'll want to keep in mind if you end up buying one.
I tried the features such as one button take off, landing, rotating around a subject, and the follow me feature which you can see at the 4:28 minute mark in the video above.
What I like
Easy to fly
Fast flier
Follow me feature works well
What needs to be improved
Drone battery charge time is much too long
Include batteries for remote control
Needs obstacle avoidance feature
Final thoughts
For the price, I think this drone should include an extra battery, or a faster charger, and an action camera with 4K capability. Without that, I think it's a bit overpriced.
As far as flying and video quality, I enjoyed testing and flying the Holy Stone HS700. I think it's a nice drone if you don't mind the extraordinarily long time that it takes to charge the battery and you realize that the video quality is good but not mind-blowingly good.
Price: $284.99
Where to buy: Walmart and Amazon
Source: The sample for this review was provided by Holy Stone.