We use affiliate links. If you buy something through the links on this page, we may earn a commission at no cost to you. Learn more.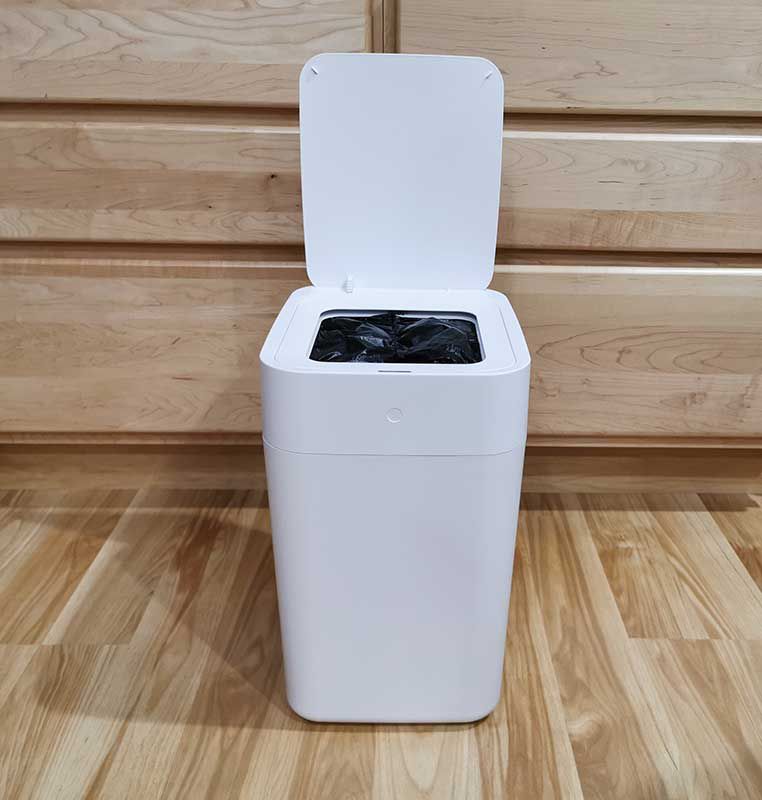 CROWDFUNDING REVIEW – We now have robots that can vacuum and mop our floors and cat litter boxes that are self-cleaning. So it's high time that we have a trashcan that can clean itself as well as open and close with a wave of your hand. The Townew trashcan has those features and is now seeking funding on Indiegogo. They sent me a pre-production unit to check out. Let's take a look.
What is it?
Townew is a small white plastic trashcan that opens and closes with a wave of your hand and seals the bag with a press of the button so that you never have to get icky gunk on your hands or smell nauseating garbage smells.
Why do I like it?
I like this trashcan because it's controlled by waving your hand over the sensor on top. When you do, the lid opens so you can deposit the trash and then the lid automatically closes again in a few seconds.
When the bag is full, you can press and hold the button on the front and it will lift and seal the bag shut for you. When you lift out the bag and shut the lid, it automatically installs a new bag in place that is ready to use.
I also like that trashcan has a rechargeable battery which allows you to use it for up to a month between recharges. You can also just leave it plugged in too.
As mentioned, they sent me a pre-production unit to try out and it worked just fine. The only thing I noticed is that the lid shut about 3-4 seconds after it opened. That doesn't give you a whole lot of time to scrape garbage off a plate and since the trashcan doesn't have a motion sensor to tell if you're still dropping items, you could make a mess if the lid inadvertently shuts on you.
However, there is a feature called Open-Lid Mode designed exactly for this use case. You tap the touch button once, the lid will stay open and (IR sensor is disabled), so you can keep dropping items without interruption. Once you are done, just tap again, and townew will resume auto-sensoring mode.
Considerations before pledging
First of all, the Townew trashcan is small. In my opinion, it's better suited as a bathroom trashcan instead of a kitchen trashcan.
Another thing to keep in mind is that you can't go to your local Walmart and buy new bags for it when you run out. The Townew trashcan has a special plastic ring that holds 25 bags. This whole ring has to be replaced with a new one when you run out. Pricing for refills hasn't been announced and there is some worry that if the company folds, you're left with an automatic trashcan that won't work after you run out of bags. FYI, if you buy a Townew through this campaign, it comes with 3 refill rings.
Where can I find more info?
The Townew campaign ends on 7/18/19 they have already met their funding goal of $14,893. You can pre-order a Townew starting at $59. After the Townew campaign ends, rewards are estimated to start shipping in September 2019. Visit their Indiegogo page for all the details.