We use affiliate links. If you buy something through the links on this page, we may earn a commission at no cost to you. Learn more.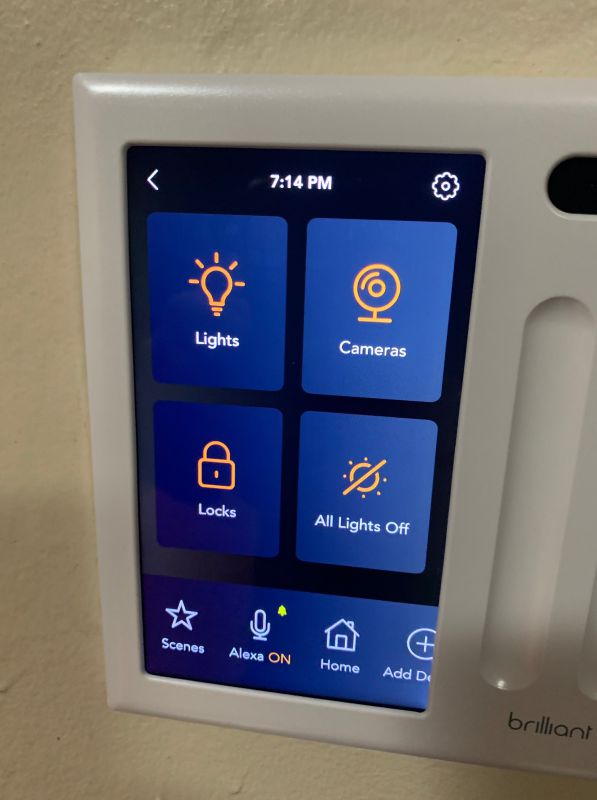 REVIEW – How would you like to transform your house or apartment into an easy-to-use smart home without the hassle of setting up hubs, adding wiring, and changing batteries every few months? The Brilliant Smart Home Control panel and its all-in-one mobile app let you turn regular lights into smart lights and integrates with your other smart devices. At least that's what they say. Let's take a look.
What is it?
Brilliant Home control switches are self-contained home automation control stations with an integrated screen that replace existing wall switches.
Hardware Specs:
5″ diagonal LCD touch screen
720×1280 resolution
Available in 1,2,3 and 4 gang boxes allowing direct control of 1-4 lights
Wifi required
Hot, Neutral and ground wires in the light switch box are required for installation
Rating: 120V AC 60Hz
300W incandescent, 150W LED and CFL compatible
Dimming compatible
Multiway supported
Magnetic low voltage (MLV) lighting systems are not supported.
Automatic Line and Load Switching
Compatible with Alexa, Sonos, Ring Doorbell, Phillips Hue, August Smart Locks, Honeywell, Samsung Smart Things, Google Assistant, and more.
WiFi 802.11 b/g/n @ 2.4 GHz, 2.4GHz WiFi network with WPA or WPA2 password Internet access
DHCP (dynamic) IP addressing
Onboard Sensors: Motion PIR Sensor, Temperature Sensor, Ambient Light Sensor
Available colors: White, Silver, Ivory, Cool Grey, Black, Light Almond
1-year limited warranty
Voice control Ability through Alexa skill, or Google Actions
What's in the Box?
Home controller
Assembly instructions
Connection wires and wire nuts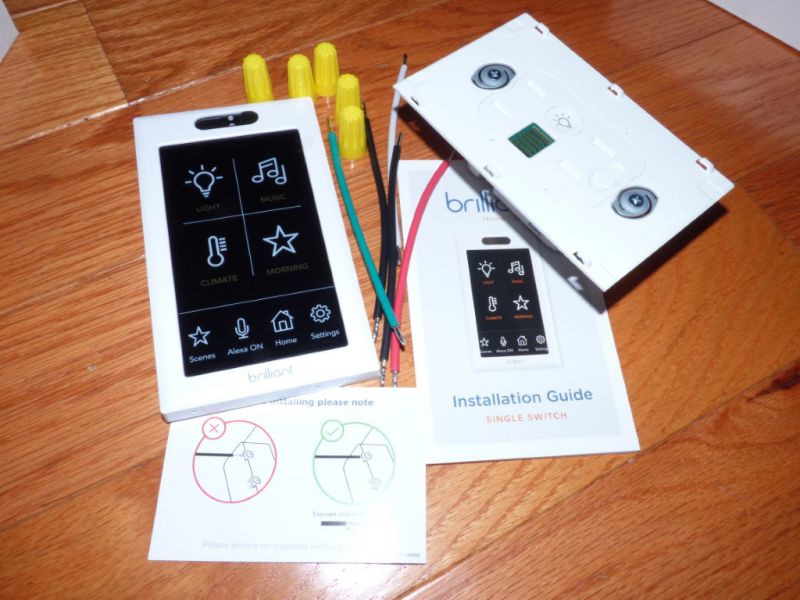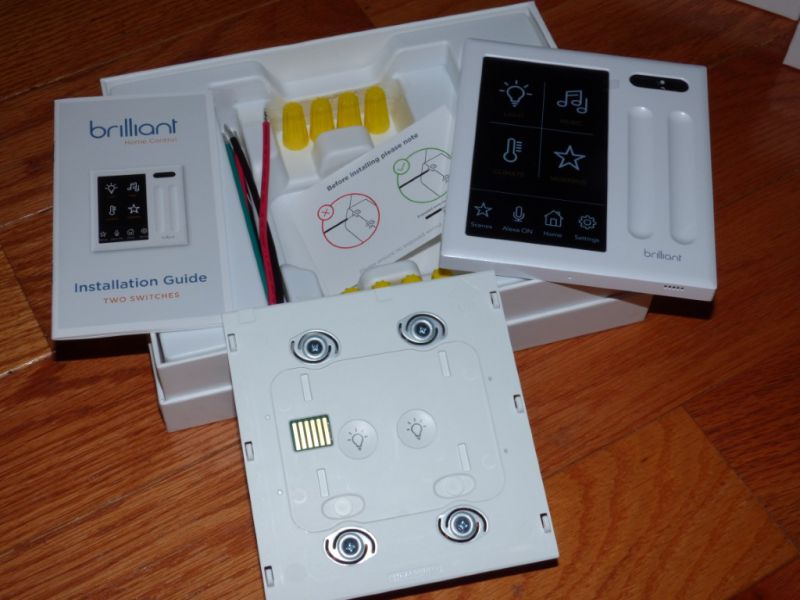 Design and Features:
Brilliant graciously provided two smart switches for evaluation, one single and one double-switch. Each arrived nested in separate boxes, protected from being tossed about with all the other packages with whom they shared a ride.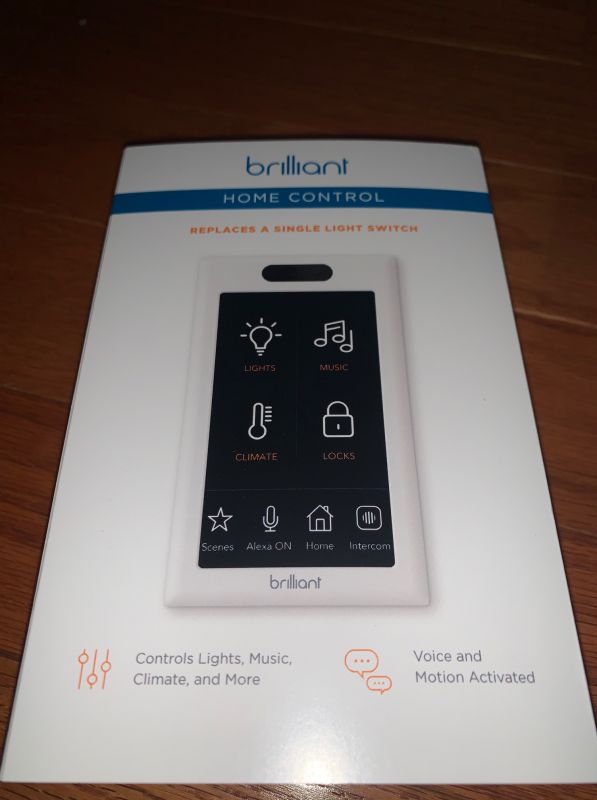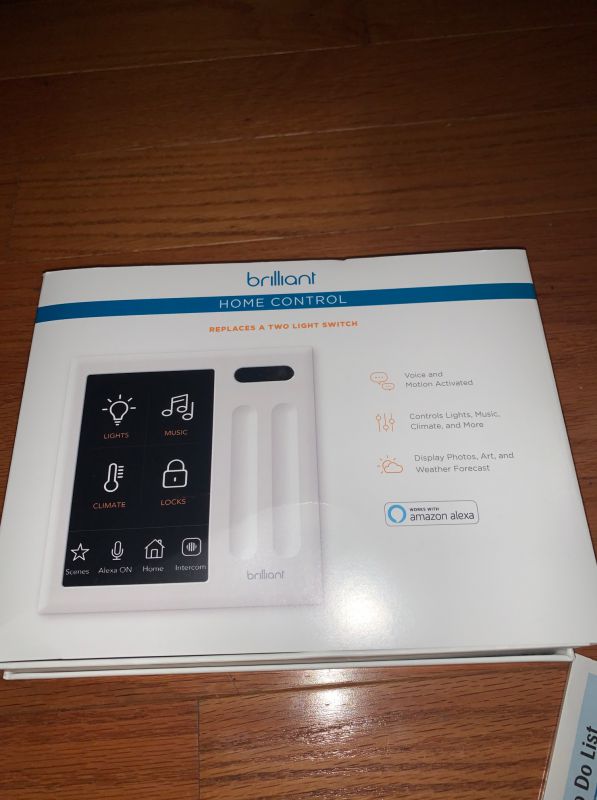 A well-written instruction manual is included. I have experience with wiring so I installed them myself, but you may want to consider hiring a professional. It should be noted that hot, neutral, and ground wires are required for installation. The switches are capable of replacing two-way lighting arrangements (two switches control the same light).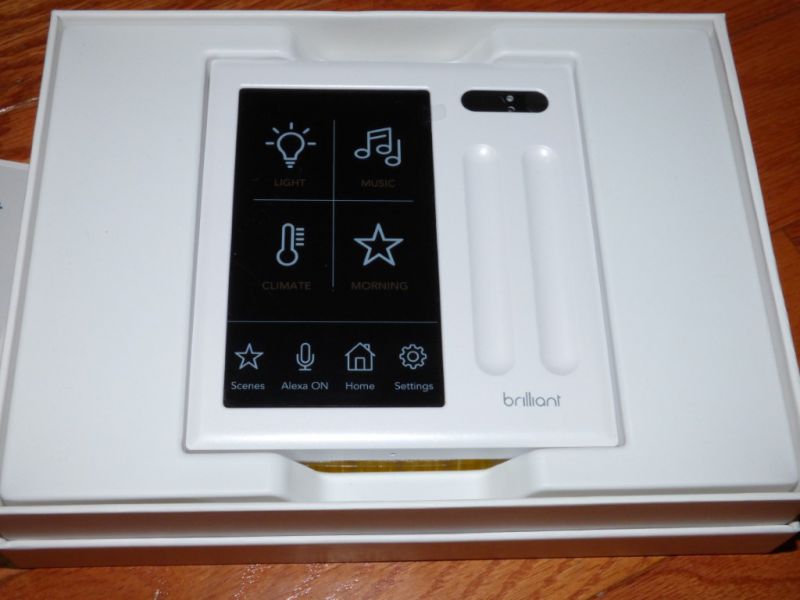 Don't forget to turn your power off before installation!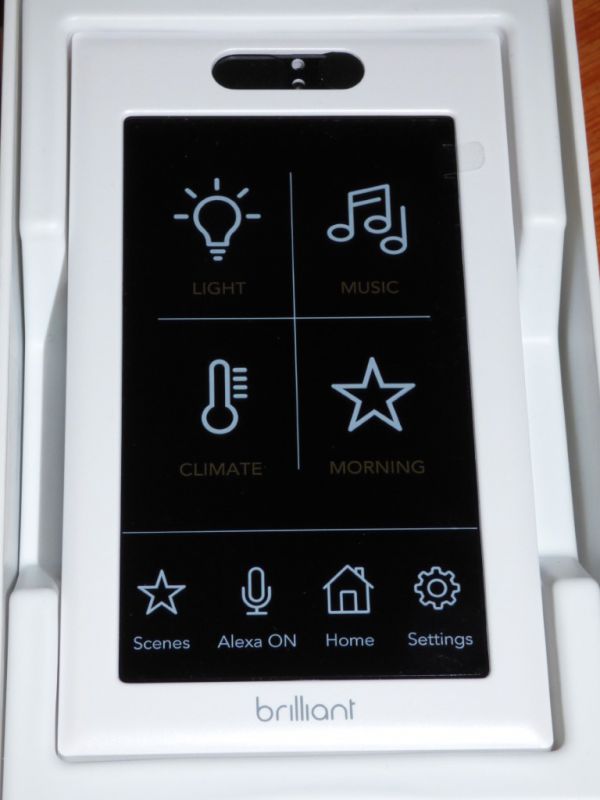 It took only a few minutes to install, the base projecting into the switch box similar to a GFI.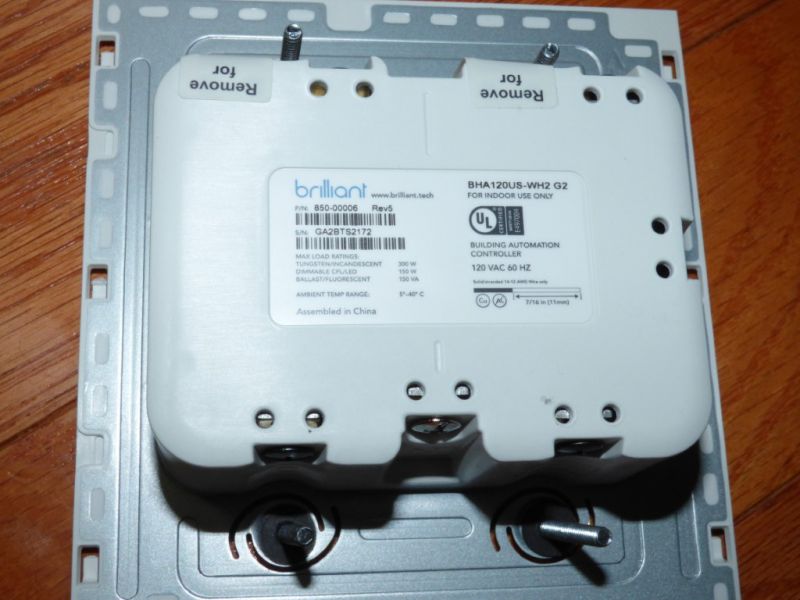 After installation and power restored, a button for each light can be used to test operation prior to snapping the screen assembly into place.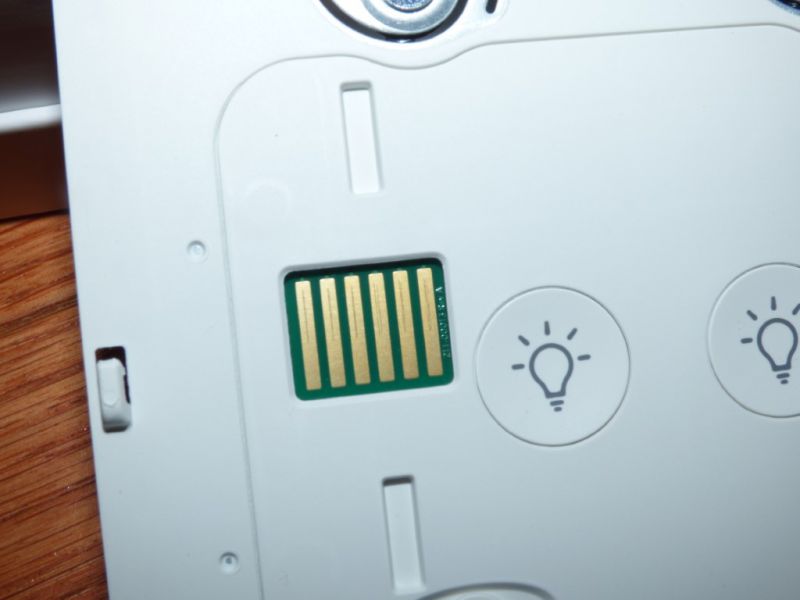 With the screen in place, the operating system walks through connecting to your Wi-fi, naming "rooms" and adding home automation devices.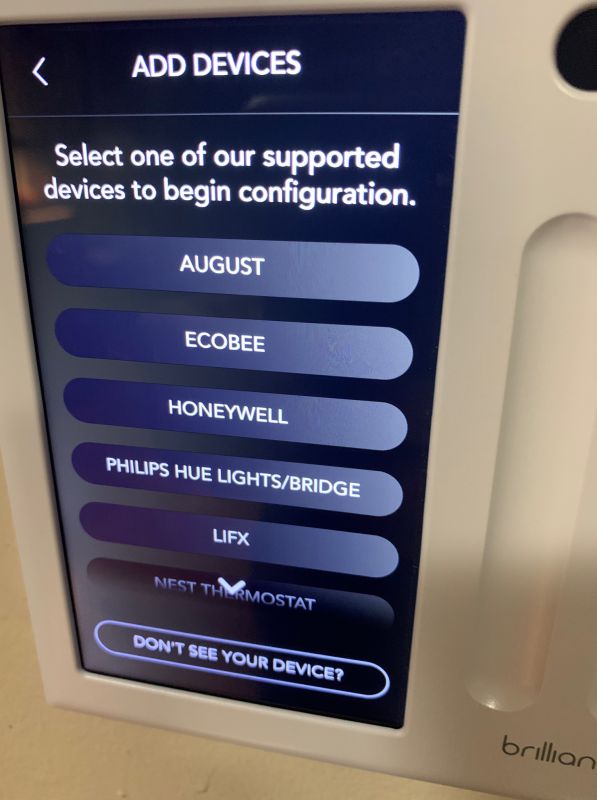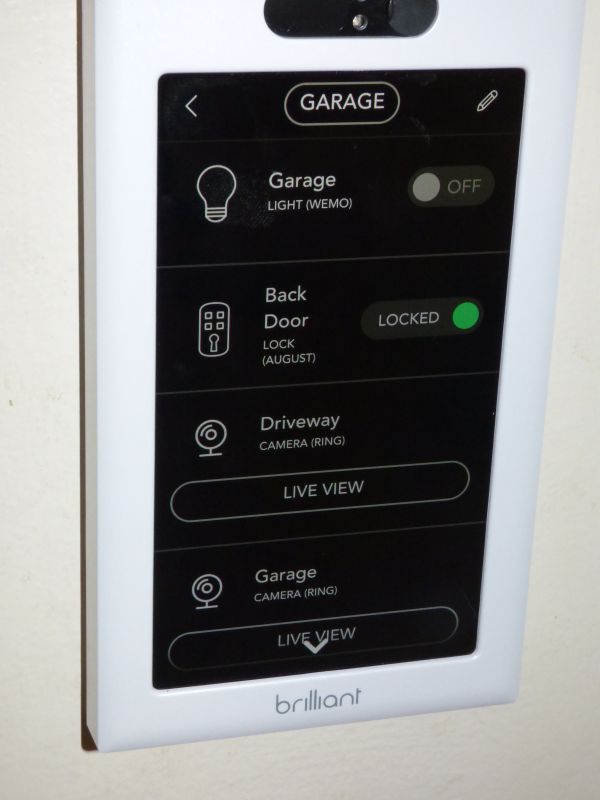 The system then allows the user to add home integration to the configuration. In my case, I was able to add multiple Belkin WeMo switches, all eight of my Ring cameras, and three Yale August locks.
Linking the smart switches to accounts was simple. I had no difficulties linking my accounts.
Next, I took some time to label all the devices I would be controlling. The on-screen keyboard works well and any smart-phone user will find the interface familiar.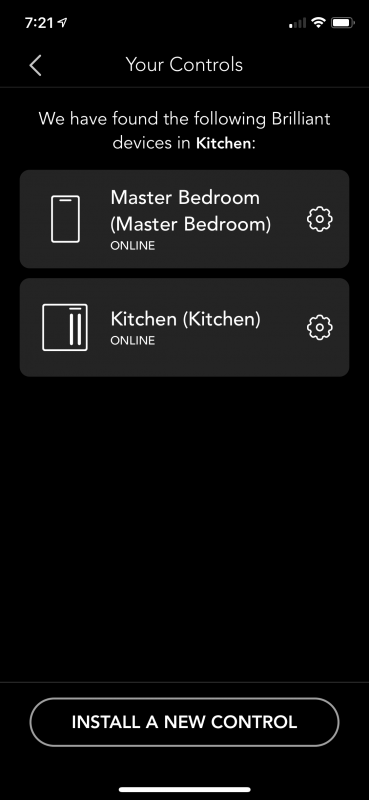 The control system allows grouping devise into "rooms." For example, I grouped the Brilliant switch together with a WeMo light switch to create a "bedroom" group.  In another, I created a group 'Garage" that has a WeMo smart switch module and a Ring camera. This is especially effective in keeping things intuitive. If I select "Living Room" I can turn the light on, view the camera, or unlock the front door directly from the Brilliant switch.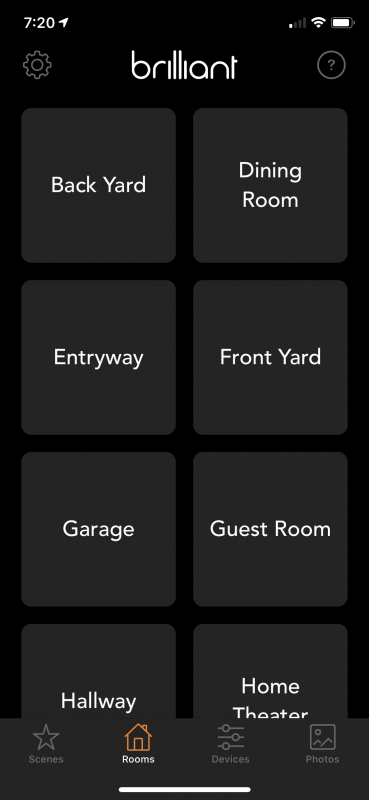 I like having Alexa built-in, but the tiny internal speaker is not terribly loud. With my Amazon account linked, voice commands can be used to control the switches and brightness.
The main screen defaults to lighting control only, but three more shortcuts can be added. I added cameras, locks and a button to turn all of the lights in my house off –this is a great button to have if you have residents in your home that routinely leave all the lights on making your home look like a cruise ship.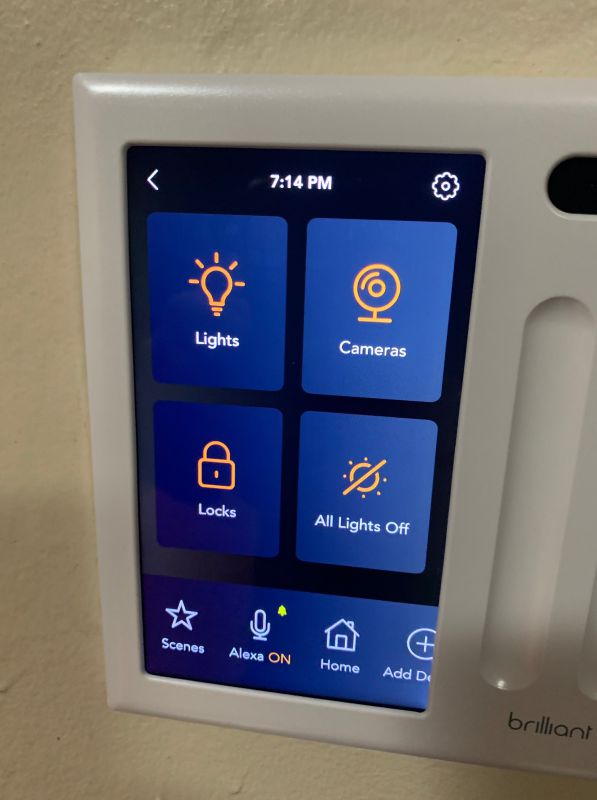 To control the lights, Brilliant has created a slick interface. An upward or downward swipe with a single finger turns the light connected to the switch on or off. A two-finger swipe turns on or off all of the lights in the room, in my case, lights on WeMo modules.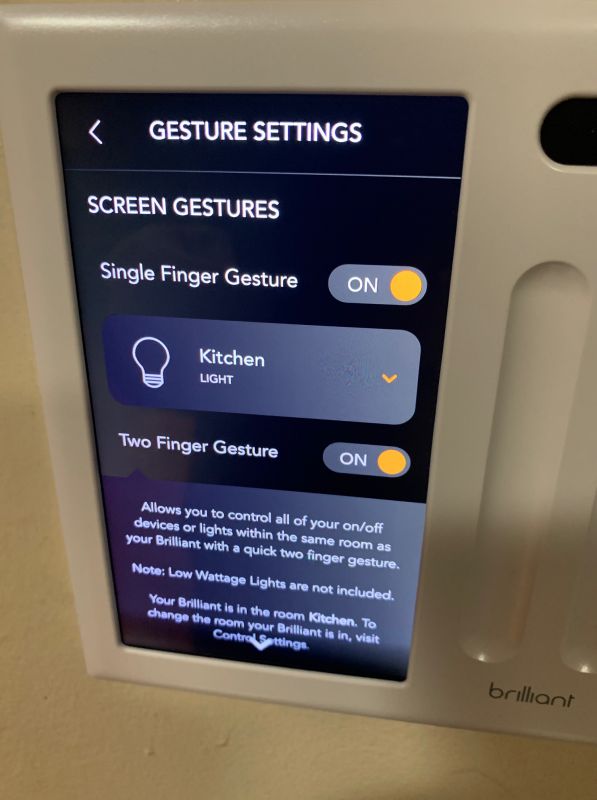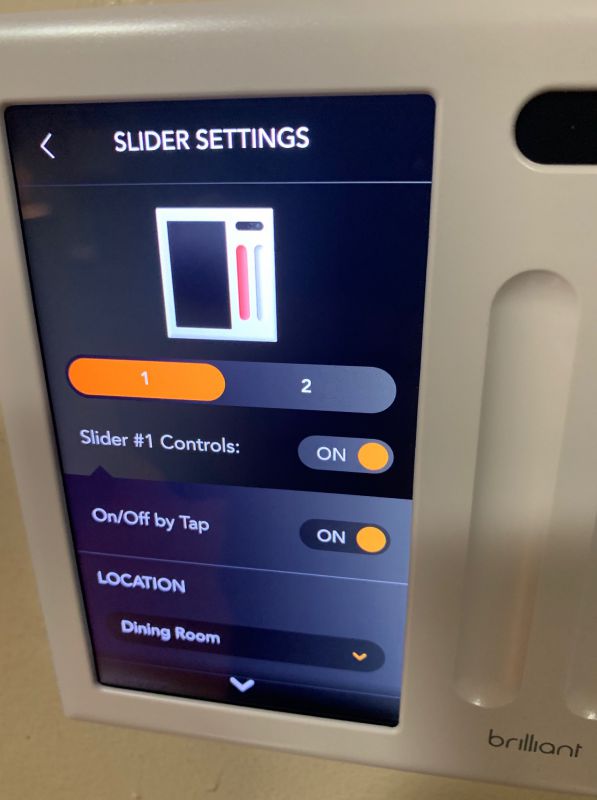 Scenes can be created to turn on or off devices, set brightness levels and implement timers. The system can also import scenes from partner services to simplify and preserve any favorite you may already be using.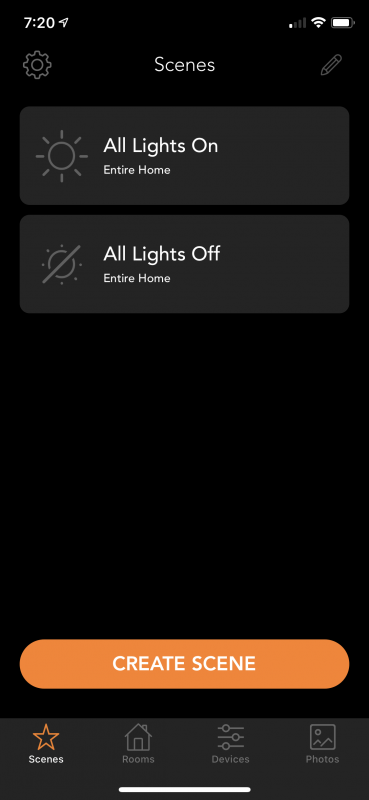 I downloaded and installed the app which requires authentication codes for each switch. Once this is finished, the app duplicates the look and feel of the switches, synchronized the names and configurations between switches and allows custom "screen saver" pictures to be loaded. Occasionally, when my screen saver would come on, the photo color was off, but this is certainly no deal-breaker.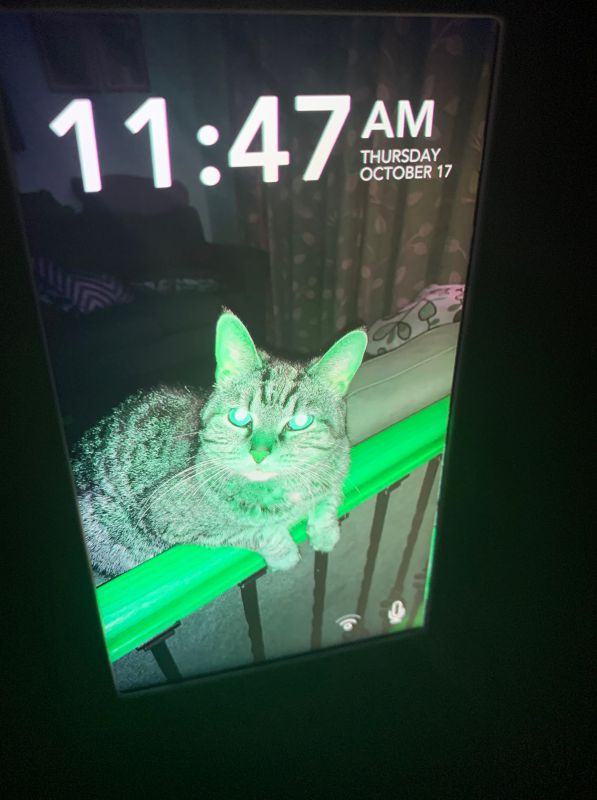 The only caveat I discovered is that camera access is not available in the smartphone app.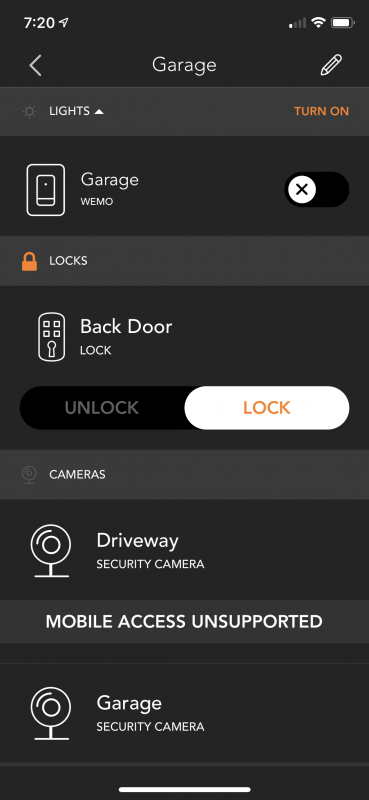 The switches also have a built-in video intercom and announcement capabilities. At first, I thought this was a gimmicky feature, but I quickly learned how valuable this can be. I despise yelling across my household so just being able to talk to someone in another room is priceless. Should the switch be installed in a room where privacy is warranted, I tiny slide-out cover can block the camera.
The switches have integrated light and motion detection to vary the screen brightness and wake the display. The motion detection is reliable, but I needed to turn it off for my bedroom controller because it would wake the display when I tossed and turned at night.
Another feature is an integrated alarm clock.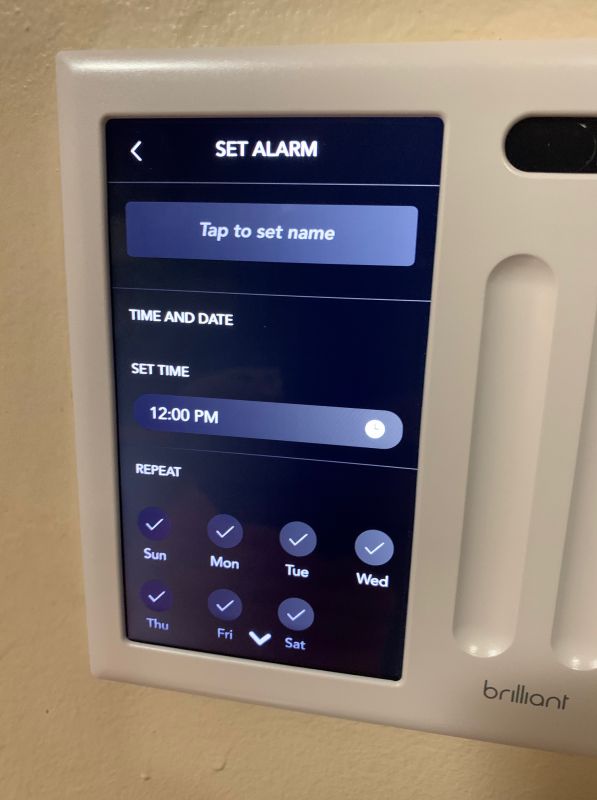 I'm still exploring the capabilities and playing with the set-up of these switches but so far, I LOVE them!
 What I  Like:
Great connectivity
Painless setup and operation
Fantastic grouping and customization options
What I Would Change:
Add a bulk purchase option to help reduce costs
A louder speaker would be helpful
Final Thoughts:
As my home automation system has grown, I've realized the need for dedicated control equipment. Brilliant's family of Smart Switches fills my need perfectly. This system is elegant, functional, and lots of fun! My only regret is not having a house full of them! They are quite expensive, but I have no doubt I will be buying more
Price: $299 for the single-switch control, $349 for the two-switch control
Where to buy: Brilliant
Source: The samples for this review were provided by Brilliant.