We use affiliate links. If you buy something through the links on this page, we may earn a commission at no cost to you. Learn more.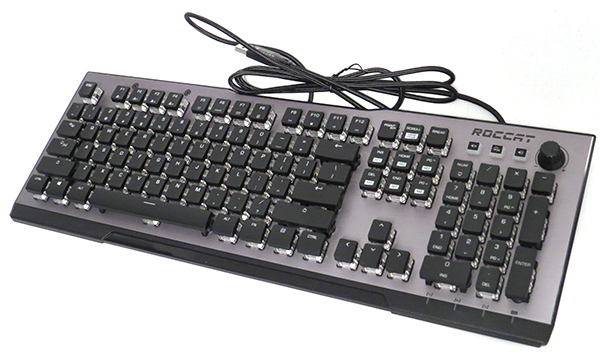 REVIEW – I have been using my old ROCCAT keyboard for a few years now, and despite checking out several other keyboards in the past, I keep going back to my old faithful. A new challenger has appeared, this time from ROCCAT themselves with their Vulcan 120 AIMO mechanical keyboard. With its smaller size and fully customizable RGB lighting, will it be able to dethrone it's predecessor? Let's find out.
What is it?
The ROCCAT Vulcan 120 AIMO is a gaming keyboard that is stylish and easy to use.
Hardware specs
ROCCAT Titan Switches
1.8mm Actuation Points with 3.6mm Travel Distance
Ultra-light key-caps
RGB customizable to each key with 16.8 million color choices
18.1″ x 9.25″ x 1.25″ in size

What's in the box?
In the box you'll find the owners manual, ROCCAT Vulcan 120 mechanical keyboard, and removable magnetic palm rest.
Design and features
I already had the ROCCAT swarm software installed, and it detected my keyboard when I plugged it in. You can plug and play without the software or download it from their website to customize the colors, key bindings, gaming profiles, and more.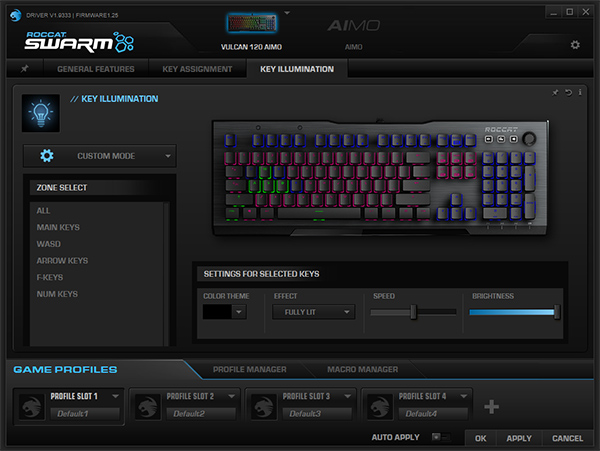 Because I love colorful things, I customized the keyboard to exactly the color scheme I wanted. Each key can be customized with color, intensity, and effect. As an Overwatch player, I had to make sure my "Q" button had an effect, while the rest of the keys stayed a solid color. When I put my computer to sleep at night, I was happy to see that the lights turned off.

The keyboard, without the palm rest, is about the same size as most standard keyboards. There's not a lot of excess on the sides, which is nice, because it makes my desk look less cluttered. Adding the palm rest to the bottom adds a little bit to the size, but it is much more manageable than my previous keyboard.
One thing that I would improve with this keyboard is the palm rest and how it attaches to the keyboard. Most of the time, when my palms are against it, it stays in place, but if I press down a little too hard where it hangs slightly over the edge of the desk, it will pop up easily. I feel that if there was a little stronger magnet that attaches it to the keyboard, it would stay in place. Is it a game breaker? No, but it can be annoying during an intense gaming moment.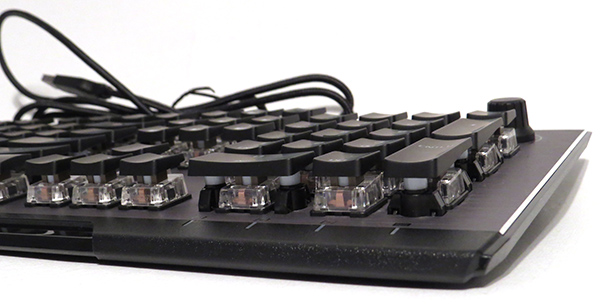 The keys feel much different than my old keyboard. They do not have the smooth glide that my old one does, but they do have a nice tactile feel when you press each key down. I knew when each key was pressed. Each press of the key was also a tiny bit quicker, which I tested by putting the keyboards side by side and pressing the keys at the same time.
While my gaming hasn't improved due to the keyboard, it certainly hasn't gotten worse. I experienced no issues with multiple key presses, keys not registering, or key presses being slow to register. Typing is just as easy as it was on the previous keyboard. The click each key makes when typing is about as loud as most other mechanical keyboards that I have tried. It may annoy someone trying to sleep in the same room as the keyboard while in use, but it shouldn't annoy them if they are on their computer as well.
Another thing I like about the Vulcan 120 AIMO is the volume/multimedia wheel. Yes, I can press FN and use the number keys to control volume, but it is just so much quicker this way. The location they added it, on the top right, also is out of the way yet easy to access if needed. I only used it for volume controls, but pressing the FX button next to it offers access to the multimedia functions if desired.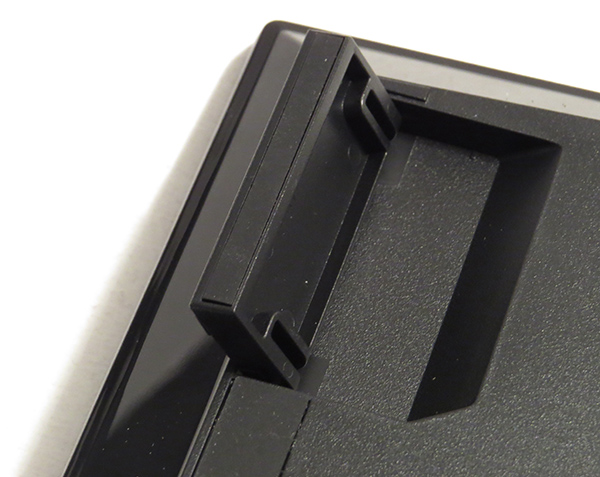 The aluminum top plate gives the keyboard an overall sturdy feel. It has resisted/hidden dust quite well compared to the black plastic areas. The palm rest is also made of quality plastic since I have tested it by it dropping on the ground several times on accident. There are rubber pieces on the bottom of the keyboard to prevent it from sliding around and it worked well. Also, on the top of each side there is a flip-up foot that is a little wider than some of the other keyboards I've tried out, and I prefer this because not once has it accidentally flipped down when moving the keyboard around.
What I like
Very easy/quick to press keys
Dedicated volume controls on the keyboard
Customizable colors on each key
Easy to set up and use
What needs to be improved
The magnetic wrist rest needs a stronger magnet.

Final thoughts
Overall, I really liked the ROCCAT Vulcan 120 AIMO mechanical keyboard. It worked great for both gaming and everyday use and is customized to my own style. Each key gives a light click when pressed, and it does not seem as loud as some of my previous keyboards. Alas, it has dethroned its old ancestor, and I will be sticking with this one in the future. If you are in the market for a fully customizable keyboard, the ROCCAT Vulcan 120 AIMO is one I would recommend taking a look at.
Price: $159.99
Where to buy: Best Buy
Source: The sample of this product was provided by ROCCAT.