We use affiliate links. If you buy something through the links on this page, we may earn a commission at no cost to you. Learn more.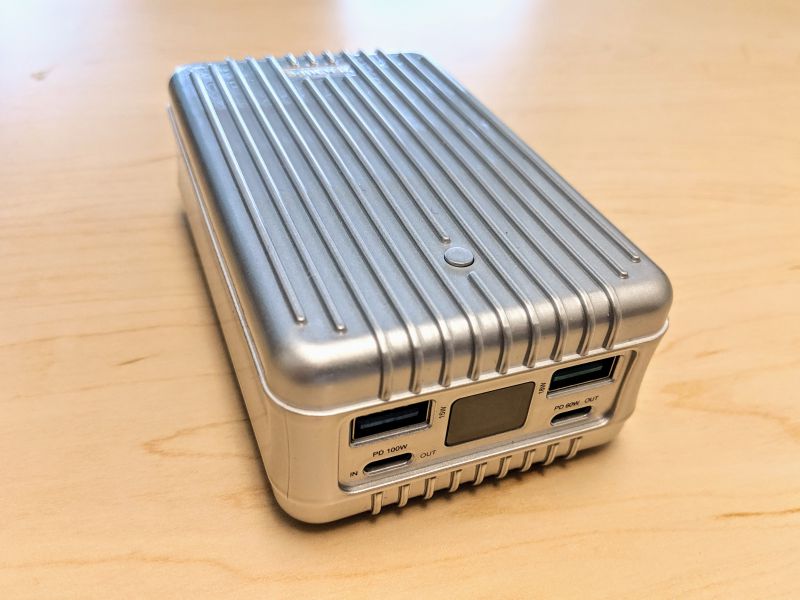 REVIEW – It's a problem all gadget-loving folk deal with, the more gadgets you have, the more power you need. The solution, of course, is to buy yet another gadget, one that can supply power to all of those hungry devices, large and small. But, portable power supplies by their nature are quite limiting. The Zendure SuperTank may just be the holy grail of portable power. This aptly named tank of a battery pack can crank out over 100 watts of power, enough to feed four devices simultaneously, including USB-C powered laptops. The design, capacity, and various power modes, which include a low power option as well as a UPS pass-through, make this device a great buy at $179.99.
What is it?
The Zendure SuperTank is a very large, 27,000mAh external battery pack that can deliver over 100 watts of power to four devices simultaneously.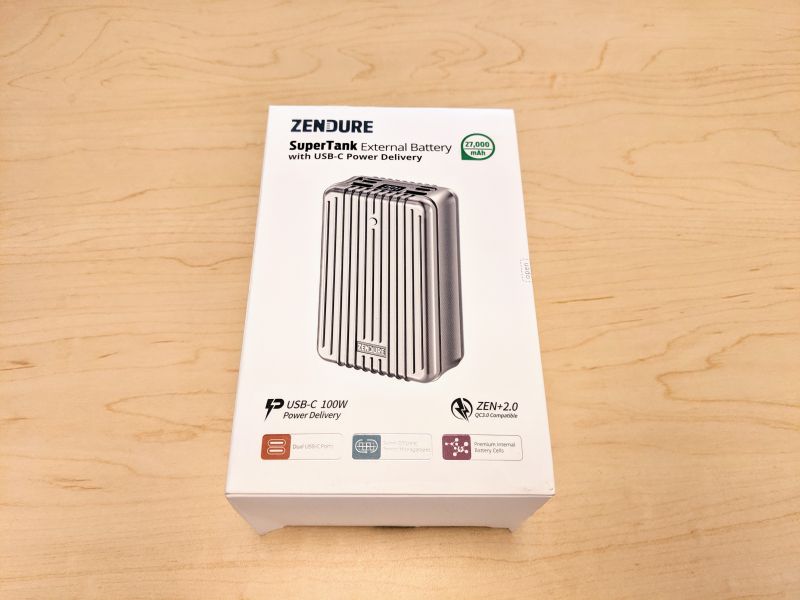 The SuperTank arrives in a sturdy white box, snugly set inside along with a Zendure 5A/100W SuperCord and a somewhat useless instruction manual.
What's in the box?
Zendure SuperTank
Zendure 5A/100W USB-C to USB-C SuperCord
Instruction Manual
Hardware specs
Capacity: 27,000mAh
Internal Cells: 3.7 V Premium Lithium-ion Power Cells
Dimensions: 4.7″ x 2.8″ x 1.6″
Weight: 1.06 pounds / 481g
Available Colors: Black, Silver, Blue
Material: ABC / PC Composite
Maximum Input: 5V/3A, 9V/3A, 12V/3A, 15V/3A, 20V/3A, 20V/5A, 100W Max
Output: USB-C, USB-A
Maximum Output:

USB-C (1): 5V/3A, 9V/3A, 12V/3A, 15V/3A, 20V/3A, 20V/5A, 100W Max
USB-C (2): 5V/3A, 9V/3A, 12V/3A, 15V/3A, 20V/3A, 60W Max
USB-A (1): 5V/3A, 9V/2A, 12V/1.5A, 18W Max (ZEN+ 2.0)
USB-A (2) 5V/3A, 15W (ZEN+)
Total DC Output: 138W Max

Warranty: 2 Years
Design and features
The SuperTank feels heavy and sturdy when being handled despite being constructed of relatively cheap composite plastic. The ports are clearly labeled and the LED display is clear and easy to read.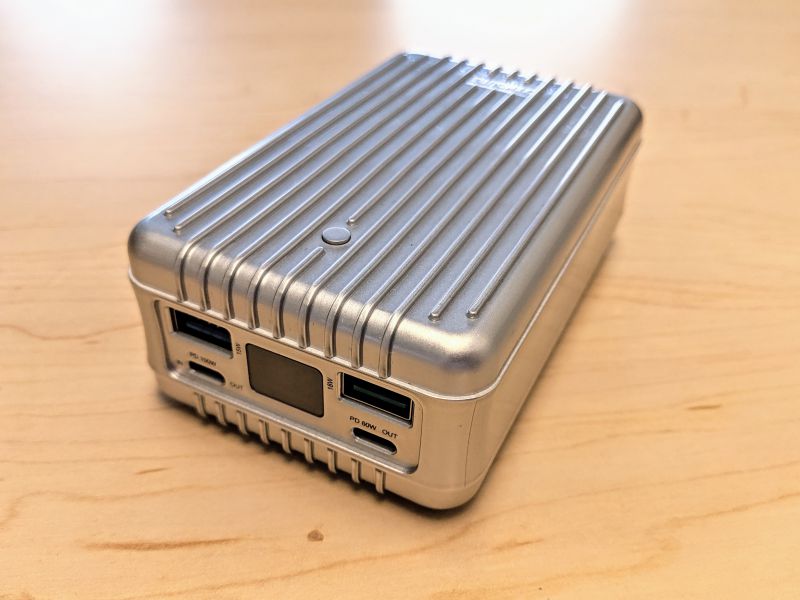 There are four ports on the SuperTank: a 15W USB-A, an 18W USB-A, a 60W USB-C, and a 100W USB-C that functions as both a power output and input port.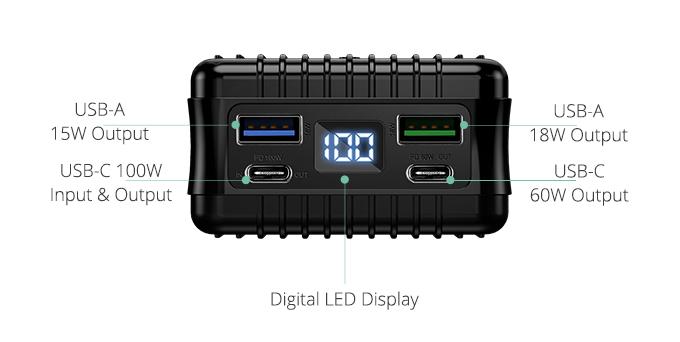 Never miss one of our posts again. Sent MON, WED, and FRI with the latest gadget reviews and news!
The maximum output of the SuperTank is listed as 138W.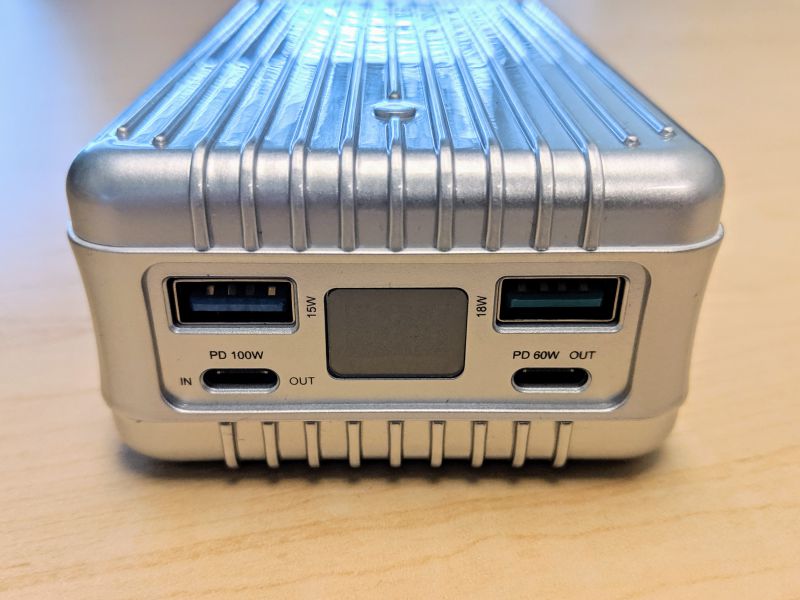 On top of the SuperTank is the device's only button. This power button turns on the SuperTank and also activates the different battery power modes.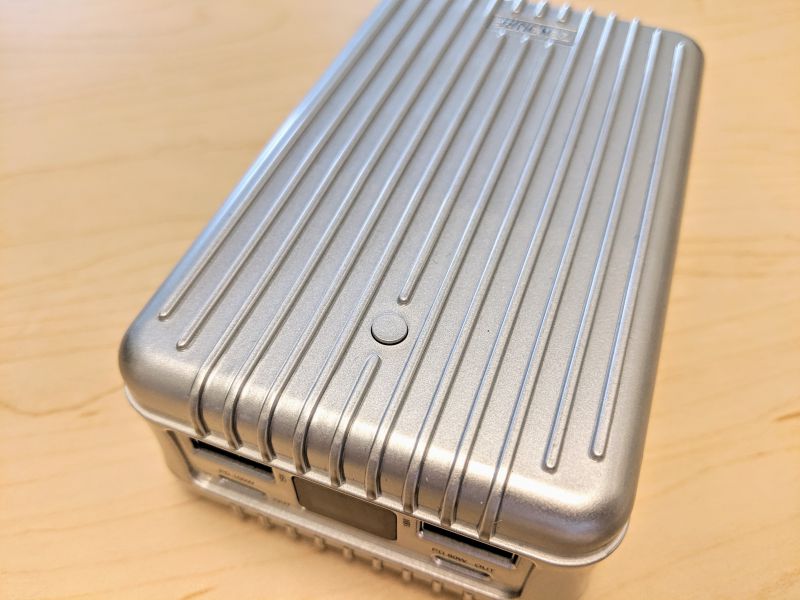 The back of the SuperTank details all of its important technical specifications. The large 27,000mAh capacity of the SuperTank is deliberate in that this is the maximum airline safe battery capacity approved by TSA/EASA for air travel.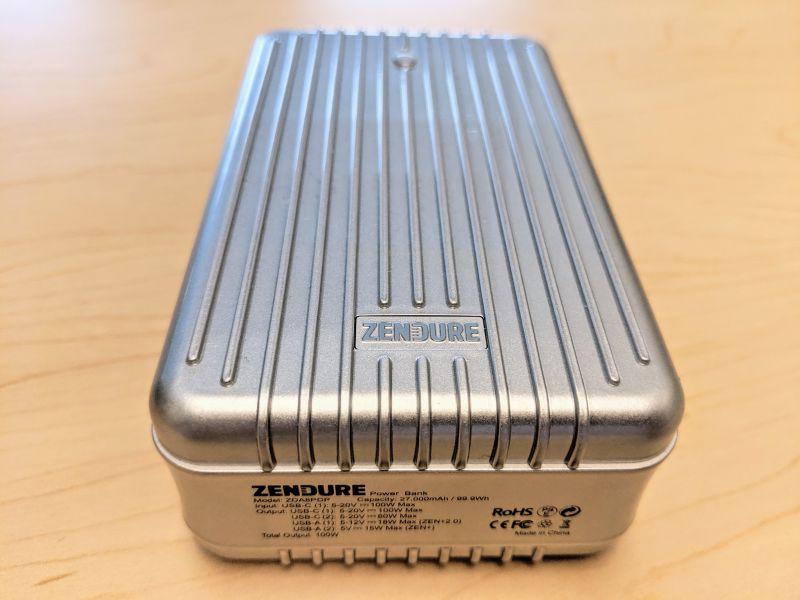 The SuperTank comes with a USB-C to USB-C Zendure SuperCord.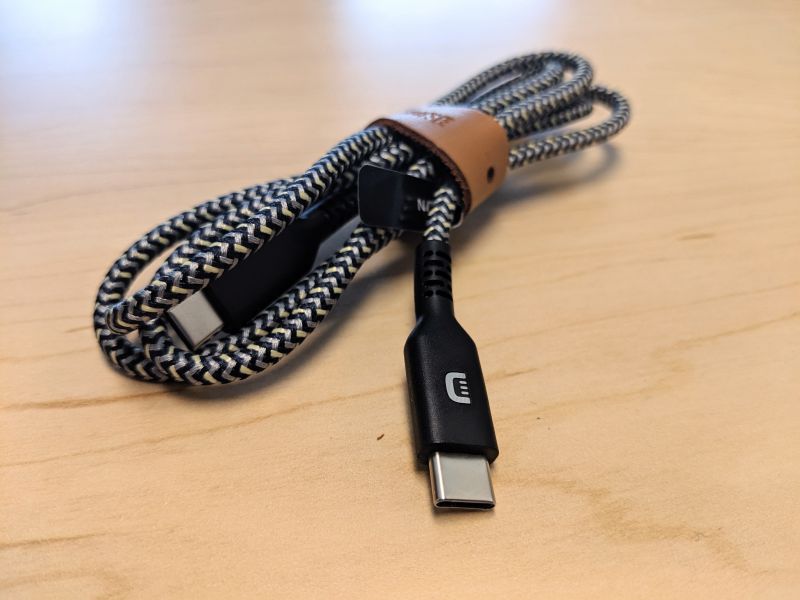 The power rating of the SuperCord is 5A / 100W for proper charging of the SuperTank as well as most laptops that charge via USB-C.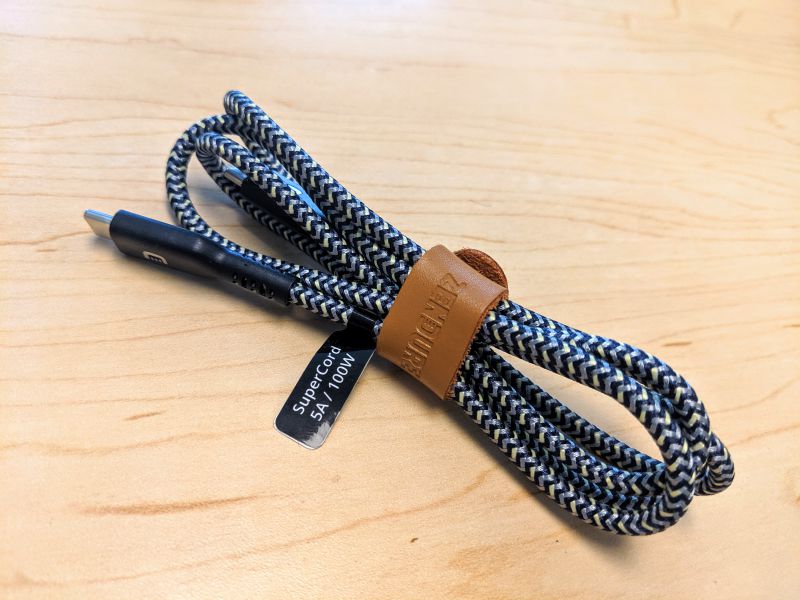 The SuperCord is extremely durable because it's wrapped in Nylon and reinforced with Kevlar woven in a chevron pattern, surrounding a Kevlar fiber core.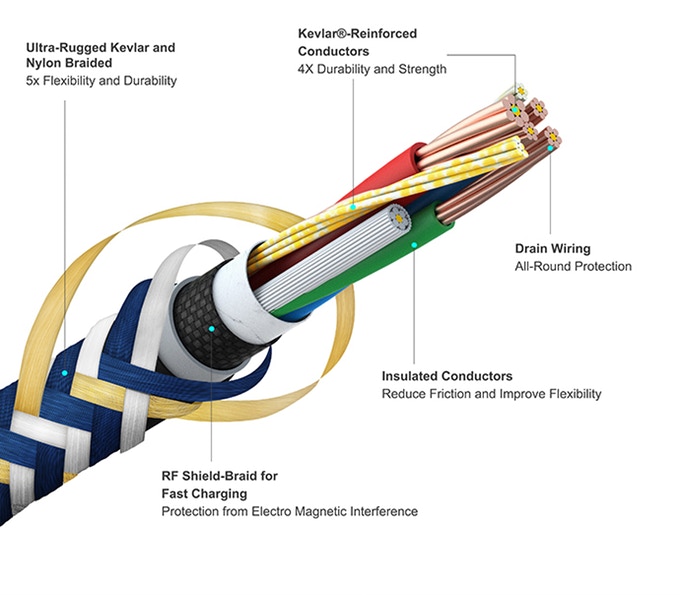 The SuperCord is complimented nicely by a brown leather strap with a small metal clasp.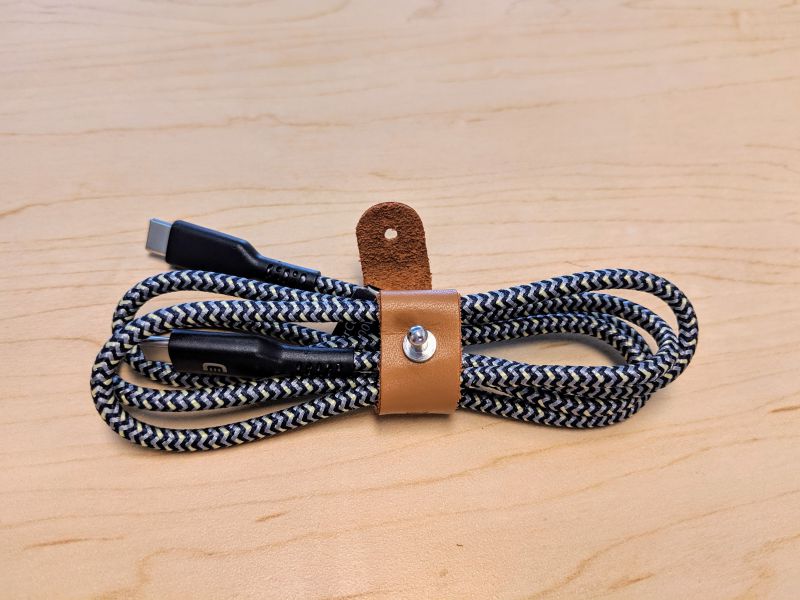 Setup
The Zendure SuperTank needs to be fully charged before using it for the first time. Depressing the SuperTank's sole button will activate the battery and display its current charge level. In order to charge the SuperTank properly, you need a power supply that can deliver at least 5W of power over the included Zendure SuperCord. It's incredible to me that a device that costs as much as the SuperTank does not come with an appropriate USB power block for charging.
After several unsuccessful attempts at charging the SuperTank where the display would either display nothing or a code of 188, I was finally able to get the SuperTank to take the charge. It did take over 18 hours for the device to charge from 0-100. During charging, the LED screen will flash and display the charging power level.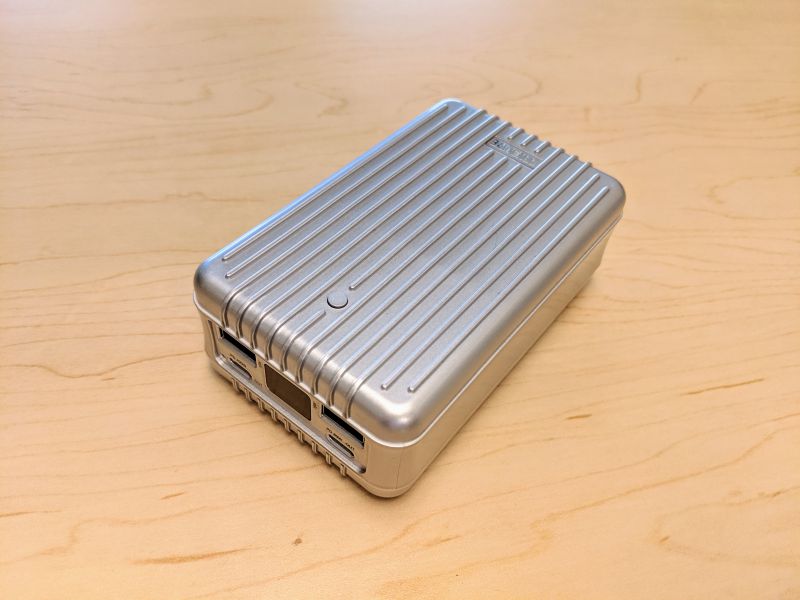 Performance
The SuperTank performed very well in all of my testing, flawlessly charging every device I could connect to it.
The SuperTank has a low power mode for charging low-consumption devices like wearables that sometimes draw less current than is necessary to keep some portable chargers from automatically shutting off. This mode is called X-Charge and it is engaged by double-pressing the power button. The SuperTank will enter X-Charge mode and display the "X" icon. Double-pressing again will turn off X-Charge mode.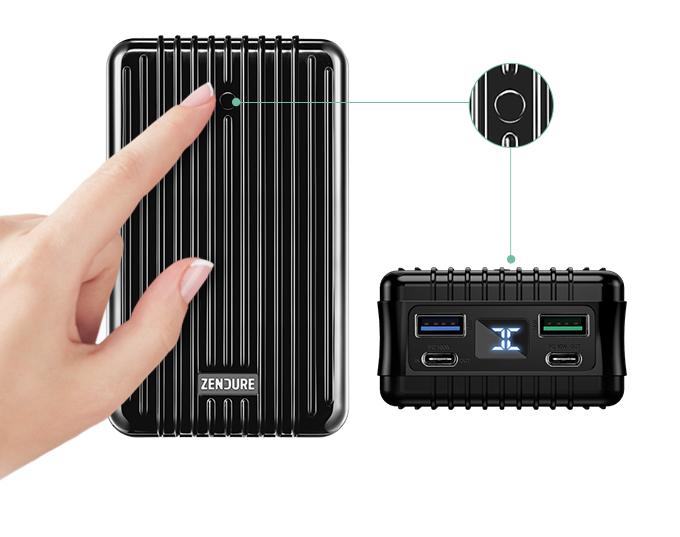 The SuperTank also comes with a power delivery direction switch feature. By giving the power button a long 3 second press, you'll switch the direction of SuperTank's power flow to ensure that a connected laptop is being charged instead of the laptop charging the SuperTank. You can allow the laptop to charge SuperTank by long-pressing the power button again.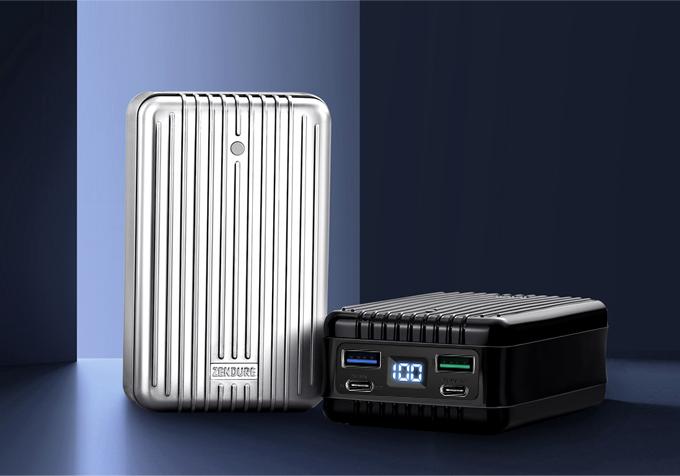 What I like
Simultaneously charging several devices at once is super useful
UPS and pass-through modes add greatly to device's functionality
Low power mode for charging wearables
What I'd change
Requires a powerful power block to charge properly

Does not come with a power block for charging
Takes very long to fully charge

Instructions are vague and don't fully explain features
Final thoughts
The Zendure SuperTank is a well designed, powerful, highly functional portable power supply that is useful in many ways. From simply charging all of your devices at once while on the go, to working as a quasi-UPS system, the SuperTank can do it all. The manual could be a bit more detailed and it would be great if the SuperTank came with a proper power block, but for $179.99 the SuperTank is a great deal.
Price: $179.99
Where to buy: Zendure and Amazon
Source: The sample of this product was provided by Zendure.