We use affiliate links. If you buy something through the links on this page, we may earn a commission at no cost to you. Learn more.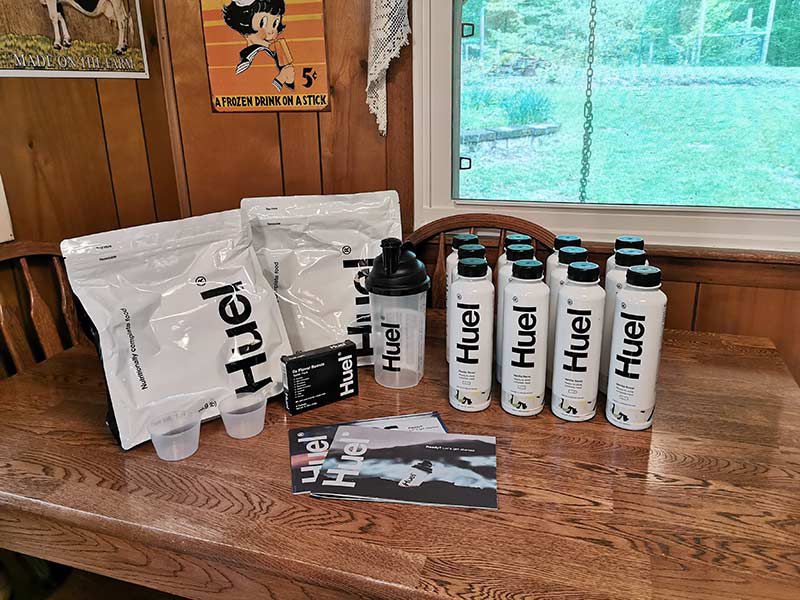 REVIEW – When it comes to food, I am lazy. By that, I mean that I'll grab whatever is handy to eat for breakfast or lunch. What I end up eating is quick but not necessarily the most healthy for me. My latest bad habit is eating protein bars which are pretty much just glorified candy bars with some added protein. When I'm at work during the day, it's easy to grab one from a drawer in my desk instead of walking down to the cafeteria for something that may or may not be healthier and definitely more expensive than a protein bar. Is there an easier and healthier alternative to grabbing a quick meal without a lot of food prep and cash? We're going to find out because today I'm going to talk to you about Huel meal replacement shakes.
What is it?
Huel is a selection of pre-made meal replacement drinks and powders that provide 400 calories and nutrition per meal.
Huel bottled shakes that are ready to drink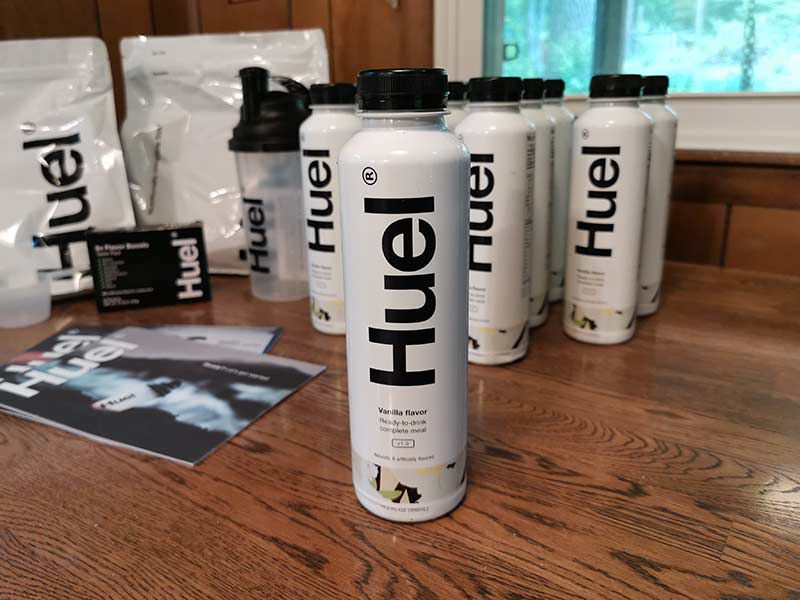 The kind folks at Huel sent me a box of their vanilla and berry flavored pre-made shakes along with their vanilla, chocolate, and unflavored power.
The shakes are packaged in white plastic bottles that each hold 16.9 ounces. All you have to do is chill in the fridge, shake, and drink.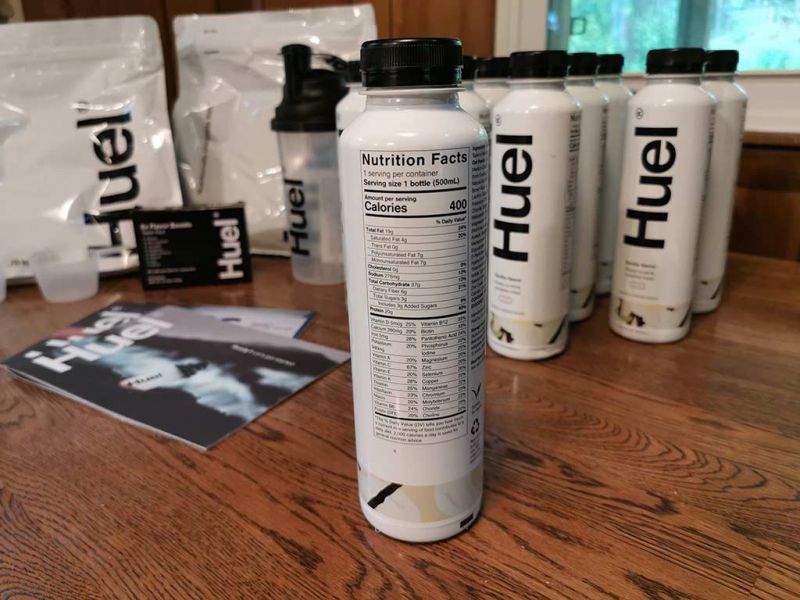 You can click the picture above to zoom in on the ingredients. Unlike the typical 200 calorie/10g protein bars that I eat, the Huel shakes are double the calories, double the protein and offer a balanced macro split of 35:42:20:3 (carbohydrate, fat, protein, fiber) and contain all 27 essential vitamins and minerals.
Both the ready to drink shakes and powder are vegan. All the versions of the shakes and powder use plants for protein, fat, and carbs (peas, rice, flaxseed, coconut, sunflower, and oats). You can also opt to buy a version of the powder which is gluten-free.
How do the Huel pre-made shakes taste?
I tried the vanilla shake first after having left it in the refrigerator overnight. I took it to work with me the next day and had it for breakfast. From my first sip, I couldn't quite place the flavor of the slightly sweet, medium thick, smooth, not gritty, drink.
I kept trying to figure out what the taste reminded me of and I finally figured it out… It reminds me of a cake that Jeanne makes. It's called a Watergate cake and is made of a white cake mix with pistachio pudding added to it. Huel tastes just like that cake batter. I love that cake, so by default, I really enjoyed the vanilla shakes.
The berry flavor of the pre-made shake tastes like the vanilla with a slight berry after taste. Not bad, but I prefer the vanilla to the berry.
Huel powders that you have to mix yourself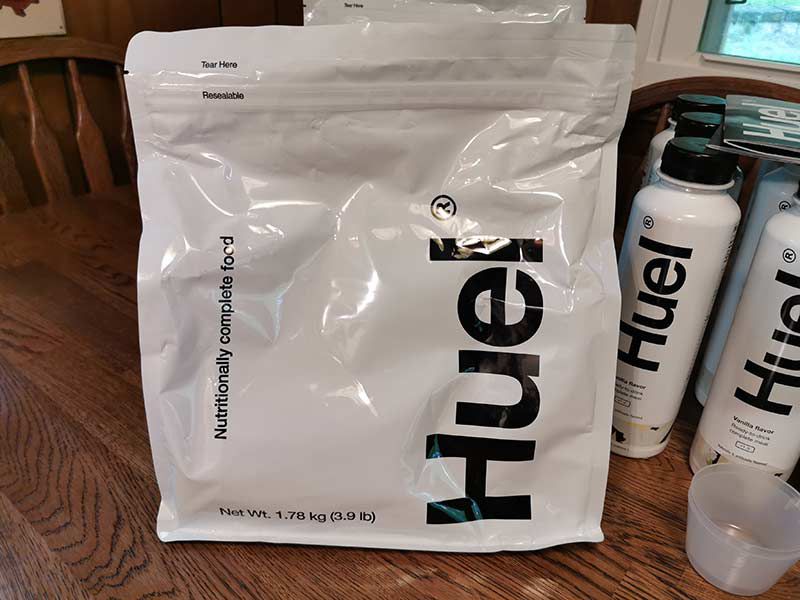 The next day, I decided to try the Huel powder which is packaged in a ziptop pouch that contains 17 servings per bag and is available in chocolate, vanilla, berry, unsweetened/unflavored, and gluten-free versions of the same flavors. I tried the chocolate version first.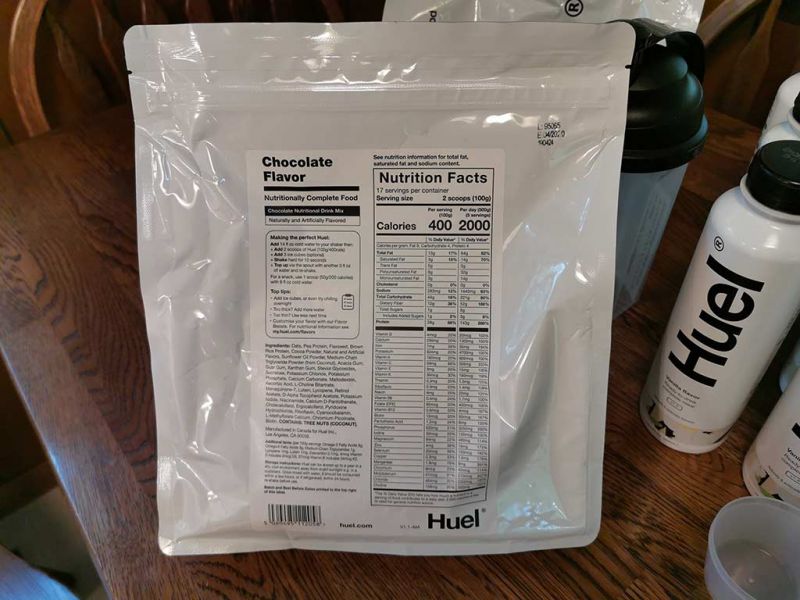 Just like the pre-packaged bottles of Huel, the powder provides a 400 calorie meal. The powder provides a balanced macro split of 37:30:30:3 (carbohydrate, protein, fat, fiber) and all 27 essential vitamins and minerals. If you compare to the bottled shakes, the macro split is different because it has more carbs and more protein per serving.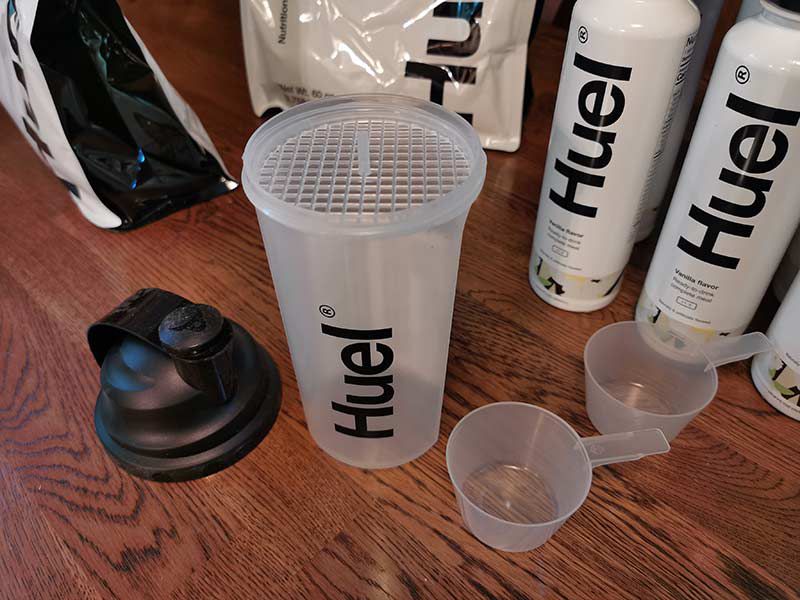 To fix a shake, you'll need a shaker bottle, two scoops of the powder, and about 17 ounces of cold water. The first time you buy a bag of the Huel powder, you'll get a scoop, one of their shaker bottles, and a T-shirt.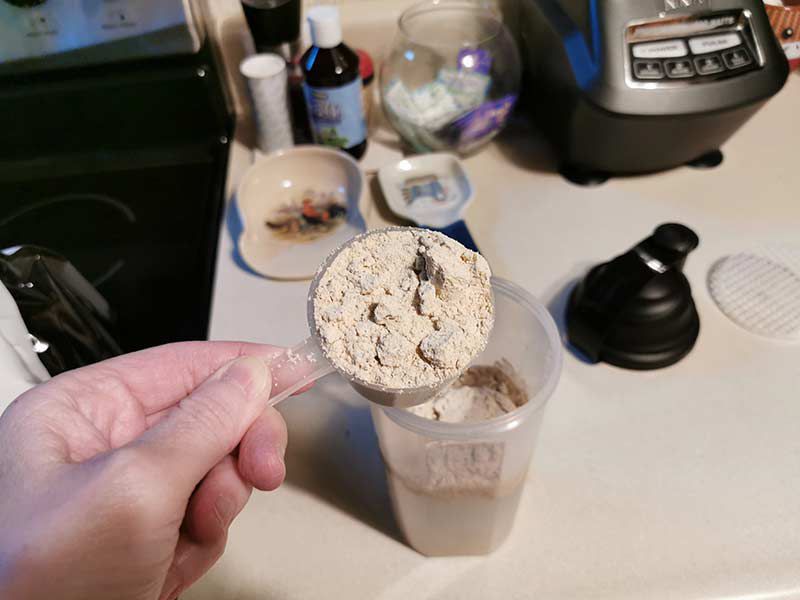 I think the Huel shaker bottles actually mix the powder much better/easier than the shaker bottles I've used in the past that have a wire ball.
How do the Huel powder shakes taste?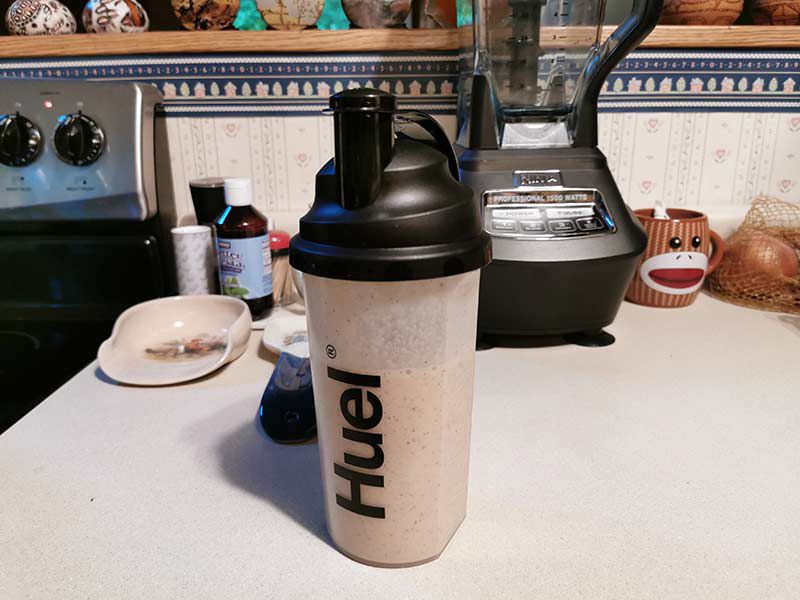 I tried the chocolate version first and found it to be a bit gritty compared to the pre-made shakes. If you've had shakes made with pea protein powder, you'll know what I mean about the texture. The powder also left me with a slight coconut after taste in the back of my mouth after drinking it.
The next day I tried the vanilla version of the powder which I assumed would taste just like their pre-made vanilla shakes. It wasn't the same. The flavor was close, but I could taste a difference between the two types. When it comes down to it, I prefer the vanilla bottled version of Huel.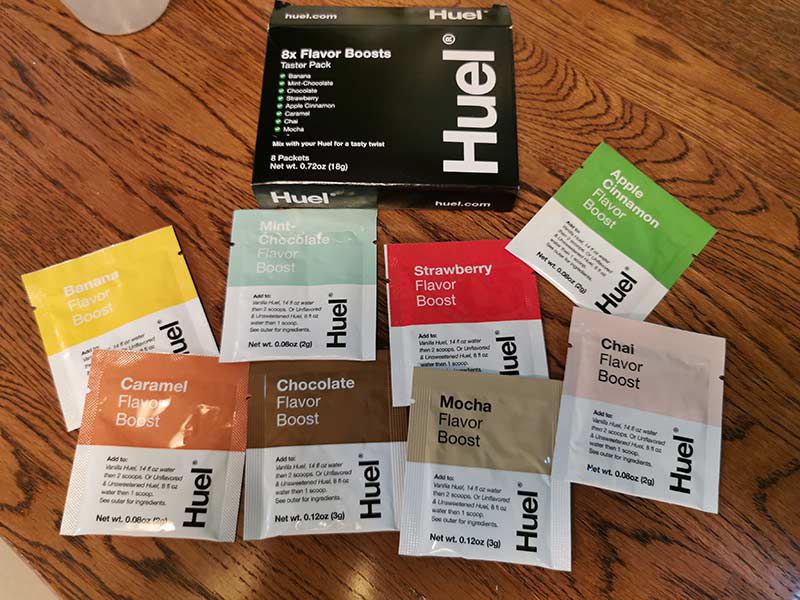 Huel also offers packets of what they call Flavor Boosts which you can add to the powered shakes to change up the flavor.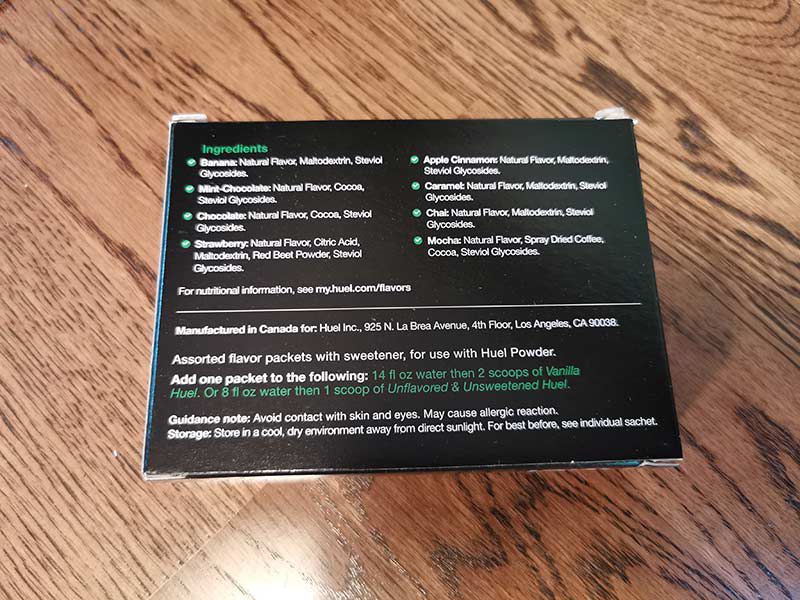 I tried the strawberry flavor with the vanilla powder and it wasn't bad, but I still preferred the vanilla shakes. I also was a little put off by the warning on the flavor boost packet that warned that contact with skin and eyes might cause an allergic reaction. Hmm, that doesn't inspire confidence for drinking it doesn't it?
After drinking the pre-made shakes and shakes made with the powder for breakfasts, and lunches, I can say that they did keep me full and satisfied for 4 hours or longer between meals. It was so nice not having to think about what I was going to eat or be tempted to eat something obviously unhealthy when I had a better alternative at hand.
Love it, but…
But the big disappointment for me is that Huel uses Sucralose to sweeten their pre-made shakes and their powder instead of something more natural. I'm sensitive to synthetic sweeteners like aspartame and sucralose. It builds up in my system over time if I consume too much of it and causes me to have joint pain in my hands. When I asked James Collier, the head of nutrition at Huel, about their choice of sweetener, he sent me this info:
Some people don't like the inclusion of sucralose in 

Huel

, as it is an artificial sweetener. We use sucralose for a number of reasons. The first is that it doesn't add any calories or carbohydrates, meaning the nutritional value of 

Huel

 is protected. Sucralose is also a much healthier option than many other sweeteners. Sucralose is 600 times sweeter than sugar and doesn't accumulate in your body. 

Huel

 only has to have a tiny amount of sucralose in it to make it much more palatable to many and it doesn't interact with your body at all.

Furthermore, over 100 safety studies have been carried out on sucralose over 20 years, with a wide range of experts finding it has no ill effects on health, even when consumed at much higher levels than 

Huel

 uses. As such, sucralose is currently approved and deemed safe by:

European Union Scientific Committee on Food (SCF)

U.S. Food and Drug Administration (FDA)

Food Standards Australia/New Zealand (FSANZ)

Health Protection Branch of Health and Welfare Canada

(Food and Agriculture Organization/World Health Organization) Joint Expert Committee on Food Additives (JECFA)

Japan's Ministry of Health and Welfare

Sucralose is also suitable for people with diabetes, as it does not affect glucose or insulin levels. More still, it doesn't increase bacteria levels in the mouth, so doesn't cause tooth decay/cavities like sugar does.

The reason Stevia is not used in 

Huel

 is because it is not as sweet, so requires more of it to increase the overall sweetness of 

Huel

. It can also leave a very bitter aftertaste in larger amounts.
Don't like sucralose? Huel offers an alternative…
Luckily, you can buy an unflavored and unsweetened version of the Huel powder. I asked them to send me some to try and added some cocoa powder and several packets of stevia. Like the other versions of the powder, the unsweetened and unflavored version has a slight grit to the texture. I like the unflavored version because it's easy to turn the shake/meal into whatever flavor you want by adding different ingredients like fruit, cocoa, peanut butter powder, etc.
I should also mention that there may be some side effects to drinking Huel that you might want to consider. First of all, you don't want to drink start out drinking it for every meal because you'll probably suffer from some gastric "issues" that will make you unpopular with the people around you if you know what I mean. I noticed this the first couple of days that I was trying the shakes because I also drink protein shakes each day when I work out. Combining a Huel meal and a workout shake later in the day caused me a few emissions issues. 😉
What I like
Pre-made vanilla shakes are yummy
Provides the nutrition of a full meal without having to cook
Less expensive than buying junk food or fast food
Save 10% per purchase if you subscribe
What needs to be improved
Consider a natural alternative to Sucralose as a sweetener
Final thoughts
Bottom line, I really like Huel. Huel has spoiled me. I look forward to taking a couple of bottles of the pre-made shakes to work with me so I don't have to think about what to have for breakfast or lunch each day. I don't replace every day, but I do use Huel for meals once a day a few times a week.
I'm not thrilled that the flavored versions of Huel have fake sweetener in them, but I like the shakes so much that I've been drinking them anyway. But once I go through the samples that were sent to me to review, I plan to buy the unsweetened/unflavored version of the powder and use it to make my own shakes. With the powder, you can customize the amount you use if you don't really want to drink a 400 calorie meal.
If you're in a hurry and want an easier way to grab a meal that is better for you and less expensive than most fast food, Huel is an alternative to consider.
Update 7/23/19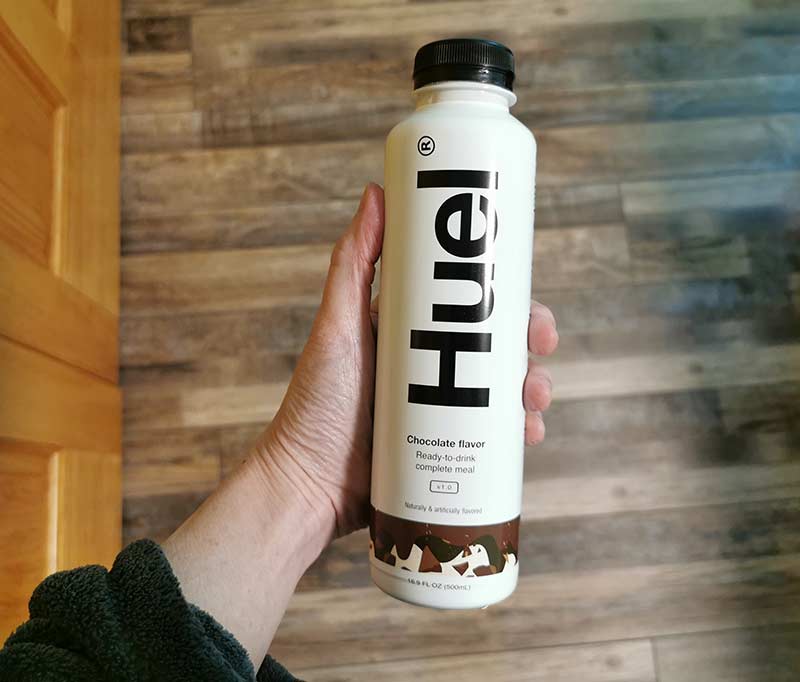 I was sent the new chocolate flavor of Huel's ready to drink shakes. One word: YUM! I love chocolate, so by default, there was little chance that I wasn't going to enjoy this flavor. I found that the new bottled chocolate shakes have a smoother texture and consistency compared to their vanilla and berry flavored shakes. The taste isn't super chocolately but there is enough chocolate flavor that it's become my favorite Huel flavor followed closely by vanilla and then the berry flavor comes in last.
So far Huel is my favorite brand of meal replacement shakes when it comes to flavor and convenience due to the RTD (ready to drink) bottles. I could easily live on this stuff. At least for 1 or 2 meals a day.
Update 2/5/20
Huel has been busy lately, they have come out with v3.1 of their complete nutrition bars and a new "Black" premium version of their shake mixes. They were kind enough to send me some samples of both.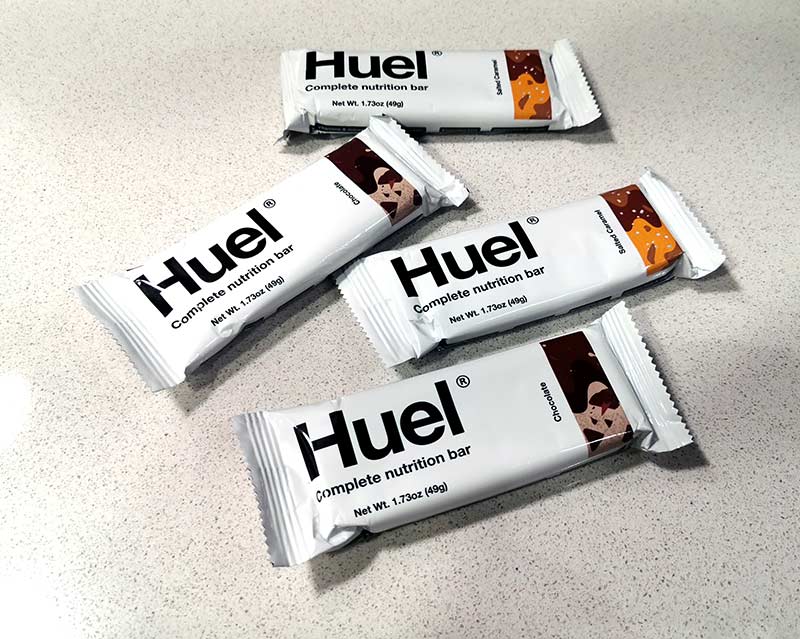 The bars are available in 2 flavors: chocolate and salted caramel. The bars are not a full replacement meal but are designed to be used as a snack.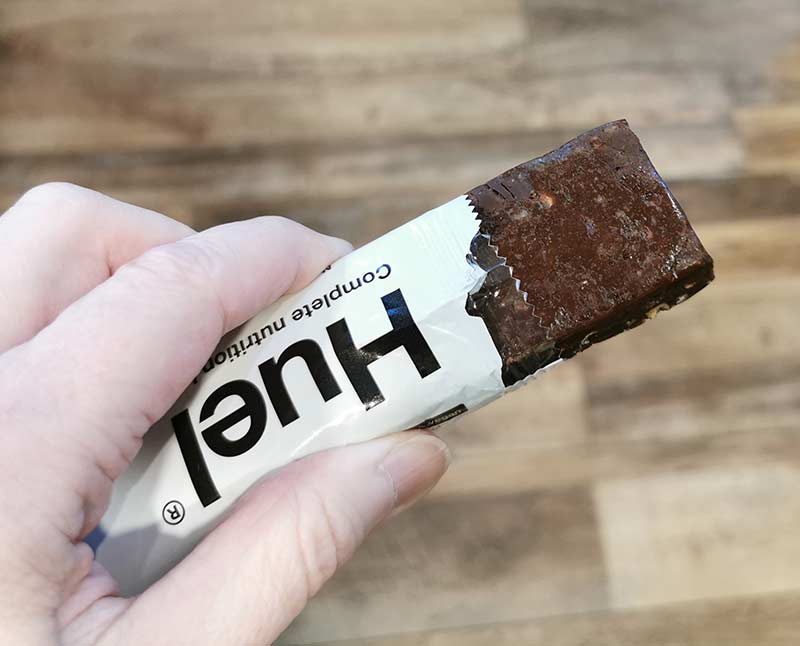 Each bar is 200 calories and is formulated with a balance of carbohydrates, protein, essential fats, fiber, phytonutrients, and all 27 essential vitamins and minerals. You get 12 grams of protein from pea protein and 23 grams of carbs/5 grams of fiber.
The Huel bars have a dense chewy texture and have a good flavor for a totally plant-based bar. They have chocolate chips in them too and no artificial sweeteners, so that's a big thumbs up from me.
The minimum order is 2 boxes of Huel 15 bars for $62.22 which works out to a price of $2.02 per bar. You can save 10% if you subscribe to reoccurring shipments.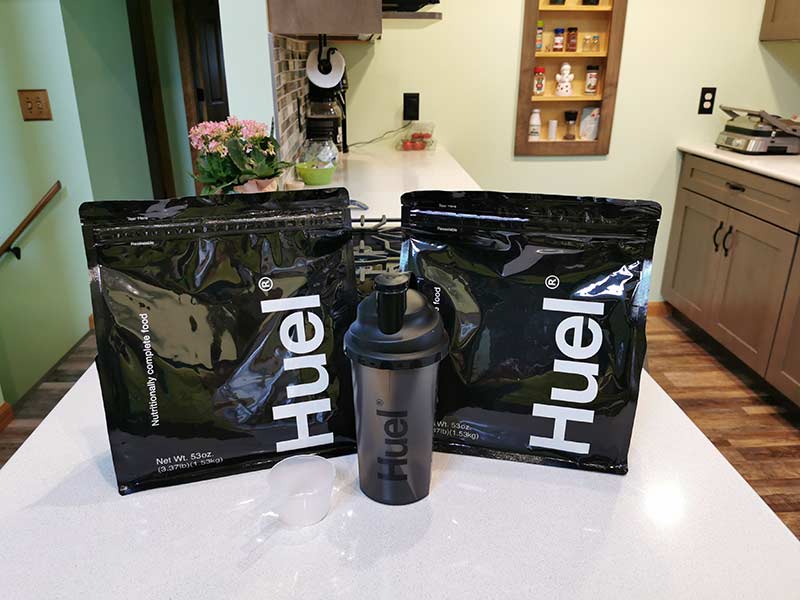 Huel's new Black Edition mix comes in vanilla and chocolate. It differs from the other Huel power that I reviewed above in that it has 33% more protein per serving, 50% fewer carbs, no artificial sweeteners which was one of my complaints. The Black Edition powder uses coconut sugar to sweeten it instead of Sucralose. This version of the powder is also gluten-free and vegan.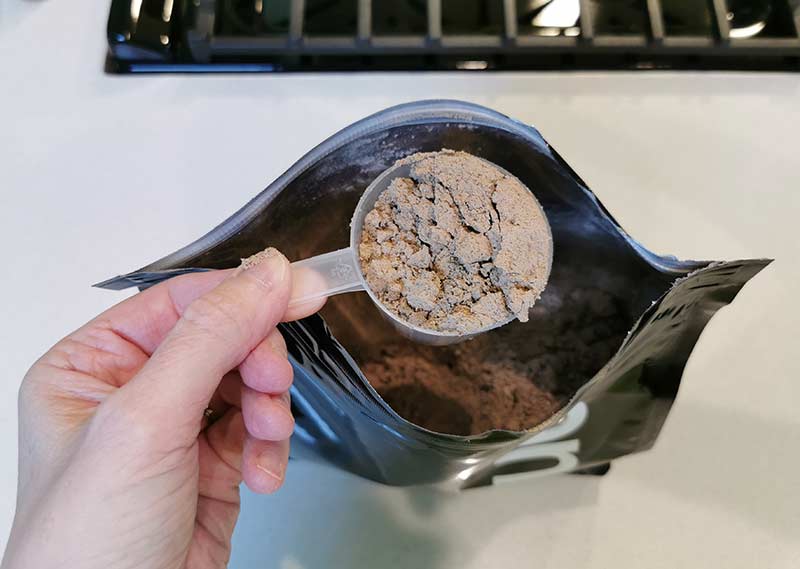 Like their other mixes, pea protein is the main source of protein and each full serving (2 scoops) gives you a 400 calorie meal that provides 40g of protein, 17g of carbs, and 27 essential vitamins and minerals. Each bag provides 17 full 400 calorie meals.
After trying the Black Edition powders, I have to say that they mix better, giving them a smoother texture. I'm not sure I personally like the chocolate flavor because to me it has a slight banana aftertaste. But that could just be my weird taste buds. However, I like the vanilla flavor which tastes like a lightly sweet cake batter.
This powder is a little pricier than their other mixes. There's a 2 bag minimum order for $83.34.
Update 7/12/20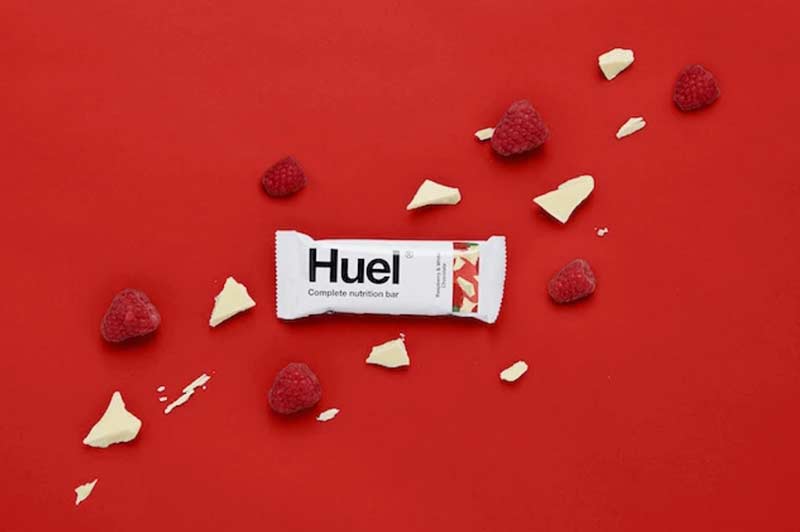 The latest addition to the Huel line up is their new Raspberry & White Chocolate snack bar. When it comes to their protein bars, this is my all-time favorite of this brand. These new bars have a better texture than the original chocolate and peanut butter bars that I taste-tested last year. The Raspberry & White chocolate bars have a better/softer texture and a great taste which isn't too sweet. Like their other bars, they have 12 grams of protein, 200 calories, no artificial sweeteners, and the protein comes from pea and rice protein. No soy. Yay!
They are still a little expensive since you have to buy them in boxes of 15 bars and their minimum order is 2 boxes at $62.22 unless you opt to subscribe, which saves you 10%.
Price: 24 bottles/$99, 2 bags of powder/$72.22, 2 boxes of bars/$62.22, 2 bags of Black Edition powder $83.34, If you subscribe, you get a 10% discount with no commitment or extra fees
Where to buy: Huel.com and Amazon
Source: The sample for this review was provided by Huel.