We use affiliate links. If you buy something through the links on this page, we may earn a commission at no cost to you. Learn more.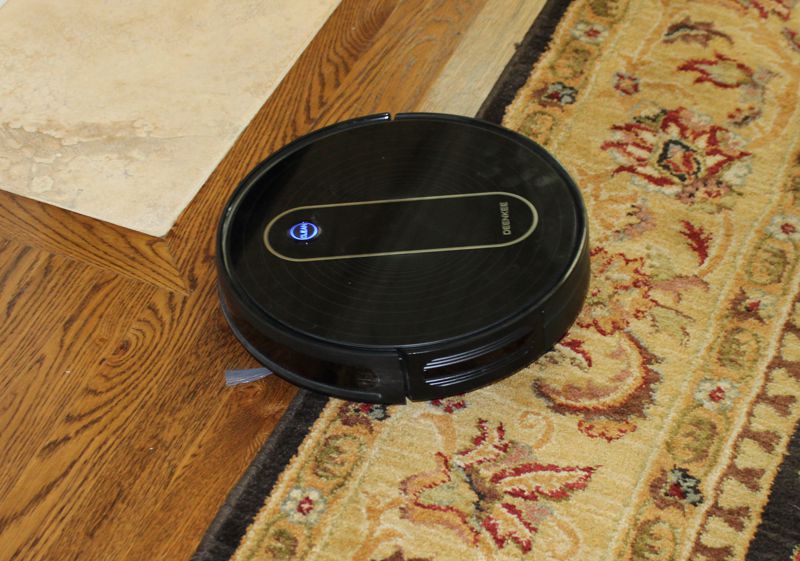 REVIEW – For years my wife and I have looked with envy at the Roomba robot vacuums.  We have always looked at them as a luxury item though and have never pulled the trigger to get one.  So when competing products started coming out and the prices started coming down, we started looking again.  At a price point of $220, the DEENKEE is considered a budget robot vacuum that has many of the features of the more expensive products.  But are there enough features to make a clean-freak like my wife happy?  Let's find out.
What is it?
The DEENKEE is a robot vacuum that cleans the house for you and returns to its charging base when done.
What's in the box?
The DEENKEE robot vacuum
4 side brushes
2 Hepa filters
Docking/charging station
Power supply
Cleaning tool
remote control
owner's manual
Hardware specs
Dimensions: 12.4 x 12.4 x 2.7 inches
Weight:  8.8 lbs
Runtime:  100 min
Charge time:  5-6 hrs
Dust collector capacity:  .6 L (20 fluid oz.)
Battery:  DC 14.4V Li-ion 2600mAh
Maximum suction power:  1500Pa
Sensor technology:  infrared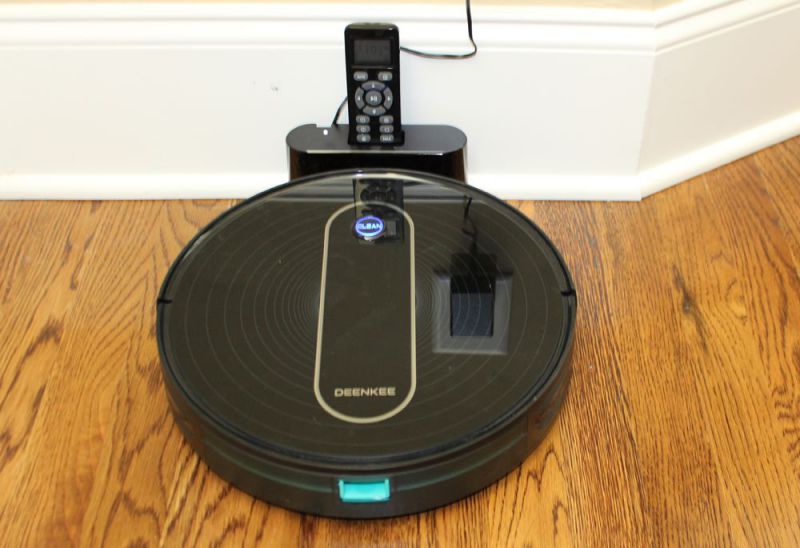 Design and features
Like other robot vacuum cleaners, it has a charging base where it sits to charge and then after it cleans it returns to the base.  It can clean about 100 min before returning to the base, so that is just about enough time for it to cover the entire bottom floor of our house which is about $1,500 square feet.  It sits 2.7 inches tall and it easily goes under all our furniture which is nice.  The dust under there never gets cleaned of course, so the first time it cleaned our floors the dust bin was packed!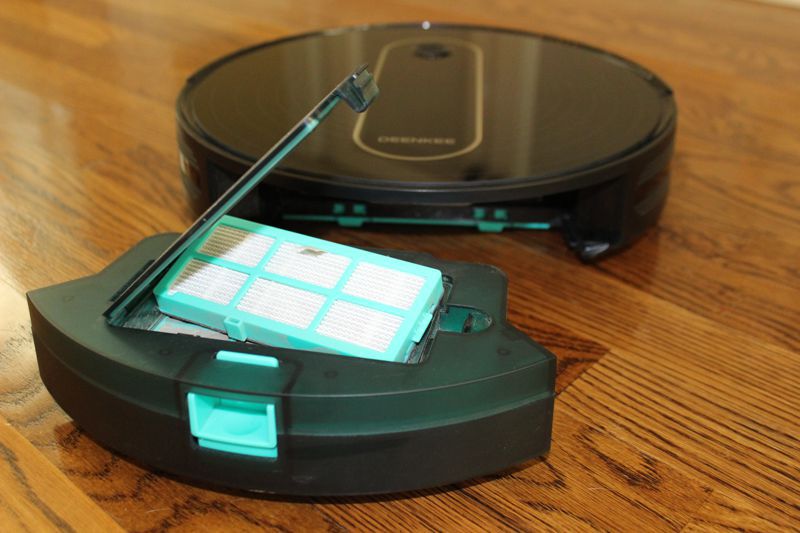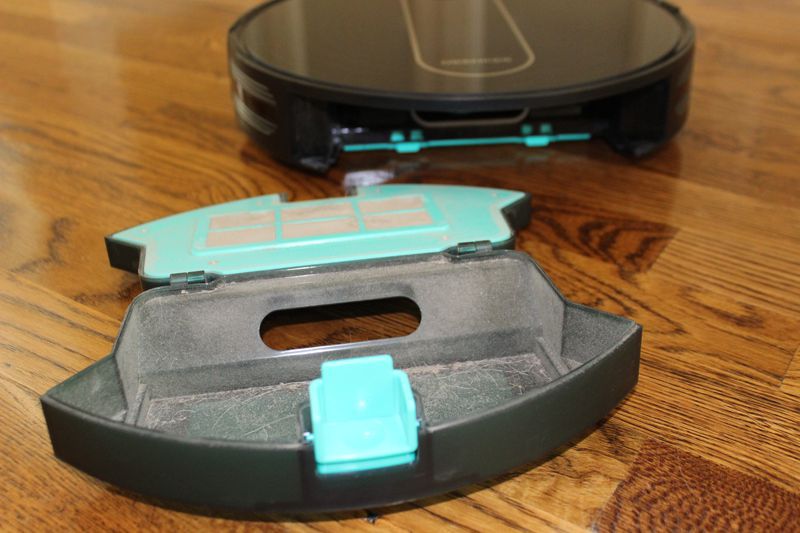 There are 6 modes of cleaning that we have to choose from:
edge cleaning mode – clean just the edges of the rooms
spot cleaning mode – clean a small area of the floor about 3 feet by 3 feet. (this is helpful if you have a spill of debris and want the DEENKEE to clean it up for you)
maximum power mode – this mode greatly increases the suction for things like rooms with carpet, but it also means that you reduce the operating time.  We only use this mode when we use it in bedrooms with carpet.
timed mode – you can set a specific time, like in the middle of the night, to start cleaning the house.
single room mode – put the DEENKEE In the room and close the door, and it stops when the room is done
auto mode – this is the mode we use the most. We just press the auto button on the remote and it cleans as much of the house as it can before the battery dies.
There are buttons on the remote for all 6 of these modes.  There are also buttons on the remote to make the DEENKEE return to the base immediately, set the time on the vacuum, schedule the timed mode, and pause the vacuum and manually control the direction of the vacuum.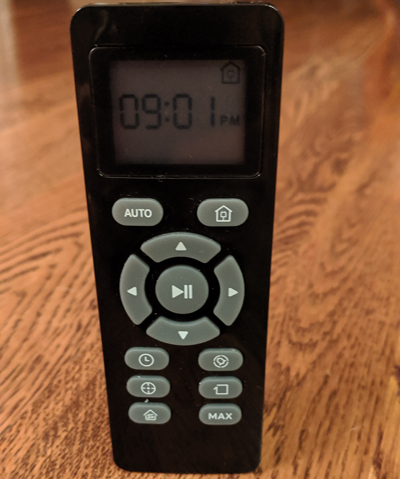 One of the best features of the DEENKEE, in my opinion, are the side brushes that allow it to get into corners and sweep debris under the vacuum.  I have looked at more expensive Roombas at twice the price that have only 1 side brush.  I have also picked up the DEENKEE in the middle of a cleaning mode (like for this review for example) and then set it back down in a different direction and it still finds its way back to the base.
When I asked my wife for her opinion of the DEENKEE she commented, "Well, it doesn't completely replace my upright, but I would rather have it than not.  It does a great job of cleaning the floors."  High praise from a person who prides herself on cleaning the house.  To give up some of the work to a robot is a pretty big deal for her!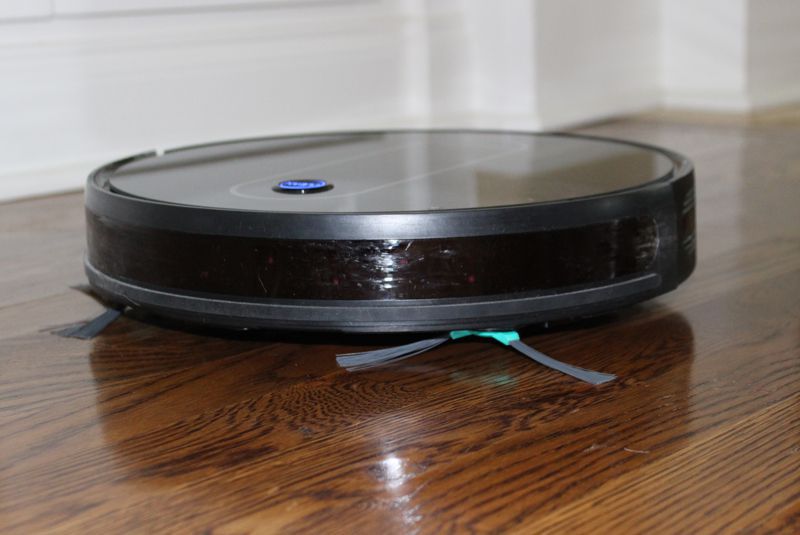 It has edge-sensing technology so that when we use it upstairs it won't fall down the stairs.  It hasn't damaged any furniture either because it gently bumps into things and backs away.  The advertising says it is one of the quietest robot vacuums at 55dB and that you should be able to sleep with it running.  Well, I don't exactly agree with that, as I will explain in the next section!
We haven't had any issues with the DEENKEE not going over any of our rugs or floor transitions.  The only small issue is that we have a sisal natural fiber rug.  For those who know about those types of rugs, the fibers easily shed I guess you could say.  So if we let the DEENKEE run over it, the bin fills up in minutes.  So this is what we do in the dining room when we run the DEENKEE.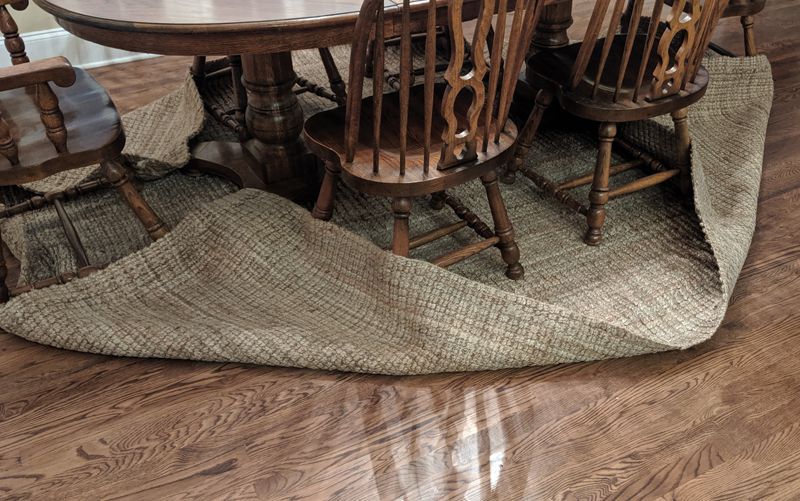 Pretty silly, I know.  But it also helps with getting the dust under the rug!
And what would a robot vacuum be without some interesting stories, right?  So let's go!
Interesting stories
Our dog kinda freaked out the first time we used the DEENKEE.  I mean, he went bananas.  So after an hour or so he just jumped up on the furniture to get away from it while he barked at it, and after a week or so he pretends the vacuum isn't even there.  I would also say that our dog doesn't make messes in the house, so we haven't had to deal with those horror stories you have read about dog poop and robot vacuums.  Thank God.  But we did give the robot a name, "Tinky", so that our dog would know what is getting ready to happen when we tell him that "Tinky" is getting ready to go.  Yeah, that's a little silly too, but hey, you do what you gotta do.
We decided to set up the DEENKEE to run overnight so that the house would be clean while we sleep because they said it was really quiet.  Perfect, right?  Not so much.  At 3am Tinky starts coming down the hallway (we have hardwoods through the entire main floor) and it sounded like a train was coming down the hall.  So the next night we decided to put up the doggy gate in the hallway to prevent it from coming down the hall into the bedroom and it spent a few minutes bumping into the gate over and over at 2am.  So we don't do that anymore.
If you don't get your cables up off the floor, this happens: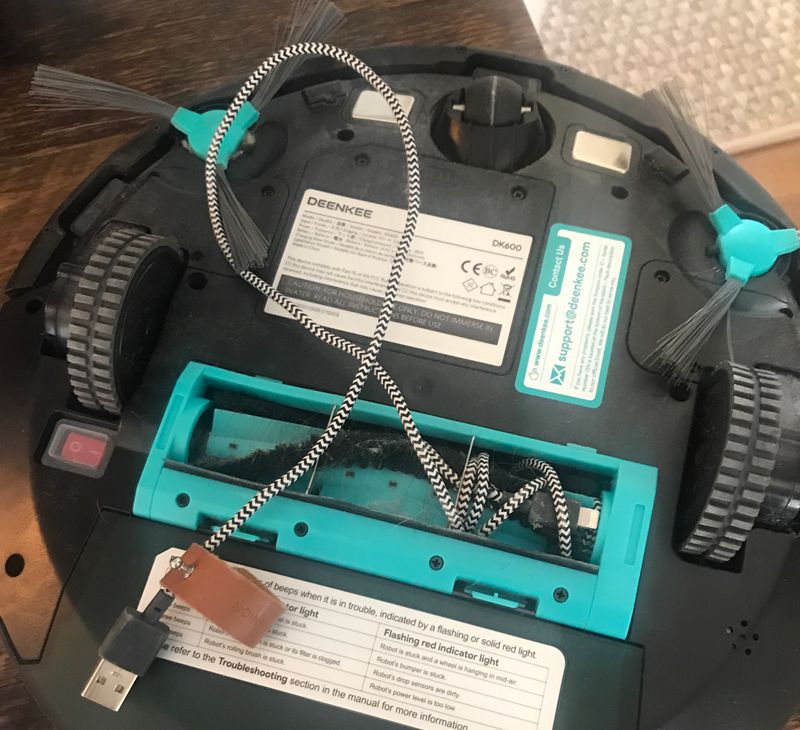 We accidentally left the door open to the washroom where the dog's food dish and water bowl are located, twice.  So it knocked the water bowl over and water went everywhere.
And finally, we have had a couple of instances where Tinky just stopped and didn't return to base.  For example, it went into our bedroom bathroom, into the room with the toilet which is a very small room.  It moved between the toilet and the wall and just stopped.  It didn't back out and continue.  But I would say that probably 2 times out of 30 times that we have run the vacuum it stopped with something like that.  I can live with that.
What I like
Large number of features and cleaning modes
Great price
Does a great job of cleaning
It has a remote to control it
What needs to be improved
You can't specify protected zones to prevent the vacuum from going to certain places.
There is no smartphone app to control it.
Final thoughts
For the money, this vacuum is awesome.  We only use it when we are home and we control which rooms it goes into and monitor it so we can catch it quick if it snags a cord.  As I researched other more expensive vacuums and the features they had, I found that paying the extra price for those features wasn't worth it to me.  I don't need a smartphone to start the vacuum while I am on vacation.  And we have developed a routine with the DEENKEE where we don't need to set up virtual walls or protected zones.  The DEENKEE has all the features we want at a price that is affordable.  It doesn't replace our upright vacuum completely, but I will say that our upright is starting to gather some dust.  How's that for a vacuum joke?
Price: $220
Where to buy: DEENKEE or Amazon (Use coupon code: 578BI79 to save 15%. Code expires 10/06/2019)
Source: The sample of this product was provided by DEENKEE.