We use affiliate links. If you buy something through the links on this page, we may earn a commission at no cost to you. Learn more.


ARTICLE – It's time to finish up this series of the Gadgeteer team's favorite gadgets of 2022. This year's favorites have turned out to be a nice range of products. We've seen some categories that show up a little more often than others like power stations, robot vacuums, but for the most part, it's a nice mix. Be sure to check out part one and part two of this series and also let us know your favorite products from the past year too!
Bill Henderson
2022 has been a strange year—two hurricanes, and a flooded studio building that's still under demo and repair. Fun! However, it's also been a year of exciting products to review. Narrowing it down to three is hard. I am still using many of the products and like them. Here are the top three in no particular order.
Huion Kamvas 24 Plus Pen Display review – It's both a drawing tablet AND a monitor!
The Huion Kamvas 24 Plus Pen display is my main monitor—that I can also draw on! It has been almost perfect for my work-at-home setup. I say almost because a 27-inch monitor (which Huion does not offer yet) would be perfect.
Platin Monaco 5.1 wireless surround sound speaker review – A speaker system that thinks outside the box
Since I installed the Platin Monaco 5.1 Wireless Surround Sound Speaker System, our TV viewing has improved—at least in audio. I place much more importance on sound than video. This system literally surrounds us in audio, which is great—especially for movies. I can't go back to what we had before. I am currently reviewing the new Monaco 5.1.2 system with Dolby Atmos! Look for it in early January.
When I received the X-Chair X77 massage chair, I didn't know what to expect. What I didn't expect was how popular it would be. When our son and daughter-in-law visit, she immediately heads for the X77 chair—even before saying hi to us. It's a luxury to be able to get a massage whenever we want or need one.
Ryan Chapman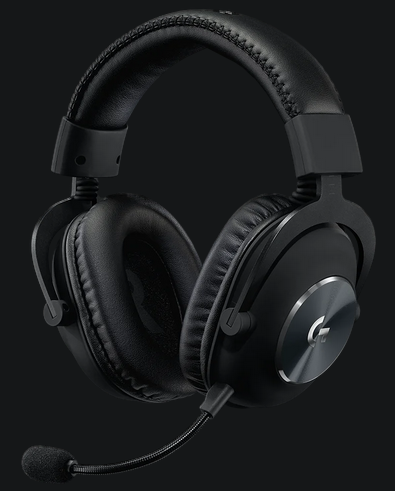 Between listening to music while I work and gaming in the evening, I am constantly wearing a set of headphones. Earlier this year I picked up the Logitech Pro X Wireless gaming headset as a refurbished sale off of Amazon and it's been an amazing product. Not only are the headphones comfortable, but the sound quality is great and since I am already in the Logitech ecosystem with my G502 mouse and G910 keyboard (both also very recommended devices!) it was a breeze to set up. You can't tell that I've worn them daily for almost a year!
I haven't used an alarm clock for ages.. and I still rarely use an alarm clock. However, the Sandman Doppler alarm clock has become my house clock and stereo while having the added bonus of telling me the weather without having to look at my phone. My phone is still my alarm clock, but this 'clock' has been one of those items that I didn't know I wanted but now don't want to do without.
Nixplay's 10.1-inch W10K WiFi Touchscreen Digital Picture Frame review – free your photos from their albums and pocket dungeons
While it is one of the newest gadgets on my list, the Nixplay 10.1-inch Touch Screen Photo Frame leaves me smiling every time I pass it on my end table. It's amazing how far digital frames have come since they first came out. Getting new pictures from family added on the frame, or just adding them myself, is so easy to do. All around, it's a gadget that is easy to use and brings happiness to my room.
Andy Jacobs
Two of my favorite types of gadgets to review are wireless earbuds and bags/packs, so it should be no surprise that two of my favorite gadgets from 2022 fall into these categories.  Check them out below.
EPOS GTW270 Hybrid Wireless Earbuds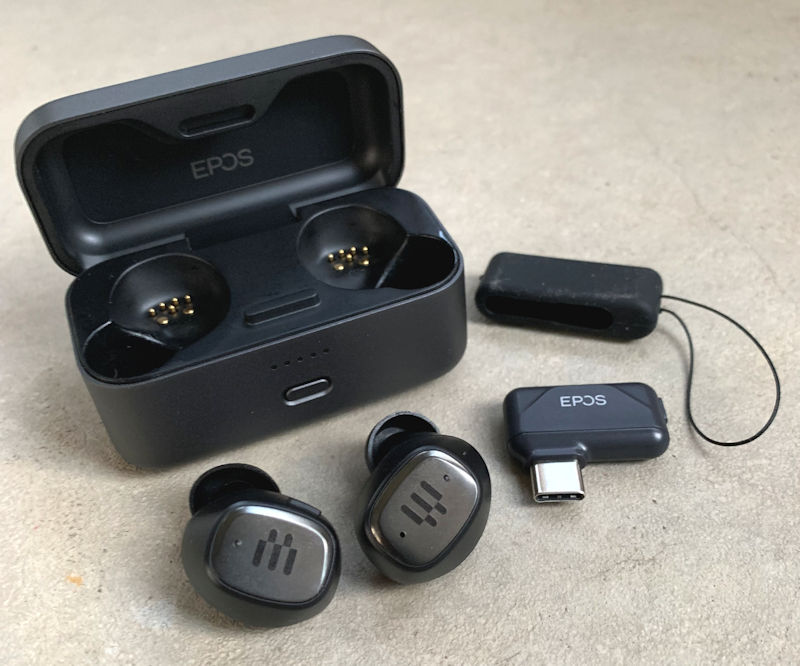 One of the products I've enjoyed reviewing over the years is true wireless earbuds.  Back in 2021, I reviewed the EPOS GTW270 Hybrid Wireless Earbuds.  These earbuds were designed for gaming and include their own wireless USB dongle, but can also function as standalone earbuds.  Overall, I liked them, but I felt they had a few flaws, the main one being that the dongle didn't have a microphone on board.  This year, I had the opportunity to review the upgraded version of the EPOS GTW 270 Hybrid Closed Acoustic Wireless Earbuds with Dongle.  While EPOS didn't fix all the flaws I'd found in the original version, they did fix the biggest one—the new version now supports a microphone via the dongle.  This gives gamers, as well as Zoom or MS Teams meeting participants, to use the dongle to both hear and speak.  With their compact size, great fit in the ear, and super-durable aluminum charging case, these earbuds have quickly made their way to the top of the list of my favorite gadgets.
EVERGOODS Civic Access Sling 2L (CAS2)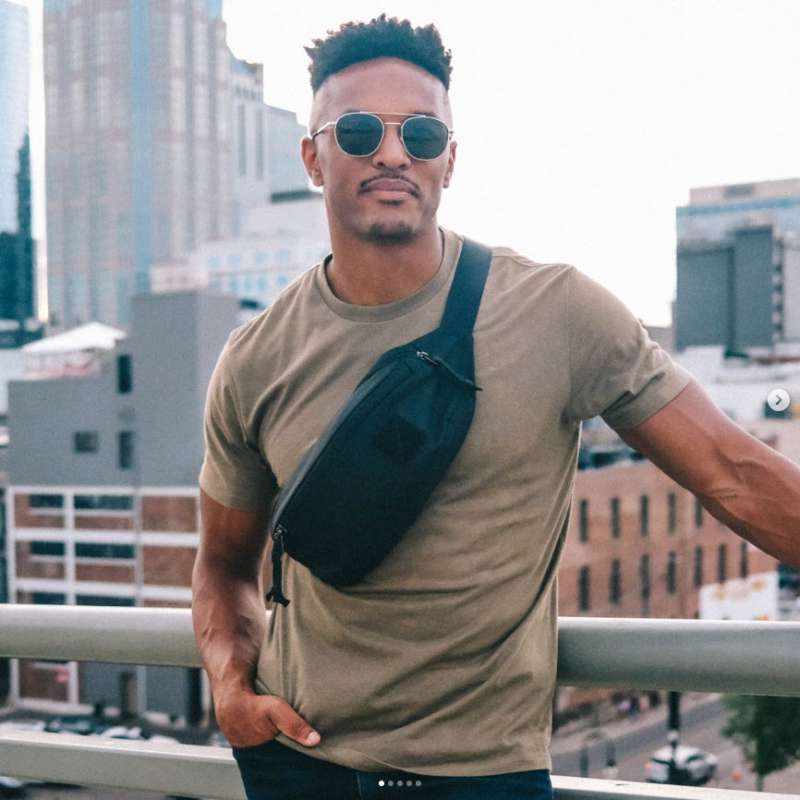 For a few years now, I've been a fan of EVERGOODS, a small but growing company that makes high-quality, durable, and very thoughtfully-designed packs and accessories.  One of my purchases this year was an EVERGOODS Civic Access Sling 2L, also known as the CAS2.  It's a compact, low-profile sling bag/hip pack with a deceptive amount of cargo space and lots of organizational features.  It's made from EVERGOODS' newest fabric, Solution Dyed Balanced Ballistic Nylon, which is super durable, water-resistant, and most importantly (for me), doesn't attract pug fur.  It's a great size to be a small day pack or in-flight carry-on bag.  I took it on a family vacation in which we did a lot of jumping into and out of our car to do quick hikes, sightseeing, and shopping, and it served me well as a great alternative to a small backpack or shoulder bag.
AeroPress Stainless Steel Reusable Coffee Filter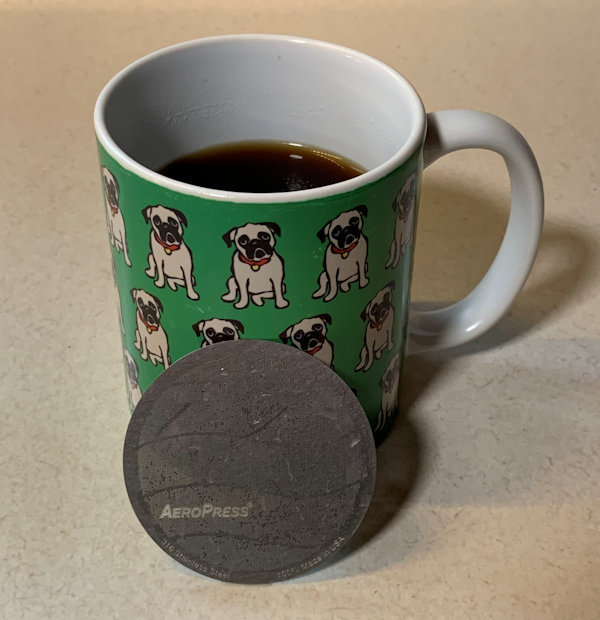 As a daily coffee drinker, I was a frequent AeroPress user before COVID-19.  But once the pandemic hit and my company required us to work from home, my AeroPress use kicked up a notch.  The only drawback I found with the AeroPress was its disposable paper filters.  Making two or three cups of AeroPress coffee per day will start to add up in filter replacement costs, in addition to producing waste with each filter you throw away.  The AeroPress Stainless Steel Reusable Coffee Filtersolves both of these problems.  Invest in one and you'll never need to spend your hard-earned cash on paper filters again.  It fits perfectly into the AeroPress, is easy to clean, and eliminates waste, keeping paper filters from ending up in landfills.  It's a win-win.
Dave Moore
One of the most frequently used gadgets of 2022 is PC Doodle's Volty. This diminutive device plugs into my Leatherman tool's flat bit socket and enables voltage readings from 3-30vdc anytime, anyplace. I've 3D printed a tiny case and attached it to the spine of my EDC Leatherman Charge TTI and used it to measure car batteries (saved me from getting my car towed), 9-volts from wireless transmitters at church, and pairs of AAAs in my garage door opener. Every time I've used the Volty in a public setting, I get a "Let me see that," or "I've GOT to see this" reaction.
Second, on the hit parade are Earfun's Free Pro 2 Active Noise Cancelling earbuds. They are small, comfortable, have great battery life and vivid sound, and the ANC is very useful for blocking out the din of my lawn mower, garage heater, and the crying baby in seat 9E.  The case incorporates wireless charging and the small size is super easy to pocket.
Rounding out my faves of 2022 are SwitchBot's Curtain Robot 2 and Blind opener robots. SwitchBot has become one of my favorite brands for automation.  I have a bunch of their products in virtually every room in my home.  Their Curtain and Blind robots are on IFTTT timers that automate my window dressings, opening at sunrise and closing at sunset, increasing my sense of privacy, helping to control heating and cooling, and are so very cool. Whenever I'm in the room when they are triggered, I pause a moment to watch them work.
Mike Dixon
2022 was a great year for reviewing items for me. I have reviewed many great items over the years, but this year brought me some of the best items. I use these items often, and they are some of my favorite items.
I had never liked grilling until the Z Grills Cruiser 200A portable pellet grill came along. Don't get me wrong; I've always enjoyed great grilled food; I've just never been able to cook great grilled food – until now. The Z Grills Cruiser 200A portable pellet grill has made me a BBQ master in the eyes of my family and friends. It makes it so easy to cook great food. My favorite part of the Z Grills Cruiser 200A is that I don't have to constantly monitor it like I would my propane grill. The temp stays right where it needs to, and the food comes out fantastic.
The Creality Ender-3 S1 3D printer has been one of my workhorses when it comes to 3D printing. I print mostly functional parts, like mounts, brackets, adapters, etc. The Creality Ender-3 S1 3D printer produces some of the best prints at a reasonable speed. I have six 3D printers now, and the Creality Ender-3 S1 has been one of the most dependable. I often choose the printer I'm going to use based on my part requirements, but I often design parts specifically for this printer because I know what it is capable of. I would consider it one of the best 3D printers under $500.
This year brought a new facet into my making space, a laser engraver! I've wanted to get into this area of making for quite some time. xTool sent their M1 Laser & Blade Cutting Machine for review, and I've been using it almost every day since. There are so many things you can make with the xTool M1 that it's often hard to decide what to make next. It fits nicely on my desk in my office, and the software is easy to learn. The quality of the materials really stood out to me; it's not a bunch of cheap stuff. I'm really excited to see where xTool goes in 2023 and beyond.
Theresa Villeneuve
Maybe it's because I didn't realize how handy a 3-D printer could be, but the Creality CR-10 is turning out to be one of the most fun gadgets I've reviewed.  It's easy to use, especially if you have an old phone or tablet lying around that can be a dedicated controller.  We've made so many cool things with this baby…from prizes for games we play in my classes to useful items like cable clips.  I love the fact that I can capitalize on someone else's design skills, press print (even when I'm not home since it will print remotely) and bingo! I've got some cool new thing!
Like any hardcore gadgeteer, I've had some really neat webcams and lighting systems, but at the end of the day, I almost always just use the Poly Studio P21.  It has a nice integrated speaker that sounds great when I'm streaming music or in a video conference.  The camera with privacy shutter built in does a great job compensating for my crazy office lighting, which is no small feat judging by a lot of the cameras I have reviewed. To top it off, it is a fine looking extra monitor.  The fact that it integrates a charging pad is another bonus.  It's maybe not the most exciting bit of gear I own, but it does several everyday jobs really well, and that's pretty neat.
When something takes a chore that you do every day and turns it into a cool experiment, I call that a win, and that's what the CookingPal Multo does.  I really just got this kitchen robot but I can already tell that this will be a great gadget to play around with and has huge potential.  This device replaces several appliances I already have (blender, sous vide, mixer, and slow cooker among others) so it might even free up some kitchen space as a bonus.
Guanshan Fix
The BALDR portable power station has been a lifesaver! I experienced a 72 hour power outage during the summer and while it's not big enough to power anything substantial, it was able to keep both my husband's phone and tablet, my phone and my laptop charged enough to keep us operational. On top of our personal electronics it also kept a camping lantern recharged as well as a headlamp. I am currently charging it to prepare for the winter snow storm that is heading my way. I love how easy it is to pull out and use in an emergency and how convenient it is to take camping. I definitely recommend having a backup battery in your closet!
The way I use the Rocketbook Everyday Planner has definitely shifted over time. I don't use it to keep track of my calendar or schedule but I absolutely love it for taking notes. In my job, I'm tasked with many different small projects where I need to keep everything straight but once I complete the project I don't really need to remember all of the details. So now with the Rocketbook, I'm able to erase all my notes for my previous project and reuse it for a current one. I love how easy it is to wipe clean and reuse as well. This is a great product for anyone who takes a lot of notes that are only important in the short term.
This might be cheating since the Yunmai Technology Slim Elegant Massage Gun review was technically posted in 2021 but it has become a life saver with all of the snow I've been getting. My husband has a bad back and the first snow storm we had, he threw it out shoveling. The massage gun came in clutch for releasing his spasming muscles without tiring out my hands. The multiple different massage heads helped me pinpoint certain areas around his spine and lower back instead of generically massaging everywhere. The long battery life meant we could keep it out and use it multiple times per day without having to recharge it. If anyone you know has sore muscles, this is a great way to get some pain relief.
Issac Chongulia
My favorite gear of 2022 so far has without a doubt been the Ganiza 6 Quart Air Fryer. We use this daily and often my wife will put her tofu in first so I have to wait to use it. At $69.98 now I may have to get another one just for me.  The Ganiza 6 Quart Air Fryer is really easy to use and clean. It does not require preheating like our previous air fryer which was a little annoying.  It consistently does a great job on tofu, chicken nuggets, broccoli, French fries, meatballs, chicken, and everything else we've tried in it. The window is an awesome feature and now I can't do without it. If you are in the market for an air fryer the Ganiza 6 Quart Air Fryer gets two Gadgeteer thumbs up from me.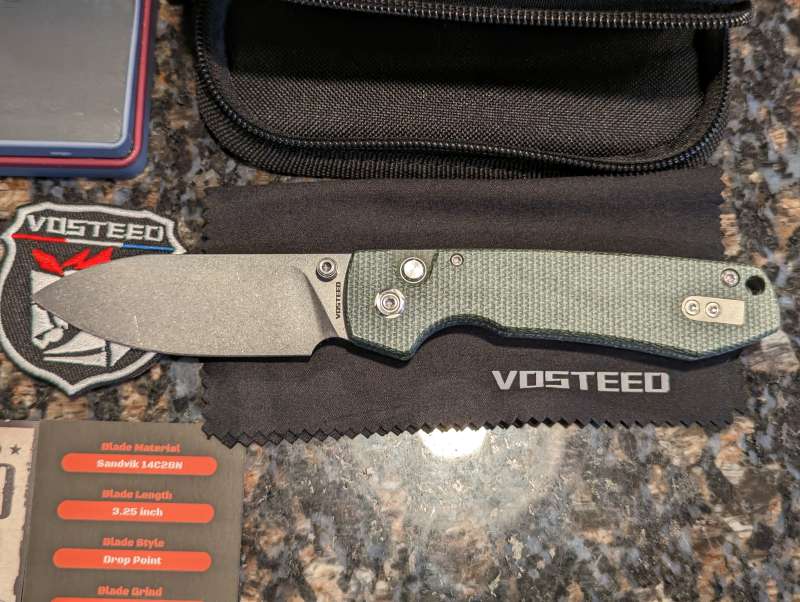 I carry a knife daily and the Vosteed Raccoon folding knife is now my favorite knife for everyday carry. With a 3.25″ blade and barely there 3.39 oz weight it's the perfect size and I forget it is in my pocket until I need it. With the smooth plunge lock it is easy to open and close with one hand. The nice micarta handle is shaped very nicely and feels great in the hand. At only $59 it's a great deal. My review will be posted early next year.
Wuben X-0 Knight rechargeable flashlight review – a mini magnetized marvel
The Wuben X-0 Knight rechargeable flashlight is my next favorite gadget of 2022. It is super compact but can provide 1100 lumens of brightness and features a strong magnet on the base which is now a must have for me since it comes in handy so often. I also really liked the squared shape that prevented rolling and allowed me to stand it up on surfaces and easily point it where I needed. The sturdy aluminum clip ensures it won't fall off my 1.5 inch work belt and I can hardly tell it's there. Operation is super simple with just one switch and LED indicator but with a lot of well thought out programming that is easy to learn and use. The X-0 Knight is a home run, well done Wuben.
Julian Perry
The EcoFlow Smart Generator – Dual Fuel is one of my top 3 gadgets for 2022. It is well made, relatively low in noise output, and works with gas or LPG. It is also relatively lightweight compared to other generators that I have worked with, and it can be started either by the pull start or electronically via the onboard button or the app. It is nicely designed and solidly built.
The Rode NTH-100 Professional Over-Ear Headphones are the first headphones made by Rode, and they did a fantastic job. They are well built, produce quality sound, and are versatile enough to work with mixers, and production equipment as well as just for listening to any genre of music.
When I decided to take a shot at testing the ACEMAGICIAN Mini Gaming PC-AMR5, I had no idea that I would like it so much that it would become my everyday computer at home. It is small and compact, well built, attractive, powerful, and offers a great connectivity selection. It also includes an easily removable side panel that reveals easy options for upgrading the memory and storage capacity. I am able to edit Hi-Res videos and photos with the Adobe Suite with ease as well as use other powerful and resource needy software.
David Sheneman
The Mobile Edge CORE Special Edition gaming backpack was an easy one to pick as a favorite "gadget" of 2022 because I use it every day. My old backpack was failing – holes in the fabric, zippers coming apart, etc. While this backpack is huge (easily 30% bigger than my previous one) it's solid, has pass-through cabling so I can charge devices outside the backpack with a battery nestled safely inside (although I don't use this feature as much as I thought I would; maybe if I traveled more I would), and it can store a lot of stuff. As I mentioned in the review, I carry too much stuff with me, but at least I know I always have that one thing I just might need once or twice a year.
I chose the SmallRig 1.55x Anamorphic Lens because I love to shoot video. I wouldn't say I'm great at it; I'm definitely not a cinematographer, but I love to shoot good video. I got to test this one out while I was vacationing on the islands of Hawaii and Maui so it was even more fun. The fact that a phone can shoot as good of video as it can, combined with a lens like this, means people can shoot some amazing video, even film quality with the right apps, and make short films, full movies, etc., on a very limited budget. I hope to get out and shoot more with this lens soon but until then I have all the footage from Hawaii to keep me warm during the cold Midwest winter.
I had to pick another video tool. The SmallRig Mobile Video Cage is so versatile – you can mount lenses, microphones, lights, attach it to a tripod, and so much more. It's too big to be a permanent case for a phone, but it's easy to slide the phone in and out when necessary and latches securely so you can trust your phone will be protected while you're using it (around the edges anyway). When combined with the anamorphic lens mentioned above and the small tabletop tripod they included with the review package, this was the ultimate shooting combo when I was in Hawaii. I could fold the legs of the tripod to make a handle to carry the phone with and to help with handheld shooting, and I could fold out the tripod legs and shoot time-lapse or other stationary videos. SmallRig has been making some great products which is why they ended up on my list twice this year.
Alex Birch
So 2022 is almost in the books. Feels like it took forever and yet a little where did it go/what just happened? Here are three of the products that I reviewed that have just really shown staying power, being used daily or at least weekly. Here goes…
The Fantitk X8 Air Inflator has a permanent home in my MTB gear bag. I run tubeless tires and as a result, they need topping off from time to time. The only change I've made is that I replaced the air tube one with a Schrader valve quick release. Saves a lot of twisting and is perfect for the setup on my bikes. The built-in flashlight has come in handy more than a couple of times with rides that started before sunrise.
The Brydge Stone Pro Thunderbolt 4 dock is still on my desk in the exact same spot as the lead photo in the review. It's been flawless, and just yesterday I ran a quick audit on what devices I had plugged in versus what I "actually" needed and was able to pair down to just what is on the dock along with one connection up to the hub built into my monitor for a couple of low power items. I'm still using it with my MacBook Pro closed and resting on the Stone Pro, but lately, I've been lying my iPad Pro 12.9 in landscape on top with the leading edge on the desk. It's been working really well and is handy for notes or quick annotations sent from the desktop.
I still love the Azio Cascade Slim mechanical keyboard. The size and key shape continue to be perfect. The only issue I've run into is that I dislodge the space bar occasionally. I'm thinking this is an early pre-production problem, but it's easily solved and hasn't been all that annoying considering how much time I've spent using it. The only thing it doesn't have that I've come to want is an extended size with a full number pad. It's not something that was on their site even though their keycap sets included keycaps for number pads. Well lo and behold, they just launched exactly that on Kickstarter and there are a few days left in the campaign. I think it was briefly on their site yesterday, but the link clicked through to the existing one I reviewed. I'll be keeping an eye on this one.
Howard Sneider
2022 marks the sixth year that I have been conducting reviews for The Gadgeteer. I have performed many reviews on technology that the site typically features, so my reviews this year were on items that are less frequently reviewed. My favorite three reviews from this year are provided below in no particular order.
Waterdrop G3P800 reverse osmosis tankless water filter review
After installing the Waterdrop G3P800 reverse osmosis tankless water filter everyone in the family is drinking more water and using fewer pollution-causing water bottles. The system now typically reports less than 6 ppm TDS.  My own testing reports that the incoming water measured 92 ppm and the filtered water measured 8 ppm. Note that there are some discrepancies in the filter capacity that a reader has provided but these values only impact performance if the system is used close to its maximum capacity.
The AndaSeat Kaiser 3 gaming chair is my 15-year-old son's favorite chair. I have to agree that this chair is one of the most comfortable, versatile, and customizable chairs I have ever used.  Not only is the seat comfortable but it is very durable. It looks exactly the same as when it was first assembled. And if for any reason there is a failure of one of the components, AndaSeat sells individual replacement parts.
Drop + Grell TWS1X earbuds review – Audophile grade in-ear monitors
The Drop + Grell TWS1X earbuds are a simple choice for including on this list because of how often I use them. I love the depth and richness of the sound and firmware improvements have fixed battery issues and connectivity issues that were originally encountered. However, once in a while they will cut out. I suppose that these are like a favorite old car; they may not work all the time, but when they do it is the best thing in the world.
That's all for now, but 2023 is going to be GOOOOOOOOD!
Also, please be sure to read Part 1 and Part 2 of this series to read what the other gadgeteers on the team picked as their favorite products of 2022.