We use affiliate links. If you buy something through the links on this page, we may earn a commission at no cost to you. Learn more.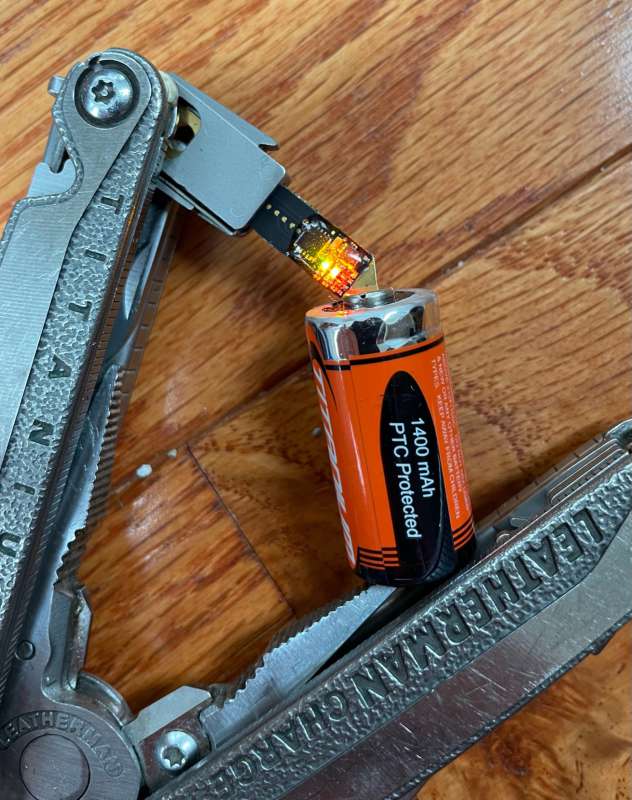 REVIEW – Every once in a while, a product comes along that is amazingly innovative, eminently practical, and fills a mighty need. I'm my family's go-to guy for all things technical and have long sought a meter that can be unobtrusively carried. The Volty voltmeter by PC Doodle lets me do just that! Volty, where have you been all my life!
What is it?
The Volty is a tiny direct-current measurement tool with a range of 2.5 to 30 volts that's designed to fit into a Leatherman ¼" multi-tool flat bit holder, or can be carried on a keychain, necklace, or tucked into a wallet.
Hardware Specs
Measures direct current from 2.5 to 30-volts
Gold plated contacts
Waterproof, but not for use when wet
35.3 x 7.4 x 3.1mm (1.4 x .28 x .12 inches)
Weight: too light for my scale (I'm guessing a few grams)
What's in the Box?
Volty inside a silver plastic bag
Instruction sheet with a link to YouTube fitment instructional video

Design and Features
A week or so ago, The-Gadgeteer posted a news article about a tiny DC voltage meter here. I've had the pleasure of using the Volty for the past few weeks and I am greatly impressed.  This lil' booger is slick!
Volty arrives in a silver bag inside a padded envelope.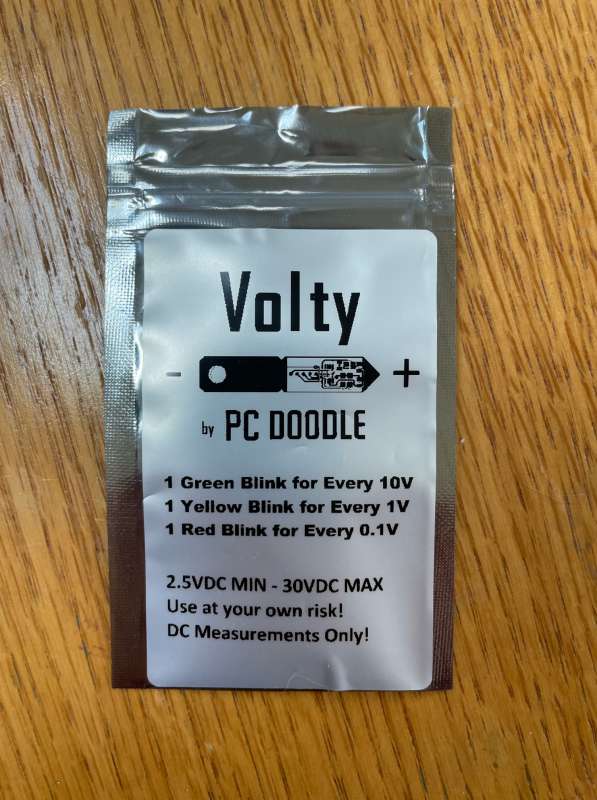 It's super tiny!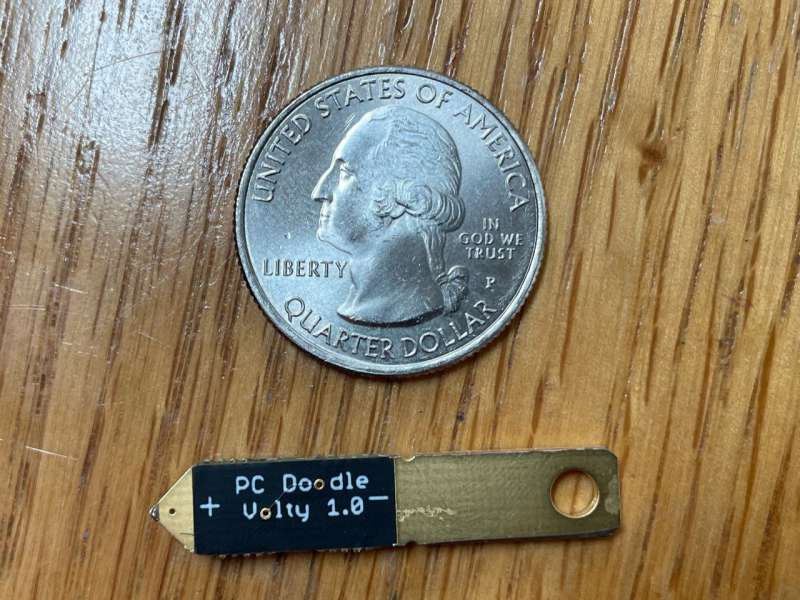 Here's the Volty compared to a standard Leatherman flat bit.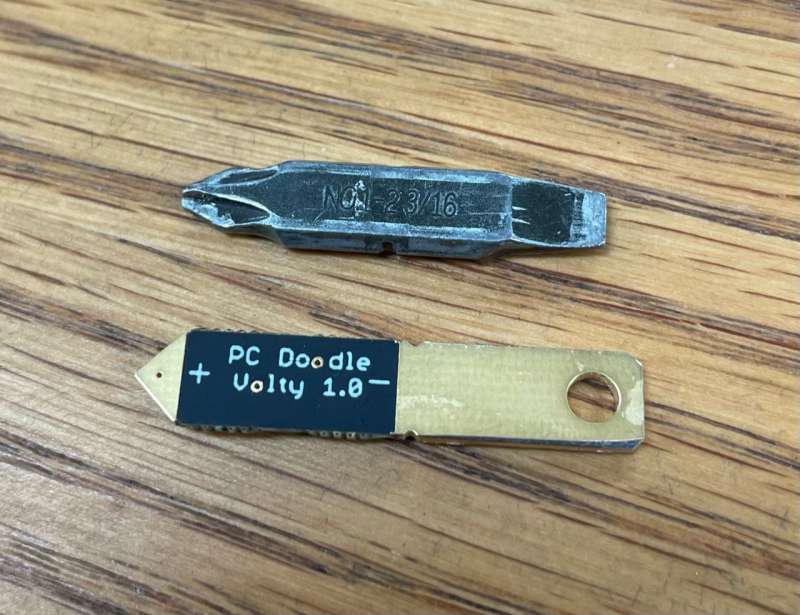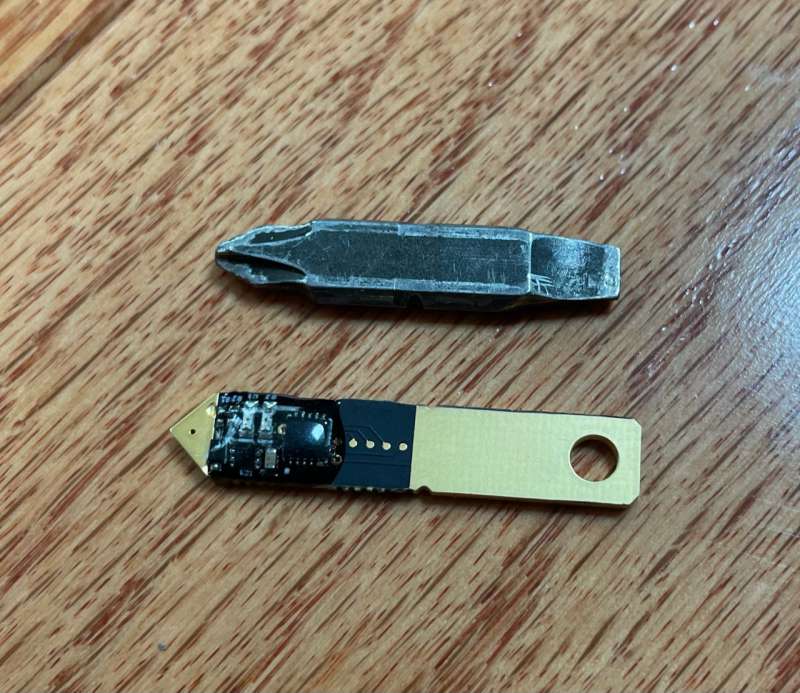 I tried to weigh the Volty on my scale, but it's too light for my scale's 0.1oz resolution. In comparison, I would say it weighs less than a Nickle. You'll never notice it in a pocket or on a key ring, but be careful – I can attest they are easy to lose. I bought a second one after misplacing the first 🙂 !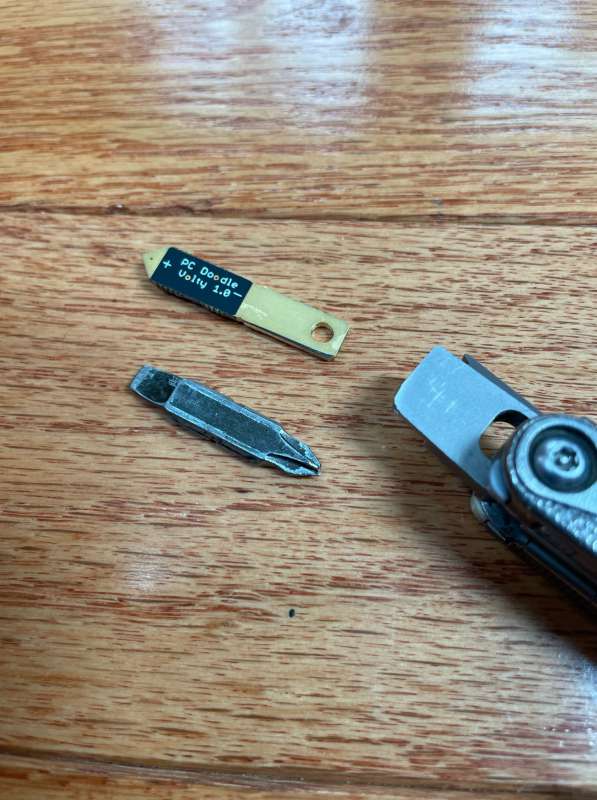 The Volty is not limited to use in Leatherman tools. If your favorite tool has a ¼-inch bit socket, the Volty can be trimmed to fit it. Here is a video showing the fitment procedure.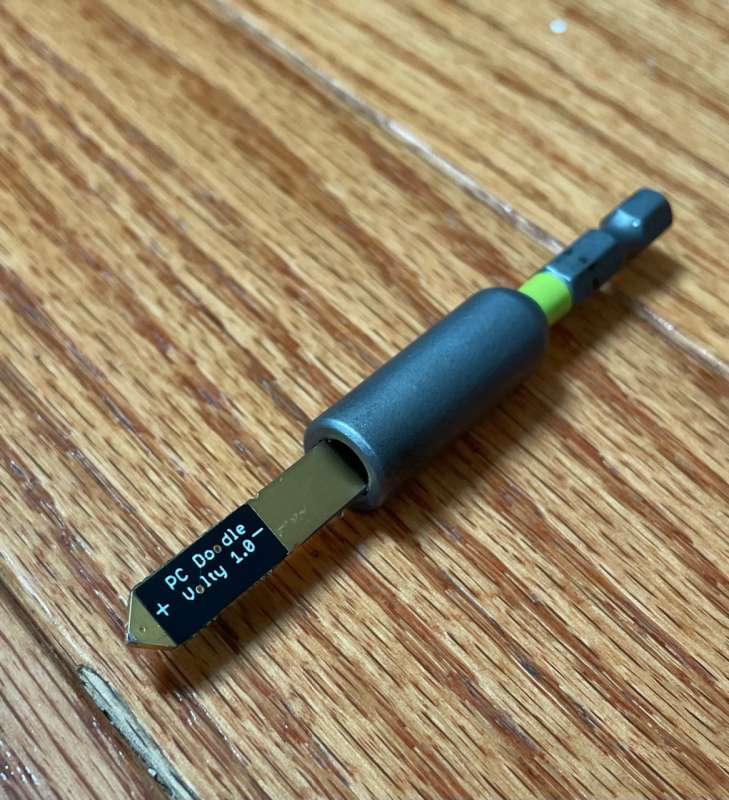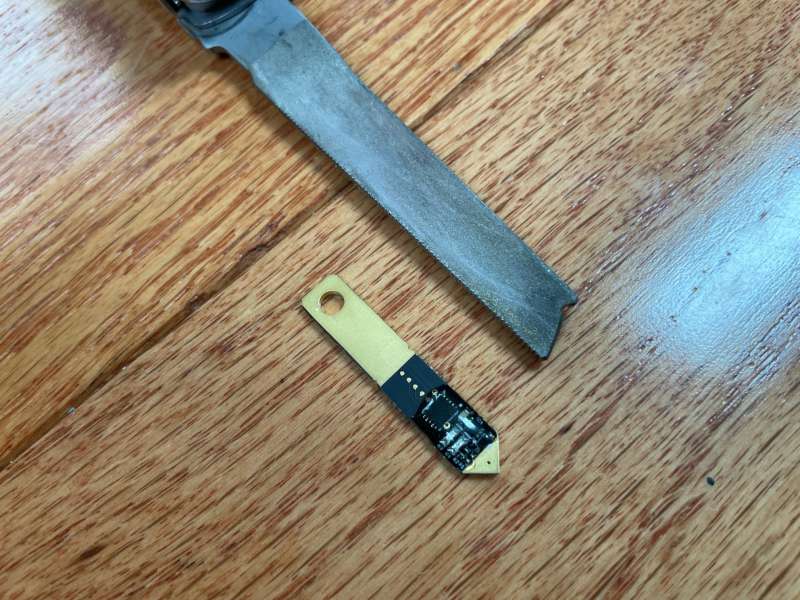 Once it's trimmed to fit, the flat bit holder spring engages the notch in the Volty's side and holds it securely.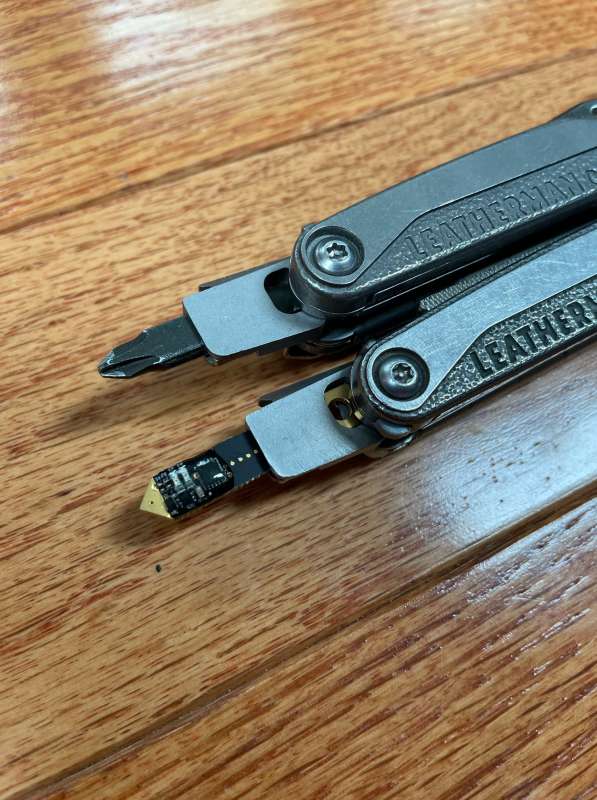 To use the Volty installed in a tool, the body of the tool will be the negative terminal. Of course, the body of the tool needs to be conductive. The pointy gold tip on the Volty is the positive connection.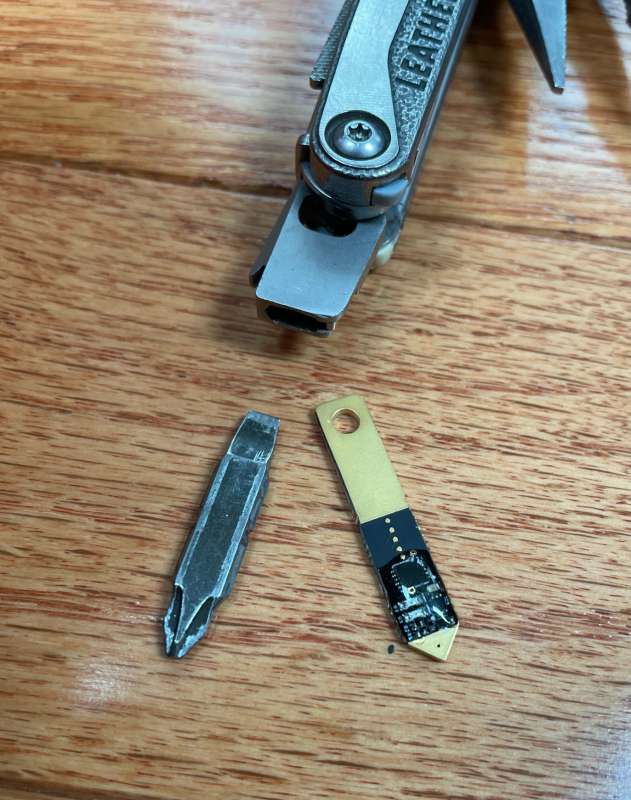 No multitool? No problem! There is a small hole in the body so it can be carried on a keychain. If your keys are metal, you can even use your keys to bridge to the negative battery terminal. This method of carrying the Volty is great for loss prevention!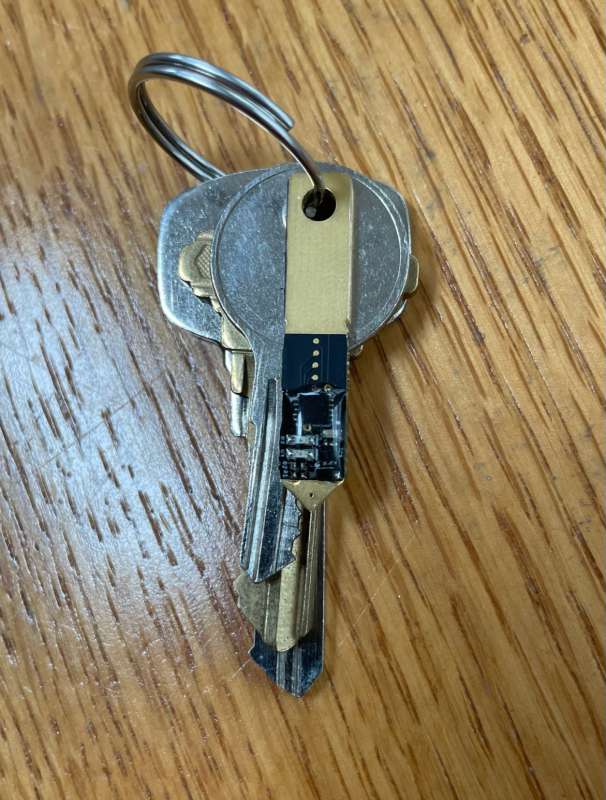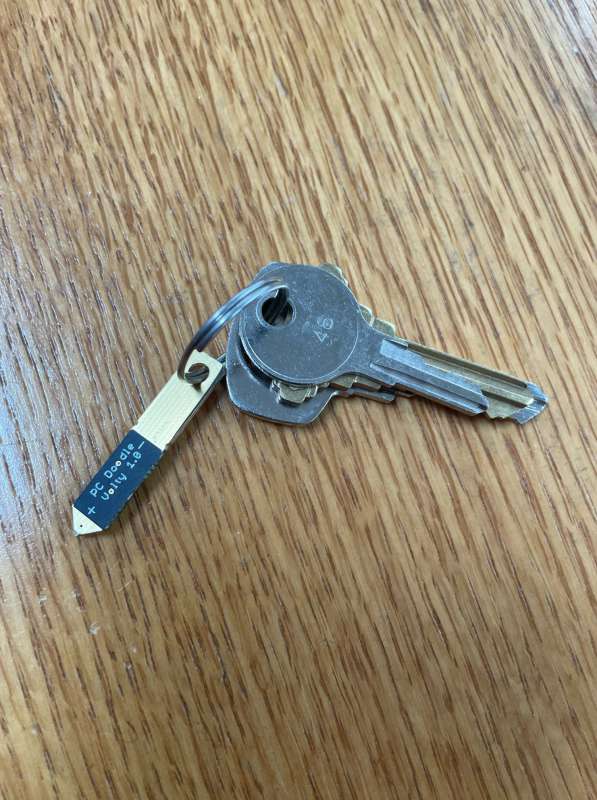 Before moving on, a word of caution: Don't try to use the Volty on anything higher than 30 volts DC or AC circuits. If you do, at the very least, the Volty can be damaged. At worst, you can burn your house down or kill yourself, so please, for the love of God, know what you are doing and be careful! Measuring low voltages should not pose a risk to life or property, but if in doubt, please consult a professional.
The Volty is a super-simple device to use. Using any conductor, bridge the power source's negative terminal to anywhere on the Volty's gold tail. Next, touch the pointy bit to the power source's positive connection.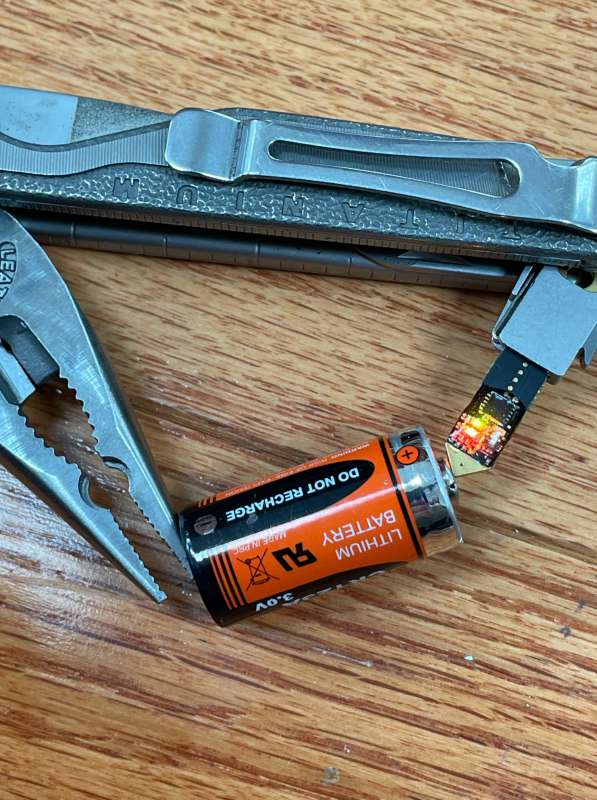 Here is the Volty comfortably resting in place inside my Leatherman Charge TTI.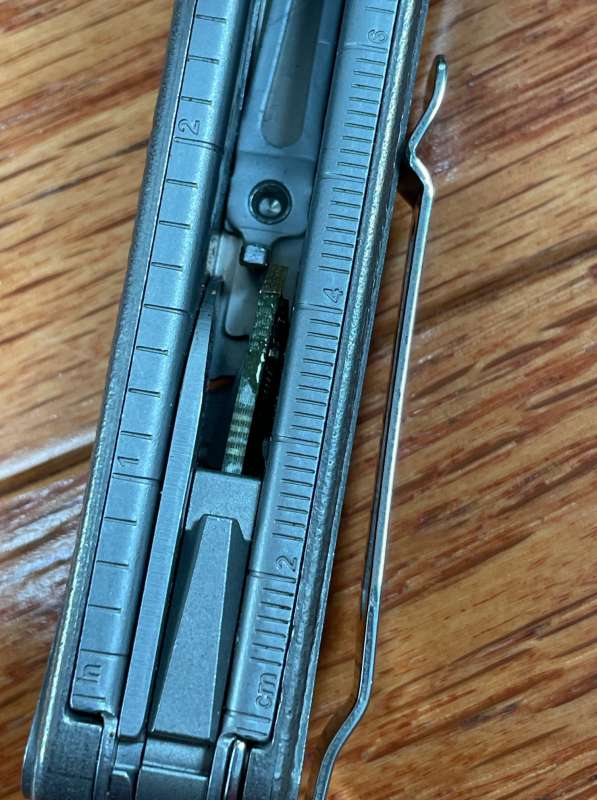 I was pleased to find that the handles close completely with the Volty stored.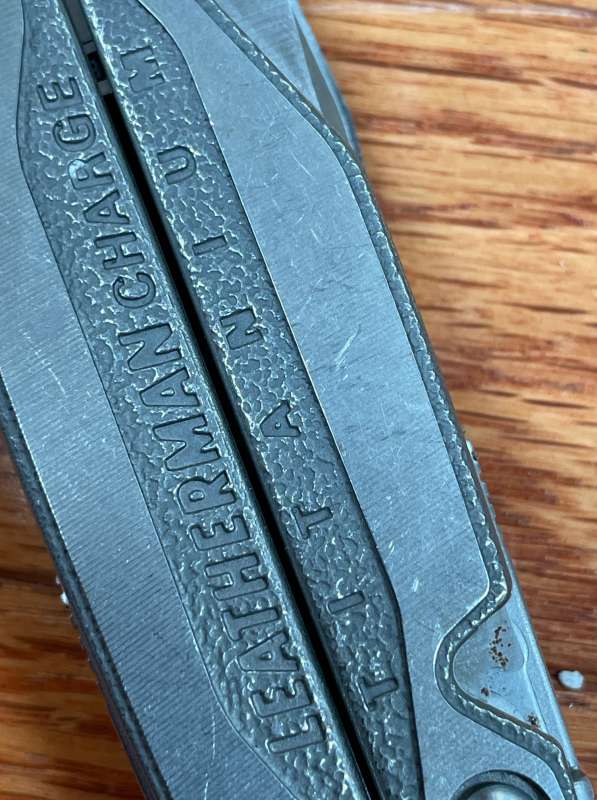 The input range is from 2.5 to 30 DC volts. If you are curious if your voltage is in the correct range, check the battery or power supply. Many rechargeable devices are in the Volty's range, but it won't measure single 1.5-volt batteries like AA, AAA, C, and D batteries. However, it CAN measure the voltage of two of these batteries in series (Aww yeah!).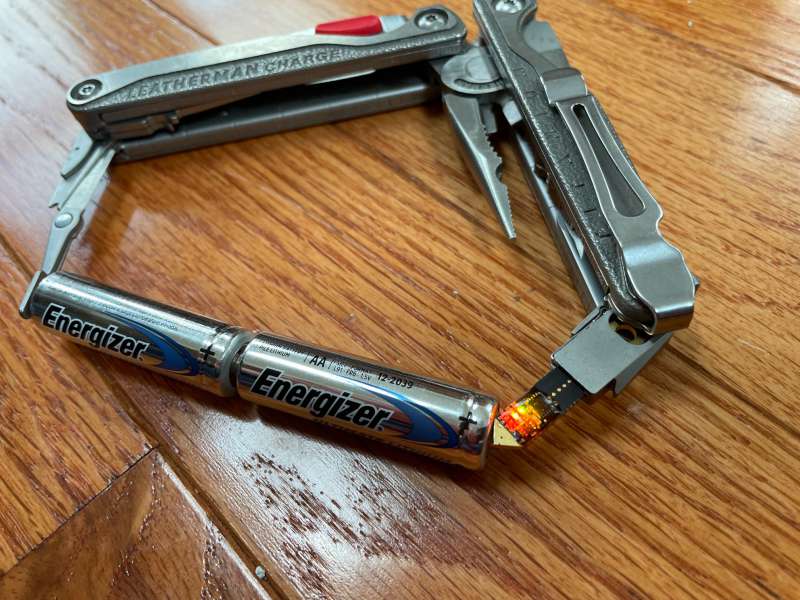 I spoke to Derek Traxler, who prefers to be referred to as "chief mentor" for his small Minneapolis, Minnesota company, PC Doodle, the designer and manufacturer of the Volty. He explained that the voltage limitations are largely due to the complexity of fitting the components into such a tiny package and the voltage needed to successfully turn on an LED. He's continuing the development of another version that is capable of measuring under three volts. I will certainly be a repeat customer if he succeeds!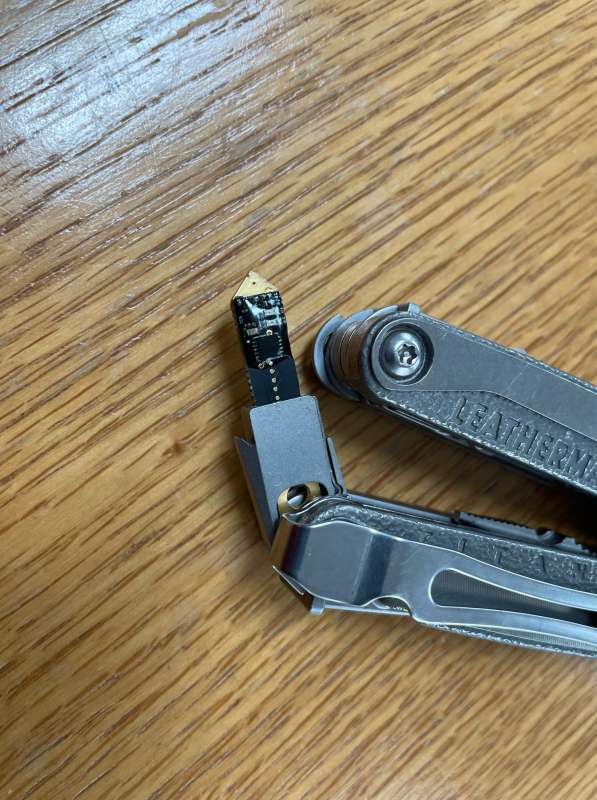 There are two LEDs (red and green) on the circuit side of the Volty. Once connected, the LEDs alternately flash for a few seconds. After a short pause, the green LED flashes once for every 10 volts, (one flash for 10, twice for 20 – you get it). There is another short pause, then the red and green LEDs flash together (the color looks yellow because the LEDs are close together), once for every 1VDC increment, another pause, and then only the red LED flashes once for every 0.1 volts. For example – 24.6 DC volts would be two green flashes, four red and green flashes, and six red flashes. Just count the flashes and add them together, tens, ones, and tenths. Nothing to it! Here is a video to show how the tool is used.
If the Volty stays connected, the same sequence repeats, alternating flashes, green for tens, green and red for ones, and red for tenths. This is a great feature for monitoring slowly declining voltages.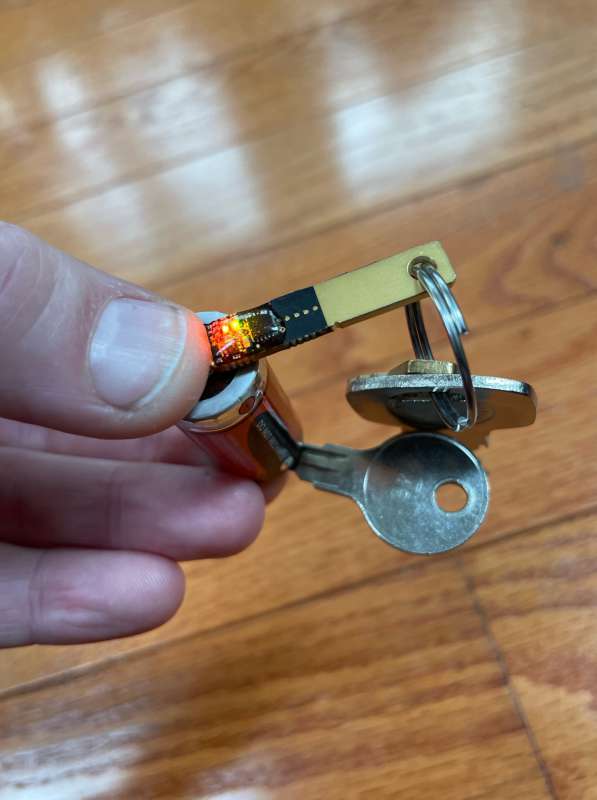 Inside the diminutive circuit, the Volty has a small resistive load so measurements should be relatively accurate. For perspective, I have other meters that measure voltage but without a load. In some cases, the battery can test ok, but when it's put into a device, it quickly fails because it can't supply the voltage at the load current. Volty does very well here. During my tests, I pulled a three-volt button battery of questionable age from a drawer, preparing to replace a dead one in a watch. Before going through the task of disassembling the watch, a quick Volty test of the battery indicated it was low at 2.4 volts. Thank you PC Doodle – you saved me from having to take the watch apart twice and without needing to run around the house trying to remember what I did with my Fluke multimeter. The Volty was just there when I needed it!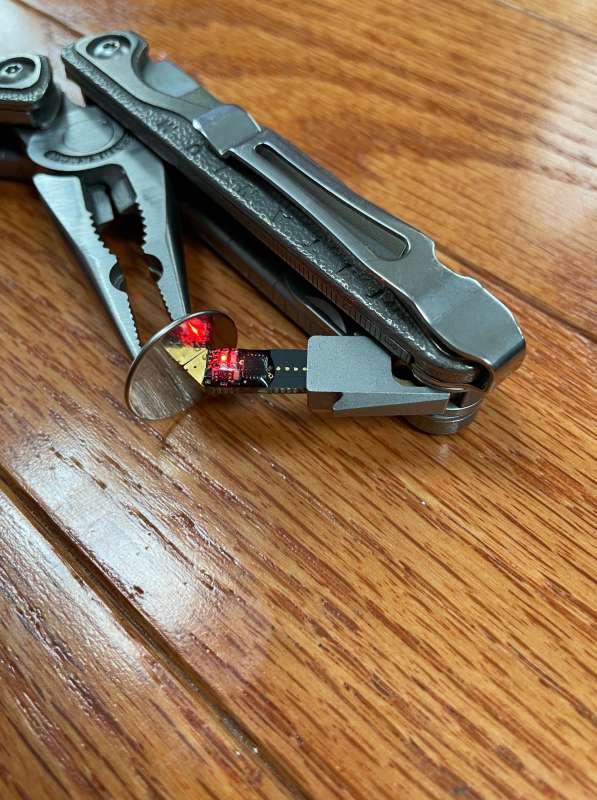 What I Like
Super-tiny carry everywhere size
Inexpensive
What I Would Change
Eventually, I would like to see a version with a wider voltage range
Final Thoughts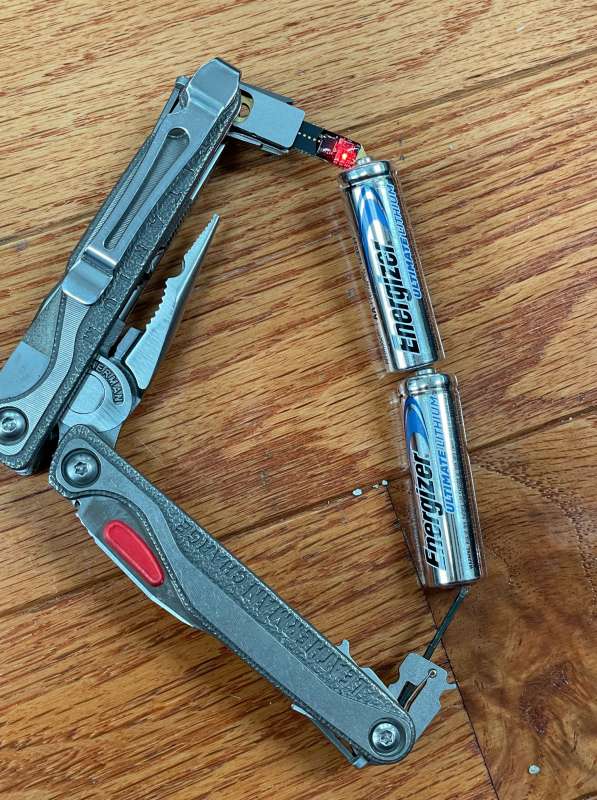 The Volty isn't going to replace a multifunctional meter, but the carry-anywhere size and shape are something I've long sought. Are you that handy person that is constantly asked to "take a look at" that gadget for your family and friends? Are you a techie that just needs to know if that solar panel is making power? Is your car battery dead, or only faking it? If those are the questions you might ask yourself, you need a Volty!  This product is fantastic!
Price: $25
Where to buy:  PC Doodle
Source: The sample for this review was purchased for personal use from PC Doodle.