We use affiliate links. If you buy something through the links on this page, we may earn a commission at no cost to you. Learn more.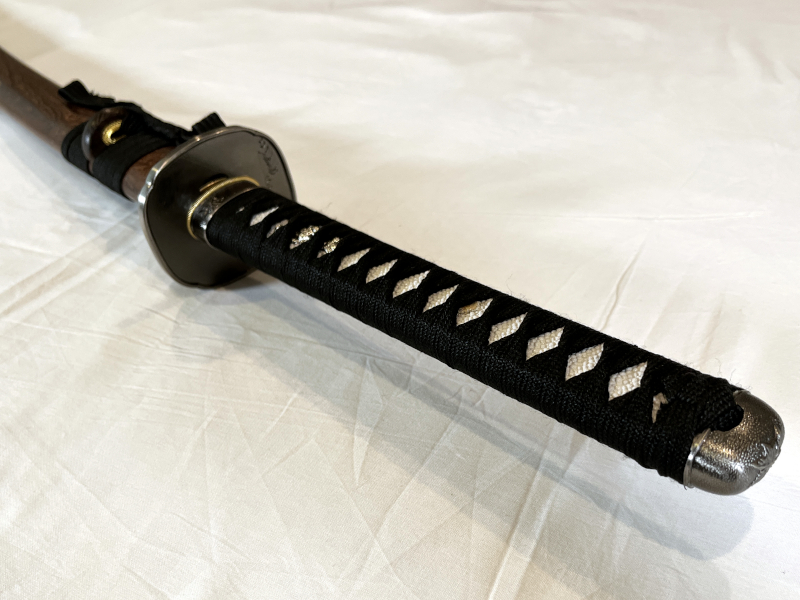 REVIEW – "A katana is a Japanese sword characterized by a curved, single-edged blade with a circular or squared guard and long grip to accommodate two hands…It was used by samurai in feudal Japan and worn with the edge facing upward."  While authentic katanas, made in Japan using old-fashioned metal-working methods, are insanely expensive and nearly impossible to get, a handmade, personalized katana is well within reach.  Look no further than the custom katana by Romance of Men.
What is it?
This sword is a replica katana made in China.  Don't be discouraged by the word "replica," as this a real sword.  The Romance of Men (ROM) custom katana allows the customer to choose each part of the sword, and then ROM crafts it to create a personalized weapon.  ROM's goal is "to deliver the best service, value and the best design of knives products."
What's in the box?

A katana in a saya (scabbard)
Hardware specs
The exact specs will depend upon the choices that you make, but the length will be the same:
Overall Length: 40.5 inches
Blade Length: 28.3 inches
Blade Thickness: 0.27 inches
The katana I designed is 48.3 ounces, which is just over 3 pounds.
Design and features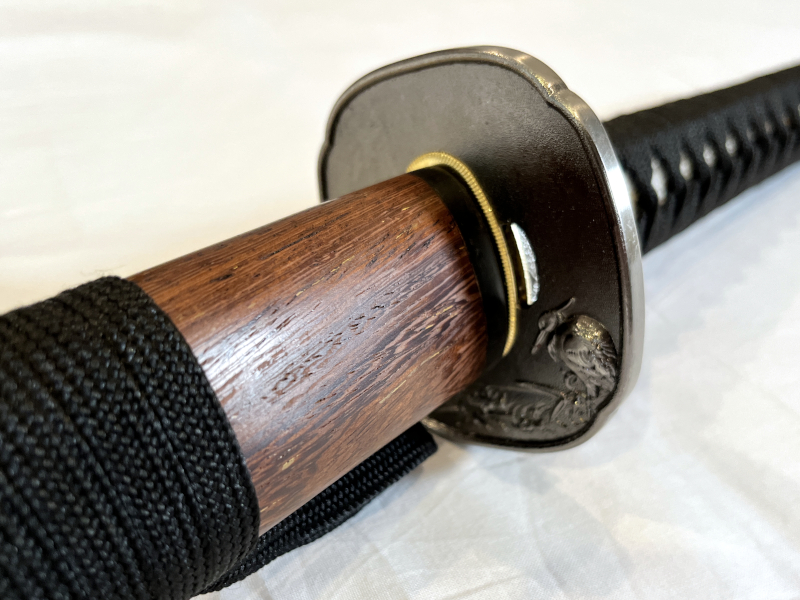 If you go to ROM's katana page, you will find a host of katanas that are ready-to-go.  If you find one that's exactly what you want, then great, as you can save a little money this way.  If not, then click on the custom katana link and get ready to have some fun designing your own.
There are ten choices that I had to make when customizing my katana.  First, I had to choose whether I wanted the blade to be sharp or not, and I chose sharp.  I don't have any little kids at home, so there's no real threat of injuring anyone (except myself, I suppose).
Second, I had to choose the blade material.  ROM has five different types of steel alloy.  Since I wasn't familiar with these materials, I did some research to learn which one I wanted:
Carbon steel is the basic choice.
Manganese steel has high impact strength and is resistant to abrasion.
Spring steel has some silicon in it, which gives the sword some flexibility and helps it to retain its original shape when twisted or bent.
Pattern steel provides an old-fashioned look to the blade. Centuries ago, katana makers had to fold the steel repeated to work out impurities, which gave it that distinctive "watery" pattern.  Today, the high quality of steel makes this technique unnecessary, but it can still be done to achieve that certain look.
T10 steel has a higher amount of carbon that causes the blade to be tough, sharp, and resistant to scratching.
ROM's website has some information on the types of steel, as do many others.  I recommend doing your own research before selecting the one you want.  I chose the T10 steel.  It costs a bit more, but I think it will be worth it to maintain the edge over time.
Third, I had to choose a blade color.  Each blade material can be made with different colors.  The manganese and pattern steels both had a blue option that looked incredible.  In the end, however, I stuck with T10 and chose hamon black.  Hamon refers to the tempering line of the blade that visually marks the separation of the harder edge from the softer spine.  This is a result of the differential hardening process, where the edge has cooled faster than the spine.  This allows the edge to be harder and sharper.
Fourth, I had to choose whether or not I wanted the blade to have a bo-hi, a groove running along the blade to reduce the weight slightly.  I chose not to have a bo-hi, as weight isn't an issue for me.
Fifth, I had to choose the saya, which is the scabbard.  There are so many choices of colors and styles.  In the end, I chose a simple wooden look, one that is more subtle than flashy.
Sixth, I had to choose the tsuba, which is the guard that protects the hand.  Again, ROM has so many choices, and I went with a nickel-colored tsuba depicting a heron hunting in the water.  I hoped that this color would contrast nicely with the wooden saya and the color of the ito.
Seventh, I had to choose the habaki, which is the collar that helps the blade fit into the scabbard.  The habakis don't come as matching pairs with the tsubas, which is unfortunate, so I chose a color that appeared to be as close as possible to the tsuba.
Eighth, I had to choose the color and material for the ito and sageo.  The ito is the cord used to wrap around the handle, giving it a good grip.  The sageo is attached to the scabbard and is used to tie it the sash (or belt) of the wearer.  I chose a black color to match the blade.  This cord is made from cotton, which is affordable and somewhat durable; if there had been a choice to use silk, I would have selected that instead, as good silk is more durable.
Ninth, I had to the color of the samegawa, which is the material that covers the handle.  The ito is wrapped over the samegawa.  I chose white in order to contrast with the black ito.
Finally, I had the option to add an engraving to the blade.  While I was tempted to find some Japanese characters that meant strength or power or something else cool, in the end, I chose to be more pragmatic and simply add my initials.
Once I made my choices, I simply had to sit back and wait for my custom-made katana to arrive.  ROM's website says that it should take 7 to 10 days, and mine arrived 12 days later.  That's acceptable, given the challenges in shipping these days.
I only have one complaint about the process for selecting the parts of a katana:  lack of information.  ROM's website rarely provides any details about the materials that they use.  I had so many questions, such as:
What is the percentage of carbon used in a carbon steel blade?
Is the blade full tang?
What wood is used for the scabbard I chose?
What metal is used to make the tsuba and habaki that I selected?
What is the samegawa made from?
How is the engraving done?
I wish ROM provided a lot more information on their website for customers to easily find while they are selecting components.  I sent an email to their support team ([email protected]) to ask these questions.  By the next morning—I'm always surprised and pleased when companies respond so promptly—I had answers to my questions:
The steel is 1060.
Yes, it's full tang.
The wood is wenge wood.
The metal is zince alloy (which still isn't a very specific answer).
The samegawa is artificial ray skin.
The engraving is done by laser.
Overall, however, I really enjoyed this part of the process, especially researching the different parts of a katana and learning how they are made.  I'm impressed by the number of choices that ROM offers for each component.
Installation and setup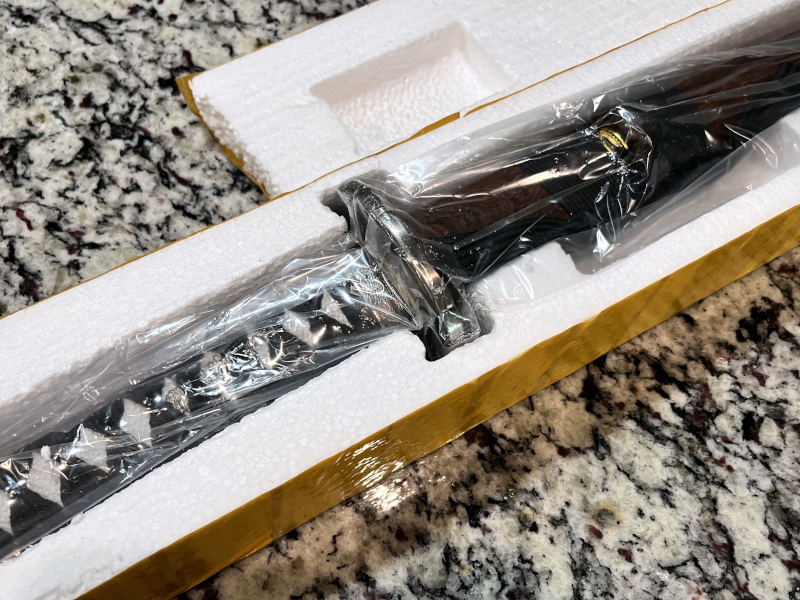 When the katana arrived, I was surprised to learn that it didn't come in a box.  Instead, it was in a long piece of custom styrofoam wrapped with a ton of orange tape.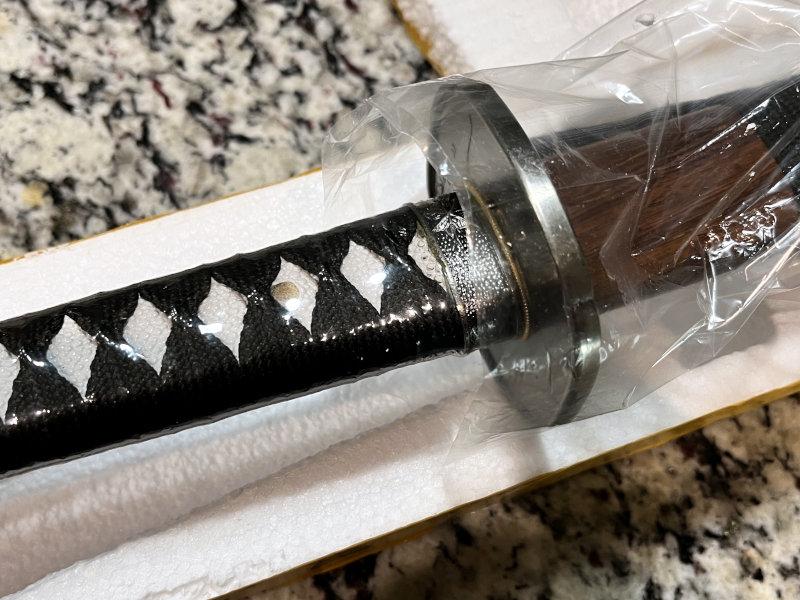 I used a ceramic blade to cut the tape and open the package.  The katana was in a plastic bag, and the handle was shrink-wrapped.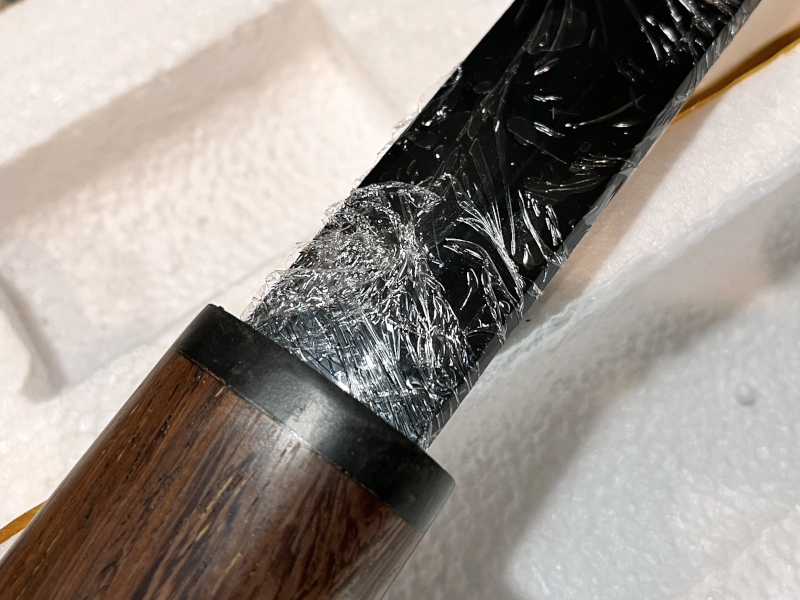 When I removed the blade from the saya, I found that it was wrapped in a saran wrap-like material with plenty of oil to prevent rusting.  ROM certainly did a great job protecting the sword while it was in transit to my house.
Performance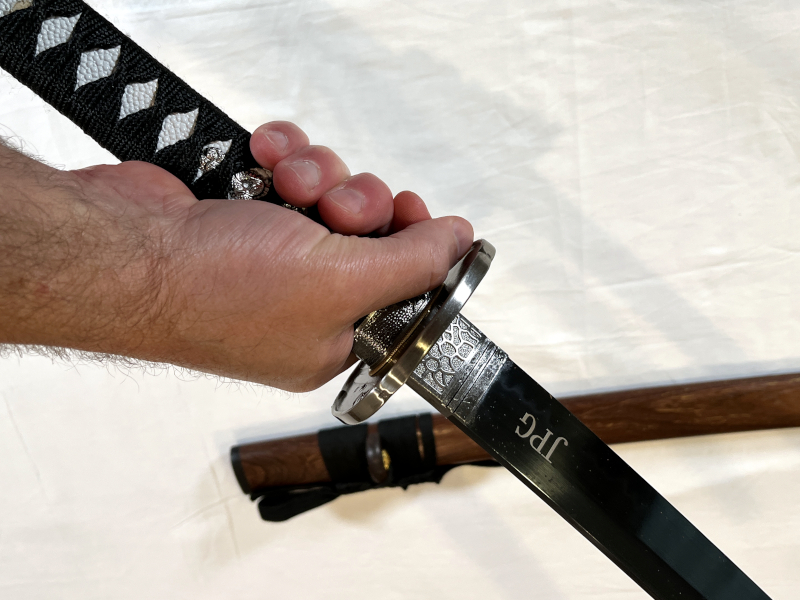 Why would anyone want to buy a katana?  I can think of several possibilities.  Perhaps your house is decorated in an oriental style; a katana on the mantle would be a great addition.  Perhaps you're into one of the martial arts, and you're looking for a weapon for demonstrations.  Maybe you've built an awesome cosplay outfit based upon some anime character (like Sakata Gintoki from Gintama or Sakura Saber from Fate); a katana would be the "piece de resistance" for your ensemble.  It could be a home defense weapon, especially for people who can't have a gun.  Keep in mind that a sword like this does take a fair amount of space to swing properly, so perhaps a long knife would be a better choice, especially for apartments.  Finally, if you've got a man cave or, like me, a home office to decorate, then "it's really cool!" is probably the only reason you need.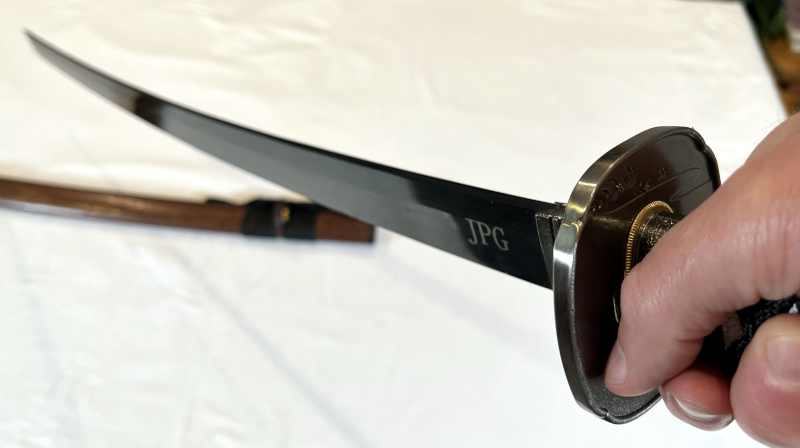 How did the sword turn out?  I like this sword.  I like it a lot.  It feels solid and sturdy and has some good heft to it.  It's well-balanced, feels good in my hands, and swings easily.  There's no movement in the guard or the handle; it's a well-made sword that's going to look great mounted on my wall.
Here are my thoughts on the various parts:
T10 black blade – The black looks absolutely sick; I love this for a color. The hamon is clearly visible.
Saya – I've never seen wenge wood before, but it's beautiful.  The picture on the website looks reddish, but the actual saya is a deep brown, almost black, which I like.  It's not a flashy design, but it's exactly what I wanted.
Tsuba – I don't know how strong this guard really is, if it would actually protect my hand if it were struck by another sword, because I don't really know what "zinc alloy" is. At the least, I can say the heron design looks really nice.
Habaki – The collar does a nice job keeping the blade in the scabbard. There is a visible gap between the blade and the habaki, which is unfortunate; it appears that the collar is not designed specifically for this blade.
Ito and Sageo – ROM took their time with the bindings, as they look very crisp. Out of the box there was some fraying on the cotton—a different material might have been better—but it still gives it a good grip.
Handle and samegawa – The black-on-white is a classic pattern, and it looks really nice.
Engraving – It's a bit bigger than I was expecting, and I'm not sure that I would have chosen a gold color. It's certainly distinctive, however, and absolutely accomplishes the job.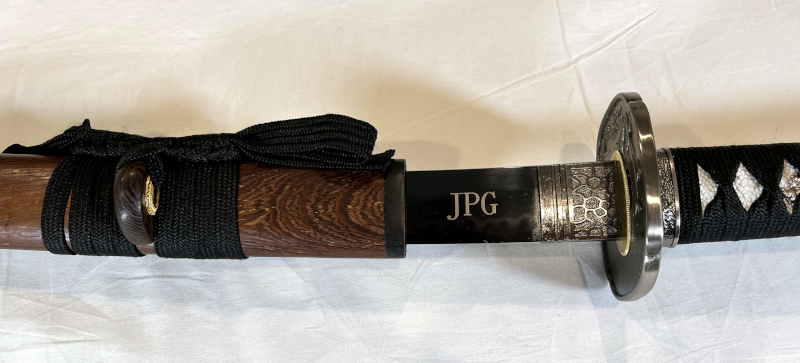 Honestly, there's really not that much to complain about the way this sword looks and feels.  Again, I really like it.  I created this short video to show each part in more detail:
The final question is about the blade itself:  How sharp is it?  There's a definite edge on the blade, but it's not super sharp.  I can press my thumb against the blade with significant force, and there's no chance that it's breaking my skin.  It seems to me to be similar to the edge that I have on the knives in my kitchen.  I created another video to show how sharp the blade is and how well it cuts various things around the house:
Romance of Men assures me that if I had been properly trained, I could have cut through that Pringles can.  I freely admit that I am not a samurai, nor have I had any training in swordsmanship, so please take my video above with a grain of salt.
Extra Features
If a katana isn't your favorite blade, then take a look at the ninjatos, daos, knives, and other weapons that they make.
What I like
Ability to customize every part of the sword
Solid, strong, balanced feel
Amazing look
What I'd change
Add more information about materials on the website
Final thoughts
Romance of Men offers a variety of swords and knives on their website.  Their latest offering, a custom katana, allows buyers to select the materials, colors, and styles used in every part of the sword.  The result is a beautiful and functional weapon that can perfectly complete a room or an outfit.  I have enjoyed learning about the history of katanas and the material used to make them, and more importantly, I really like the katana that ROM made for me. It's a beautiful piece of work whose style matches my personal tastes; I already have a spot planned for it on the wall of my home office.  If you're looking for a handmade katana to match your style, I highly recommend taking a look at Romance of Men.
Price: $180
Where to buy: Romance of Men's online store
Source: The sample for this review was provided by Romance of Men.