We use affiliate links. If you buy something through the links on this page, we may earn a commission at no cost to you. Learn more.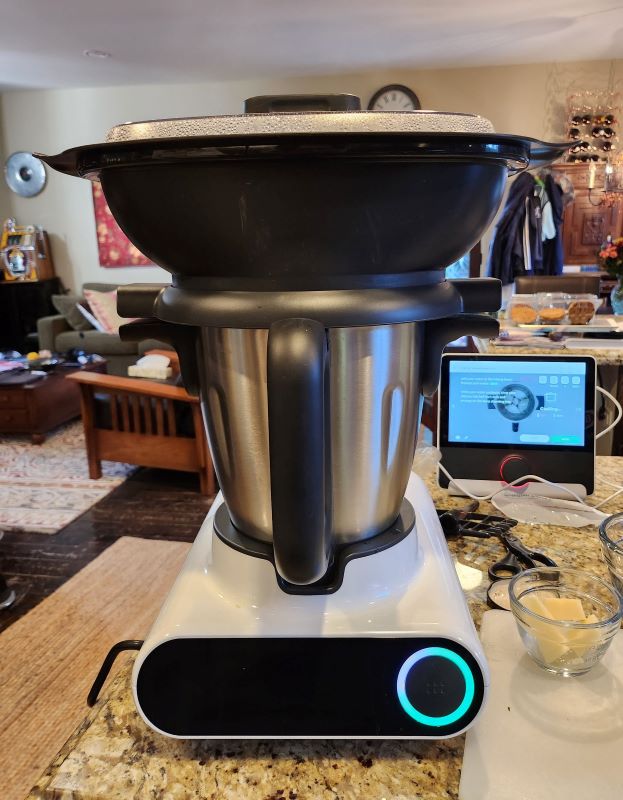 REVIEW –It's gift-giving season and while I don't want to oversell it, one of the best gifts I think you could give to your loved one is one less thing to do.  What if you could give your significant other something that basically takes all the thinking out of cooking?  Like you just toss groceries into an appliance and out comes a Shepherd's Pie?  Well, the CookingPal Multo is striving to be that future-forward kitchen robot, and I tested it out.
What is it?
This is the billion dollar question.  CookingPal's Multo is not like anything you are probably very familiar with.  Think of it like a blender or mixer that also cooks and weighs your food.  This machine can sauté, knead, chop, boil, whisk, sous-vide, grind, mix, stir, keep food warm, and clean itself. The Multo really only has one competitor that you've probably never heard of because these devices are new to the United States, but they are super common in Europe.  They even use them in professional kitchens sometimes because they can emulsify and then hold a sauce at a precise temperature, among other things.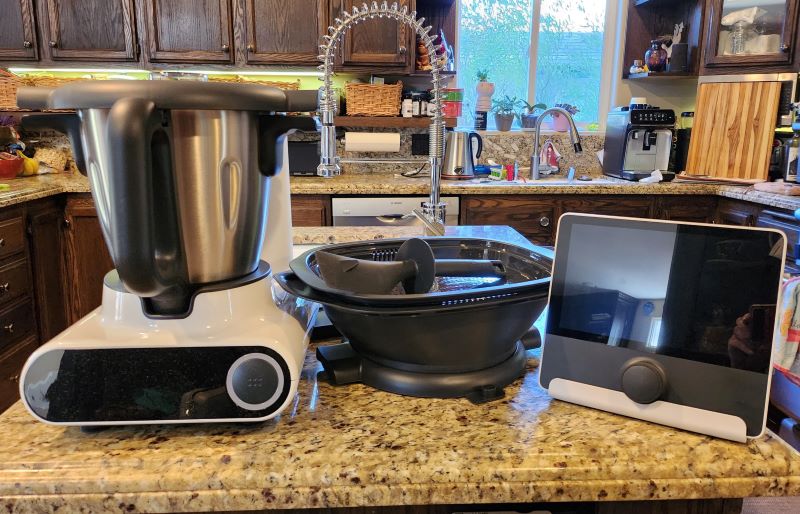 What's in the box?
3-piece steamer set

Lid

Measuring cup

Butterfly whisk

Simmering basket

Blade

Spatula

Mixing bowl

Main Unit

Cooking hub and stand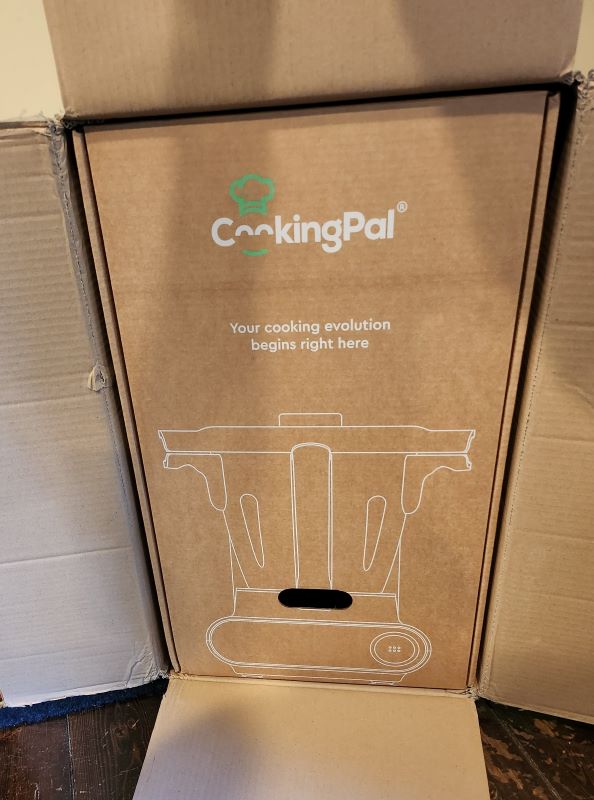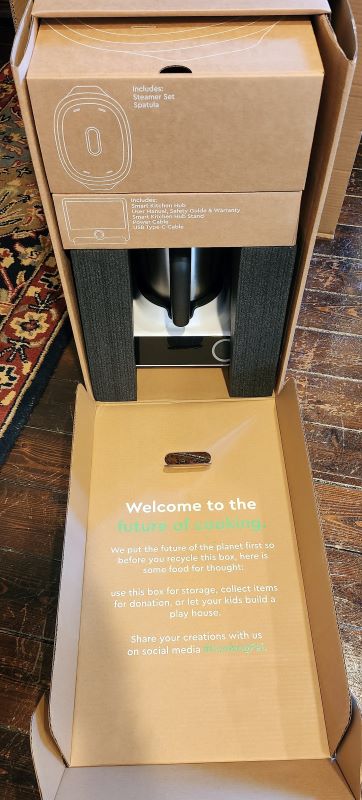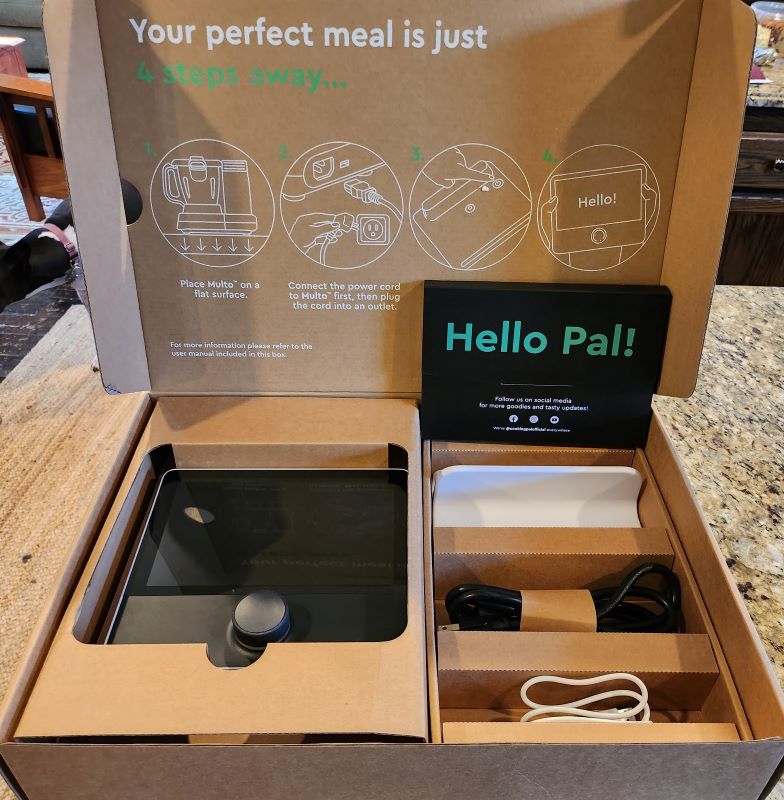 Setup
The CookingPal Multo is a big unit, so unboxing the Multo is probably the hardest part, but all you really need to do is unpack it, wash the parts, and plug it in.  The cooking hub connects to the main unit and then it's just a matter of following the screen on the hub to set up an account and link to your internet.  There is a small tutorial that walks you through how the device works, and of course, there are plenty of videos on CookingPal's site that are meant to make you feel at home with your Multo.  I won't say it's not a bit intimidating – this is a completely different way of cooking – but once you get the hang of it you might miss it when you're not using it.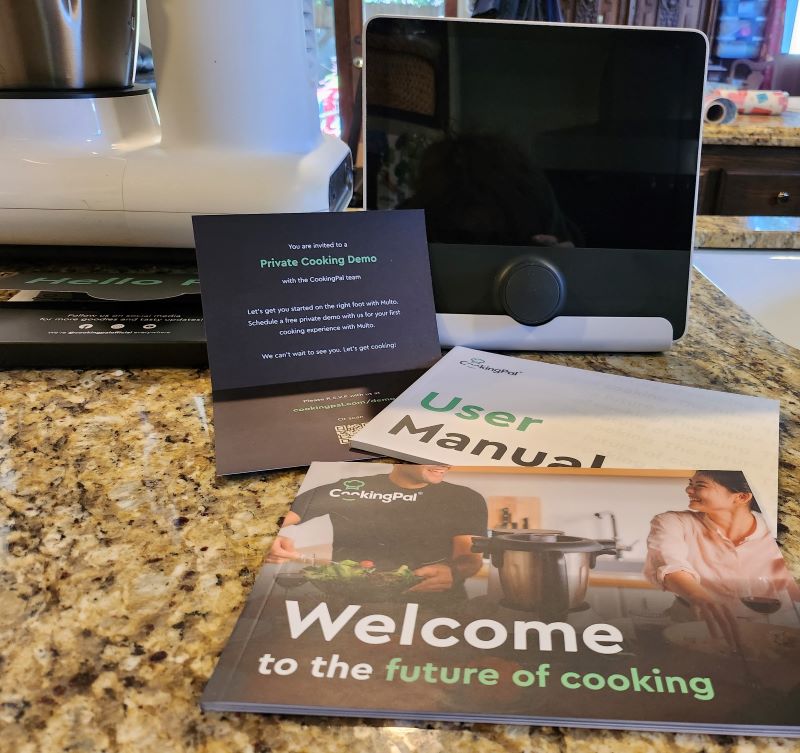 Functions
The CookingPal Multo promises to replace so many devices in your kitchen, but I always feel skeptical about that because how can one machine do so many things well?   One reason is that the cooking hub has plenty of guided recipes that are tested again and again and updated as they are improved.  So for my tests, I stuck to the guided recipes for the most part.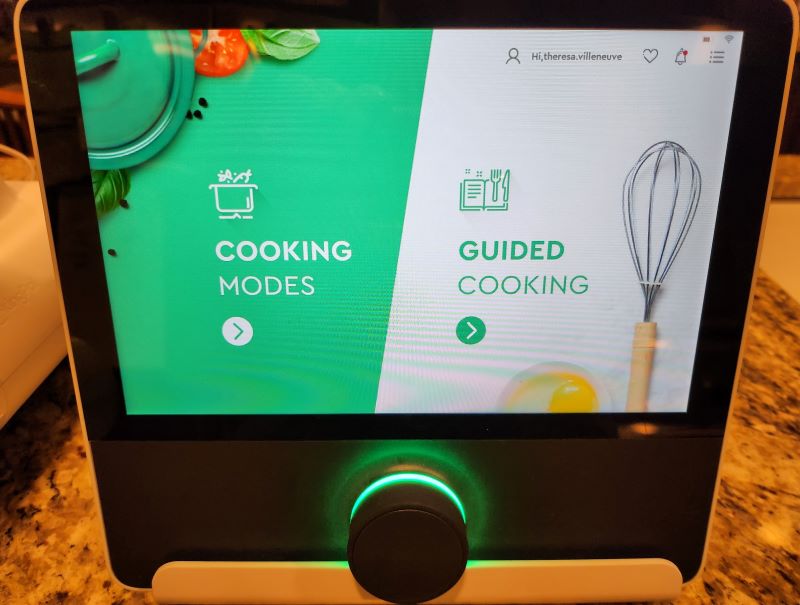 While I was waiting for my CookingPal Multo to arrive, I joined the CookingPal Multo group on social media.  On Facebook, they have a guy named Chef Jamie who cooks things live every Thursday night, and you can join him and cook the same recipe right along with him.  Once I got my Multo, one of the first things they want you to do is schedule a cooking lesson with Chef Jamie, so I was pretty excited when the lesson rolled around!   I had already made one beginner recipe – potato salad with a basil vinaigrette that turned out OK, so I picked something more advanced called "Marry Me Chicken" to do at my lesson.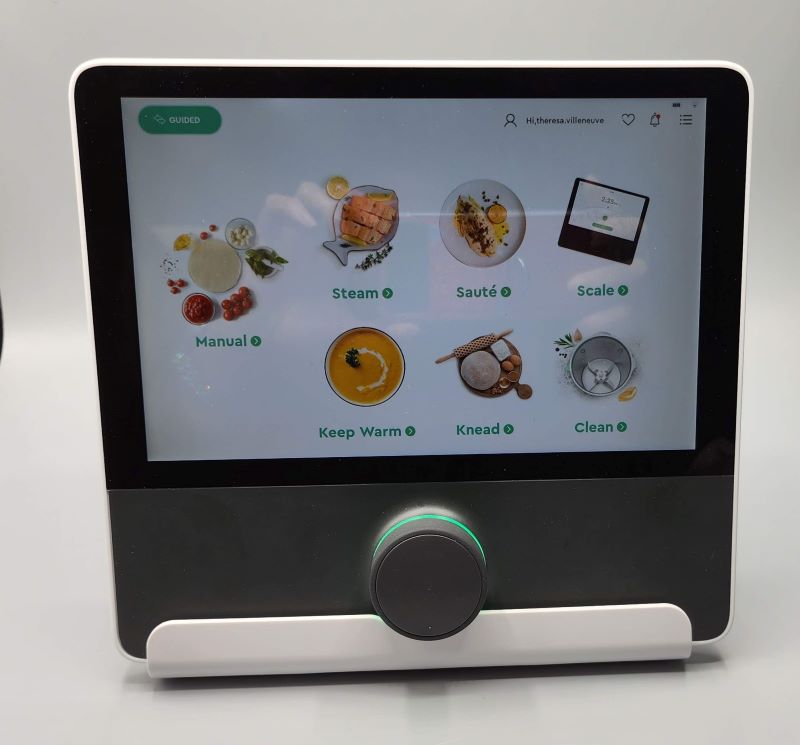 "Marry Me Chicken" is a pasta dish with chicken, bacon, and sundried tomato-based sauce.    Now, I hate to start with a gripe but the way the recipe is formatted drives me a little nuts.  They have ingredients listed and the amounts for each item are listed, mostly by weight.  Once you are ready to cook, you go to the next page that says simply, "gather your ingredients"  You can flip over to a tab that shows you the ingredients, but it doesn't say how they should be prepared. For instance, it lists 1.5 pounds of boneless chicken breast, but it doesn't say "cubed" or "pounded" or anything like that.  The bottom line is that it slows me down.  If I have to stop and cut up chicken mid-recipe, then I have to wash up so I don't kill my family with salmonella,  that kind of throws off my mojo. What I've decided to do is just flip through the recipe before it starts to see how things should be prepped, but I would think it would be an easy thing for Multo to add "cubed" to the chicken in the ingredients list so that I can prep the chicken when I'm getting it out in the first place.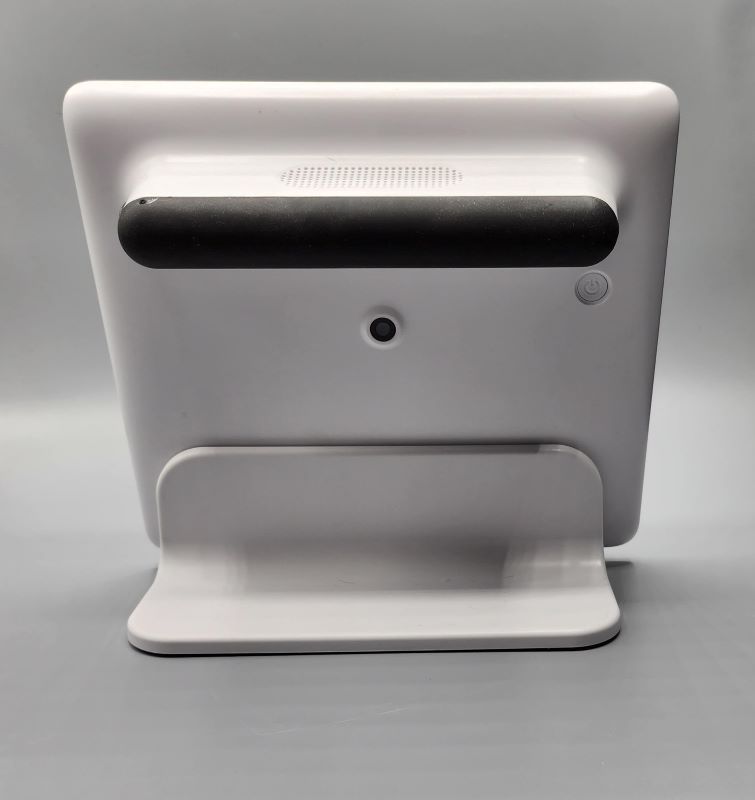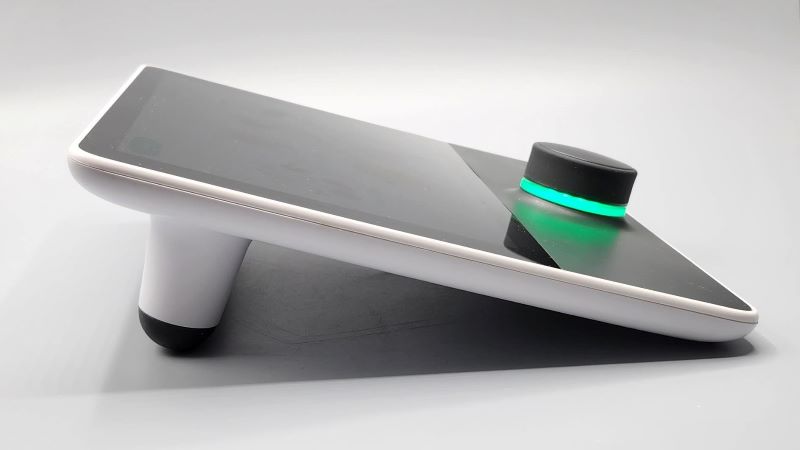 The first step is to prepare the parmesan.  The hub tells you exactly what to put in the mixing pot and you can measure each ingredient as you go because the unit is also a scale.  A tare function lets you reset for each ingredient, and if you want to weigh your stuff beforehand, the entire unit is a scale, so you can use the flat part of the main unit to weigh your stuff beforehand.  Once you get everything in there, you press start on the hub and the unit takes care of the next step.  In this case, it was chopping the parmesan cheese.  I threw in a couple of hunks and some parsley and hit the start button on the hub. The Multo created some crumbles but there were still a few larger chunks.  I pressed start again and the results were nice and uniform.
In the middle of my food journey, it was time to wash the CookingPal Multo.  This can be done in the pot by putting in some soap and water and pressing the long or short clean choice on the hub's start page.  I just hauled it over to the sink and gave it a quick once over since I'm not the cook that needs a spotless pot for the next step.  I'm the cook who throws it in the dishwasher after I'm all done with the real cleaning.  The Multo mixing pot and all the accessories are dishwasher safe.  
The next step was adding the ingredients for the sauce.  I added bacon, garlic cloves, and some sundried tomatoes, with the Multo weighing the ingredients as I added them.  I hit start and the Multo blended them into a puree, and then I added some butter and the hub told me to remove the measuring cup from the lid and hit start.  The Multo began to sauté the ingredients while stirring for five minutes.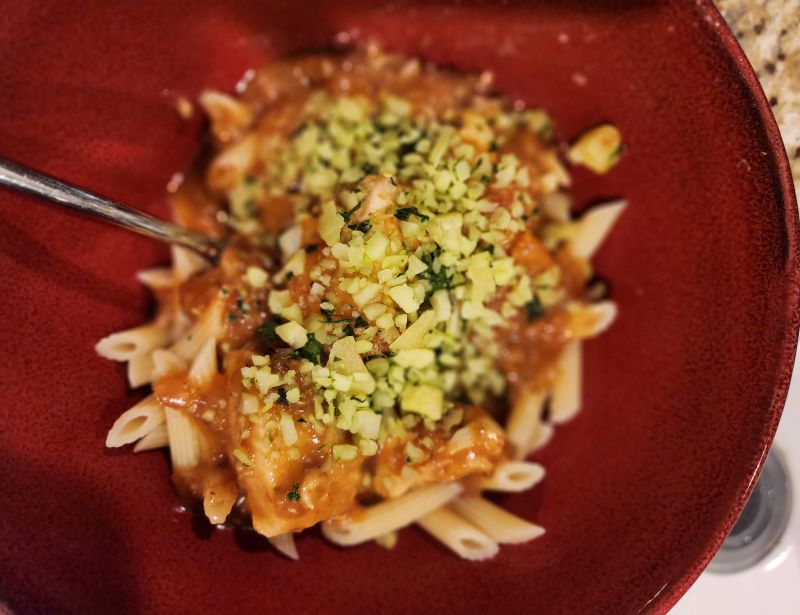 Chef Jamie pointed out that the bottom of the mixing bowl isn't huge, so whenever you sauté you're probably not going to get a nice caramelized brown result, but it will cook.  Ditto for when you steam the chicken, which was a further step.  The lid of the Multo can be replaced with a shallow and a deep steaming basket which would allow you to prepare a sauce or soup in the mixing pot, a protein in the shallow steamer, and some vegetables in the top steamer.  A full meal is all created on one device. Is this likely to happen in my house?  It might.  I could definitely see a creamy dill sauce in the mixing bowl, a hunk of salmon in the steamer, and some asparagus in the shallow top steamer.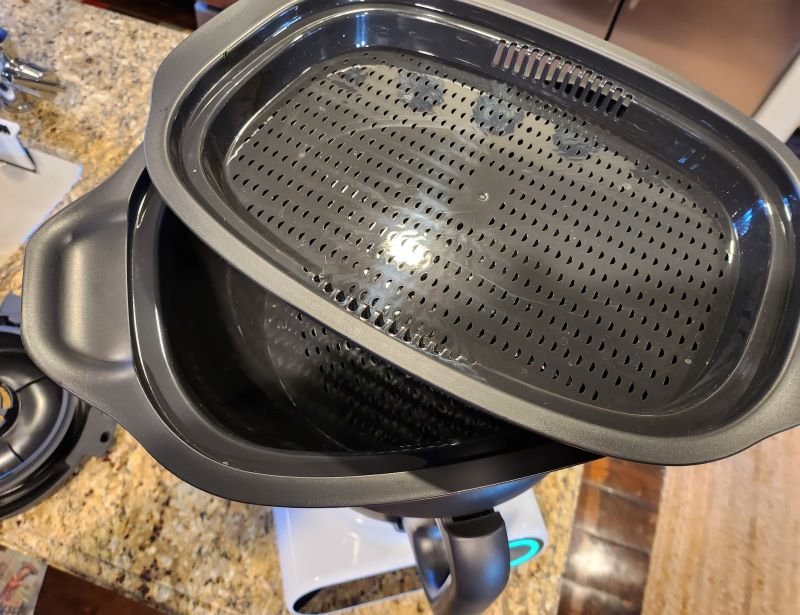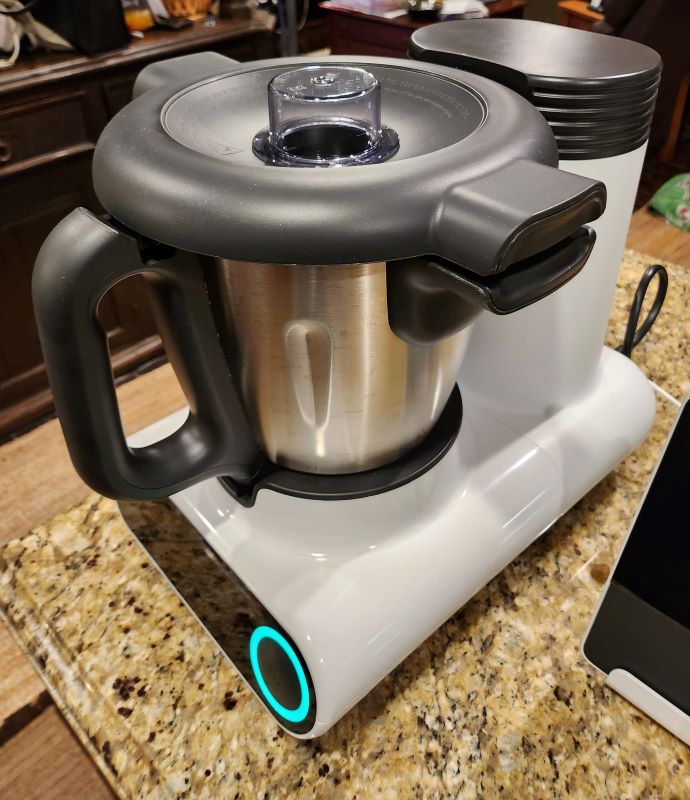 The Multo has benefitted from some very thoughtful engineering, and I think that's maybe one of the most impressive things about it.  Engineered in Germany (just like its closest competitor), it feels like every piece has been made to serve several functions.  Take, for example, the lid.  It is concave and has a plastic measuring cup that fits in the top.  The well of the lid both prevents boil overs (because it comes up in the well) but also can be used if you're emulsifying something that needs oil gradually added to the mix.  You just flip the measuring cup upside down, pour the oil into the well of the lid and it will gradually drip the oil in.  I can't wait to try that when I make toum (Lebanese sauce) next time.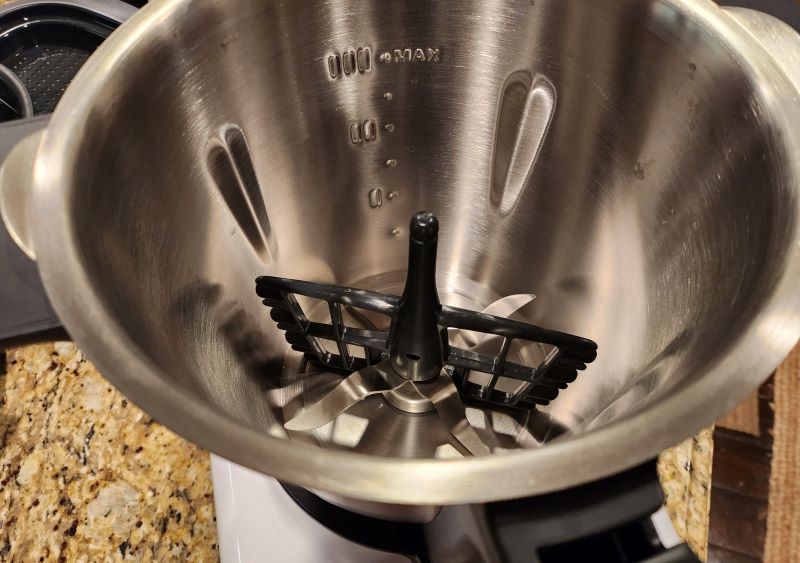 The spatula that comes with the CookingPal Multo also has several jobs.  It can be used in place of the measuring cup if you're mixing a larger quantity.  The collar that makes it sit in the lid is flat on one side so you can set it down on your countertop without getting anything dirty, and there is a small hook on the side of the spatula that is designed to help you lift the simmering basket out of the mixing bowl if it's hot.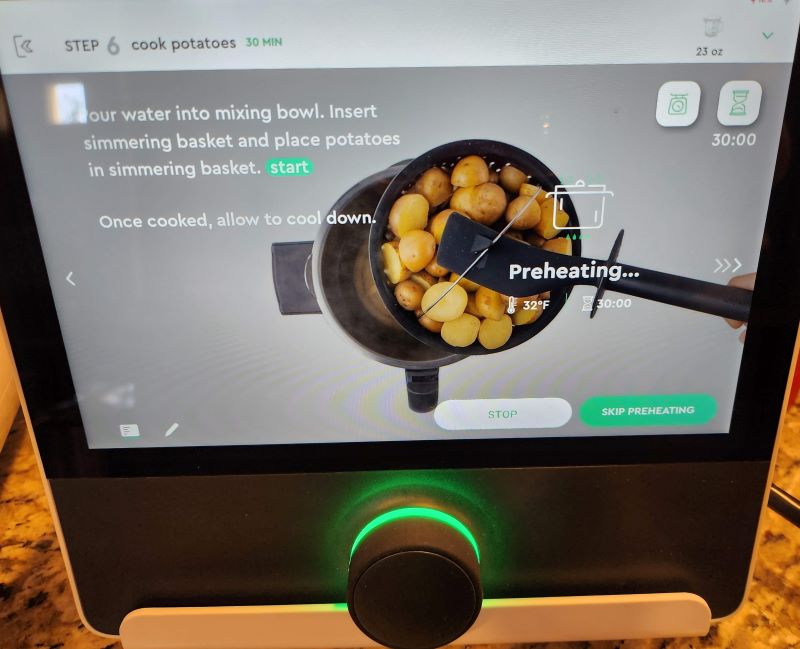 My "Marry Me Chicken"  turned out great.  Was it easy?  It was a bit nerve-wracking, to be honest, because I was trying to chat with Chef Jamie and cook the dish and take the occasional photo.  But my next recipe was much easier and I began to see how the Multo saves time and effort.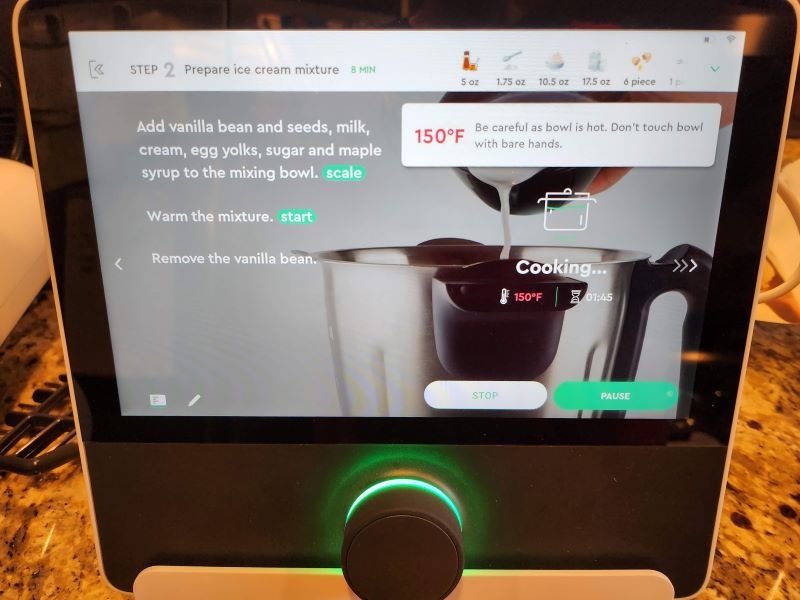 My next recipe was maple pecan ice cream.  Now, I just purchased a popular product for making ice cream named after stealthy Japanese assassins, and I was super excited to see if I could unload that baby on Facebook Marketplace because I now had the one appliance to rule them all.  The answer is that the results were good but it was a bit fussy to make.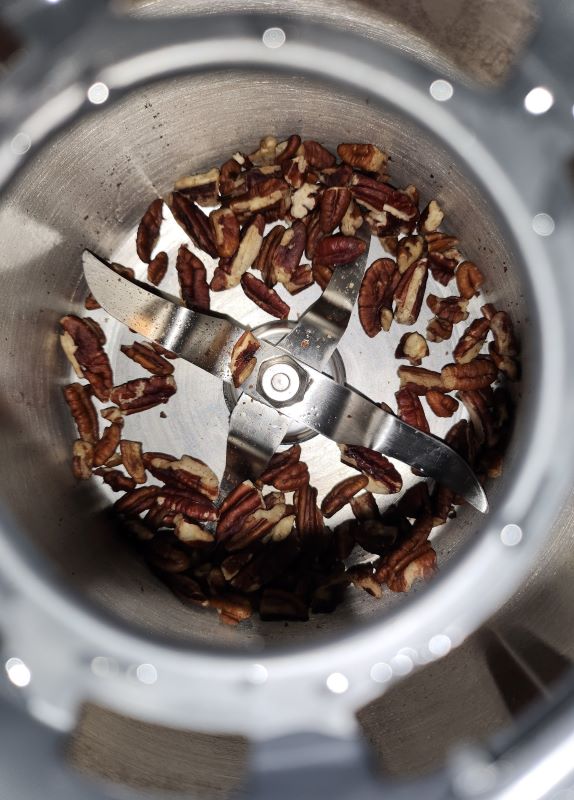 The idea is that you roast the nuts in the mixing pot and then blend all your ice cream ingredients together in the CookingPal Multo.  So far, so easy.  However, then you pour those ingredients into a container and freeze it for at least 10 hours, then cut it into chunks and put it in the Multo to blend.  I found the cutting kind of hard and I had to kind of pry the chunks out of my container, so that's my gripe.  The blending produces a soft serve texture, which made me want to eat it right then.  I probably would have but it was melting kind of fast, so I followed the directions to pop it in the freezer for another two hours.  The ice cream is great, and if I didn't have another device that skipped the cutting and prying part I would be making this one on rotation.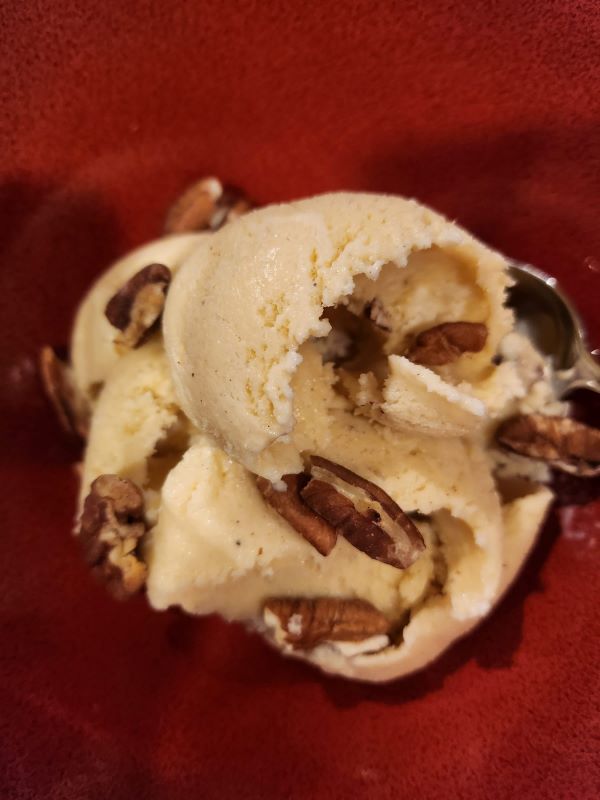 The recipe hub has a wide variety of recipes that I want to try, and over the holiday break I plan on diving into some of them.  In addition to main courses, the Multo can make drinks, desserts and baked goods, dips and spreads, soups, snacks, sides and also provides recipes for special diets, like vegan and keto.  The hub lists all the nutrition values and gives each recipe a "Beginner" "Intermediate" and "Expert" rating so you know what you're getting into before you start.  It also allows users to favorite recipes for easier access.  It would be neat if you could sort or filter your favorites in sort of a Pinterest kind of list, but maybe that will happen eventually. The Multo gets over-the-air updates sort of like a Tesla.  The recipes and the unit itself are constantly being improved.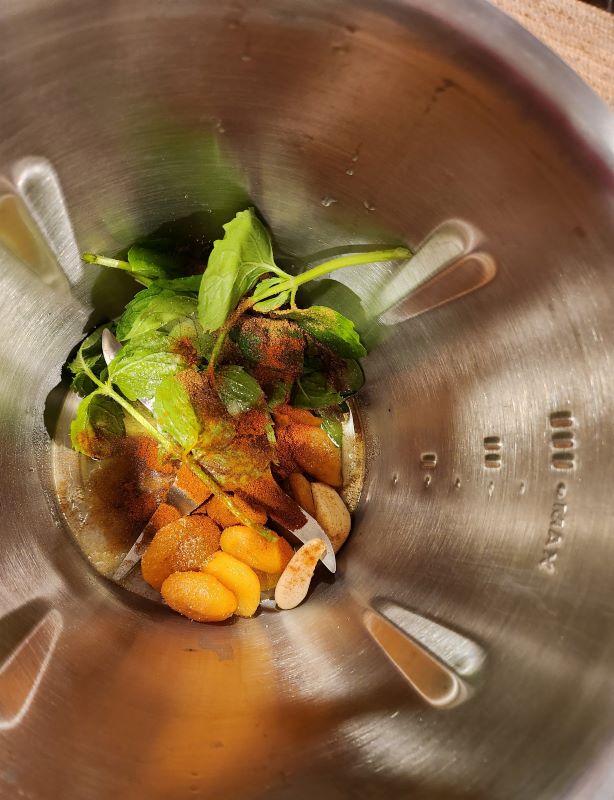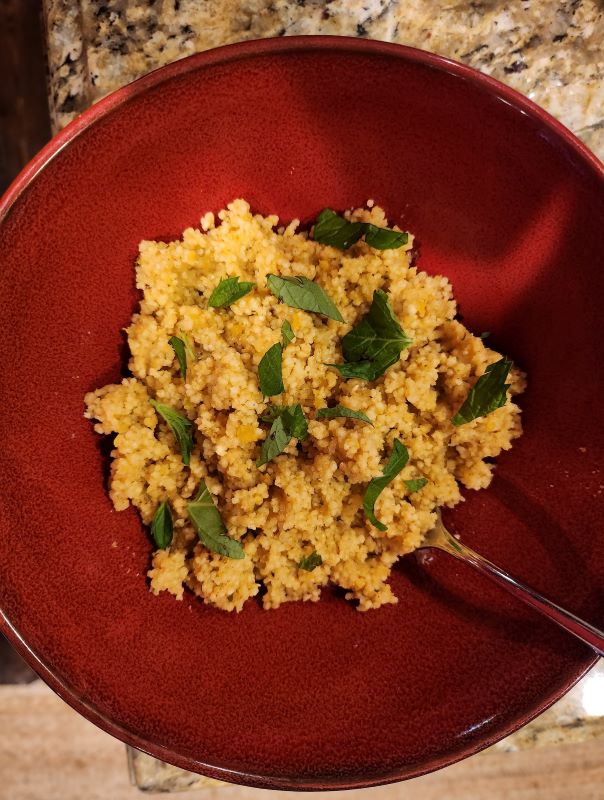 While I was waiting for my CookingPal Multo to arrive, I did a little online research into the Multo's prime competitor, the Thermomix.  Thermomix has been around a long time and from what I could gather from their user groups, the number one complaint is their technology.  Apparently, their hub, which is attached to the machine,  is laggy and buggy at times.   I can say that I didn't find that with the Multo.   The hub worked really well and I liked the fact that I could take a picture with the hub to file with the recipe for future reference and make and save notes.  I especially liked that I could unplug the hub, go sit on the sofa and browse recipes I'd like to make.   
There are several other meaningful differences I discovered between the Multo and its competitor, the first being that the Multo is $500 cheaper than the Thermomix, and the Thermomix charges users a fee to access recipes. I think that's sort of like selling a car and charging a yearly fee for using the windshield wipers.  Perhaps the biggest difference, however, is that the other brand doesn't let you use their machine on its highest settings in manual mode.  I would find this super annoying, and I'm really pleased that I can use the Multo to its maximum capability whenever I want.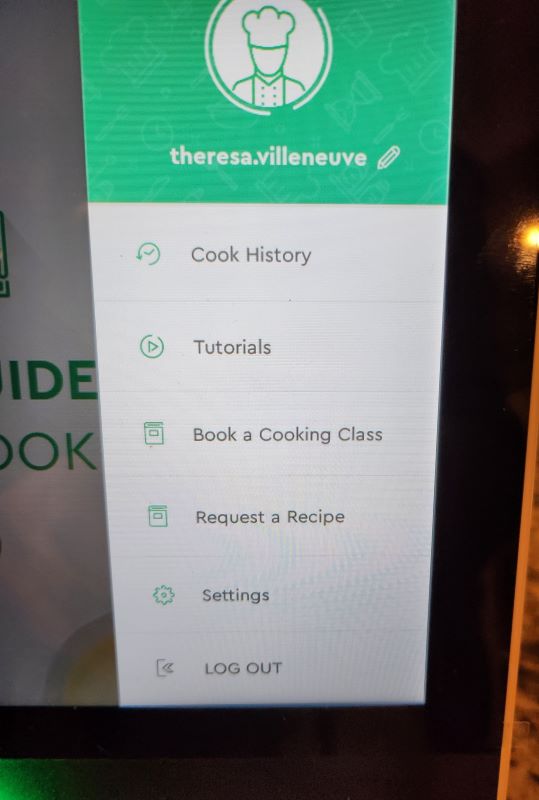 Another cool feature that Chef Jamie hinted at was that CookingPal is planning on expanding their line of appliances and having the hub work with all the pieces.  He wouldn't say what was coming down the line, but I could imagine a toaster oven or a pressure cooker would really expand what is possible.   It would also be neat if you could shoot all the ingredients listed on the hub over to a shopping list that you could access on your phone.
Another thing that I think would be really cool would be if there was a way to use the Multo in manual mode to make your favorite recipe and then save the settings so that you could use it in guided mode.  Perhaps you could share that recipe and those settings in a user group so others could try your dish.  I don't know if that is even a possibility, but that kind of thing could really create an active user community.   I guess I'm full of suggestions…maybe they want to hire me!
I should also mention that the Multo is definitely an investment, but if you're thinking of it as a gift for someone, it's pretty much a guarantee that this isn't something they already have. If you look at how many devices it can replace, you can see the value is there and if you buy it directly from CookingPal, they seem to have specials that change monthly.
What I liked
Requires little thinking in guided recipe mode since the machine knows what to do.

Very powerful and well engineered.

Feature-rich and could replace many appliances.
What I would change
Be more specific in ingredients list.
Final thoughts
The Multo is a real game changer in the kitchen. It's not without a learning curve, but it has the potential to be the MVP of kitchen appliances.  I love the fact that it has so much potential, and the fact that it's engineered so well speaks to the fact that updates and expansion in the future could prove very exciting!
Price: $999.00
Where to buy:  CookingPal and Amazon
Source: The sample for this review was provided by CookingPal