We use affiliate links. If you buy something through the links on this page, we may earn a commission at no cost to you. Learn more.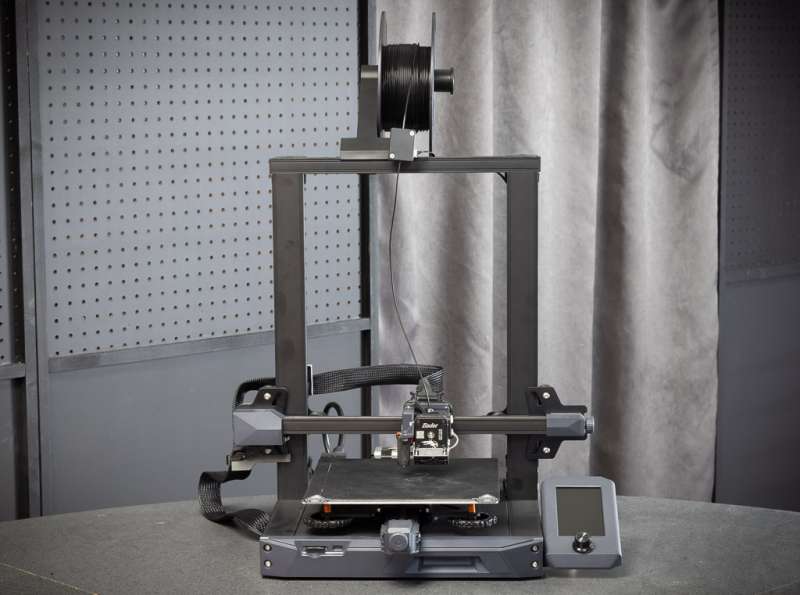 REVIEW – When Creality offered to send me their Ender-3 S1 3D printer to review, I had quite a dilemma. I wasn't impressed by their software from the CR-Lizard 3D Scanner, but their printers seemed quite popular. Of course, I opted for doing the review but read on to see if it was a good choice.
What is it?
The Creality Ender-3 S1 is a fused deposition modeling (FDM) 3D printer featuring auto-leveling and a direct drive extruder.
What's in the box?
Creality Ender-3 S1 3D printer base
Gantry Frame
Nozzle kit w/ wire clamp
Spool holder
Display and bracket
Filament sensor
Sample filament
Spare nozzle
SD card and reader
Tools: Spade, diagonal pliers, wrench, screwdriver, hex keys, nozzle cleaner
Instruction Guide
Hardware specs
220 x 220 x 270 mm print bed

"Sprite" direct-drive dual-gear extruder

150mm/s max print speed

0.4mm nozzle

0.1mm accuracy

0.05-0.35mm layer thickness

1.75mm filament

260C max nozzle temperature

100C max heat bed temperature

CR Touch automatic bed leveling

High-precision dual Z-axis

32-bit silent mainboard

Supports PLA/TPU/PETG/ABS filaments

Filament runout sensor w/ resume printing capability

Quick Assembling

PC spring steel print sheet

4.3-inch LCD screen with knob control
Design and features
Assembly of the Creality Ender-3 S1 3D printer was extremely easy. It consisted of four screws in the nozzle assembly, four in the gantry, and three for the display mounting bracket, poping on the filament spool holder, and plugging in a few connectors. It will take you longer to read the instructions to find out which screws go where than it will to assemble. Don't forget to switch the power supply to 115v or 230v depending on your main power.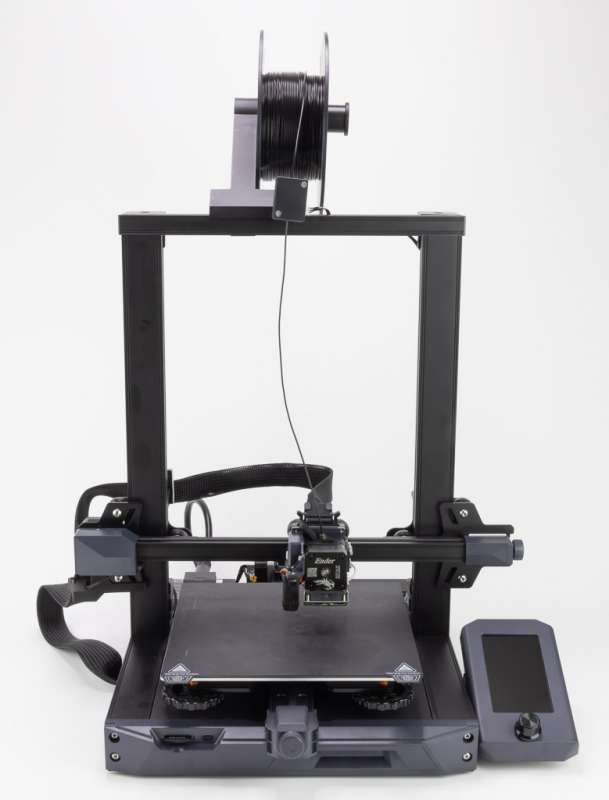 The Ender-3 S1 3D printer has a drawer in the front of the base that measures about 170 x 115 x 25mm (6.75 x 4.6 x 1 inch) of usable space. I found this to be an excellent place to store spare parts.
I was initially apprehensive about the 4.3-inch LCD screen lacking touch capability. However, after using the control knob for a little while, I found it wasn't as bad as I thought it would be. The knob control was actually quicker for some tasks than a touch screen.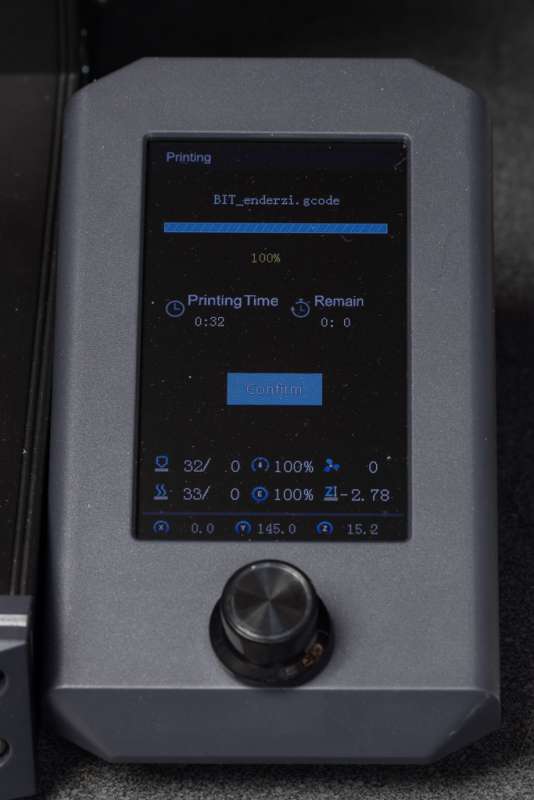 The machine turns on and boots quickly, taking only about 6 seconds. Three clicks of the knob to the right and a knob press starts the leveling procedure. The automatic calibration of 16 points across the bed's surface takes about three minutes. The automatic bed leveling compensates for bed variations as the printhead moves across the bed surface. If there's a low or high spot, the printer will compensate for that.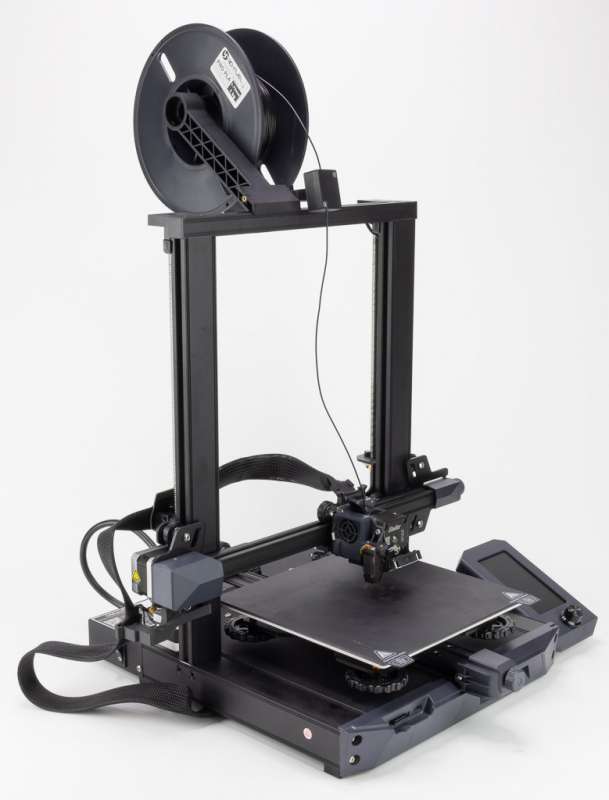 Next was preparing the Z-offset compensation value. This is perhaps the most important part of setting up a 3D printer. The Z-axis compensation sets the initial distance between the nozzle and the print bed. Fine-tuning this can take a bit of practice on some printers. This step is performed by placing a piece of A4 paper between the nozzle and the print bed and adjusting the Z-offset setting until there is slight resistance when moving the paper under the nozzle. I believe it is better to err on having the Z-offset too high and then lowering it if needed rather than having it too low and damaging the print bed.
This is where I found one of the things I think could be improved with the Creality Ender-3 S1 3D printer. The CR touch sensor and the cooling fan are on the front of the nozzle assembly. It is difficult to see the nozzle when sitting on a standard desk unless you look from the side at about a 45-degree angle. Certainly not a deal-breaker, just something that could be improved.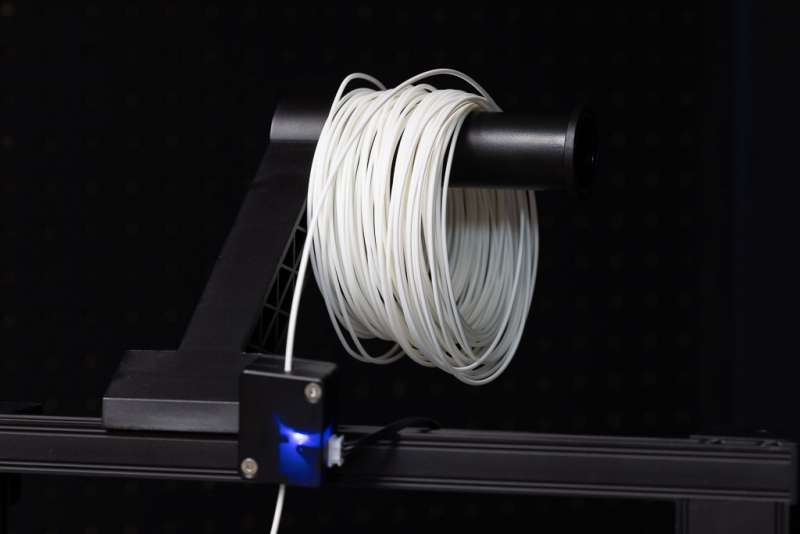 Loading the filament isn't covered very well in the manual. The manual states, "Heat the nozzle to above 185°C," but it doesn't tell you how to do that. There are two ways to do this. The first method is to select Prepare->Preheat PLA. The second method is to use Control->Temperature->Nozzle Temperature. Also in the Nozzle Temperature section are the settings for the Preheat PLA/Preheat ABS presets mentioned in the first method.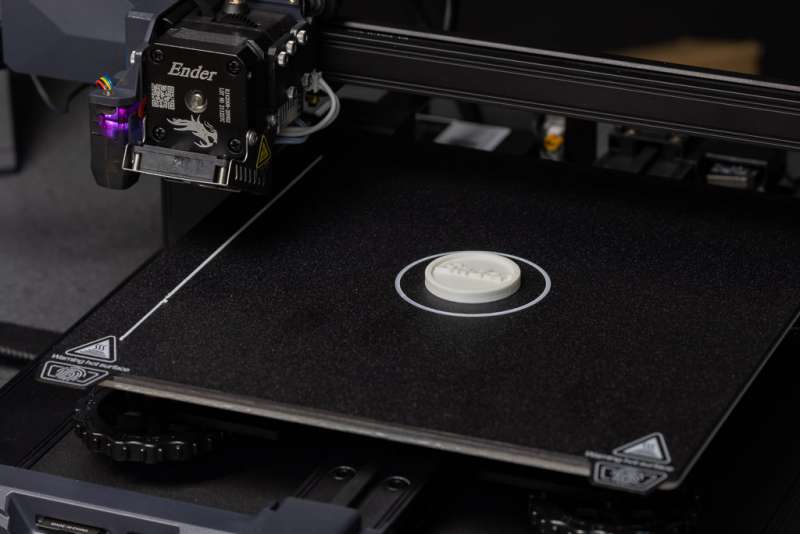 When loading the filament, I did not know that the lever next to the extruder filament hole was to release pressure on the drive gears so that the filament could be manually pushed into the extruder. The manual also does not cover this. My other printers use a different method for this lever. I thought that the lever was maybe a tab that could be used to handle the extruder when it was hot. I eventually figured out that pressing this lever to the left made loading the filament very easy.
The remainder of the manual instructs you how to download the Creality Slicer software, which is just a custom build of Ultimaker Cura.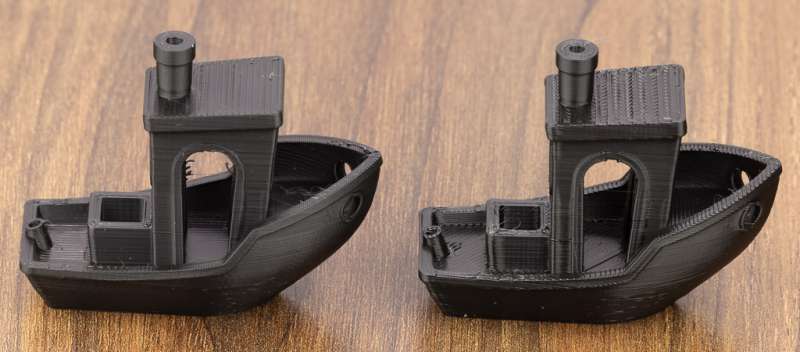 I found that I really like the overall design of the nozzle assembly. The ribbon cable connector and four screws make it very easy to remove for maintenance. If you want to make it even easier to remove, check out Proper Printing's Simple Tool Changer. 

The easily removed sprite extruder makes it possible to easily change the tool head for the optional all-metal high temp (300C) extruder and possibly other accessories in the future. Or, if you wanted, you could have a second extruder with a different size nozzle. The extruder assembly also includes two fans, one for hot end cooling and one for layer cooling. 

Perhaps the most significant problem users have with 3D printing is bed adhesion. Before flexible build plates, getting prints to stick to the build surface could be tricky. Creality prevents this problem by including a magnetic PC spring build plate with the Creality Ender-3 S1 3D printer. No tape or glue is required. My initial impression was that the supplied filament almost stuck too well and was a little tricky to remove at first. However, I found that the print removal was easier if I removed the plate and let it cool first. I also found that my preferred filament, 3D Fuel Pro PLA, was easier to remove. Part of the print sticking too well may have also been due to the sample filament that Creality supplies with the printer.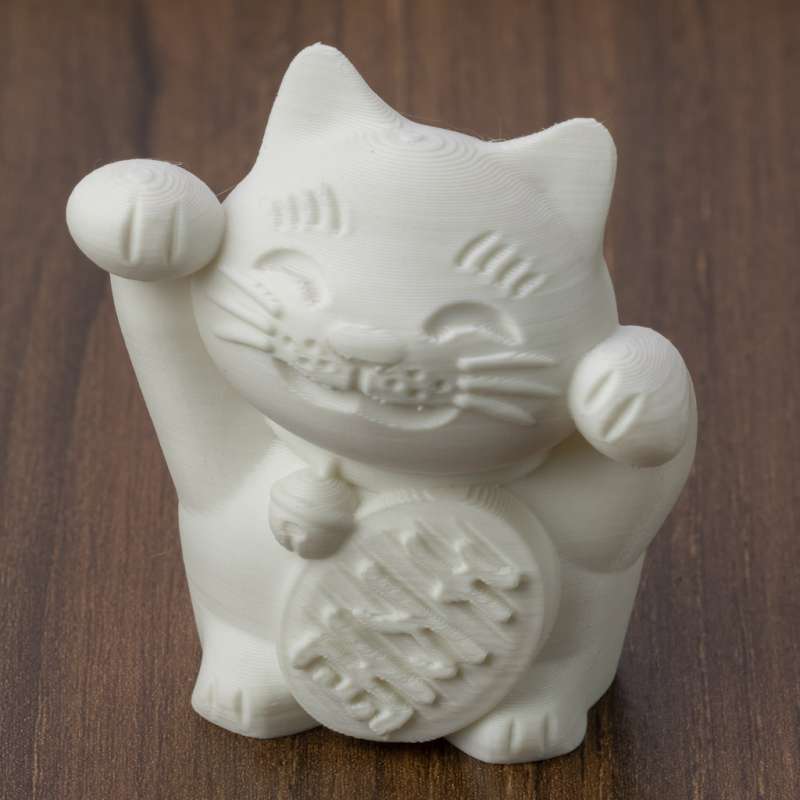 Of course, you're wondering how well it prints. I must say, except for my very expensive Markforged Mark Two 3D printer, the Creality Ender-3 S1 has produced better prints than my Kywoo3D printers. The Z-offset is also easier to set up than the Kywoo3D printers. The S1 is also very quiet when printing.
One thing that the Creality Ender-3 S1 is missing is WiFi connectivity. In this age, transferring files via an SD card is simply an annoyance. If you're just printing one model every now and then, it's not too bad. However, if you're making prototype changes and re-printing, it quickly becomes old.
I was very impressed with the heat bed wiring. Typically this is something that printer manufacturers don't spend a lot of time designing, normally just running the wiring directly to the head pads. Creality has implemented a very nice cable and connection point at the back of the bed, eliminating any worries about the wiring breaking over time.
Creality also includes a Z-axis limit switch for use with hot ends that don't have a BL/CR touch module.
What I like
Removable Sprite extruder (hot end) for easy nozzle maintenance
Auto Bed Leveling
Wiring and Routing of it is great
Filament Runout and Power recovery
Direct Drive Extruder
PC Spring Steel Sheet
Synchronized Dual Z-Axis
Quiet
Full-size SD card is nice
What I'd change
English translations in documentation need a lot of work.
External Wiring setup could be better
Small bed (220x220x270)
Sample filament included with the machine is not on a spool.
Does not have WiFi.
Final thoughts
Overall, the Creality Ender-3 S1 is a superb 3D printer. It would be perfect for someone that is a beginner. It is easy to upgrade and prints really great. Some of the small details impressed me very much and have given me a whole new outlook on Creality. Well done Creality, well done.
Price: $399.00
Where to buy: Creality store and Amazon
Source: The sample of this product was provided by Creality.