We use affiliate links. If you buy something through the links on this page, we may earn a commission at no cost to you. Learn more.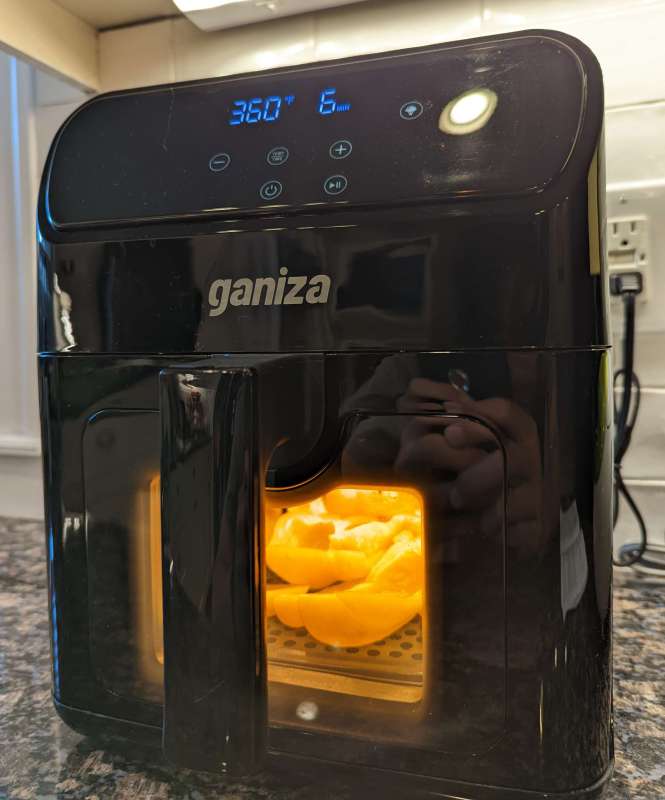 REVIEW – We got an air fryer as a gift a couple of years ago and we didn't even take it out of the box for several months because we didn't think we would use it that much. When we finally did open it up to give it a shot the air fryer became our go-to appliance. Using it daily though took a toll on the pan and admittedly we weren't very careful to protect the Teflon coating so it has worn away to the point where the pan will rust if there's any water in it so I jumped at the chance to review the Ganiza 6 Quart Air Fryer. Let's see if the Ganiza Air Fryer can take over cooking duties.
What is it?
The Ganiza Air Fryer is a small oilless oven with a viewing window and 13 function touch screen interface. It uses hot air convection to cook food quickly without having to use oil.

What's in the box?
Ganiza Air Fryer
Removable non stick rack
Manual
Specifications
Weight: 12 pounds
Dimensions: 13.38"L x 10.63"W x 12.99"H
Voltage: 120 Volt only
Capacity: 6 quarts
Temperature range: 150 to 400 degrees F in 10 degree increments
Touchscreen with auto-shutoff
11 preset recipes (steak, chicken, seafood, shrimp, bacon, frozen food, french fries, vegetables, root vegetable, bread, air-dry)
2 assist cooking functions (preheat and keep warm)
Dishwasher safe tray and basket pan
Design and features
The Ganiza Air Fryer conforms to the typical air fryer squarish shape. It isn't as big as our previous air fryer which I like since now it can fit on the kitchen counter under the cabinet with plenty of room to spare. I was most excited about the window since when making french fries or tofu we would constantly have to pull the basket out to check it so the window is a great feature.
The Ganiza Air Fryer has 11 preset functions which are steak, chicken, seafood, shrimp, bacon, frozen food, french fries, vegetables, root vegetable, bread, and air-dry displayed as little picture icons. You also have two assisted cooking functions that are preheat and keep warm. The temperature can be adjusted from 150 to 400 degrees Fahrenheit in 10-degree increments and the time can be set from 1 to 60 minutes in 1-minute increments. While cooking there is a beeping shake reminder to let you know when to shake the basket and the light comes on so you can look through the window and check your progress.
I cooked some french fries and they were very crunchy and perfect. I also tried some frozen gyoza's just to see what would happen and the gyoza's cooked all the way through and were very crunchy as well and a lot less trouble to cook that way versus in a pan.
I used the Ganiza Air Fryer with the tray and without just to see if there was a difference and the tray allows better air flow under the food and results in crunchier fries in less time since it isn't really the contact with the pan that is crisping the food but the air contact so more air contact the better.
I tossed some broccoli, asparagus, small tomatoes, and garlic in some olive oil with just some salt and pepper and cooked everything on the vegetable setting and the broccoli was super crunchy with everything else was just normal crunchy. Obviously, the more water a vegetable has in it the longer it will take to get crunchy so just be aware and cook similar items together if you want them all to be the same level of done.
There is room for four chicken thighs and using the chicken preset they were done after 24 minutes. I put a little olive oil and then a dry rub on each thigh and they came out perfect.
What I like
It has a window!
Easy cleanup
Simple touchscreen
What I'd change
Final thoughts
The Ganiza 6 Quart Air Fryer is really easy to use and clean. We have used it daily for a couple of weeks and it consistently does a great job on tofu, chicken nuggets, broccoli, fries, chicken, and everything else we've tried in it. The window is an awesome feature and now I can't do without it. If you are in the market for an air fryer the Ganiza 6 Quart Air Fryer gets two Gadgeteer thumbs up from me.
Price: $89.98
Where to buy: Amazon
Source: The sample for this review was provided by Ganiza.