We use affiliate links. If you buy something through the links on this page, we may earn a commission at no cost to you. Learn more.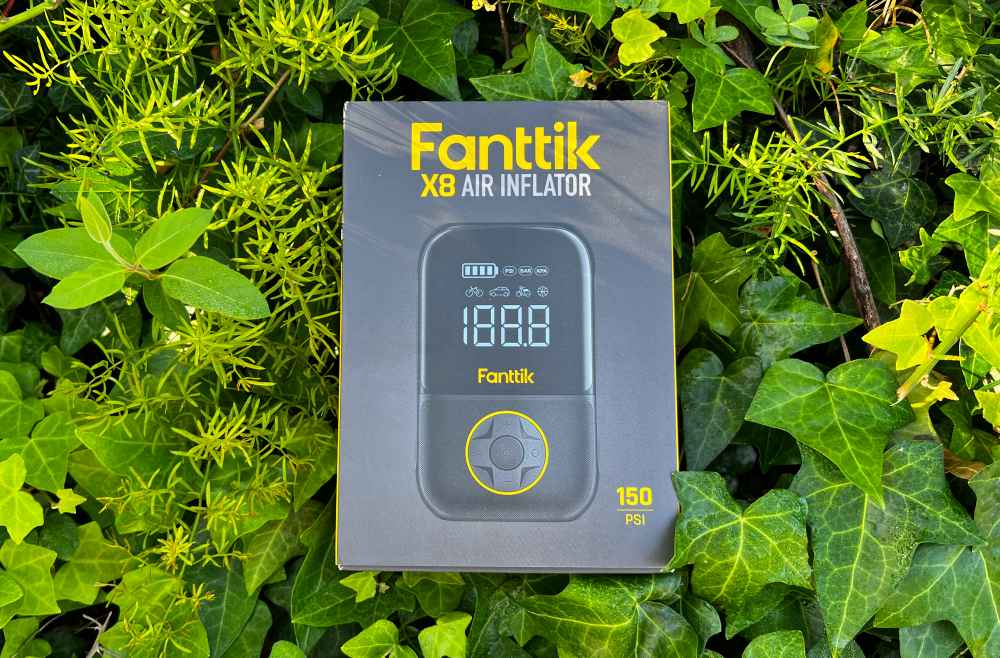 REVIEW – Tires and other inflatables will lose air over time. It's an unfortunate fact that we all have to deal with. Car tires may respond to weather changes, balls lose their bounce and pool floats go limp. You likely have a bicycle floor pump or maybe a foot pump in the garage and remarkably dependable they may be, they're not very fun to use. Enter the X8 Air Inflator for Fantikk. It's basically a gadgetized air pump and is easily something Gadgeteers should know about.
What is it?
The X8 from Fanttik is a battery-powered air inflator that's portable, easy to use and can tackle pool inflatables to car tires and everything in between at the push of a button.
What's in the box?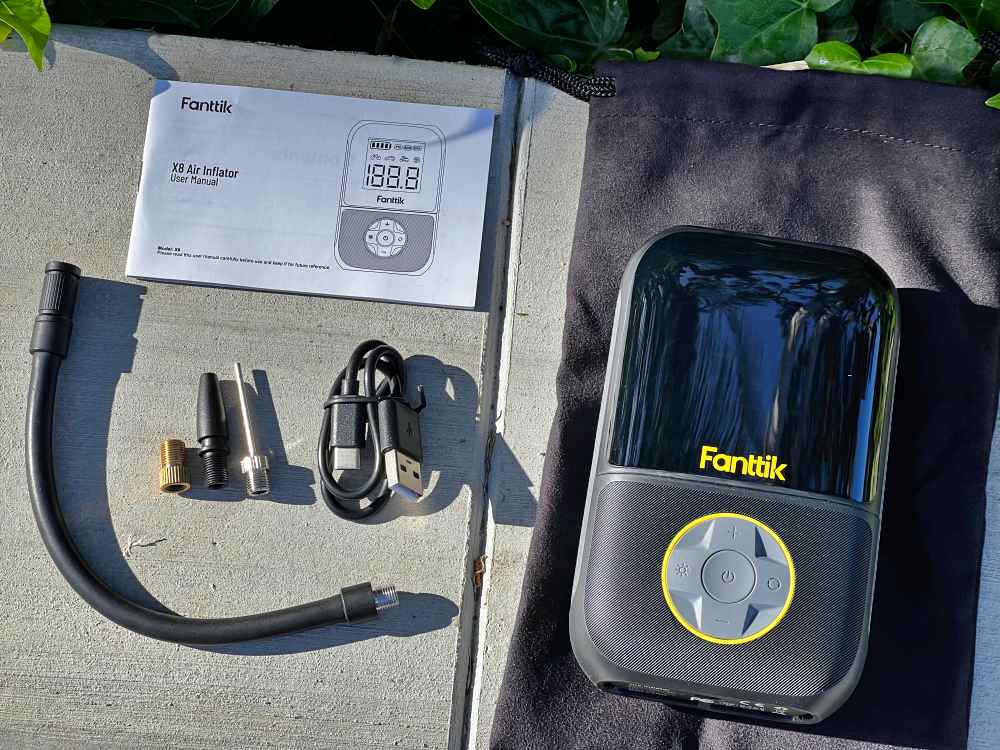 Fanttik X8 Air Inflator
Air tube for Schrader valve
3 adaptors – Presta valve adapter, Inflatables, Ball needle,
USB charging cable
Storage bag
User Manual
Hardware specs
Input: USB-C 7.4V
Max Output: 10A/85W
Max Pressure: 150 PSI
Battery: 2600mAh (advertised as 5200mAh – maybe product label isn't updated)
Air Tube: 350mm long with connector for Schrader valve
Dimensions: 52 x 87 x 140mm | 2 x 3.4 x 5.5″  and 525g | 1.15 lbs (weight with inflation tube)
Design and features
The Fanttik X8 Air Inflator is roughly palm-sized and a little over the 1 lb mark, but with smooth, rounded corners making it very carry friendly. The large digital screen is easy to read as long as you're not in direct sunlight and the control pad makes mode navigation a breeze.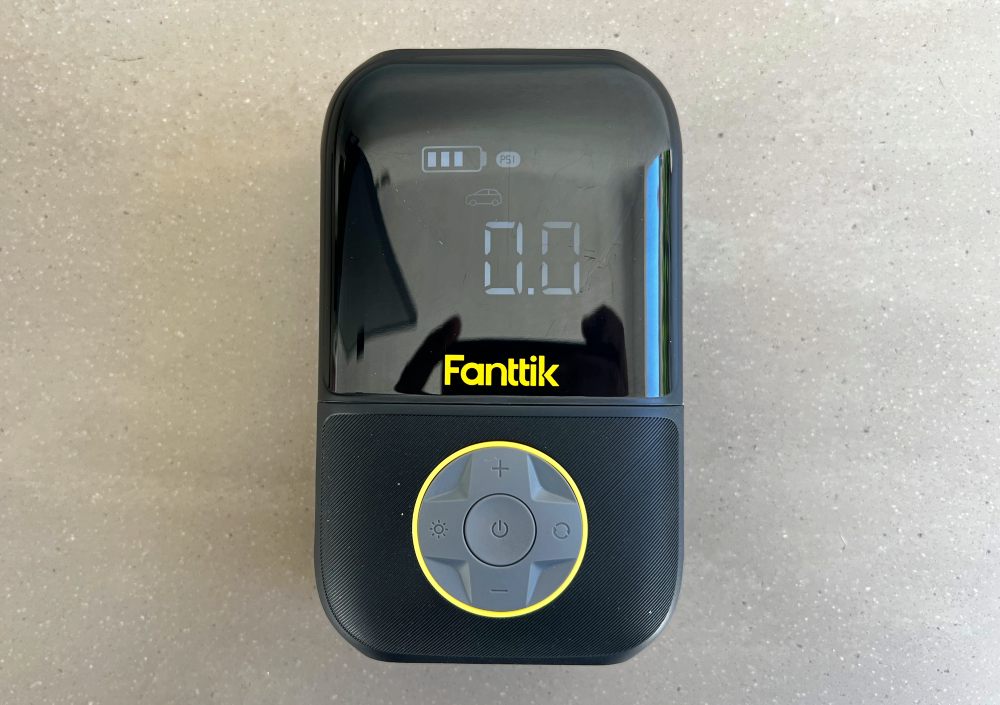 On the bottom is the USB-C charging port along with all the product and certification information.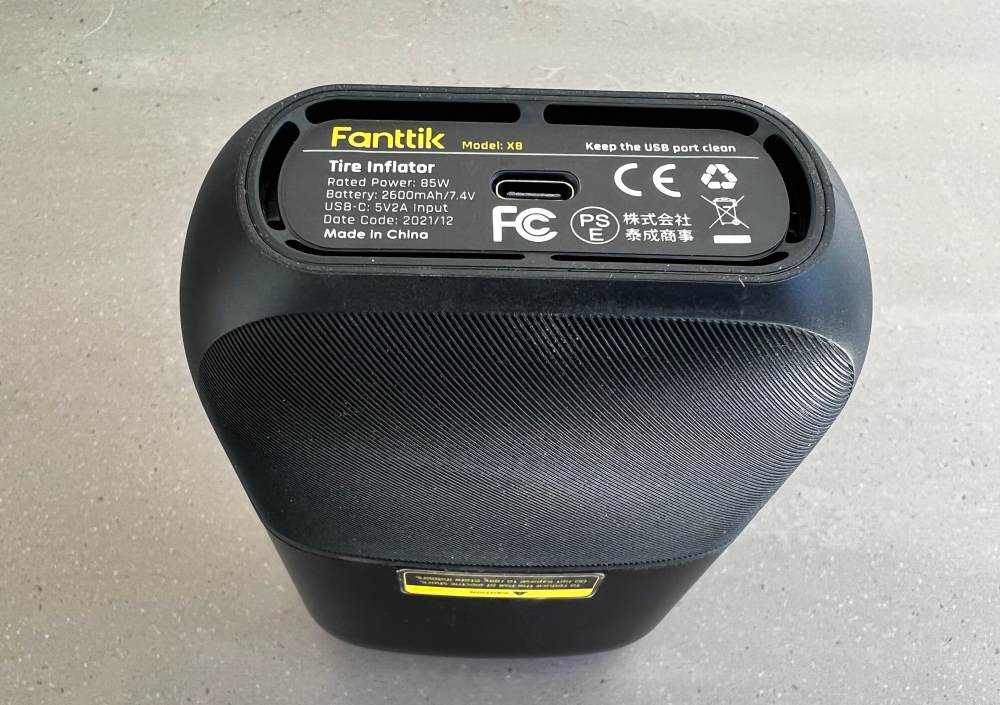 Up top is the threaded air output connection for the included air tube. Surrounding it is a  flat ribbed area that's curiously white.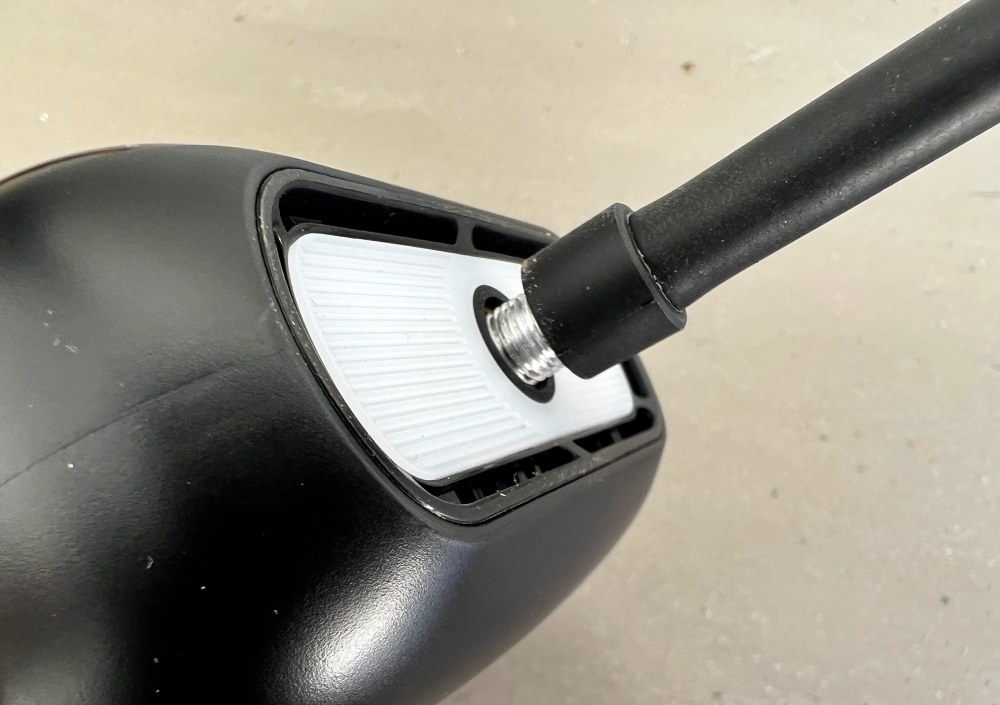 That's because it doubles as an LED flashlight! You can also see here just how bright and clear the screen can be under the right conditions.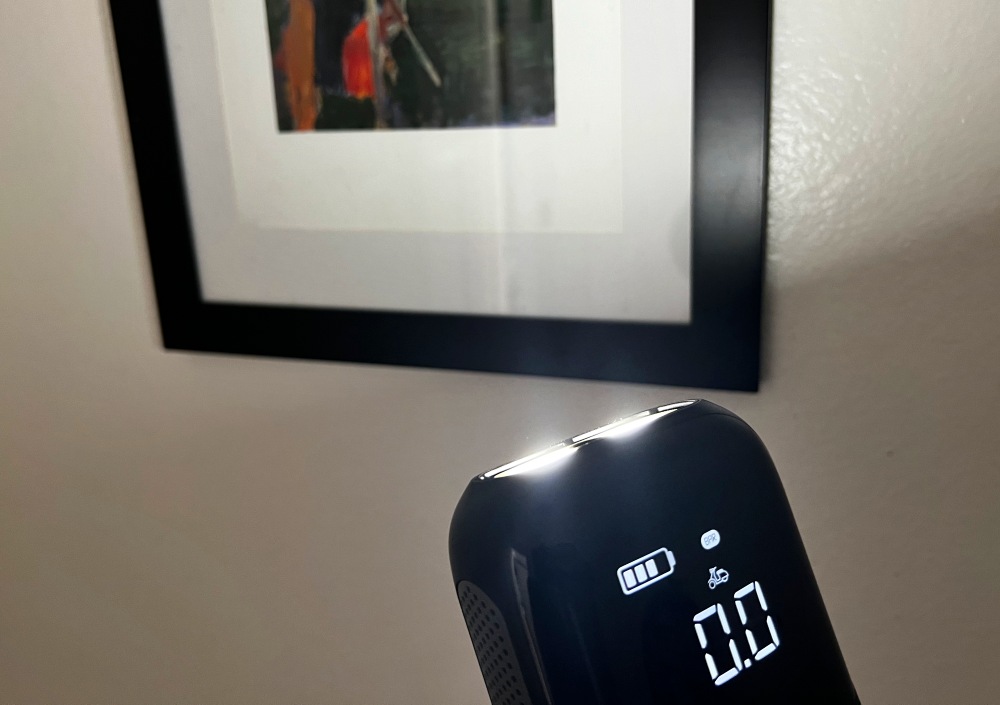 Setup
You know the drill. Connect the charging cable to a USB power adapter (5v/2A not included) and let the unit fully charge before using.
Familiarize yourself with the controls shown here.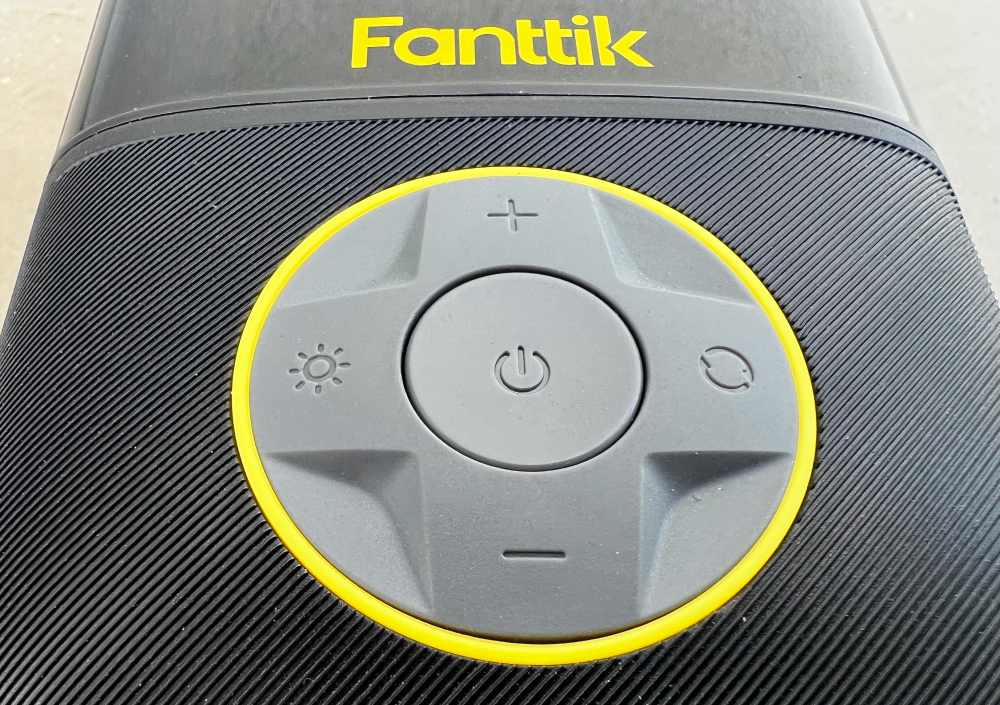 Power Button: Long press to turn on, short press to start inflation | Long press to turn off
Mode Button: Short press to switch modes (Bike, Car, Moto, Ball, Manual) | Long press to switch pressure unit (PSI, BAR, KPA)
+/- Buttons: Press the appropriate icon to increase or decrease the preset pressure
Light Button: Press to cycle through light modes (On, SOS, Strobe)
Mode + (-): Press and hold both to reset the system
Beyond that, all that's needed is to know what you're inflating, the pressure you want to inflate to, and adjust the mode and pressure settings on the Fanttik X8 Air Inflator to match. When you first connect the air tube to the tire, the X8 screen will flash the current pressure reading of the tire, and then switch back to show your setting. Then you can hit the power button to start and it will auto-stop when the pressure is reached. How cool is that?
Performance
I cannot count the number of bicycle tires I've inflated over the years. As an avid mountain biker and recovering bike mechanic, the physical act of using a floor pump is part of my muscle memory. The least fun part is always the hunched over position while pumping. It's significantly better than a hand pump, and more accessible than an air compressor, but still no fun.
A few years ago I picked up a Ryobi inflator that works with the same batteries as my other power tools. It was a tremendous improvement, but not very easy to pack in my MTB go bag. The Fanttik X8 changes all that. It weighs a little bit more than a pound and has a USB-C rechargeable battery to make tire inflation super easy. The included inflation tube that connects directly to the x8 has a threaded Schrader right on the end making it very easy to connect and inflate compatible tires (cars, motorcycles, etc.). Here they are side-by-side for comparison.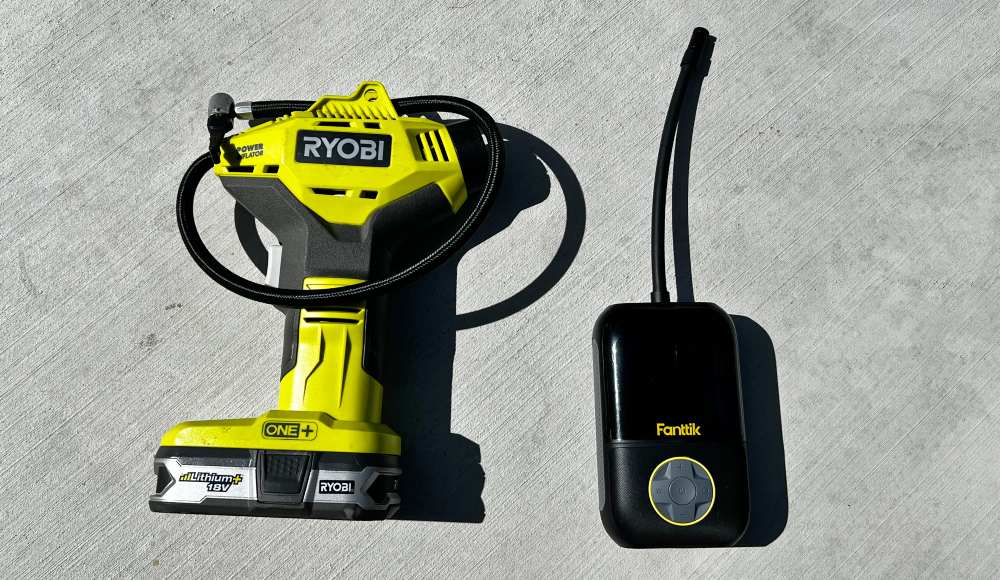 Our VW SUV had been sitting for a few weeks and all tires were 3-5 PSI low. I was able to connect the Fanttik X8 Air Inflator and top off all 4 tires in 2-4 minutes per tire and the unit automatically shut off when the desired pressure is reached. Very handy compared to trying to get that done at the gas station. I double checked the pressure with an analog gauge and everything checked out. One additional thing you can see in the below photos is that the display is hard to read in sunlight. That's compounded in the photos by the refresh rate of the display being different enough from my iPhone's camera that parts of the display appear to be missing. This is not an issue in actual use, just in capturing on camera.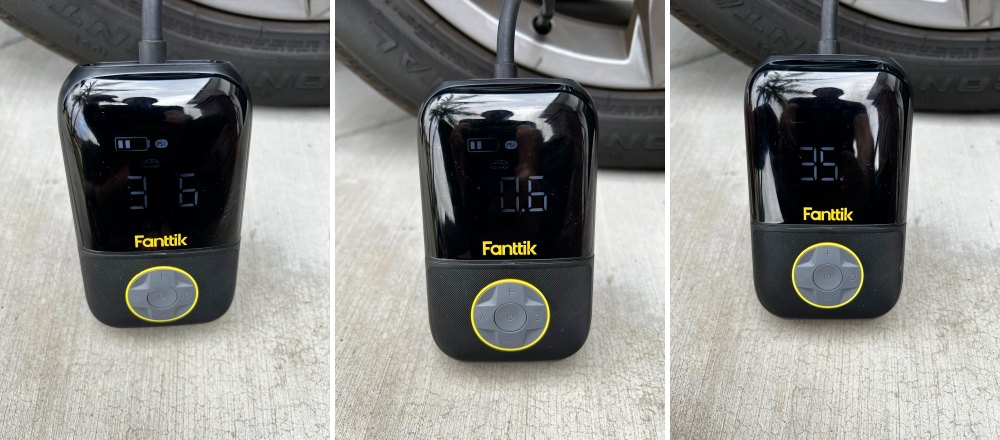 When it comes to performance bicycles, it's a slightly different story. Most high end bicycles use a Presta valve on their wheels.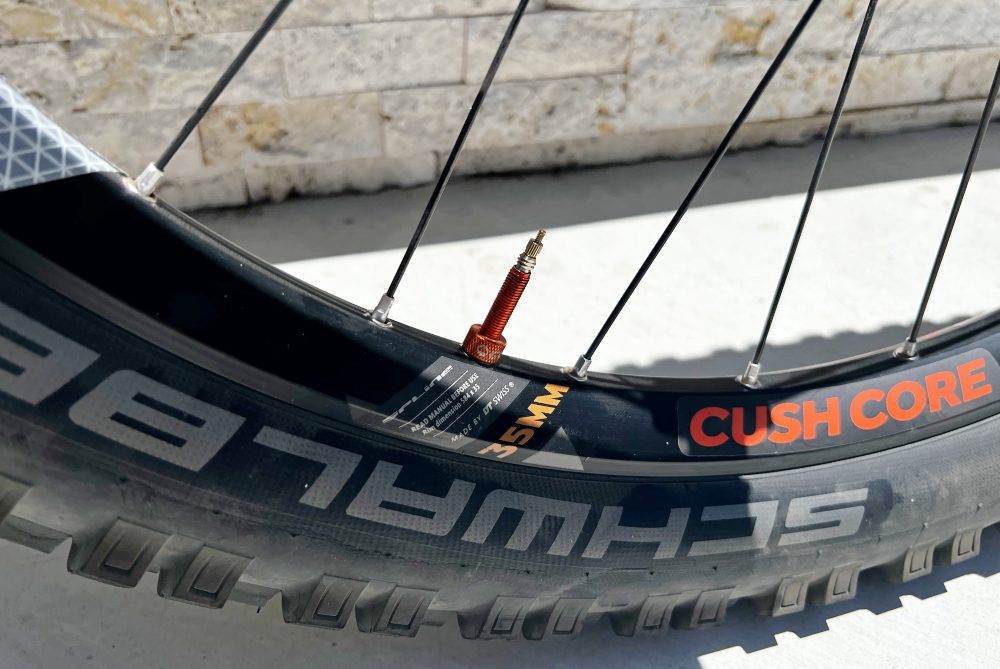 It's a smaller diameter stem which means a smaller hole to design into the rim, a big plus for narrow road bike wheels. It's also the standard on mountain bikes mainly because there's a removable core in the valve stem allowing you to add liquid tire sealant which is required for a good air seal. The point I'm getting around to is that the X8 requires a thread-on adapter (included) to be able to connect to and inflate with Presta valves. It's pretty normal for those of us with Presta valves to keep adapters in our tool kit or even directly on the valve of the bike. With the Fanttik X8 Air Inflator (and most inflators) you need to remove the valve cap or threaded adapter, open the threaded air valve, thread on the adapter, thread on the inflator tube, inflate then reverse that whole process. It's a pain, but again something we're used to. That said, it would have been really easy for Fanttik to include a dual valve head like almost all floor pumps have, or a second air tube with a Presta specific head.
I set out to find a Presta compatible tube on Amazon and wasn't able to find one. I did find a Presta chuck which kinda works, but then stumbled across these valve converters.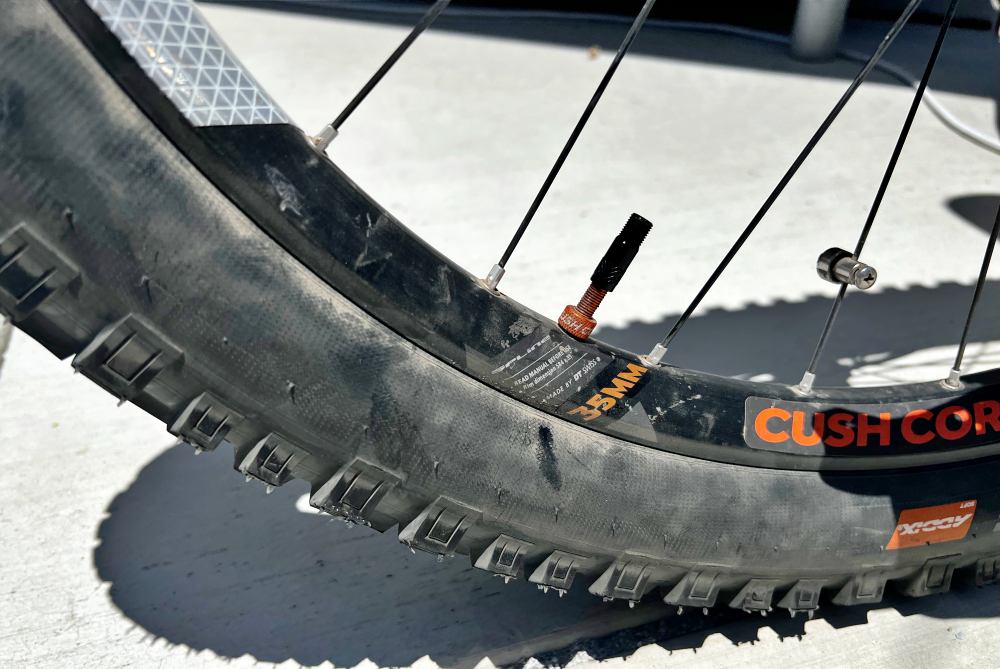 These work by removing the Presta valve core first, then installing a compatible core with a Schrader end. It's a perfect solution as long as you make sure not to loosen it when unthreading the pump. So far so good. I'll let you all know if I run into any long term issues with those. They have definitely simplified using the X8 with my bikes.
One issue specific to the way the Fanttik X8 Air Inflator is set up is the bicycle mode. It's limited to an adjustable pressure range of 30-145 PSI. That might work well for road, commuter and casual bikes, but mountain bikes generally use much lower pressures. Depending on your tires, preferences and riding style, it's very common for tire pressures to be in the 20-25 PSI range and even lower. X8 still works if you move over to the manual mode where the range is 3-150 PSI. Another nitpick is that one favorite setting per mode isn't enough as you may want a different pressure in a front tire for cornering than the rear for traction. It would be great to toggle between favorites instead of adjusting up and down each time.
I also took the opportunity to inflate a floating lounge chair for the pool. Simple enough to attach the small cone nozzle to the X8, poke it through one of the two inflation valves on the chair and press the button. As you may know, fresh out of the box these types of product have been completely vacuum packed.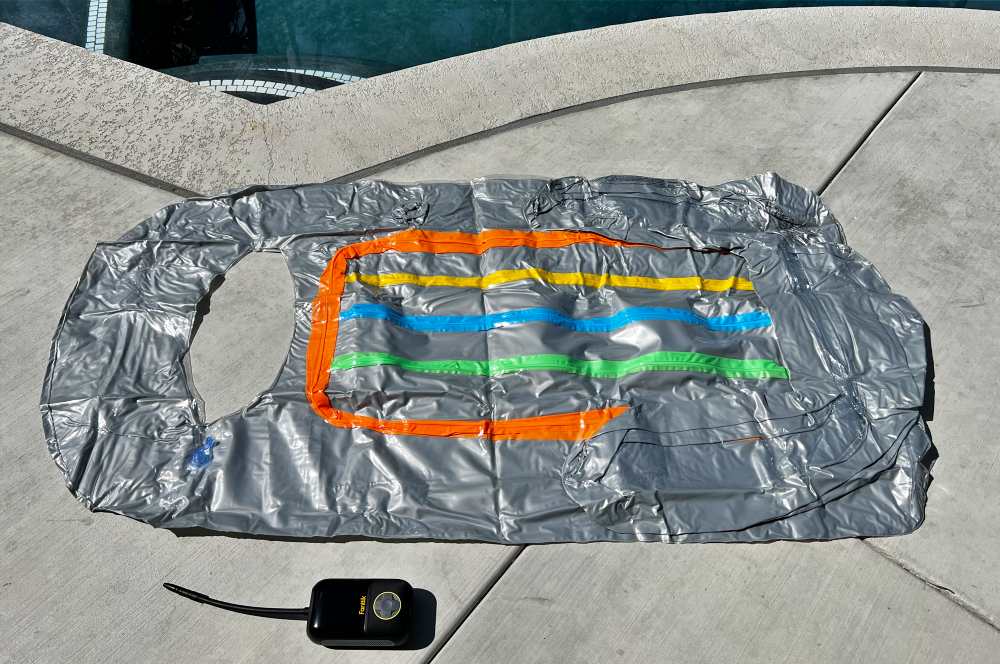 As a result, the first almost 5 minutes you're wondering if it's even working. This is because the X8 is meant for high pressure, not high volume so it's going to take a while. Case and point, I actually shifted to the tried and true, lightheaded method of using my own lungs to get the chair mostly inflated and then switched back to the X8. That actually saved a lot of time as I was able to put volume in about 2 minutes and then finish inflating with the X8 in another 5.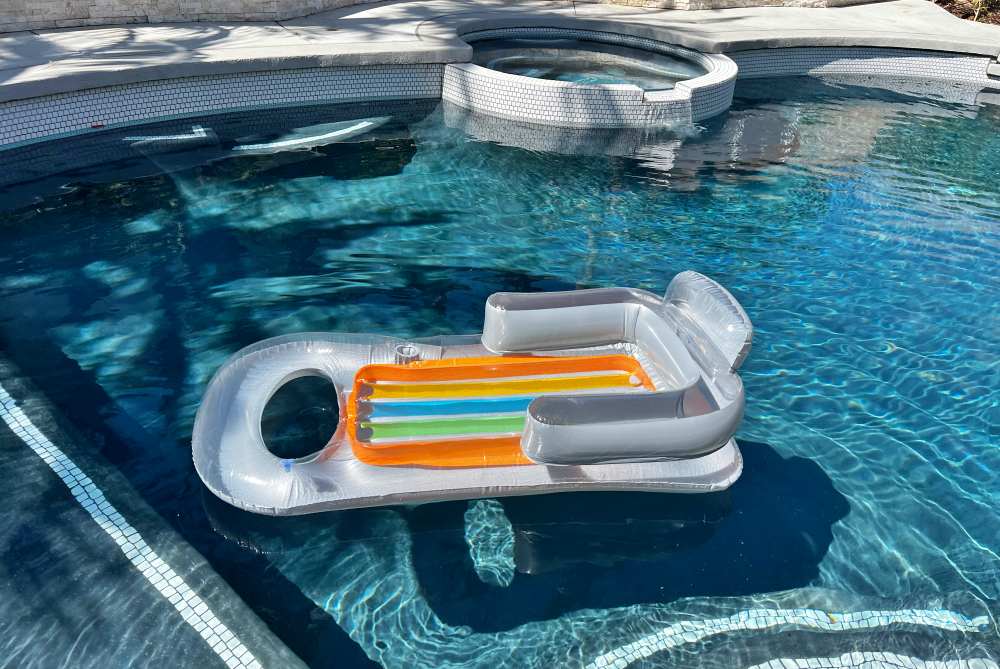 One reason not to just sit back and let X8 do all the work is that it's pretty loud. It measured at about 88db which was loud enough to get a hearing health warning on my Apple Watch. All compressors tend to be loud in general, but just mentioning it so your expectations aren't set for silent operation. Here's a video where you can hear that for yourself along with seeing the auto-stop function when it reaches the set pressure of 35 PSI for our car.
I haven't had the need to use it yet, but the flashlight function is likely to come in very handy if needing to inflate tires at night. It's a nice feature to have whether you plan to keep the Fanttik X8 Air Inflator as part of your car gear or your bike go-bag.
What I like
Size and function. Perfect for bicycles
Healthy battery life for bikes and smaller
Short, just-long-enough air tube
What I'd change
Display almost unreadable in sunlight
Loud ~88 decibels
Would love to see a dedicated Presta valve solution
Would like to see a low pressure/high air volume switch
Final thoughts
The Fanttik X8 Air Inflator is a seriously great product. The auto-stop when reaching a set pressure puts the icing on top of the portability and high-pressure cake it already is. Sure I have a couple of things I would change, but all I can say is that if they roll any of those in, I'll be upgrading. This has a dedicated pocket on my MTB gear bag.
Price: $79.97
Where to buy: Amazon
Source: The sample of this product was provided by Fanttik