We use affiliate links. If you buy something through the links on this page, we may earn a commission at no cost to you. Learn more.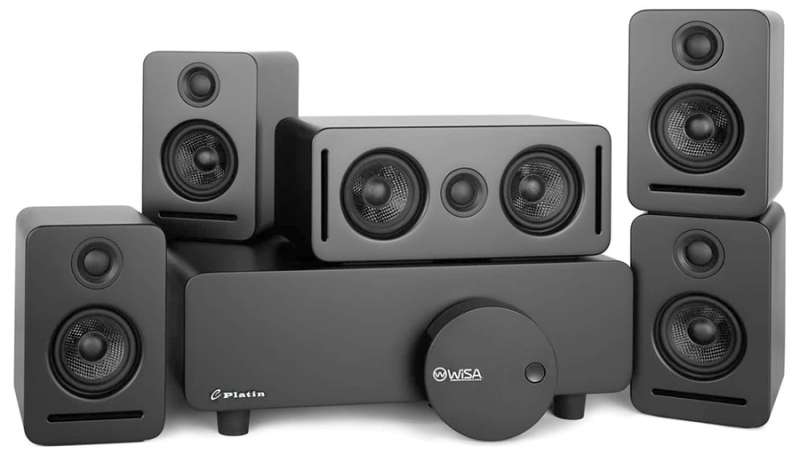 REVIEW – Here's a scenario for you: For years, I've had a DIY surround speaker setup connected to our smart TV through a good receiver. The two front left/right speakers are really good quality and the left/right surround speakers are also good. Then there's that large 10 in. subwoofer we keep behind the TV cabinet putting out some serious oomph. Everything is connected properly and works great together. All was right with the world—or so I thought.
Out of the blue, an offer comes to review the Platin Monaco 5.1 wireless surround sound speaker system—all delivered in a single box. Being a skeptic, but curious audiophile, I thought, "What the heck? I can always pack them up when I'm done testing and return to our previous surround setup". 
When the Platin box arrives, I open it up, unpack everything, place the speakers around the room, and turn the system on. And what I thought would be another typical speaker-system-in-a-box blew me away. How is it that possible?

What is it?
The Platin Monaco 5.1 Wireless Surround Sound System is a 6-speaker setup delivering full surround sound connected to a flat-screen TV—wirelessly. 
The Monaco consists of four small left/right front and rear channel speakers, a single-center speaker, a flat-style subwoofer, and a WISA hockey-puck style controller (more on that later in the review)
Hardware Specs
WiSA Certified
SoundSend (included)
Uncompressed 24-bit 48 kHz audio
Latency factor of fewer than 5.2 milliseconds
Two front Satellite Speakers 6.7 in. x 4.3 in. x 5.5 in. (HxWxD)
Two rear Satellite Speakers: 6.7 in. x 4.3 in. x 5.5 in. (HxWxD)
Subwoofer: 5.3 in. x 15 in. x 12.2 in. (HxWxD)
Center channel speaker: 4.3 in. x 10.2 in. x 5.5 in. (HxWxD)
WISA audio transmitter
WiSA SoundSend app
Six Power Cables

Design and features
Spoiler alert—I really like the Platin Monaco 5.1 wireless speaker system. And that's even with Platin's less-than-easy setup (despite their claim), too-short power cords, and my almost impossible living room setup—which explains why my photography isn't good.
Let's deal with the picky stuff first and then move on to the reasons I like this system so much.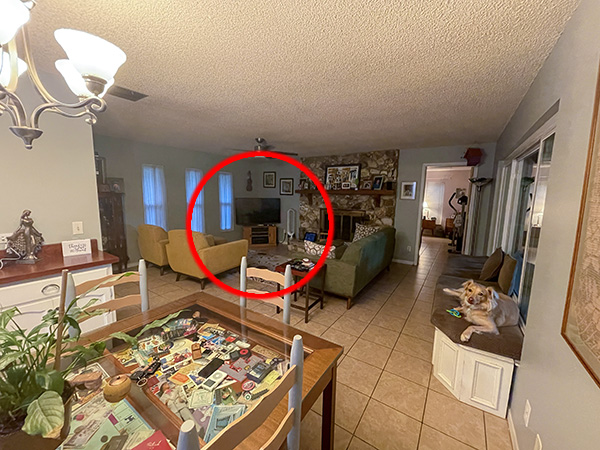 My living room: From an audio perspective, I have an awful living room. It has no complete walls. There is a monstrous stone fireplace (circa 1975) on one wall, tall, narrow windows on another wall, and—that's it. Not a lot to work with. As a result, our 55 in. Samsung TV sits in a corner on a triangular stand. Our speakers are placed wherever they fit. As I said, not great. In fact, when we are not listening to surround, I have to pack away the two rear speakers because there is no permanent place for them.
A perfect setup is shown in the Platin illustration below. Note that the stands shown are an extra-cost option.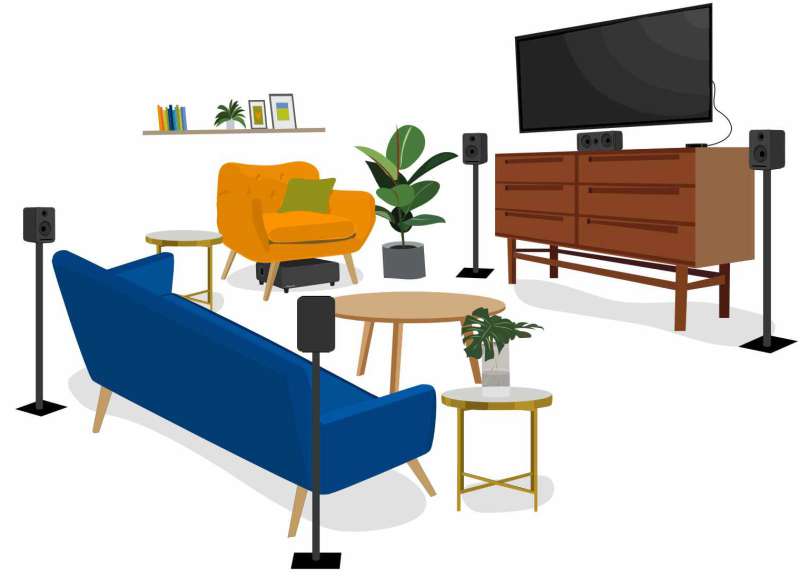 Setup: Platin advertises a quick and easy setup. I'm sure most people experience exactly that. Not me. No matter what I tried after downloading the app and connecting the speakers, they simply would not work—no audio. However, I'm not sure it was Platin's fault. It may have been a translation issue between Platin and our Samsung TV or the connected Apple TV or whatever. I never did figure it out. Eventually, I did something that made it all work—and I still haven't figured out what I did! It doesn't matter anymore, because once it worked, I had to pick my jaw up off the floor.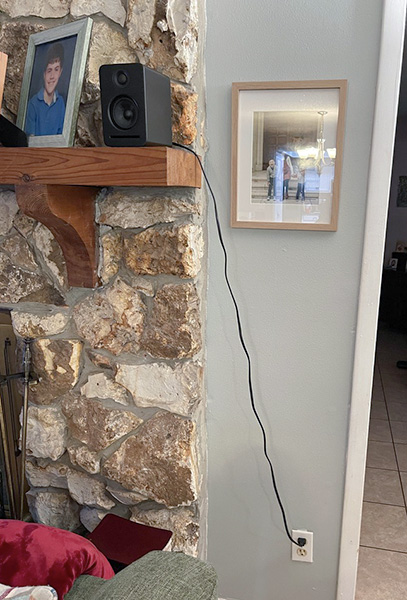 Wireless: Even though the Monaco 5.1 system is technically wireless, it's not actually wire-less. Each item must be plugged into a wall outlet. That means the Monaco comes with 6 power cords, so you better have outlets nearby for each component. An issue I have with the power cords is their 5 ft. length. For one of the speakers, the cord is barely long enough—it crawls across the wall. I would have preferred 6-8 ft cords or at least a couple of lengthier cord alternatives included. As it is, I have to buy a separate cord so the highly visible one doesn't drive my wife crazy.  
Okay, now the good stuff.
At first, I thought the Platin satellite speakers were a bit small. However, for our space, it turned out they sounded plenty big enough. As I said, each speaker must be plugged in. The speakers can then be easily moved around for optimum sound and effect. Each speaker has a small sticker on the back that indicates its position. For instance, the left front speaker's sticker says "LF", the right rear "RR", etc. It doesn't get any easier.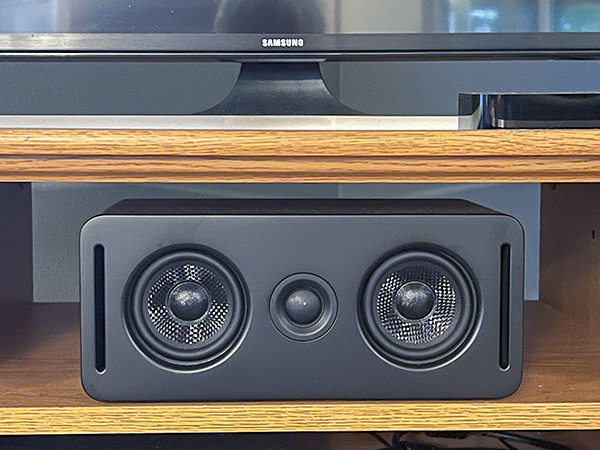 The center speaker resembles two sideways satellite speakers glued end to end.  It has two woofers but shares a single tweeter.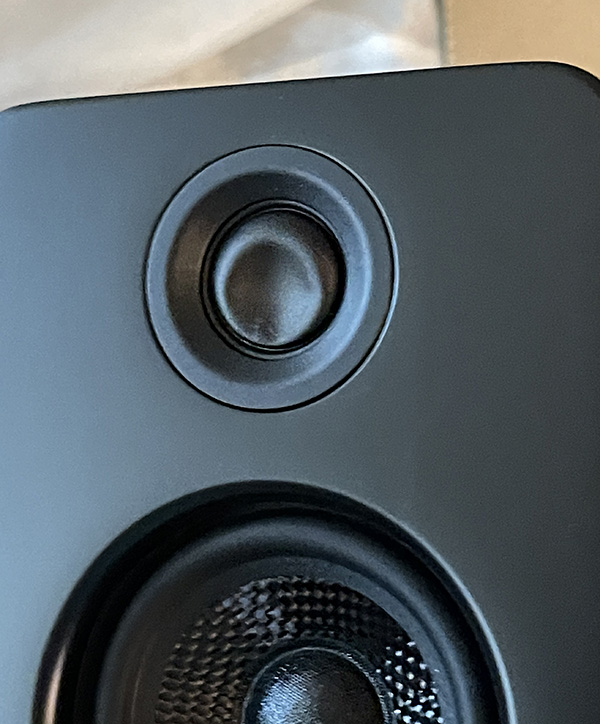 Speaking of tweeters: when I opened the box, two of the speaker's tweeter cones were pressed inward—as if a child had pressed a finger into the cone. After unsuccessfully trying to use tape to pull the pushed-in cones out, I contacted Platin tech support. Platin said it would not affect the audio but still offered to send out two replacement speakers if I wished. I agreed and was preparing to pack up the "damaged" speakers for return. However, less than 24 hours after opening the box, the cones had fixed themselves. Maybe it was the humidity, air pressure from shipping, or whatever, but the problem disappeared!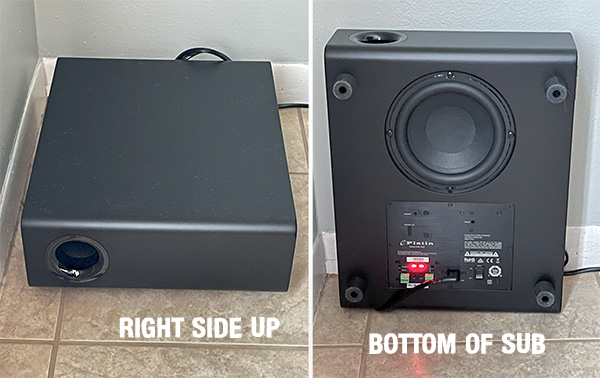 The 6.5 in. subwoofer is a flat style that can fit under some sofas—depending on the design. I'm interested in placing it under our couch, but for right now, the sub is placed behind the TV stand where the original sub sat. Our original sub has an 8 in.woofer so I worried about weaker bass coming from the Platin sub. So far, however, I haven't yet noticed any bass deficiency. It sounds powerful enough for our use.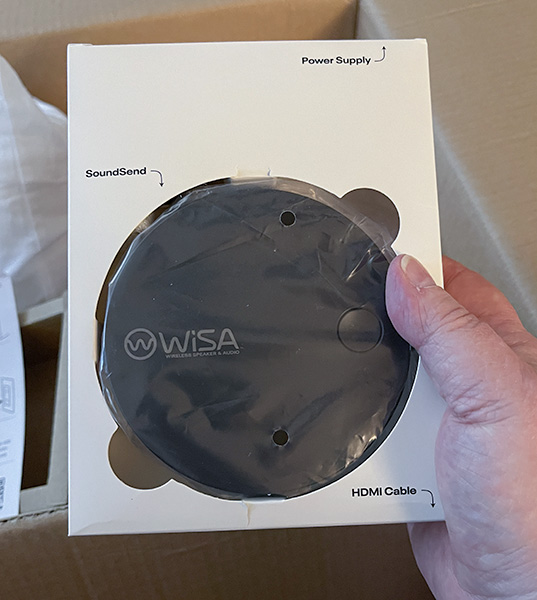 The circular hockey-puck-styled WISA controller is the heart of the Monaco system. Note that it requires a smart TV with either ARC or eARC compatibility. ARC means Audio Return Channel. ARC sends uncompressed music or movie audio directly from a TV to the speakers—no receiver or amp needed. This works either through HDMI (Platin supplies the proper cable) or optical cable (not supplied).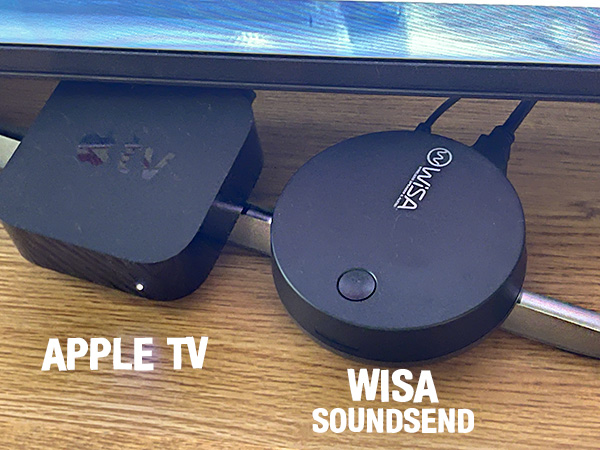 WISA stands for Wireless Speaker and Audio Association. This association has over 60 members whose goal is to standardize wireless, high definition, and multi-channel audio. WISA doesn't rely on Bluetooth or your home wifi. It is its own thing, which may be why it works so well.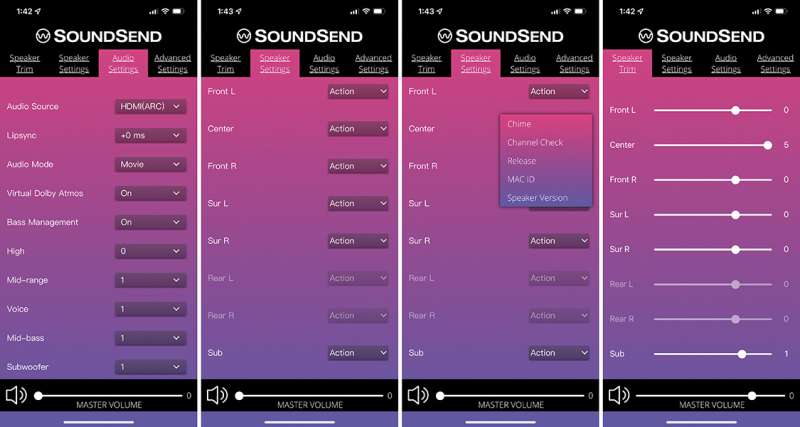 Platin uses a smartphone app called SoundSend by WISA. When the app is first set up, it scans for the speakers and lists them. The app lets the user adjust the volume of each individual speaker as well as adjust the master volume.
The app also has audio settings, such as Source, Audio mode (movie,  music, night, Direct), Bass management, and a graphic equalizer. There is also a "Virtual Dolby Atmos" On/off setting. The Monaco does not have true Dolby Atmos. We could not hear any difference, so we leave the faux Atmos setting off. The Monaco 5.1 system is tuned by THX which provides optimum audio for movies and shows.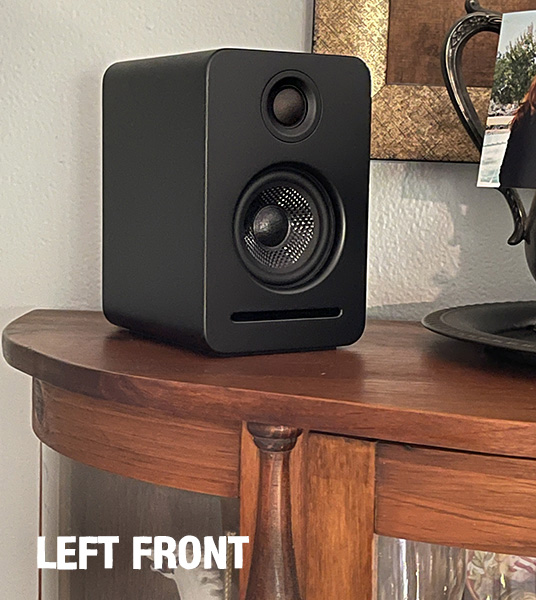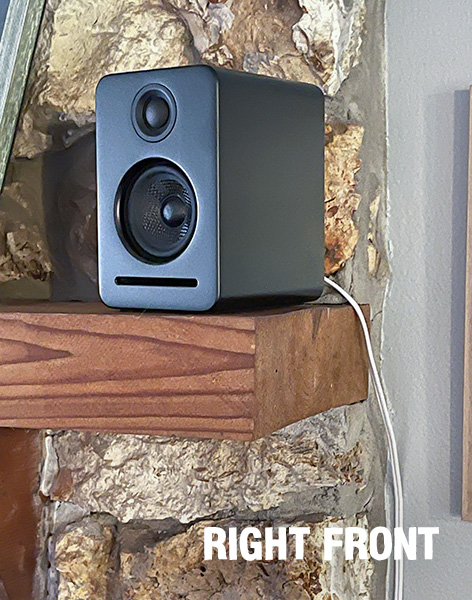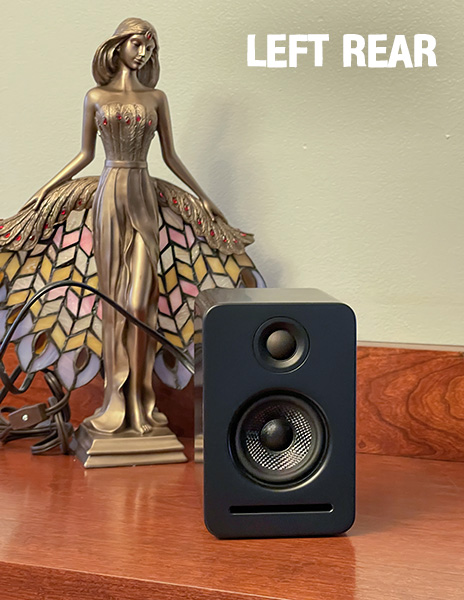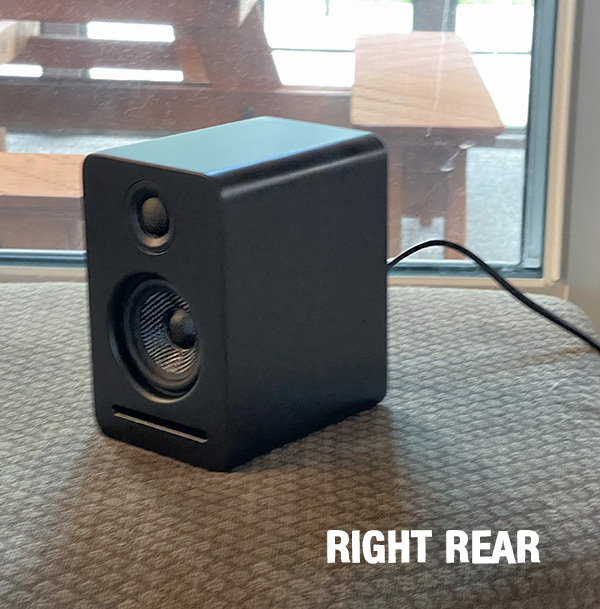 How does the Monaco 5.1 wireless speaker system sound? It sounds quite good, but more importantly, it sounds immersive. Yeah, that comes across like a marketing term, but it's true. With the speakers placed around you, the surround effect is so convincing, that it places you inside a movie or show. I thought I had surround before using my receiver and speakers, but this is in a different league. Yes, it costs a thousand bucks—a good-sized chunk of change for a speaker system. But when you consider everything the system has and in a wireless configuration, the price starts to look like a bargain. It just doesn't sound like a bargain-priced system. You have to hear it to appreciate it.
One note about wireless lag—that delay between what you see on screen and audio vocals. There isn't any—period. All audio is perfectly matched to what we see on the screen. Platin makes it all look—and sound—so easy.
What I like
When they say immersive, they mean it
Affordable (considering what you get)
Wireless
WISA controlled
What I'd change
Setup may not be as easy as advertised
Power cords could be longer

Final Thoughts
Everything about the Platin Monaco 5.1 Wireless Surround Sound System shouts "convenience". It has replaced our dust-covered rat's nest of wires hiding behind our receiver. But then you hear it and your mind moves on to "Darn, this sounds good!" And that's always a good place for the mind—and ears—to go.
Despite our less-than-perfect living room, this speaker system is a keeper. It's time to box up the expensive speakers and sub. The Platin Monaco is that good.
Price: $999.00
Where to buy: Platin Audio, Newegg, and Amazon
Source: The sample of this product was provided by Platin Audio.