We use affiliate links. If you buy something through the links on this page, we may earn a commission at no cost to you. Learn more.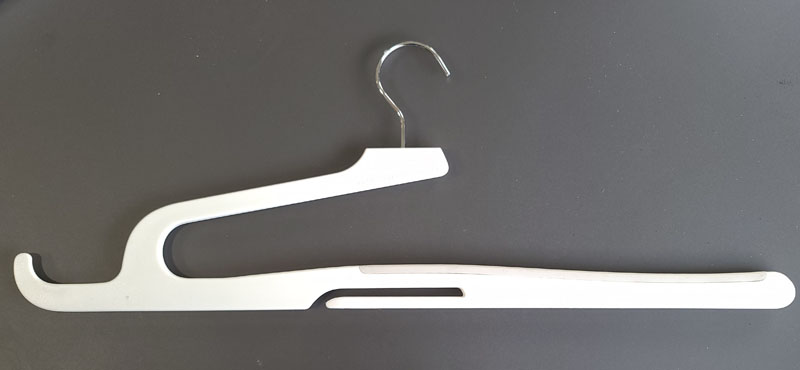 REVIEW – Clothes, closets, hangers.  We all have them.  We all use them.  There's no rocket science here.  But then, back in 2017, South Korean company Collabo Space decided that they would build the proverbial better mousetrap and came up with Boomerang Hanger – an improvement on the traditional hanger design.  Then, in 2018, they launched Hurdle Hanger for Pants on Kickstarter and Indiegogo, raising more than $89,000.  Earlier this year (2022), they updated that design and launched Hurdle Hanger for Pants 2.0 on Kickstarter, raising more than $100,000. They switched fulfillment over to Indiegogo where they raised a little more cash.  It appears that there is a demand for a better clothes hanger.  Let's see check it out.
What is it?
Hurdle Hanger for Pants 2.0 is a clothes hanger.  It is primarily designed to quickly hang pants that have belt loops, but can also hang folded pants.  It can also be used to hang pants and a coordinated top, plus a belt and hat, allowing you to organize your closet with complete outfits ready to go.
What's in the box?
I was sent a pre-production unit of the Hurdle Hanger, so I only received a single hanger.  Full orders will come in sets of 20, 40, 60, 80, and 100 hangers.
Hardware specs
Dimensions: 19″ L x 6.75″ H x .25″ w
Weight: 3.4 oz
Construction: ABS plastic with a metal hanger hook
Fit: pants with belt loops waists between 29″ and 40″ – can also fit folded pants
Design and features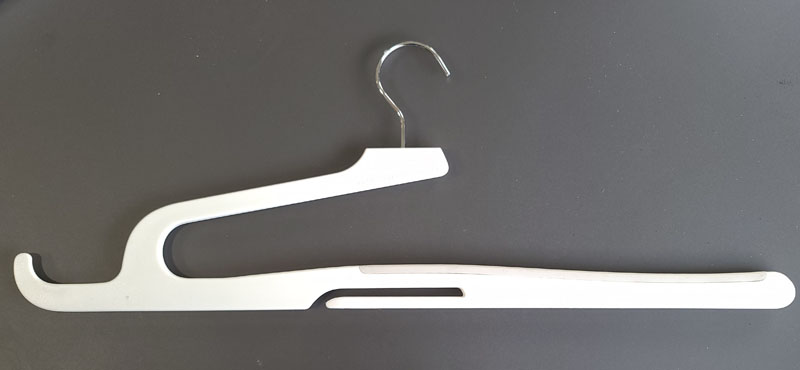 The Hurdle Hanger for Pants 2.0 is an offset hanger.  It is designed to allow for the thin bottom rail to slide through the back belt loops on a pair of pants, allowing for quick hanging.  It is made of ABS plastic and feels nearly indestructible.  The metal hook at the top feels quite sturdy.  I think these will last for a long time.
Below the hook, we can see the product name engraved into the hanger.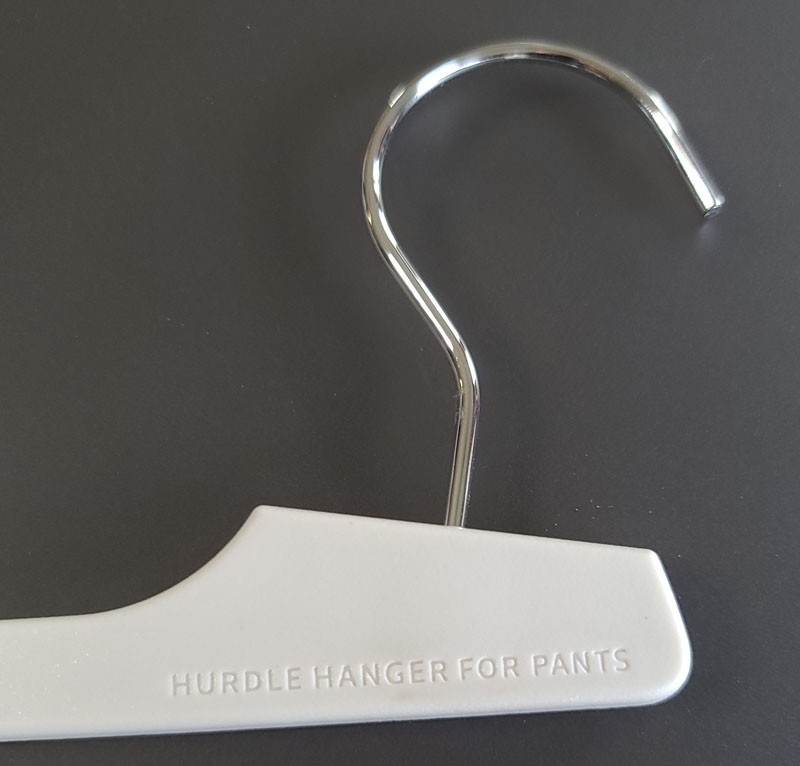 The lower bar is topped by a non-slip rubbery pad.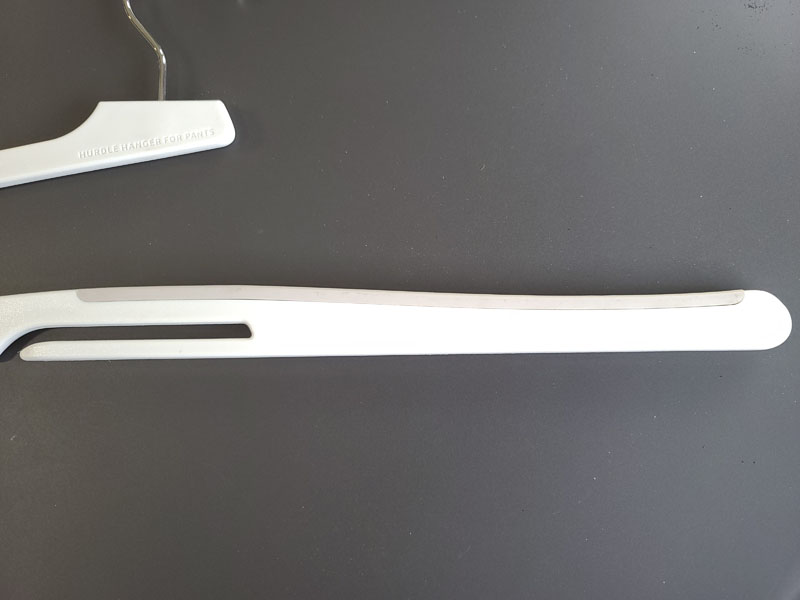 You can also see the extra slide that can be used to engage loose belt loops.
The opposite side features a hook that is designed to hold a belt, baseball-style cap, or a shirt.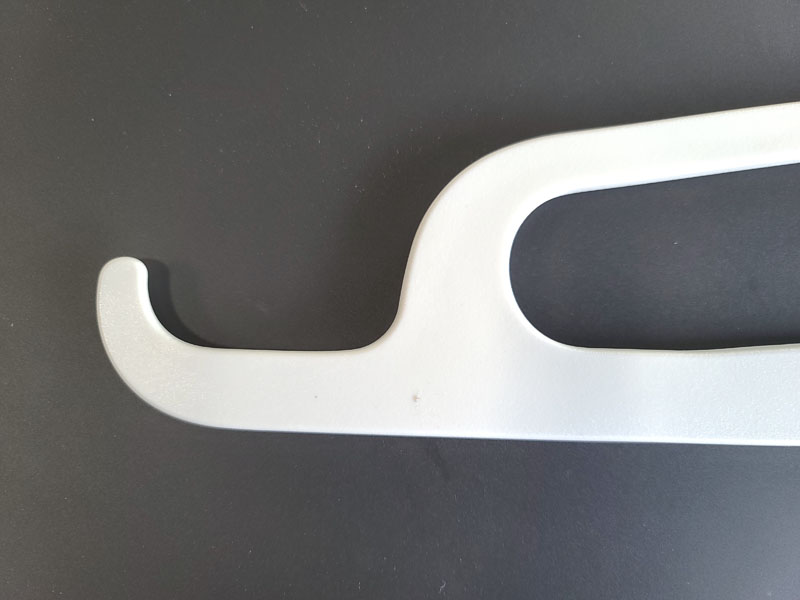 Performance
Here's a promo video that they put together, showing the benefits of the Hurdle Hanger.
Let's start with marketing, and by "marketing", I mean showing things in their best possible light.  If you watch the video above, watch closely as the Hurdle Hanger demonstrator holds the jeans at the side with one hand.  The jeans stay stretched and stiff, almost like there's something in the pants to keep them that way.  Hold any pair of your pants on the side and see if they stay stiff.  I know mine don't. That little item really makes it easy to insert the Hurdle Hanger for pants.  In real life, it's not so easy.  It's not difficult, but you do have to hold the belt loops so the hanger will slide through.
OK, so it isn't as quick as the video – fine.  Does it hold pants, and hold them better than plain old clip-style pants hangers?  Let's see!
First, I'll deal with the claim that it is designed to hold pants with a waist measuring between 29″ and 40″.  As luck would have it, I wear pants with a 40″ waist.  This should be a great test!  Or so I thought.
Here is the hanger laying on top of my 40″-waist pants.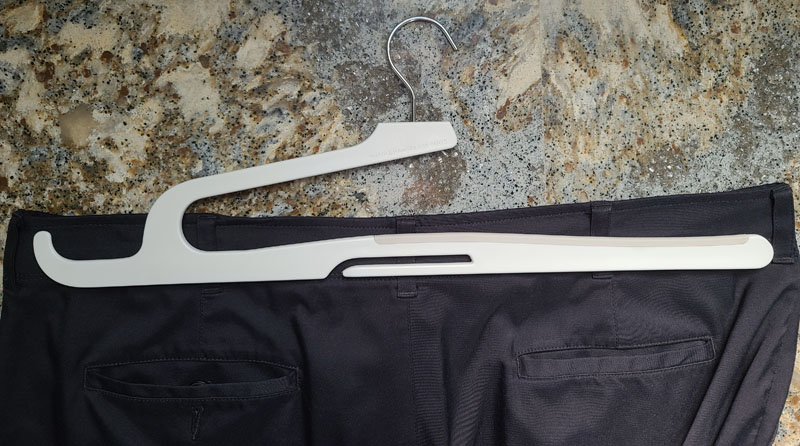 Hmm…that doesn't look right.  I had clipped the waist and stretched out the pants exactly in half.  There was no way for the hanger to reach the belt loops at the edges.  OK, so, let's just try hanging the pants anyway and compare how they hang with a traditional clip hanger. In all three examples, the front clasp of the pants was clipped.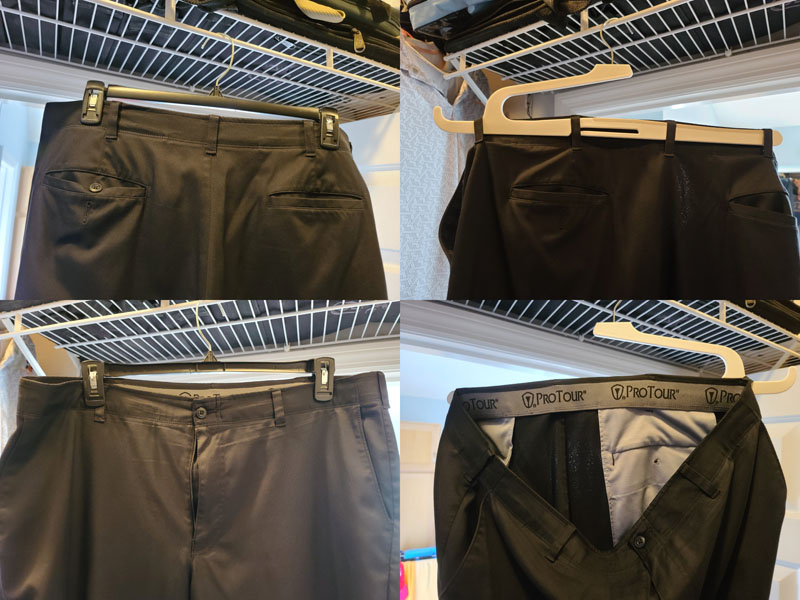 As you can see, the clip hanger holds the pants much neater than Hurdle Hanger. My only solution is to fold my pants and hang them over the non-slip pad.
Let's assume that pants that can cover my butt aren't a good choice for the test, even though they fall within the stated specifications.  Let's switch gears and use some of my wife's pants.  Her waist falls well within the stated range.  Let's start with a pair of fairly stiff pants.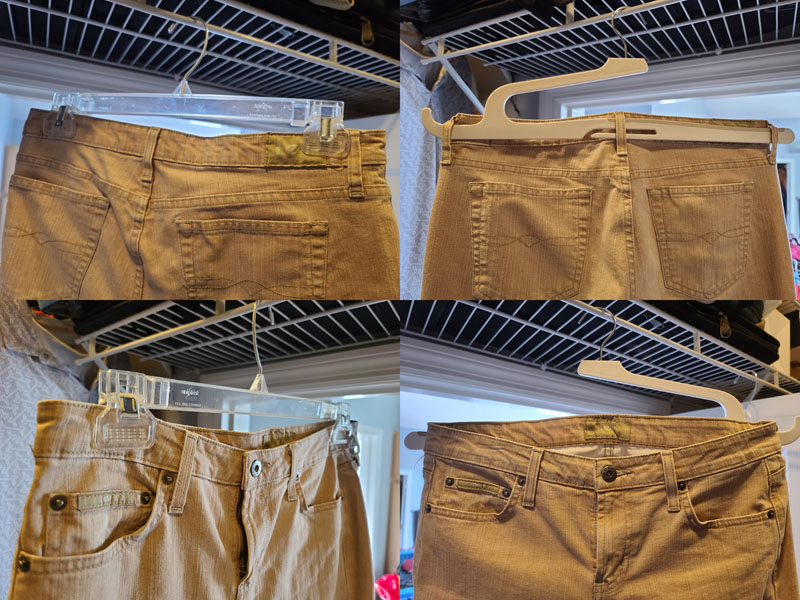 As you can see on the left, the clip hanger does a nice job of neatly hanging the pants.   The Hurdle Hanger on the right also does a nice job with the added benefit of having the available hook for a belt.
Finally, I tried another pair of her pants, but this time, the fabric was much softer and less stiff.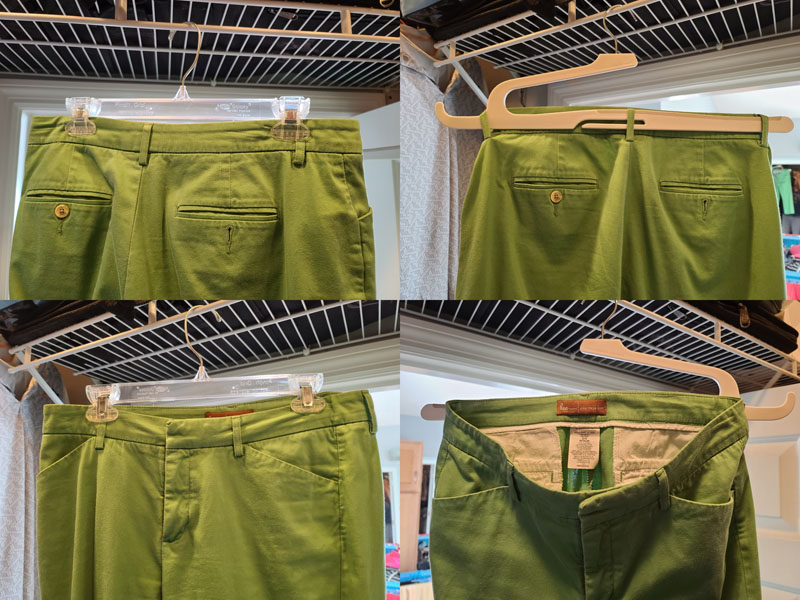 As you can see on the lower left, these pants suffered the same fate as my pants where the front falls open.  To me, that's a little sloppy.
If you're a wardrobe planner, being able to hang a pair of pants and then fold the coordinated top either over the pants or on the hook could be a great solution for speeding up morning dressing.
What I like
Solid construction
Innovative design
The thin and short design can save valuable closet space
The extra hook is a nice touch
What I'd change
I don't like how the pants made with softer material hang open on the hanger
It does not fit 40″ waist pants as stated
Final thoughts
The Hurdle Hanger has an interesting design.  It is quite thin and short so if your closet is cramped, it could free up space.  It is well-made and should last for a long time.  I do like the clip on the end for hanging a belt, hat, or shirt.  I wish it did a better job with softer pants and they just hang open.  Plus, for a big guy like me, it just doesn't work with my pants unless I fold them over the hanger.
One thing to be aware of is that there is currently no way to purchase the Hurdle Hanger for Pants 2.0.  Their Kickstarter ended successfully funded and they used Indiegogo for the fulfillment, but that campaign is also closed.  I expect that they will be available at some point on Amazon, but for the moment, it looks like an interesting idea with no way to procure them.
Price: $39, $74, $109, $139, $169 in packs of 20, 40, 60, 80, 100
Where to buy: Indiegogo, however, their campaign is currently closed – the original models were also available on Amazon, so perhaps they will open that avenue soon
Source: The sample of this product was provided by Collabo Space.