We use affiliate links. If you buy something through the links on this page, we may earn a commission at no cost to you. Learn more.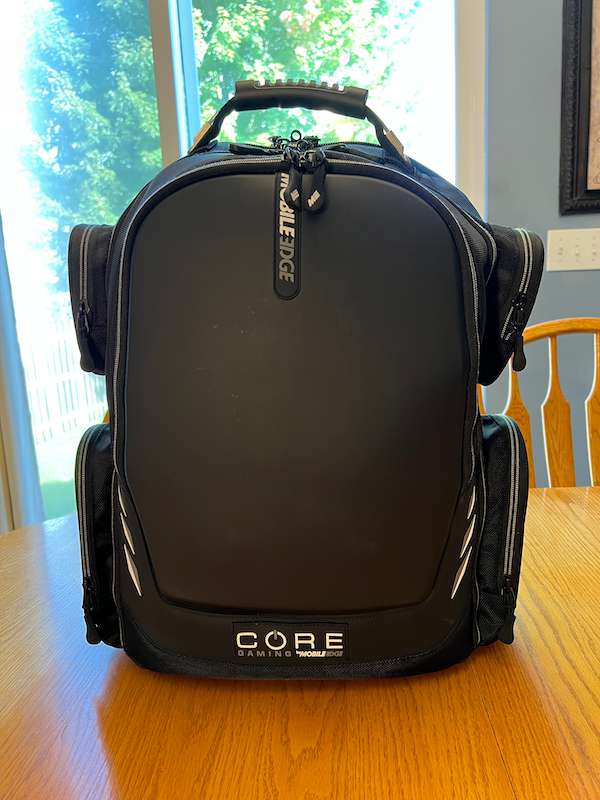 REVIEW – Gamer on the go? Tech support specialist with lots of stuff to keep with you? If you need a reliable backpack to keep all your tech with you Mobile Edge has a solution for you with their CORE Gaming Backpack – Special Edition. 
What is it?
The Mobile Edge CORE Gaming Backpack – Special Edition is a large backpack geared toward the gamer who wants to carry a large gaming laptop or even a game console. With its large size, steel cable enforced top handle, and plenty of room inside, this might be the perfect gaming backpack for not a lot of money.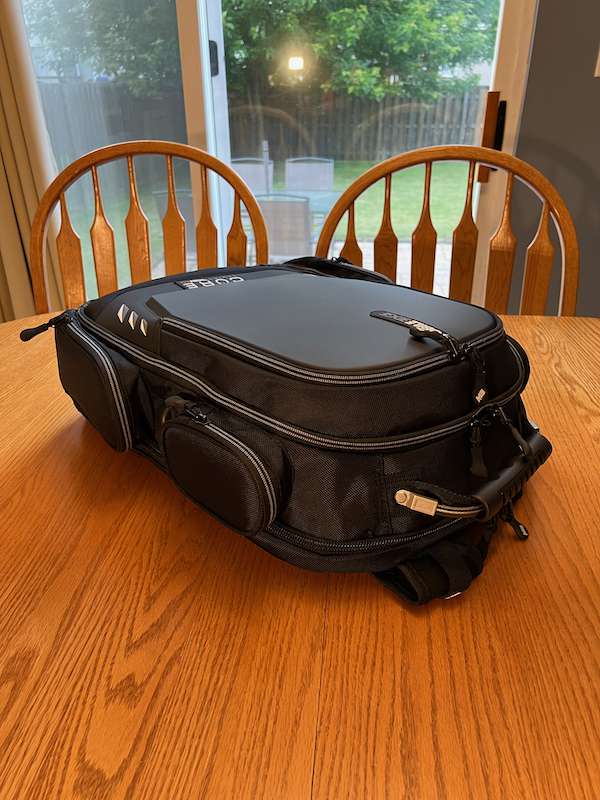 What's in the box?
Mobile Edge CORE Special Edition gaming backpack
Hardware specs
Color: Black
Accent Color: White
Warranty: Lifetime
Product Weight: 4.2 lb (1.9 kg)
Product Dimensions: 16 x 19.5 x 9 in (406.4 x 495.3 x 228.6 mm)
Fits Laptops Up To: 17.3″ – 18″
Product Material: Ballistic Nylon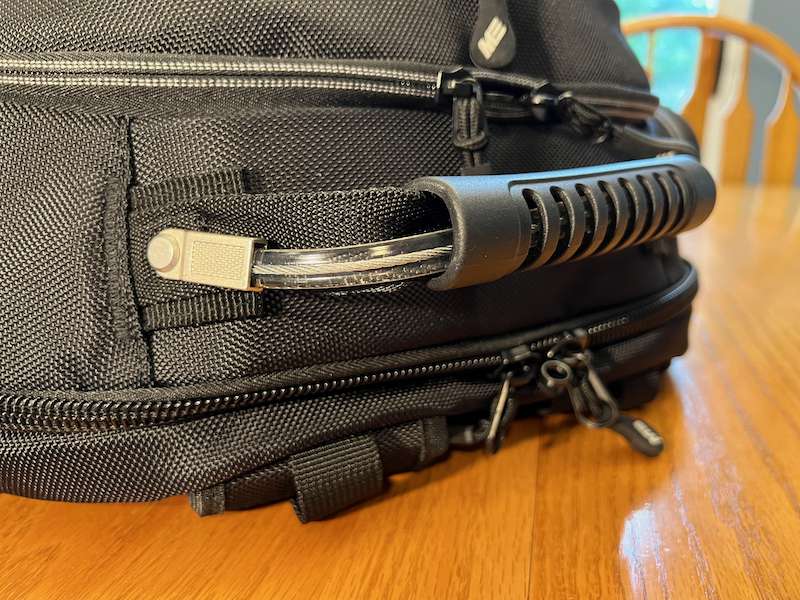 Design and features
The Mobile Edge CORE Special Edition gaming backpack is made from ballistic nylon, padded air mesh shoulder straps, a reinforced solid rubber top handle, and plenty of stitching that seems like it will last a long time.
On the outside, there are four zippered pockets, a small upper pocket, and a larger lower pocket on either side. Inside the lower pockets, there are mesh dividers to help organize your items. When I say the upper pockets are small, they are large enough to hold a large gaming mouse, in my case a Corsair Dark Core RGB Pro SE; not the largest mouse out there but full-size and it fits perfectly in the pocket.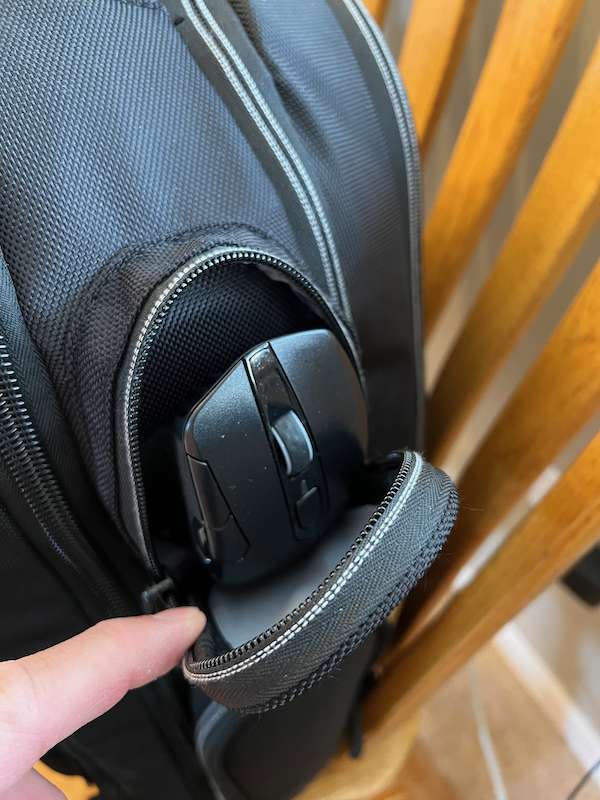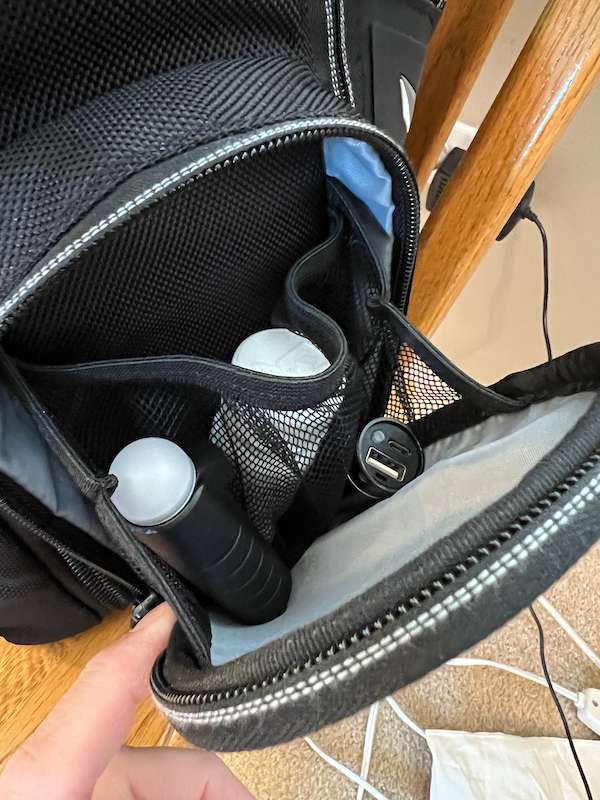 The front panel of the Mobile Edge CORE Special Edition gaming backpack is molded plastic; not a hard shell but harder than a regular mesh or fabric panel which seems like it will hold up to years of abuse. The back side of course has the straps. The straps are adjustable to fit the user and include a clasp to help hold the straps together; I've never used these myself but it's nice to know they're there for longer trips if I'm ever concerned about ensuring the straps don't slip off my shoulders. The top of the straps include loops that Mobile Edge has labeled "Shock Absorbing," which I presume will help the straps hold up to carrying lots of weight for a long time. The loops also seem large enough to carry a good-sized water bottle, although they're not elastic so the bottle will have to fit exactly or it will slide out. The back panel of the backpack is also padded really well, making it easy to sit against your back for long periods of time without digging into your skin. Mobile Edge says the back panel is also ventilated, I assume to keep sweat away as you carry it around. Lastly, the back panel includes a trolley strap to ease in carrying it on top of other luggage.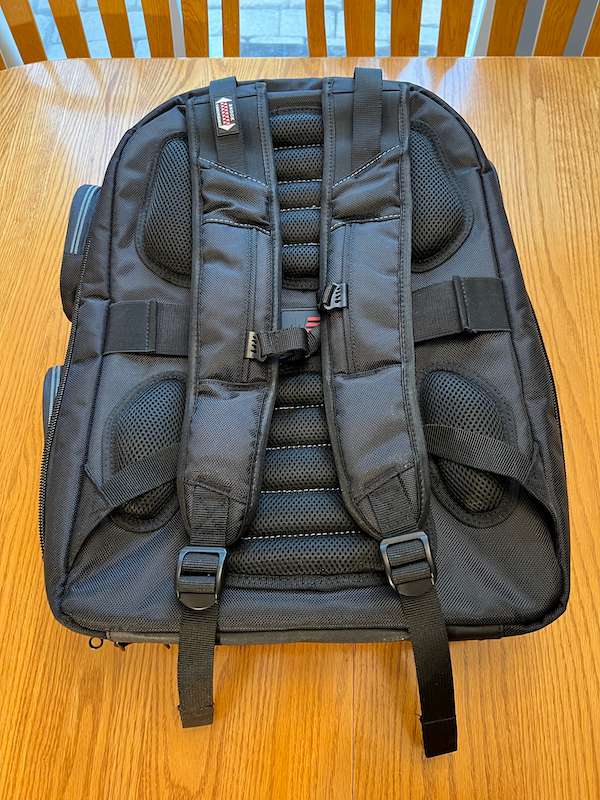 Inside are three main sections for carrying just about anything you might need to keep with you. The first panel is accessible behind the molded front panel. The zippers on this panel don't go all the way down, stopping about 8 inches from the bottom of the backpack. This design limits how far you can open this panel but it also helps keep the contents inside. A few more inches on the zippers might have made it a little easier to access everything in this pocket without fear of spilling everything, but it works well enough as it is. Inside this panel are three pockets in addition to the main compartment that goes all the way to the bottom of the backpack. One of these pockets is designed to hold a large portable battery (more on that later); the second pocket, sitting right next to the battery pocket, also has slots for multiple USB drives and SD memory cards; and the third pocket, inside the front panel, goes the full width of the backpack and a few inches deep, useful for carrying travel documents, portable drives, or smaller items you need quick access to while traveling. In this section, there's also a section for holding pens & pencils, business cards or other small pieces of paper, and a windowed slot to hold an ID badge.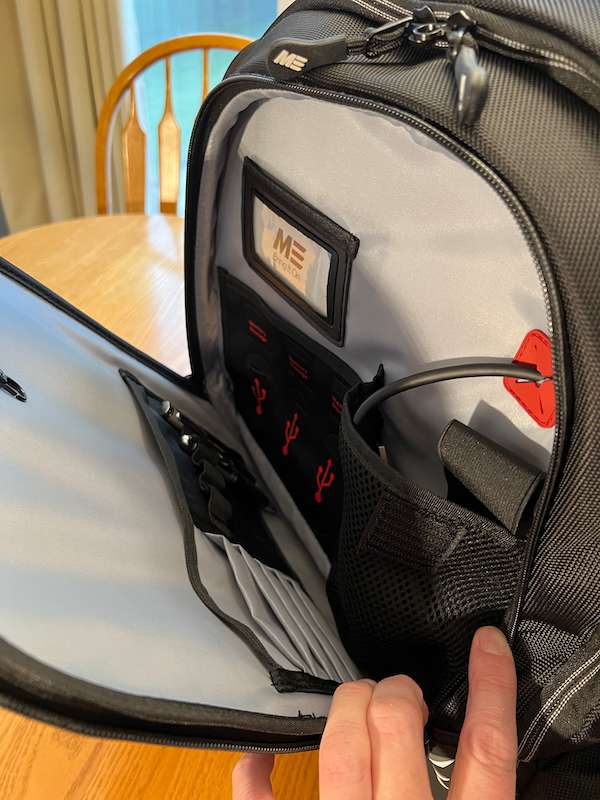 The second section of the Mobile Edge CORE Special Edition gaming backpack has zippers that go all the way to the bottom of the backpack, opening up to reveal a large pocket, with several smaller zippered mesh pockets on one side, as well as a larger compartment with yet another pocket, this one fleece-lined to carry a small to medium-sized tablet or even a compact laptop. This section has some panels on either side, about 9 inches up, to keep the contents of the main compartment from spilling out, while the large pocket has sides that go up another 5 inches. This is the section I've been using to carry the bulk of the larger items I carry around, except for my laptop and iPad.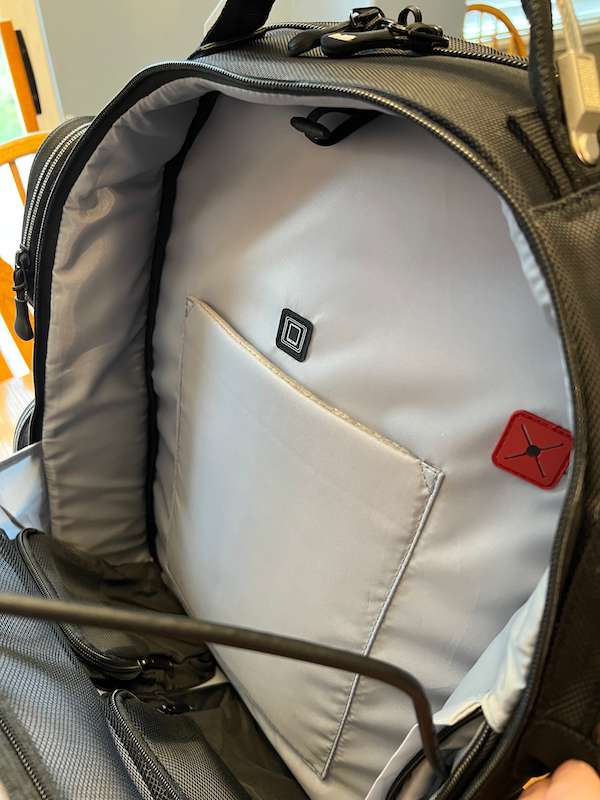 The final section is where I store my MacBook Pro and iPad Pro. I've also successfully carried around my AWOW tablet in this section with room to spare. This section opens up all the way, allowing the backpack to go through a security scanner without you needing to remove everything inside (assuming the TSA agents at each checkpoint will allow it). Inside this compartment are two pockets, one on the inside panel, which is almost the full height and width of the backpack (although just slightly too narrow to hold my encased 12.9″ iPad Pro), and one on the back panel, which is meshed. This is the pocket where I keep my MacBook Pro and iPad Pro. Both of these pockets can be held closed by Velcro straps. There's also plenty of room between these pockets to hold more items, as long as you don't open the zippers all the way since there are no side panels to hold things in.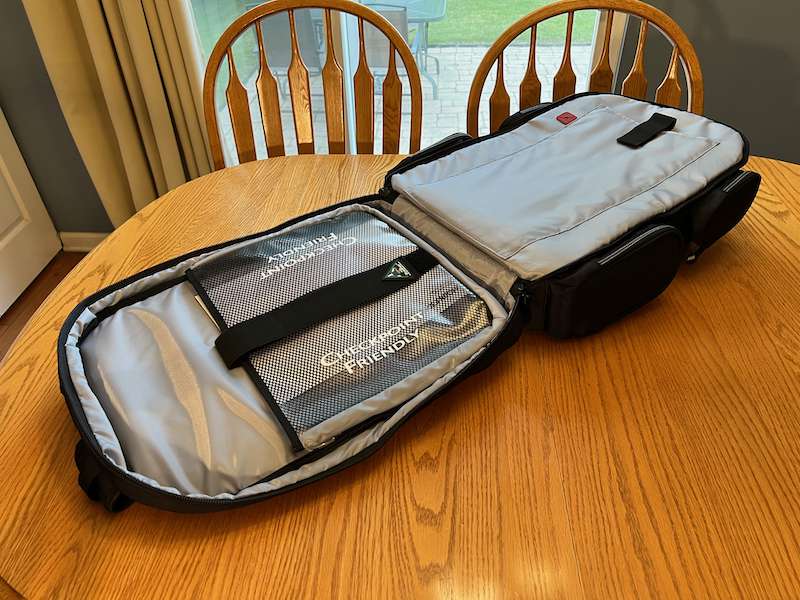 The bottom of the Mobile Edge CORE Special Edition gaming backpack has a zippered panel that holds a rain cover that is large enough to cover the whole backpack. It's connected by a plastic clasp, which can stay connected while in use, so you don't lose it. This is a welcome accessory and a great idea to always have it with you because you never know when you might need it.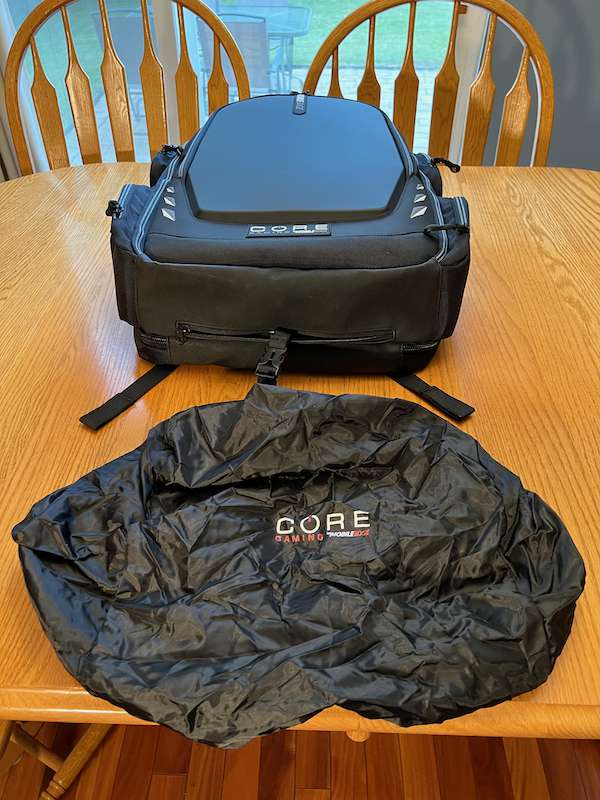 In Use
Let me just start this section by saying this is a big backpack. If you're looking for something compact to keep a lightweight notebook or small tablet, some paper, and a few accessories, this is not the right product for you. If, however, you're like me and want to carry a large laptop, a large tablet, batteries, flashlights, chargers, cables, and more junk than I need to haul around most of the time, or even a game console, keep reading.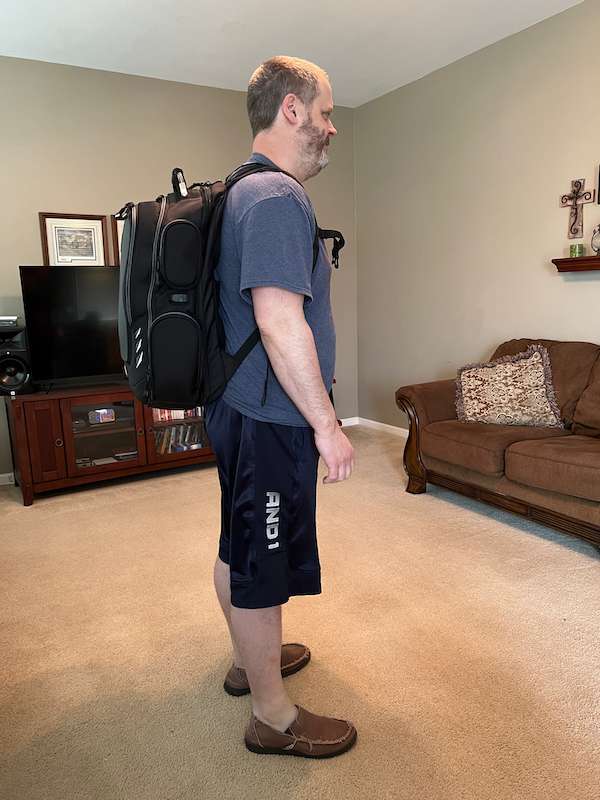 I used to carry a briefcase before I had a laptop, then I used a sling-style bag for several years until my shoulders started bothering me. A few years ago I was gifted a nice backpack and I haven't looked back since. This has been a much more comfortable way for me to carry my laptop, tablet, and all the other things I like to have with me when I go to work, on vacation, or anywhere I go outside of the house.
I was excited to review the Mobile Edge CORE Special Edition gaming backpack on a recent trip to Hawaii since my old backpack had started to fall apart in the last few months, making it hard to close the zippers all the way, and some tearing, making me weary that it would survive a multi-thousand mile trip to the tropical islands, then to Alaska a few weeks later. Thankfully this backpack arrived in time and I got to spend a lot of time with it, learning what I can carry inside, how it fits on a plane, and whether I'd want to make it my permanent replacement for the one I had used for almost a decade.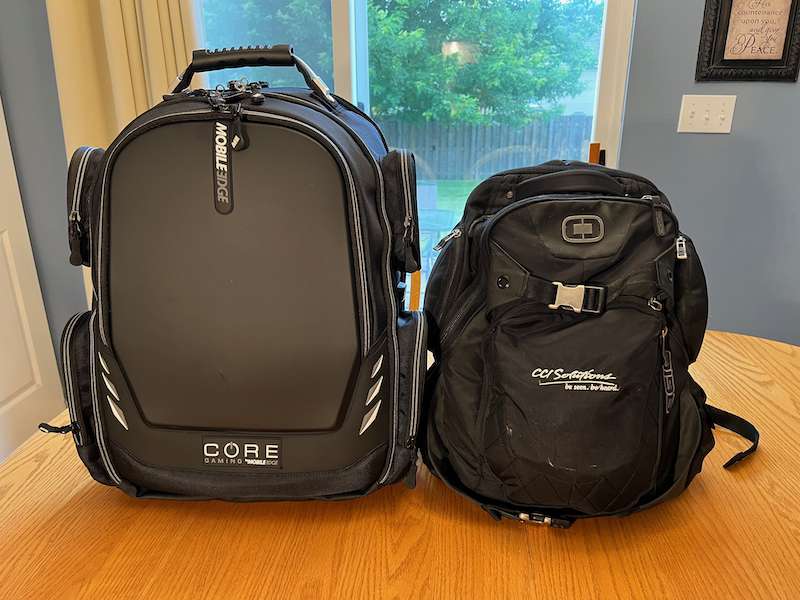 I tend to carry a lot of stuff with me when I travel, and even more when I'm at home, going to work every day. Many would say (my wife being the first) that I carry too much stuff, but I like to think of it as being prepared. On this trip I didn't carry my MacBook Pro; it's just too heavy and expensive, and I wasn't planning to do any work that required it, so I was glad to be able to leave it behind. I still brought several portable batteries, several flashlights, several pairs of Bluetooth headphones (which I was thankful for when I accidentally walked into the pool with my favorite Bluetooth headphones, the Samsung Galaxy Buds+, in my pocket – RIP), several flashlights, lots of USB-C, Lightning, and other miscellaneous cables, a USB-C hub or two, the SmartRig lens I reviewed recently, a battery-powered light for review photography, and countless other small- to medium-sized items I just had to have with me. Thankfully this backpack carried it all with a lot of room for more if I needed it.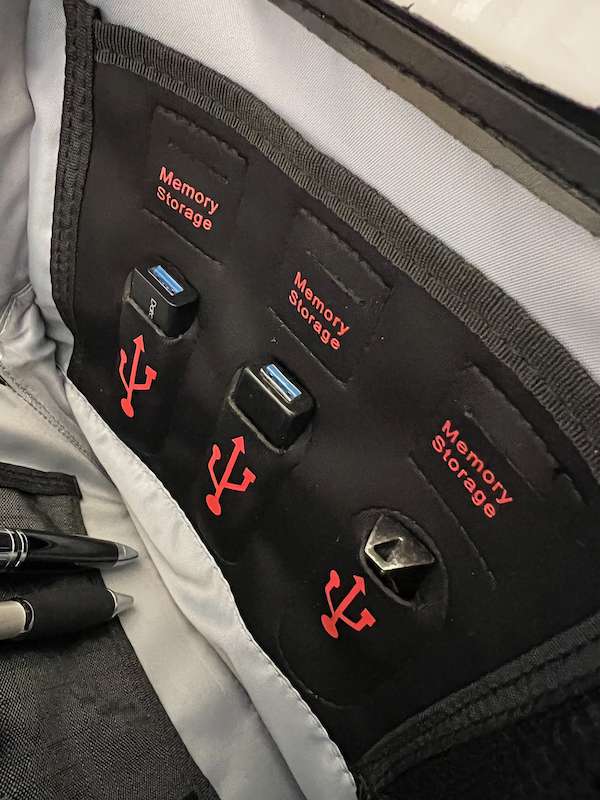 I wasn't sure how the Mobile Edge CORE Special Edition gaming backpack would fit under the seats in front of me on the various flights I took. I'm happy to say that except for the one flight I took between islands (only about a 25-minute trip) the backpack fit under every seat. A few of the middle seats that had boxes that looked like they contained the electronics for the in-flight entertainment were a pretty tight squeeze, but I was still able to get the backpack to fit under them without squishing or breaking anything inside. I didn't have much room for my legs but I was able to make it work anyway.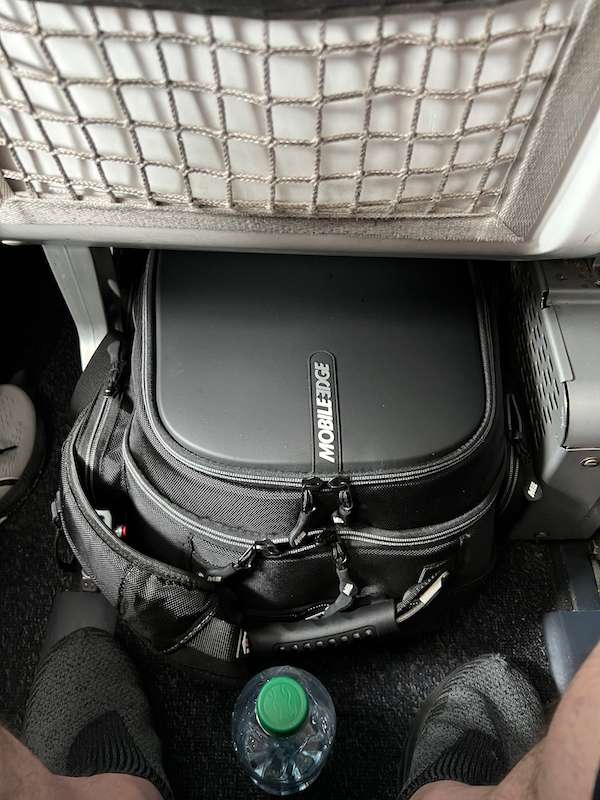 While I wasn't on the plane the backpack fit perfectly on my back without fear of it falling or slipping off. I hadn't weighed it down too much, even with all the extra stuff I had put inside, and it was easy to carry everywhere I went.
I've mentioned several times that I carry my 16″ MacBook Pro and 12.9″ iPad Pro in the Mobile Edge CORE Special Edition gaming backpack. Neither of those are small devices, but when they're inside this backpack it makes them look tiny. There's easily room for a big, thick gaming laptop inside. Further proving that it's a gamer's backpack, I was able to put my old Xbox 360 in the middle section – it fits fine with plenty of space for the power supply, controllers, and a lot of other stuff you might want to pack in there.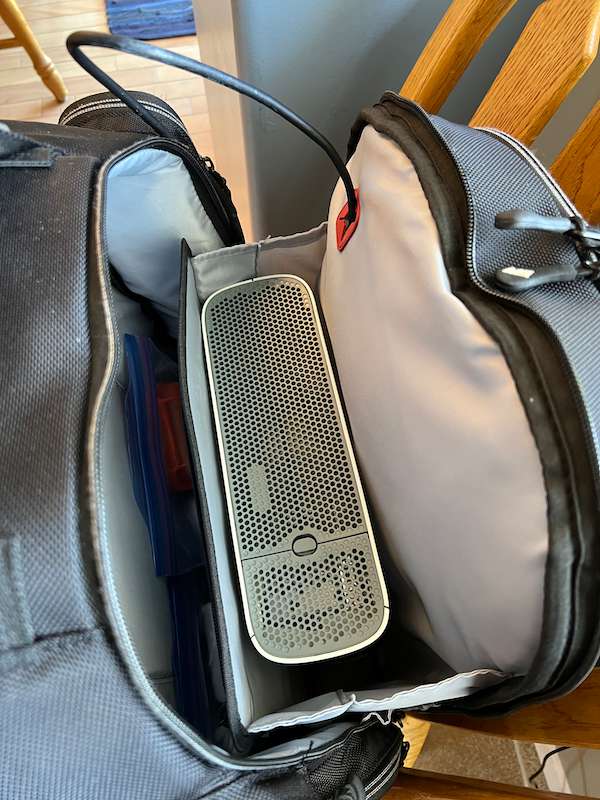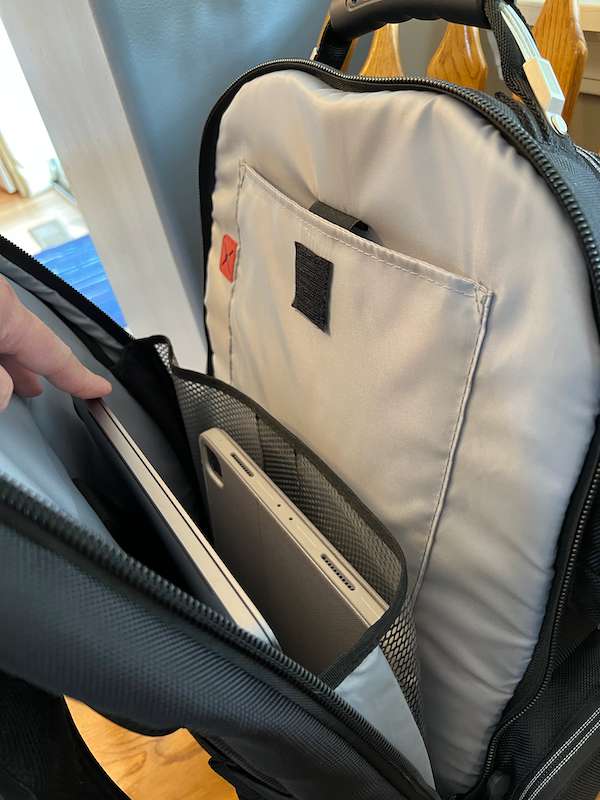 The cable pass-through openings (the slots with the red squares and a hole in the middle) are a convenience I haven't fully taken advantage of yet. I have used the built-in cable that passes through to the external USB connector. This is a convenient way to charge a device you're working on while keeping your battery pack neatly tucked away in its storage pocket. This external port is a USB-A 3.0 connector that supports Quick Charge; it's not USB-C so it doesn't support USB-C PD for charging a laptop, but if your battery pack puts out enough power, you can charge a decent-sized device as well as you would directly connected to the battery. It successfully charged my iPad Pro during a meeting; if I need to charge my laptop with the same battery I can just run a cable straight out of the backpack for that use case. The battery pack I keep in the pocket is the Chargeasap Flash Pro Plus I reviewed a while back, which puts out plenty of power to charge multiple devices simultaneously. One word of caution on charging devices while in the Mobile Edge CORE Special Edition gaming backpack – make sure there's plenty of airflow; most devices tend to get pretty warm while charging and if you're charging multiple devices while the backpack is closed you might damage your devices or potentially even start a fire. I'd recommend only charging devices internally while the backpack is open and in a well-ventilated space.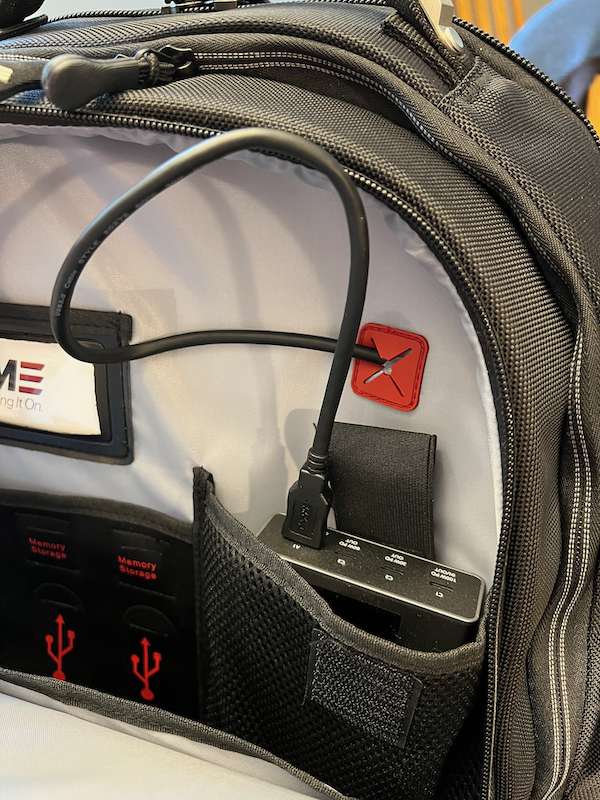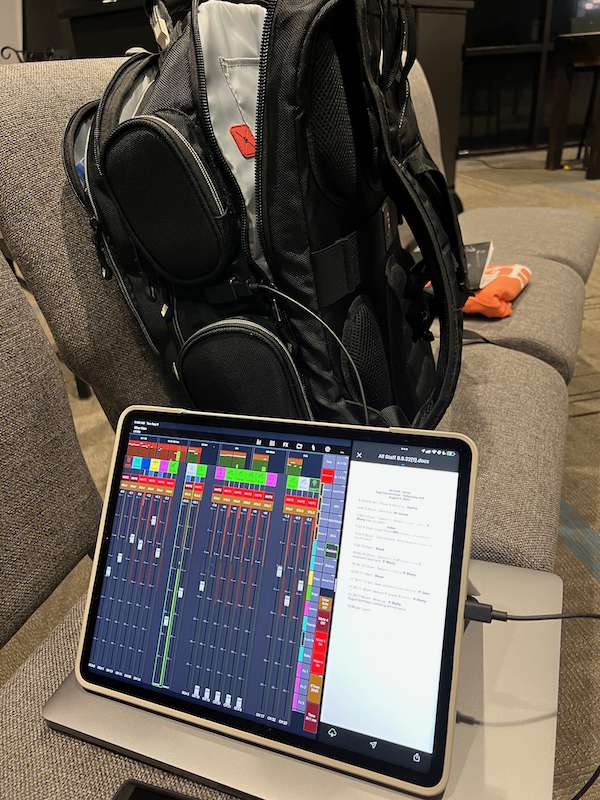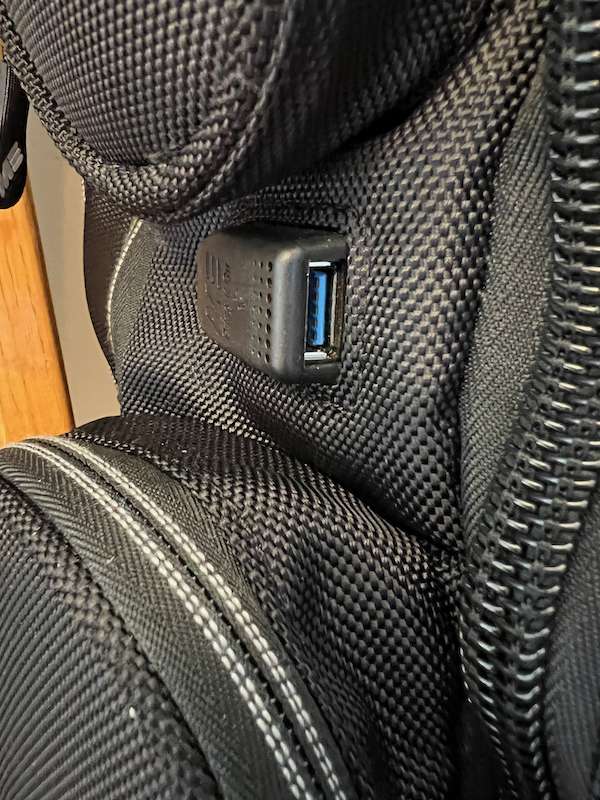 What I like
Lots of storage space
Well-built and feels like it will last
Lifetime Warranty
What I'd change
Being able to open the front panel a little bit wider would be nice
Nothing else, especially for the price
Final thoughts
I've already decided to make the Mobile Edge CORE Special Edition gaming backpack my permanent replacement backpack. It's noticeably bigger than my old one; I can feel that when it's on my back as well as when I try to move it around wherever I'm working. That's not a negative unless I stuff it with too much junk as I tend to do; that's on me, though, not the backpack. I'll consider this an exercise in learning to limit myself while I enjoy this backpack for many years to come.
Price: $129.99
Where to buy: coregamingusa.com and you can find a large selection of their gear on Amazon
Source: The sample for this review was provided by CORE Gaming by Mobile Edge. For more information visit their site.