The Gadgeteer is supported by readers like you! If you buy something through links on our site, we may earn an affiliate commission. Thank you! Learn more.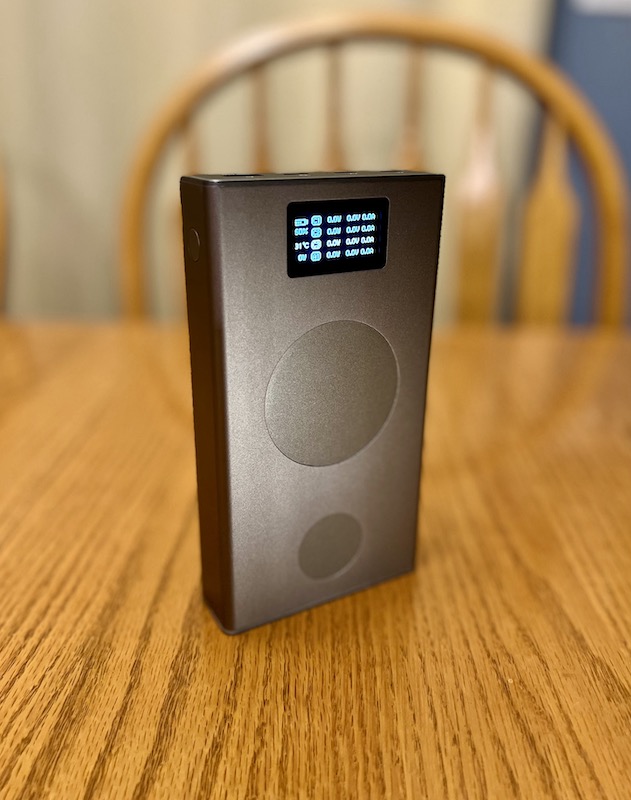 REVIEW – We all have a lot of devices to charge – phones, watches, tablets, laptops, Bluetooth headphones, flashlight batteries, and the list goes on and on. What we don't always have is a convenient place to charge multiple devices. Even if we do have a multi-outlet charger, what if we want to charge on the go? A portable battery bank is a great option, but how many devices can they charge simultaneously? If you have the Chargeasap Flash Pro Plus, you can charge up to 6 devices at once, with fast charging for all of them.
What is it?
The Chargeasap Flash Pro Plus is a portable power bank with three USB-C and one USB-A outputs, as well as two wireless charging pucks, perfect for an iPhone, an Android phone, or an Apple Watch. These aren't low power, slow charging USB ports, either. The USB-C ports support 100W, 60W, and 20W PD charging, and the USB-A port outputs up to 50W, compatible with QC 3.0 and more fast-charging standards. The larger wireless charging puck outputs up to 15W and the smaller 5W, both supporting the fastest wireless charging available for an iPhone or Apple Watch. The best part – you can use all four USB outputs and both wireless pucks simultaneously for up to 190 W total output. That's pretty impressive. With a 25,000 mAh capacity, this battery will last a while as well.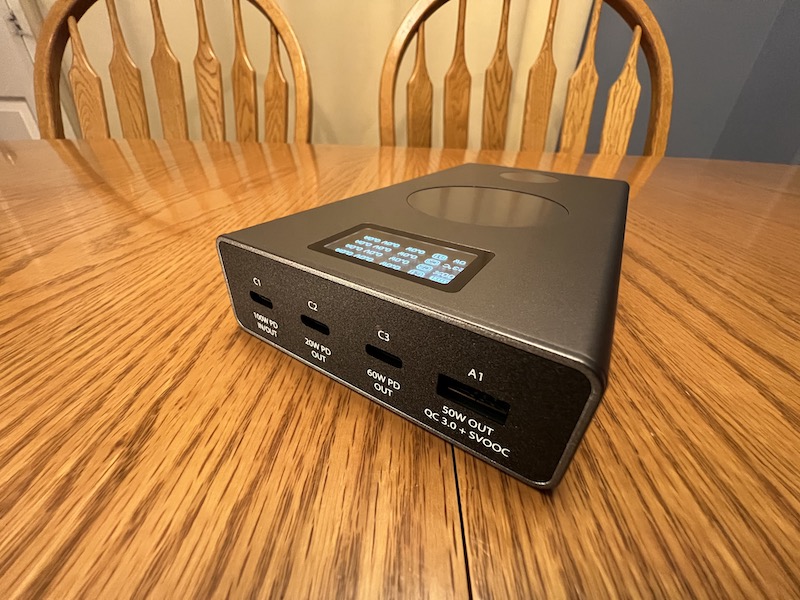 What's in the box?
My review unit came in a plain white box with no cables, no instructions, and no charger included. It seems from their Indiegogo page that this will be the case with units shipping to customers as well. In my case, this isn't a problem because I have the 96W charger that came with my Macbook Pro as well as a smaller 100W GaN charger that I carry with me so I always have a way to charge this device, but I wanted to make you aware that you'll need to supply your own charger and cables.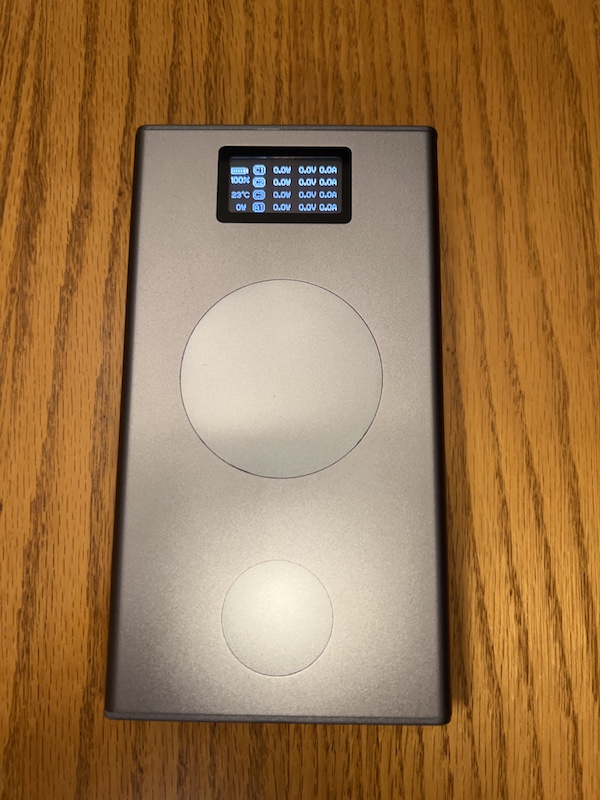 Hardware specs
Capacity: 25000mAh / 92.5Wh
Interface: 

Max 100W USB-C Power Delivery Input/Output
Max 50W USB-A Oppo 50W, Vivo VOOC 50W, Oneplus 50W, VOOC Flash Charge SVOOC Super Flash charging 50W, Huawei Super Charge 22.5W
Max 18W USB-A QualComm Quick Charge 3.0

100W USB-C Power Delivery 3.0 Input: 5V/3A, 9V/3A, 12V/3A, 15V/3A, 20V/3A, 20V/5A (PPS: 3.3-6V/5A, 3.3-11V/5A)
100W USB-C Power Delivery 3.0 Output: 5V/3A, 9V/3A, 12V/3A, 15V/3A, 20V/3A, 20V/5A (PPS: 3.3-6V/5A, 3.3-11V/5A)
60W USB-C Power Delivery 3.0 Output: 5V/3A, 9V/3A, 12V/3A, 15V/3A, 20V/3A (PPS: 3.3-6V/5A, 3.3-11V/5A)
20W USB-C Power Delivery 3.0 Output: 5V/3A, 9V/2.22A, 12V/1.67A (PPS: 5-5.9V/3A, 5-11V/2A)
50W USB-A 1 Output: QC3.0 + SVOOC 4.5V~10V/5A, 11V/4.5A, 12V/4.16A
Magnetic Wireless Charger Output : 15W Fast Charge (10W for Android and non iPhone 12 devices)
Apple Watch Wireless Output: 5W
Maximum Power Output: 190W
Maximum Power Input: 100W
Batteries: 5 x 21700 Panasonic™ Lithium Polymer Graphene Composite Battery Cells
Battery Life Cycles: 2,000 – 4 times more than li-po batteries
Battery Life: 5 Years
Time to 80% (20,000 mAh) from empty: 45 min
Time to full charge from empty: 1 hr 10 min (with 100W input)
DC/DC Input Efficiency: 90%~95% (100W input)
Output Efficiency: 70% ± 5%
Discharge Rate: 12mAh per day over 395 days
Device Operating Temperature: -20℃  to 60℃
Safety Protection: Over current/voltage/temperature, short circuit protection
Enclosure: Aircraft-grade Aluminum and PVC
Dimensions: 6.24″ x 3.4″ x 1.12″ (15.85cm x 8.7cm x 2.85cm)
Weight: 1.28 lb (583.5g)
Flash Pro Plus (Designed for Apple Users) Power Distribution:
C1 = 100W
C1 + C2 = 100W + 20W
C1 + C2 + C3 = 100W + 20W + 60W
C1 + C2 + C3 + A1 = 60W + 20W + 45W + 50W
C1 + C2 + C3 + A1 + iPhone wireless = 60W + 20W + 45W + 50W + 15W
C1 + C2 + C3 + A1 + iPhone wireless + Apple watch wireless = 60W + 20W + 45W + 50W + 15W + 5W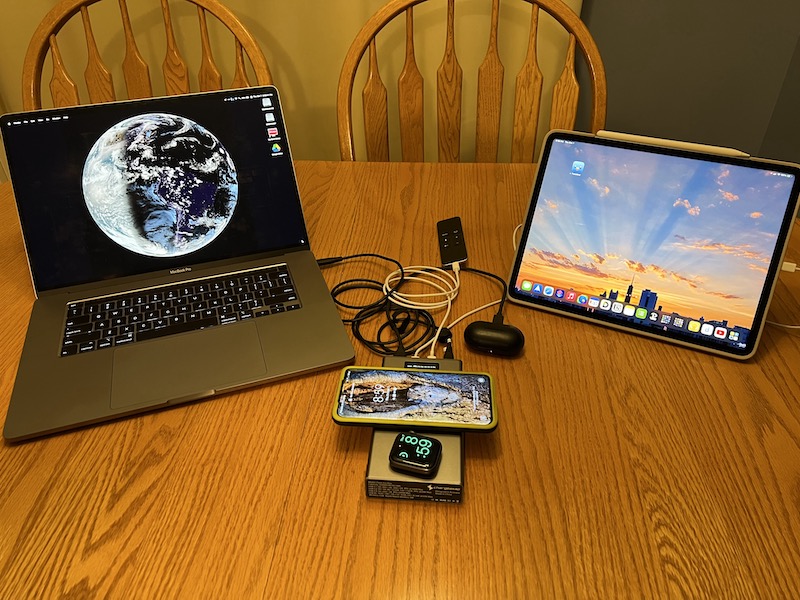 Design and features
The Flash Pro Plus is a rectangular device, just over 6″ long on its longest side. It's made from aircraft-grade aluminum and PVC and you can choose a black or gray finish. I was sent the gray unit for review. This is a solid, hefty device. Considering how much battery capacity is inside, it's no heavier than it should be, but you'll definitely know it's there. 
All of the USB connectors are on the top end and the wireless charging pucks are on the front face below the four line OLED display, which shows remaining capacity, output current for the wireless pucks, and the internal temperature. There is a small button on the left side for turning wireless charging on and off.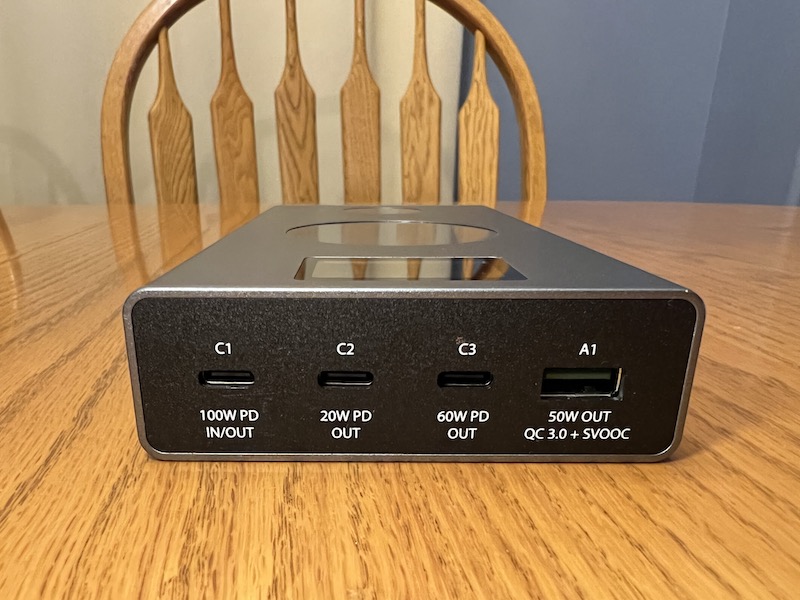 Installation and setup
All you have to do is pull it out of the box and charge it up to 100%. Mine came 45% full so I didn't have to charge it all the way. When it's fully charged, just plug in all your devices and let them charge. The only thing I had to figure out is that I had to press the button on the side for 3 – 5 seconds to get the wireless charger to turn on. I suppose they don't want the wireless chargers outputting current all the time if they're not being used. 
After fully depleting the battery I charged it up to 100% again, with a 100W USB-C charger and it took just about 1 hour and 10 minutes, which is the amount of time Chargeasap says it will take. I consider that pretty impressive since I've charged many smaller batteries like this and they've taken several hours to fully charge. This is where the 100W input really comes in handy.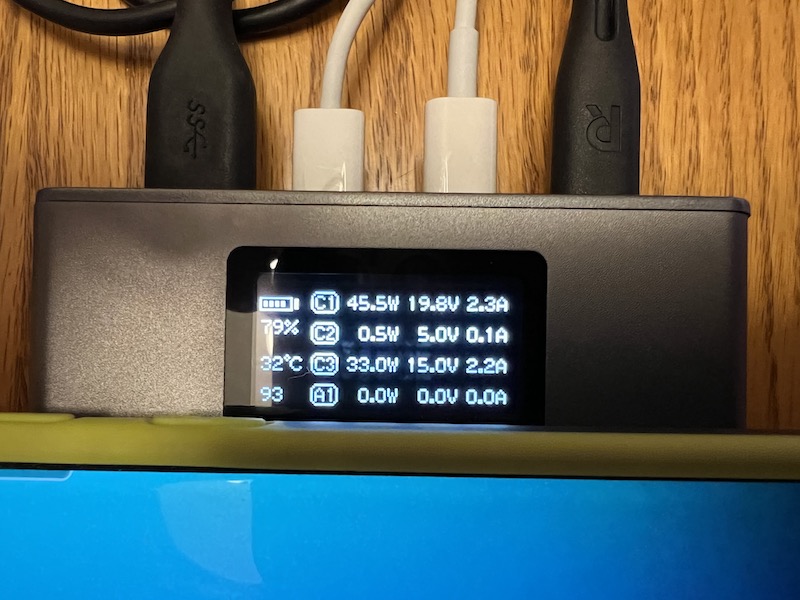 In testing, I was only able to get the Flash Pro Plus to show 8 W output when charging my iPhone 13 Pro Max on the wireless puck. This is just over half of the wattage that it's claimed to be able to output. It's entirely possible this was due to the redesign of the camera bump on the 13 Pro Max, which is significantly bigger than the one on the 12 Pro Max, which Chargeasap used in their promotional materials before the 13 Pro Max was announced. I can feel it hitting up against the side of the lenses so it might not be fully centered on the charging puck, meaning it's not able to transfer the full 15W. This is sometimes an unfortunate reality for accessory makers – you never know from year to year how the design is going to change and for a product like this that obviously has a pretty long lead time, you can't always make quick changes to support the newest models. This is not something I fault Chargeasap for if this is true, but it is something to be aware of before purchasing this device. I don't have an iPhone 12 Pro Max to test with so I can't confirm whether that model charges at full speed or not. The magnet also doesn't grip my 13 Pro Max very well, but this also could be for the same reason.
This power bank is also able to wirelessly charge Android phones at up to 10W. I have a Samsung Galaxy S20 which reports that it is fast wireless charging when placed on the charging puck. Samsung says it takes 10W or more to enable fast wireless charging so I can confirm that the Flash Pro Plus can put out more than 8W from the wireless charger, further confirming my speculation that the design changes to the 13 Pro Max are to blame for the slower wireless charging speed.
Some of this might be better with a MagSafe case, which would potentially raise the phone off the surface of the charger, allowing it to sit correctly on the charging coil, stick properly to the magnets, and pass through the full charge. The case I'm currently using doesn't support MagSafe and the bare back of the phone doesn't sit all the way on the charger because of the larger camera bump. This is all speculation, which I hope to confirm when I'm able to get a MagSafe case to test this with.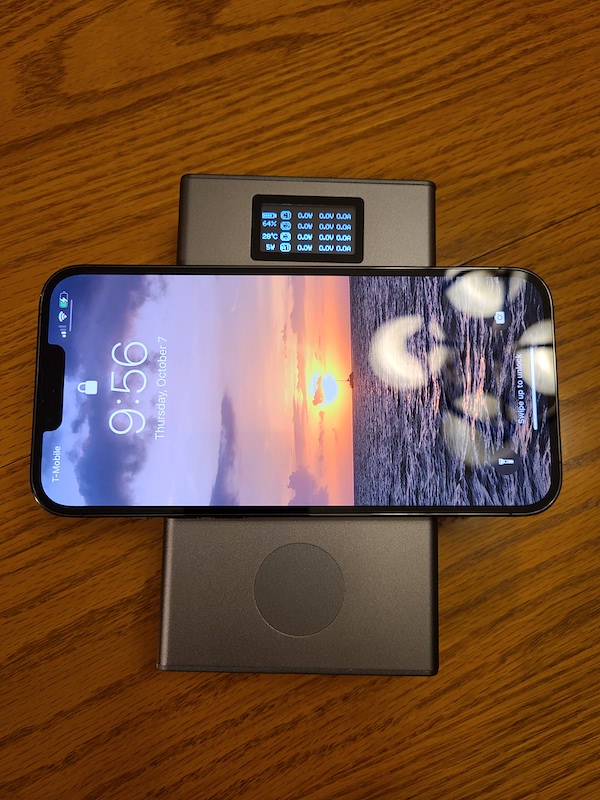 A bigger problem for me is with the Apple Watch charger. The photos on Indiegogo show a recessed Apple Watch charging puck, which looks like it's lined with a soft rubber material. The charging puck on my review unit is a flat, hard surface. Also, the magnet isn't strong enough to pull the watch down. I can feel a little pull from the magnet when I have it close but the watch straps make the watch sit just a little bit above the surface. If I take the watch straps off I'm able to get it to sit properly on the charging surface and it does charge, but because of the rounded glass surface at the bottom of the watch it spins around pretty easily.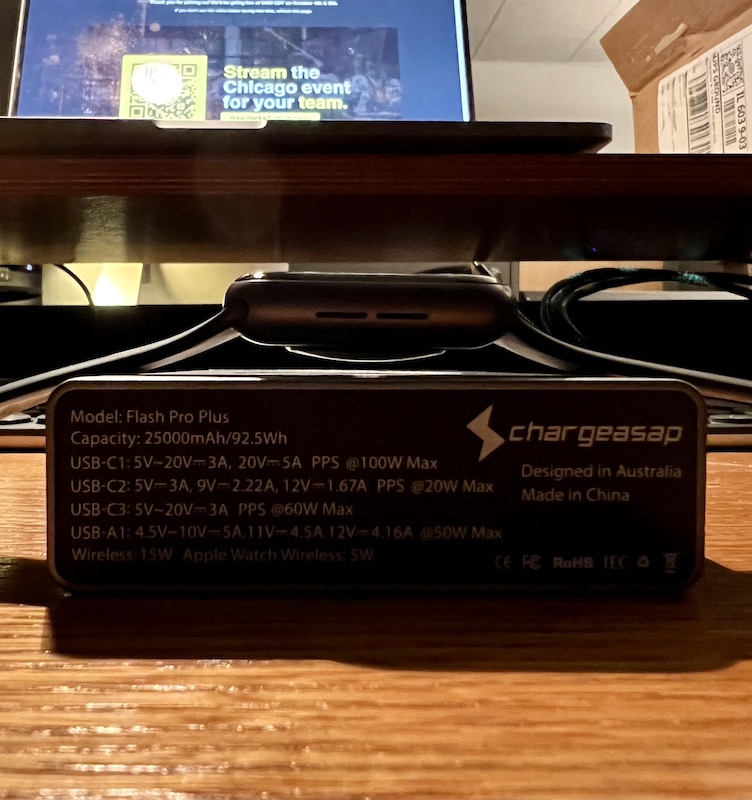 During a recent trip, I tried to use the Flash Pro Plus to charge up my phone and watch overnight before my flight back home. The phone was able to charge wirelessly but the watch didn't stay on the puck so it didn't charge. I had to charge it with the original Apple Watch charging cable on the plane to get it charged enough to make it through the rest of the day. It seems to me like the design in the pictures on Indiegogo would be better suited for charging the watch. I don't know why this design was changed or if it's something only on early test units but it's not very useful to me as it is.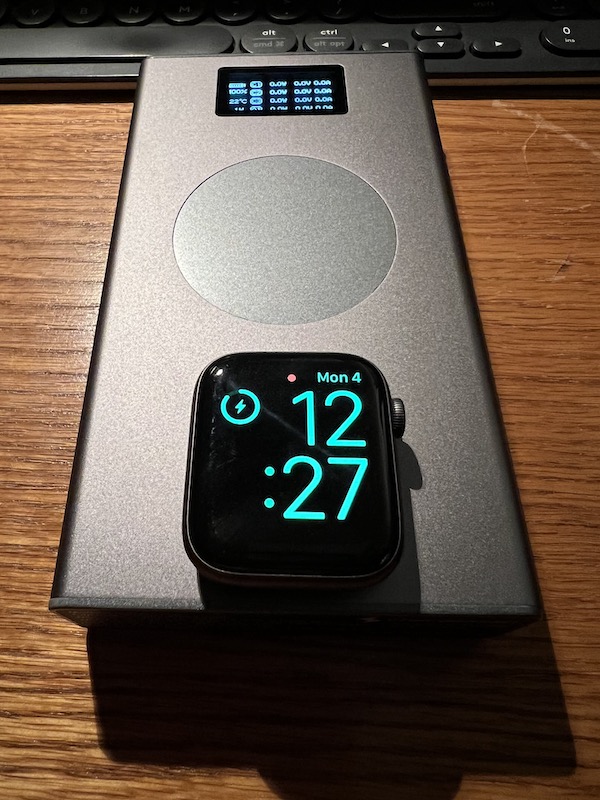 What I like
I like the convenience of charging up to six devices at one time, most at the full speed that they can support. There aren't many plug-in wall chargers that can do this, not to mention having all this capability in a portable power bank. The capacity vs. weight is manageable; I hardly even noticed the extra weight in my backpack while traveling. 
What I'd change
I would like to be able to charge my watch from this battery without having to remove the bands. It's possible that it would work better with a leather band or something that isn't as stiff as the fluoroelastomer (rubber) that Apple uses in their sport band, but I have a feeling a lot of people use this type of band since it's the default on some of the lower priced models so a lot of potential customers are going to run into this problem. 
I would also like to be able to charge my iPhone 13 Pro Max at full wireless speed. I'm hopeful this will be possible with a MagSafe case that I should have to test it with pretty soon.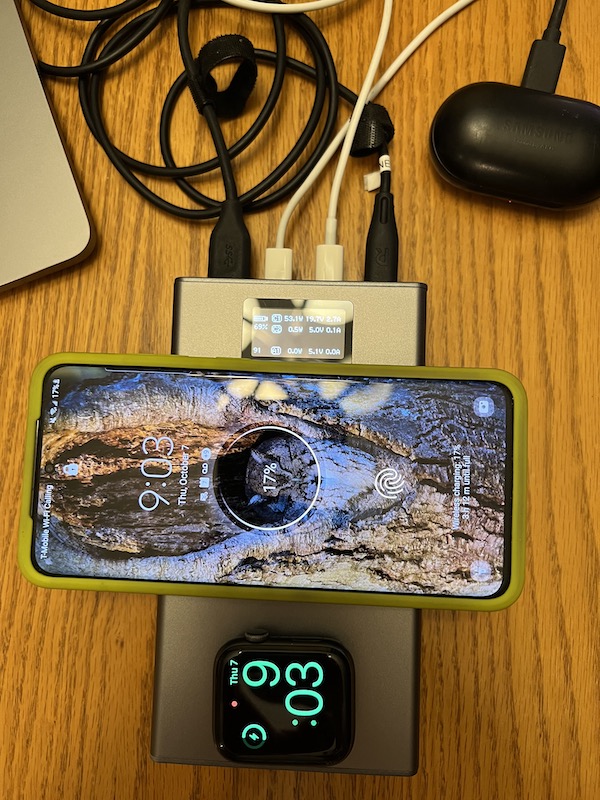 Final thoughts
If you're looking for a capable power bank that combines large capacity, lots of useful outputs that can be used simultaneously, in a design that can be easily carried for travel, look no further than the Chargeasap Flash Pro Plus.
Price: $149 (Indiegogo early bird special); Regular Price: $299
Where to buy: Indiegogo Indemand
Source: The sample for this review was provided by Chargeasap. For more information visit their site.
Support The Gadgeteer
:
The Gadgeteer is supported by readers like you! If you buy something through the links on our site, we may earn a small affiliate commission. Thank you! Learn more.