We use affiliate links. If you buy something through the links on this page, we may earn a commission at no cost to you. Learn more.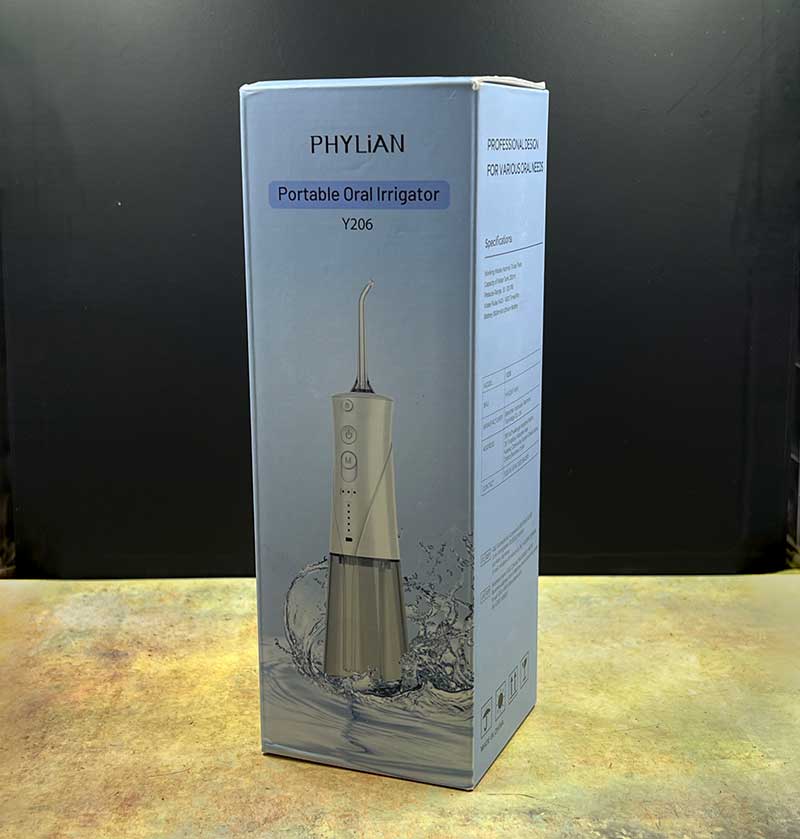 REVIEW – We all know that we should brush our teeth at least 2 times a day and we should be flossing as well. I was a slacker when it came to flossing until about a year ago when I finally made it a habit to floss every morning. But for some weird reason, I never floss at night before going to bed which is probably when I actually SHOULD be flossing. I've been told that water flossers are better than string flossing so I decided to try one when the Phylian Water Flosser was offered to me for review. Let's check it out.
What is it?
The Phylian Portable Oral Irrigator is a cordless rechargeable water flosser.
What's in the box?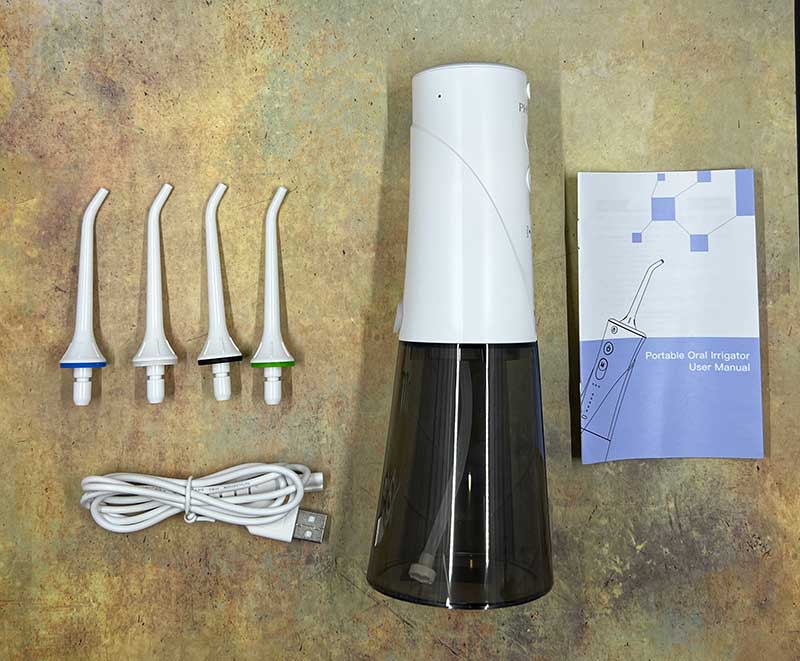 Phylian Water Flosser
4 water flosser tips
USB charging cable
User manual
Design and features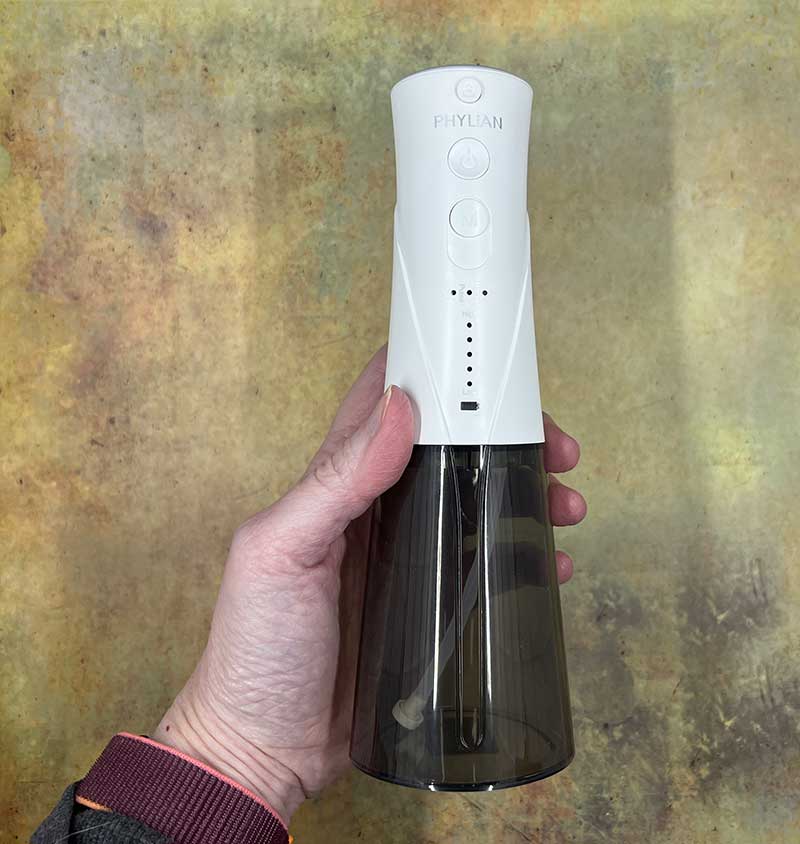 The Phylian Water Flosser is a handheld cordless device that features an 8.4 ounce (250ML) water tank on the bottom, with the handle/controls at the top.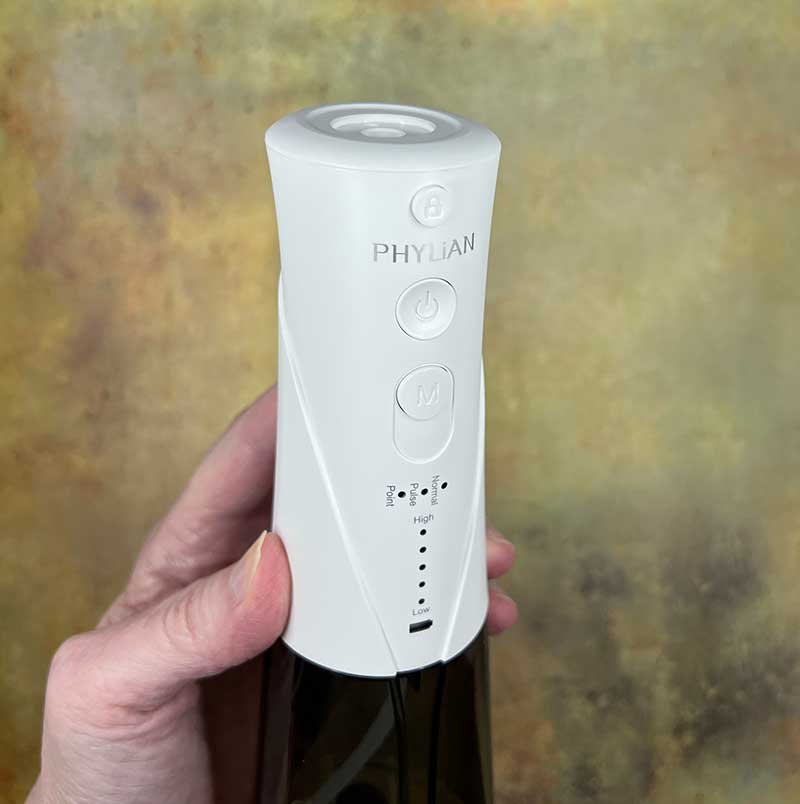 There is a lock button at the top of the handle which locks the flossing tip in place. Below that is the power button which doubles as the water pressure button. Then there's the mode button which cycles between normal, pulse, and point modes.
Below the buttons is a panel of status LEDs that show the selected mode, water intensity, and battery status.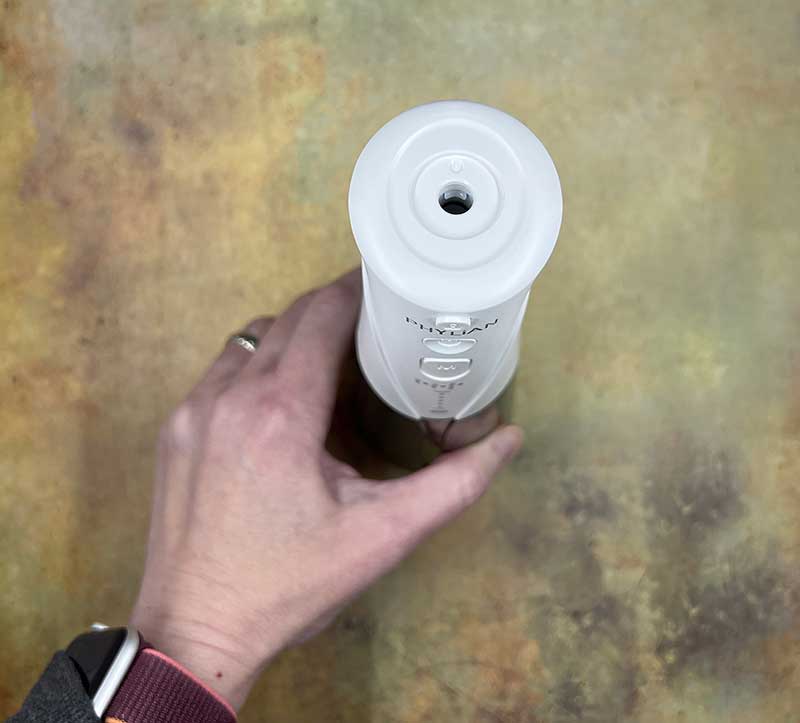 The top of the Phylian Water Flosser has a receptacle for the flossing tip.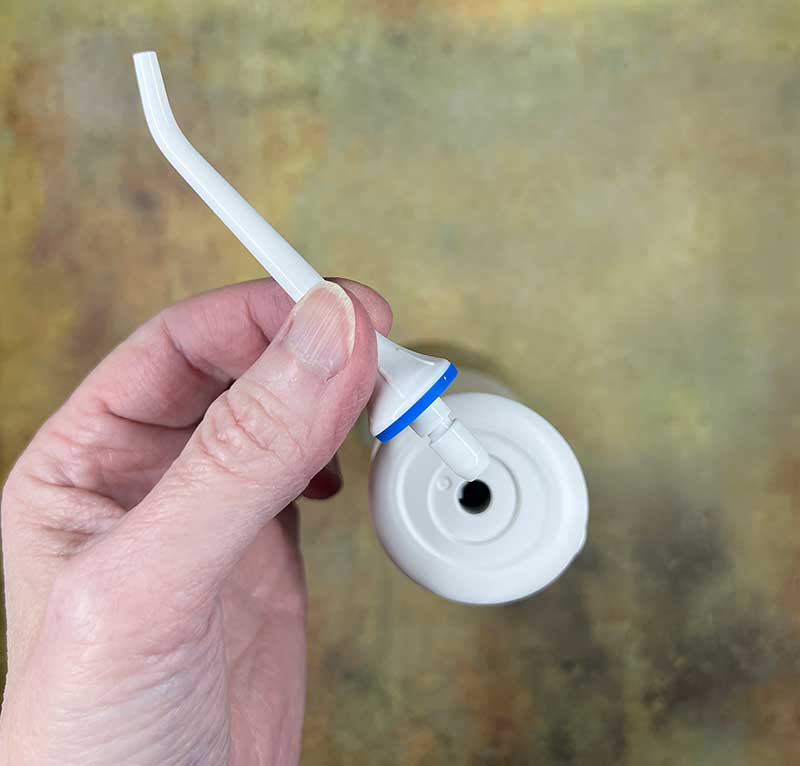 The flossing tips are made of plastic and have a slightly angled end. The base of the tip has a different colored ring so that each family member can use their own tip.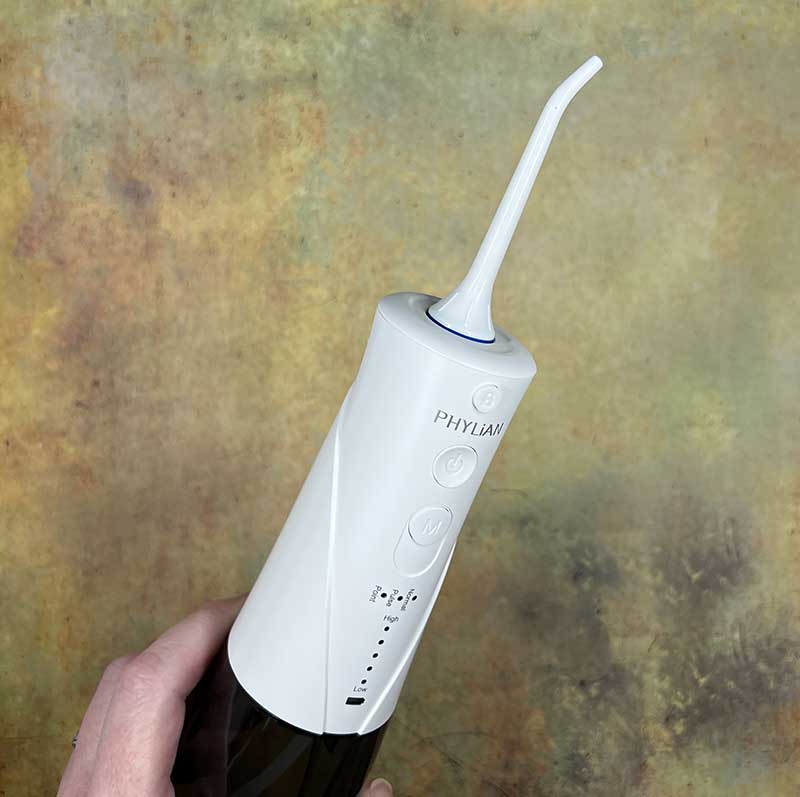 Here's the Phylian Water Flosser with the tip inserted and ready for use.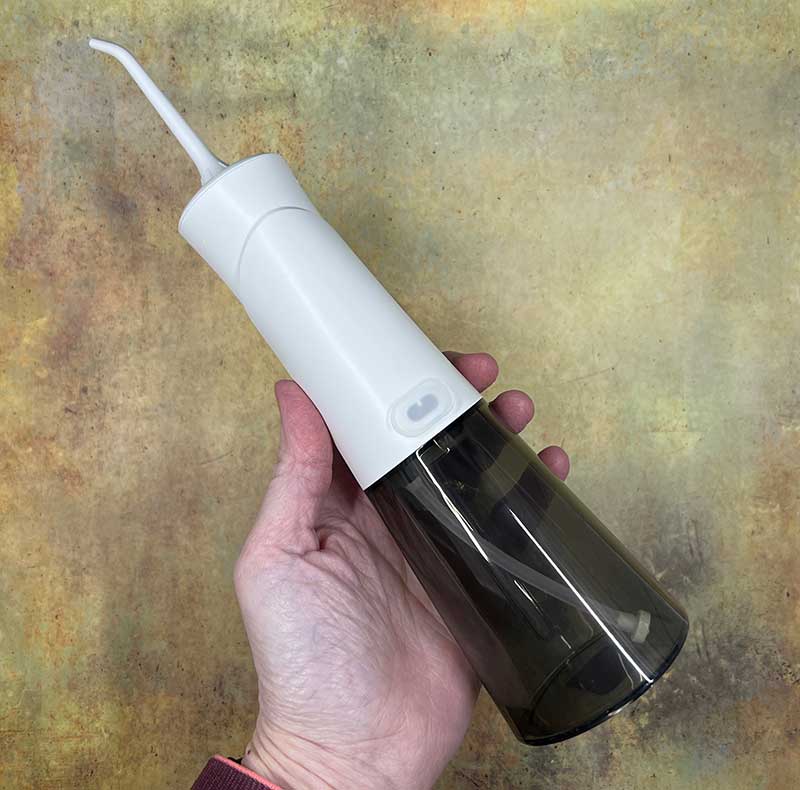 But before you can actually use this water flosser, you'll need to charge its internal batteries. On the back of the handle is a charging port.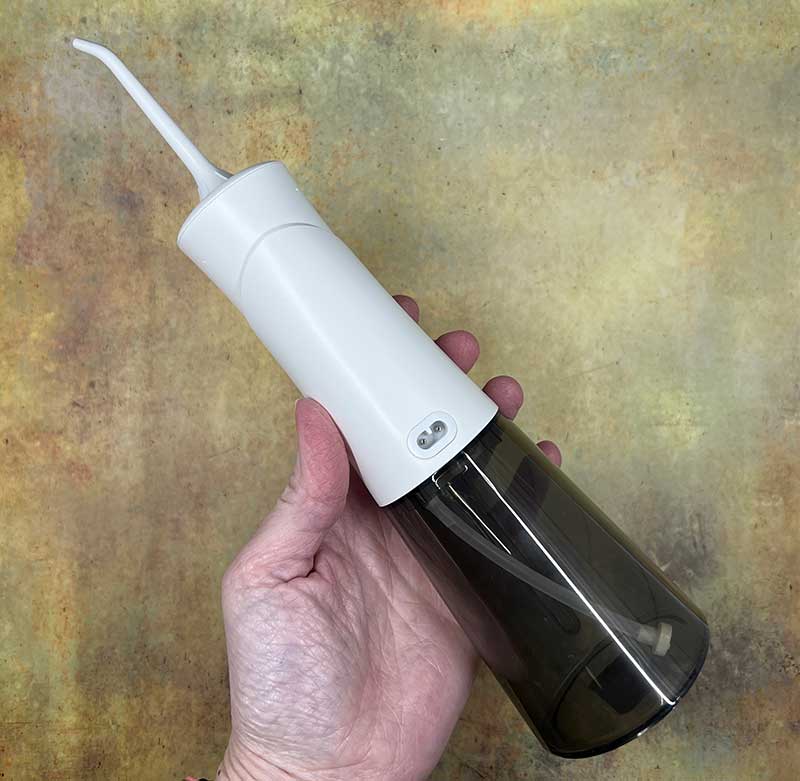 You can remove the protective cover and charge the unit with the included proprietary USB cable. Note that an AC adapter is not included.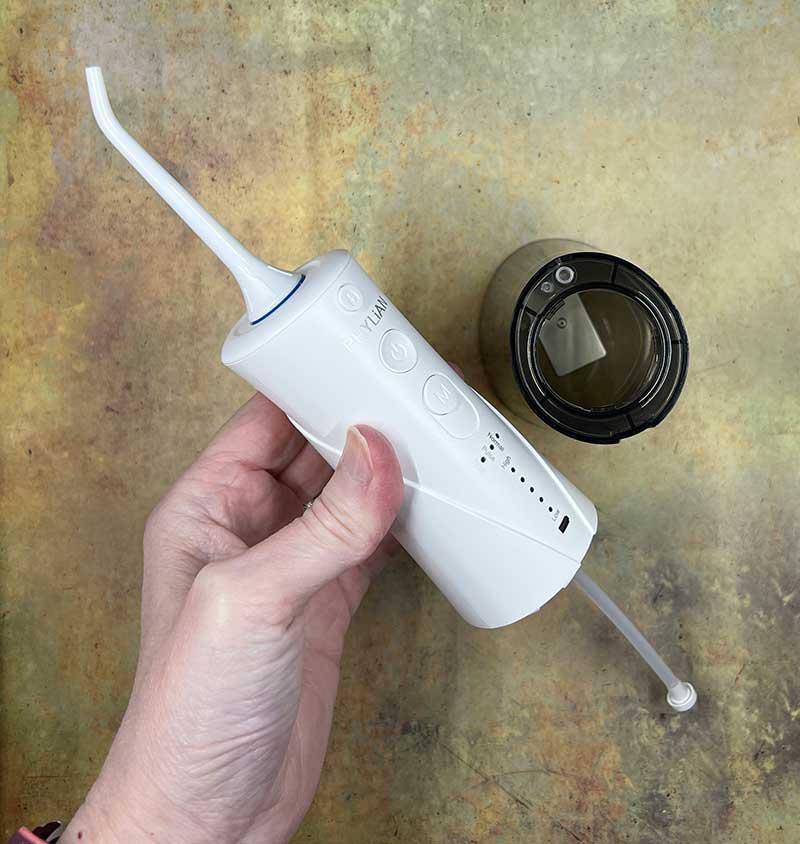 The last step before using the flosser is to fill the water tank with warm water and then twist it back onto the bottom of the flosser handle. Just be careful not to activate the power button when you're trying to attach the cup because you'll start spraying water all over the place – the voice of experience here…
Like with any new habit/device, it can take a while to get used to using this new device. You have to remember to put your head over the sink and leave your mouth open a bit so the water will flow out. It's not uncommon to make a bit of a mess the first few times that you use it, but with time it becomes easier and I can tell a difference with how clean my teeth are after using it.
See it in action
What I like
Cordless and rechargeable
 Remembers the last mode and level when restarted
Fits in my medicine cabinet
Great for travel
What I'd change
Water tank capacity isn't enough to do both sides of teeth in one session
Final thoughts
Am I a water flosser convert? It's still a little soon to tell. Using a new method to clean your teeth can take some time to get acclimated to it. But so far I do like it and I have found that after brushing my teeth and using the Phylian Water Flosser, that more gunk and food debris gets dislodged from between my teeth which is obviously a good thing. I also like that this unit is completely self-contained and it is a nice size for travel. As far as price,  convenience, size, and power, I give the Phylian Water Flosser two thumbs up.
Price: $28.99
Where to buy: Amazon
Source: The sample for this review was provided by Phylian.