We use affiliate links. If you buy something through the links on this page, we may earn a commission at no cost to you. Learn more.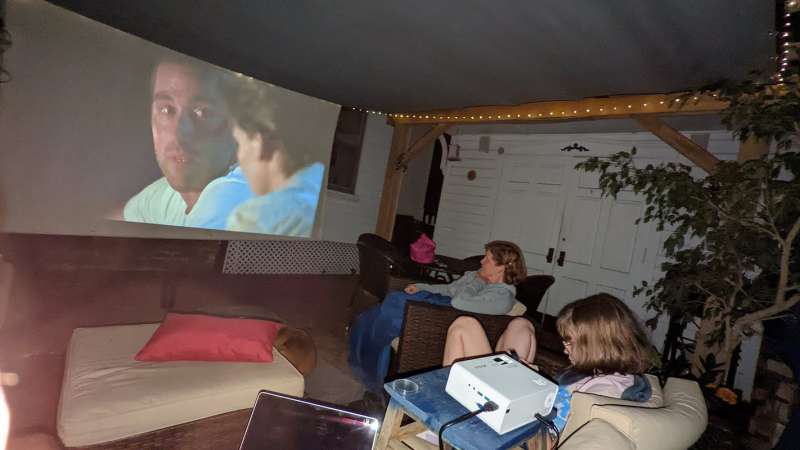 REVIEW – Projectors used to be an item of decadence.  I remember my uncle had a home-theater setup built around a projector mounted on his ceiling, and that he was proud of how much it had cost.  When I was teaching college courses, we would need to seriously consider our budget if we had to replace a projector.  Times have changed.  While expensive projectors are certainly out there, it's now possible to watch movies just about anywhere for around $100.  The SMONET 7500L projector is a good example of that, but with a few trade-offs.  
What is it?
The SMONET 7500L is a small portable LED HD projector with built in speakers and a remote control.  It includes multiple inputs to hook up to a variety of devices.  
What's in the box?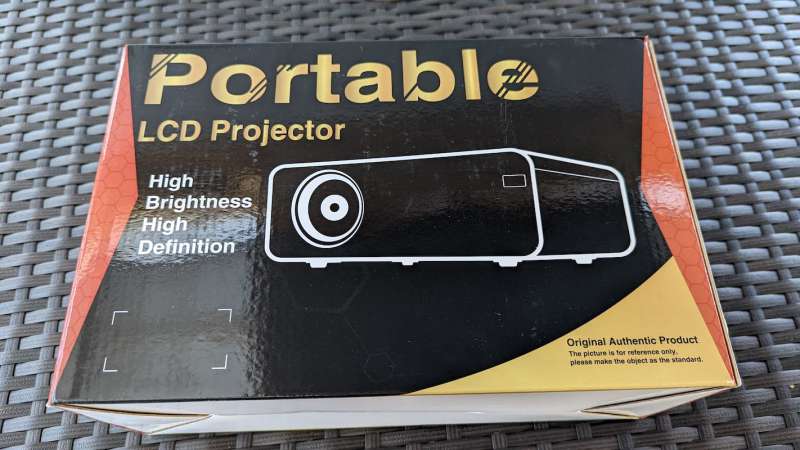 SMONET 7500L Projector

Power cable (not a power brick, which is nice)

HDMI cable

AV cable (RCA jacks for stereo audio, video inputs, and 3.5mm output)

Remote control

Lens cover

Threaded height-adjusting screw

User manual
Hardware specs
Light Luminance:

7500 Lumen

Light Type:

LED

Standard Resolution:

720,

1080p supported

Projection Area:

30-200 inch

Contrast:

3000:1

Projection Ratio:

1.2:1

Projection Distance:

4.92-16.4ft

Aspect Ratio:

4:3/16:9/16:10

Keystone Correction:

Manual, Vertical: ±15 degree

Projection Mode:

Normal, inverted, and rotated Projection. Allows for rear projection

Video Support:

MPEG-1, MPEG-2, MPEG-4 real-time video decoder, H.263, H.264, H.265, VC-1, RV, VP6/ VP8, Sorenson Spark, MVC

Audio Support:

MP3,WMA,MP2,OGG,AAC,M4A,MA4,FLAC,APE,3GP,WAV

Image Support:

Supports variety of image formats browsing (jpg, png, bmp etc.)

Extended Storage:

Support usb 2.0

Built-in speaker:

1*2w speaker

Power Consumption:

48W

Weight:

3.1 pounds
Design and features
When I agreed to review the SMONET 7500L projector, I didn't have high expectations.  Even before receiving the projector, I tried to do some research on the company, only to find that they have no web presence other than on Amazon. This is not usually a good thing, indicating just a re-branded product.  This fear was confirmed when I received the projector and the box had no branding on it whatsoever. Even the brand title on the Amazon listing is spelled incorrectly. But once I got it out and started playing with it, I was surprised.  For around $100, it's not bad.  The design is nothing unique, but it's compact, light, and effective. 
There are two dials on the top, behind the lens.  One is a manual focus, and the other is a manual keystone adjustment for when you can't put the projector perfectly perpendicular to the screen. It also has control buttons in case you lose the remote.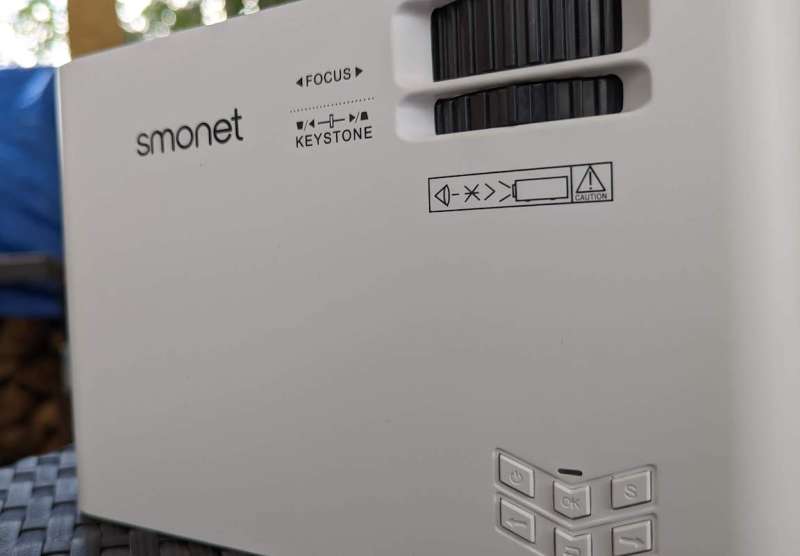 On the bottom of the SMONET 7500L projector are four rubber feet and a threaded insert for a height-adjusting foot.  This threaded insert also works with normal camera tripods, which is really the sweet spot for mounting, since tripods have almost infinite adjustability (hint:  you'll need it).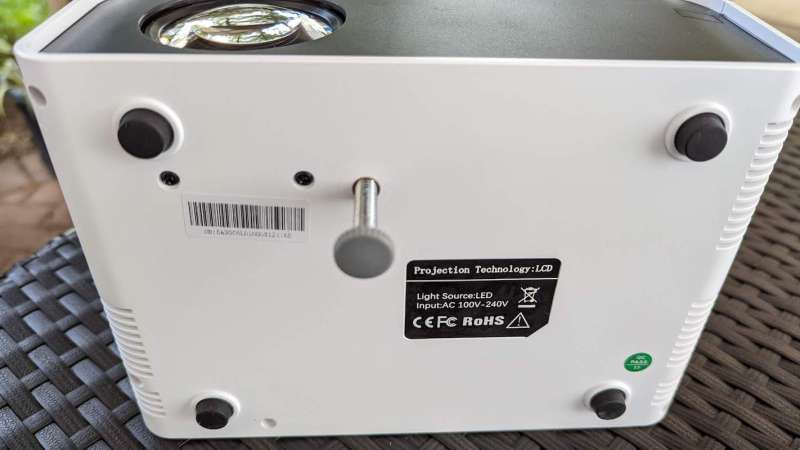 The back of the projector includes a single speaker, a power connection, and a sensor for the remote.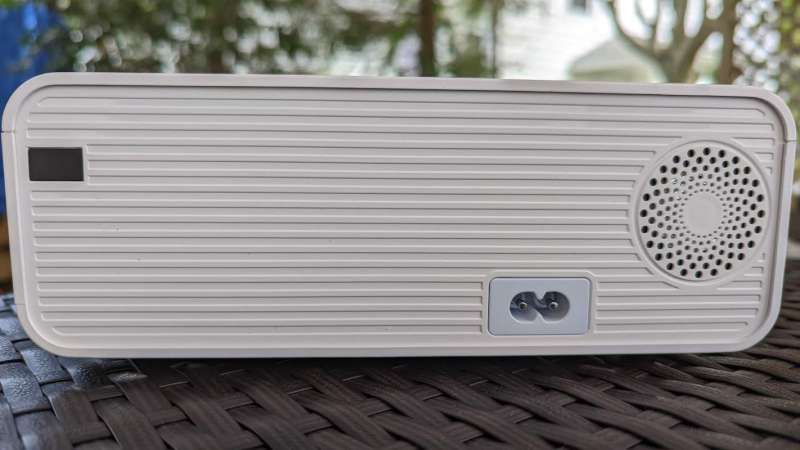 The side of the SMONET 7500L projector is where the magic happens, since the projector doesn't have any built-in media capabilities, and you'll need to plug something into it. You could go old-school and use a VGA plug, but I'm not sure too many computers even have that any longer.  You could go mid-school and use the video jacks on your DVD player and plug into the AV port, or you could go more modern and use an HDMI cable from just about any modern appliance including laptops, phones, tablets, and DVD players. If you have content on USB drives (external hard drives, thumb drives, etc) you can plug those in as well. It has a small speaker on the back that works but has pretty middling quality sound. But the projector includes a headphone/speaker out port (3.5mm) so you can hook it up to some better speakers pretty easily.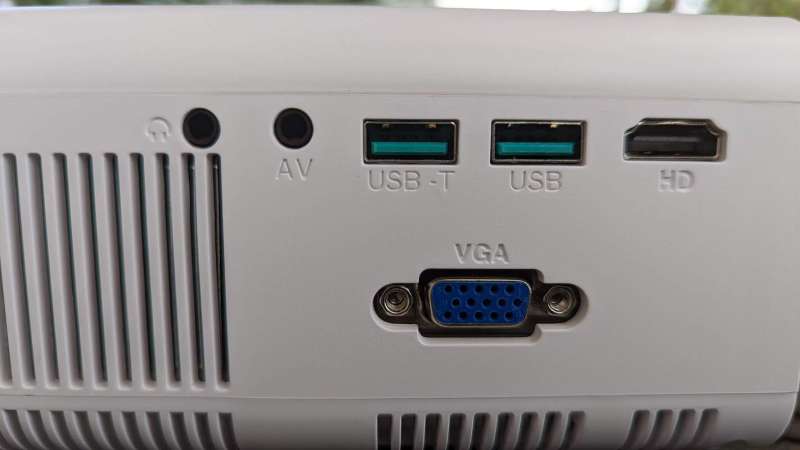 Performance
Once the SMONET 7500L projector is set up in a dark space, the quality is good.  It's surprisingly bright for a projector around $100, and using it with the included HDMI cable hooked up to my Macbook Air (through a dongle, of course) worked perfectly.  The sound was not great, so I chose to link a nice Bluetooth speaker to my laptop and place that right under the screen. This provided a great audio and video solution. 
Setup and placement can be a bit challenging.  First off, there is no optical zoom.  The only way to enlarge the image size is to physically move the projector further from the screen. You can fine-tune a bit with the setup menu, but you can only reduce the zoom, not increase it. So for a large image, be prepared to move the projector pretty far back. The next setup challenge is the keystone.  This is an adjustment that is needed when the projector is not perfectly perpendicular to the screen.  The keystone adjustment is limited to 15 degrees, meaning you will really need to place the projector right in front of the screen.  Mounting it on a low table or on the ceiling probably won't work without some distortion. Again, this is why the ability to use a camera tripod is a nice touch.  The remote control is well laid out and easy to use.  It controls the setup menu, inputs, and also audio with volume and mute.  The SMONET 7500L projector has remote sensors on both the front and back so it works from just about anywhere in the room, too.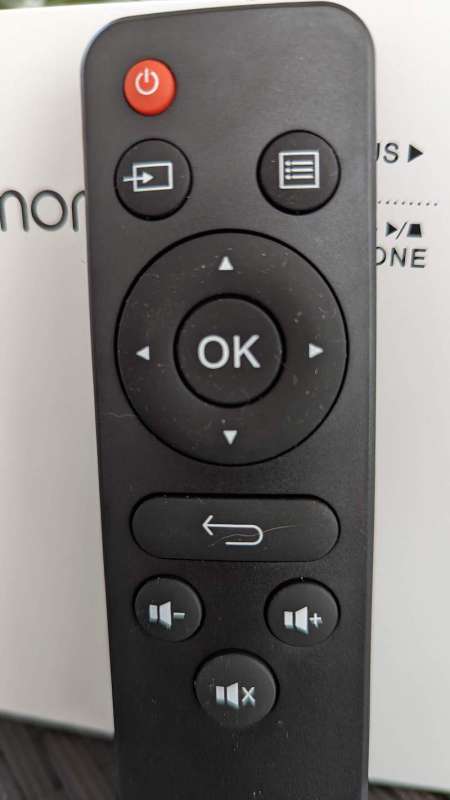 In my first test, I used my laptop.  It worked great, but it involved a lot of cables, a table next to the tripod holding the projector, and was ungainly.  The best option is really a streaming stick, like a Fire Stick, a Roku Stick, or a Chromecast.  These plug right into the HDMI port, can be powered from one of the USB ports, and are controlled by their own remote or your phone. Some of them can even be linked to Bluetooth speakers for better sound. But there are a lot of options for using this projector.  Perhaps the best part is how light and portable it is.  Movie night in the backyard?  We did it, and it works really well.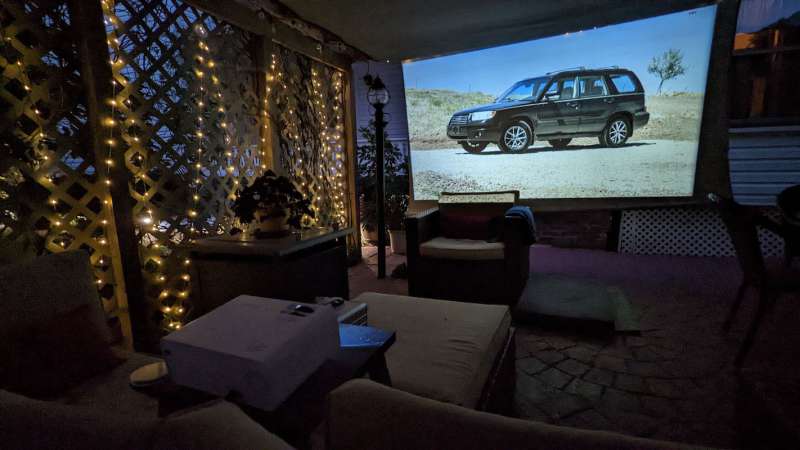 What I like
very bright with a good picture (for around $100)

Some fan noise, but not too loud to be distracting

It's simple to use.  For most things, it's plug-and-play

The leveling foot insert also fits a tripod
What I'd change
The keystone is limited, so you really need to have the projector mounted pretty high

It's marketed as being portable, but no bag was included

Placement can be a challenge due to limited zoom and keystone

Cables for using a phone are not included

No HDCP security, meaning you can't watch content that you downloaded from off-line apps like Netflix or Amazon Prime.  Not a surprise at this price point, but something to be aware of if planning to go "off grid." 
Final Thoughts
A three pound portable projector for around $100 used to be a fantasy.  Now it's something that exists, and it works pretty well.  I'm not sure the SMONET 7500L projector is what I'd choose for a permanent installation in my home theater, but for hanging out on the patio and watching back episodes of Lost with the family, it works surprisingly well.  
Price:  $149.99
Where to buy: Amazon (instant $60 off coupon)
Source: The sample for this review was provided by SMONET.