We use affiliate links. If you buy something through the links on this page, we may earn a commission at no cost to you. Learn more.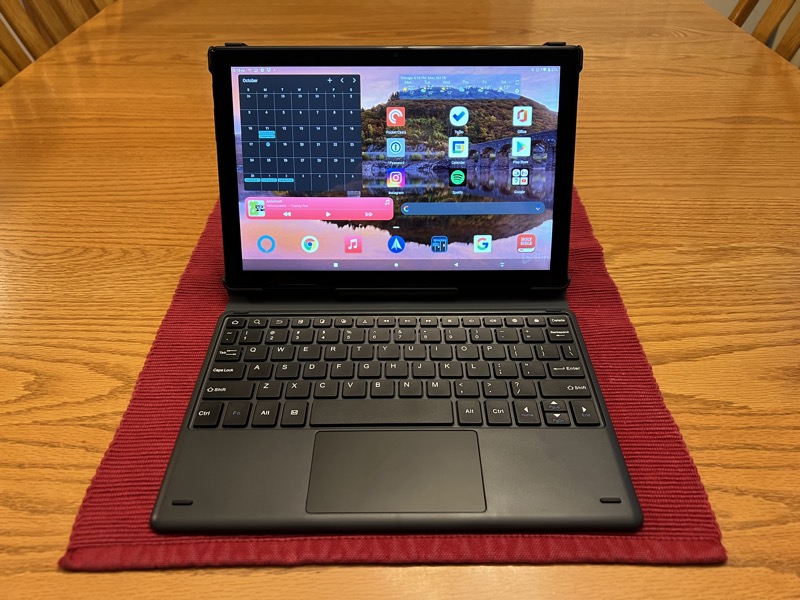 REVIEW – Tablet devices have become a regular facet of many parts of our daily lives. Having a tablet or two to work, enjoy media, communicate with family, and even create media, has become a common thing for many people. Tablets come in a variety of prices, from a few hundred dollars to way more than the cost of an average notebook computer. How do you decide what's right for you? AWOW has a great option in the CreaPad 1009.
What is it?
AWOW's CreaPad 1009 is a 10.1" Android 11 tablet. Included in the package is a keyboard and trackpad with a case that wraps around the back of the tablet. This enables the tablet to be used in either handheld mode or as sort of a mini laptop with the screen propped up in front of you for typing or other desk-based tablet use.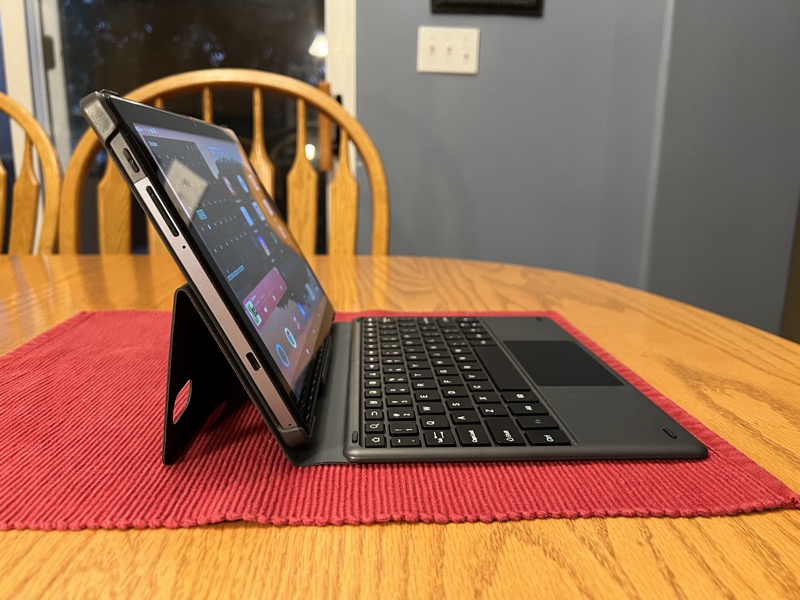 What's in the box?
10.1″ tablet
USB-A to USB-C cable
10W power adapter
Keyboard
Quick Start Guide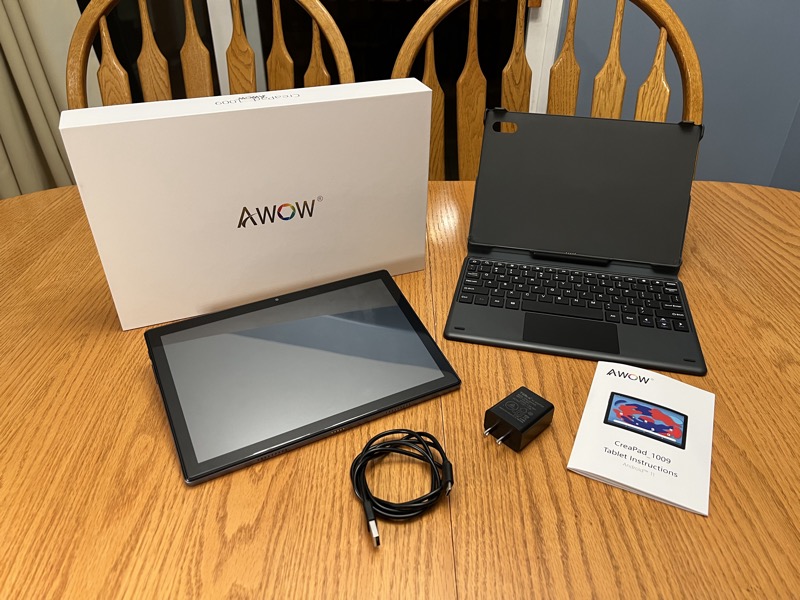 Hardware specs
OS version: Android 11
CPU: 2.0 GHz Octa-core T618
GPU: ARM Mali-G52 MP2
Display: 10.1″ 1080p full HD
Resolution: 1920 x 1200
Internal Storage: 128 GB
External Storage: MicroSD Card (up to 2 TB)
RAM: 4GB
WiFi: 802.11 a/b/g/n/ac
Bluetooth: 5.0
Ports: USB-C (USB 2.0)
Camera: 5 MP front-facing and 13 MP rear-facing
Speaker: 1W x 2
Battery Life: Up to 12 hours
Battery Charge Time: Less than 5 hours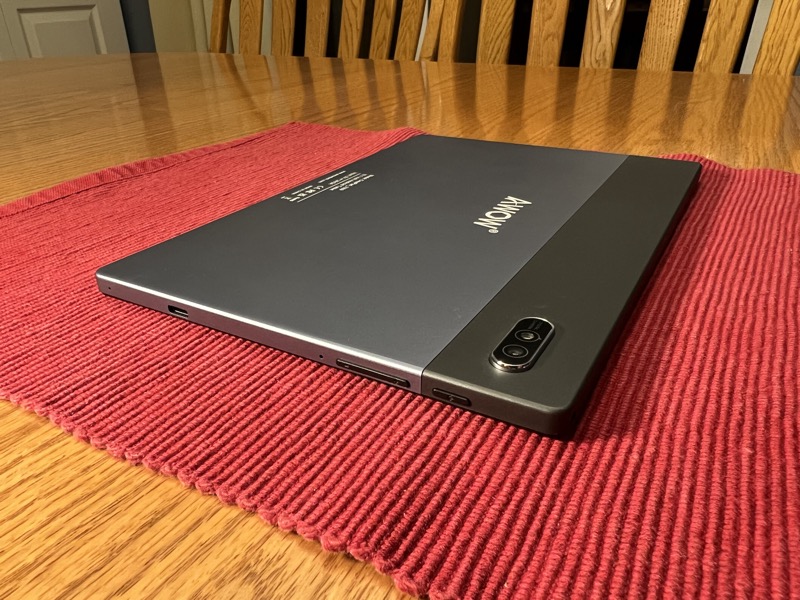 Design and features
The CreaPad 1009 is a great size for handheld tablet use – not too big, not too small. The weight and size are great for holding in one hand and operating with the other. I wouldn't want to type much text that way but for playing games, surfing the web, watching videos, or reading are perfect at this size. 
The front of the tablet, as is typical, is mostly screen. Above the screen is a small camera lens. There is a decent sized bezel around the screen on all sides – not huge but noticeable. On the left side is the power button, a volume rocker button, and a small reset hole. Further down is the USB-C connector for charging and data transfer. Below that, near the bottom, is a small hole for the microphone. At the top is a headphone jack and a MicroSD (TF) card slot. On the bottom, there are five pins for connecting to the keyboard and holes on the left and right sides for speaker audio to come out. The back of the tablet has the rear camera and flash, the AWOW logo and some other text and regulatory information.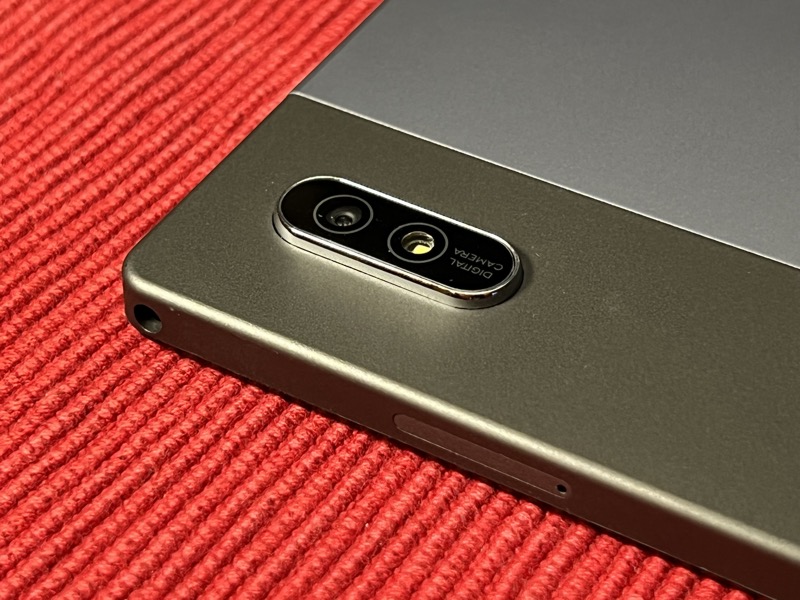 The included keyboard has a case which the tablet clips into. Below the keyboard is a small trackpad. The trackpad works great with the Android OS. When you're working on a screen propped up it's harder to accurately touch the screen so having a trackpad and cursor to move around the OS is a great feature. The best part about the keyboard/trackpad is that power and data are transferred with the five pins on the bottom of the tablet. The keyboard and trackpad don't have to be charged separately or paired by Bluetooth because it's a direct power and data connection.
The back of the case has a section that folds down to prop up the tablet. This is a great feature to have built into the case but I wish it was a little stiffer. I found it difficult to keep the tablet propped up if it moved very much, either while I was typing or while I was touching the screen. It's also not very adjustable because it has to be placed in just the right position to hold the tablet up or it will fall over. Too far one way or the other and it's going down.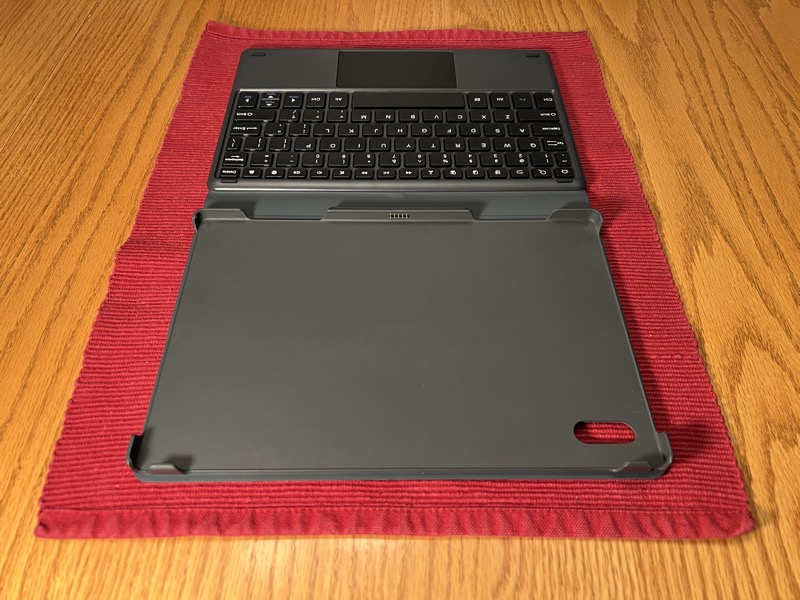 Installation and setup
Installation starts, as is usual for new battery-powered devices, by fully charging the battery. Once it is charged, press the power button for a couple of seconds until the AWOW logo shows on the screen, then wait until it boots up. If you already have a Google account associated with an Android device you can sign in with it and it will allow you to install the apps you already have downloaded under your account. If not, you can simply start with a fresh Android installation.
Once you have the tablet running you can arrange apps and widgets the way you want them on multiple pages. This is one of the things I like about Android vs. iOS. While iOS just added widgets, Android has had them for several years and has better options for laying them out on the screen where you want them, not where the manufacturer forces you to place them.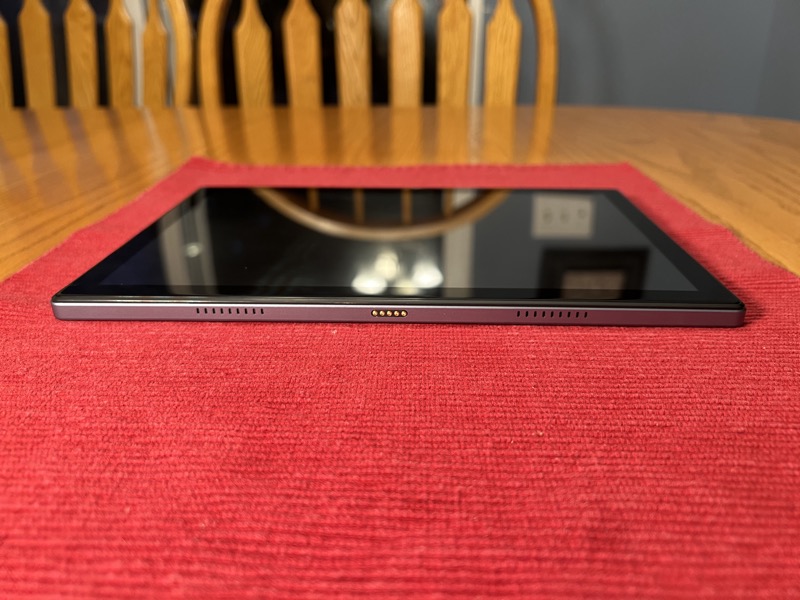 In Use
This is a very responsive tablet. AWOW chose to put in a 2 GHz octa-core processor and it shows. Moving around the tablet, launching apps, swiping between windows, playing games, scrolling through text in Word or on the web, watching video, and so many other functions just work as you would expect them to. Other than a few infrequent freeze ups (which could be the fault of the OS and not the hardware, it's hard to say for sure) it was perfectly responsive and easy to use.
I'm not a big gamer but I did download a few games to test on the CreaPad 1009. I tested Legend of the Moon and Race Master. I also tried Tetris and a Sudoku app. Graphics were clear and smooth, control input was responsive, and all the apps I tried filled the screen correctly. Some of the apps were forced into portrait mode so I couldn't use them while the tablet was in the keyboard case, but that's not the fault of the tablet, that's how Android runs some phone apps on a tablet, as iOS and iPadOS do as well.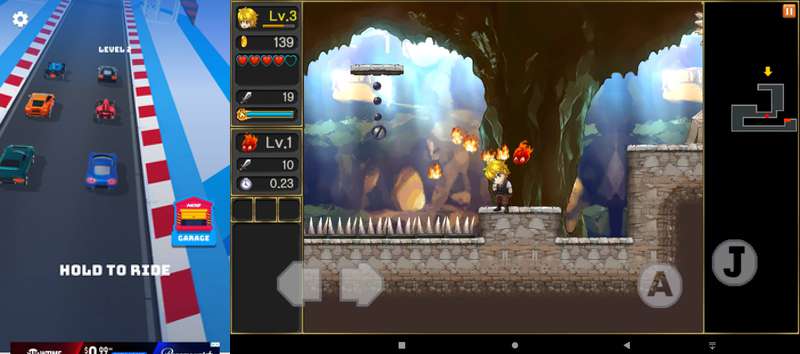 Video viewing is smooth and lag-free. I watched some video in the Amazon Prime Video app as well as YouTube and worked as expected. I would expect other popular streaming apps to work as well as they do on other Android devices. This hardware is more than capable of playing whatever you're wanting to watch.
With 128 GB storage onboard and a MicroSD card slot there's enough room for just about anything you would want to do with a tablet like this. You could potentially carry around your whole music library and a large portion of your video library on a MicroSD card and not have to worry about whether you have internet access or not.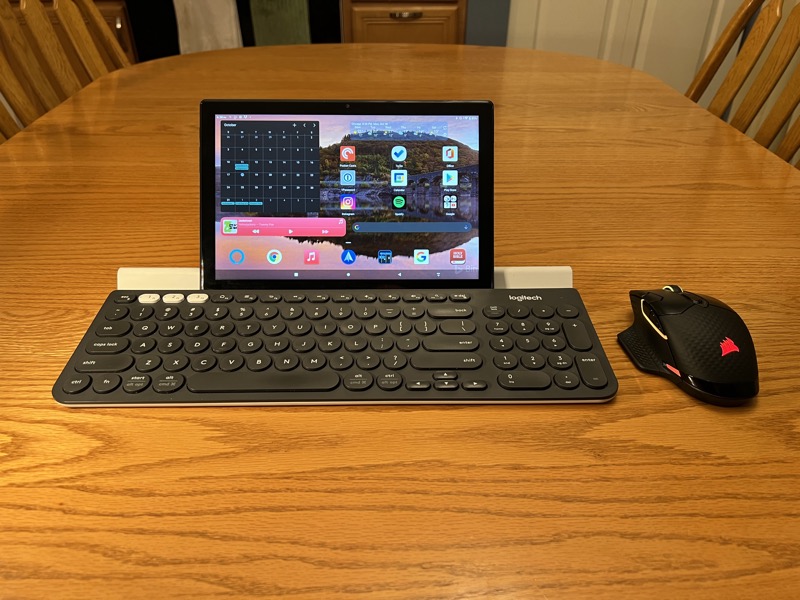 Charging happens quickly with the included charger and cable. Because it has a USB-C port, I tried charging it with a USB-C charger and cable but it didn't work. I tried several different USB-C charger and cable combinations and I couldn't get it to work with any of them. I did try another standard USB charger with a different USB-A to USB-C cable and it worked fine. I'm not sure why this didn't work but it is a little frustrating with USB-C becoming the standard for charging and data transfer. Needing to keep around a USB-A charger and A to C cable just unnecessarily complicates things.
I paired this tablet with an external keyboard and mouse. I didn't do this because the included accessories didn't work, I just wanted to see how flexible it was and if it could be used with full-size accessories and it worked very well. I wouldn't be carrying the external devices to a meeting but keeping them at my desk so I could spread out my typing/mousing area and have more room to work with. This flexibility is a great thing in my book.
The screen quality is great. A 10.1" screen with 1920×1200 resolution is perfect. Text is clean and clear, not too small, and easy to read. Graphics and photos also look great. Screen brightness also hasn't been an issue. I doubt I'd be able to use it outside like an e-ink reader but in other situations, it's more than acceptable.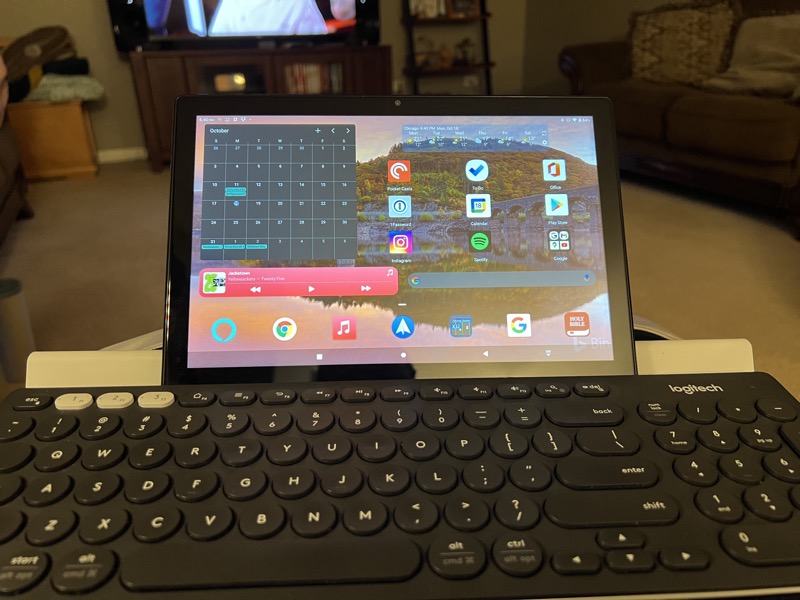 In general use, I can't even tell this is a tablet with a mobile operating system. When I'm in apps, typing, swiping around, whatever, everything works as if I'm on a much more expensive computer.
The built-in speakers work for hearing what's on screen but they're not what I would call high fidelity. There's plenty of volume for watching a video on YouTube, making a Zoom call, listening to podcasts, and other general purpose audio tasks, but I wouldn't want to listen to music with them. There are difficult physics involved in putting speakers in a small tablet so I don't fault AWOW for this. Most of my listening to music or videos would be with Bluetooth headphones anyway so I don't consider this to be a negative.
What I like
I like having a tablet in this form factor. At work I use tablets for taking notes in meetings, for reference information, and to control audio/visual equipment. Especially for sound board control, having a widescreen tablet is great because I can lay out the faders for a lot of channels without things being unnecessarily squished. A tablet this size is perfect to carry around as I move around a venue setting and control things as necessary.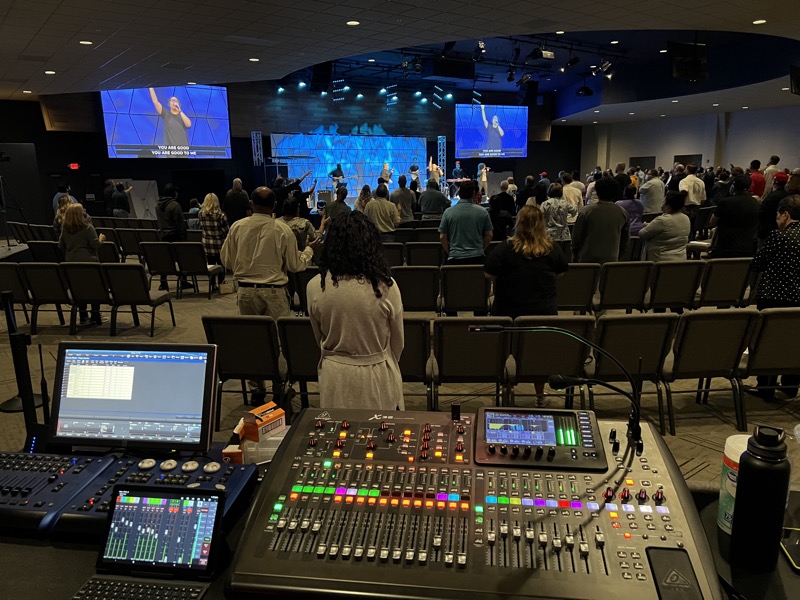 I also like the keyboard and trackpad combo. The keyboard is easy to type on. It's a little small for my hands, but to have it fit within the size of the screen a compromise had to be made on the size. I could easily use this tablet in a meeting and keep up with the notes I need to type, or type out emails, or other long-form typing needs and not have any trouble with it. I even wrote some of this review with the keyboard and didn't have any problem doing that. 
What I'd change
I'd like the stand for the tablet to be adjustable. As it is now, it only supports one angle and doesn't always stay up.
I'd like to see proper USB-C charging and data transfer. Having a USB-C connector and not supporting these is kind of misleading and can cause confusion.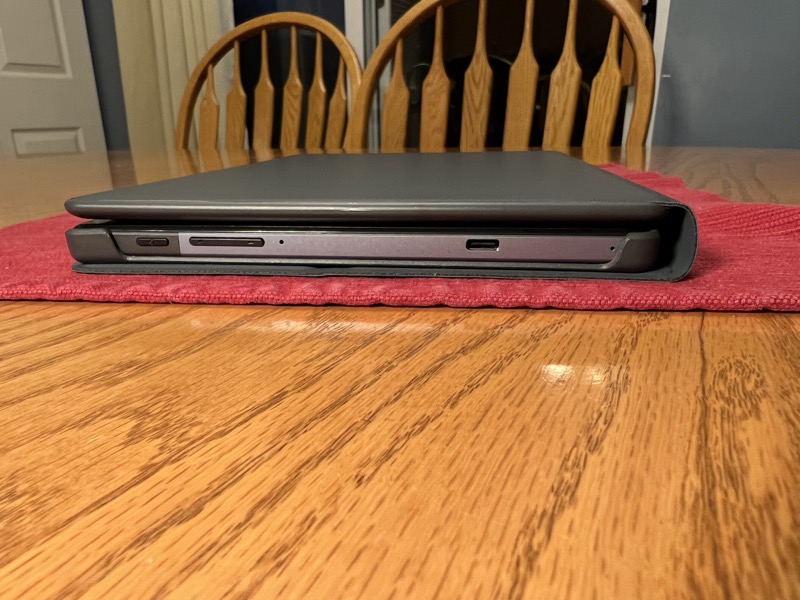 Final thoughts
A few minor problems aside, this is a good value in a 10" tablet. The speed, the capabilities, the flexibility, and the inclusion of a keyboard/trackpad combo, make this a good buy for anyone looking to get started with a tablet or to add a second one for more flexibility.
Price: $219.99
Where to buy: Amazon or from AWOW you can get it for $133.99 with this link
Source: The sample for this review was provided by AWOW. For more information visit their site.