We use affiliate links. If you buy something through the links on this page, we may earn a commission at no cost to you. Learn more.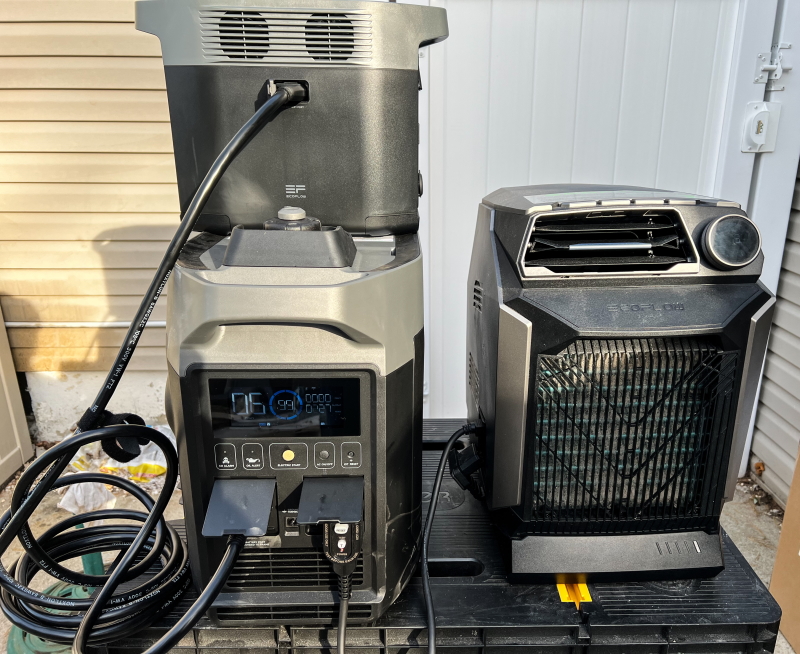 REVIEW – From the time I got my first opportunity to test an EcoFlow product I was hooked. I love companies that push towards being environmentally friendly in their designs and production. I also love companies that make products that are innovative and provide value to their customers. First I got to test the EcoFlow Wave Air Conditioner, then I got to take the EcoFlow Delta 2 Power Station for a spin. Now, much to my delight, I am hyped up on coffee and ready to unbox the EcoFlow Smart Generator – Dual Fuel and see what they will impress me with now. So, here we go!
What is it?
The EcoFlow Smart Generator – Dual Fuel is a smart and efficient generator that accepts both unleaded gasoline and liquid propane as fuel. It integrates seamlessly with EcoFlow DELTA Max, Pro & Power Kits.
What's in the box?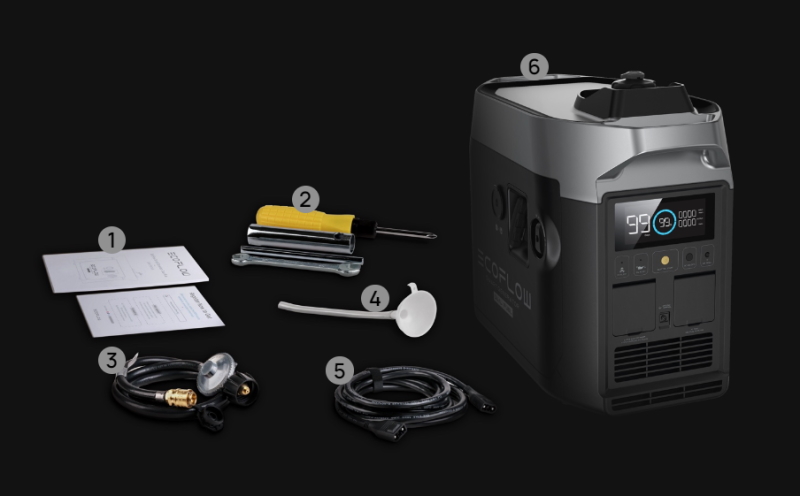 (See the video in the Performance section below).
1 x EcoFlow Smart Generator – Dual Fuel
1 x EcoFlow Power Station Charging Cable
1 x LPG Connector Cable
1 x Oil Funnel
1 x Tool Accessory Kit (Spark Plug Socket; Double-Ended Spanner; Breaker Bar; Screwdriver)
1 x User Manual
1 x Registration Card
Hardware specs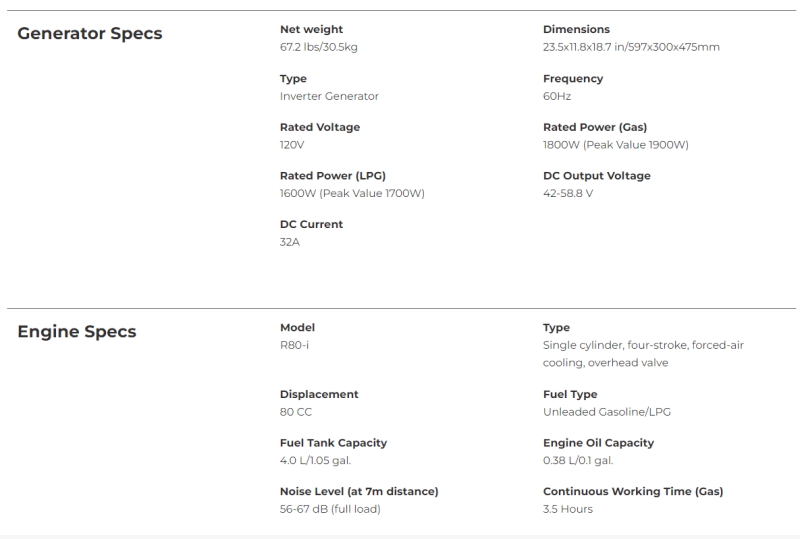 Design and features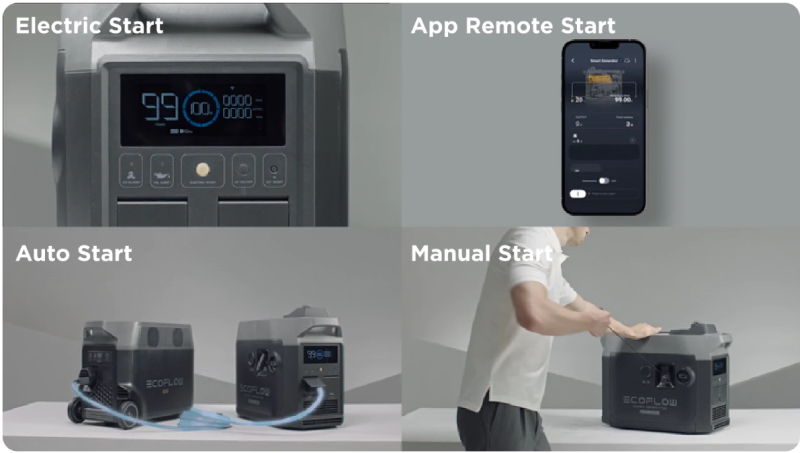 Two fuel sources – With either LPG (Propane) or gas, you've got two energy sources to deliver higher efficiency, easier use, and fewer emissions.
Part of the EcoFlow Ecosystem – Set it to charge your DELTA Pro/Max or Power Kits automatically when they drop to a certain level. All while having higher charging efficiency.
Smart control & monitoring – Use the EcoFlow app to control and monitor from afar.
Stay in the know – With 5 alert methods, including carbon monoxide alerts, you're always in the know.
Seamless LPG set up – Plug-in propane easier than ever with a switch & built-in regulator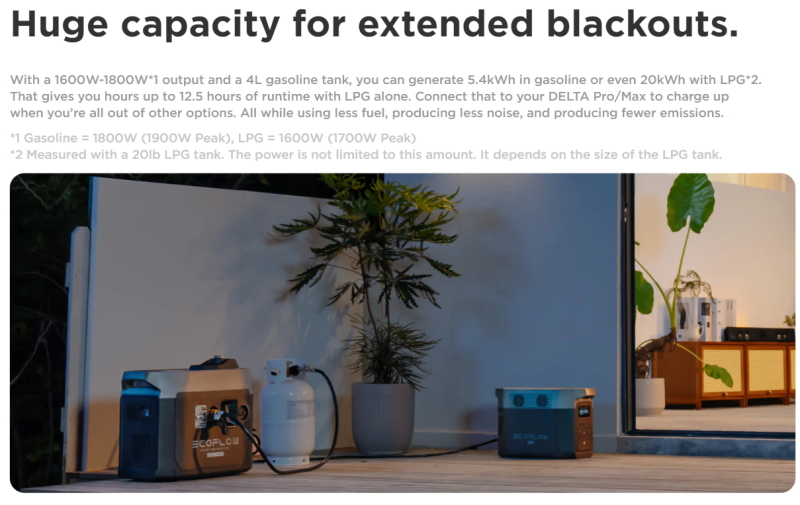 This EcoFlow Smart Generator – Dual Fuel is built from ABS/Plastic. On the front, there is a display screen that provides all of the charge and load information as well as connectivity symbols for external devices. There are warning lights for CO and Oil levels as well as the electronic start button, an independent switch for the AC outlet, and a reset button for the entire Generator. Below the controls, there is a proprietary plug for connecting EcoFlow Power Stations for efficient and fast charging, and the AC outlet. In between the 2 plugs, there is a ground screw.
When facing the front of the generator, the right side has a cover that provides access to the engine, for oil filling/draining and access to the internal battery.
On the right side, there is the on/off selector switch, the pull cord for starting, and the LPG connection. On the top, there are two handles, and in between the gas cap that covers the gas tank. On the back, there is the exhaust.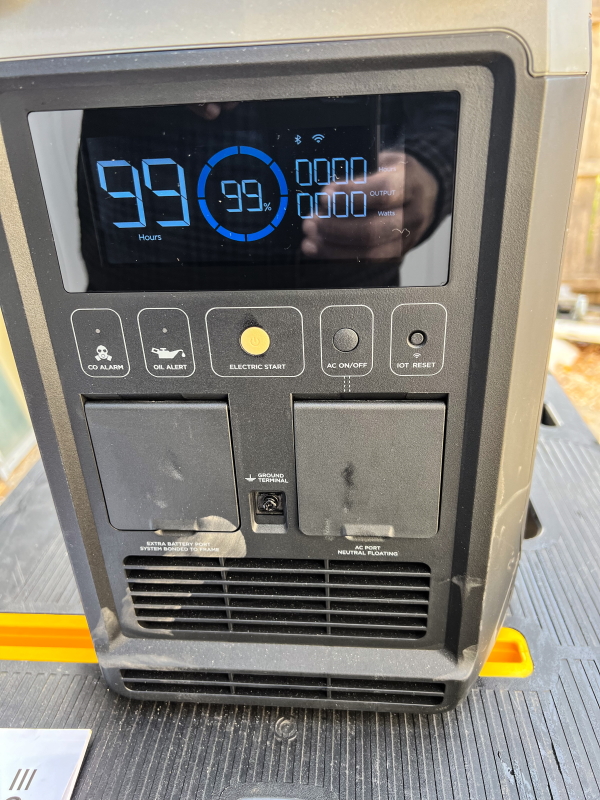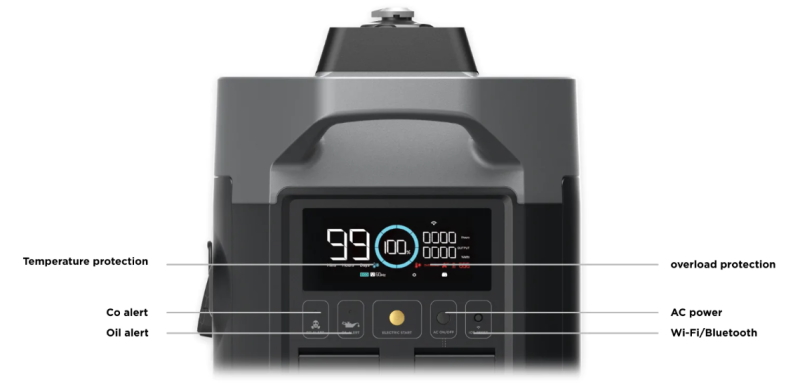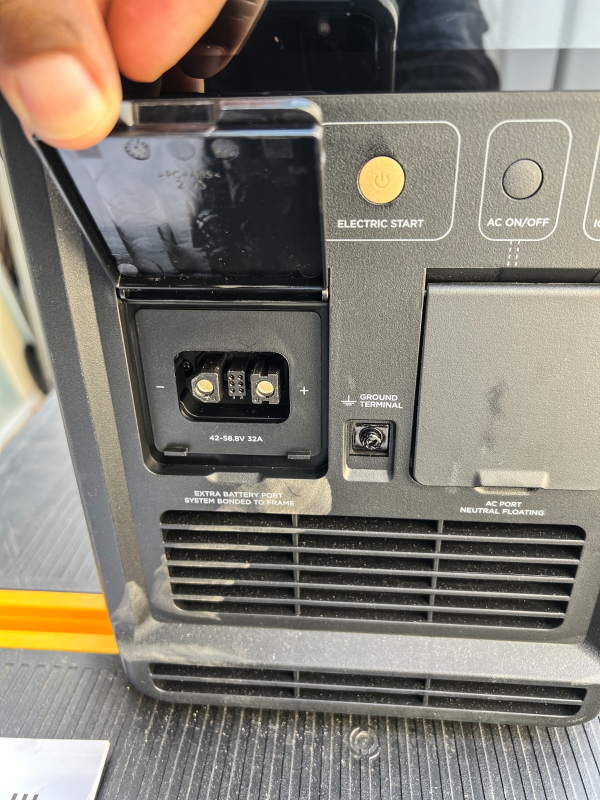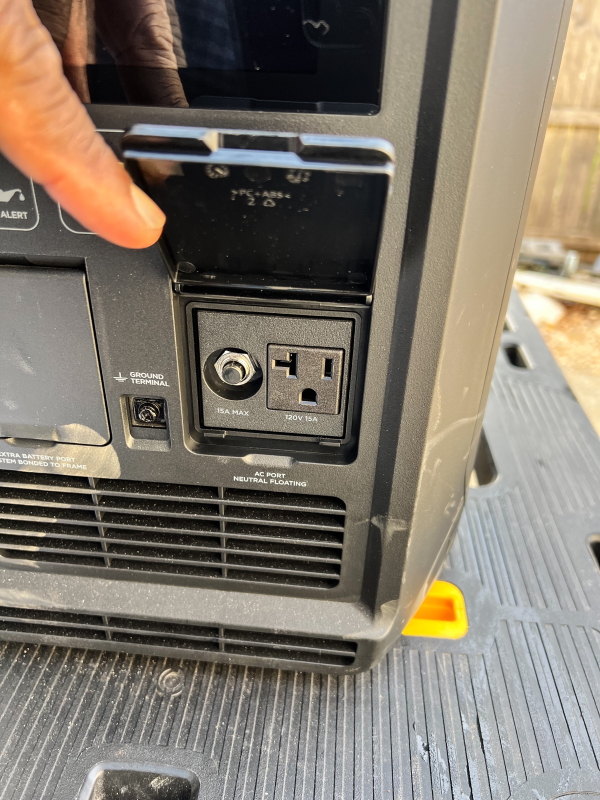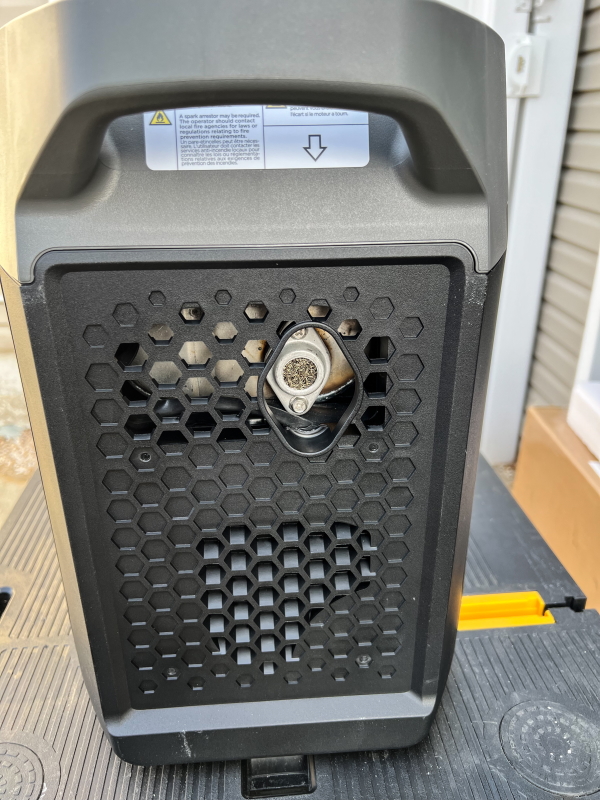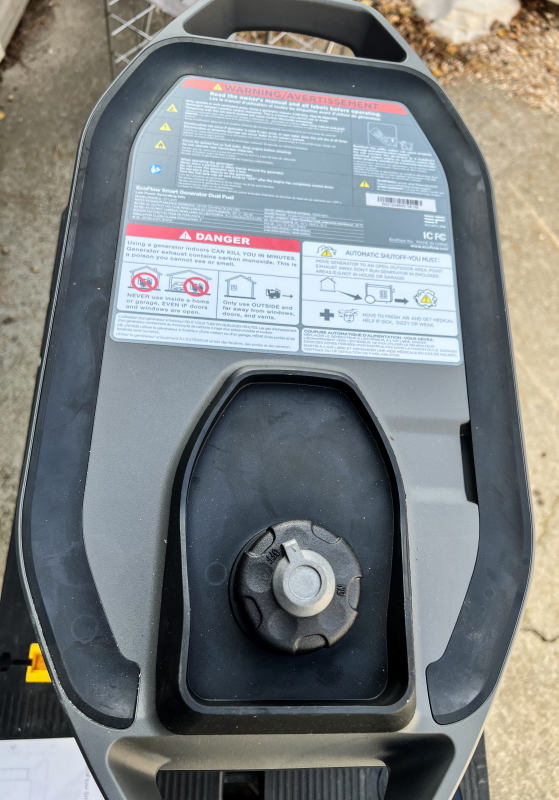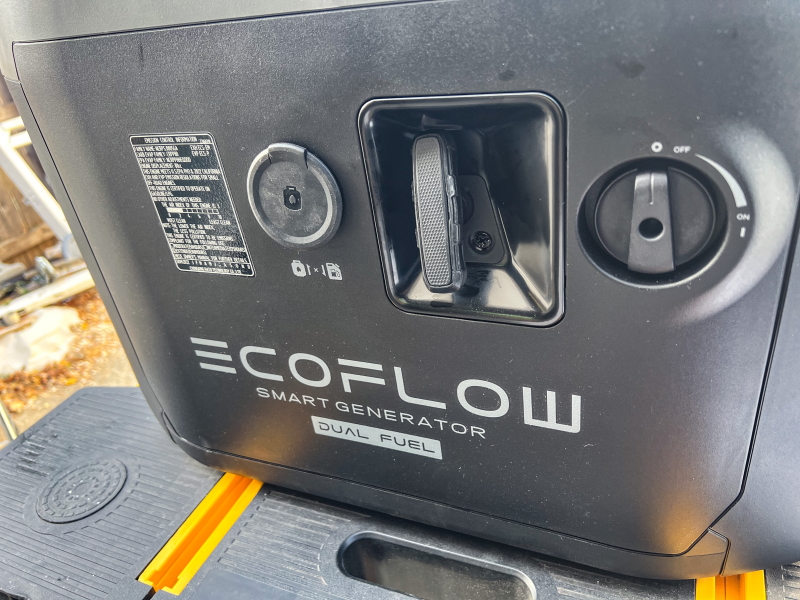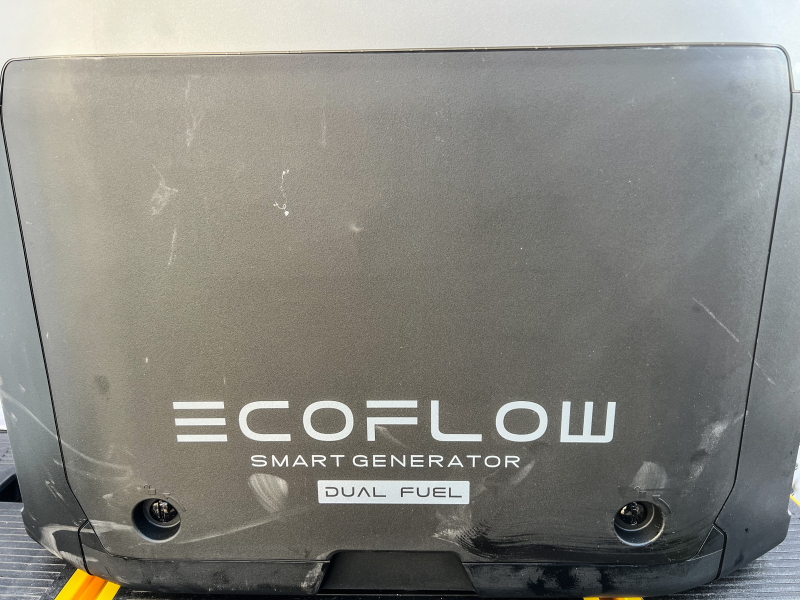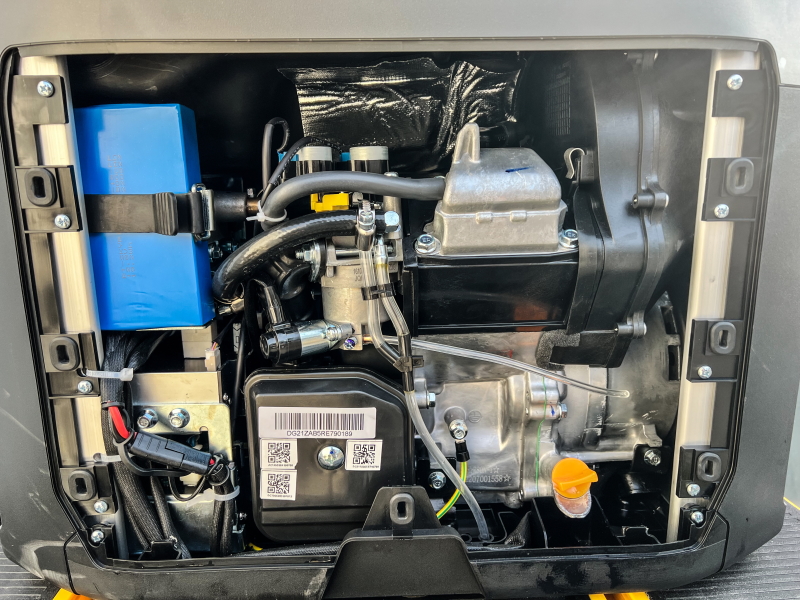 Performance
To showcase the performance of this EcoFlow Smart Generator – Dual Fuel, I recorded a few videos. Here is the first one:
EcoFlow has an app that works with many of their devices to provide status and control. Here are some screenshots from the app:
Although I said I could not record the app being used to start the Generator, I decided to use 2 phones, one to record the other, and gave it a shot:
As promised, here is a video of an EcoFlow Power station, specifically the EcoFlow Delta 2 Power Station connected to the EcoFlow Smart Generator – Duel Fuel:
What I like
The great design
The build quality
The handles and portability
The Dual Fuel feature
The App start/control and autostart features
The dedicated Power Station charging capability
What I'd change
The oil spout could be longer and angled upwards to make it easier to add oil. A longer neck with a clear "window" for oil level visibility would help users to confirm the oil level and better control the possibility of spillage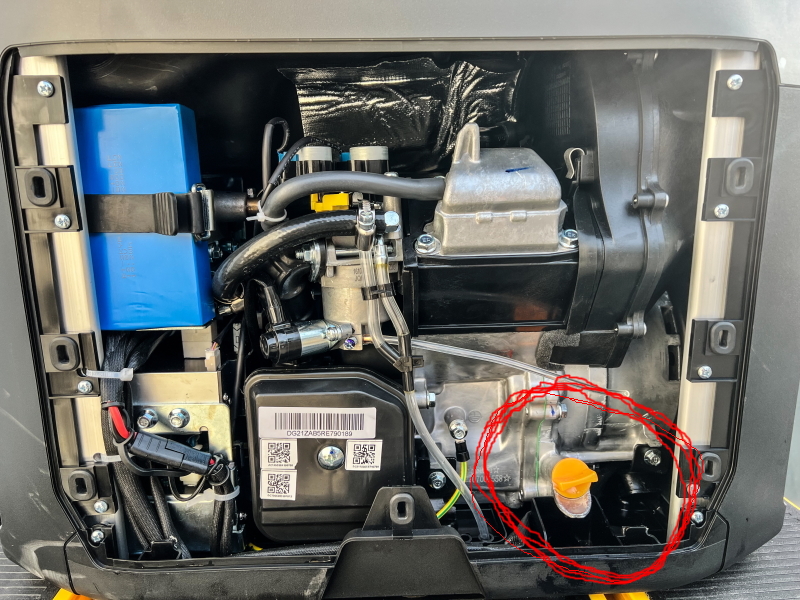 Final thoughts
Note: If you get the impression that I am excited and gushing about this EcoFlow Smart Generator – Dual Fuel you would be correct. I have been a fan of EcoFlow products for a while and I know about the great design and quality of their products. While their EcoFlow Wave Air Conditioner and EcoFlow Delta 2 Power Stations are great devices, this EcoFlow Smart Generator Dual Fuel seems next level, at least to me. The ability to fuel it via both LPG (Liquid Gas Propane) and unleaded gasoline and the built-in battery that allows for an electronic start make this generator very convenient and very efficient. Add to that the relative quietness of operation, easy portability and the ability to charge and automatically recharge various models of the EcoFLow Power Stations and you have a fantastic product that will provide off-grid power when you need it most like for natural disasters and storms. Once again, well done, and two thumbs up to EcoFlow!
Price: $1599.00
Where to buy: EcoFlow website
Source: The sample of this product was provided by EcoFlow