We use affiliate links. If you buy something through the links on this page, we may earn a commission at no cost to you. Learn more.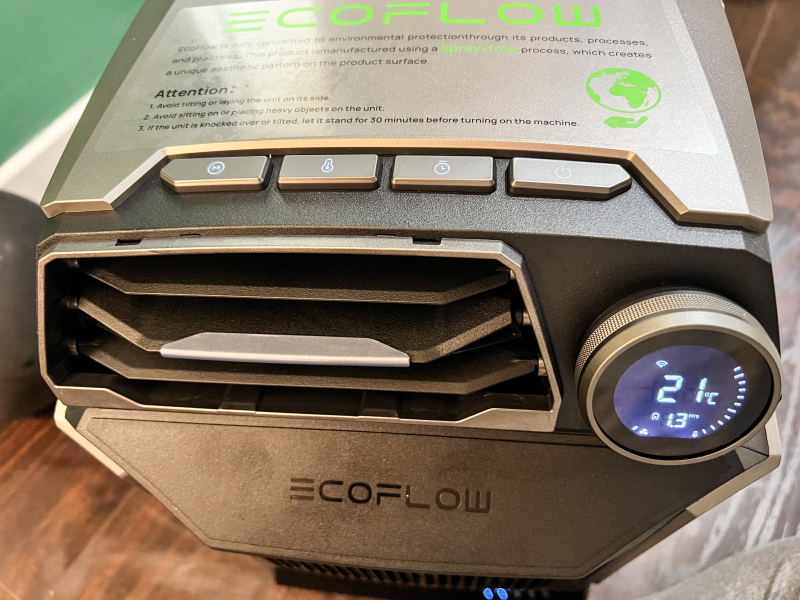 REVIEW – Summers in New York can get really hot, and I always seem to find myself in a space that needs air conditioning but can't accommodate one due to the structure or lack of AC power. I am sure that anyone facing this dilemma would love it if someone would design a portable air conditioner. I mean a real air conditioner that pushes real cold air and not those devices that advertise to be air conditioners but never seem to work. Is there such a device? Enter the EcoFlow Wave Portable Air Conditioner + Add-On Battery.
What is it?
The EcoFlow Wave Portable Air Conditioner + Add-On Battery features 4000BTU's of Fast Cooling from the AC and extended & custom run times from the 1008Wh Add-On Battery. The AC also features control via a companion app and can be paired with a portable power station. Choose between Eco Mode low, medium and high settings and it will intelligently switch between fan and cooling settings to extend run times beyond what would usually be possible. 
What's in the box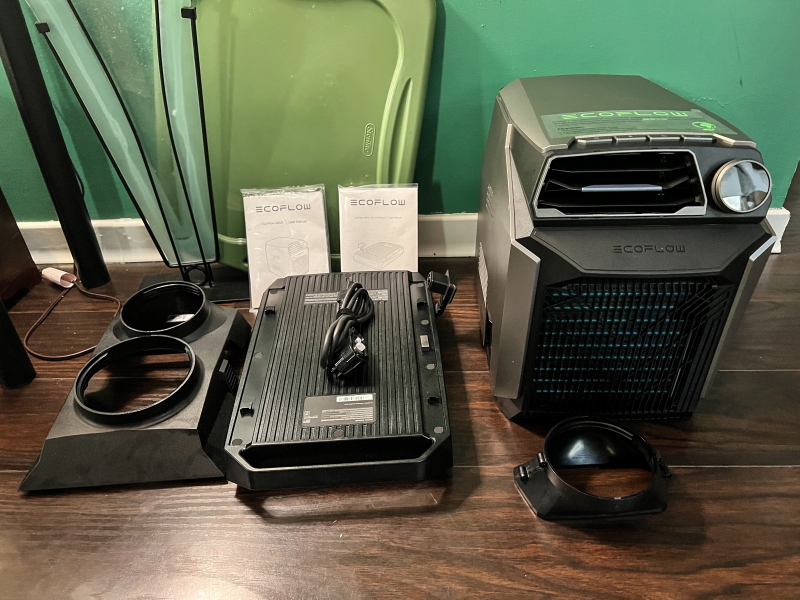 1 x EcoFlow Wave Portable Air Conditioner + Add-On Battery
1 x AC cable
1 x User manual and Warranty Card
1 x Cold-End Outlet Shroud
1 x Hot-End Outlet Shroud
2 x Air Ducts
1 x Drainage Tube
Design and features
Features
Wave Portable Air Conditioner:
Fast cooling: With 4000BTUs, Wave can cool your tent, RV, or small to medium space in 8 minutes flat. That's the fastest for its size.
Extended runtimes: Get 3hrs of cooling with the add-on battery. Extend to 8 hours with timed mode to keep you cool all night long by auto alternating between cooling and fan settings.
Cool your way: Use the 1008Wh Add-On Battery, DELTA Max, or DELTA Pro for an extra runtime of up to 12 hours without plugging into an AC outlet. Plug into an AC outlet for cooling without a battery.
Charge anywhere: Wall outlets, solar, car, or even portable power station charging mean you've always got cooling when you need it.
Wave Add-On Battery:
1008Wh capacity: Sleek clamp-on design with a large 1008Wh capacity. Enough for 3 hours of cooling or 8 hours of timed mode, mixing cooling with fan settings.
Detachable design: Detach the add-on battery when portability comes first.
Carry or stow away: Weighing in at 17.4 lb, the add-on battery can be carried or stored for later use.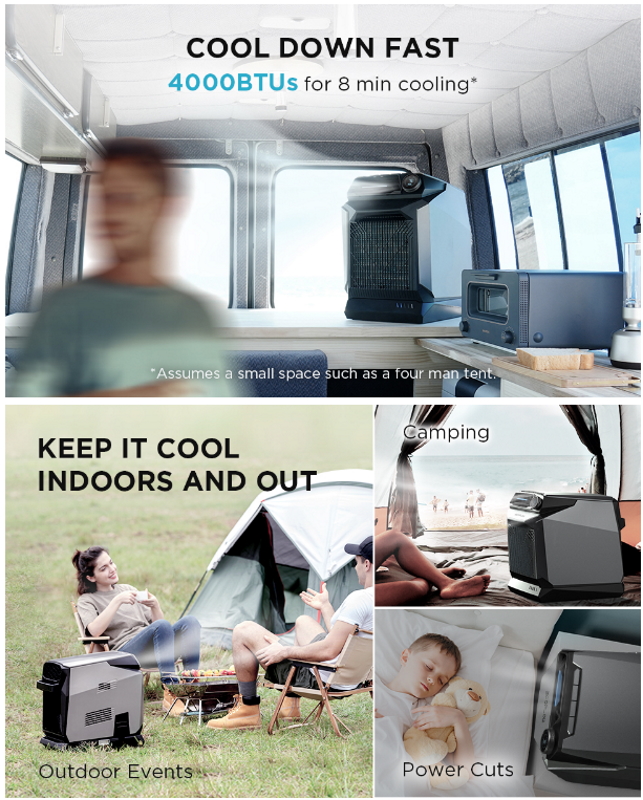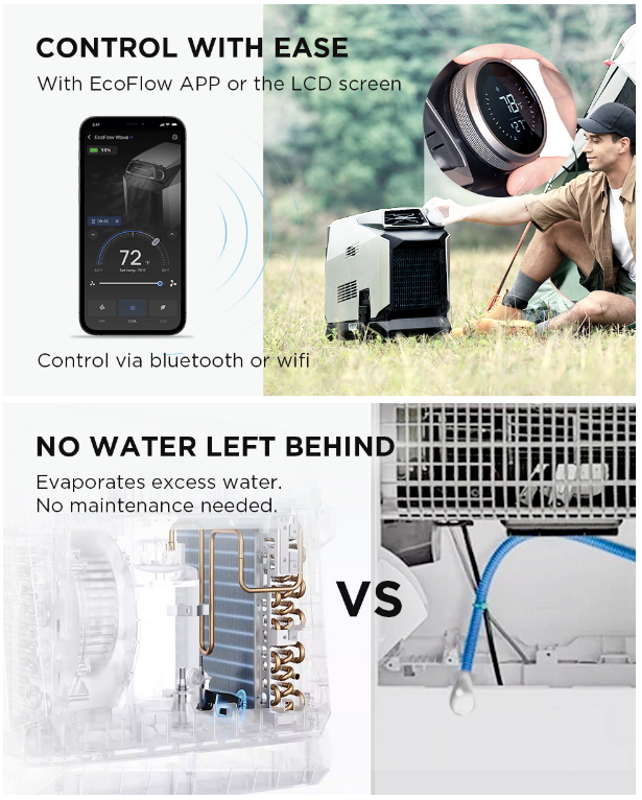 Specifications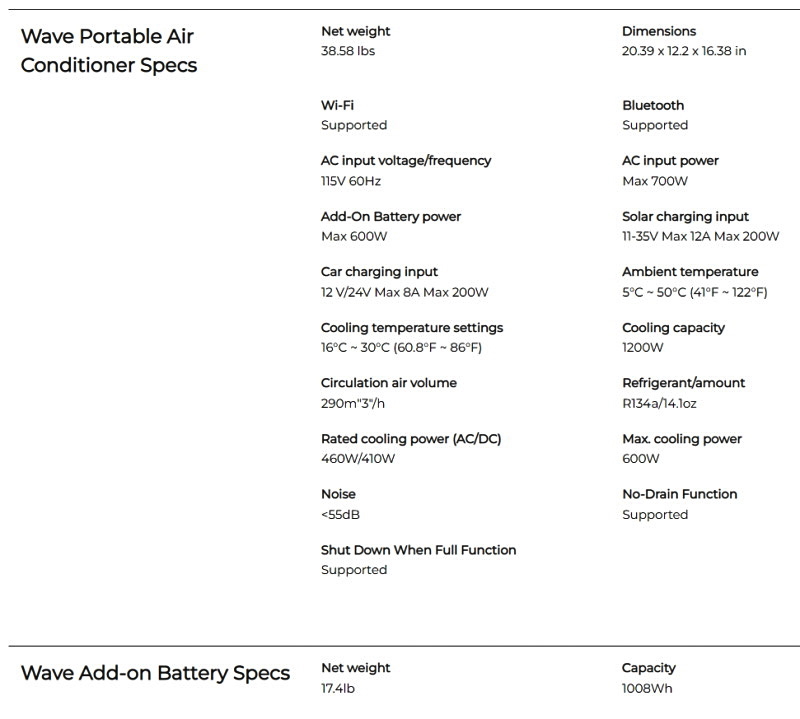 The EcoFlow Wave portable air conditioner is made of metal and plastic and features the controls on the top front and the power connections on one side. On the sides and back, there are the air intake and output vents and on the back bottom, there is the drain plug.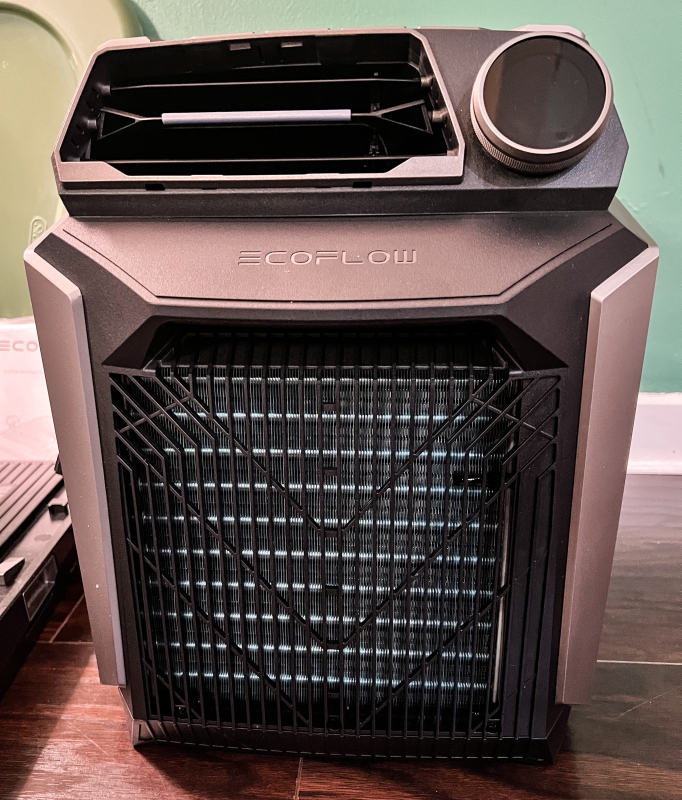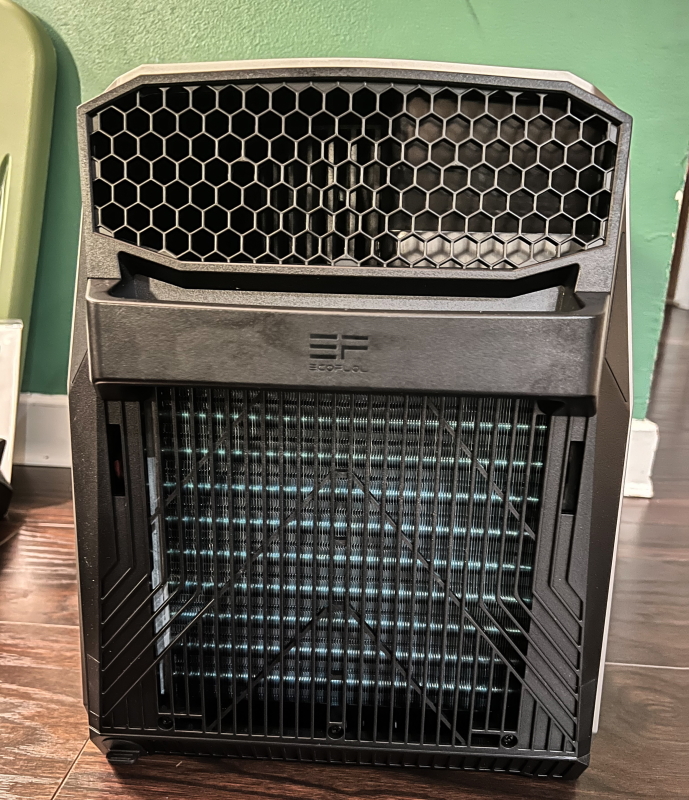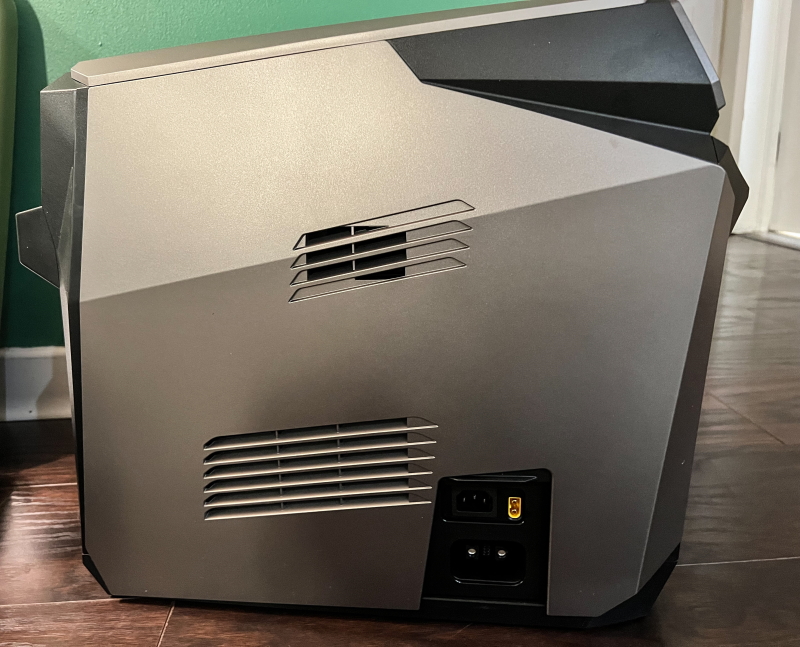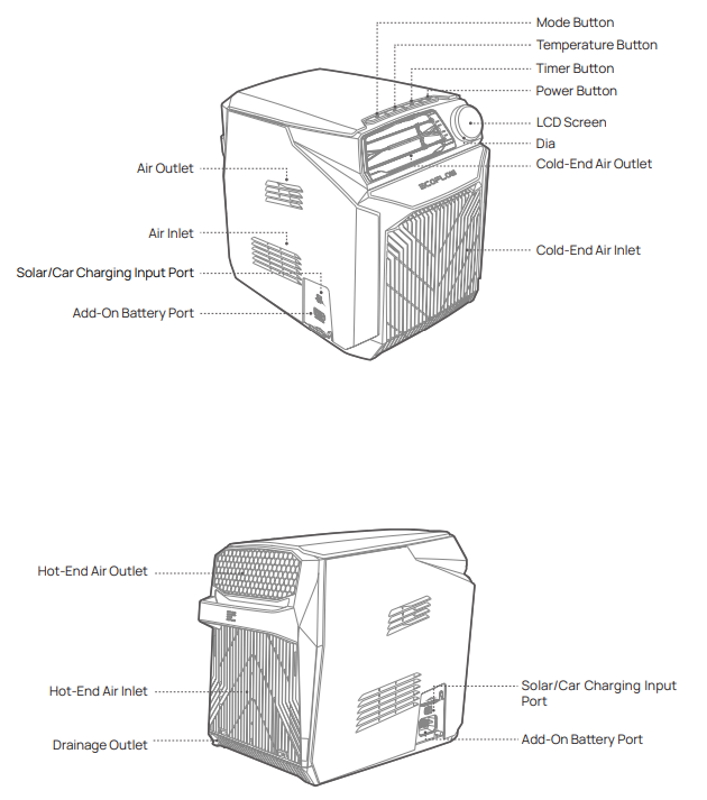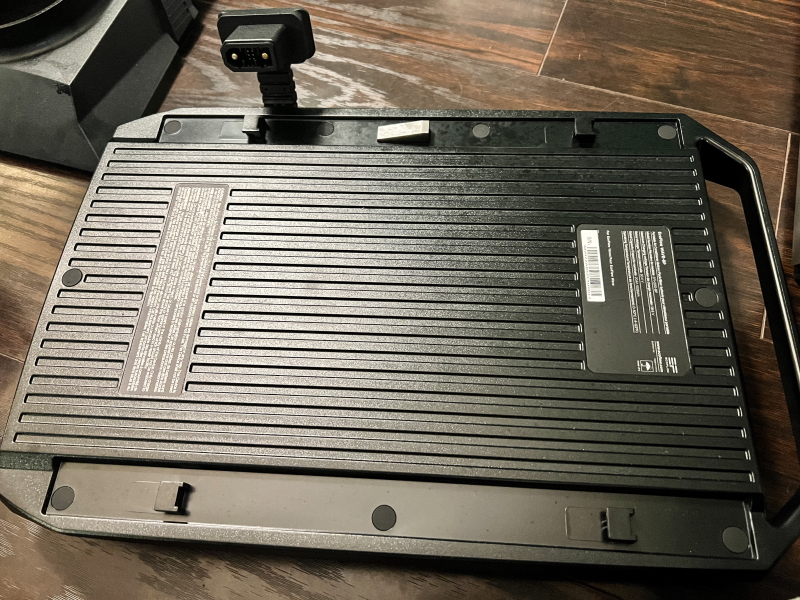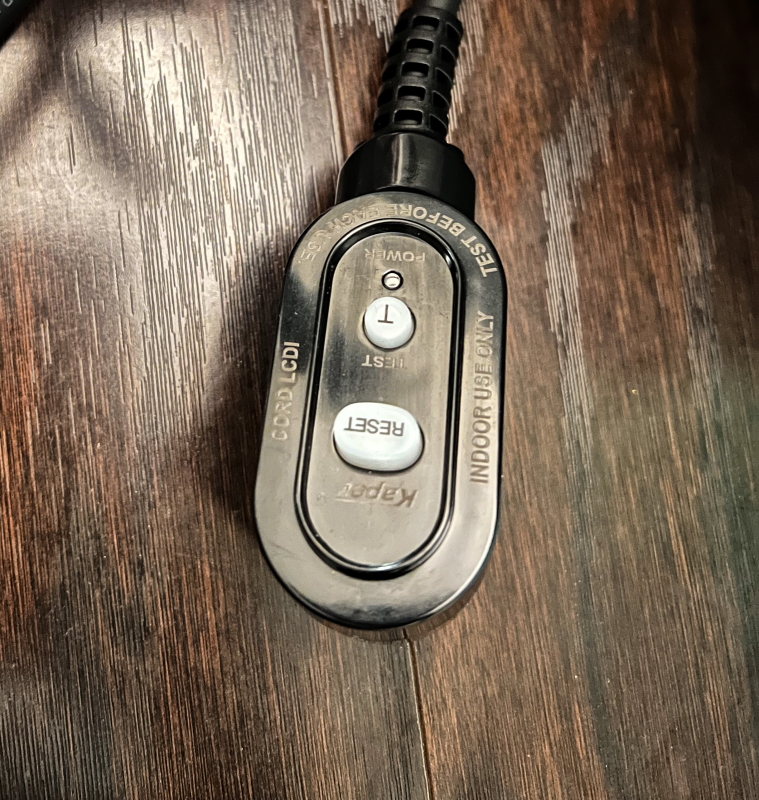 Performance
The first thing that I did was attach the add-on battery to the EcoFlow Wave portable air conditioner. The design allows the power cable to slide in and secure to the battery and to accept the plug from the battery into the side. Above the battery power port, there is the main power port for the unit. On the front of the battery, there is the battery charge indicator.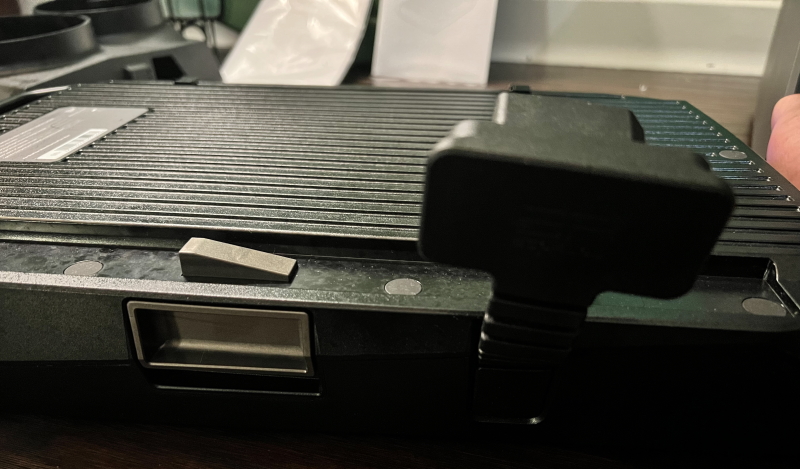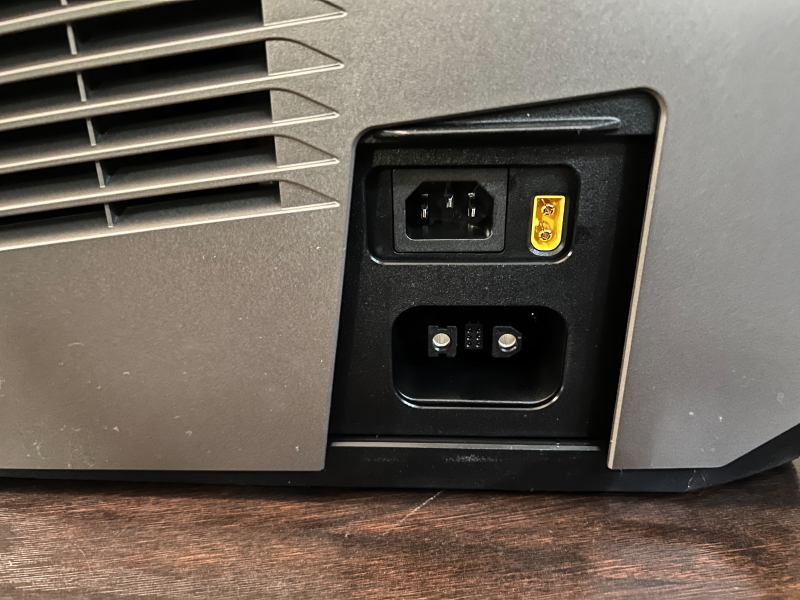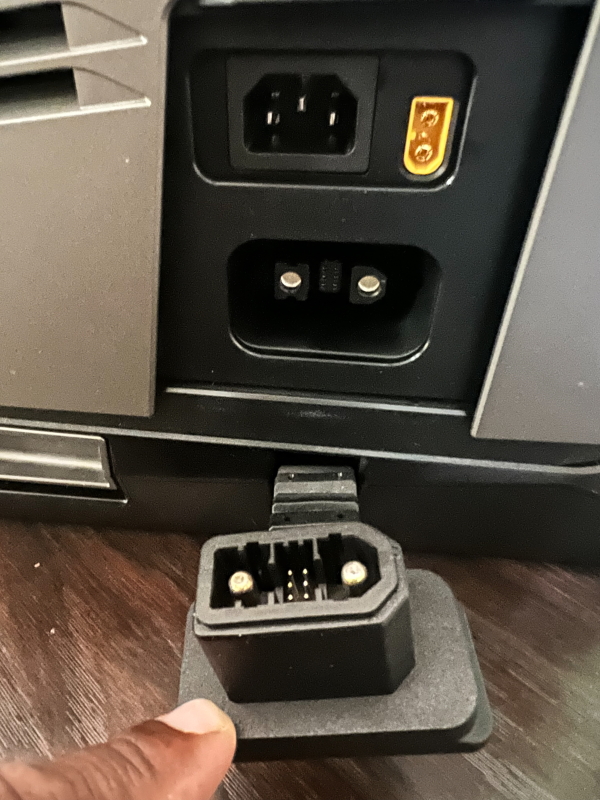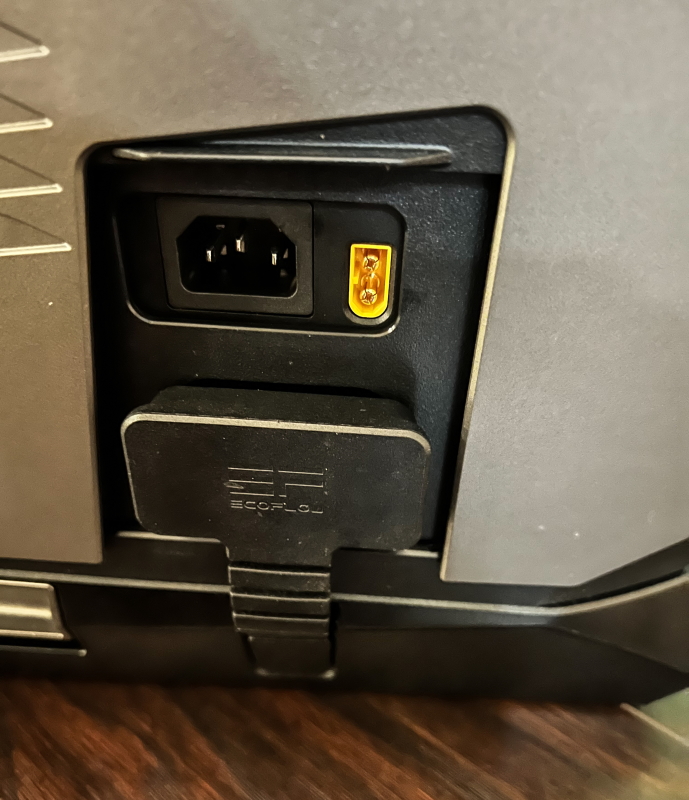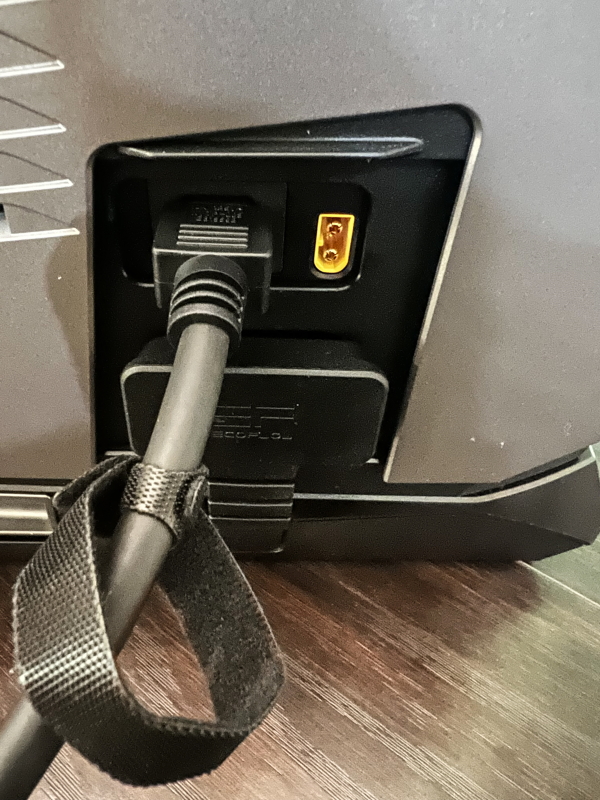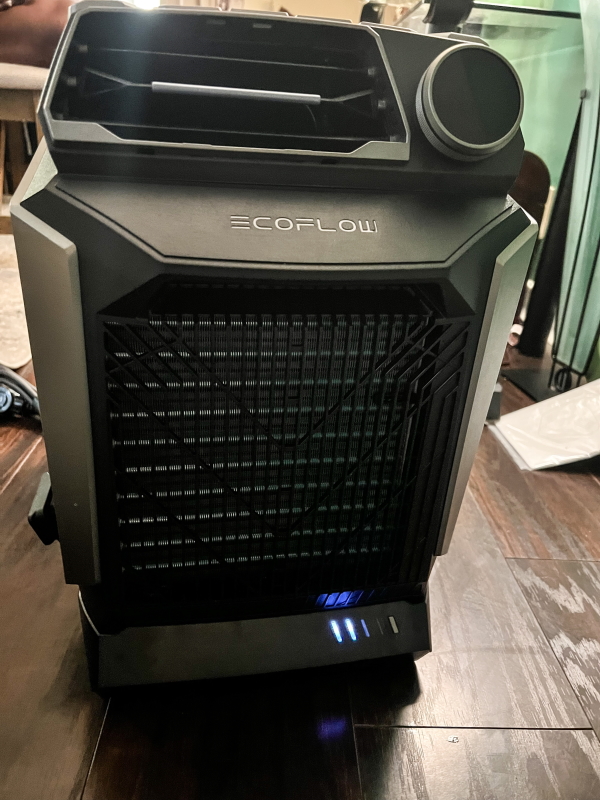 Once the EcoFlow Wave portable air conditioner is powered on, it can be controlled from the touch buttons and rotary knob on the front or via the app. Unfortunately, you cannot turn the unit on or off on-demand via that app. You can have it turn off automatically if you use the timer feature.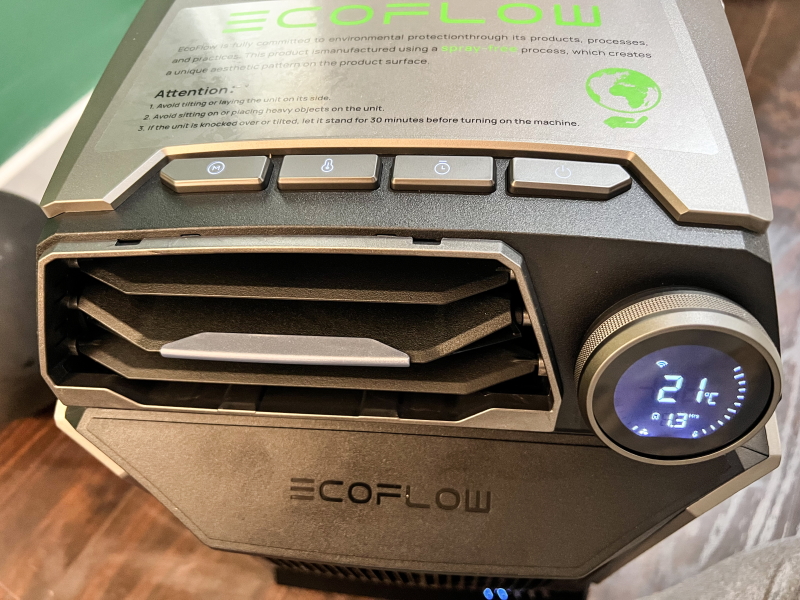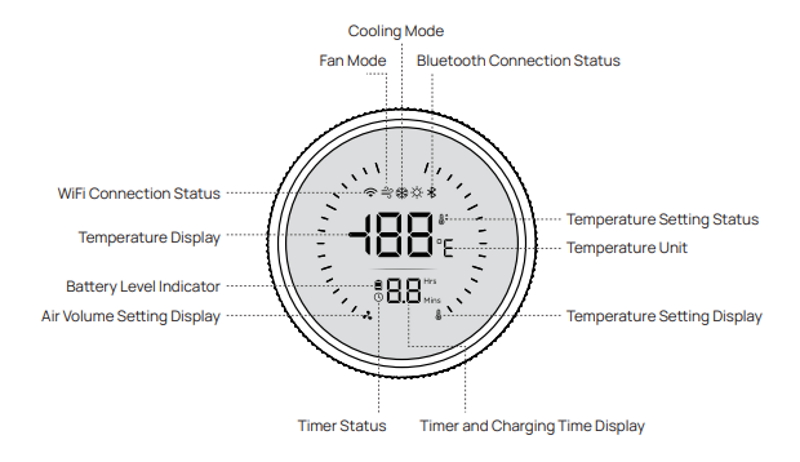 Once I powered on the EcoFlow Wave portable air conditioner, I downloaded the app and set up its connection to the device via WiFi. The app offers a lot of control. Here are some screenshots:
The EcoFlow Wave portable air conditioner is an amazing device. Apart from being very portable, it can be used indoors even if there is no option to vent. Here is what it looks like with the air duct hoses connected: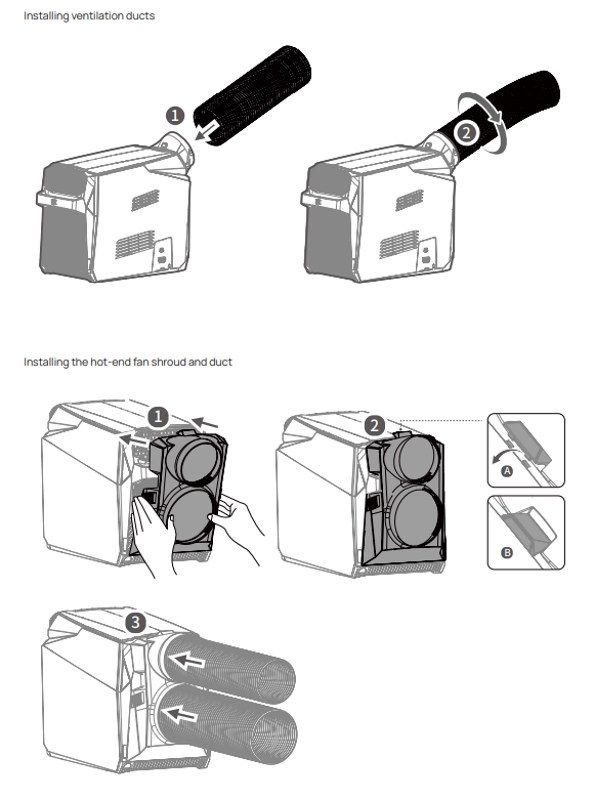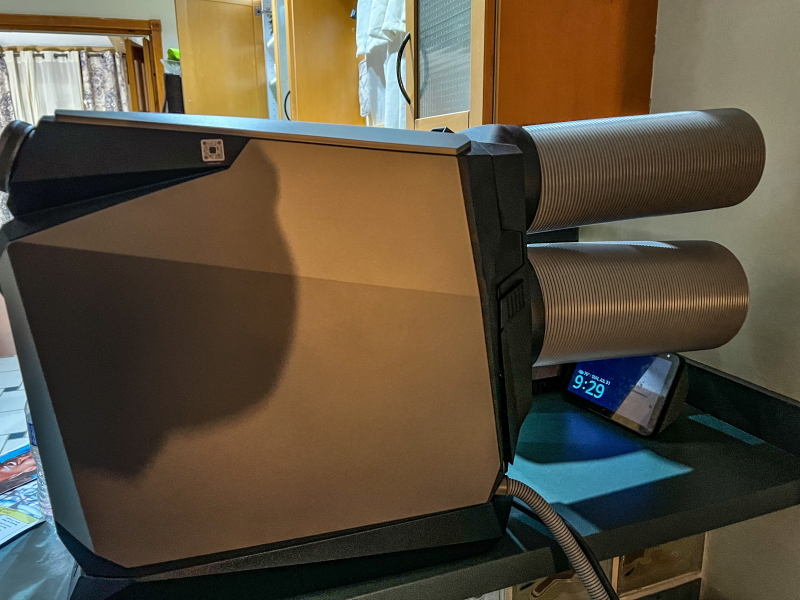 It pushes a serious volume of cold air and the hot air that comes out of the outlets is no match for the cold air it produces. It has the capacity to hold water for quite a while and when full it will shut off if the drain hose is not connected. Then you just have to pull the drain plug over the sink, empty the water and get back to cooling. Since I wanted the machine to sit on my counter and continue running, I connected the drain hose and drained it into a bucket.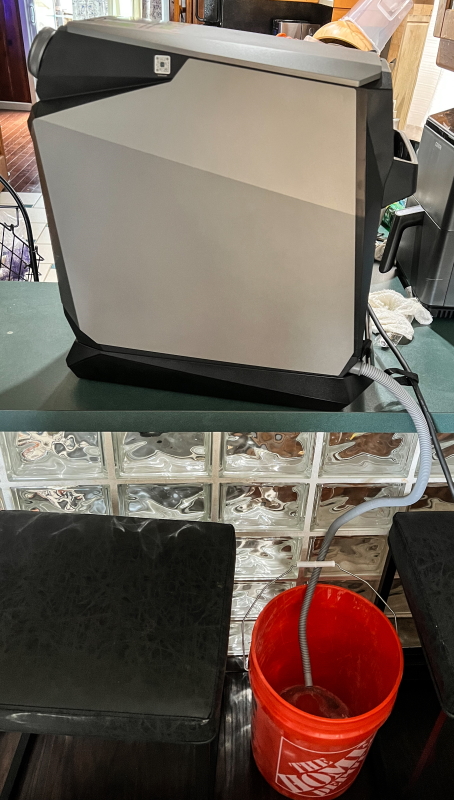 Overall, the versatility of the EcoFlow Wave portable air conditioner makes it a winner. For the first time ever I can literally walk with my own air conditioner, and if there is no power, no problem. If you like to camp when it is hot outdoors, you will have the coolest tent. I will say again that I do wish that the built-in WiFi was on once power is attached so that I could turn it on/off on demand. Love it!!
What I like
The sleek and robust design
The portability and adaptability
The performance
The included battery
The convenience
What I'd change
I wish that its WiFI was active once plugged in so that I could turn it on/off via the app
Final thoughts
While the EcoFlow Wave portable air conditioner is expensive and possibly out of reach for many, it is a great device and it provides cooling just about anywhere you go. I love that it can operate as a stand-alone unit powered by the battery and I love the flexibility to take it to any room and place it exactly where I want it. It blows a lot of cold air and cools even rooms larger than its specs indicate. In terms of design, function, and overall capability, I give it a well done and two thumbs up! Be sure to check out our other EcoFlow reviews.
Price: $1799.00
Where to buy: EcoFlow website and Amazon
Source: The sample for this review was provided by EcoFlow.