We use affiliate links. If you buy something through the links on this page, we may earn a commission at no cost to you. Learn more.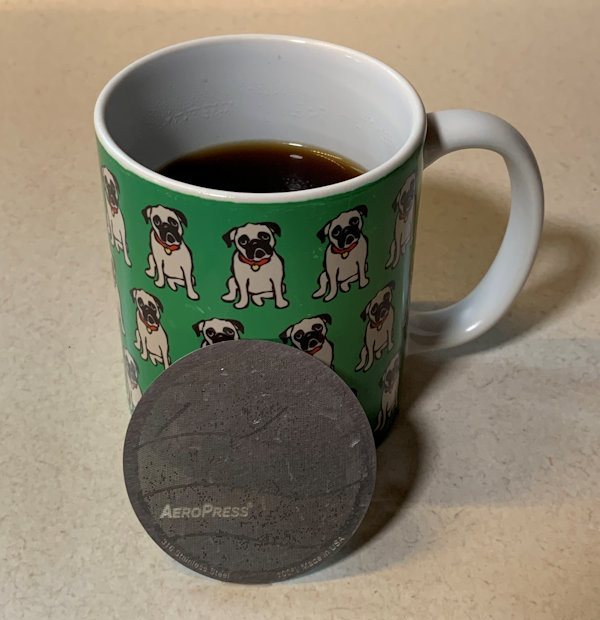 REVIEW – When I reviewed the AeroPress and AeroPress Go coffee makers back in 2019, I was impressed with both products.  But in the back of my mind, there was one feature that I thought would have made both products just a bit better: a reusable filter.  AeroPress must have finally read my mind, because they recently released the AeroPress Stainless Steel Reusable Filter.  Let's check it out.  Gadget on!
What is it?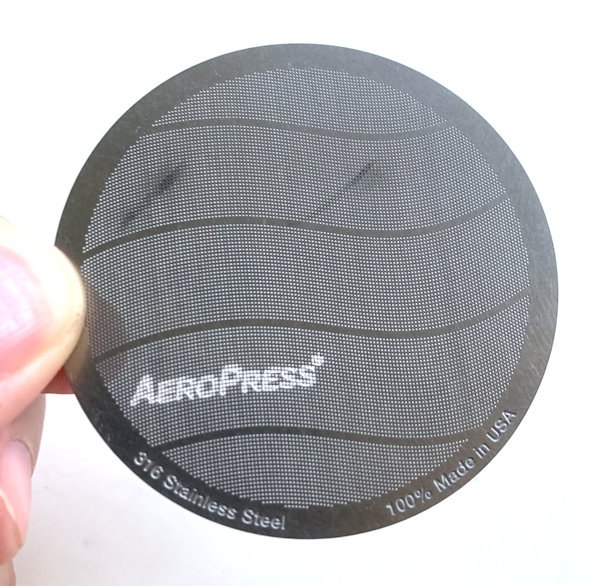 The AeroPress Stainless Steel Reusable Filter is a metal filter designed to substitute for the AeroPress paper filter.
What's in the box?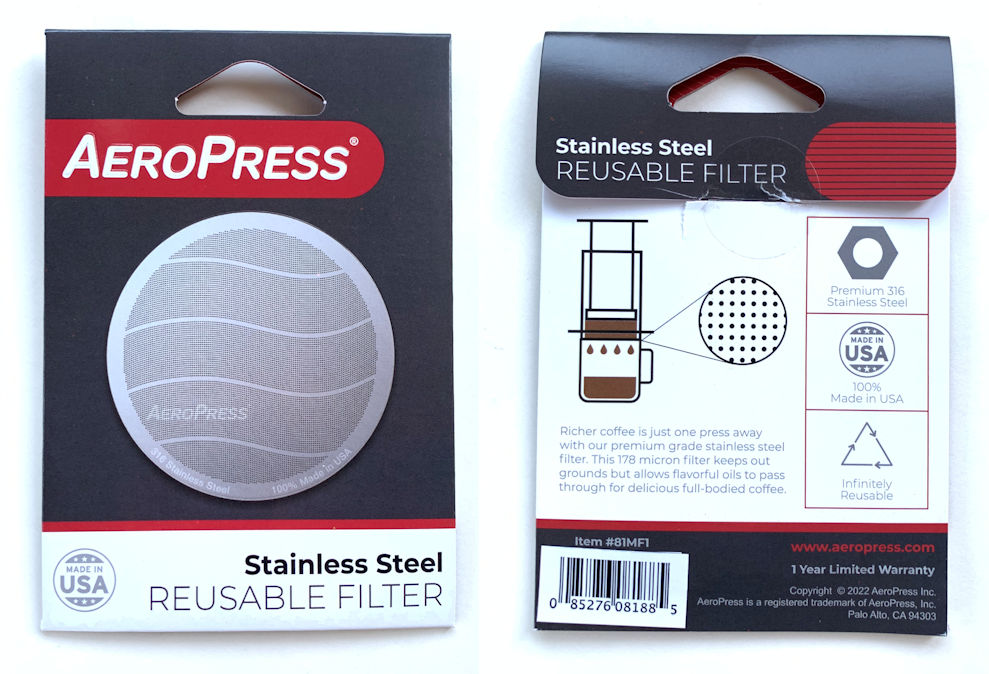 The AeroPress Stainless Steel Reusable Filter's package is essentially a cardboard envelope.  I like that it's small and thin, which minimizes waste, and made from cardboard, which can be recycled.  The only item in the package is the filter itself.
Hardware specs
Material: 316 Stainless Steel
Hole size: Medium-level 178-micron holes
Warranty: 1 year
Country of manufacture: Made in USA
Design and features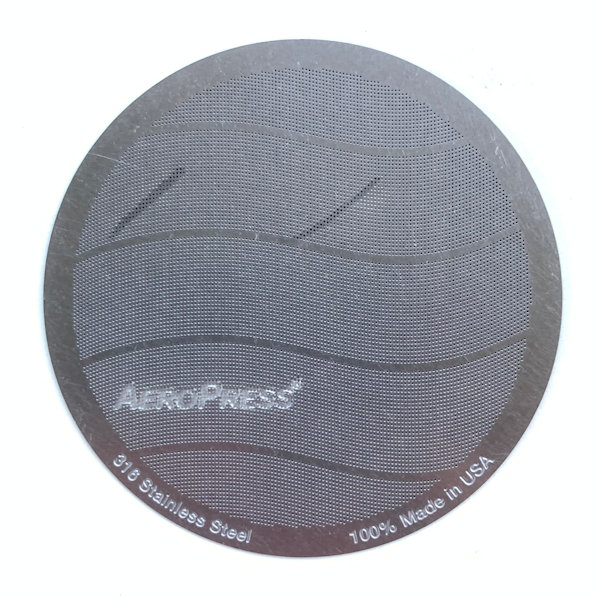 The AeroPress Stainless Steel Reusable Filter is about xx inches (xx mm) in diameter.  It is made from thin 316 grade stainless steel, so it can be washed and reused.  The filter's holes are 178-micron (0.178 mm), which AeroPress characterizes as a medium-sized filter mesh.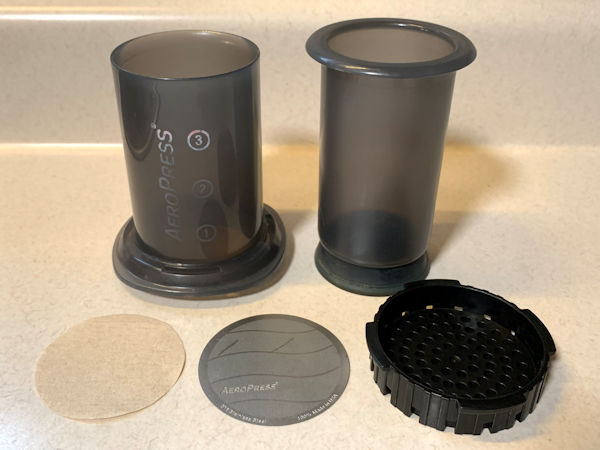 The above photo shows my AeroPress Go, including one of its paper filters, with the Stainless Steel Reusable Filter shown in the center.  The paper filters are single use, while the stainless steel filter can be used many times.
Setup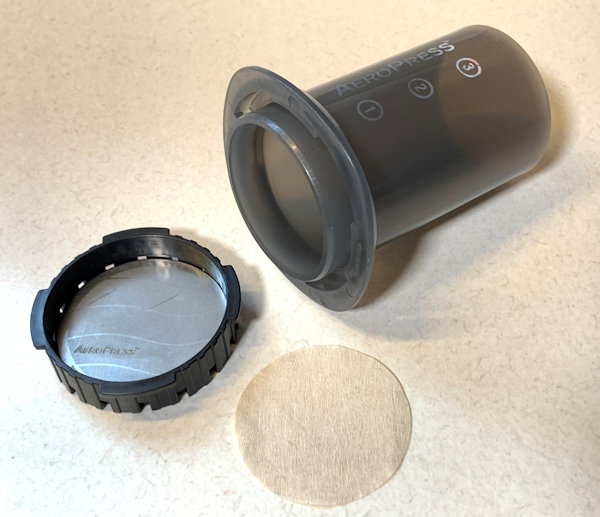 To use the AeroPress Stainless Steel Reusable Filter, place it in the filter cap where you would normally place a paper filter, then attach the filter cap to the chamber.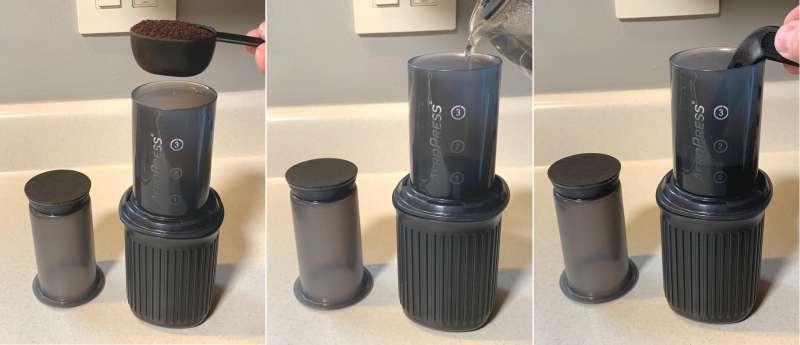 Next, follow the normal steps in AeroPress brewing.  Use the scoop to add coffee grounds to the chamber, pour in hot water, and use the stirrer to stir the grounds and hot water.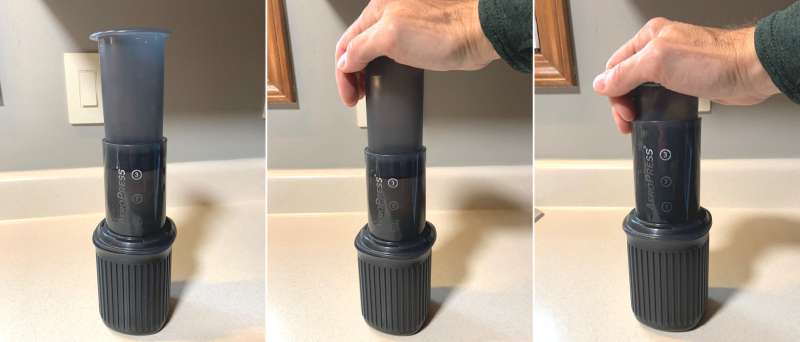 Place the plunger into the chamber, then press down on the plunger, using the air in the chamber to force the hot water through the coffee grounds.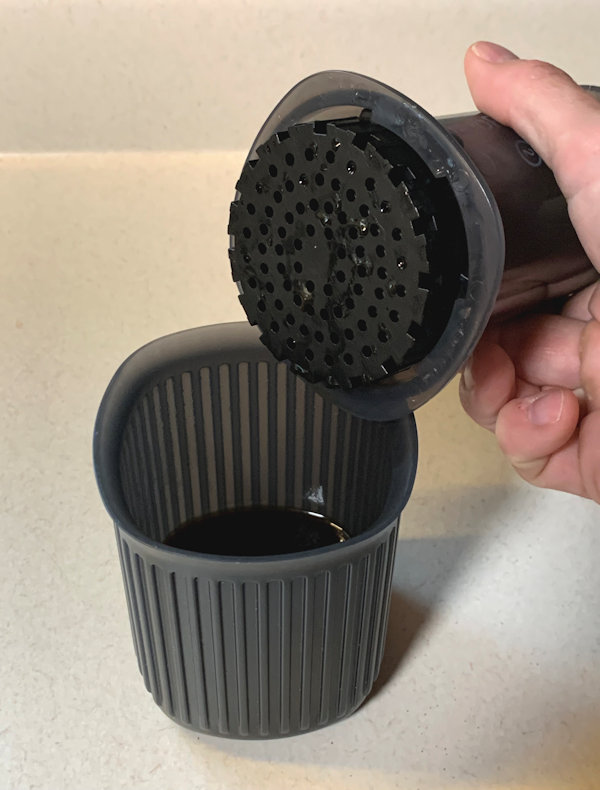 Boom!  You have several ounces of freshly-brewed, concentrated coffee.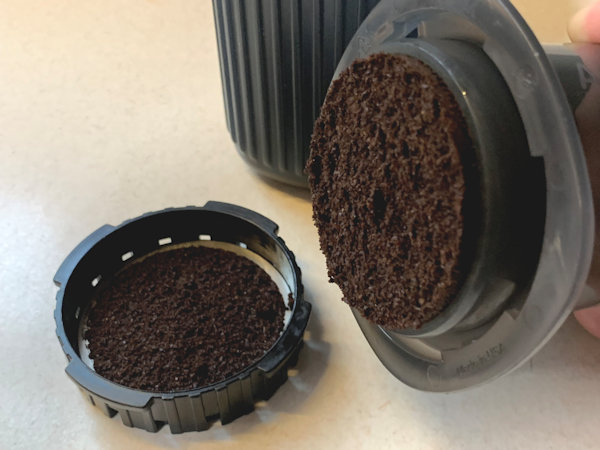 After brewing, remove the filter cap and press the plunger to force the used coffee grounds from the chamber.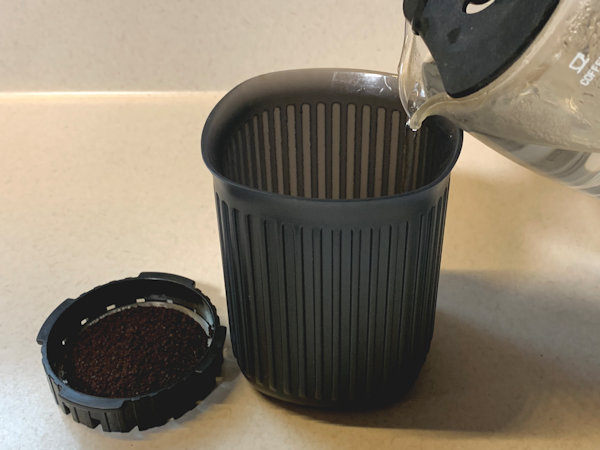 You can drink the brewed coffee as-is, a bit like a shot of espresso, or add some hot water to the concentrated coffee for a cup of joe in a more typical concentration.
Cleaning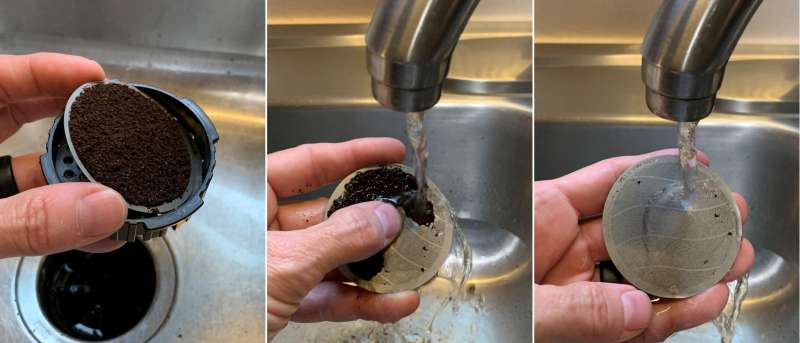 The AeroPress Stainless Steel Reusable Filter is easy to clean.   Just lift it out of the filter cap, then run it under tap water and use a finger to swipe off the remaining coffee grounds.  You'll want to be a bit careful in handling the filter because it's made from very thin stainless steel.  If you accidentally bend it a bit, you might be able to gently bend it back such that it doesn't affect the filter's function, but beware of bending it too far.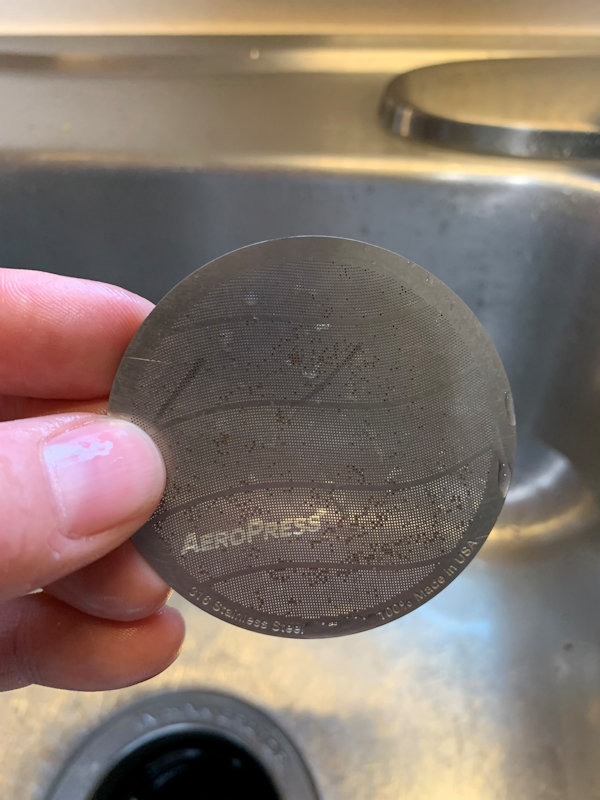 It only takes a few seconds to get the filter clean and you're ready to brew your next cup of delicious java.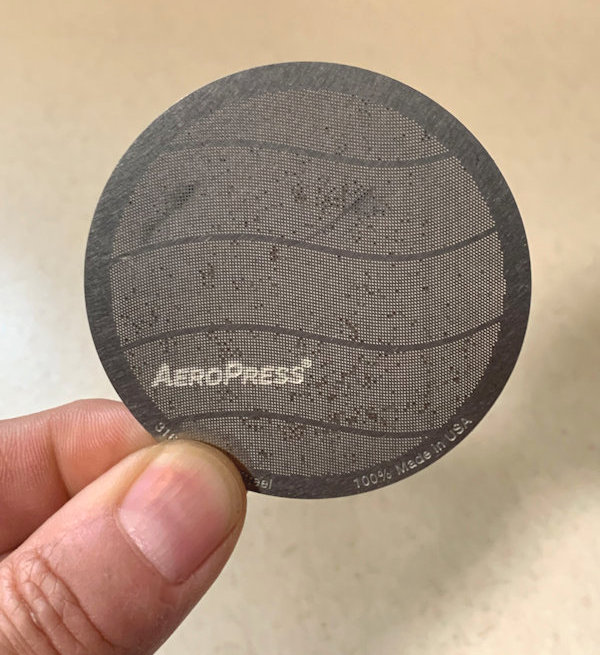 What I like
Sustainable product that can be used repeatably instead of thrown away like paper filters
Easy to substitute for paper filter
Easy to clean
Durable
What I'd change
Only one mesh size in the pack; would be useful to have a multi-pack with 2-3 mesh sizes
Final thoughts
I really like my AeroPress and AeroPress Go coffee makers, and the only feature I felt they were missing was a reusable metal filter.  The AeroPress Stainless Steel Filter Reusable solves that issue for me.  It's a great product because it's simple, easy to use, and clean, and is sustainable because it prevents you from having to use single-use paper filters that end up in a landfill.  And the price is quite reasonable at $14.99.
Price: $24.95
Where to buy: AeroPress and Amazon
Source: The sample of this product was provided by Aeropress.