We use affiliate links. If you buy something through the links on this page, we may earn a commission at no cost to you. Learn more.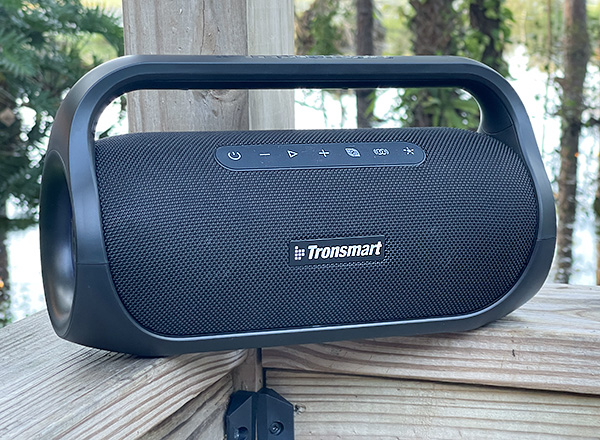 REVIEW – As the holidays approach, you may be thinking of either giving—or getting—a Bluetooth speaker as a gift. Unfortunately (or fortunately), there are so many to choose from, I almost feel sorry for the person who has to choose. I pay close attention to what's available and I'm overwhelmed. Besides the big players in this over-crowded market, there are even more brands you may not have heard of, but are worth considering. Tronsmart fits into that latter category, They specialize in all things Bluetooth with an inexhaustible selection of  indoor/outdoor/party speaker and headphones/earphones. This review is of the new Tronsmart Bang Mini Portable Party Speaker—an extremely affordable party speaker complete with a light show!

What is it?
The Tronsmart Bang Mini is a jack-of-all-trades portable Bluetooth speaker. It's a smaller version of the Tronsmart Bang. The features of the Bang Mini are usually found on more expensive speakers. Its tubular shape is 12 in. long—a bit on the smallish side. It only weighs slightly over 5 lbs., so carrying it around is easy using its built-in handle. There's not a lot that the Mini Bang doesn't offer. It has 2 woofers, 2 mid tweeters, 2 passive radiators (for more bass). It will play music via Bluetooth, AUX, USB drive and even TF card. It has NFC (for Android users), is rated at IPX6 water resistance and comes with circular lights at both ends that pulse to the beat, fade in and out and blend one color into another. It has a mic for taking phone calls and supports voice assistants. It can even charge your smart device with its 8,000 mAh internal battery. But wait, that's not all! You can pair two Bang Minis together for true left/right stereo. As I said, The Bang Mini has a lot of features.
Specs
Color: Black
Bluetooth: 5.3
Bluetooth Range: 49 ft.
Power: 50W
Built-in microphone
IP rating: IPX6
Up to 15 Hours play time
4 Hours charge time
Frequency range: 65Hz – 20kHz
Aux-in
Micro SD/TF card slot

 

USB A and USB-C ports

 

Dual Mid Tweeters + Dual Woofers
Voice assistant: Siri, Cortana, Google Assistant
Stereo Pairing

 

NFC (Near Field Communication): Android only
Light Show

 

8000 mAh Powerbank
Dimensiions: 11.9 x 4.9 x 6.8in
Weight: 5.22lbs

What's in the box?
Aux-in Cable

 

USB-C Cable

 

SoundPulse Card

 

Warranty Card

 

User Manual

Design and features
Design is not the Bang Mini's best feature. Yes, it looks decent, but it comes across as a generic "I've seen this before" boombox. The built-in light show may be gimmicky, but younger listeners will like it.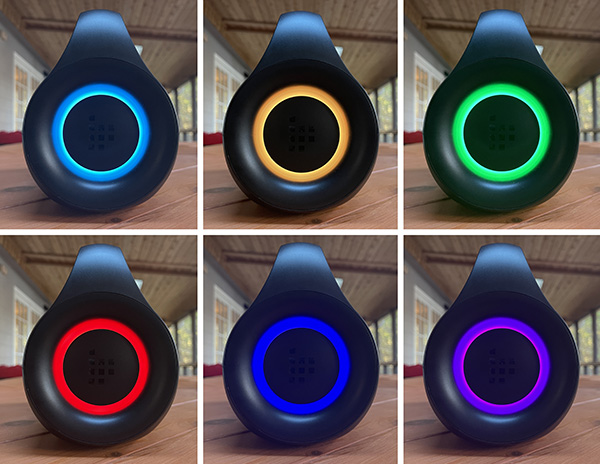 The Bang Mini is a tubular shape with a built-in handle. It has some heft to it that belies its size, but the weight gives it substance. One of its cool features are the four rubberized non-slip feet. They are upside-down triangles, so the speaker only sits on four small points. This helps keep the speaker's bass boominess from transferring onto whatever surface the Bang Mini sits on. I've seen multi-thousand dollar speaker systems use this same logic.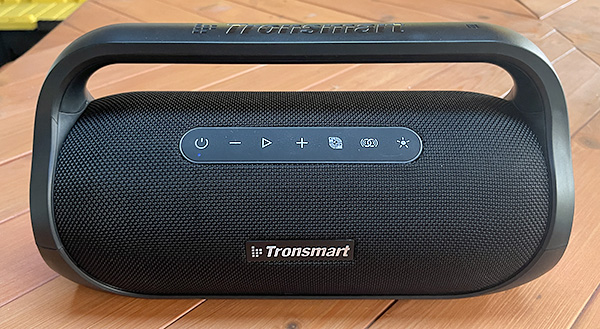 Function buttons sit in a tidy row along the top of the speaker: On/off, Volume down/previous track, Play/pause, Volume up/next track, Sound-Pulse (explained later in the review), Stereo pairing, and Light switch. The buttons are protected under a rubber panel with each button's icons printed in white. Unfortunately, they are not backlit for viewing in the dark. NFC is located in the handle.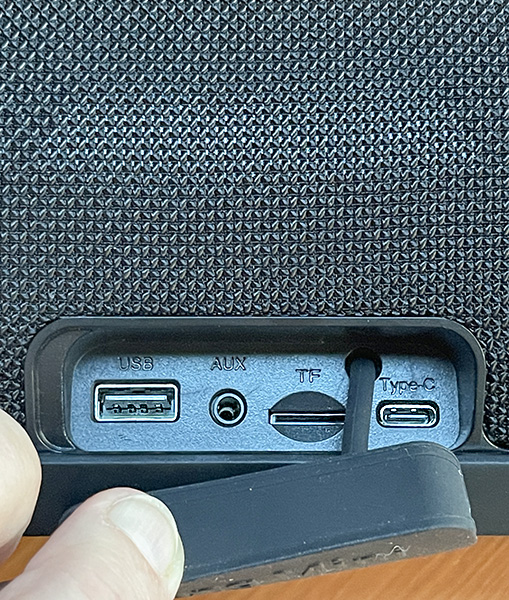 Input ports are hidden behind a thick, waterproof rubber cover sitting low at the rear of the speaker. Included ports are: USB A, AUX (for wired connection), TF/SD card and a USB-C charging port. In addition to Bluetooth, music can be played from a USB a drive, AUX or even a TF/SD card. Note that music can only be in MP3 format.
Speaking of Bluetooth, it's 5.3, one of the newer versions, with improved audio quality, lower power requirements and longer range—up to 50 ft. Note that the source must have a newer Bluetooth to take full advantage of its latest features.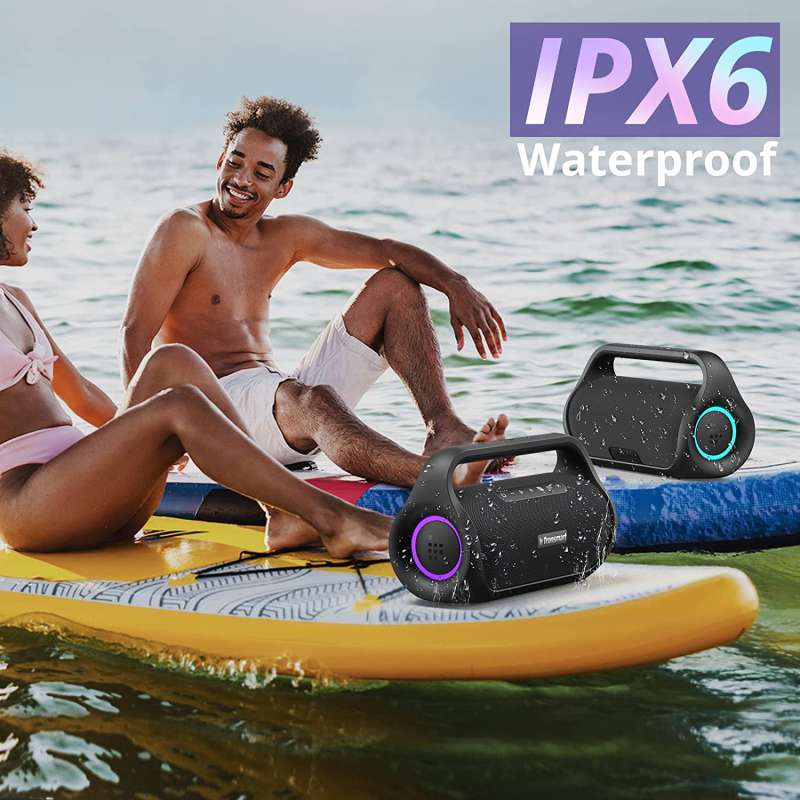 One of the Bang Mini's better features also has a major weakness. While it can be rained on and not be harmed, the speaker cannot be submerged. A photo on Tronsmart's Amazon page shows two people each with a Bang Mini speaker sitting on their surf boards. It may be there to illustrate the IP water rating of IPX6, but since it can't be dunked, the photo is a bit misleading.
Pairing the Bang Mini with my iPhone was seamless. It showed up on my iPhone when first powered on.
The Bang Mini can act as a speaker and mic for phone calls. 'Nuff said. I've yet to find a Bluetooth speaker that has decent call quality. So, not great.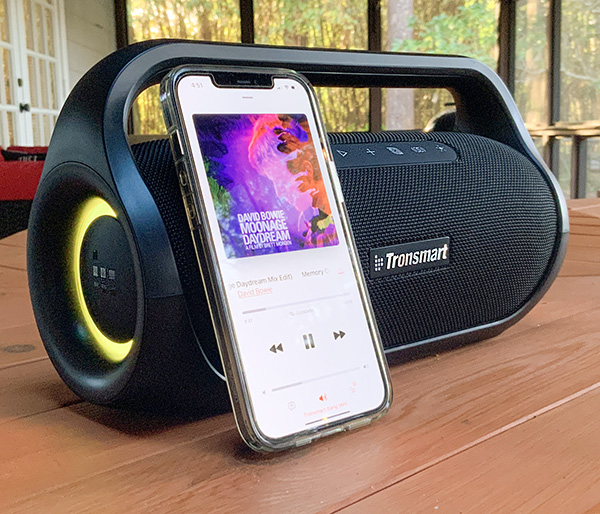 Despite its many features, what matters most is the sound. How is it?
Not too shabby, actually. First off, the Bang Mini is bass heavy. In fact, it was designed that way. Tronsmart states that the Bang speaker has a more balanced sound while the Bang Mini has more bass. To my ears, the bass is okay at lower volume, but gets a bit muddy when the volume is cranked up.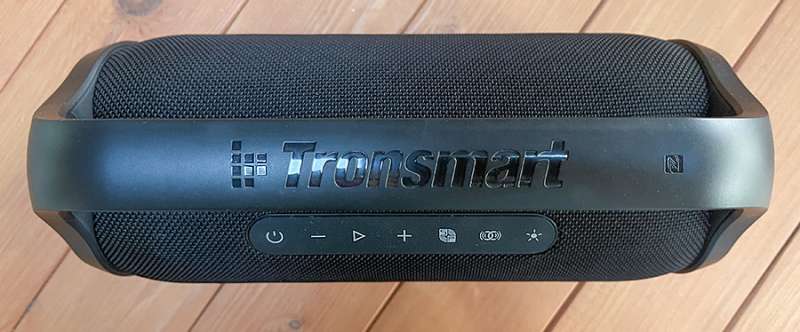 The Bang Mini's amp is 50 watts, That's fairly powerful for a small boombox. It is only 10 watts less than its big brother, the Bang. 
The Bang Mini has what is called "SoundPulse". It's Tronsmart's term for digital signal processing (DSP). They state that SoundPulse, "broadens the soundstage" allowing the listener to sit anywhere and still get the full range of sound. I don't know about that, but the audio does open up with SoundPulse turned on. It also loses some of the boominess of the bass when on. SoundPulse has become one of those "Turn on and forget" buttons.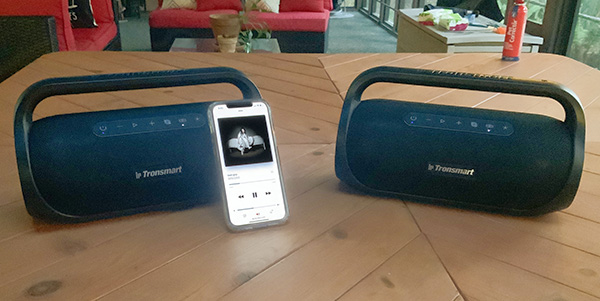 Another cool feature of the Bang Mini is true stereo. Initially. stereo pairing is more difficult than it needs to be. Stereo pairing can only be performed if neither speaker is connected to any device. It's counter-intuitive, but once paired, the effect is magical sounding. It obviously requires two Bang Mini speakers to work, but when both speakers are in true stereo, it opens up the sound more than SoundPulse can do on a single Bang Mini speaker. Once you hear it, it's hard to enjoy a single speaker.

What I like
SoundPulse
True stereo
So many features

 

What I'd change
Better call quality
Backlighted buttons

Final Thoughts
For any boombox that costs under $100-$125 to have as many features as the Tronsmart Bang Mini Portable Party Speaker makes it a bargain. The fact that the Bang Mini has these features for under 90 bucks makes it a steal. At that price, you can get two for true stereo and come out ahead.
Price: $89.99
Where to buy: Amazon
Source: The sample of this product was provided by Tronsmart.