We use affiliate links. If you buy something through the links on this page, we may earn a commission at no cost to you. Learn more.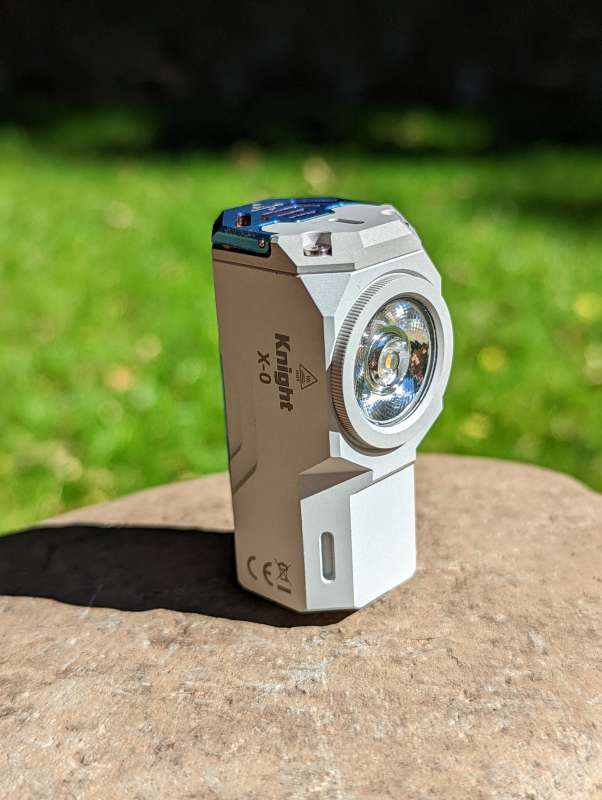 CROWDFUNDING REVIEW – Like most electronics, flashlights keep getting smaller and more powerful but is it worth buying a new flashlight just for 50 or 100 more lumens than the one you have? Does the Wuben X-0 Knight flashlight bring anything new or different to the everyday carry flashlight to compel you to upgrade from your current flashlight that still works just fine? Spoiler alert, it sure does.
What is it?
The Wuben X-0 Knight is a small rechargeable flashlight capable of 1,100 lumens max output with seven lighting modes (moon, low, med, high, turbo, strobe, SOS), a magnetic base, and USB-C charging. It's currently seeking funding on Kickstarter.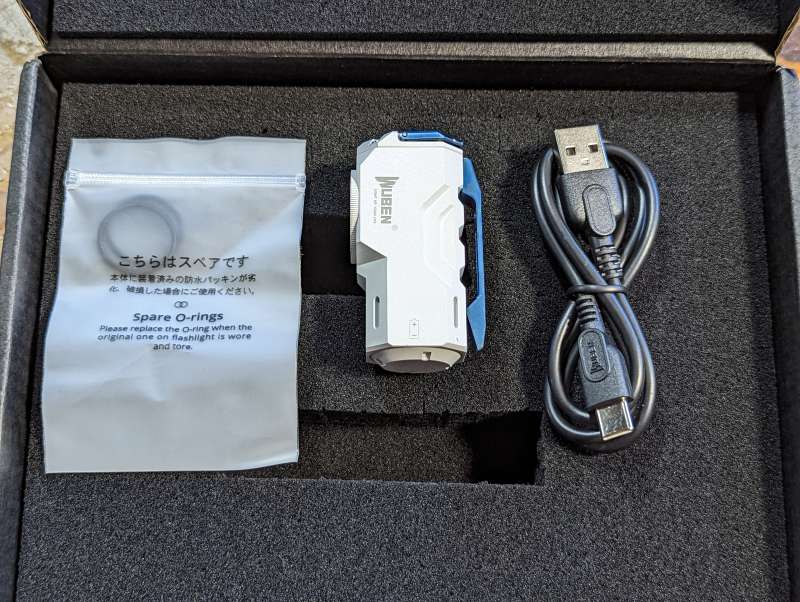 What's in the box?
Wuben X-0 Knight flashlight
Instruction manual
USB-C Cable
2x spare o-rings
Specifications
LED: Osram P9
Run time: Turbo 1100 lumen- 1-2 hours; High 250 lumen- 2.5 hours; Med 150 Lumen-8 hours; Low 50 lumen- 30 hours; Moon 1 lumen- 130 hours
Throw: 125 Meters / 410 feet
Charge time: With a 5V/1A adapter it takes 3 hours to 100%, 5V 2A adapter takes 1.5 hours
Charging input: USB-C
Weight: 2.89 oz / 82 grams with battery
Waterproofness: IP68
Tritium slot dimensions: 1.5mm x 6mm (6x tritium tubes not included)
Battery: Replaceable 1100 mAh 18350 Li-on battery
Dimensions: 2.24 H x 0.96 W x 1.10 D inches (57 x 24.5 x 28 mm)
Design and features
The Wuben X-0 Knight flashlight uses the same Osram P9 LED that is used in the Wuben G2 keychain flashlight that was previously reviewed on the Gadgeteer and has similar features but is considerably brighter and beefed up with an aluminum or available titanium body and a magnet with 1kg of pulling force. There are six slots where you can place tritium tubes for extra visibility in the dark or just for fun. It's a nice little addition that I haven't seen before.
The size of the Wuben X-0 Knight flashlight is perfect for everyday carry and I really liked the feel of the white micro-oxidized aluminum. It has some grip to it and wasn't slippery even when wet.
Operation
After charging make sure to press the switch four times to unlock the flashlight. Another four presses will lock it again. After that, a single press turns on the light. It has a memory function and will go to the last used setting which prevents having to cycle through all the functions which is super annoying and I avoid flashlights without this feature. I tried to get some good pictures that showed the difference in brightness but my phone's night mode was making the background a little brighter than it was.
With the Wuben X-0 Knight flashlight on a 2 second press will cycle through the four modes of moon 1 lumen, low 15 lumen, medium 50 lumen, and high 150 lumen then rotate back again. While on, a double press will activate turbo mode for 1100 lumen. When on, a constant press will also cycle through the four modes automatically and releasing will leave the light at the desired intensity.
A really nifty feature is that each mode is adjustable. While moon mode is on another click, release, then click and hold of the button will adjust the intensity from the default 1 lumen up to 14 lumens and once the maximum is reached the light will blink to indicate that. Releasing the button after that or at any point will set moon mode to that intensity from now on. If you click, release, then hold again it will go back to 1 lumen and then the light will flash to show it reached the minimum setting. Low can be adjusted from 15-49 lumens, medium from 50-149 lumens, and high from 150-300 lumens. You can also reset all the modes back to default if desired.
There are some instant modes as well. With the Wuben X-0 Knight flashlight off a long press will activate the instant moon mode. With the flashlight off a double press will activate instant strobe. With strobe on another double press will cycle to SOS and back again. A single press will exit back to the last used normal mode. Turbo can only be activated with the flashlight already on in a normal mode and then double pressing the switch. In the video below I cycle through all the settings twice in my house which was pitch dark with no other lights on.
I found the single switch easy to use and remember the presses required for all the operations.
The LED battery indicator will glow red when charging. When charging is complete it will glow blue. When you turn the light on or any time you press the button the blue LED will stay on for 5 seconds if the battery is greater than 90% charged. From 90-40% the blue LED will flash for 5 seconds then turn off. From 40-15% the red LED will stay on for 5 seconds and then turn off. Below 15% the red LED will flash.
What I like
Super compact and quality construction
Very well thought out design that breaks the traditional round tube shape
Strong magnet
Square shape prevents rolling and can stand up on it's own
What I'd change
It's perfect for what it is which is the most compact yet powerful flashlight Wuben could design. With that said I would have preferred a physical lever or device to lock the switch rather than having to push the switch four times to lock and unlock which gets tedious if are constantly taking it out of your pocket.
Final Thoughts
I really like the Wuben X-0 Knight flashlight. The magnet is now a must have feature for me since it comes in handy so often. I also really liked the squared shape that prevented rolling and allowed me to stand it up on surfaces and easily point it where I needed. It fits perfectly on my 1.5 inch work belt and I can hardly tell it's there. The sturdy aluminum clip ensures it won't fall off. Operation is super simple with just one switch and LED indicator but with a lot of well thought out programming that is easy to learn and use but I'll make sure to hold onto the instructions just in case I forget something. I'm not sure why an established company needs a Kickstarter campaign to bring a new product to market but if it allows you to get one at a discount I'm all for it. The X-0 Knight is a home run, well done Wuben.
Price: Kickstarter starts at $42.00 for the black hard-anodized aluminum version. This white micro-arc oxidation aluminum model which I tested is $45.00. They have two titanium models in gray for $89 and a green circuit design for $109.
Where to buy: Kickstarter
Source: The sample for this review was provided by Wuben.