We use affiliate links. If you buy something through the links on this page, we may earn a commission at no cost to you. Learn more.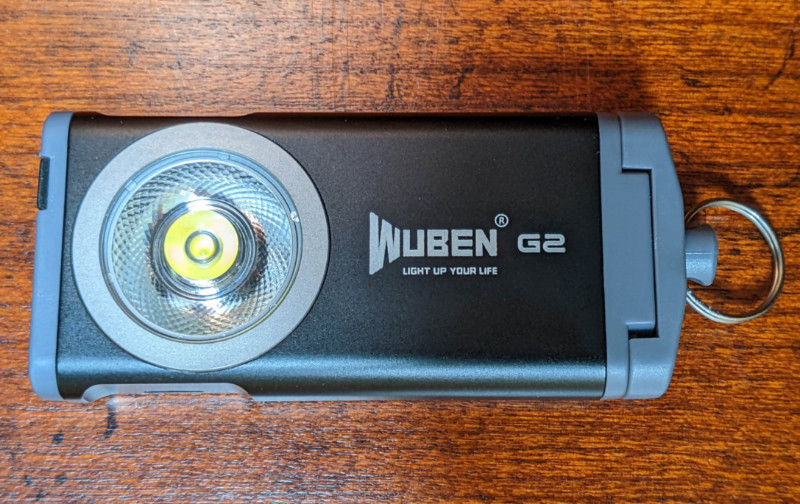 REVIEW –  The Wuben G2 flashlight brings an unusual form factor into play. A flat, small flashlight with a normal sized reflector may be of interest if your EDC pocket is over full but you still need a bright light source. When a business suit was my work uniform the G2 would have been perfect for my EDC. Now it simply reduces my pocket weight and expanse, with not much expense.
What is it
The Wuben G2 flashlight is a very lightweight, pocketable, or keychain-attachable, rechargeable flashlight with 5 brightness levels.

What's in the box?
G2 flashlight

Short USB-C charging cable

Info sheet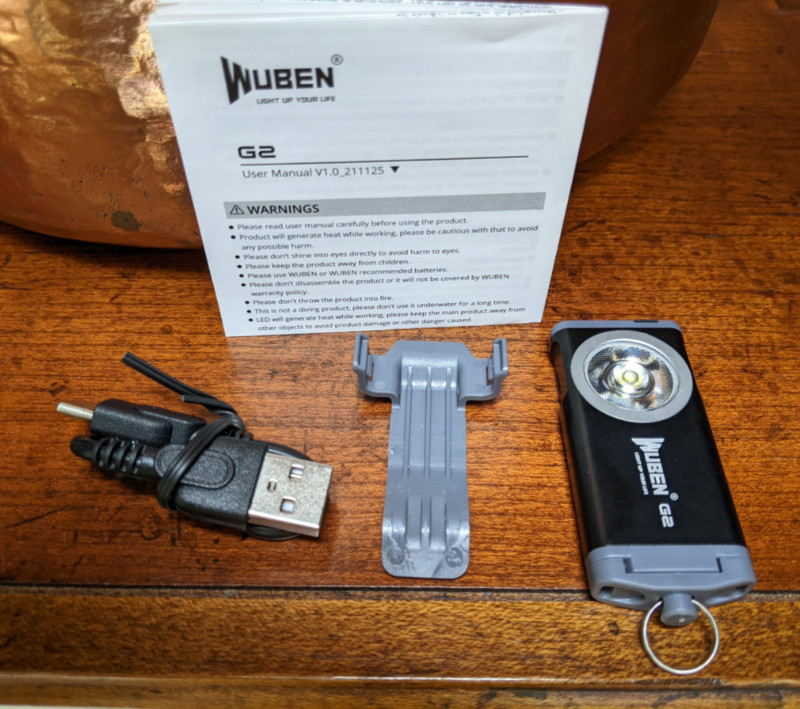 Hardware specs
Dimensions: 2.47" Length with key ring tailcap x 1.06" Width x .34" Thick (.56" with clip)

Weight: 1 oz. with key ring tailcap (1.1 oz with pocket clip)

OSRAM P9 LED

280 mAh lithium-ion rechargeable battery

Maximum light output: 500 lumens

Magnetic tailcap

Removable keyring tailcap 

Water resistant claim of 1.5 meters for one hour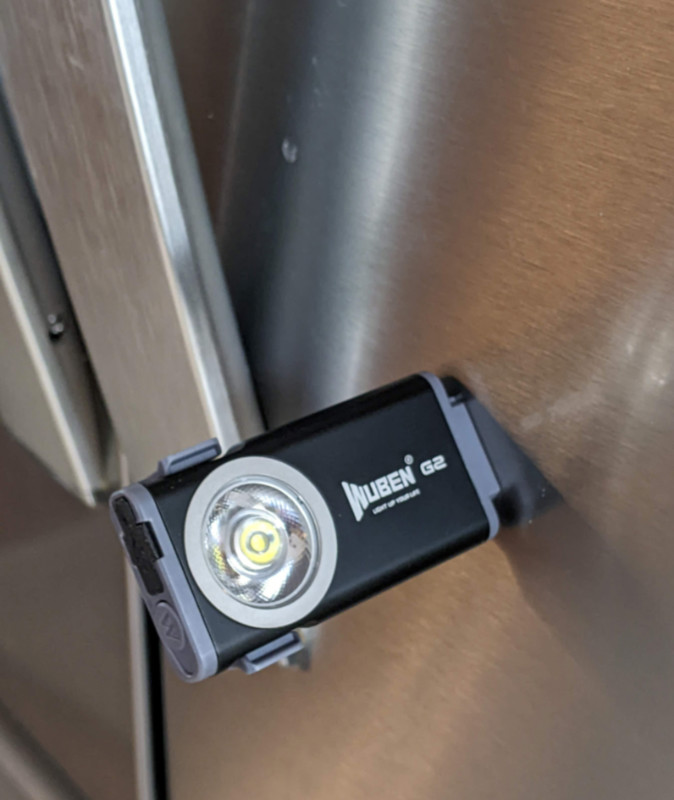 Design and features
5 brightness levels

USB-C charging

Single push-button operation

Unique 'light on the flat side' design

Available in black, blue and green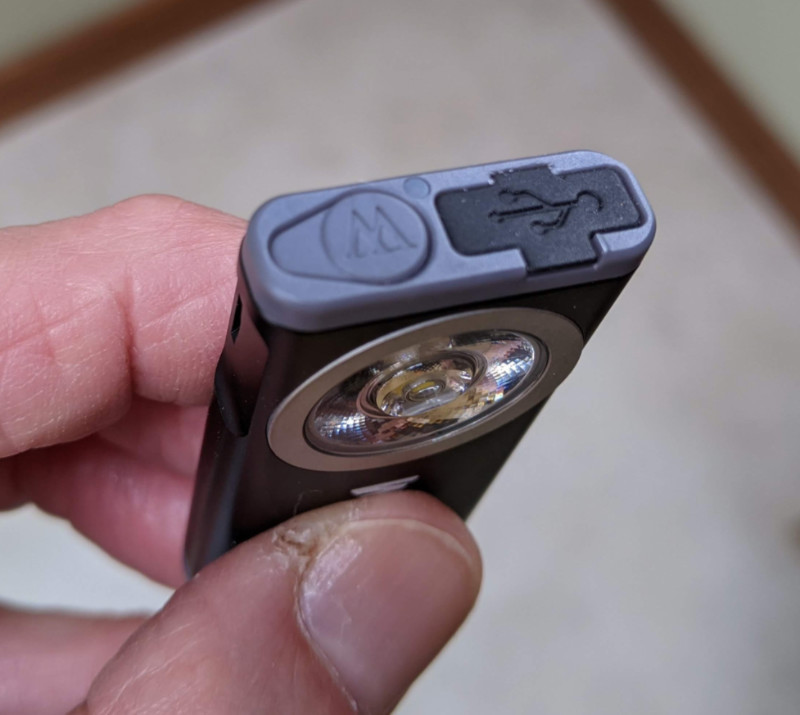 Installation and setup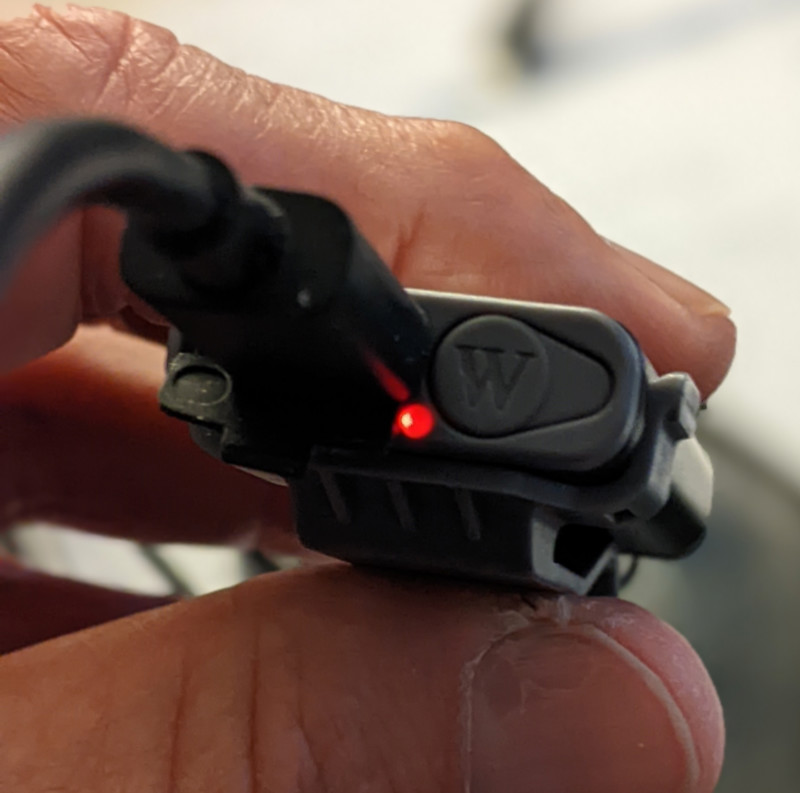 The LED shows red during charging. With a 30 minute charge the Wuben G2 indicated a blue LED meaning 'full charge'.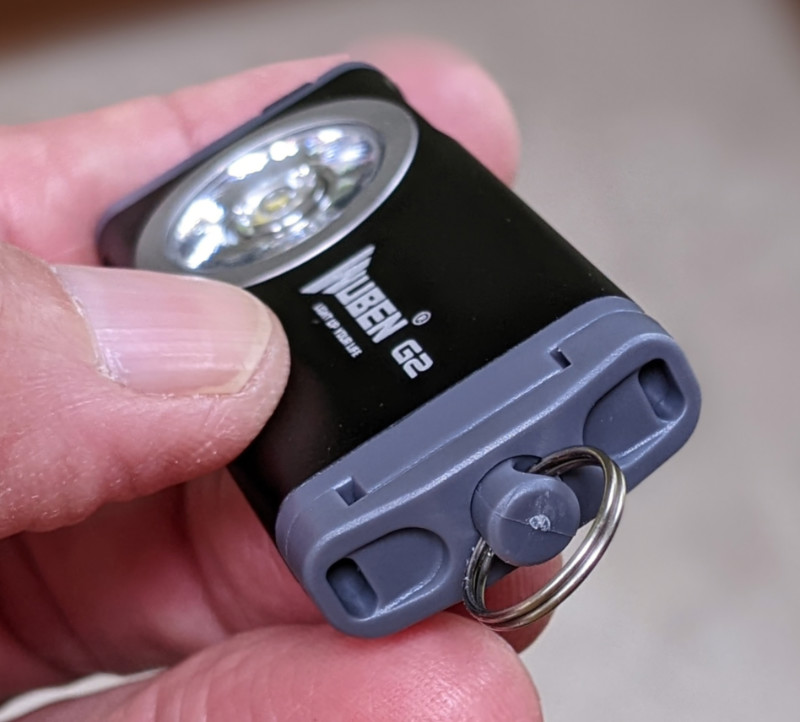 Testing and observations
The Wuben G2 flashlight is constructed of metal and durable plastic. The main body of the light is metal. The plastic clip material does not have a 'toy' or brittle feel. 
I decided not to attach my G2 to my keys. I don't reach for my keys when I need a flashlight. I prefer to always have a flashlight in my pocket. Plus I didn't want my keys scratching up the G2 lens. 
The brilliance (not sorry) of the G2 design is placing the LED / reflector module on the large side of a small candy bar design flashlight. There are other flat, rectangular flashlights but I haven't seen one that puts a 'normal' sized reflector on the flat side of the light.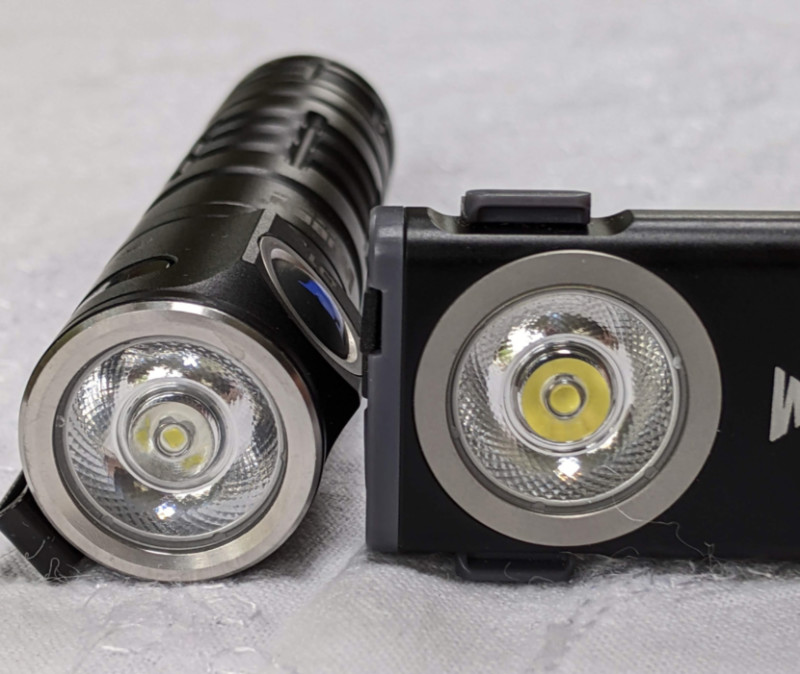 Here's a comparison to the lens size of the Wuben G2 and their 1100 lumen D1 flashlight. The 500 lumens of the G2 is substantially less than the D1 but the G2 Turbo mode 500 lumens coming from its large reflector makes for a surprisingly bright flood light with excellent throw distance.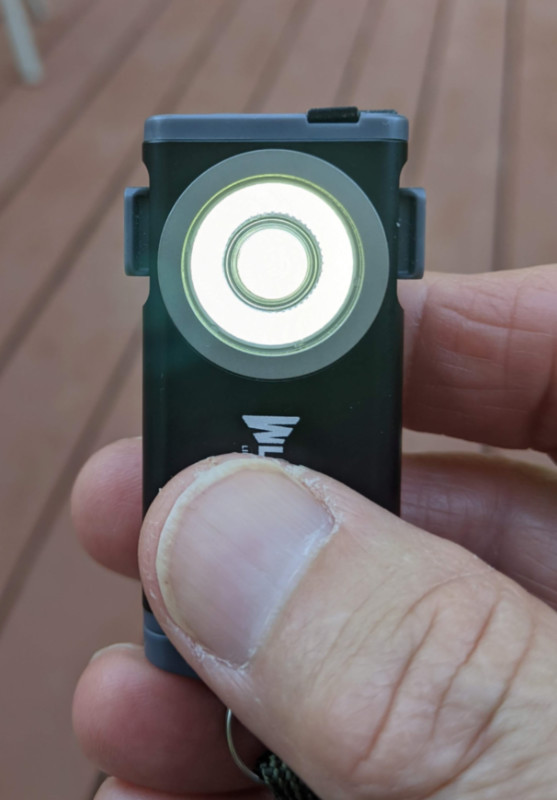 This shows the 'Moon' light level but offers a clear view of how much of the reflector projects light.
Other than the 500 lumen turbo mode, the other 4 lumen levels are not specified. They are referred to as 'High, medium, low and moon'.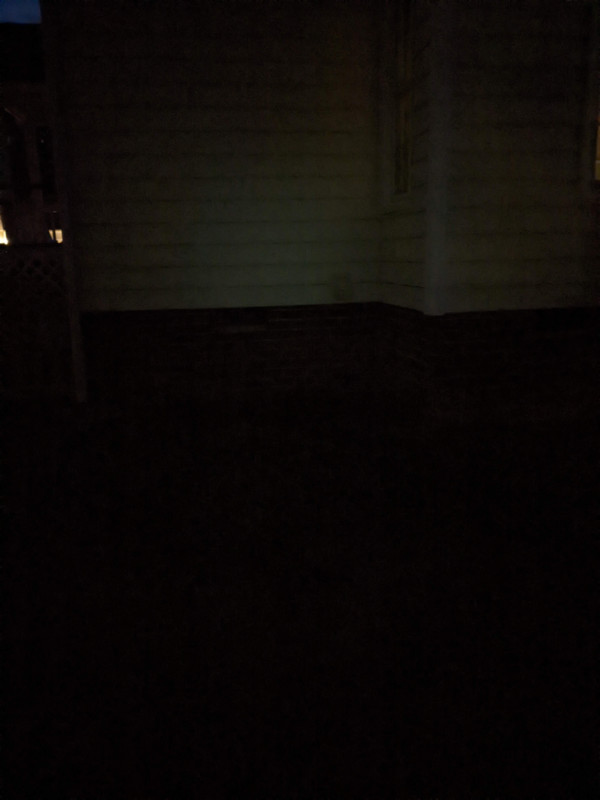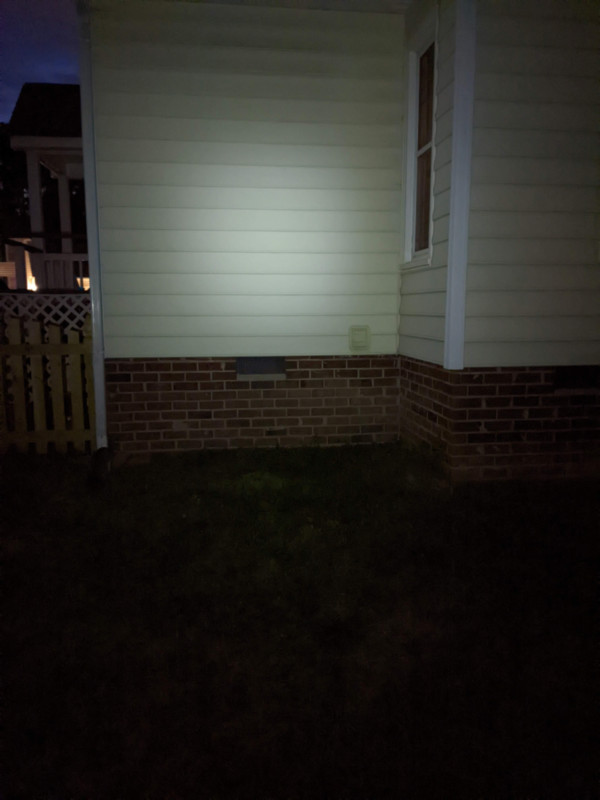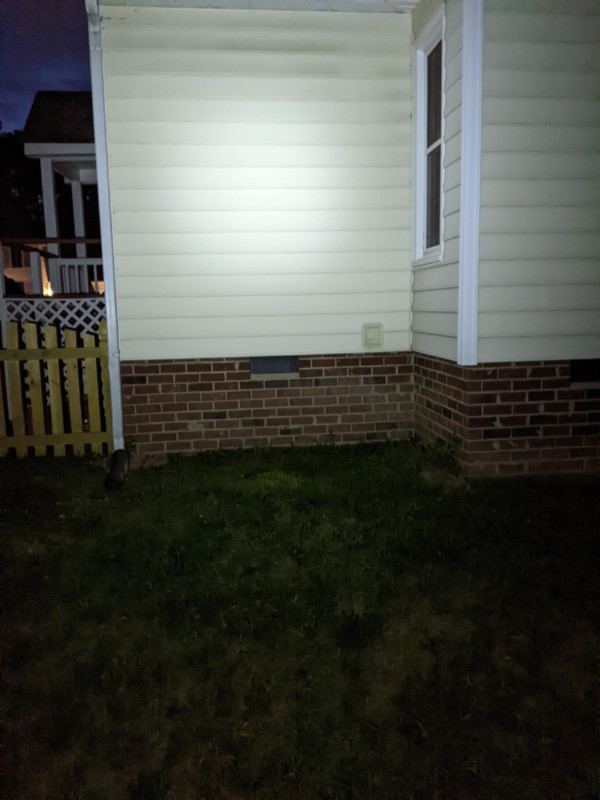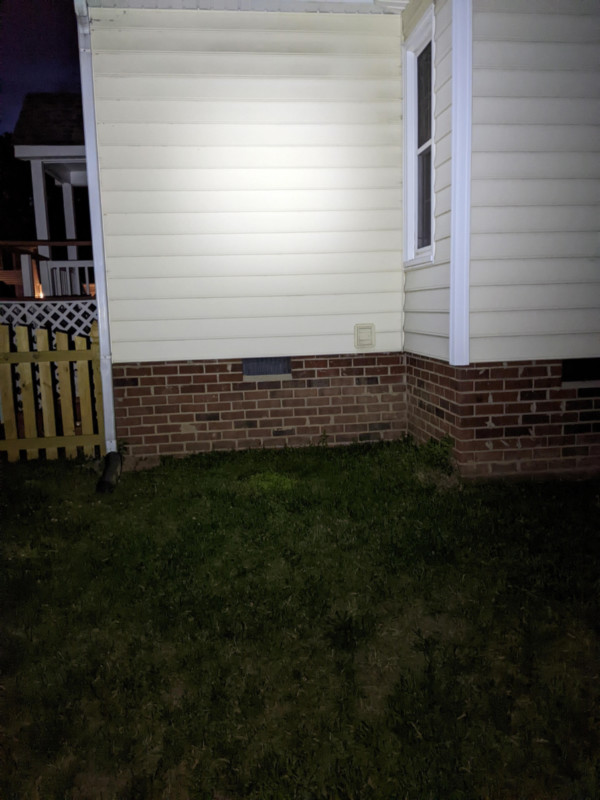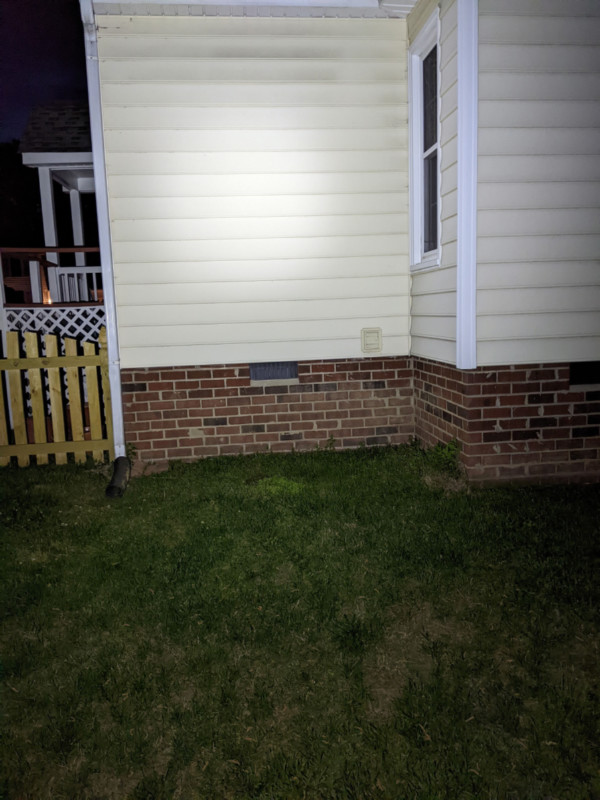 The photos above are the 5 light levels from Moon to Turbo at about 20 feet. Notice the illumination on the grass with each which is mainly from the G2, not reflection off the house.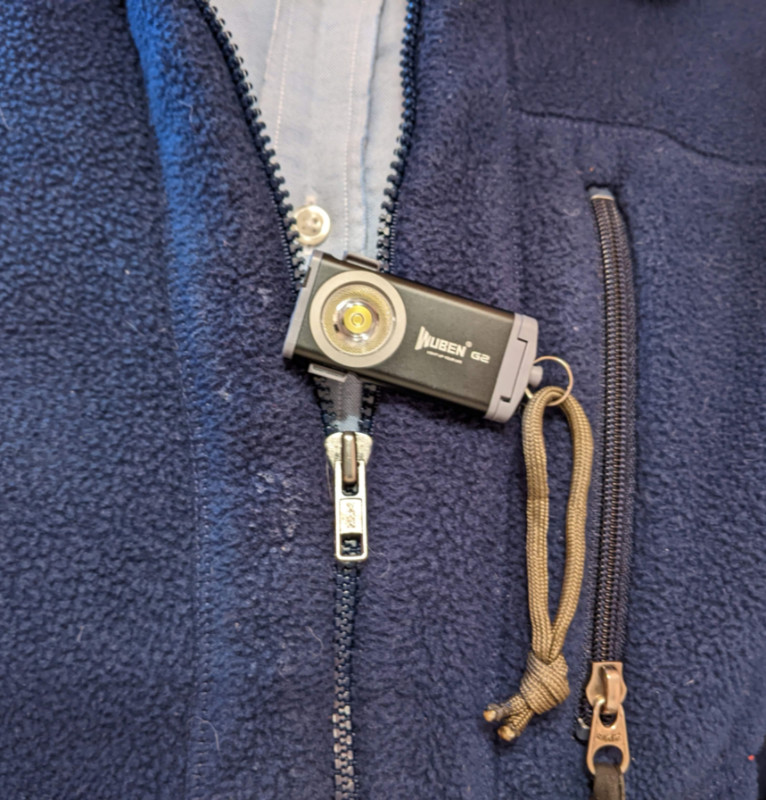 The light worked great for using furniture glue in the dark, dribbled on my jacket, of course. 
I'm keeping the clip on my G2 because it makes for a quick and handy shirt or jacket clip if I need to work hands-free, and it gives my thumb a good place to grip when I'm using the G2 as a hand flashlight.
I admit to putting small flashlights in my mouth when I need both hands for a task. C'mon, you do it too. The G2 is difficult to mouth-hold unless you gently clamp the clip with the front teeth. It works, but clipping the light on a shirt collar or pocket works better.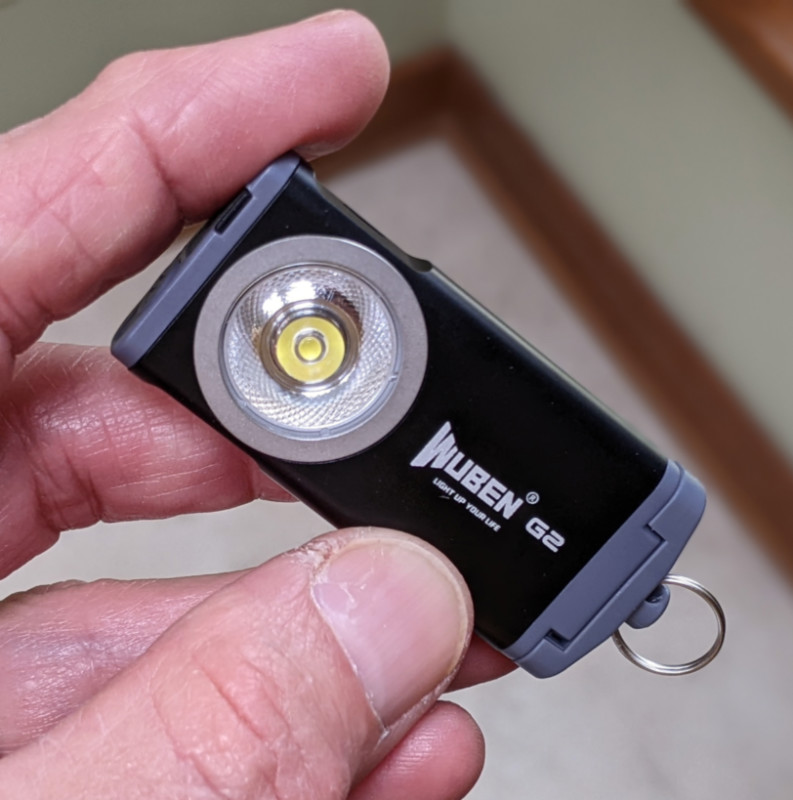 This would be a great light for medical, law enforcement, maintenance, or other night workers who need a good forward-facing light for hands free report writing, examination, repairs, etc. It won't safely stay put on a uniform full-time, but could be placed as needed and then re-pocketed.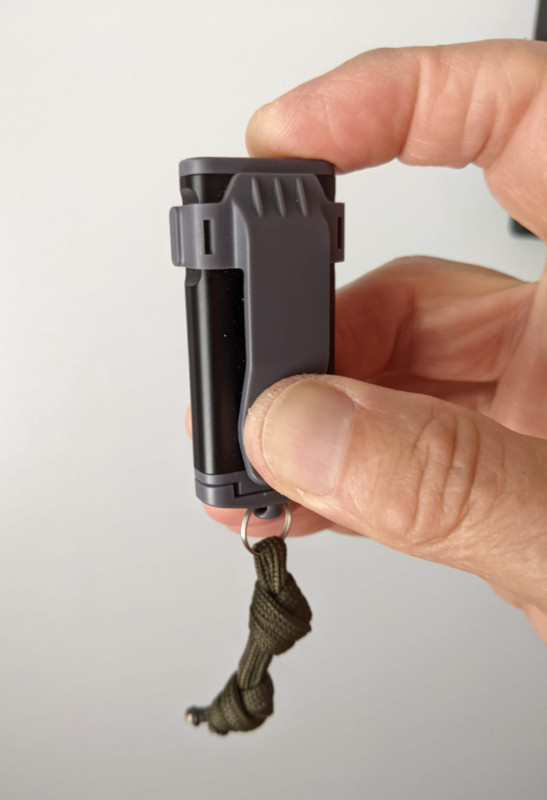 I found myself nearly dropping the G2 if I gripped it by its sides. It was more secure in my hand to grip with my fingers on the front logo and my thumb on the indentation of the clip.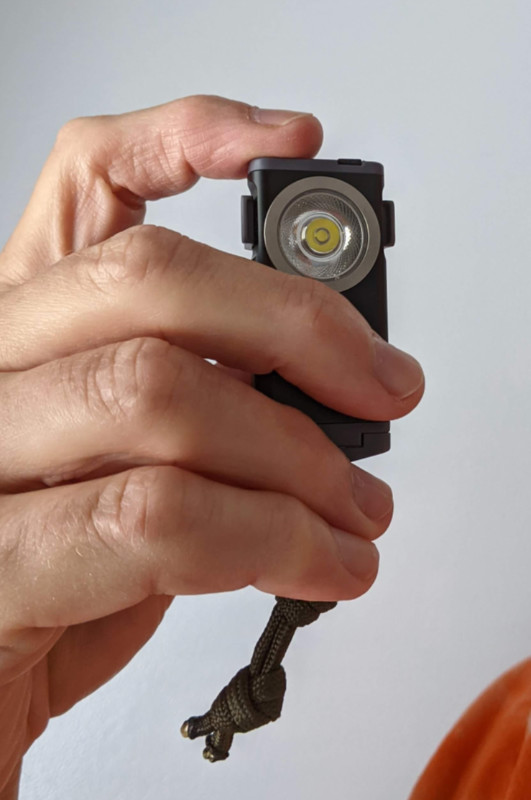 Once the G2 battery depletes to a certain level the LED flashes blue when you turn it on as a reminder it's time to recharge. The LED shows red and then flashes red when the level is very low.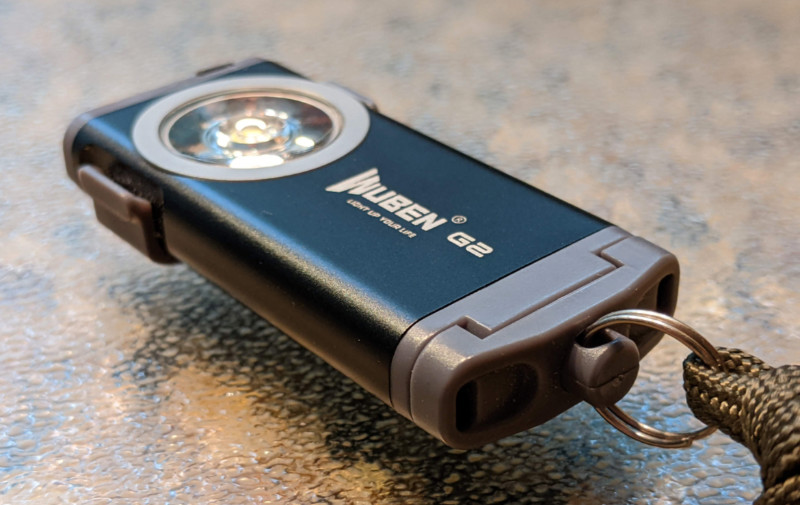 What I like
A lot of light from a tiny source

Nice large reflector built into a small, flat light. 

Capacity/duration between charges seemed excellent.
What I'd change
Zip, nothing, nada. The G2 is a Wuben product for which I give a 'well done – again' to Wuben.
Final thoughts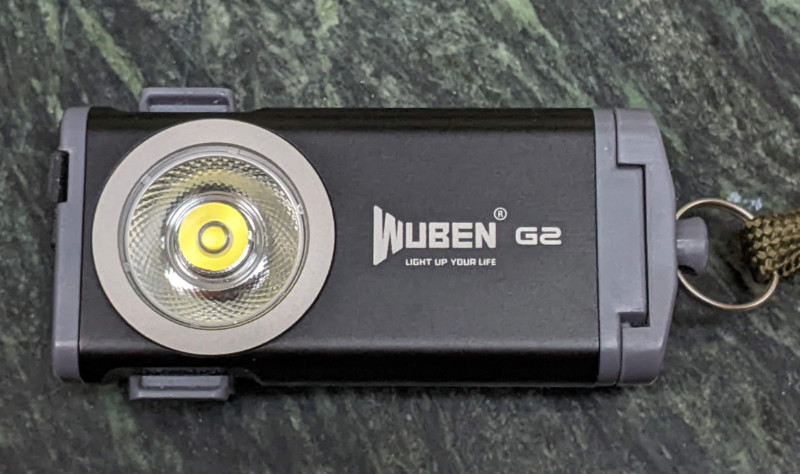 This small, lightweight pocket light is a great value for a low price. I hate those TV commercials that shout, "You'd expect to pay more!" Usually incorrect, but this time is an exception. The Wuben G2 flashlight is an excellent light at and beyond its price point. I'll be getting some for Christmas gifts. 
Price: $22.99
Where to buy: Wuben (use the code tgtG220 to save 20% – it never expires)
Source: The sample for this review was provided by Wuben.