We use affiliate links. If you buy something through the links on this page, we may earn a commission at no cost to you. Learn more.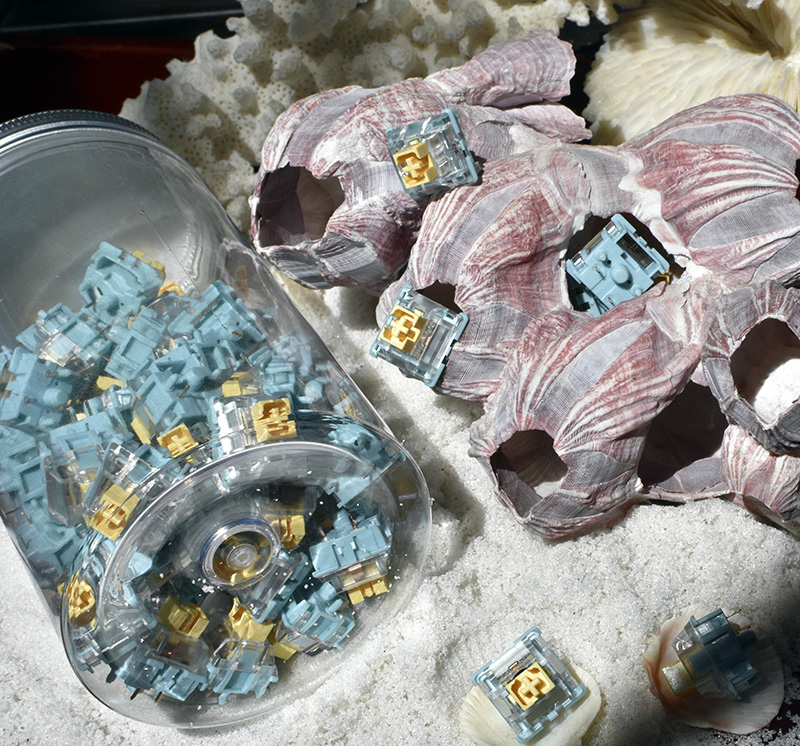 REVIEW – Marvodiy Sea Salt Cheese Linear mechanical keyboard switches are great linear keyboard switches from a company unknown to me looking to add their name to the growing list of custom keyboard manufacturers.
What is it?
The Marvodiy Sea Salt Cheese Linear switches are linear mechanical keyboard switchs to consider when trying to narrow down just which switch to use in your perfect keyboard.
What's in the box?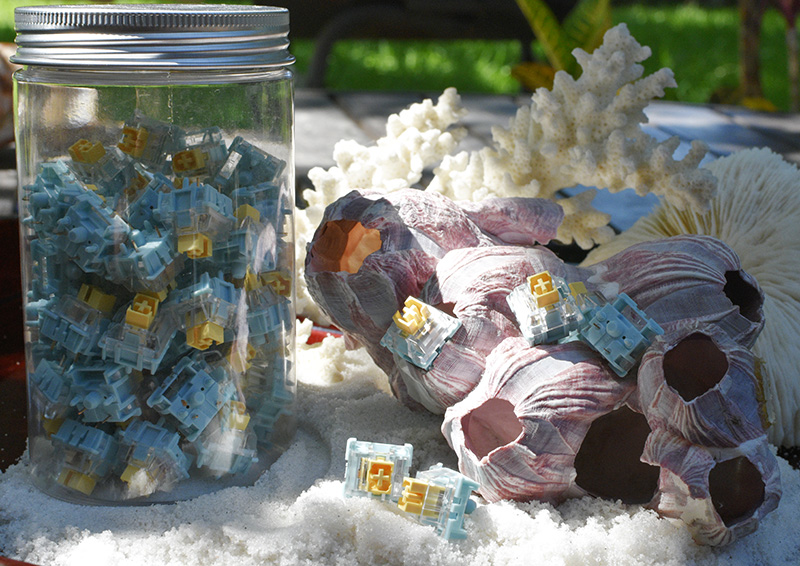 1 x plastic jar with 70 Marvodiy Sea Salt Cheese Linear mechanical keyboard switches
Hardware specs
• Linear
• Total travel: 4.00 mm ± 0.4 mm
• Pre-travel: 2.00 ±0.5 mm
• Operating force: 50 ±5 gf
• Top Housing: Polycarbonate
• Stem: POM
• Bottom Housing: Nylon
• 5-Pin, PCB Mount
• Pre-lubed
Design and features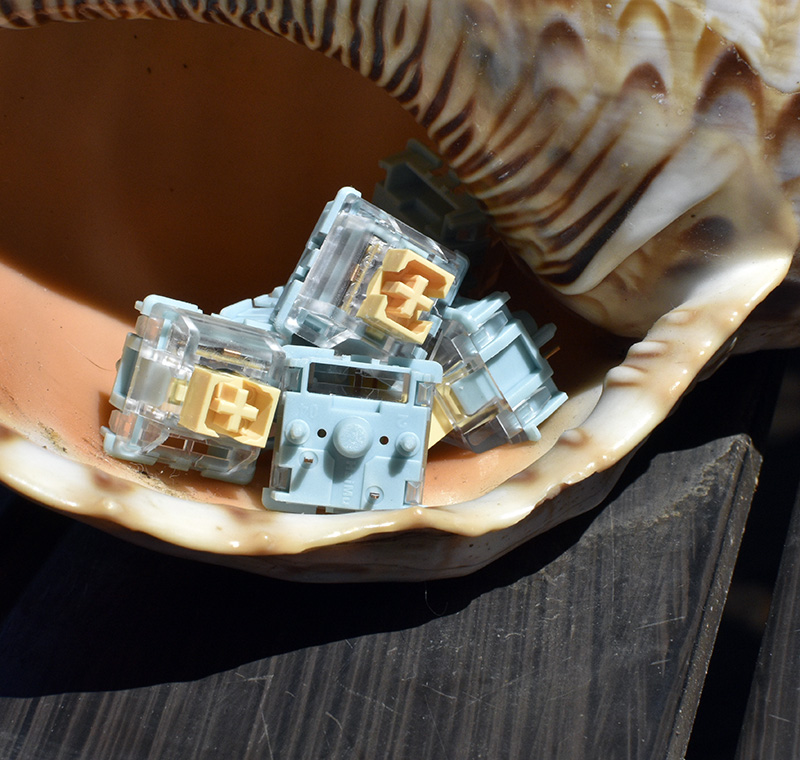 The first thing you notice about the Marvodiy Sea Salt Cheese Linear mechanical keyboard switches is what MarvoDIY calls the "playful Pantone" colorway. The bottom housing is Sea Blue, the upper housing is Salt Transparent, and the stem is Cheese Yellow, hence the name Sea Salt Cheese.  The colors definitely set them apart from most of the other options out there, and trust me, there are tons with more popping up every day.  I say most, but I'll get to that momentarily.
The combination of materials used aid in producing the sound of the keys when pressed. And I'm pretty pleased. I popped them in a Keychron Q3 QMK, replacing the installed Gateron blues. The typing experience is buttery smooth with a satisfying thock. Will they win me over from clicky tactile switches?  Eh, umm, I don't think so.  I prefer the bump of a clicky key, but the sound they produce is yummy.
It's hard to tell from the MarvoDIY site if these switches are produced by them (I don't think so) or just resold as an exclusive.  Looking at the top case, you can see HOM ∞. From a little research, I found out they are most likely Haimu switches, a new Chinese brand started by an ex-Kailh engineer. Here's why I say the Sea Salt Cheese switches are different than most other options.  Haimu produces a switch called the Sea Salt Lemon.  There are some similarities in these keys like some of the color choices, build materials, and total travel. But there are enough differences that the Sea Salt Cheese can stand on its own. And here's a couple of advantages to these, they are less expensive, .39 cents vs .67 cents per switch, and are actually in stock at the time of writing this. They are available in counts of 70 and 100. I received 70 which weren't quite enough to fully replace all the switches in my 80% keyboard. I WILL be buying more to build a keyboard for my daughter who likes them too.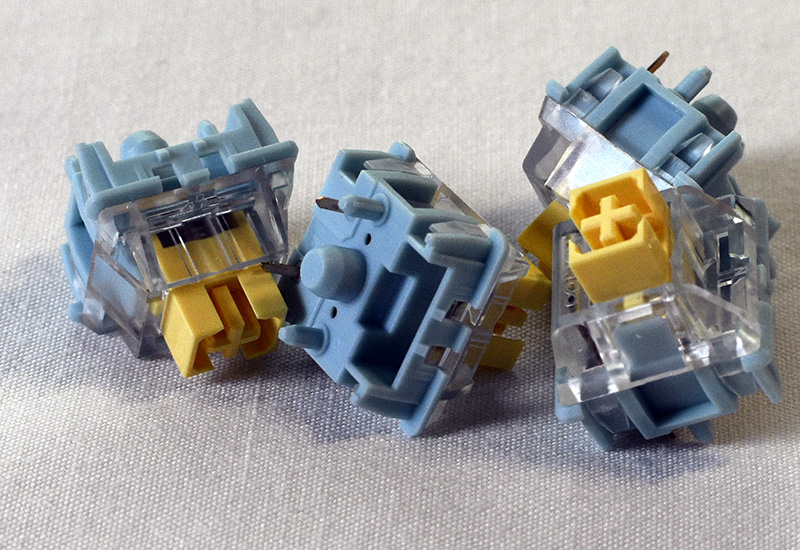 There are currently no reviews for the Sea Salt Cheese switches on the MarvoDIY site, so you're stuck with me.  If you're looking for a smooth, pre-lubed linear switch I think you could do far worse. The price is good, sound is great, typing experience nice and smooth, but I digress.
Hear it in action
What I like
The quality build materials
The colorway
The sound
The feel
The price
What I'd change
Final Thoughts
The Marvodiy Sea Salt Cheese Linear mechanical keyboard switches are great. If you're currently building your dream mechanical keyboard, check them out. If you like smooth, buttery linear switches, check them out. If you're a fan of Haimu switches, check them out.  If you missed out on the Sea Salt Lemon switches, check them out. I'm glad I got the chance to.
Price: $29 for 70, $39 for 100
Where to buy:  marvopro.com
Source: The review sample was provided by marvopro.com