We use affiliate links. If you buy something through the links on this page, we may earn a commission at no cost to you. Learn more.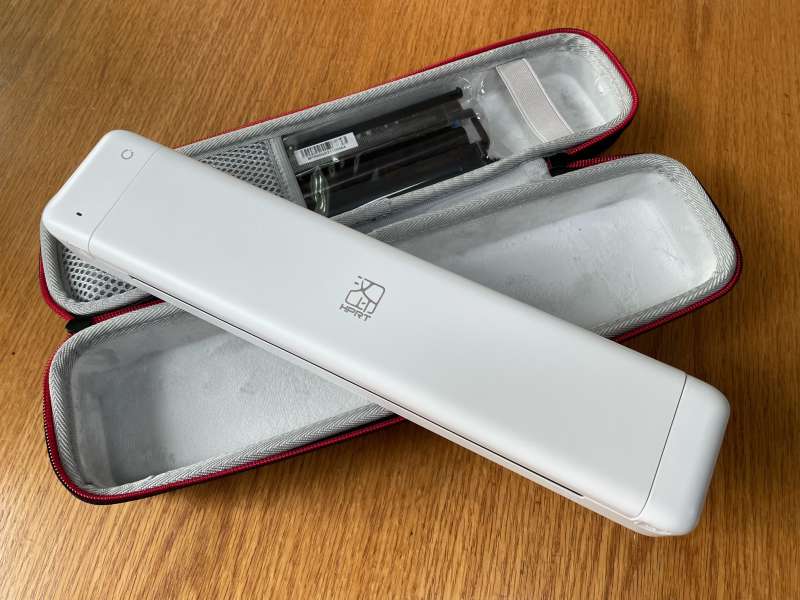 REVIEW – Bill Gates once said, "The great thing about a computer notebook is that no matter how much you stuff into it, it doesn't get bigger or heavier. " Computers and smartphones have continued to shrink in size, but not so much for printers. In many cases, email and text are great for transferring documents, but there are times when a printout becomes a necessity. For those times, HPRT's MT800Q comes to the rescue, without needing to go searching, lug around a bulky machine, or risk your data.
What is it?
The HPTR MT800Q is a small portable printer with an internal battery that uses thermal transfer technology to print text and images to paper via USB or Bluetooth.
Hardware Specs:
Dimensions: 310.4 x 63.5 x 40.6mm (22 x 2.5 x 1.6 inches)
Weight: 766g (1.69 lbs.)
Ribbon capacity: About 45 pages, single-sided
Ribbon environmental usage: -5 to 35°C (23 to 95°F), 20 to 85% relative humidity
Ribbon environmental storage -5 to 45°C (23 to 113°F), 20 to 85% relative humidity
What's in the Box?
HPRT MT800Q thermal printer
Printer carrying case
Two ribbon modules
USB cable
Quick start guide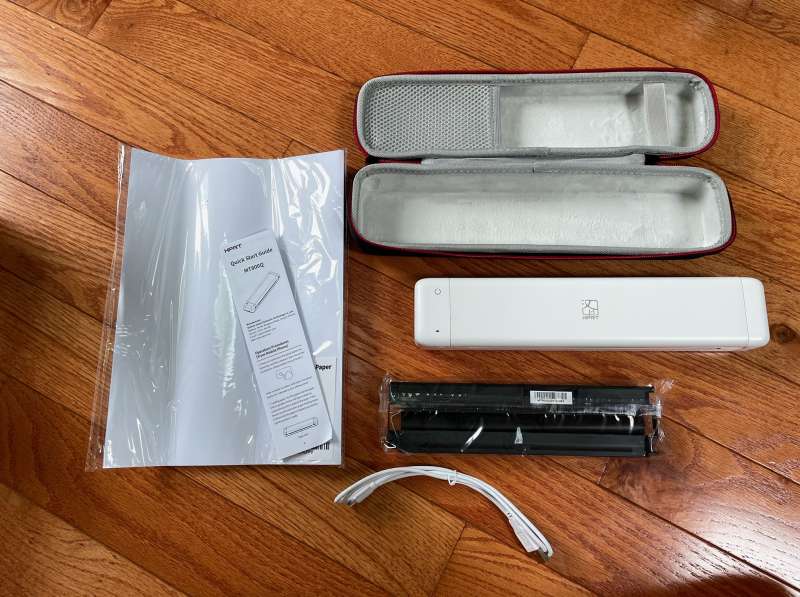 Design and Features
Back in my "road warrior" days, printing reports was a required, but often daunting task. "Borrowing" a printer to a make hard copy was regularly cumbersome. Many offices were inaccessible, separate from manufacturing facilities where I worked, and printers were locked with passcodes.
Carrying a printer made life much easier. I took pride in being able to make dozens of hours of airplane time productive, finalizing months of trip and expense reports and having them printed and ready to submit as soon as I walked in the door, and printing reports for customers to sign while standing in front of the machine I had just repaired.  I have carried several portable printers, including a Kodak Diconix 150, Pentax PocketJet, and a few others with good results. I'm not traveling anywhere near as much lately, but having a printer available can be handy indeed.
Recently, I've been dealing with government issues. It's a boatload easier to have electronic copies on a laptop or phone and print the individual pages that have been requested rather than printing 300+ pages and risking sensitive information being exposed.
Some might argue that files can be transferred to a memory stick, emailed, or provided through another medium, but that has inherent risks. Is the computer you plug your memory stick into virus and malware-free? Nope, I'm not being paranoid. I once cleared more than 80 different malware infections from a coworker's memory stick he had used to transfer files to a customer's computer ONCE (yes, it was reformatted, but was nonetheless interesting and shocking to see). On another occasion, I had a customer ask for a .DOC file with a work report that I emailed just before leaving. I later learned he had made changes in an attempt to lower work hours to reduce the bill. I was vindicated as I was able to produce the hard copy I had printed that bore his supervisor's signature.
Yep, having a portable printer is a good thing.
The HPRT MT800Q arrived in a secure box.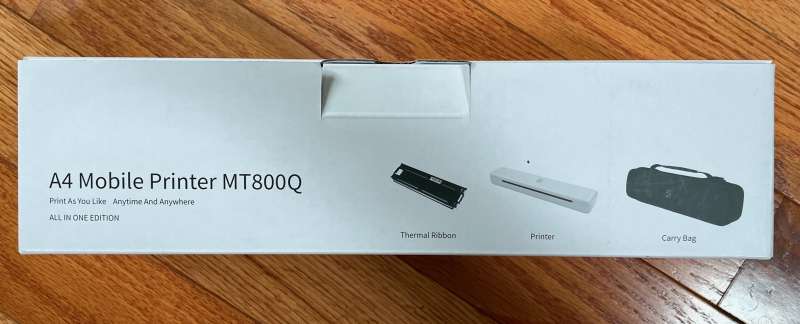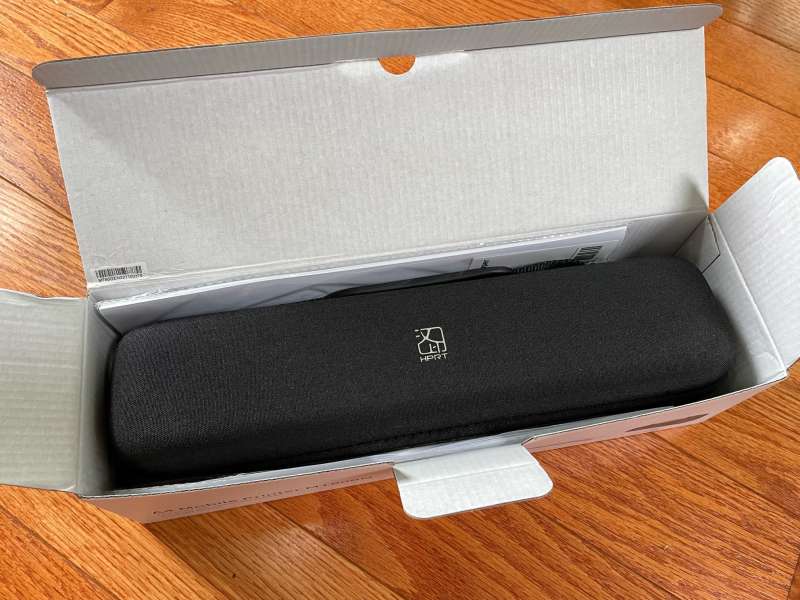 Opening the box, I was delighted to find that HPRT included a hard carry case for the printer.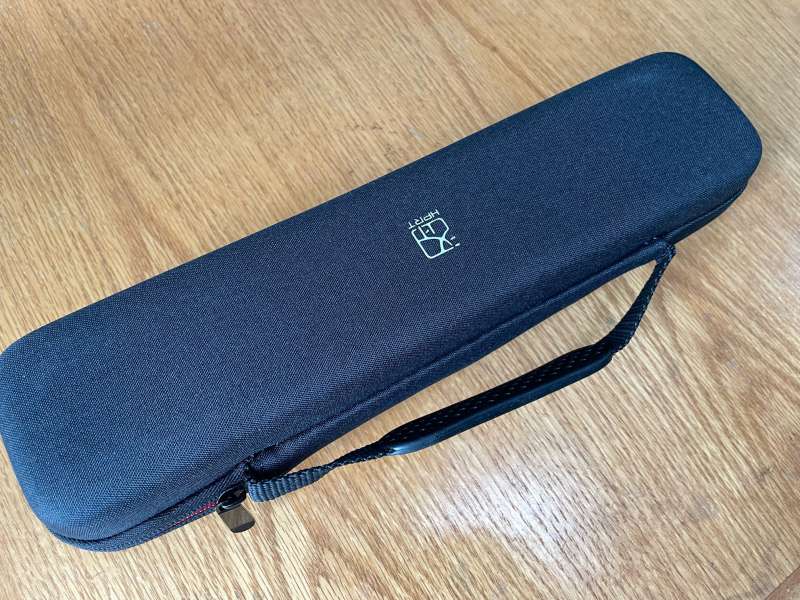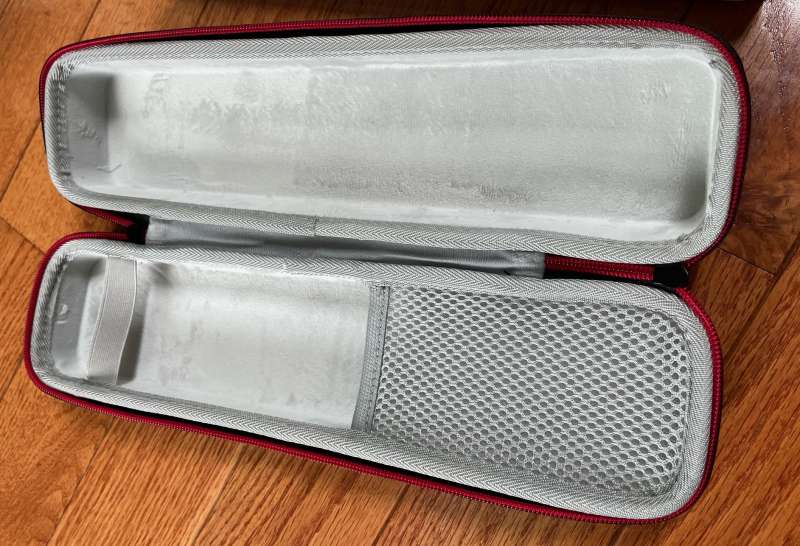 The case neatly houses the HPRT MT800Q, cable, and spare cartridge.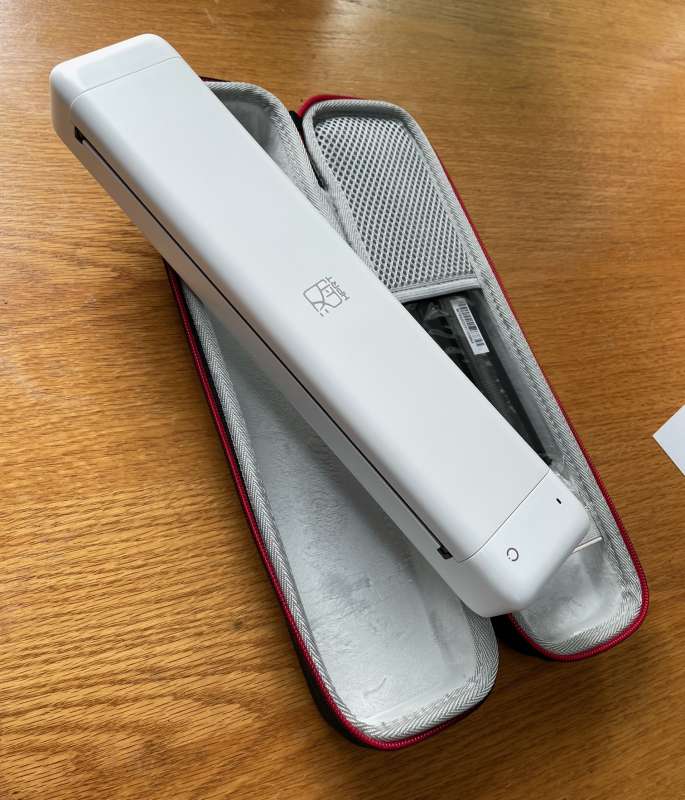 The HPRT MT800Q thermal printer is svelte.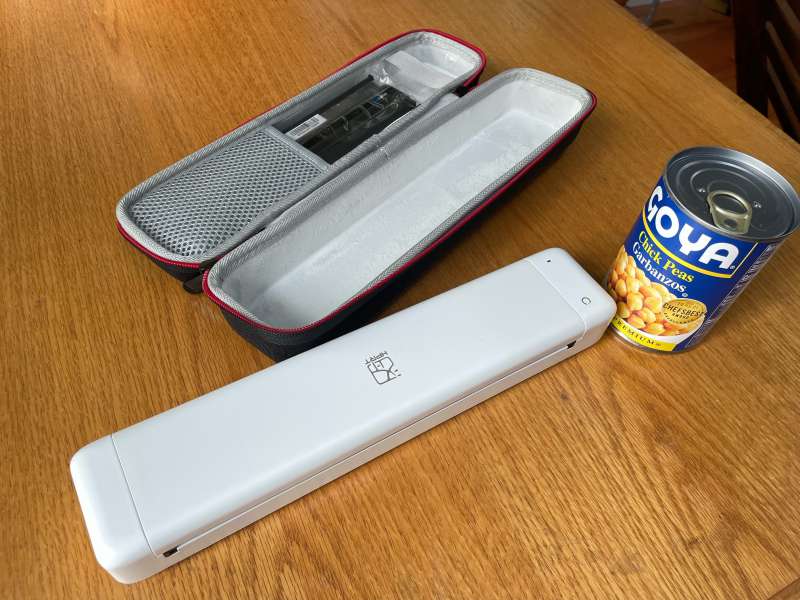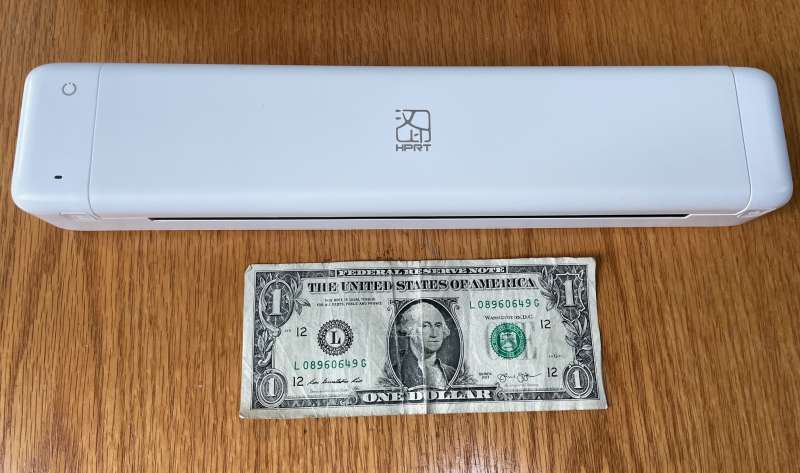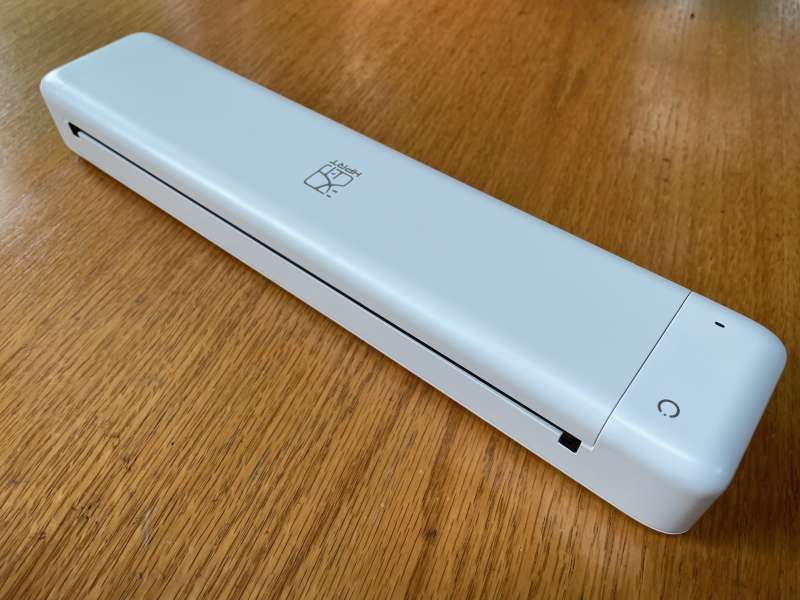 Included is a USB-A to USB-C cable.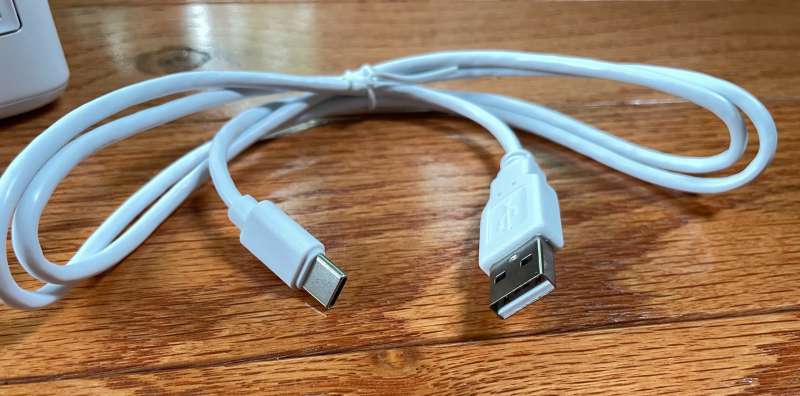 The USB-C connection is on the side of the printer. Full charging took about four hours. The manual states battery life should be approximately 70 pages. I will be using the HPRT MT800Q with my laptop. My connection of choice is USB. After loading the drivers, the printer was installed quickly.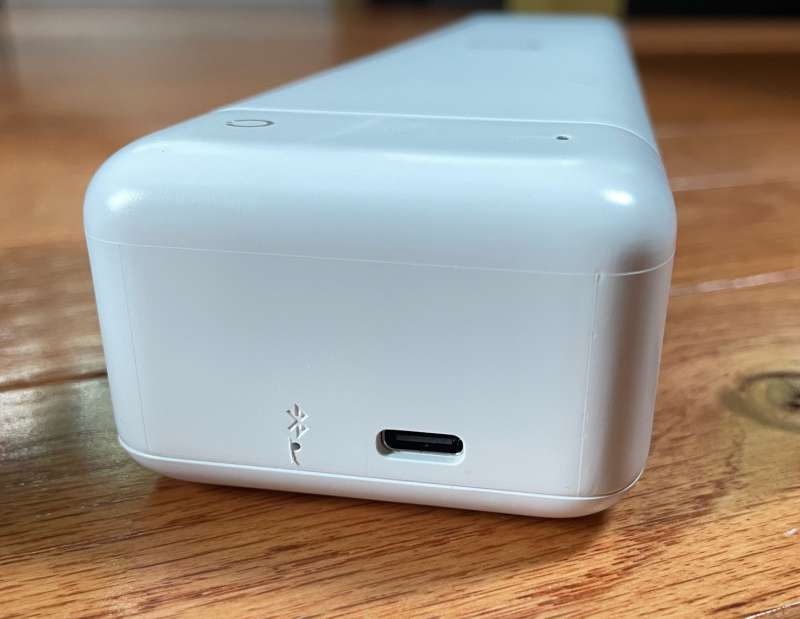 A three-second press of the single button on the top of the printer turns it on or off. An LED indicates status.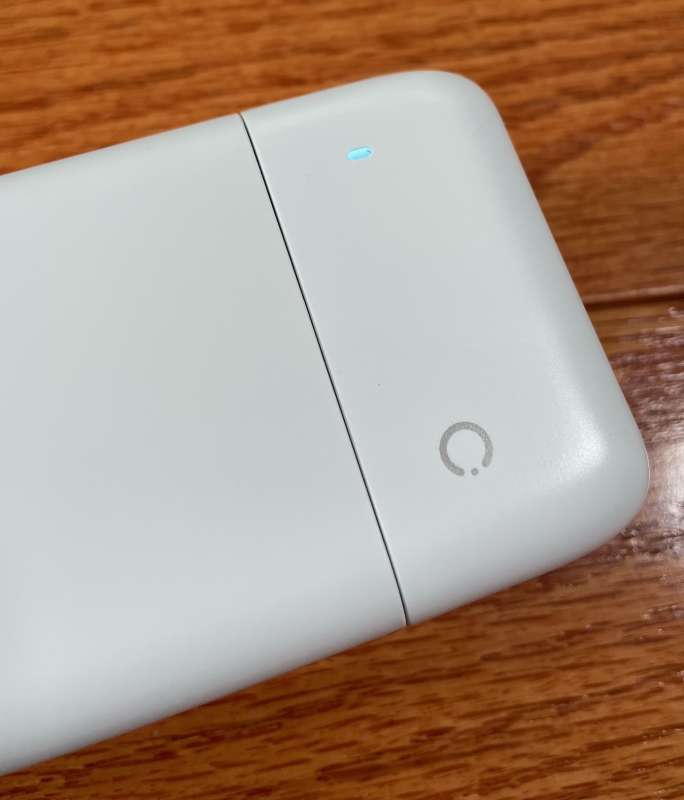 Small buttons on each end unlock the cover.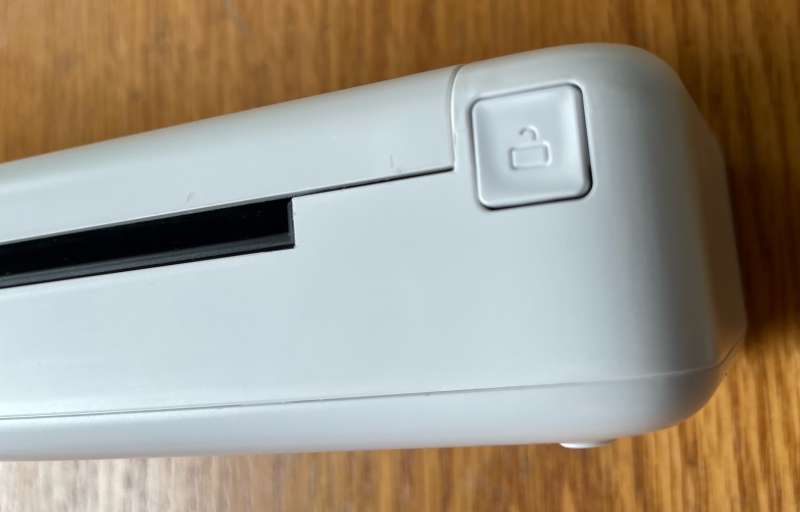 If something goes amiss with the HPRT MT800Q printer, there is a reset button buried inside. I did not need to use it, but it's good to know it's there.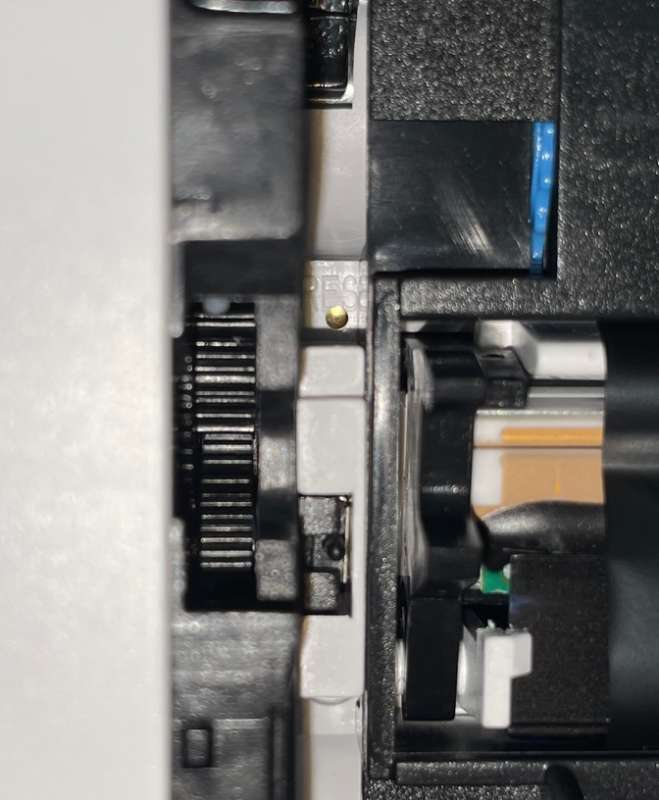 The HPRT printer uses thermal fusion technology. The ribbon has a layer of black material that is attached to a strip of backing material. As the paper moves through, a heated print head strips off a little bit of the black material which is deposited on the paper as tiny parts of the text or image.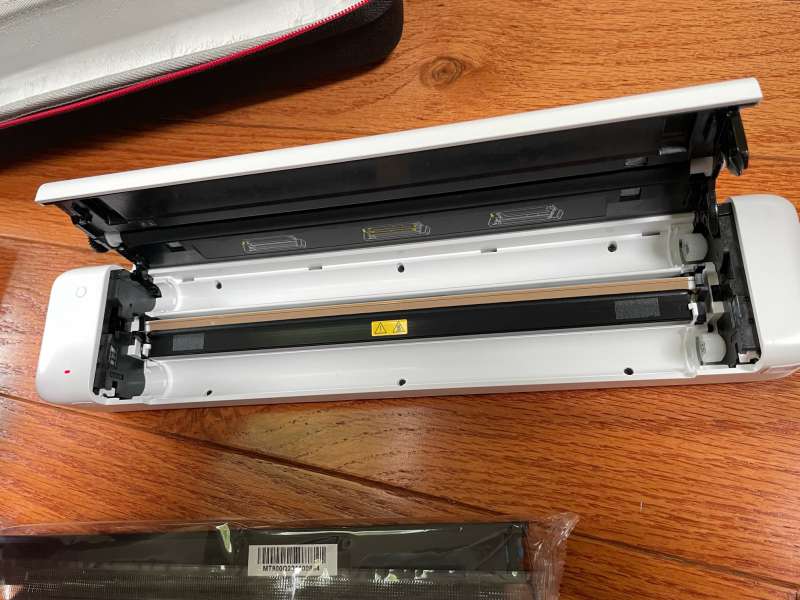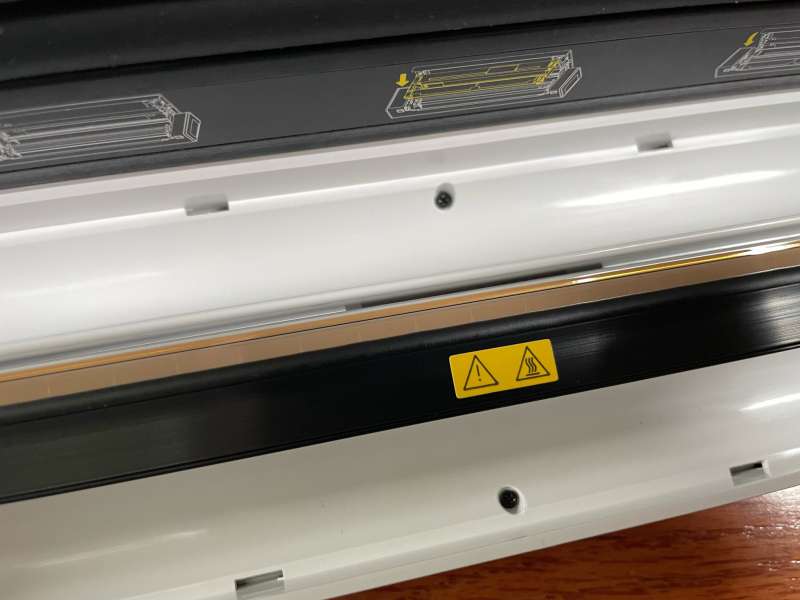 Changing the ribbon involves opening the cover, popping out the old cartridge, and in with a new one.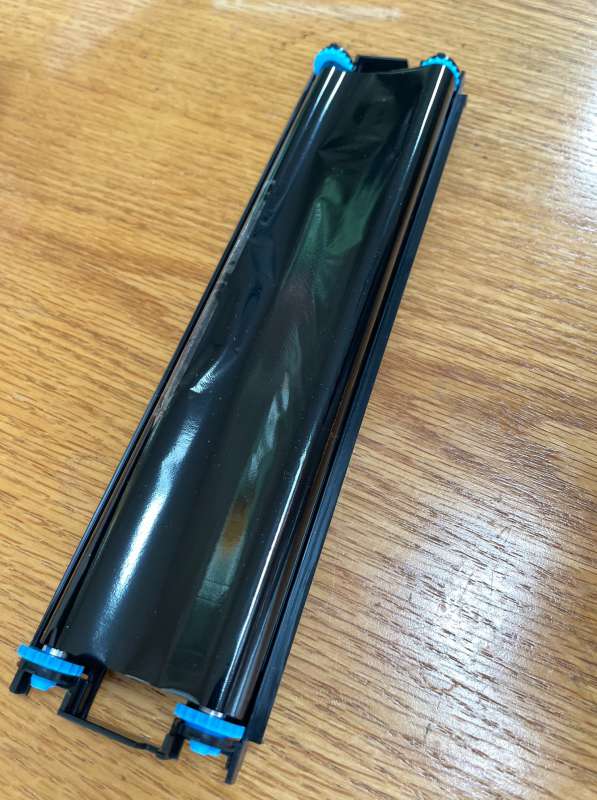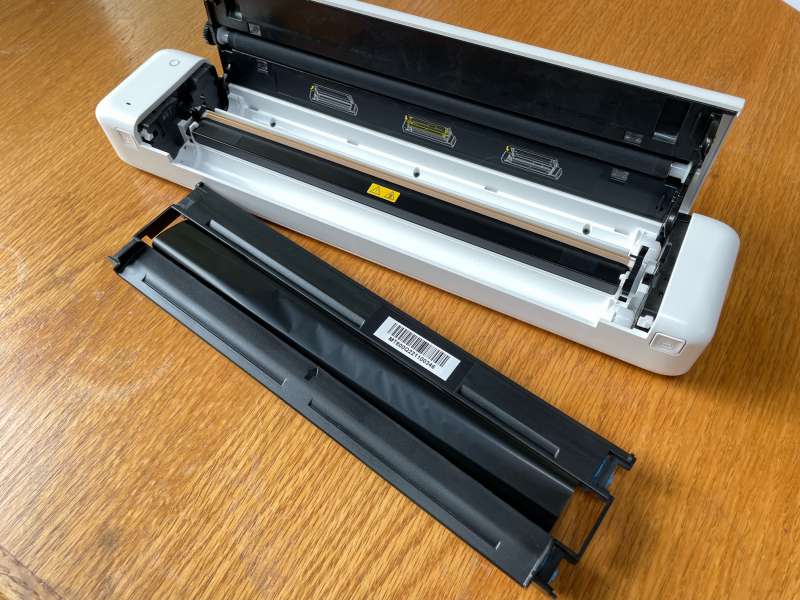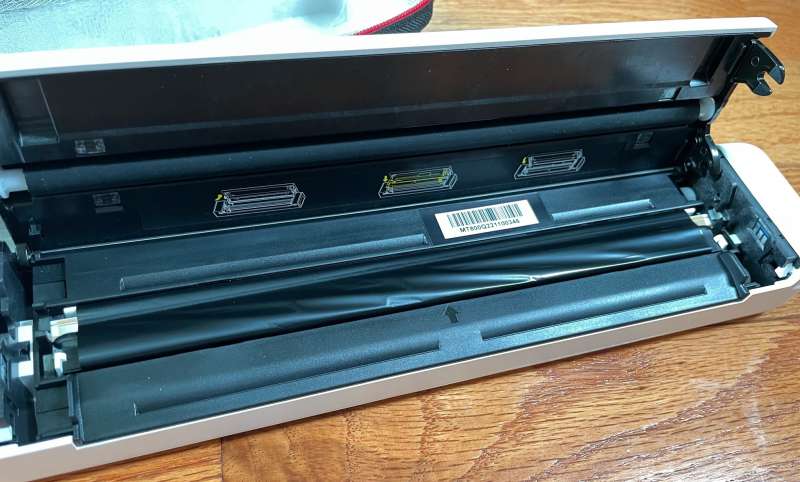 The manual recommends turning one of the drive rollers to remove any slack in the membrane when the cartridge is installed.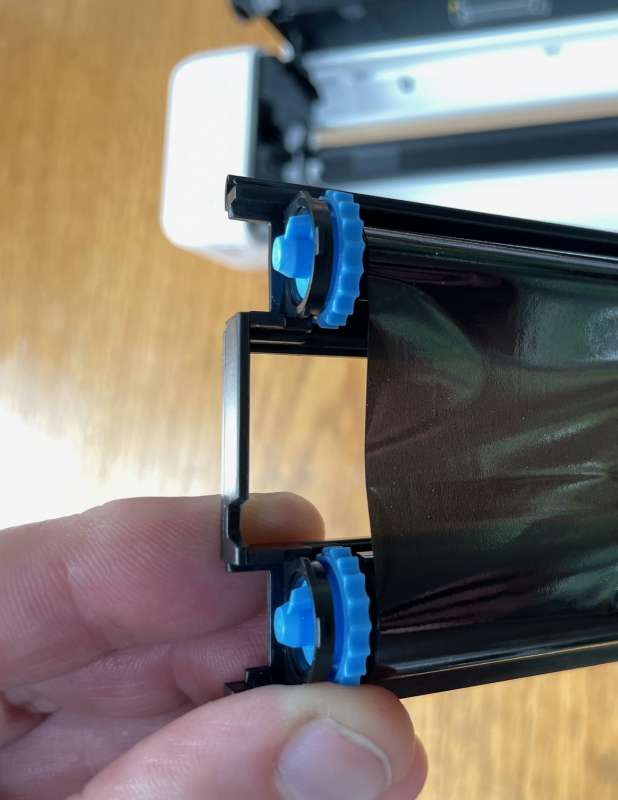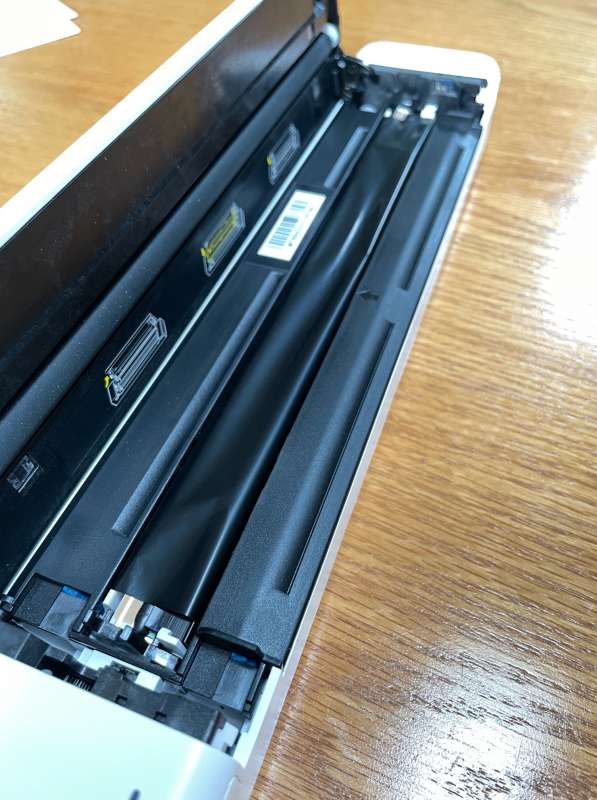 Gears engage the print cartridge rollers to transport the membrane from the payout spool to the takeup spool.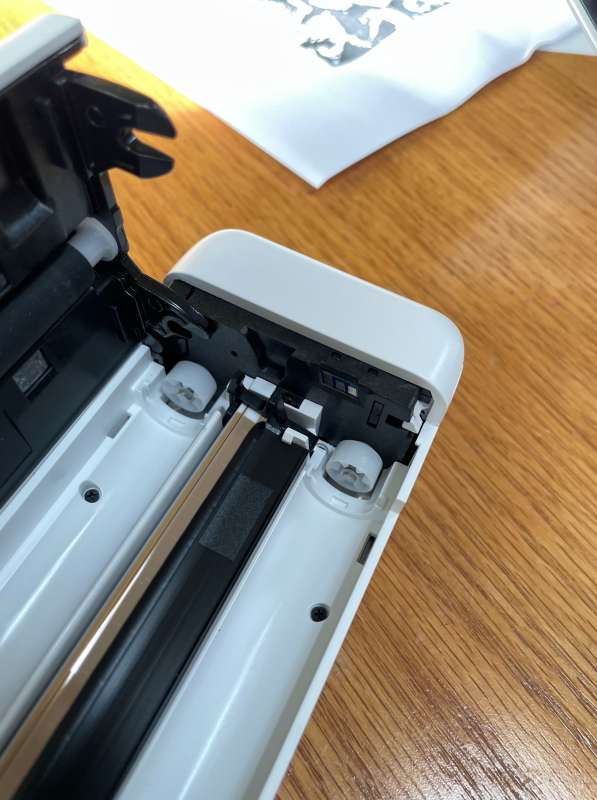 I printed three test pages, one on the paper included with the printer (50 sheets are included). Printing is face down and took about 20 seconds per page.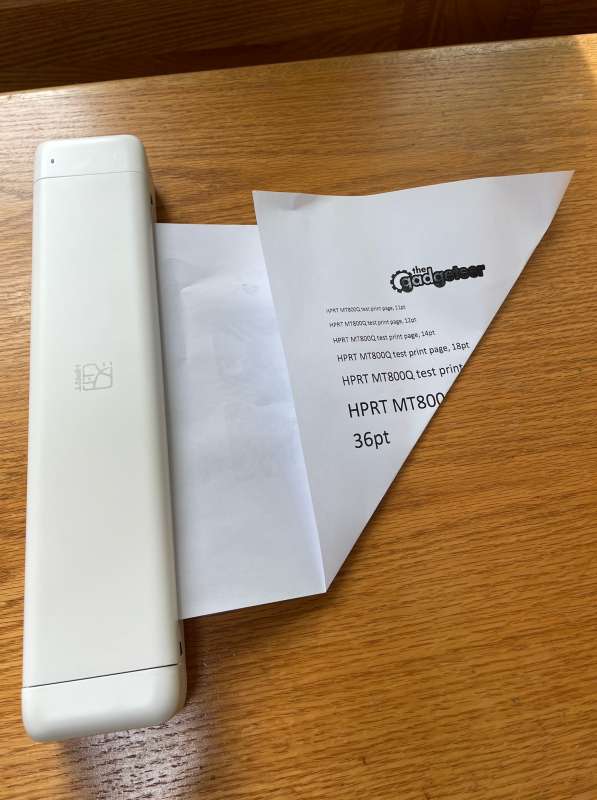 The HPRT MT800Q did well with printing text. It's a monochrome printer so I didn't expect miracles with photos. Here's the first test print so you can judge for yourself.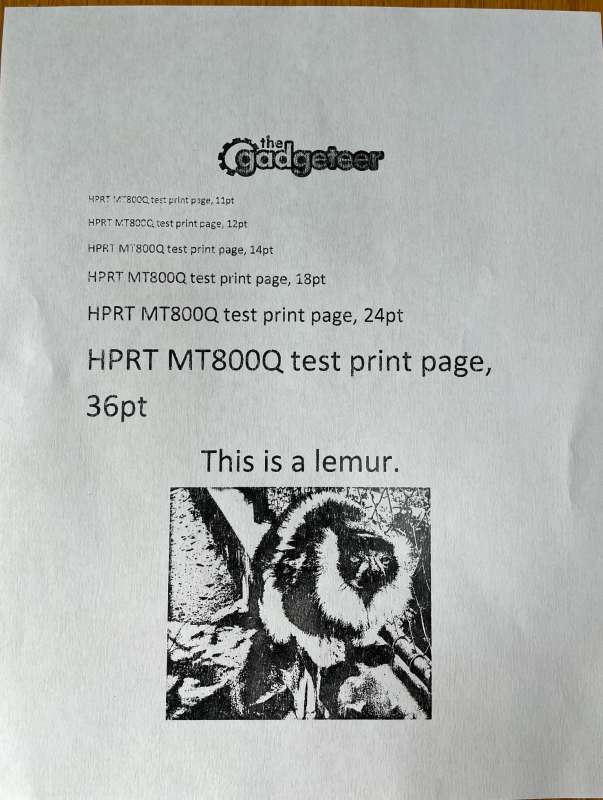 The second print was on standard paper. The quality is a little lighter but acceptable.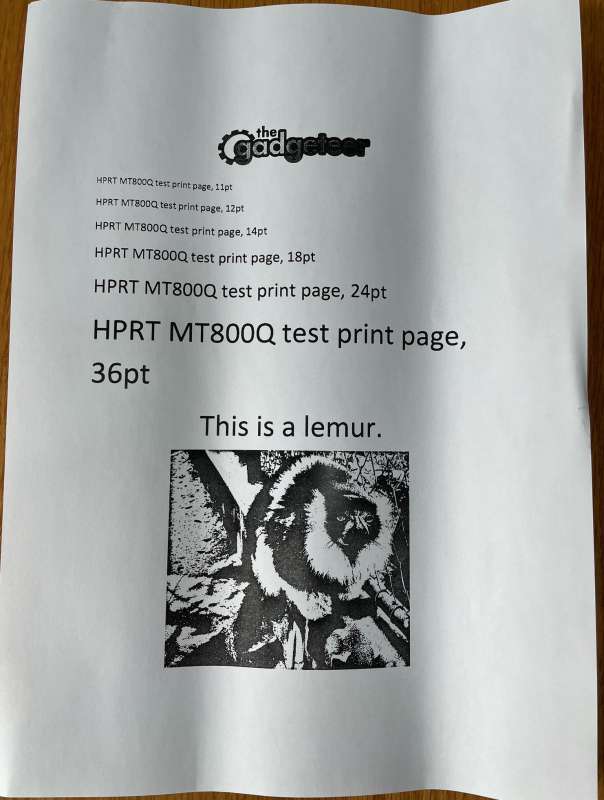 My third print was using glossy photo paper. Output was very good. I would say not as sharp as a laser printer, but for those on the go, it's great!
For comparison, here are all three pages together, plain paper left, HPRT center, and photo paper on the right.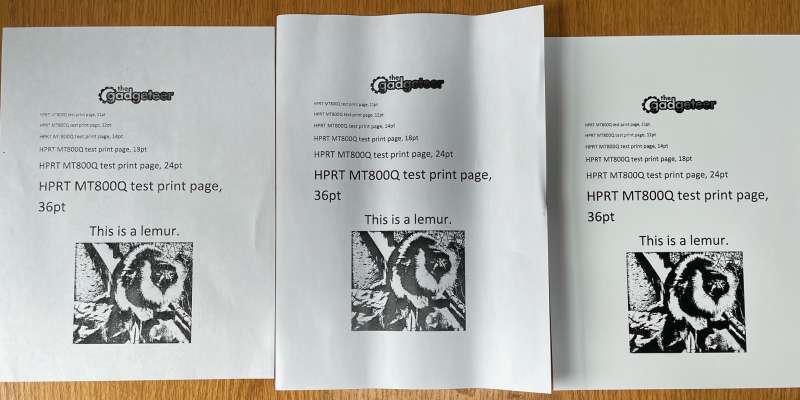 I had a little trouble setting up the MT800Q as Bluetooth, but nothing serious. My computer would connect to the printer, but reported that drivers were not installed. After a few tries, uninstalling the driver, reconnecting with Bluetooth, then reinstalling the drivers did the trick.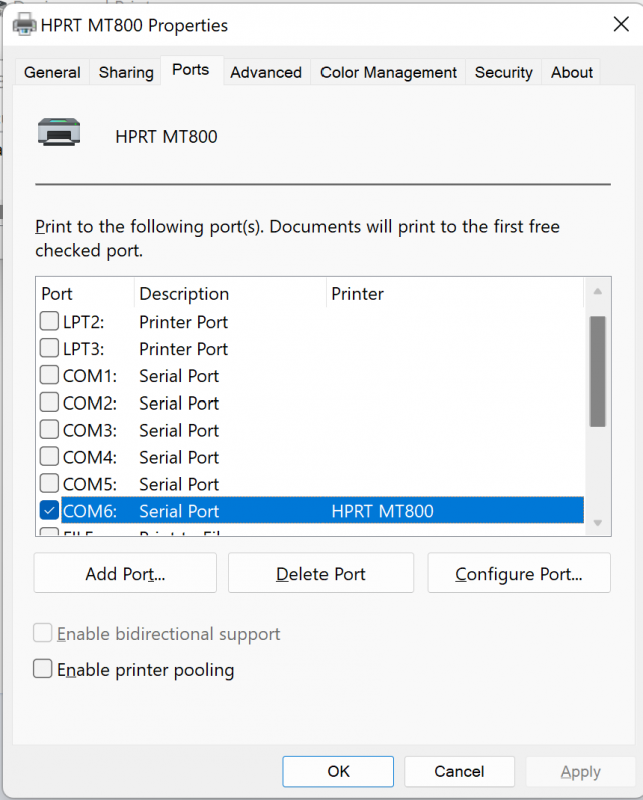 Output from the HPRT MT800Q isn't inexpensive. I would not recommend field printing a novel or monstrous legal document. HPRT recommends glossy paper that sells on Amazon at $11.99 for 50 sheets. With tax, that will be a bit more than 25 cents per page for the paper. In a pinch, standard paper can be used, but you'll see the difference in print quality. A pair of thermal transfer cartridges are currently $21.24 on Amazon. The manual states they should be sufficient for 45 pages or about 24 cents per page. With HPTS paper and cartridges, each page will cost about $0.50.
There is one caveat in using a thermal printer – As the cartridge membrane moves over the print head, spent material is spooled onto the takeup roll. The "waste" material contains a negative of everything that's printed. Use caution when disposing of spent cartridges to keep your print history confidential.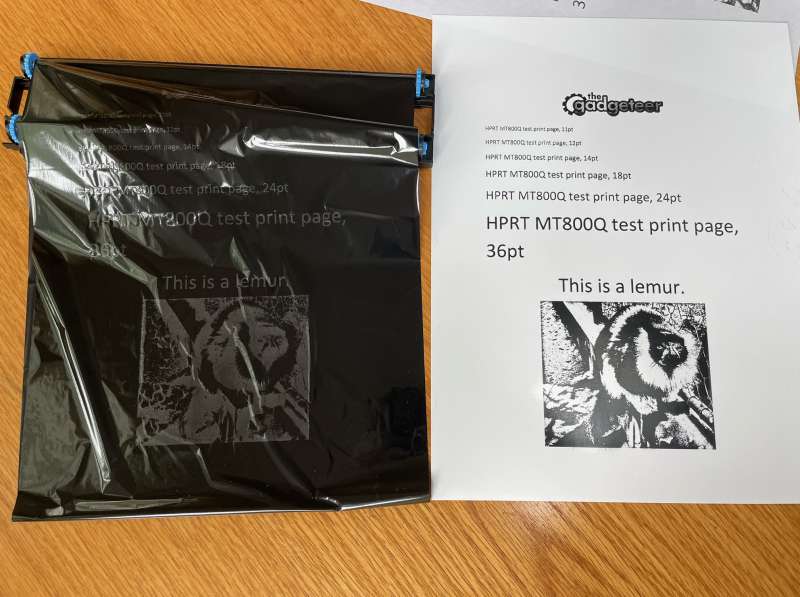 What I Like
Efficient setup
Cartridges are easy to replace
Good output using HPTS or photo paper
Bluetooth printing
What I Would Change
Maybe add additional wireless capabilities (Wi-Fi, AirPrint, etc.)
Final Thoughts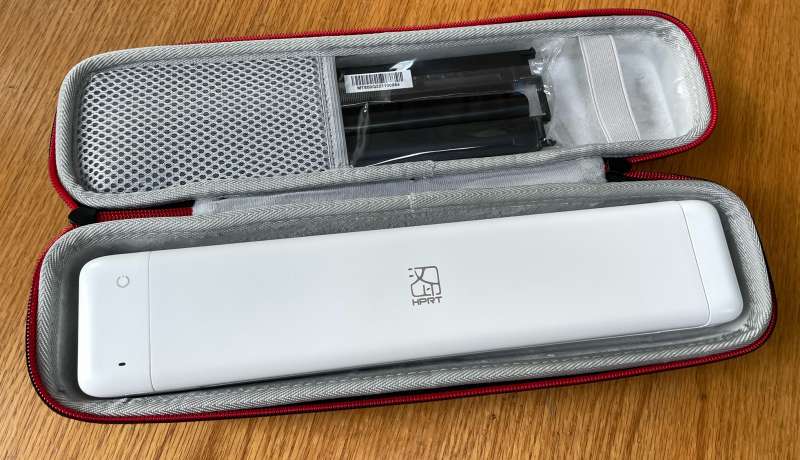 The HPRT MT800Q thermal printer is ideal for anyone needing portable printing. It's lightweight, has a lovely case, and supports USB and Bluetooth. Cost is surely more than the average home printer, but I would suggest that it is well with the cost so save on the frustration of having to locate a printer, inconvenience a customer, or drive to Staples.
Price: $289.99 for the MT800Q printer, $11.99 for 50 sheets of HPRT paper, and $23.74 for two cartridges.
Where to buy: Printer:  Amazon  Paper:  Amazon,  Cartridges: Amazon
Source: The sample for this review was supplied by HPRT.