We use affiliate links. If you buy something through the links on this page, we may earn a commission at no cost to you. Learn more.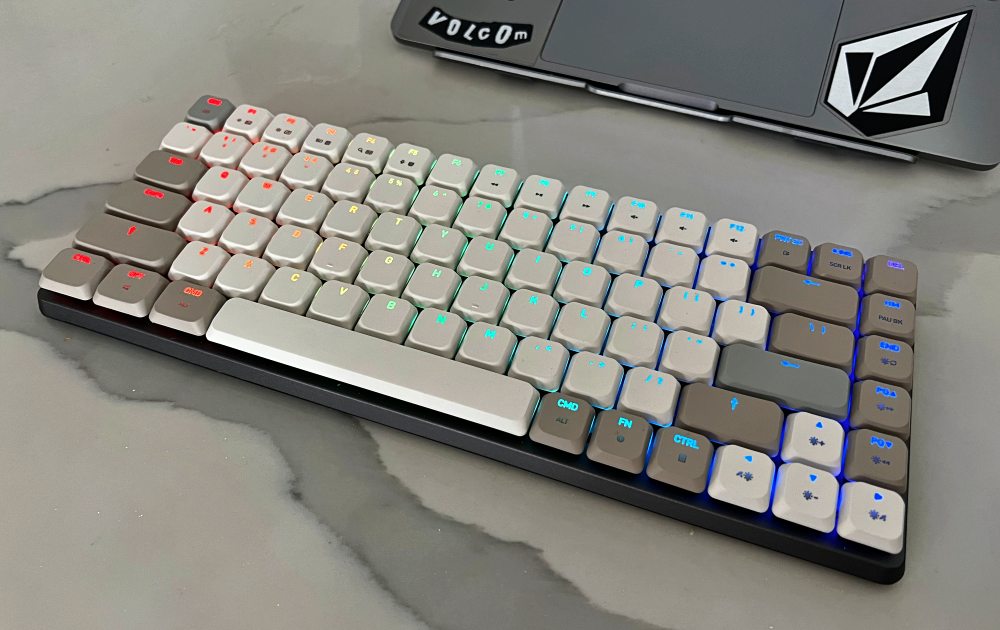 REVIEW – If you're still using the keyboard that came with your desktop computer years ago or even something newer, you owe it to yourself to check out the world of mechanical keyboard options that now available. These are not the wired solutions from yesteryear. Case and point; Azio's new Cascade Slim which can literally be customized to exactly what you want a keyboard to feel like and control up to 3 different devices via Bluetooth (plus a 4th if you connect the USB cable and don't mind flipping a physical switch occasionally). Read on to find out some more.
What is it?
The Azio Cascade Slim is a 75% layout mechanical keyboard that is can be fully customized both aesthetically and in the way it feels. Available in two body profiles; Standard and a low-pro Slim, you can also choose between different Gateron switches that vary in force and feel/sound.
What's in the box?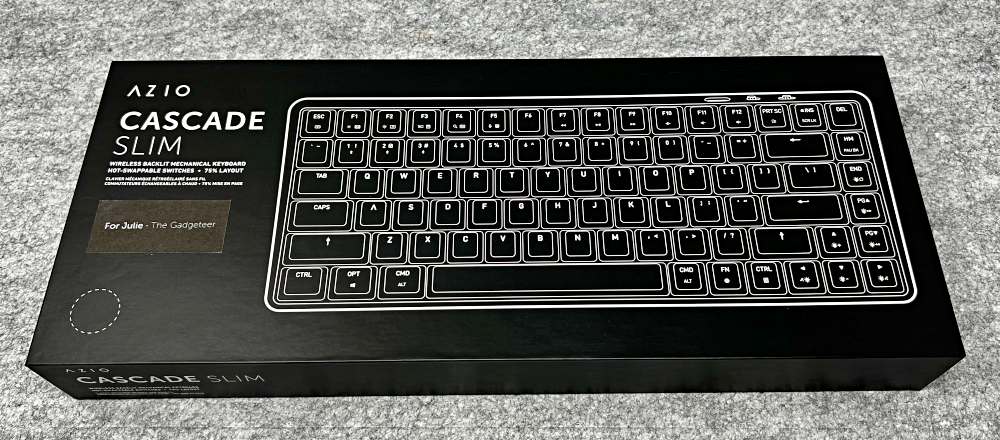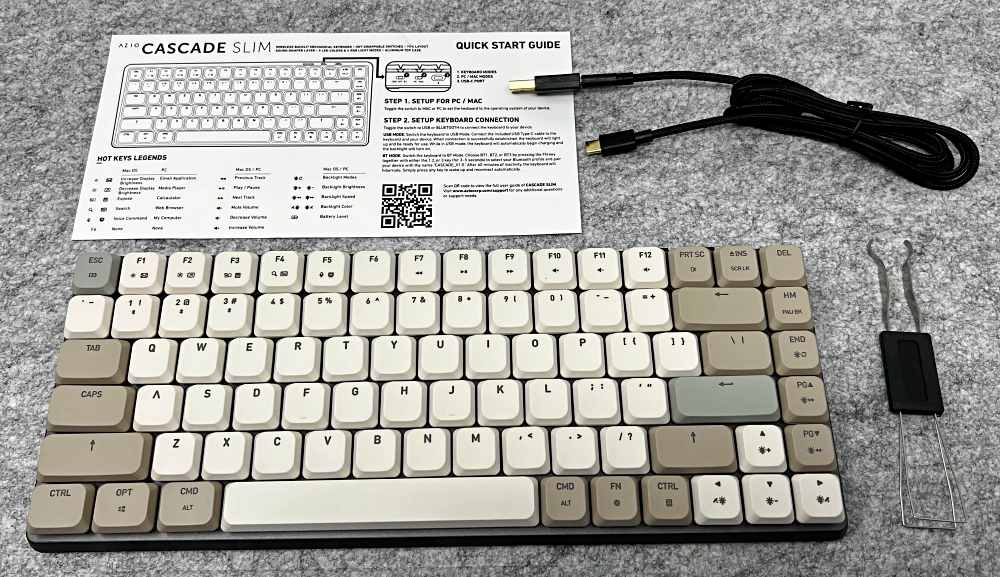 Azio Cascade Slim mechanical keyboard
USB-C cable with USB-A adapter
Instruction Card
Key puller
Hardware specs
Materials: Anodized aluminum top plate, laser etched ABS keycaps, ABS baseplate with silicone feet.
Layout: 75% ANSI – 84 keys
Switches: Gateron G Pro (Cascade) / Gateron Low-Profile (Cascade Slim)
Battery: Lithium-Ion – 4,000 mAh (Cascade) / 2,000 mAh (Cascade Slim)
Dimensions: 317 x 126mm  – 41.3mm tall and 748g (Cascade) / 27 .5mm tall and 658g (Cascade Slim)
Design and features

The Cascade has a pretty solid suite of features including an aluminum upper body, hot-swappable switches, screw-in stabilizers, RGB backlit keys, wired and wireless modes, a built-in Lithium-ion battery and the fact that it's Windows and Mac compatible out of the box.
As mentioned before the Azio Cascade mechanical keyboard is available in Standard and Slim profiles which is a decision you'll need to make at time of purchase. You can see a comparison of the two of those here.

I chose the Slim and here's a shot of that profile along with the control switches and USB-C port letting you toggle between Mac/PC and Cable/BT.

Additionally you can choose either a Space Gray or Bronze body for the base of the keyboard.
What's that? You want lighting? Well, the Cascade has 4 color modes; Static, Breathing, Wave and Reactive. That's not all either. There are 8 RGB colors as well as toggles for speed and brightness.
There's also a full selection of colors/themes including; Galaxy, Forest, Coffee, Shiba, Retro Arcade, and Neon Flux. Note that some of the keycaps may not be laser etched so keep that in mind as it would negate or at least affect your lighting modes.
On the underside there's two flip-out feet on each back corner of the back edge so you can increase the built-in 4º rise to 6º or 9º to find that perfect angle.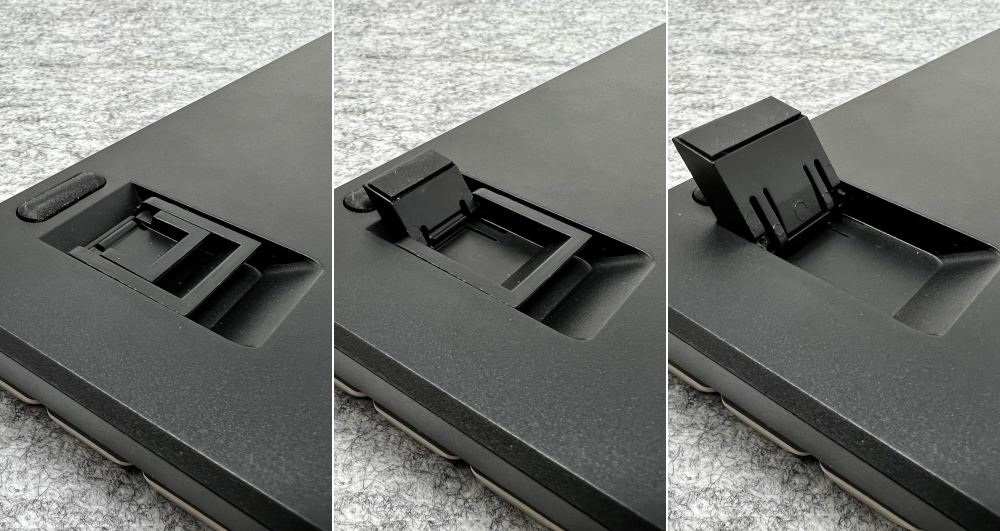 All the cool elements aren't necessarily visible externally either. There's dual sound dampers which you can see in this animation showing a silicone layer just above the baseplate and a Poron foam damper between the PCB and the aluminum chassis.
Setup
There's a couple of quick decisions to make.
Mac or PC? – Slide the switch appropriately
Cabled or Bluetooth – Slide the switch appropriately. For cabled you're now ready to dive in. For BT, connect the cable to fully charge the internal battery and then you'll need to use the key combo (x) to put the keyboard in pairing mode. You can pair up to 3 devices to the 1, 2, and 3 keys respectively, using (x) to switch quickly between them.
The Azio Cascade Slim mechanical keyboard has a good number of keyboard shortcuts for adjusting colors and controlling your computer and they vary a bit depending on which OS you're running. Their Quick Start Guide does a good job of laying out what you need to know.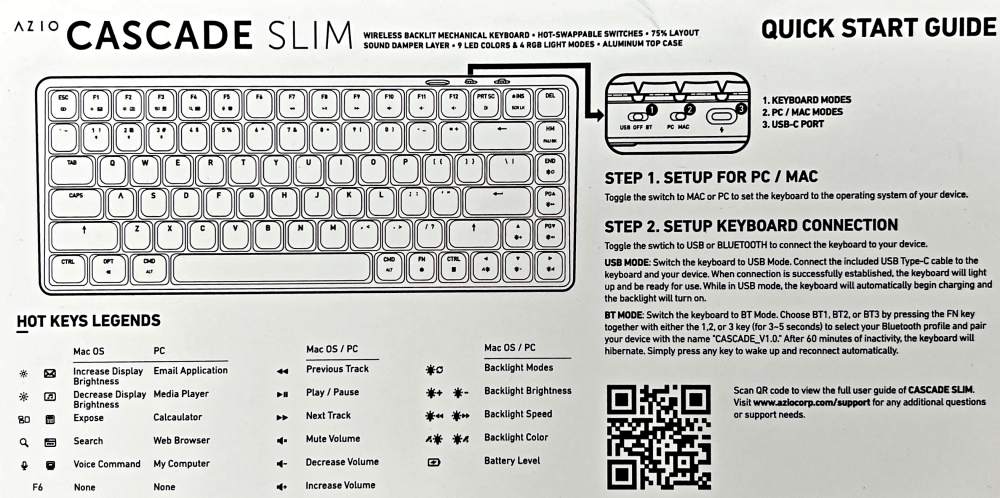 Performance
Other than computers from my youth, I only switched to mechanical keyboards a year or so back. It usually takes a little bit to get used to a new one, even if it's a different model from the same brand as they tend to change profile and key shape. It's part of the charm, sometimes overwhelming customization opportunities, and explosion in popularity of mechanical keyboards.
All that said, I instantly felt like the Azio Cascade Slim Keyboard had been the only keyboard I've ever used. It fit my hands perfectly and the low profile is spot-on for the way I use a keyboard.
If you haven't used a mechanical with Gateron switches before, it's nice to know that since these are hot-swappable, you can literally change them out later if you end up not liking the feel.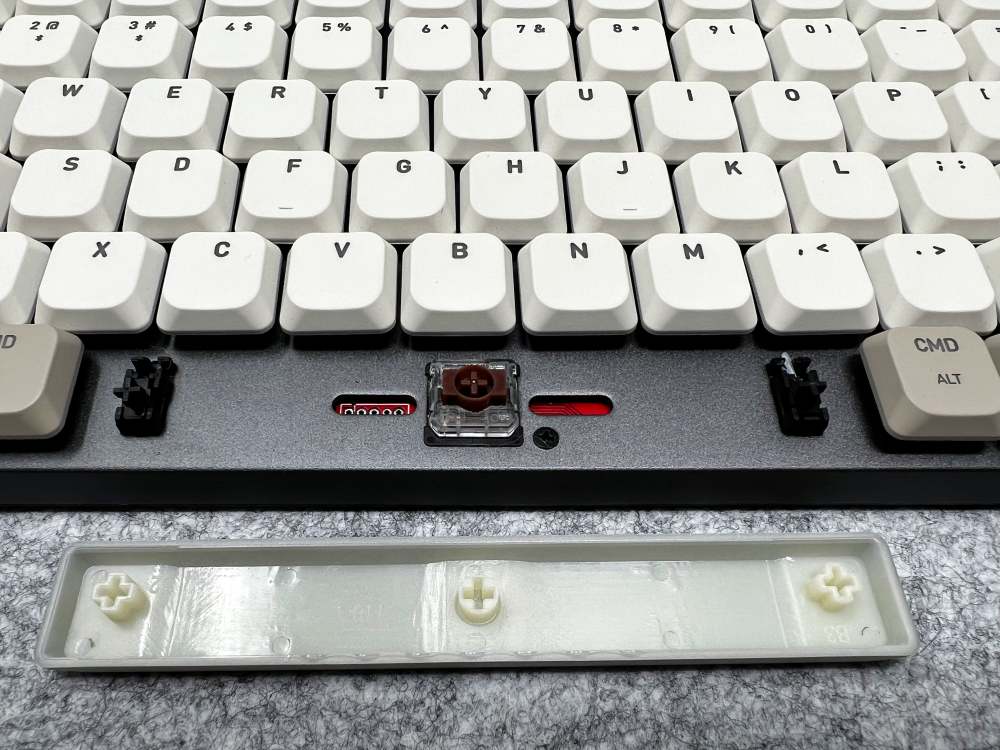 The brown switches have been working great for me and the only thing I might do is order a few of the Blue to swap out some specific keys to have more of a click.
From a daily use perspective, here's how I've set up the Cascade Slim. I've connected via USB to a Thunderbolt 4 hub via cable for a couple reasons. This guarantees the keyboard connects instantly as soon as my MacBook is connected to the hub and lets me use the whatever backlighting mode I want without having to concern myself with battery level. This way the battery is charged if I grab the keyboard for some on the go use. It also seems to be a little more reliable when using Mac's new Universal Control which I'm totally digging by the way.
The Azio Cascade and Cascade Slim mechanical keyboard just finished a successful campaign on Kickstarter where they raised over 13 times their target goal. I'd say backers were pretty on board with this one, and why wouldn't they be. The Cascade should be available directly from Azio very soon.
What I like
Overall combination of look, feel, profile, weight, color, etc.
Gateron Brown low-pro switches are just the right amount of clicky for me
Support for up to 3 different Bluetooth connections
What I'd change
Nothing really…
But I do kinda want a matching number pad (similar to what they offer for the IZO keyboard)
Final thoughts
If you've spotted any of my other mechanical keyboard reviews, the simple truth is this. I am digging this Cascade Slim from Azio more than those others. You get a great feature set for the price, you can customize the look and feel and out of the box it already feels like it was customized for me. Enough said.
Price: $109.00
Where to buy: The Kickstarter campaign just finished, and it should be available directly from Azio soon.
Source: The sample of this product was provided by Azio